Amfit Nutrition Vegan Protein Bar Raspberry Flavor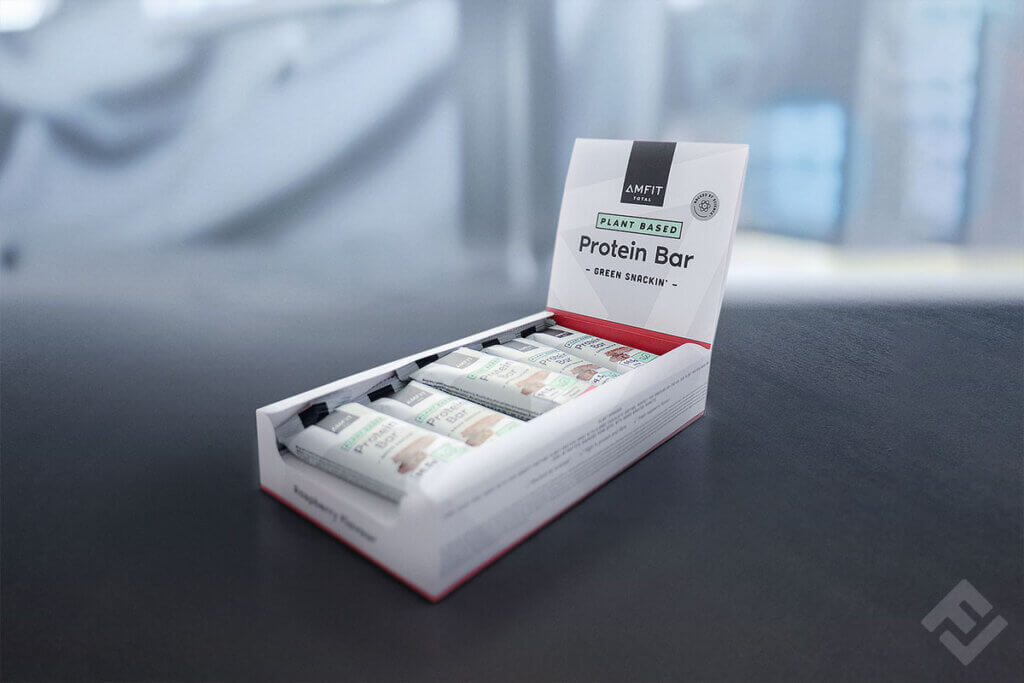 Pros
Great taste
Suitable for vegetarians and vegans – made from soy protein
Low-sugar
Comparatively inexpensive
Cons
Less filling than other protein bars
---
Rating
8 / 10
FinalCheck verdict
Amfit Nutrition's Raspberry flavour protein bars are plant-based, making them suitable for vegans. They taste great, but there is room for improvement when it comes to the macros.
Taste and texture





Ingredients and nutrition





---
The product presented here was provided to us free of charge by Amazon. The provider had no influence on the test criteria or our rating.
General information
Protein bars are a healthy alternative to most other snacks. They're great for when you're on the go, or for an energy boost and hit of protein before or after sport. When it comes to comparing protein bars, the most important criterion is the macros, specifically, the ratio between calories and protein.
Having a high-protein diet is especially important for athletes. This said, when it comes to protein bars, you don't want them to contain too many calories as this can lead to an unbalanced diet. Questions of taste — particularly sweetness — are a matter of personal preference. Most protein bars weigh between 40 and 80 grams and contain between 10 and 20 grams of protein. As you might expect, the higher the proportion of protein, the more nutritionally valuable the bar will be for athletes.
Amfit Nutrition's raspberry flavour vegan protein bars come in packs of 12, with each bar weighing in at 55 grams. They come shrink-wrapped in plastic, which makes them great for bringing them with you when you're out and about. When you open one up, the first thing that hits you is the fruity smell. The outside of the bar is completely covered in chocolate. When you bite into it, you can see small pieces of peanut and raspberry. A 12 pack costs roughly $10, making each bar $0.83 – comparatively reasonable.
Taste and Texture
Chocolate and raspberry dominate the flavor profile of these protein bars, with a good amount of sweetness. Overall, the taste is balanced and enjoyable. There aren't any unpleasant or synthetic notes that dominate the flavor profile.
Texture-wise, these protein bars are soft. You do get a bit of crunch from the pieces of peanut inside, but not much. Our reviewers found that a harder consistency with a little more crunch would go a long way. Compared to Amfit Nutrition's hazelnut-chocolate protein bars which are made using whey protein, these bars are suitable for a vegan diet. The protein content is derived from soy, so if you are allergic then you won't be able to eat these bars. In terms of size and weight, 55 gram is somewhat on the small and light size. Considering the lower protein content, these bars aren't as filling as the Amfit bars made using whey protein. But overall, we were very satisfied with the taste of these protein bars.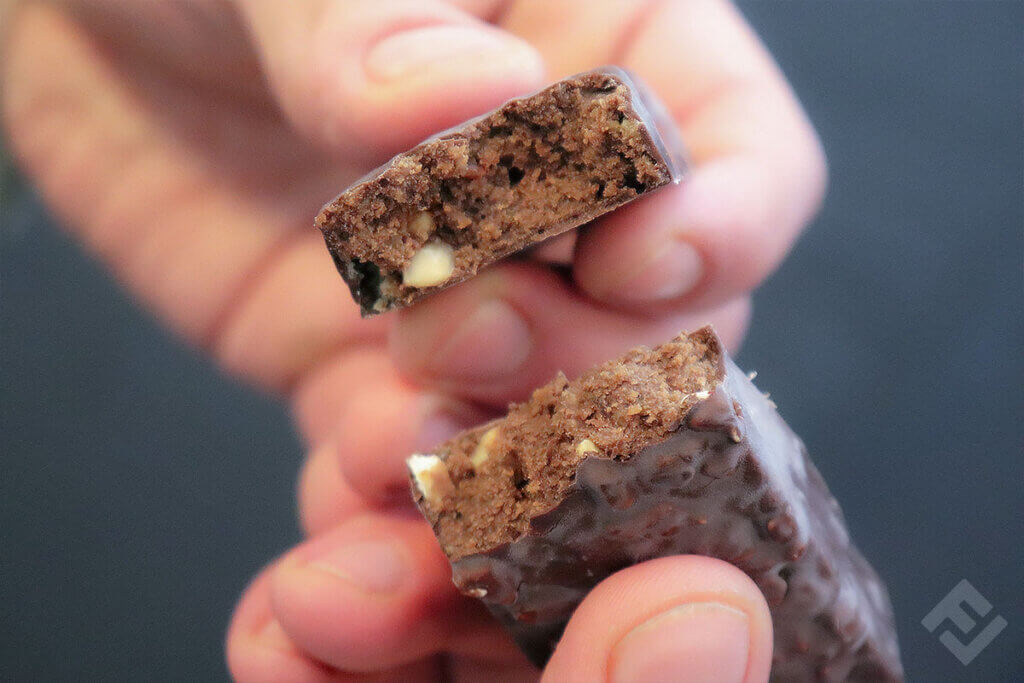 Ingredients and nutrition
Due to their fruit content, these bars contain more sugar (6g) than other protein bars — by comparison, Amfit's hazelnut-chocoalte whey protein bars contain 1 gram of sugar. However, compared to standard chocolate bars, 6 grams is still completely acceptable.
The full nutritional list is as follows:
Calories: 196 Kcal
Fat: 7.2g

of which is saturated fat: 2.5g

Carbohydrates: 15.6g

of which are sugars: 6.4g

Fiber: 11.2g
Protein: 14.5g
Salt: 0.68g
With a ratio of roughly 200 calories to 14.5 grams of protein, the macros aren't perfect — you won't be able to replace a meal with one of these bars. What they are good for, though, is a quick protein boost in between meals or before or after training.
Summary
Overall, the nutritional value of this protein bar is satisfactory, although it does have room for improvement. With a ratio of 200 calories to 14.5 grams of protein, the macros are in the middle of what you tend to get with protein bars. In terms of flavour, the protein bar tastes natural with a good balance of raspberry and peanut. The fact that the protein is plant-based — made from soy — means that these bars are suitable for vegans.
---
Images 1-2: © FinalCheck