Mattress purchasing advice: How to choose the right product
What you need to know
Whether filled with springs, foam, or latex, different mattresses feel different to sleep on and are suited to different kinds of sleeping habits.
The standard size of a mattress is 140 x 200cm, although there are different sizes for singles, couples, and children.
In accordance with their own bodyweight and preferences, individuals can choose the desired firmness of their mattress.
For a good night's sleep, it is recommended to have a 7-zone mattress with high point elasticity that promotes a good sleeping climate.
Maintaining your mattress properly by regularly flipping, airing, and cleaning it can help extend its lifespan.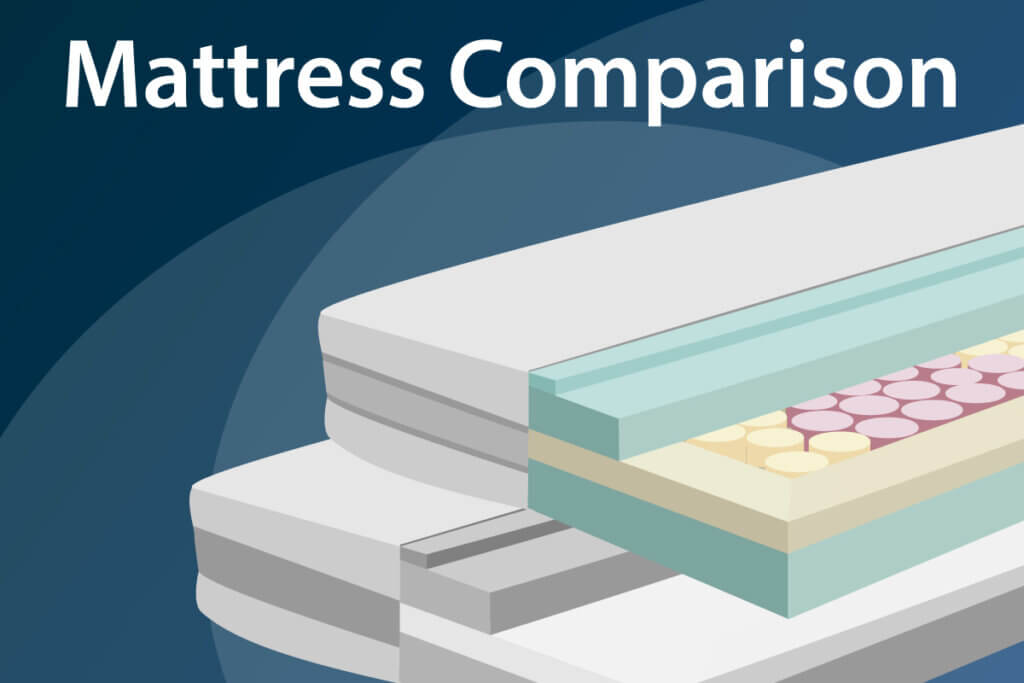 As you make your bed, so you must lie on it
You made your bed, now sleep in it. This is of course a metaphor to describe how we are all responsible for the things that happen in our lives. The same logic can be applied to the purchase of a poor-quality mattress. As human beings, we spend a third of our lives asleep. A relaxing sleep is essential for maintaining emotional balance, mental effectiveness, and physical health. This kind of rest is normally only possible with the help of a suitable mattress. Should your mattress be too hard, too cold, or even too loud, the consequences can range from sleeping problems to back pain.
Most people keep a mattress for ten years. This makes choosing a good model even more important. At the end of the day, which mattress is going to be most suitable for you depends on your personal preferences and habits. Choosing the right mattress is, however, not always self-explanatory. In the following text, we will analyse what it is that makes a perfect mattress.
From sacks of straw to luxury mattresses

Predecessors of the modern-day mattress have been around since time immemorial. In Ancient Greece, mattresses were usually filled with wool or natural fibres. The same was true for the Ancient Romans, who stuffed their mattresses with reeds, straw, or feathers. For a long time, mattresses as we know them today were only available to a certain class of people — the normal folk instead slept on something akin to a carpet on the floor. Only towards the end of the 19th century did mattresses become available to the different classes.
Setting your budget
More and more mattress providers are turning to online shopping and modern TV adverts to speak to a younger target audience. Mattresses can be bulky items, making them particularly suited to the online marketplace. It is much easier to get a mattress delivered to your door than it is to drag one home in a car let alone public transport. Lots of online sellers claim that their mattresses offer a high level of comfort, regardless of the size, weight, and sleeping habits of the user.
There is no such thing as a one-size-fits-all mattress. Instead, there is a set of objective criteria that all good mattresses should fulfil. Together with the quality of the mattress, the price plays an undeniably important role. Depending on your budget, mattresses can range from the very simplest foam underlay to luxury models.
Mattress can generally be separated into four different price categories:
Cheap: Mattresses that cost less than £350 can be considered cheap. Their lack of quality often results in lumpiness.
Medium Price: Anything between £350 and £500 can usually guarantee an acceptable mattress which is suitable for all sleeping habits.
Expensive: Mattresses between £500 and £700 are usually qualitatively superior to cheaper models.
Very Expensive: Above £700 you find luxury models of mattress which are often individually tailored to the sleeping habits of the customer.
Common types of mattress filling
The main differences between different types of mattresses can be found in their design and materials. Whether the model uses springs, foam, or latex determines the properties of the mattress.
Spring mattresses: a robust option
Spring mattresses come in many different versions, from Bonnell springs to pocket springs. The thing they all have in common is their interior steel springs which spring up and down when pressure is applied. The springs are covered by a protective layer of felt or fleece which protects the padding from any damage from the springs. The padding also ensures that the user cannot feel any uncomfortable effects of the springs digging into their body.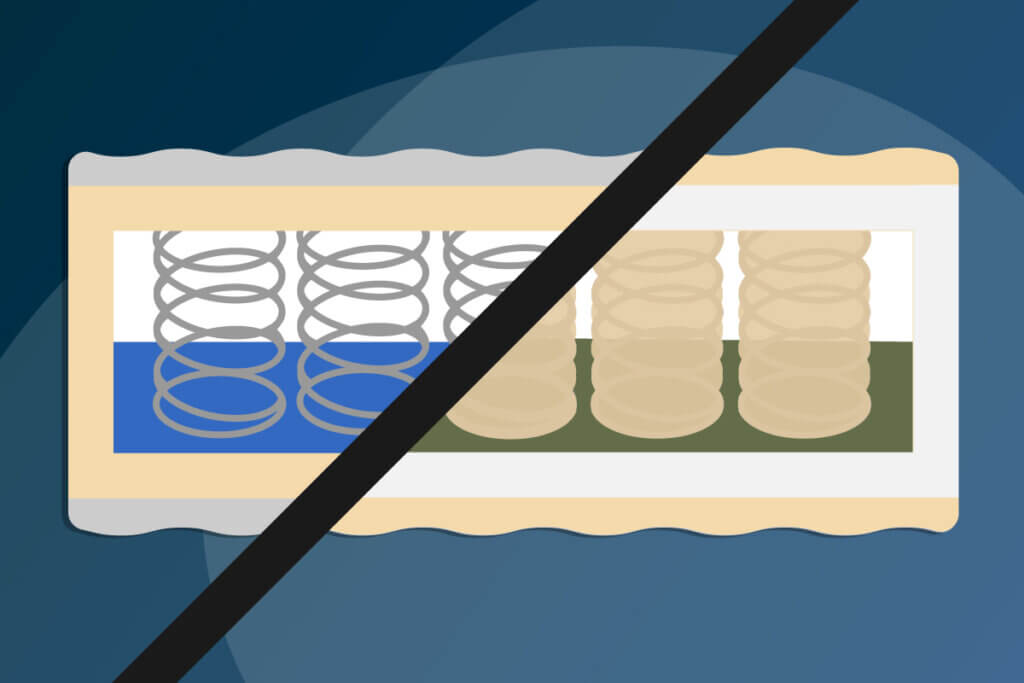 Steel springs make sure that the shoulders and neck sink into the mattress while supporting the spine. Spring mattresses differ in their elasticity, aeration, and the sleeping climate they provide. Due to their design, air can flow freely through the mattress. The unintended result of this is potential heat loss, which can be a problem for people who become cold at night. For those who prefer to sleep in a cool environment, however, this can be an advantage. Dampness is prevented from building up, meaning that mould is rarely a problem with spring beds. Similarly, these mattresses can help to reduce sweating during the night.
Mattresses with springs are heavier and less flexible than alternatives. They are, however, extremely robust and have a long lifespan. The steel structure of a spring mattress can retain its form over many years. Cheaper models last between 5 to 8 years, while more expensive models can last between 10 to 14 years. Over time, springs from the bed are liable to poke through the padding and cause discomfort. This is particularly the case with cheaper models. Some users also find the occasional squeaky noise of a spring bed to be particularly annoying.
Advantages
Long lifespan
Quality models have a high level of elasticity
Effective moisture transfer
Good aeration
Exceptional sleeping environment
Disadvantages
Springs can poke through in cheaper models
Comparatively heavy
Some squeakiness is possible
Bonell spring mattresses
Bonell spring mattresses belong to the cheaper end of the price spectrum and offer more value for money. The springs are tapered to look like sand timers and are held together with a wire frame, making them generally soft, while retaining firmness if pressure is applied to an individual spot. This means that, if pressurised, the whole mattress gives way. The tiny up-and-down trampoline motions can be uncomfortable to some users, while for others, this is something that they explicitly look for. A comparatively lesser number of springs are needed to make a Bonell spring bed than a pocket spring model. This is the reason why they are relatively lightweight.
Pocket spring bed
While the springs of a normal spring mattress are covered with an outer surface of foam, with pocket spring beds, the individual rows of springs are also covered with individual padding. These rows are stuck together to form the entire surface of the mattress. This allows each row to mould to the shape of the user's body with more independence from the others.
Due to their higher point elasticity, cheap and medium-priced pocket spring beds are less likely to bounce up and down than Bonell spring mattresses. Higher-quality models can offer an even higher level of comfort. Their springs are slightly bulbous and, as a result, are extremely flexible and responsive. Due to their high level of localised elasticity, these kinds of mattresses mould especially well to the shape of the body.
Latex mattress: perfect for allergy sufferers
Although latex was once harvested from rubber trees, it is now made almost exclusively synthetically. Latex mattresses tend to be more expensive, although the quality relies heavily on the materials they employ. The three main types are as follows:
natural latex, with a proportion of over 75% rubber,
a mixture of natural and synthetic latex where the rubber proportion is less than 75%,
and synthetic latex.
In the best-case scenario, a natural latex mattress would be made completely from natural latex. This is, however, a much more expensive option, with completely natural latex mattresses costing up to £200 more than synthetic versions. The advantage of natural latex lies in its breathability and higher point elasticity. Latex mattresses can weigh between 14 and 30kg — making them significantly more heavy than cold foam mattresses (11-18kg).
For restless sleepers, a latex mattress offers the particular advantage of not giving off any annoying noises. Natural latex mattresses made from rubber capture and store body heat far better than spring mattresses. For those who suffer from cold nights, they may be an excellent option. For those who tend to sweat, they may be extremely unhelpful. Latex mattresses are also extremely hygienic. This is due to their aeration system which stops bacteria which can cause allergies from forming. At first, latex mattresses can give off a slight smell, but this should dissipate over time.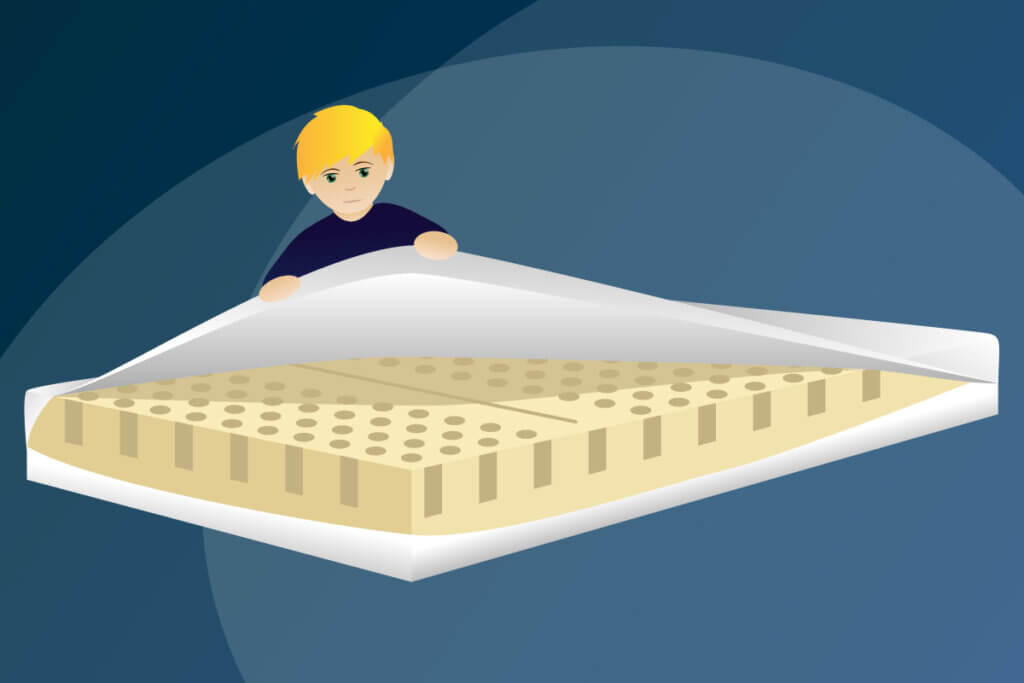 There are two main ways in which latex mattresses are produced: the Dunlop, and the Talalay methods. With the Dunlop method, the latex is first washed with soap and air before it is vulcanised. This method traps tiny air bubbles in the material and gives it its distinctive texture. This type of mattress is highly breathable and cheap to buy.
The Talalay method adds two additional steps onto the Dunlop method. Here, latex is poured into a mould and put into a vacuum, which spreads the material evenly without trapping air within. The mixture is then flash frozen, before being treated with carbon dioxide and air. The resulting gel is then vulcanised. The Talalay method requires significant energy outlay, and the price is correspondingly higher. Air bubbles within the material are evenly distributed, creating a softer mattress with higher point elasticity. These mattresses are very stable, have a long lifespan and, thanks to their cell-like structure, offer better air circulation.
Advantages
Natural latex is not damaging to the environment
High point elasticity
Long lifespan
Hypoallergenic
Doesn't emit sound
Disadvantages
Heavy and cumbersome
Slight smell upon purchase
Expensive
Foam mattresses: the flexible option
Conventional foam mattresses are still the norm for most children's beds. This kind of foam is usually made from a single block of polyurethane with an uneven spread of firmness which helps it align to body contours. Until the invention of cold-foam, foam mattresses were considered an unsustainable option. This is, however, no longer the case.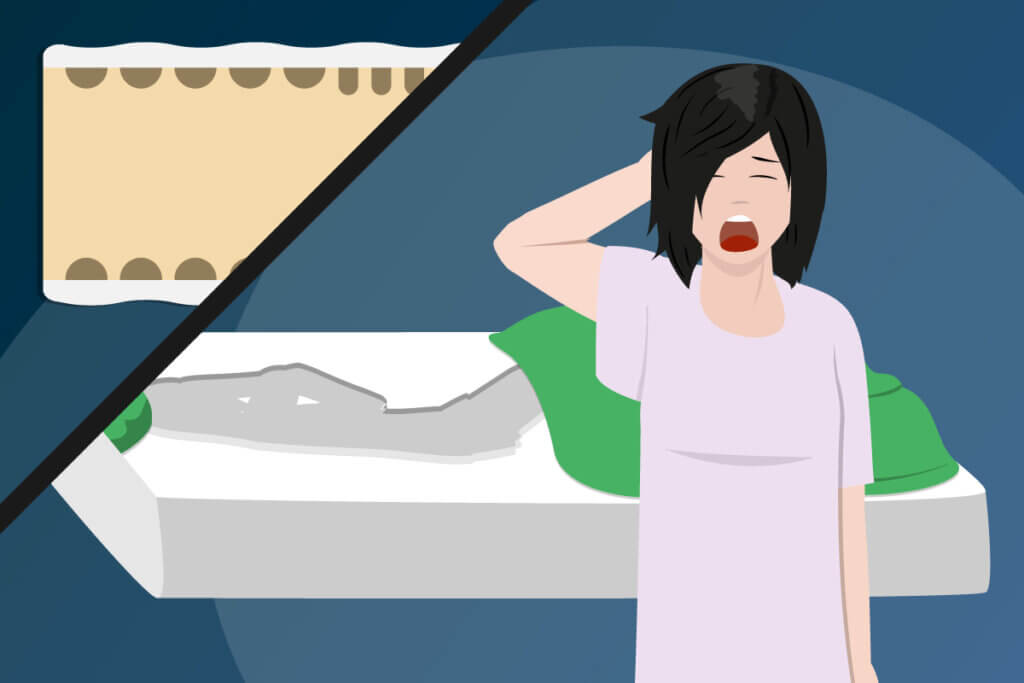 Cold-foam mattresses
Cold-foam mattresses are usually fairly cheap and, as the name suggests, are made from a cold production method in which polyurethane is foamed and then set into shape, creating a more evenly distributed firmness than with other types of foam mattress. Cold foam is similarly superior in point elasticity and stability, making it the perfect material for a good night's sleep. Restless sleepers are also well suited to using a cold-foam mattress, as it allows for you to toss and turn without making any noise. This can also be of benefit to couples who have an uneven weight distribution on the bed.
Cold-foam mattresses retain warmth and are therefore better suited to people who sweat less. A problem with cold-foam mattresses is that, over time, they can develop compression issues, in which over-used areas become softer. This can be combated by regularly flipping the mattress. The smell which they often emit upon purchase usually disappears after a short period of use.
Advantages
Long lifespan
Moulds to body of the user
Doesn't emit a sound when pressure is exerted
Cheap to purchase
Disadvantages
Good air circulation
Eventually susceptible to wearing out
Slight chemical smell upon purchase
Viscoelastic mattresses
From outer space to the bedroom — medium-priced viscoelastic mattresses are made form so-called 'memory foam', which was originally developed for use by astronauts. Memory foam is thermosensitive and was used for fitting space suits perfectly to the body of astronauts. Visco foam reacts to pressure as well as warmth, helping it to mould perfectly to the body. It is also extremely elasticated, although this is only seen with a delay after pressure is released form its surface. If you press into the surface with your hand, a handprint remains visible for a long period of time. Memory foam reacts extremely slowly, meaning that is better suited to calm sleepers. Restless sleepers, on the other hand, can become frustrated with the slow reactivity of the mattress which can restrict their movement.
Those who feel cold at night also stand to profit from the warmth–insulative properties of memory foam. People who tend to sweat would be advised to stick to a spring bed, as memory foam can become musty if exposed to too much moisture. Due to the high point elasticity of memory foam, they are often prescribed for orthopaedic problems. They are especially helpful for people with back problems.
Advantages
Point elasticity
Removes pressure from sensitive parts of the body
Doesn't make any noise
Disadvantages
Most expensive type of mattress
Can become musty
Delayed return to original form once pressure has been exerted
Other types of mattresses
In addition to the mattress types listed above, there are several other, more niche types of mattresses:
Waterbed: Waterbeds use water as the filling for the mattress, usually containing it within a stable construction.
Box Spring Bed: The mattress doesn't sit on top of a slatted frame, but instead on a specialised base.
Air Mattress: This type of mattress is made from a membrane which is divided into chambers and filled with air.
Anti–Ulcer Mattress: This type of mattress helps to exert less pressure on the skin of patients who need care and are struggling to move.
Natural Mattress: Natural materials like horsehair, straw, grain husks, coconut fibres, and sea grass can be integrated into the manufacture of a mattress.
Children's bed, standard, or king size?
Different sizes of mattress are available for children, couples, and singles. Body size, space in the bedroom, and sleeping habits also play a role in this.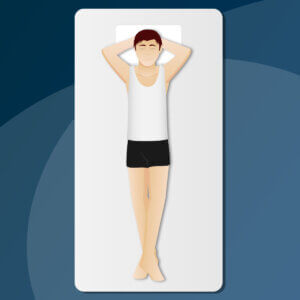 For singles and those with little space
Most singles with limited space in their bedrooms opt for a bed of 100 or 120 x 200cm. Should you be receiving guests, a width of 140 or 160cm provides a more comfortable space for two people.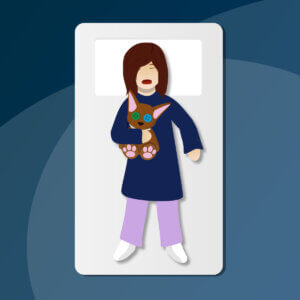 For children and teenagers
In most cases, a bed of around 80 or 90 x 200cm is ideal for children or young adults. Children's beds are also available at 60 x 120cm or 70 x 140cm.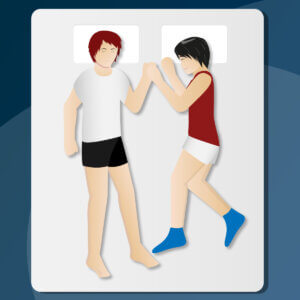 For couples and those that love extra space
Most couples opt for a mattress of 160 or 180 x 200cm. This ensures that both people have enough room to sleep comfortably. If one partner moves more in their sleep, then a larger mattress of 200 x 200cm might be necessary. The same is true when a child or pet often find their way into to the bed. For those who like to sleep close, a width of 140cm may be enough.
All of the sizes are listed in the table beneath.
| | |
| --- | --- |
| Common sizes for singles | 80 x 200 cm, 90 x 200 cm, 100 x 200 cm, 120 x 200 cm and 140 x 200 cm |
| Common sizes for couples | 140 x 200 cm, 160 x 200 cm, 180 x 200 cm and 200 x 200 cm |
The common mattress sizes for singles and couples.
The standard size of 140 x 200cm is suitable for both singles and couples. In addition to this, there are further special sizes, such as with a width of 190 or a length of 210 cm, which are also available for purchase.
One or two mattresses?
When looking at beds for couples which are wider than 140cm, it can be beneficial to look for two separate smaller mattresses rather than one larger one. This allows each partner to choose the type of mattress they want, as well as their preferred firmness. The downside of this method is the crack between the two mattresses.
Princess and the pea: how high should my mattress be?
Not just the size, but also the height of the mattress forms an important purchase criterion. Here, a distinction must be made between height of the filling and total height. The height of the filling should be between 14 and 19cm, whereas the total height should be between 19 and 24cm. Anything more than 25cm can be considered luxury. Children's mattresses, meanwhile, are usually not higher than 10cm.
Soft as a cloud or hard as a rock?
Mattresses are available in differing degrees of firmness. This leads customers to ask, 'what is the correct firmness for me?' The firmness can be measured by the density and compression of the mattress.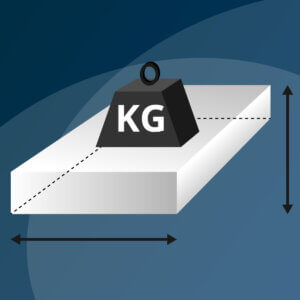 Density
Density is especially important with cold-foam mattresses, but also has a role to play with memory foam, latex, and spring mattresses. Measured in kilograms per cubic meter, the density indicates how much material per unit volume was used in the production of the filling. The general rule states: the higher the density, the fewer the bubbles in the foam and the better the quality of the mattress. This comes with an increased weight, but also a longer lifespan for the product. Heavier people should look at purchasing a mattress with a higher density. While cheap mattresses have a density of a maximum 30 kg/m³, more expensive models can approach 50kg/m³. It is generally accepted that a mattress should have at least 35 to 40kg/m³.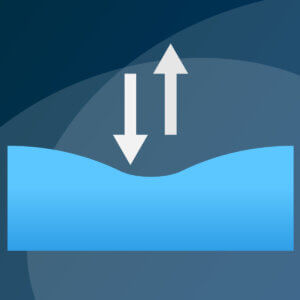 Compression
This value measures the amount of pressure that needs to be exerted onto a mattress in order to make an indentation. This term addresses the ability of a mattress to return to its original form once pressure has been exerted on it. The measurement states that the higher the level of compression, the harder the foam. The level of compression also has a large effect on the feeling of the mattress. Soft, cold-foam mattresses have a compression of 30 kPa (kilopascal is the unit for measuring compression hardness). Harder models, meanwhile, have a compression of over 40kPa and can withstand up to 120kg of weight.
Classification
Working out the correct firmness for your mattress depends largely on your own bodyweight. This measurement becomes complex when physical condition, age, and body size are also taken into account. The largest problem is that there are no standardised values across brands. Most mattress manufacturers advertise their mattresses in firmness grades, ranging from H1 to H5.
| | | |
| --- | --- | --- |
| Firmness | Subjective firmness | Suitable bodyweight |
| H1 | Soft | Up to 60kg |
| H2 | Medium | Up to 80kg |
| H3 | Hard | Over 80kg |
| H4 | Extra hard | Over 100kg |
| H5 | Ultra hard | Over 120kg |
List of mattress firmness and corresponding bodyweight of the user.
Sometimes, manufacturers only offer three different grades of firmness: 'soft', for people up to 60kg, 'medium' for people up to 80kg, and 'hard', for people who weigh more than that. A general rule of thumb states that the younger you are, the harder the mattress you should use, while the older you are, the softer. Personal preference of course plays a role here as well.
One mattress, two types of firmness
If a couple are sharing a mattress, it becomes harder to find an exact firmness to match both of their expectations. This is less of a problem if both partners weigh around the same. Should this not be the case, then it is recommended that the couple opt for two individual mattresses. If the mattress is too hard or too soft for one of the partners, then this can quickly lead to back pain.
What else needs to be considered?
In addition to firmness and size, there are further criteria that need to be considered to make sure that your dream mattress doesn't turn into a nightmare.
Like sleeping in cotton wool
The feel of a mattress largely depends on factors like point elasticity, separation into zones, and sleeping climate. For a comfortable night's sleep, there are two main things to consider: the ability to mould to your body shape and effective support. In addition to this, it is essential for a good sleeping climate that the mattress can effectively deal with moisture.
Point elasticity
Point elasticity refers to whether a mattress gives way directly at the point at which pressure is exerted. The higher the point elasticity, the better a mattress fits to the specificities of a certain body. If a mattress is more broadly elasticated, the entire surface of the mattress gives way when pressure is applied to one location. The point elasticity is also dependant on the density of the mattress. Models with a density of around 35 kg/m³ have a broader elasticity, while those with a density of between 45 and 60 kg/m³ have better point elasticity. The material also plays an important role in this category. Latex possesses some special characteristics which help to raise the point elasticity, particularly with regard to fitting to the body form.
Multi-zone mattresses
These days, a large number of mattresses (particularly foam mattresses) are separated into zones of differing firmness. These zones offer different levels of support to different parts of the body, in order to create a relaxing, ergonomic, and healthy sleeping atmosphere. These mattresses distribute weight by regulating where the body sinks into the mattress, helping to reduce unnecessary pressure. Heavier areas of the body, like the shoulders and hips, are able to sink deeper into the mattress, reducing pressure on the spine and creating a natural double-S shape. Creating different zones is therefore essential for creating the conditions necessary for a good night's sleep.
A difference is made between:
3-zone mattresses
5-zone mattresses
7-zone mattresses
9-zone mattresses
7-zone mattresses are the most common models on the market. This is largely due to the fact that this kind of mattress fits the body size of about 90% of all adults. A 7-zone mattress has the following characteristics: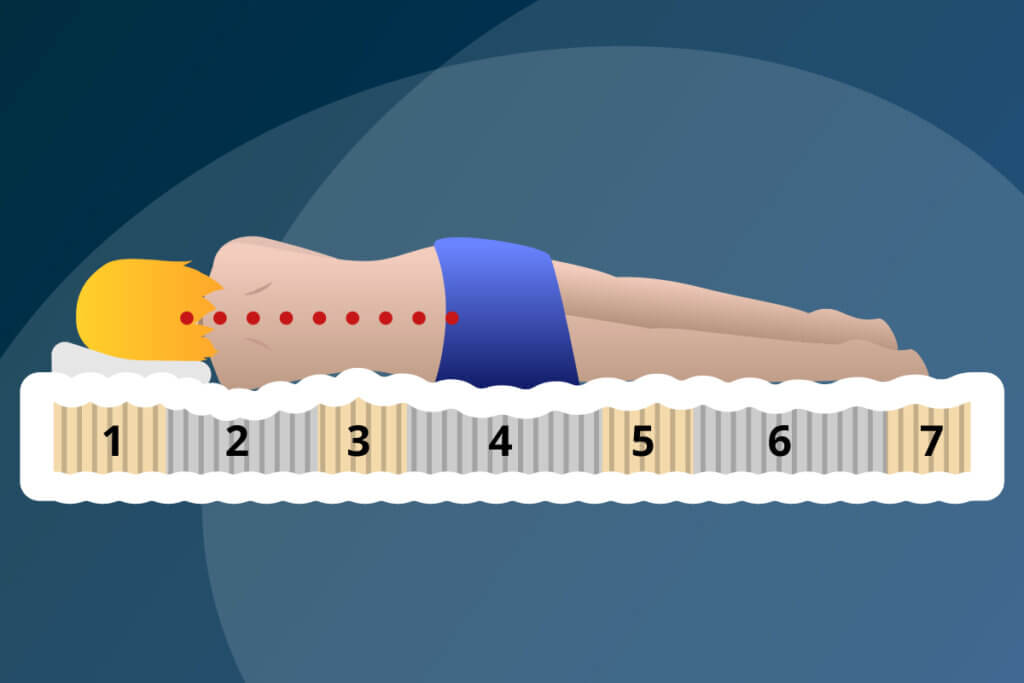 1. Zone: The head area is relatively firm to provide the correct amount of support and prevent the neck from over-rotation.
2. Zone: The softest area of the mattress is reserved for the shoulders, allowing them to sink into the mattress and release pressure on the muscles.
3. Zone: The lower back zone remains relatively firm, keeping this part of the body stable and releasing pressure on the spine.
4. Zone: The area around the hips is medium firm, allowing the hips to partially sink into the mattress and straighten the spine.
5. Zone: As with the lower-back zone, the thigh area is slightly firmer to keep the legs and core in a stable position.
6. Zone: The area for the calves is particularly soft, allowing for a good blood flow.
7. Zone: The foot zone is comparable to the head area in that it is made from a medium firm material which supports the feet while releasing pressure from joints and ligaments.
Height also needs to be taken into account for multi-zone mattresses. The separation into different zones is usually conceived for use by adults between 155 and 200cm in height.
Sleeping climate
Humans lose on average 500ml of sweat per night. This liquid has to go somewhere. For this reason, good air circulation is key to allow sweat to evaporate and create a comfortable sleeping climate. The density of the mattress continues to play a role here – the higher the density, the slower moisture can evaporate. Ventilation slits and grooves in the mattress help to optimise air circulation. Maintaining a good sleeping climate ensures that the mattress remains cool, while mould and bacteria have less chance to take hold.
Side sleepers, belly sleepers, and back sleepers — the different sleeping positions.
Depending on your personal sleeping habits, different types of mattresses offer different benefits. Most important is your preferred sleeping position in combination with your body type: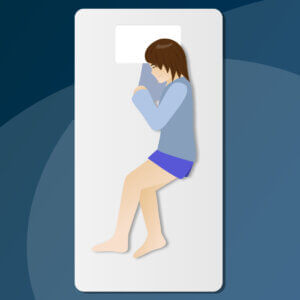 Side sleepers
Around 60% of people sleep on their side. Although this position helps to release pressure on the spine, it requires a perfectly attuned mattress. Hips tend to sink deeper into the mattress, while legs, waist, chest, and head require more support. Shoulders also need a softer surface, in order to keep the spine straight.
Tip: 7-zone cold-form mattresses are highly recommended for side sleepers, as are latex and pocket spring versions.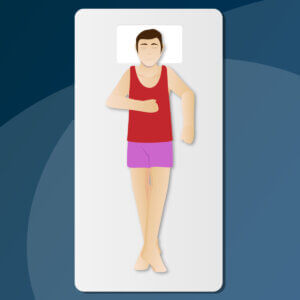 Back sleepers
Around 18% of the population sleep on their backs. In comparison to side sleepers, the various parts of the body do not sink so strongly into the mattress when you sleep on your back. It is important that the shoulders and neck are well positioned, while the stomach and lower back should be able to sink into the mattress. This allows the spine to retain its double-S shape.
Tip: Back sleepers should definitely consider buying a mattress with at least seven different zones. Those made from cold-foam and natural latex are particularly recommended.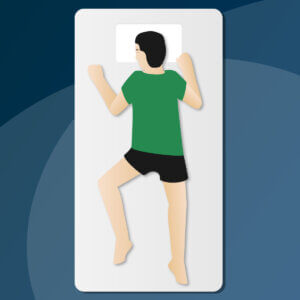 Belly sleepers
Belly sleepers make up the rarest type of sleepers, at only 13%. As with back sleepers, a mattress for belly sleepers should be both elasticated and provide stability for the hips and lower back. These parts of the body should under no circumstances sink lower than the shoulders, head, and legs.
Tip: Together with cold-foam mattresses with good point elasticity, latex and pocket spring mattresses are also recommended. Be aware that the top layer of padding should not exceed 3cm.
Slatted frames, covers, and more
Having the perfect mattress is all well and good, but it doesn't mean anything without the correct extras. In addition to having a good slatted frame, it is also worth considering buying covers, a mattress topper, and a so called 'love bridge'.
The slatted frame
A comfortable sleeping position begins first and foremost with the slatted frame. To create the perfect sleeping environment, all of the components of a bed should come together perfectly. The slatted frame helps to provide a comfortable sleeping position by removing pressure from the neck, back, knees, and spinal disks. They do so primarily by providing suspension underneath a mattress. At the same time, the slatted frame guarantees that a mattress remains stable, and that air continues to circulate.
There are three main types of slatted frame to choose from:
Roll–up slatted frame: this is the simplest form of slatted frame. Single slats are connected together by some type of rope and can be rolled out beneath a bed like a ladder. However, with these models, it is not possible to adjust any of the slats individually.
Plate slatted frame: in these models, adjustable plastic plates are mounted on the slats, usually in rows of five or six. Unlike with roll-up slatted frames, individual plates can be adjusted to fit to the desired sleeping position of the user.
Electric slatted frame: these frames can be operated remotely and are suitable for anyone who prioritises comfort. Both the leg and head areas can be adjusted at the flick of a switch to make the sleeping position as comfortable as possible.
Tucked in nicely: mattress covers
Mattress covers differ from one another in their materials, their casing, and their filling. In the best case, mattress covers are removable, washable, and come with a zip. This allows users to remove the cover to be washed independently of the filling.
The material
Wool has the disadvantage that it can become worn out if excessively strained, for example by a restless sleeper. For this reason, manufacturers mix wool with elasticated fibres like polyester and polyamide. Those who sweat a lot at night should opt for a cover made from light viscose. Other options include modal, lyocell, and tencel. Allergy sufferers should choose non-reactive materials like polyester and polyamide.
The casing
There are three main different kinds of mattress case:
Drill: this is the most common type for mattress covers. It is made from tightly woven material and gives the bed a streamline appearance.
Velour: this silky kind of cover has a dry, durable surface, but tends to slip around on top of the mattress.
Towel: towel is grippy and elasticated but is considered a little uncomfortable by some.
Jersey: covers made from jersey are breathable and elasticated. They are mostly double layered.
The filling
High-quality mattresses are not simply made form one single layer of material, rather they are filled with a layer of fleece. Fleece made from polyester is the most suitable for this as it can be washed in a washing machine at 40°C. The thicker the fleece, the higher quality the cover. The filling is measured in grams per m². Woollen fillings have a thickness of 500g per m², while polyester fleece is 200g per m². A padding of 400g per m² is recommended.
Extra comfort: a mattress topper
For even more comfort, a topper can be laid over the mattress and fastened at the corners. This covering protects the mattress and stops dust and sweat from causing hygiene problems. Mattress toppers also offer a method of softening a hard mattress. Mattress toppers are not to be confused with mattress protectors, which lie underneath the mattress to protect the mattress from damage from the slatted frame.
Mattress gap getting in the way while cuddling? get a love bridge!
A love bridge helps to prevent a partner from waking up in the crack between the mattresses or losing possessions in the crevice. These inventions improve sleeping conditions by making sure that nothing comes between a couple looking to cuddle. They are mostly made from cold foam and resemble a wide T-shape. As the name suggests, they bridge the gap between two mattresses.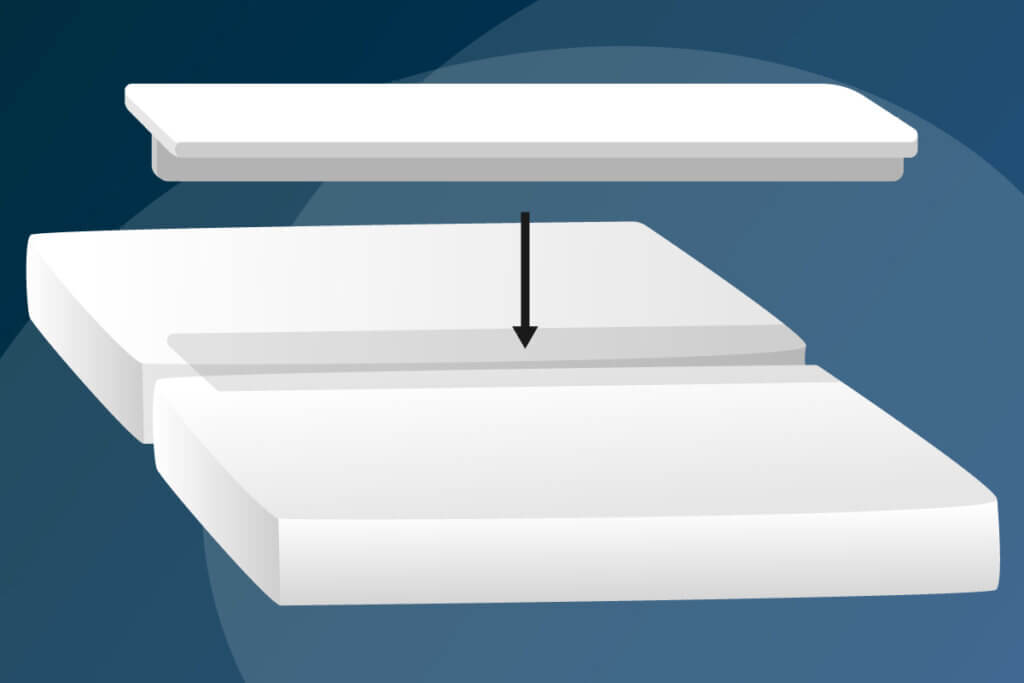 The correct maintenance
In order for your mattress to remain in top condition and free of bacteria, there are a few steps which can be taken. To protect the mattress casing from sweat and dust, it is recommended to use a fitted mattress cover. This should be washed at 50°C every two weeks. Most mattresses come with a removable and washable casing. Although the use of a mattress cover helps to prevent the need for it to ever be washed. Users should avoid vacuuming the surface of the mattress as this can damage the surface structure.
To prevent a mattress from becoming worn out, it should ideally be flipped and rotated monthly. This process also helps to aerate the mattress, as well as to let trapped air escape and prevent the build-up of smells, moisture, and mildew. To prevent mould caused by trapped moisture, users should remember to fully aerate their mattresses every now and then. Smaller and lighter models are better for this as they can be flipped significantly easier.
Even the most expensive and well-maintained mattresses need to be changed every 10 to 15 years. This is primarily for hygiene reasons, as sweat residue and dirt can build up over the years. If the mattress is not carefully looked after or your bedroom is particularly damp, the lifespan of the mattress is correspondingly shortened. By the point at which lumps have appeared, the time has come to find a new model. The cause for this problem could be too much space in between the slats underneath (more than 4cm). The ideal room temperature for a mattress is between 16°C and 20°C degrees. The ideal humidity is about 50%.
Tips for recycling a mattress

Once an old mattress approaches the end of its lifespan, a new one has to be found. But how should an old mattress be correctly disposed of? There are several possibilities here:

Mattresses can be disposed of at a recycling centre, where they will be broken down and recycled in their constituent parts.

Mattresses can usually be donated. Should they still be in a good condition, contact local shelters and charities to see whether they have use for it.

Some vendors offer the possibility of disposing of an old mattress at the same time as a new one is delivered.

Some local councils have mattress collection services, but this is not the case all over. Taking your mattress to the tip always remains an option.
---
Images 1-14: © FinalCheck