Cot bed purchasing advice: how to choose the right product
What You Need to Know
A good baby cot meets the safety requirements of the DIN EN 716 standard. You can recognise safe TÜV-tested beds by the GS mark.
For a cot, the distance between the individual bars must be at least 4.5 centimetres, but no more than 6.5 centimetres.
Classic cots can often be converted into junior beds without bars and used up to the age of about seven.
Breastfeeding mothers in particular find a rollaway bed comfortable because it reduces the need to get up at night.
The most important purchase criteria are the dimensions and the material. In addition, the lying surface should be height-adjustable.
Restful sleep for the little ones
A baby cot is high on the list for the baby's first equipment. After all, babies spend most of their time sleeping in their first weeks and months – and they need the right place for it. Because plenty of sleep, and above all restful sleep, are crucial for children's development. After all, babies process all the new impressions from their environment while they sleep – and at first everything is new for the little ones: their home, the sounds and the smells around them. There is so much to discover, which not only has to be processed, but is also exhausting. Therefore, it is important that the baby cot provides a safe sleeping environment and the optimal conditions for a relaxed and restful sleep.
But what are the differences between the numerous baby cots on the market? And which one is exactly right for your baby? In our guide, we present the most common types of baby cots with their advantages and disadvantages and explain the most important purchase criteria. In addition, we highlight what you should look out for in terms of protection and safety and which accessories are absolutely necessary or simply practical. Finally, we present the results of baby cot tests from other portals.
Different models
The classic baby cot is the cot, but there are also other popular models. What they all have in common is a framed lying surface that prevents the baby from falling out of the bed.
Cots: Can be used up to toddler age
The classics among the baby beds are characterised by cot rails that are attached to their sides. They ensure that the baby does not fall out, allow him an unrestricted supply of air and a clear view of the surroundings. The lying surfaces of most cots have one of the following dimensions:
70 x 140 centimetres
60 x 120 centimetres
While smaller cots are already suitable for newborns, larger models are recommended from around one to two years of age, for example as a successor to the side bed that has become too small. Newborns in particular feel very lost in a bed that is too big, since they are used to the confinement of the womb. A smaller bed provides more security.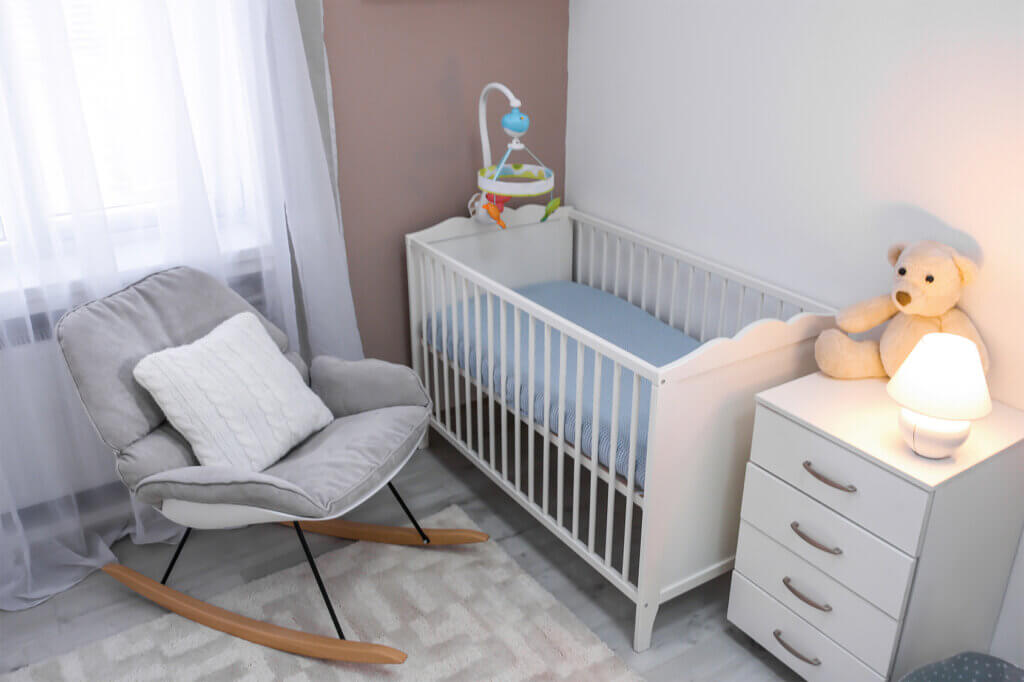 Many cots have bars that can be removed from one side, so-called slip-on bars, so that a passage is created through which the child can climb into and out of bed on its own. Some cots have completely removable side rails so that you can convert the baby cot into a cot without side guards. Such models are suitable up to primary school age if the lying surface is large enough. For older children, however, the former baby cot could then already be too short. Cots that cannot be converted into a cot without side rails are usually recommended by manufacturers up to the age of three to four years. So-called combination cots that can be converted from a baby cot to a junior cot are available from manufacturers such as roba and Julius Zöllner. The manufacturer Pinolino offers a particularly large selection of models.
From cot to extra bed

Cots with removable side panels often allow you to remove just one side panel. In this way, the cot can be converted into a rollaway bed and vice versa in just a few simple steps.
Extra beds: Extension of the parents' bed
So-called side beds, also known as add-on beds, basically look like slightly smaller cots that are missing the cot rail on one side. The typical lying surface measures 90 x 50 centimetres. Side beds serve as an extension of the parents' bed and allow you to have your baby as close to you as possible at night without him or her sleeping in your bed with you. The baby sleeps protected in the cove of the side bed and is not affected by your movements. At the same time, you can reach out to your offspring at any time to soothe him or check his breathing. So you don't have to worry about bumping the baby in his sleep at night or even lying down on it. For breastfeeding mothers, the side bed also has the advantage that they don't have to get up as often at night. To breastfeed their baby, they can stay in their bed and lay the baby down on it from the rollaway bed.
One of the most popular and best-known side beds are the models from the babybay brand. These extra beds are available in different sizes and are all infinitely height-adjustable. In addition, babybay has special models in its range that are suitable for attachment to box spring beds. The lying surfaces offered by babybay range from 81 x 41 centimetres to 105 x 59 centimetres. Wider side beds can also be used for twins.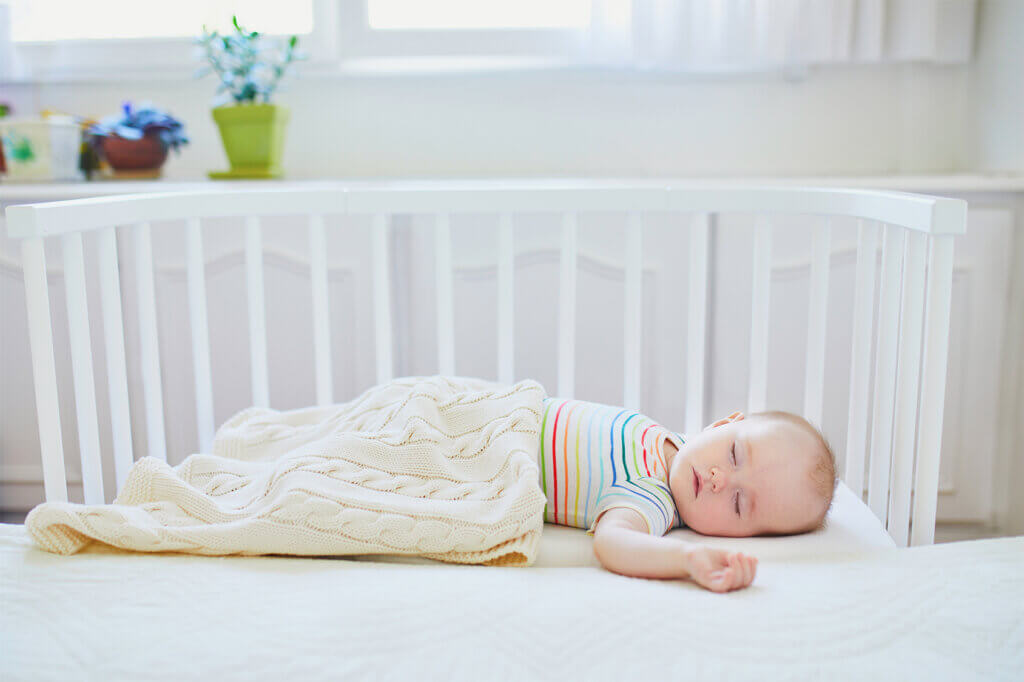 Unlike many classic cots, side beds cannot be converted into a cot without crib rails, but some models can be used as a children's bench with backrest or even as a desk.
Up to what age is an extra bed suitable?
Rollaway beds have a smaller lying surface than classic cots and can therefore be used for a shorter period of time. Most babies have grown out of side beds with the typical lying surface of 90 x 50 centimetres after six to nine months. The manufacturer babybay also offers larger side beds with lying surfaces of up to 105 x 59 centimetres, which are suitable for babies up to the age of 20 months. At the latest, when your baby wakes up at night because he or she bumps into the bars during sleep, it is time to move to a larger bed – usually a cot. When exactly this time is, of course, always depends on the individual development of the child.
Baby cradle: rocking gently to sleep
Baby cradles are characterised by a rocking option, thanks to which you can gently rock your offspring to sleep. The different models can be divided into two types with regard to their rocking mechanism:
models on runners, where the entire cradle rocks
frames (usually on castors) in which the cot is integrated to swing freely.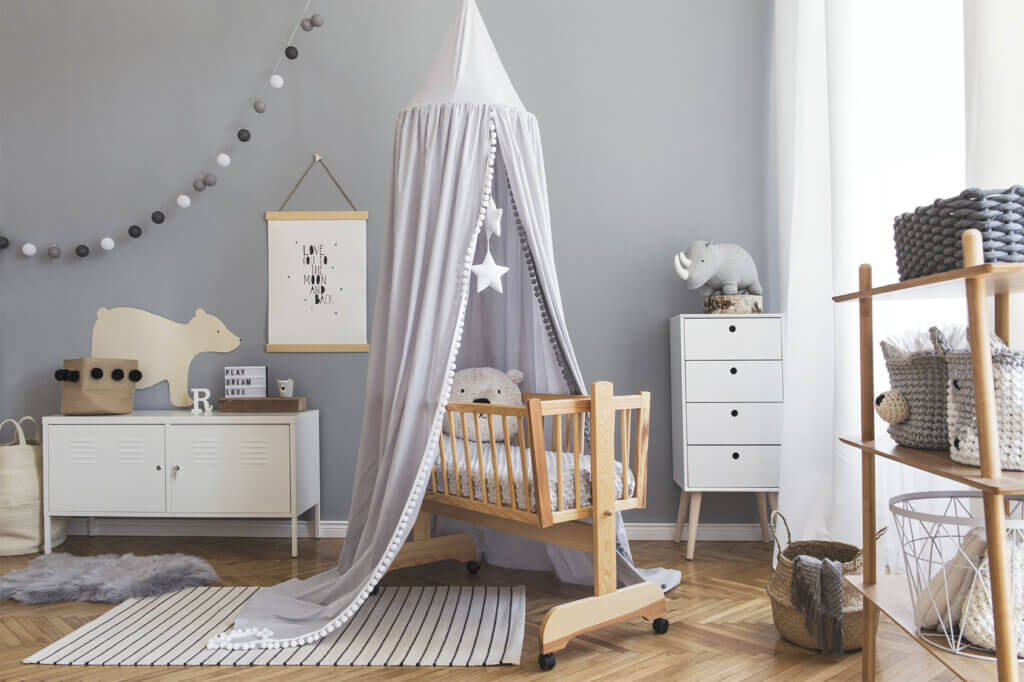 The latter option has the advantage that you can easily move the cradle from one room to another. Regardless of the rocking mechanism, baby cradles have a relatively high frame so that their parents do not have to bend too low to put their baby in the cradle and take it out again. Many baby cradles are equipped with a canopy at the head end that shields the baby from outside influences.
With comparatively small lying surfaces, baby cradles are primarily designed for use in the first weeks and months. The lying surfaces of common baby cradles measure 35 x 70 to 45 x 90 centimetres. They are therefore suitable for babies up to six months old. Well-known baby cradle manufacturers include roba and Alvi.
Narrow cots for more security

In their first weeks, babies feel more comfortable in smaller beds with a smaller surface area, as they are still used to the confinement in the womb.
Bassinet: a good place to sleep during the day
Just like baby cradles, bassinets are mainly intended for sleeping in during the day in the first weeks and months and are more of a mobile resting place than a bed. They consist of a basket, often a wicker basket, which is firmly mounted on a mobile base. This means that the bassinet can be pushed around the home comfortably and is particularly compact and flexible. This means you can easily change rooms with your baby without taking him or her out of the cot.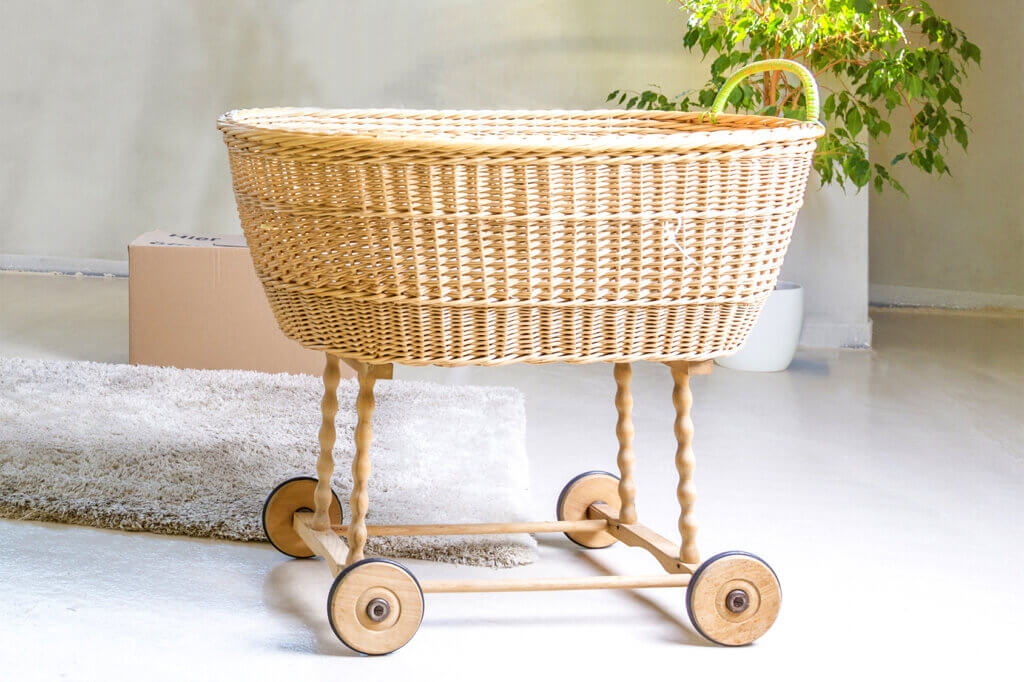 The lying surface of a bassinet is usually rather small, about 40 x 80 centimetres, which makes the cradles suitable for babies up to about six months old. Many models include an inner cushion for the basket and a canopy for the head end. Wicker baskets in particular should be well padded so that the baby cannot injure itself on protruding wickerwork. Well-known bassinet brands include roba, Schardt and Alvi.
Travel cots: light and compact when folded up
Travel cots are designed to be particularly easy to assemble, disassemble and transport. They are often made of lightweight materials such as polyester so that their overall weight is as low as possible. Typical travel cots weigh about 10 to 12 kilograms. The side panels are made of a mesh-like fabric that ensures good air circulation. Many manufacturers offer their products as practical sets which, in addition to the travel cot, include a matching mattress and a bag for transport.
In terms of their lying surface, travel cots are similar to classic cots. Most models measure 80 x 120 centimetres, which makes travel cots suitable for children up to the age of three to four. However, the weight of the child also plays a role in the travel cot, as the models are less stable than robust wooden cots due to their construction and materials. Many travel cots are designed for a maximum weight of 15 kilograms. Well-known travel cot brands include Hauck and BabyBjörn, for example.
Not suitable for continuous use

The mattresses supplied are usually very thin so that they can be easily transported and often cannot compete with classic children's mattresses in terms of quality. Therefore, travel cots are not recommended for long-term use.
Important selection criteria
Regardless of which type of baby cot you choose, there are some criteria that you should definitely consider when making your selection in order to provide a safe sleeping environment for your offspring. Among other things, the various models differ in the size of their lying surface, their material and, of course, the price. These and other important buying criteria are discussed below.
The material
Baby cots are made of either wood or metal. Wooden beds are either made of solid wood or partly solid wood (pressed wood or chipboard). Only pieces of furniture that are made entirely of one type of wood may be called solid wood furniture. Oak, birch and beech, for example, are often used. Such beds are particularly high-quality and durable. Partially solid wooden beds are cheaper to buy than solid wooden beds, but they are also less durable. Metal baby beds are somewhat less common on the market than wooden beds, but have the advantage that the surfaces are easy to clean. However, metal is less warm and cosy than natural wood.
The absence of harmful substances
Whether you choose a baby cot made of solid wood, chipboard or metal is more a question of taste and price. It is much more important to make sure that the material used is either as untreated as possible or that the varnish of the bed is saliva-resistant and solvent-free so that the baby does not get any harmful substances. Inexpensive furniture often uses glues or adhesives that emit harmful substances over the years. Parents should therefore make sure that babies and toddlers sleep and play in furniture that has as few or no glued components as possible. Of course, the mattress on which their offspring sleep should also be free of harmful substances.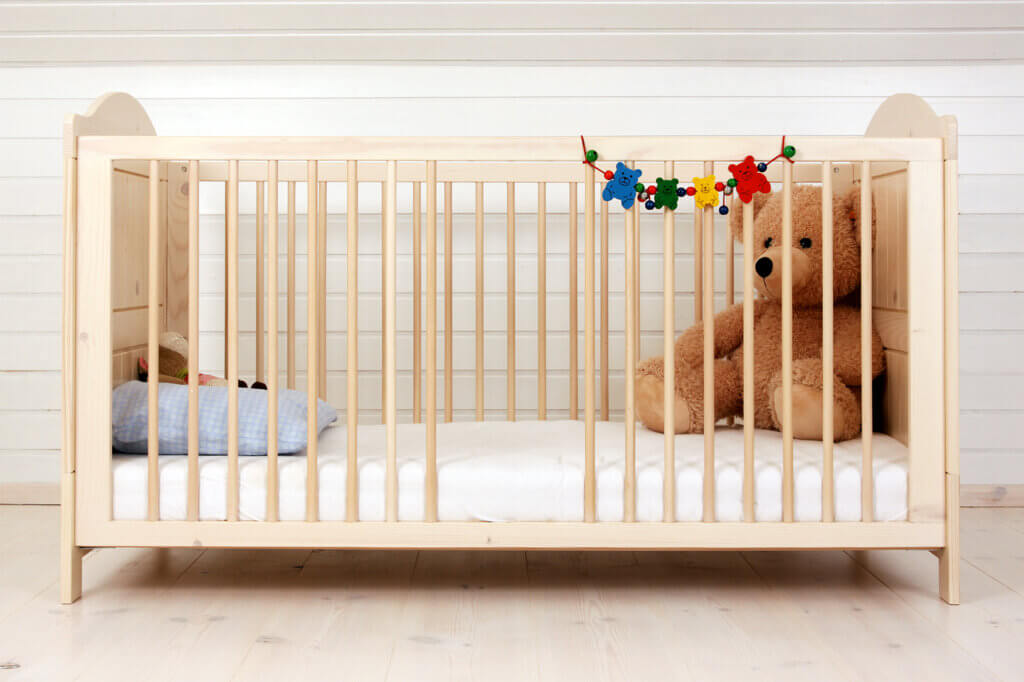 Low-pollutant beds and mattresses can be recognised by the RAL Environmental Label 38, more commonly known as the Blue Angel, and the TÜV seal. Furthermore, it is important for the safety of babies that the bed has no sharp corners and edges and is splinter-free.
The dimensions
With regard to the dimensions of a baby bed, both the size of the lying surface and the dimensions of the complete bed play a role in the purchase decision. The size of the lying surface is – in addition to the individual development – decisive for the size up to which your baby or child can use the bed. The overall size of the baby cot is decisive for where the piece of furniture will fit. Basically, cots, bassinets and bassinettes are more compact than classic cots. Baby cradles with runners, however, usually require a little more floor space. If you want to furnish the nursery, you should plan with dimensions of 100 x 60 cm – this way the bed has enough space.
At the same time, cots usually have a larger lying surface than other types of baby beds and can therefore be used for longer. The standard lying surface of classic cots is 70 x 140 centimetres. Smaller cots have a surface area of 60 x 120 centimetres. The lying surfaces of side beds, baby cradles and bassinets are usually even smaller. The following overview offers a guide as to which lying surface is suitable up to which age:
| Lying surface | For babies/children up to |
| --- | --- |
| 40 x 80 centimetres | 6 months |
| 45 x 90 centimetres | 9 months |
| 55 x 95 centimetres | 14 months |
| 60 x 110 centimetres | 20 months |
| 60 x 120 centimetres | 3 to 4 years |
| 70 x 140 centimetres | 7 years |
Common dimensions of lying surfaces of different baby cot types and their age recommendations.
Is the lying surface height adjustable?
Ideally, cots and side beds have a height-adjustable lying surface. In the case of a rollaway bed, height adjustability is important in order to bring the lying surface of the baby cot to the same height as the parents' bed. To ensure that a model can be attached to almost any bed, a continuously height-adjustable lying surface is recommended. With a cot, a height-adjustable lying surface allows the depth of the bed to adapt to the child's height, especially when the child slowly learns to stand and becomes mobile. This way, in the first weeks of the baby's life, the lying surface is so high up that you can comfortably put it in the bed and lift it out. Later, move the lying surface further down so that your toddler cannot climb over the cot rail. The lying surface of bassinets and baby cradles is usually not height-adjustable. However, this feature is not necessary with these models.
The mattress
While some baby cots come with a mattress, other models require you to buy one separately. Both options have their advantages and disadvantages. For example, complete baby cot sets are often cheaper. In addition, the purchase is more convenient for parents because they only have to make one decision and do not have to find a matching mattress in addition to the bed. On the other hand, when you buy a separate mattress, you have a free choice and do not have to settle for the model that the manufacturer includes with your selected bed frame. Regardless of whether you buy the mattress as a set or separately, it should meet the following criteria:
In no case too soft to support the body safely. The head should not sink in more than two to three centimetres.
Tested for harmful substances (for example, by OEKO-TEX Standard 100, TÜV or the FKT body compatibility test).
Supporting and elastic function to prevent neck and back pain
Can the baby cot be converted?
Among the cots, you will find particularly versatile models. For example, you can sometimes remove the side rails and convert the baby cot into a junior bed. With some models, it is also possible to remove only one side rail and use the classic cot as an extra bed. From toddler age onwards, it is practical if the cot has slider bars that can be removed so that the offspring can enter and leave their sleeping area independently by getting in and out.
The babybay cots are also very versatile. They can be converted into a larger cot, a playpen or a high chair, for example, by adding extensions. But you can also convert the extra beds without accessories: For example, to a children's bench or a play table. Bassinets and baby cradles, on the other hand, are rather inflexible and cannot be converted.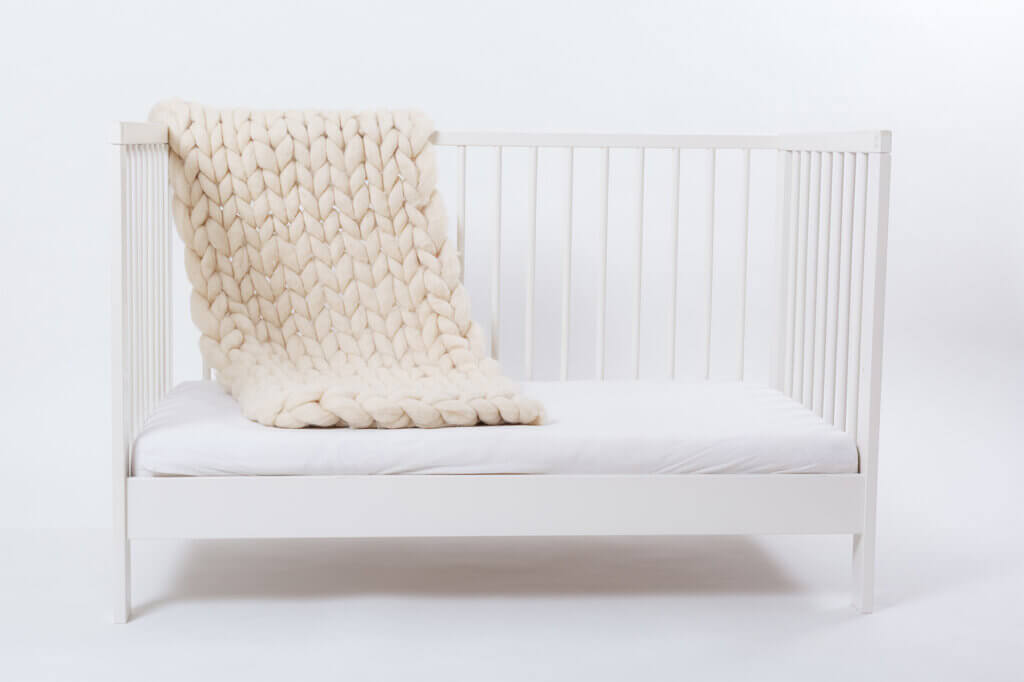 What does a baby cot cost?
Depending on the type, manufacturer and model, the various baby beds differ greatly in price. Travel cots are comparatively inexpensive and are available for as little as 30 euros, while higher-priced travel cots cost up to 200 euros. For bassinets and baby cradles you pay about 50 to 300 euros, for side beds between 70 and 300 euros. Inexpensive cots are available from 100 euros, but these usually do not include accessories such as a mattress or a nest. Mid-range baby cots are priced at 200 to 300 euros. Higher-priced cots, such as models from the Pinolino brand, cost up to over 600 euros.
The design
Apart from aspects such as safety, size and height adjustability, the design of a cot is of course rather secondary. Nevertheless, for many parents it plays a role in the selection process. Ideally, the bed should match the rest of the children's or parents' bedroom. Here, the various manufacturers offer a wide range of colours, from a natural wooden look to plain, single-coloured lacquered beds to brightly coloured models with imaginative patterns.
Protection and safety
To ensure that your baby is safe and protected in its cot, there are a number of points to bear in mind when buying as well as before and during use. By law, cots must meet the safety requirements of the DIN EN 716 standard. The GS seal (tested safety) shows that the TÜV has checked whether the bed meets the requirements.
It is better not to use a nest in the first few months

In principle, nests increase the risk of heat accumulation. In addition, there is the risk that the nest is not sufficiently fastened and that the child pulls it over its face in the worst case. It is therefore advisable to leave out the nest during the first months of life, especially in warm summer months.
The right distances
With cots, it is especially important to make sure that the distance between the individual bars is correct. If the bars are too close together, there is a risk that the baby's hands or feet will get caught between the bars. If the bars are too far apart, there is a risk that the baby's head will slip between the bars. According to the DIN EN 716 safety standard, the bars must be at least 4.5 centimetres and no more than 6.5 centimetres apart in order to avoid this danger. The minimum and maximum distances must also be maintained when the bars are loaded – for example, when someone leans against them or rests on them.
The distances between the lying surface and the upper edge of the bed are also specified. If the lying surface is at its lowest setting, the distance to the upper edge of the bed must be at least 60 centimetres. If you push the lying surface all the way up, there must still be at least 30 centimetres between it and the top edge. These distance requirements ensure that the baby is protected by a sufficiently high crib rail.
In addition, the following distances must be maintained according to the safety standard:
Gap between bed frame and lying surface: less than 4.0 centimetres
Distance between slatted frame struts: less than 6.0 centimetres
The following diagram illustrates all the important spacing requirements using the cross-section of a cot.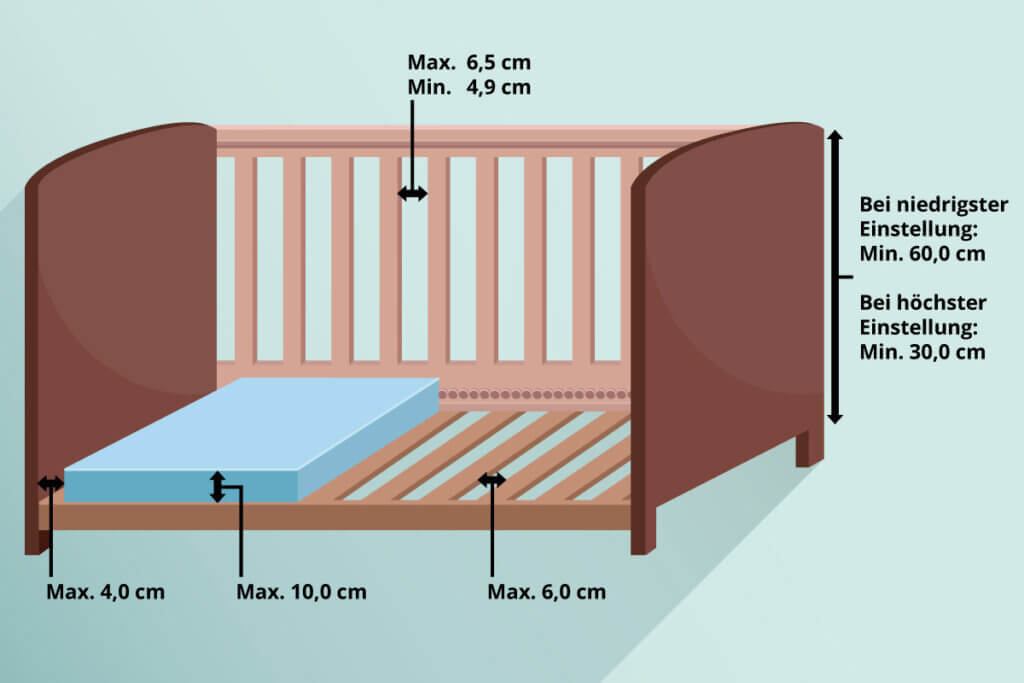 Other safety requirements for the baby cot
In addition to the distances mentioned above, you should consider the following points when looking for a safe baby cot:
No sharp corners and edges
No removable small parts
Splinter-free
No cross struts that the child could climb up on
For baby cots on castors: At least two lockable wheels
If the bed has removable slider bars, make sure that the springs are mounted upwards. Then they cannot fall out if the baby pushes them down while supporting itself.
Where is the best place to put the baby cot?
Where you place your baby cot naturally always depends on the spatial conditions of your home. A good place is the parental bedroom, because here you have your baby close to you and can be with him quickly if necessary. In addition, the steady breathing sounds of the parents stimulate the infant's breathing regulation. Regardless of the room in which the baby cot is placed, it is important that it is neither too close to the heating nor too close to the window. The baby should not be exposed to draughts or direct sunlight. The room temperature should ideally be between 16 and 18 degrees Celsius. The bed should be particularly stable with the headboard against a wall. Sockets, lamps and power cables should be out of reach.
Minimise dangers: Keep the bed as empty as possible
The fear of sudden infant death syndrome is probably one of the biggest concerns of new parents. You can prevent this with a safe sleeping environment. Babies sleep particularly safely on their backs. They can breathe best in this sleeping position. It is also important that the sleeping area offers sufficient air circulation. So you should never stuff the cot with pillows and blankets, even if it looks cosy. Pillows, blankets or even cuddly toys carry the risk of overheating or respiratory congestion. The latter means that the baby breathes in its own air. Instead, the following applies to the furnishing of the sleeping area: the less the better.
In the first 12 months of your baby's life, for example, you should do without a pillow altogether. Later, a flat pillow is recommended so that the baby's head cannot sink into it. A blanket is also not advisable. The risk is too high that the baby will slip under it or pull the blanket over its head. It is safer to use a sleeping bag, which also has the advantage that the baby cannot run free. Make sure that the neckline is smaller than the head so that the baby cannot slip into the sleeping bag.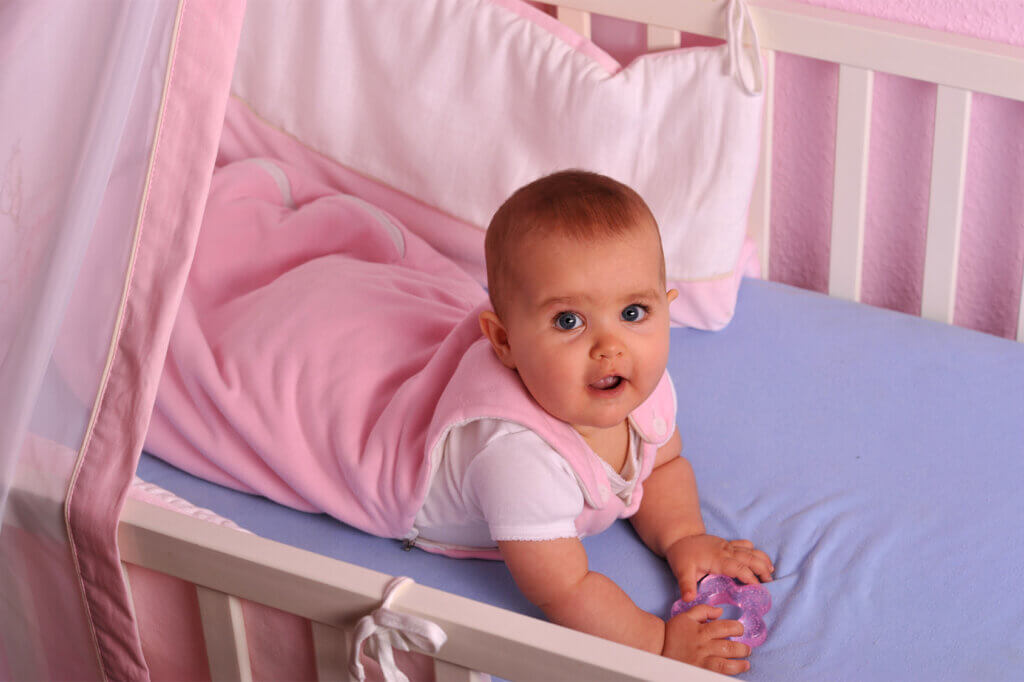 The right sleeping bag size

Baby's height minus head length plus 15 centimetres.
Pay attention to hygiene
Babies and toddlers do not yet have a fully developed immune system and are therefore more susceptible to infectious diseases. Therefore, hygiene in the nursery, especially in the baby's bed, is very important. To give mites no chance, air the covers regularly and vacuum the mattress. If possible, turn the mattress once a week. It is also advisable to choose covers that can be washed at more than 30 degrees. This also applies to the nest and the canopy. Wash the nest and canopy as well as the sleeping bag once a week. The bed frame and slatted frame should also be cleaned once a week. It is sufficient to wipe the surfaces with a damp cloth.
Accessories for baby beds
In addition to the basic equipment such as the bed frame and mattress, baby cot manufacturers also offer various accessories, some of which are practical and some of which are simply pretty to look at.
Canopy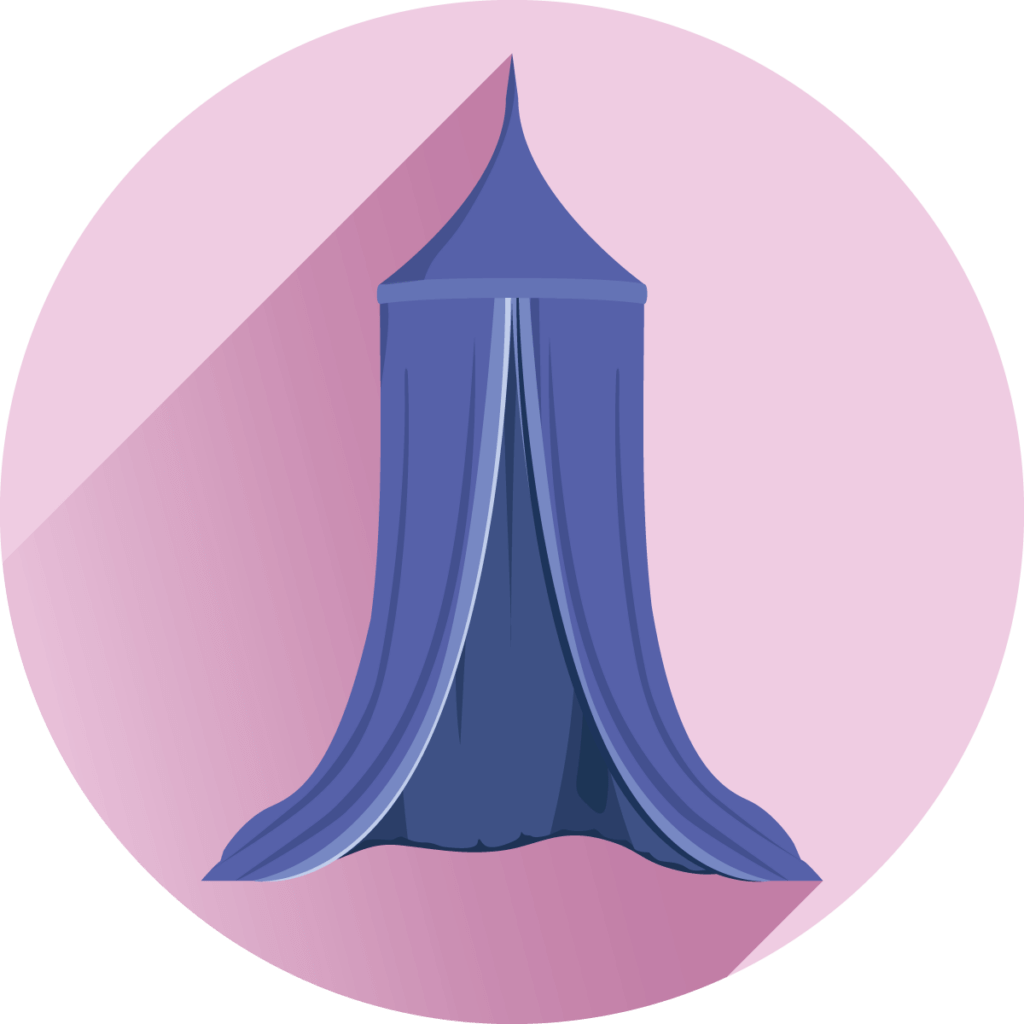 The so-called canopy is a kind of curtain that is attached to a frame at the head end. In the past, when the hygienic conditions were different, it was mainly used to keep bugs away from the baby. Today, it mainly protects the baby from draughts without restricting air circulation too much. It also shields the baby from light, which promotes a peaceful sleep.
Bed base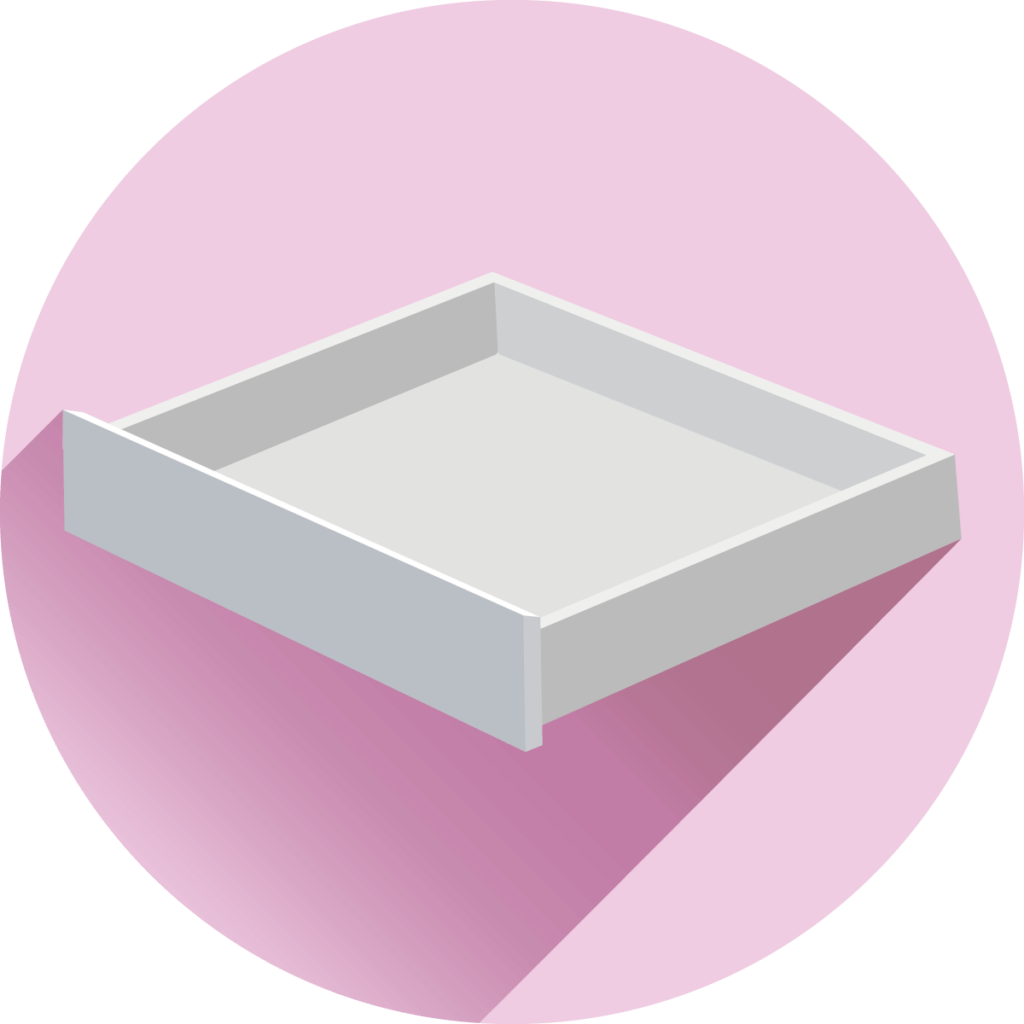 As with models for adults, there are also versions of baby beds with a bed base. Usually, such a bed base is in the form of a large drawer and is located between the floor and the lying surface. It is particularly practical in small rooms because it offers additional storage space in which you can keep bed linen, blankets, pillows and cuddly toys protected from dust.
Mosquito net
Many manufacturers offer matching mosquito nets for their baby beds. These can be stretched around the entire bed and protect the baby from mosquitoes and other insects. Alternatively, there are mosquito nets that are attached to the ceiling and hung over the bed. When hanging them, make sure that the net is well fastened and out of the baby's reach so that he or she cannot grab it and pull it down.
Mobile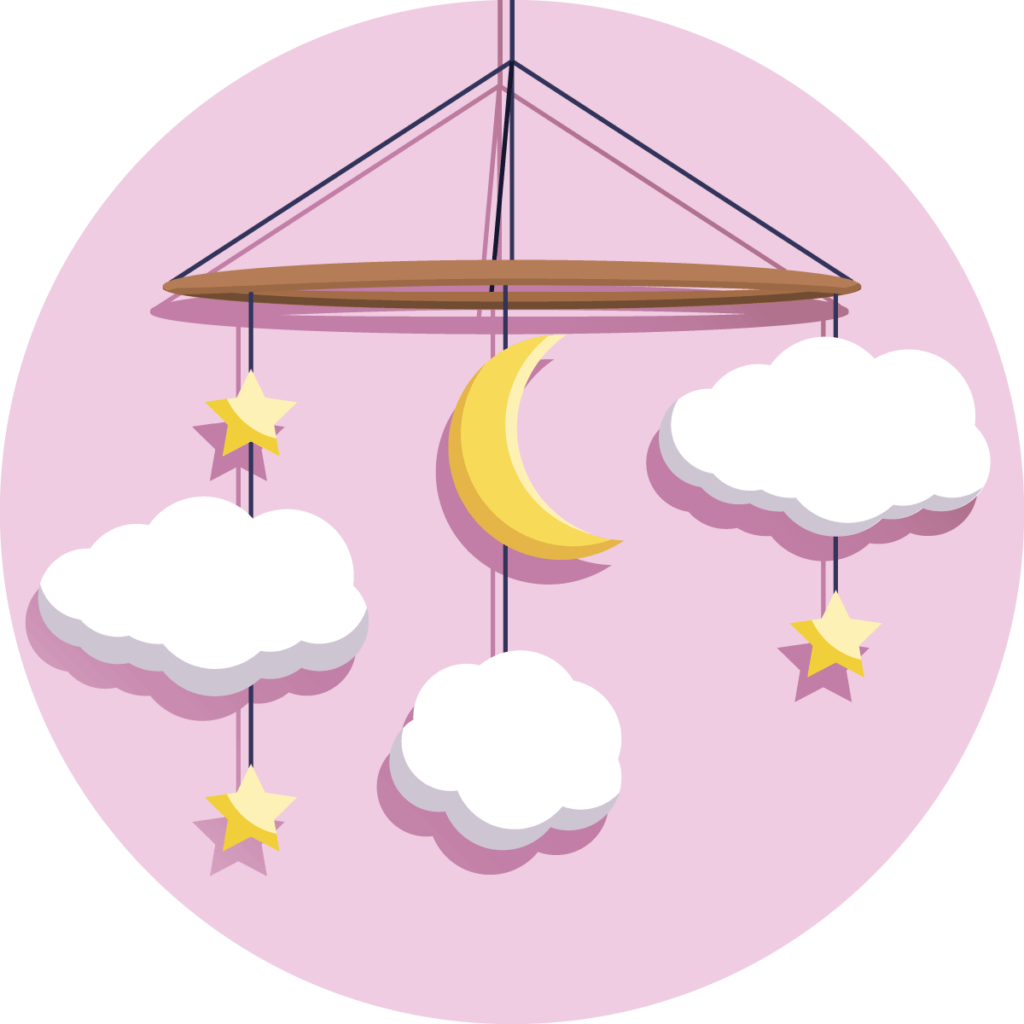 Mobiles are moved by even the slightest breeze and thus arouse the little ones' interest Mobiles for children often feature animals or other colourful figures or objects. They offer children their first opportunities to occupy themselves: First by observing, later also by consciously grasping.
Nestle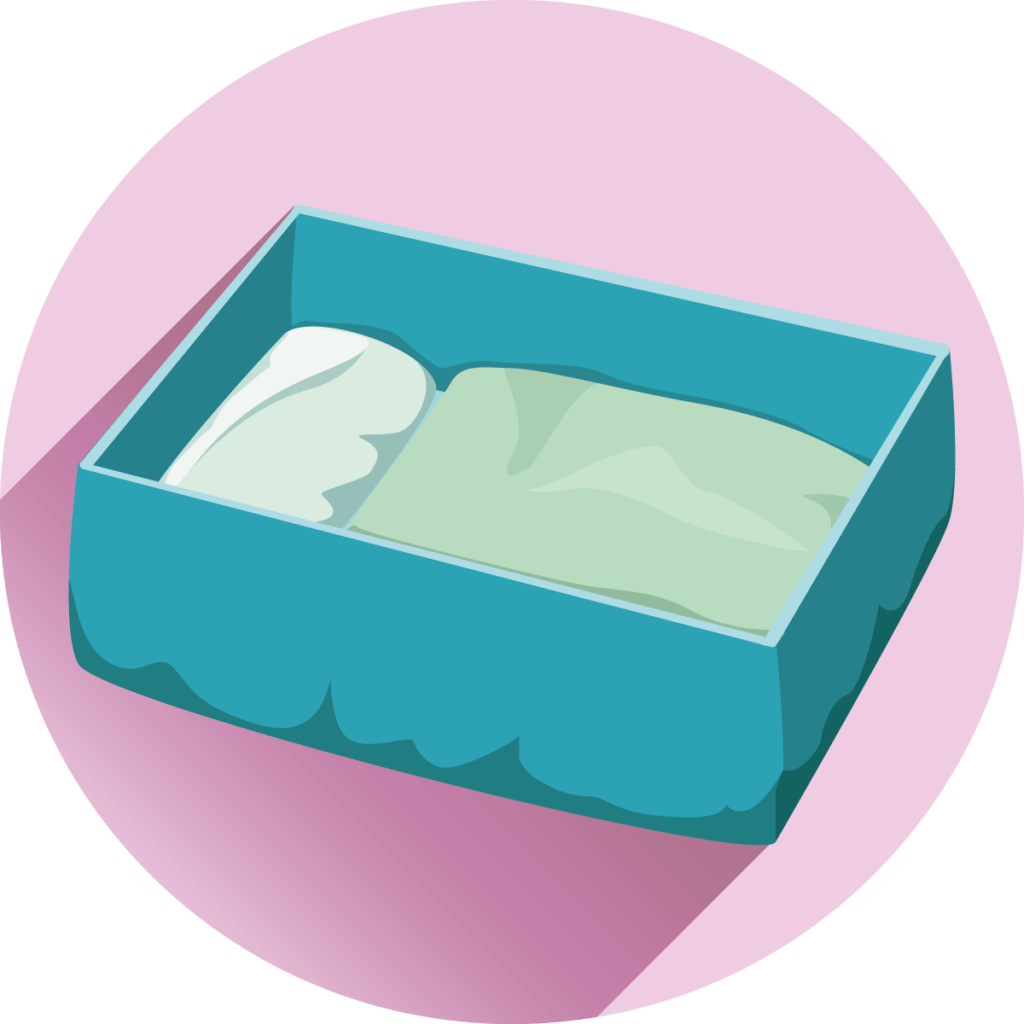 A nest is a cosy bed surround that you attach to the crib with Velcro or ribbon. It keeps out draughts and prevents the baby from bumping into the crib rail. Nest nets are available in numerous colours and patterns and are even included with some baby cots. It should be made of light, thin fabric so that the air can circulate well.