Wireless christmas candles purchasing advice: how to choose the right product
What You Need to Know
Cordless Christmas candles are a flexible alternative to the classic fairy lights.
They are available in sets in which all candles have the same dimensions and weight.
Wireless candles usually have a colour temperature value of up to 2,500 Kelvin and several light modes, for example a flickering and continuous light mode.
Each of the candles that can be controlled by remote control contains an AA or AAA battery. To save the batteries, a timer function is recommended.
Certificates such as a TÜV seal or a GS mark indicate the performance characteristics of the candles.
Every year
The cosy, homely atmosphere of softly falling snow, the crackling of a flickering fireplace and the scent of hot chocolate heralds the beginning of the Christmas season. In addition to the Advent wreath and biscuits, the Christmas tree is also an annual tradition for many people. Be it for religious, commercial or conventional reasons, every December people stroll through the fir sales again and look for that one tree to take home. There, the fir tree is then transformed into a Christmas tree: Ball, pendants, sweets and of course the festive lighting cannot be missing for many Christmas enthusiasts. While some swear by fairy lights, others turn to practical cordless Christmas candles.
Candles with battery
Cordless Christmas candles are candles made of plastic that are attached to the branches of the Christmas tree with a holding device. Each individual candle requires a battery to light up the LED light built into the top; the entire set can be switched on with a remote control. The cordless Christmas candles resemble real candles made of wax. There are even models designed with a real wax look; drops of wax running down the sides make the look as authentic as possible.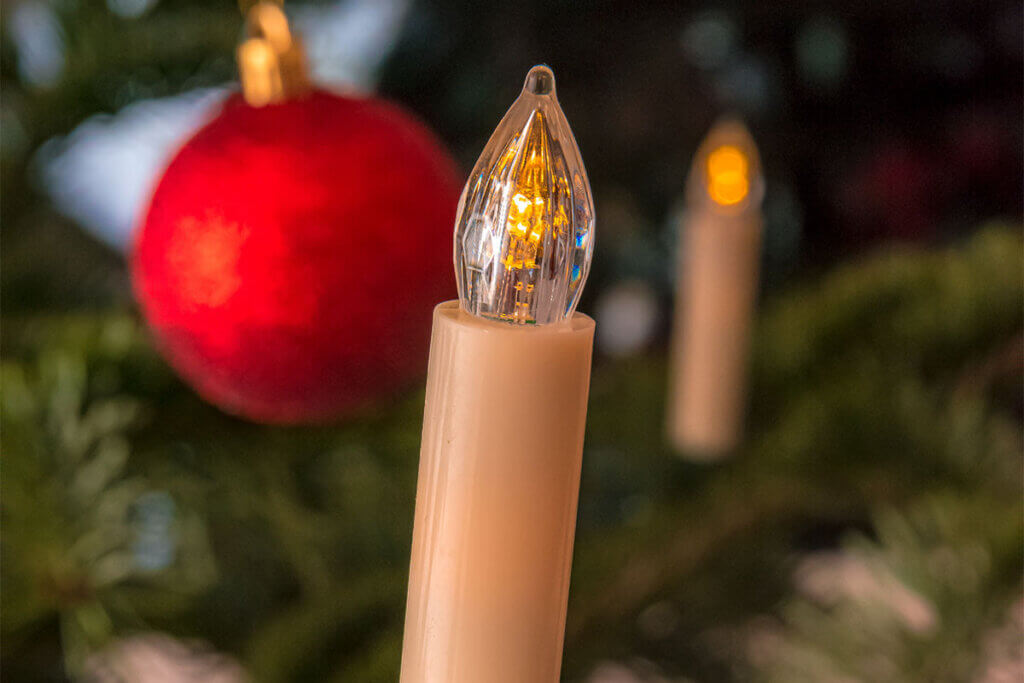 Fairy lights and their disadvantages
Wireless Christmas candles have the advantage over other Christmas lights in that they do not get knotted and are not a source of danger. Fairy lights are still very popular, but the annual unravelling of knotted chains has become a rather unwanted tradition in many households. In addition, fairy lights come with a power cord, so the tree needs to be near a power outlet.
Real candles and their disadvantages
Even in times of electric lighting, very tradition-conscious people still rely on real candles, whose light is particularly warm and natural. They also give off warmth and make Christmas Eve even cosier. However, wax candles carry a certain risk: the burning decoration in a usually rather dry conifer can quickly become a source of fire. Especially if children and pets are running around the tree, you should avoid using real candles. Moreover, they have to be bought again every year and the wax has to be scraped out of the holders. Cordless Christmas candles are a suitable alternative for all candle lovers.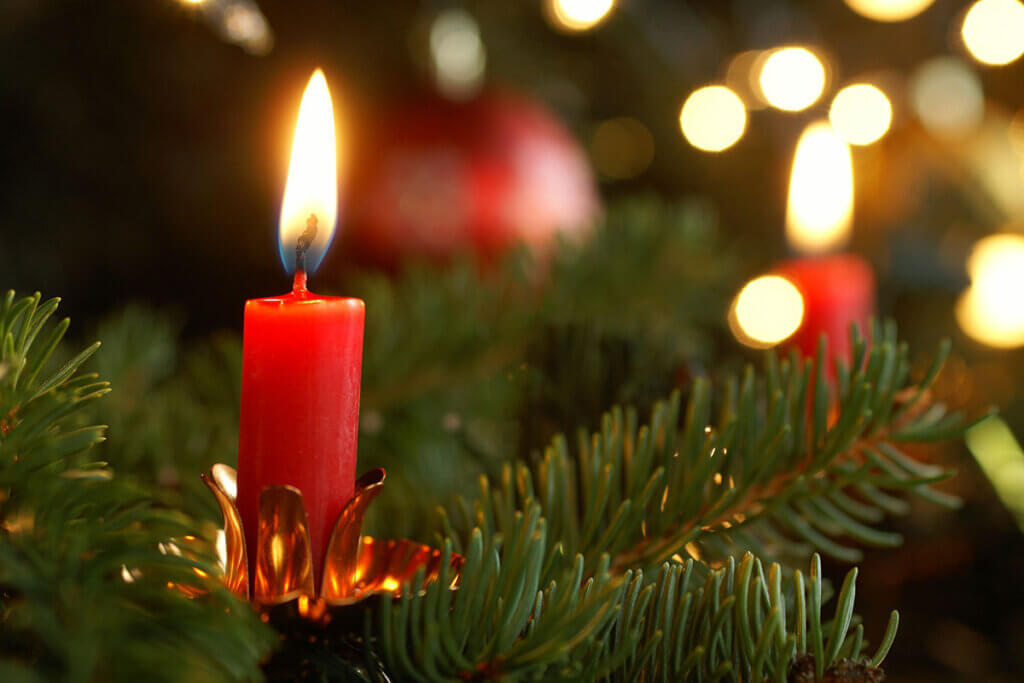 Buying criteria for cordless candles
Wireless Christmas candles differ mainly in terms of design and technical features. The candles can glow in different colours and offer different brightness levels. In addition, some models can be attached not only to a branch but also to other places. Switching on and off is usually done via a remote control, which you don't have to use, however, if the candles are programmable via a timer.
Set
Since cordless Christmas candles are usually offered as a set, you should already be aware of the size of the Christmas tree before buying and estimate how many lights you want to distribute on the branches. Small sets usually have only 10 candles, while very large sets have up to 50 candles.
Dimensions
Within a set, all candles are the same size. If you buy sets from different manufacturers, pay attention to this, as the size of the candles may differ. A Christmas tree with candles of different sizes can make a stylish impression. However, these disparities do not have to suit everyone's taste. As a rule, the variants have a diameter of around 2.0 centimetres and a maximum length of 13.0 centimetres. Most models are on average 1.5 centimetres wide and 10.0 centimetres long. Particularly long candles make a very good impression, especially in tall fir trees.
Weight
To prevent them from pulling down the branches they hang from, the candles are very light. Mostly, the products of different manufacturers vary only by a few grams. The specification of the individual weight of a candle always refers to the state equipped with a battery. Usually, cordless candles weigh between 10 and 50 grams.
Running time
As a rule, the individual candles have a useful life of 150 to 200 hours. After this time, the light output decreases and the batteries have to be changed.
Colour temperature
The colour temperature is measured to reflect the colour impression of a light source, in this case the cordless Christmas candles; it is expressed in Kelvin.
| | | |
| --- | --- | --- |
| Value in Kelvin | Light colour | Example |
| < 3.300 | Warm white | 40-watt light bulb |
| 3.300 bis 5.300 | Neutral white | Moonlight |
| > 5.300 | Daylight white/cold white | Fog |
The table shows the different Kelvin values and the colour of the corresponding light.
The standard lighting mode of cordless Christmas candles usually has a value of 1,500 to 2,500 Kelvin. 1,500 Kelvin corresponds to the light of a real candle, while all values up to 2,500 Kelvin are characteristic of the light of an incandescent lamp.
Light modes
In addition to the classic warm white colour, electric Christmas candles offer a variety of other colour options. For those who like to decorate their Christmas tree in a colourful and fancy way, the colours are a welcome eye-catcher. At the touch of a button, you can usually switch between red, blue, green or purple. If you prefer a classic look, leave it at the warm white or silver light. But gold or amber tones can also contribute to a traditional ambience and imitate the glow of a real candle.
To make the light even more authentic, most electric Christmas candles offer the option of flickering the light. This makes the fake candles appear to sway slightly in the wind. The speed of the flickering can also be adjusted on some candles; usually you have several levels to choose from here. You can switch off the flickering mode at any time at the touch of a button, so that you can enjoy the continuous light if you wish. The continuous light can also be adapted to the ambience and mood by dimming it in stages.
Fastening
The most common are clips, which are located at the bottom of each candle. Thanks to these clips, the candles can be attached to the branches of the Christmas tree without slipping off. In some candle models, the clips are also equipped with a ball joint so that you can straighten the candle even if the branch is hanging down.
In order to be able to use the cordless candles outside the holidays and away from the Christmas tree, some manufacturers offer the option of changing the attachment mechanism. Still other candles are designed from the outset not to hang but to stand on a surface. Candles with suction cups at the bottom can be attached to smooth surfaces such as mirrors and candles with thorns can be attached to flower arrangements, for example an Advent wreath. Last but not least, there are cordless candles that have a stand and can be placed on any flat surface.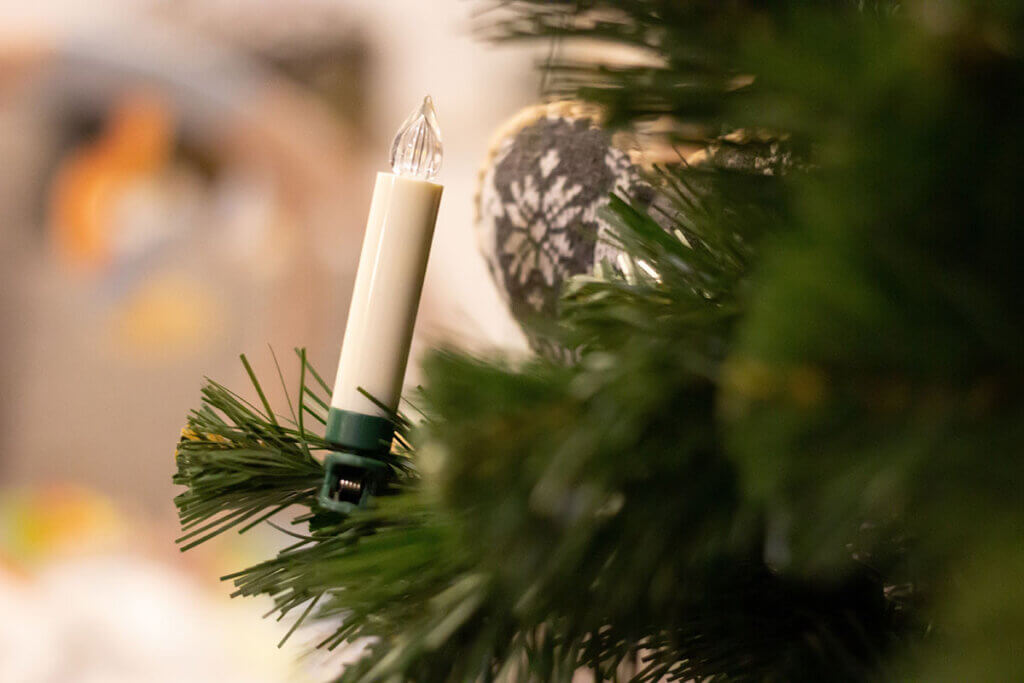 Operation
Most wireless Christmas candles come with a remote control. With this, you can switch the candles on and off at a distance of three to five metres and switch between the different lighting modes. Thanks to a timer function, there is usually no need to operate the candles manually: wireless candles usually have such a mode, which you can also activate with the remote control so that the candles switch off automatically in a period of 4 to 16 hours.
Batteries
Instead of a power cord, batteries power the wireless Christmas candles. There is a battery in each candle; depending on the manufacturer and size, it is an AA or AAA battery. Unless otherwise stated, the candles are only suitable for use within your own four walls.
As the battery compartments are usually not waterproof, water can enter and render the candles unusable. If you want to decorate your garden or patio with wireless candles, you should make sure that the products are classified as outdoor suitable. You can recognise this by the IP value, which consists of two digits. Usually, wireless candles have the IP44 rating, which means that they are protected against dust and splashing water and will not be damaged even in a drizzle.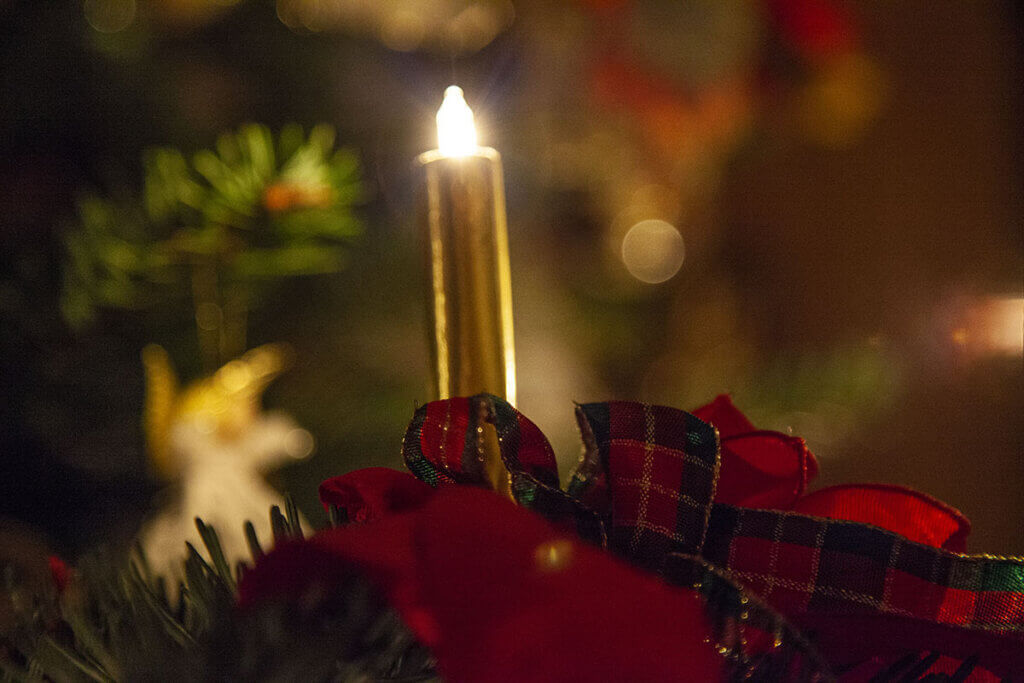 Certification
To be sure that the products meet the requirements, you should look for appropriate certificates and test seals. The Geprüfte Sicherheit (Tested Safety) seal, the so-called GS mark, indicates that the product meets the requirements of the Product Safety Act. In addition, the Technical Inspection Agency, TÜV for short, tests cordless candles for their functionality. Last but not least, you can look for a CE mark; according to the responsible standardisation institute, CE stands for Conformité Européene, i.e. European Conformity. According to the name, this is not a test seal, but a declaration by the manufacturer that his product complies with all the specifications applicable in Europe.
The alternative Christmas tree
If you want to celebrate Christmas in an alternative and sustainable way, you should take a look at a Christmas tree frame. These are usually three to four rings of different sizes that are connected to each other by thin chains. The construct is hung on a pole or on the ceiling by means of a hook. You can decorate the individual rings as you wish with fir branches, tinsel or garlands and hang various baubles of different lengths from them. Last but not least, you can attach the cordless Christmas candles to the rings with the clip. The Christmas tree does not lose any needles and does not need water; it exudes its very own charm and can be used again every year.
More decoration ideas for cordless candles
Wireless Christmas candles don't just look good in a Christmas tree. You can replace all the real candles in your home with the electric models. For one thing, you don't have to worry about leaving the room, and for another, the oxygen content of the room doesn't decrease. However, cordless candles do not have a warming effect; but if you prefer a cooler room climate anyway, this need not be a disadvantage.
Cordless candles with suction cups can be attached to windows or mirrors; this way you get a decorative mirror effect. You can attach candles with clips not only to the branches of a tree, but also to any thin or rod-like object, such as a decorative grille, a thin shelf or a clothes rail. You can turn a metal coat hanger into a decorative object in just a few easy steps: Bend the hanger into a circular shape, wrap it with aluminium foil and hang Christmas tree baubles on the bottom; now all that's missing are the candles, which you also attach to the bottom between the hanging baubles. You can hang the transformed hangers on the wall or ceiling.
---
Fig. 1: © BeckArt / stock.adobe.com | Fig. 2: © Magdalena Kucova / stock.adobe.com | Fig. 3: © Wirestock / stock.adobe.com | Fig. 4: © PixelboxStockFootage / stock.adobe.com