Blackhead remover vacuum purchasing advice: how to choose the right product
What you need to know
Pore cleansers free the skin pores from excess talc and oil.
The deep-acting application can treat or prevent skin impurities.
Blackhead removers are gentle on the skin and easy to use.
Classic vacuum pore cleaners suck the dirt out of the pores by means of negative pressure.
The purchase of such a cleaner depends, among other things, on the suction power, the intensity levels and the range of functions.
Pore-deep facts
The skin is the largest organ of the human body. It constantly produces sebum – among other things to protect it from external influences – and has thousands of tiny openings. These so-called pores open and close depending on physical activity and temperature. In the face alone, people have around 300,000 pores. The amount of sebum varies from person to person. Overproduction results in clogged pores that lead to skin blemishes. When blackheads become inflamed, unwelcome pimples develop.
The different skin types

The following four skin types are considered common: normal, sensitive, oily and dry. Normal skin lies harmoniously between "too oily" and "too dry". It looks smooth and is not shiny. On the contrary, oily skin is often blemished, especially in the T-zone, which extends from the chin over the nose area to the forehead. Very dry and sensitive skin is usually reddened, appears cracked and is prone to disease.
Blackheads do not only appear during puberty, but also in old age, depending on the skin type. Many adults simply accept these small impurities. But a cleansed skin is a healthy skin. To spot the pores, you need to get close to the mirror and look for the little black spots. Blackheads are blackish oily plugs. Although skin pores are cleaned along with showering and washing, deep pore cleansing should be done separately.
What is a pore cleanser?
You can use a pore cleanser to rid your skin pores of talc and oil – primarily on the face. This can prevent or actively eliminate blackheads, also known as comedones, and other skin impurities. This is why a pore cleanser is also called a blackhead remover. It classically works with a vacuum to pull out comedones and skin flakes and in this way improve the skin's appearance. In addition, the application stimulates the blood circulation.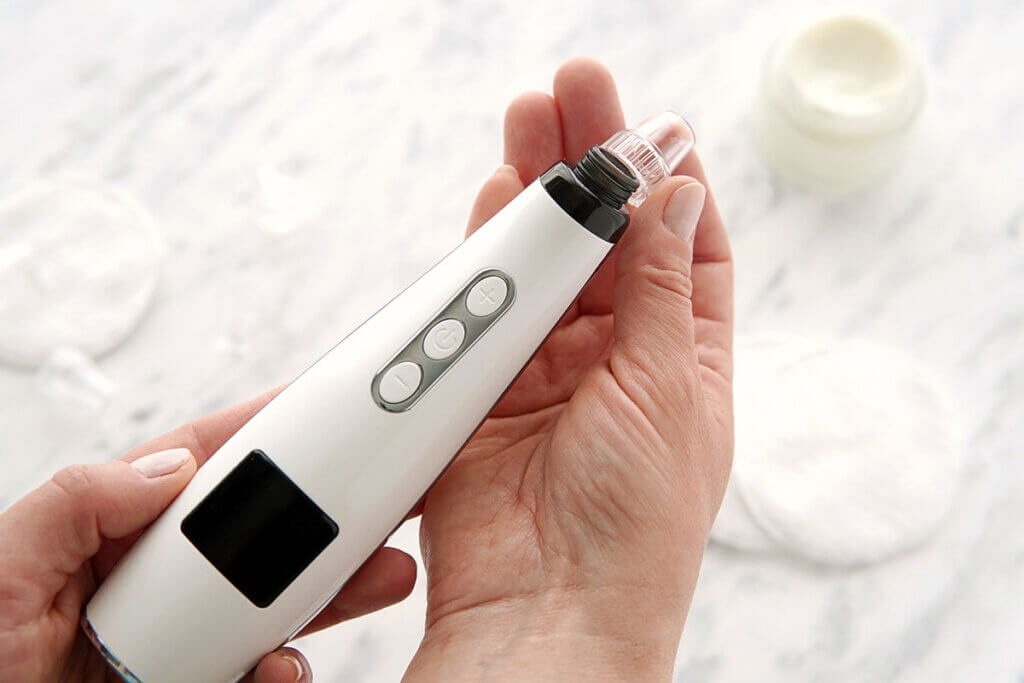 The advantages and disadvantages
A pore cleanser is especially recommended for people who suffer from oily skin. The handy device does not take up much space in the bathroom and is easy to use; moreover, one treatment does not take long. Thus, it is quickly integrated into the daily cleansing and care ritual. Its use can also have a preventive effect so that pimples do not appear in the first place – ideally, this replaces squeezing them out, which tends to harm the skin compared to gentle cleansing with a pore cleanser. In contrast to various beauty products that you have to buy regularly, a blackhead remover is a one-time purchase.
However, improper use can lead to redness or small bruises. A pore cleanser is usually not suitable for particularly sensitive, diseased skin types and acne. In addition, the device requires a certain amount of care, as it has to be cleaned after each use.
Pro points
Handy
Easy to store
Short treatment time
Preventive and direct use
More gentle on the skin than squeezing out pimples
Drawbacks
Redness if used incorrectly
Regular cleaning of the device
Not suitable for irritated skin or acne
How does a pore cleanser work?
The functions of a pore cleanser depend primarily on the type. A vacuum cleaner, whether with or without a water tank, sucks the dirt out of the skin openings by means of negative pressure. A model with a water tank also uses water, which you can enrich with care products if necessary. The treatment with an ultrasonic cleaner is similar to a peeling, as it also scrapes the dirt from the skin, so to speak. The ultrasound penetrates deeper into the skin layers and can therefore even work against small wrinkles. However, an ultrasonic pore cleanser for home use has the disadvantage that it is not as powerful as a professional device used in beauty salons.
What is important when buying
The most important criteria to consider when buying a pore cleaner include the suction power, which is expressed in kilopascals. Furthermore, the device should have several attachments and intensity levels. The battery life, the dimensions and the weight influence the handling and usability. Last but not least, you should check whether useful accessories are included in the scope of delivery.
Suction power
The suction power plays a role in vacuum pore cleaners and varies depending on the model and mode. As a rule, it is between 50 and 100 kilopascals. Units with less than 50 kilopascals have too little suction power to achieve good results. Devices with more than 100 kilopascals, on the other hand, have an increased risk of reddening the skin. The average suction power of pore cleansers is around 60 kilopascals.
Intensity levels
Especially practical are pore cleansers that have several suction levels – usually the number varies between three and six. The following applies here: The more intensity levels that can be set, the better the application can be adapted to the current condition of the skin. If the pore cleanser has several levels, it is always advisable to start with the lowest setting. This way you do not overstimulate your skin, but get it used to the new suction treatment.
Attachments
Many blackhead removers have up to six attachments that extend the range of applications beyond the basic vacuum function. Special massage attachments massage the skin and ensure optimised blood circulation. Other device heads remove skin flakes as carefully as possible, "exfoliate" the skin or help to reduce the size of the pores.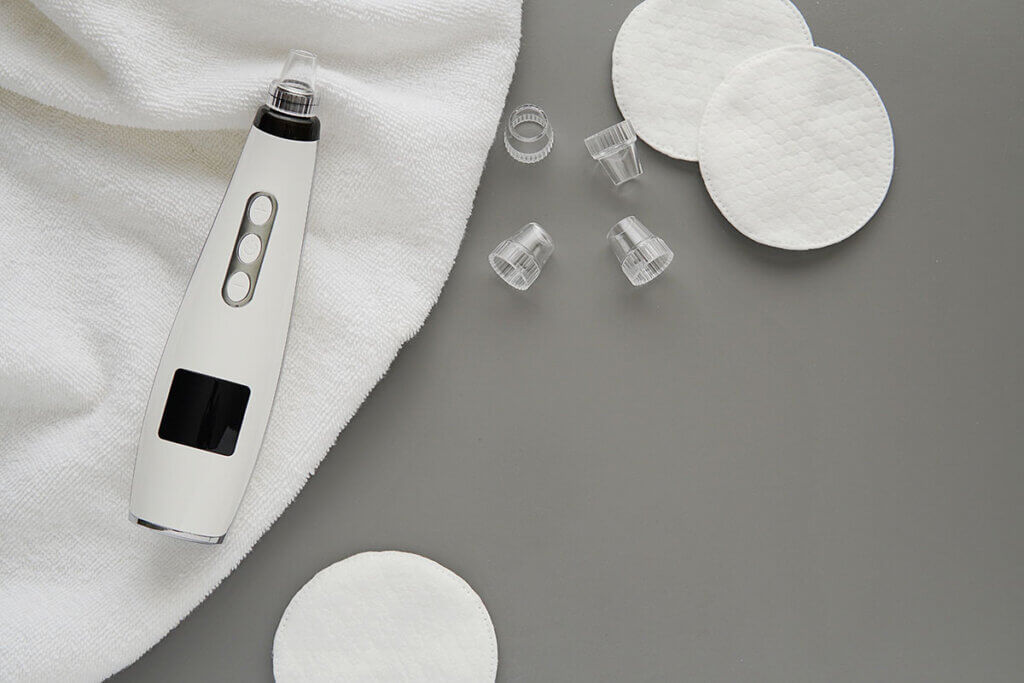 Battery life
Most pore cleansers have an integrated lithium-ion battery that you charge via a USB charging cable. In this way, pore cleaners are mobile and can be used without a power socket. The capacity is given in milliampere hours. It varies from model to model and affects the duration of use of the device. The longer you want to use the pore cleaner mobile and without access to a socket, the larger the battery capacity should be. A battery with 500 milliampere hours offers around 45 minutes of operation and needs just under two and a half hours to be fully charged again.
Size and weight
Both the size and weight of pore cleaners are relatively low. The various models are generally all small and handy: they have an average length of 15 to 20 centimetres and a weight of 200 to 400 grams. If you want to use your pore cleaner when travelling, you should choose a particularly light and small device that can easily be stowed in your luggage.
Accessories and functions
Common accessories include so-called comedone squeezers. These are elongated metal sticks with special eyelets that are used to remove blackheads. Some cleansers come with up to five comedone squeezers.
Those who use their device frequently benefit from additional sponge filters. Although the filters can be used for two to three applications and then cleaned, the sponge filter should be changed at the latest afterwards. If the skin is particularly dirty or oily, it is even advisable to change the filter after just one application.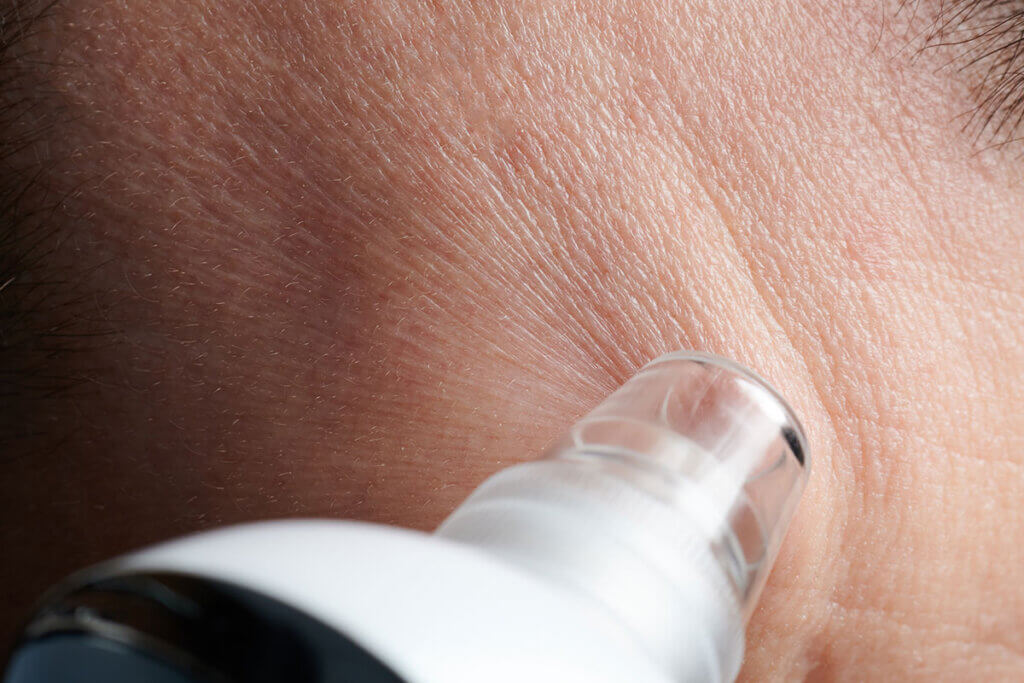 Additional functions expand the range of applications: Some devices have a massage and peeling function, for example. Furthermore, there are pore cleansers with a red or blue light function. Red light promotes the elasticity of the skin and blue light supports acne treatment. A so-called hot mode warms up the skin so that the pores open up further before application.
Prevention, application and cleansing
To avoid clogged sebaceous glands in the first place, you should follow a few tips and integrate them into your daily routine. If blackheads do appear, you can directly reach for your new pore cleanser to declare war on the annoying impurities. But first you need to know how to use the device and how to clean it afterwards.
How do I prevent blackheads?
Apart from hormonal reasons, personal lifestyle can promote the development of blackheads and other skin impurities. You can counteract this by following certain everyday and dietary rules:
Do not touch your face with your hands
Avoid alcohol and sweet drinks
Eat a balanced and nutritious diet
Exercise and do sports
Water or tea is recommended to keep your body hydrated – avoid artificially sweetened drinks as much as possible. Foods that are rich in vitamins and nutritional benefits contribute to a healthy complexion – more vegetables and less unhealthy fats, for example. Avoiding smoking and alcohol, as well as sun protection, also help skin regeneration.
Using the cleanser
Start with the lowest intensity level if the pore cleanser has several suction strengths – ideally, you should start with a less sensitive area of the skin. In this way, you will familiarise yourself with the device before using it on your face. Cover your face with a warm, damp cloth for a maximum of five minutes to open the pores and help suck out the dirt. Turn on the device and start in the nose or forehead area. During use, move the pore cleanser constantly to avoid pressure marks or redness. Do not stay on one area of skin for more than three seconds. After the treatment, wet your face with cool water to close the pores again. A gentle cream nourishes the skin and completes the cleansing. You should treat the skin a maximum of three times per week for five minutes each time.
The cleanser
The pore cleanser should be cleaned thoroughly after each use. As a rule, it is sufficient to hold the device under running water. It is important to clean the attachments used: If they are very dirty, you should put them in a gentle cleaning solution and treat them with cotton swabs. Also clean the filters with water and let them dry well afterwards.
---
Images 1-2: © IndrePau / stock.adobe.com | Image 3: © PixieMe / stock.adobe.com