Face cleansing brush purchasing advice: how to choose the right product
What You Need to Know
Facial cleansing brushes remove excess sebum, dead skin cells and make-up residues from the skin.
Electric cleansing brushes usually work with rotating or vibrating brush heads.
Vibrating facial cleansing brushes are gentler than rotating versions, so they are better for sensitive skin.
Silicone devices do not use replaceable brush heads. Instead, their surface is divided into several zones with different silicone nubs.
Different speed settings allow for a more precise adjustment to one's skin type.
Fast and thorough
Various skin care and make-up products promise a clean, flawless facial skin. For many, they have the same importance in their morning routine as brushing their teeth. Others, however, do not want to spend so much time on skin care: For them, it is enough to quickly rinse the face with a cleanser and perhaps apply a little foundation. Minimum effort for maximum effect – that's their motto.
It doesn't matter which type you belong to, both find a practical helper in facial cleansing brushes. In everyday life, sebum, dirt and skin flakes accumulate. Then there are the remnants of your make-up and day and night care. If they remain on the skin, they cause irritation, pimples and other skin impurities; the impurities are an ideal breeding ground for bacteria and germs of all kinds.
Facial cleansing brushes clean the skin with the help of fine bristles or nubs. There are simple models that consist only of a brush body and bristles, as well as electric models whose brush head treats the skin by itself. Both types use a cleansing product that is applied either directly to the brush head or to the skin, depending on the model.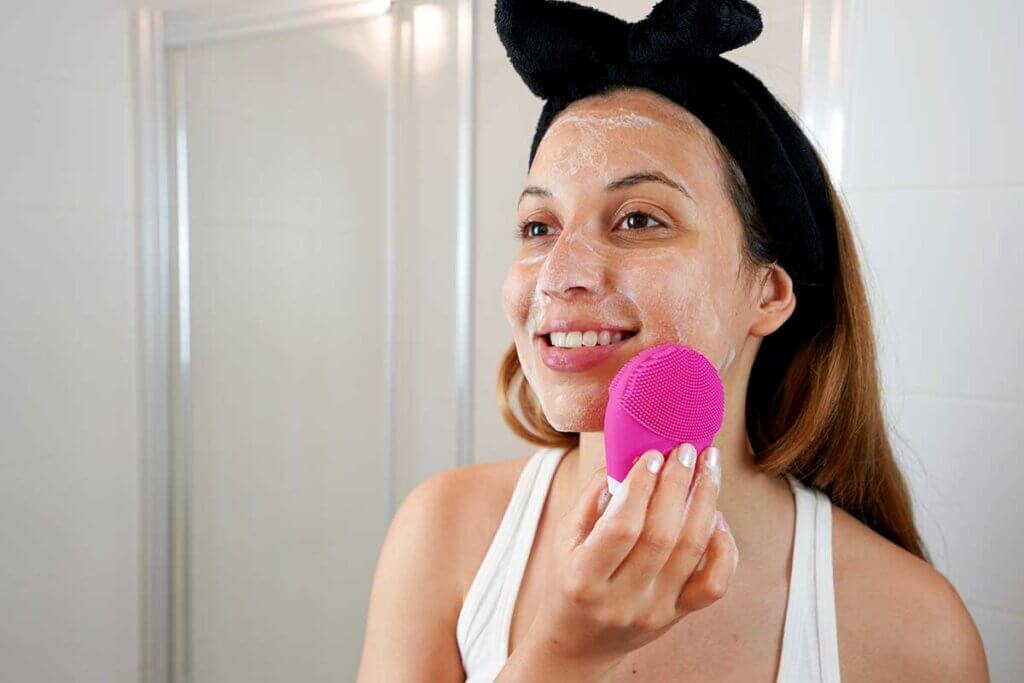 What are the benefits of facial cleansing brushes?
Facial cleansing brushes remove dirt particles, germs and bacteria from your skin more thoroughly than by hand. With electric versions, there is also the time factor: you need about one minute to clean the entire face. According to suppliers, facial cleansing brushes are not only able to cleanse the skin deep into the pores, but also make wrinkles, sallow facial skin and large pores disappear. The skin actually appears younger and fresher after prolonged use, but this is not because your skin problems simply disappear. The skin texture only appears finer because the brush removes any dirt from the pores. Thanks to the clean pores, the skin can breathe better, resulting in fewer pimples and blackheads. Another advantage is that the movements of the brush head provide better blood circulation to the skin. For this reason, you appear more awake. In addition, the skin absorbs the nourishing ingredients of the care products better.
Who are facial brushes suitable for?
Facial cleansing brushes are suitable for most skin types: Normal, dry, oily and even sensitive skin types can be treated with them. For dry and sensitive skin, however, it is important to choose a brush that works gently so as not to damage the face. Nevertheless, there are some cases where cleansing brushes are not recommended at all. In the case of very sensitive skin, severe pimples, rashes or pustules, a face brush can even worsen the skin condition. Medical conditions such as neurodermatitis or couperosis are also problematic. Facial cleansing brushes, for example, can open the pustules, causing the escaping germs and bacteria to spread all over the face. For anyone with problem skin, it is therefore advisable to clarify in advance with a dermatologist whether you can use the device.
What matters when buying
The choice of the right facial cleansing brush depends on the condition of your skin and your individual needs. For some, a simple brush is enough, while others want to pamper their face to the maximum.
Manual or electric?
Both manual and electric facial brushes remove dirt and flakes from the skin. Simple cleansing brushes consist only of a base body and bristles. To cleanse the skin, users must move the utensil over the face in circular motions.
With electric devices, you just hold the bristles against the area of skin to be cleaned and the brush head moves by itself thanks to the integrated motor unit. This is not only easier, but also saves time. Similar to toothbrushes, electrically powered models achieve a more thorough clean than manual ones, even on the lowest setting. They have multiple brush head attachments and speed settings that allow you to customise your skin care to your own needs. On the other hand, they are much more expensive than simple brushes, which you can buy for just a few euros.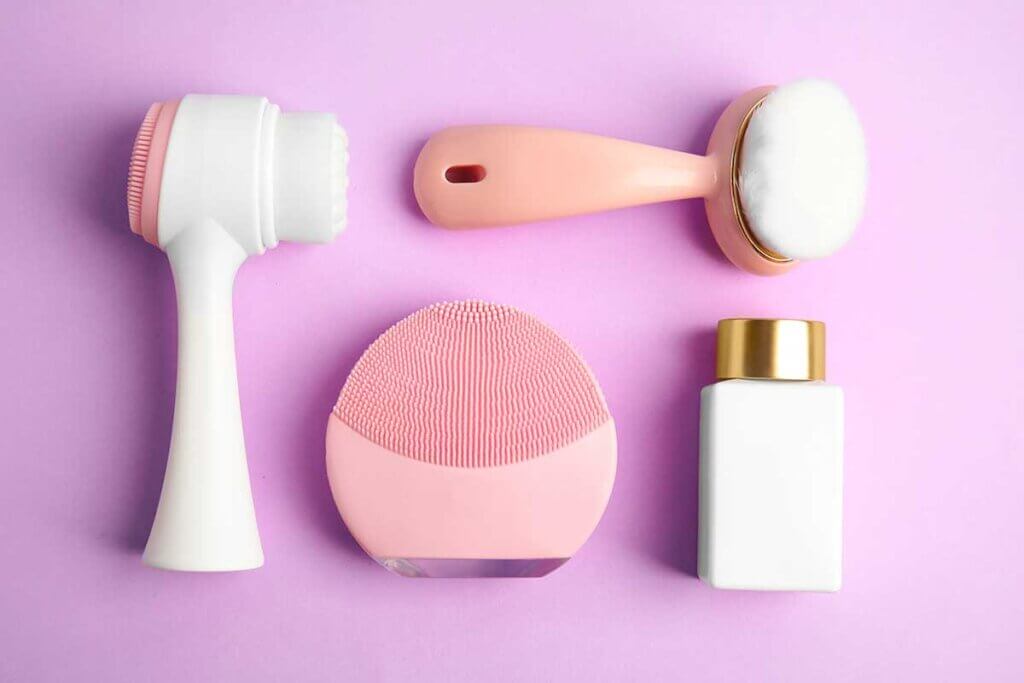 Cleaning method of electric brushes
To clean the face thoroughly, electric face brushes work either with rotation or sound. Rotating brushes slightly rotate the skin, which provides an intense exfoliating effect, but can irritate sensitive skin types in particular. Although rotating facial cleansing brushes are equipped with a soft brush head, the gentle bristles are usually not enough for sensitive skin types because the movements of the head have a skin-irritating effect. In contrast, oily skin types tolerate the rotation best. For other skin types, it is recommended to start with the soft brush head and the lowest rotation level. If you observe an improvement or at least no deterioration, you can use a higher level.
Sonic brushes, often mistakenly called ultrasonic brushes despite the low number of vibrations, are the more sensible choice for sensitive skin. They use vibration to cleanse the skin. Sonic versions are far gentler on the skin than rotating versions because they cleanse the face without tugging unnecessarily. There are also devices that have a so-called dual-action mode: Here, the brush vibrates and rotates at the same time. This increases the cleansing effect, but it is not as gentle as with a purely vibrating brush. Facial cleansing brushes that allow you to switch between cleansing modes are particularly practical.
Brushes
Facial cleansing brushes usually have replaceable brush heads with bristles that are either natural or synthetic. Synthetic bristles are cheaper than natural hair bristles, but they are not as soft. Natural hair bristles are gentler on the skin. Some models come with silicone bristles. These are particularly hygienic and often even antibacterial. If you want to protect your skin, a large brush surface is advantageous for rotating cleaning brushes, as the load is distributed over a larger area of skin. Smaller areas, such as around the nostrils, are more difficult to reach with such a brush diameter.
In most cases, several variants are included in the scope of delivery: in addition to the universal head, at least one head with soft bristles for sensitive skin. Furthermore, there may be a massage attachment, a sponge attachment for removing make-up, an exfoliating attachment for a more thorough removal of skin flakes and a brush with particularly fine bristles for very sensitive skin areas. Alternatively, many manufacturers offer the heads together with replacement brushes separately. However, with other, especially lesser-known brands, it is not obvious where attachments are available.
If you have dry or sensitive skin and are prone to irritation, it is better to avoid rougher brush heads such as the exfoliating attachment. For oily and blemished skin, on the other hand, soft bristles are often not effective enough, while the exfoliating attachment is helpful.
Nowadays, there are even special facial cleansing brushes and brush heads for men. Since their facial skin is thicker than women's, the bristles are coarser. Apart from a coarse brush, there are also special attachments to prepare for shaving or matching brushes to care for the skin under a beard.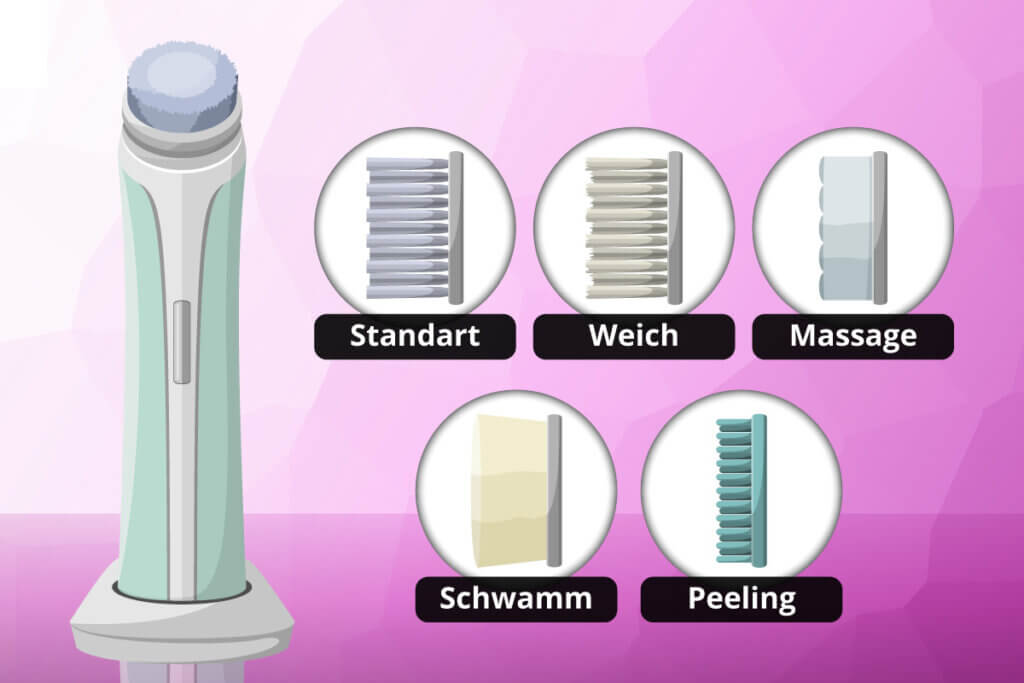 Silicone device – One brush for everything
In addition to the usual cleaning brushes with handles and replaceable brush heads, there are devices that are completely covered with silicone. They work throughout with sonic technology and several vibration levels. The pioneer comes from the manufacturer Foreo, but in the meantime others have also discovered the design for themselves.
Such models are about the size of a palm and are usually oval-shaped. Instead of brush heads, the silicone devices have several areas, each with different nubs. In one area, for example, they are particularly soft and pliable, while in another area they are thick and firm.
The silicone body stands firmly on a base so that the bristles dry hygienically. The control buttons are located on the front under the silicone coating. In contrast to common electric cleaning brushes, you have no further follow-up costs except for the electricity consumption.
Functions and handling
Although there are still electric facial cleansing brushes with only one standard speed, many versions now have at least two speed settings. They allow users to better tailor the treatment to their skin. Especially with rotating brush heads, a slow speed is useful for familiarisation or for sensitive facial skin. The more levels there are, the more versatile the device can be used and the more skin types it can treat. This is especially true if different brush attachments or special functions are integrated. The Foreo Luna 2 cleansing device, for example, has twelve levels.
Sonic facial cleansing brushes usually have an integrated timer, which means they switch themselves off after the preset treatment time. Some facial cleansers divide the face into zones and remind users to move to the next cleansing area after a preset number of seconds.
The operation of the brush should be as simple as possible. The device fits comfortably in the hand so that users can move it over the skin in a controlled manner. Those who want to use it in the shower need a model that is. A good indicator is the protection class of electrical equipment. It is indicated by the two letters IP and two digits. The first digit describes the protection against foreign bodies and contact, the second the protection against water. A facial cleansing brush with an IPX7 rating is at least conditionally waterproof. This means that it can withstand temporary submersion. Although the device can possibly be used in the shower, only models with protection levels IPX8 and IPX9 can withstand permanent submersion in water.
Drive type
Electrically powered facial cleansing brushes work either with batteries or a rechargeable battery. They are therefore easy to transport. Pay attention to the runtime of battery-powered devices: If you use the brush daily, it is advisable to use it for as long as possible. Both the FC1000 REVEAL by Remington and the FC 65 Pureo Deep Clear by Beurer, for example, allow up to 30 one-minute applications. It is also practical to have a battery indicator or a lamp that shows when you need to charge the device or change the battery.
Follow-up costs
Facial cleansing brushes only clean your facial skin if they are clean themselves. That's why it's important to change the brush heads every three months if you use them daily. So when buying a facial cleansing brush, it is essential to consider the follow-up costs. Depending on the manufacturer, the prices per replacement brush can vary greatly. If it is also a battery-operated device, the cost of batteries will be added. With manual brushes as well as silicone devices, you do not have to worry about follow-up costs, because with both types you cannot replace the brush heads. While silicone devices like the Foreo Luna range can be expensive, they will get you your money's worth in the longer term.
The wonderful world of facial cleansing devices
Facial cleansing brushes are just one of many tools to help your skin glow. There are pore cleansers, dermarollers, massagers and an extensive collection of special functions such as heat and cold, light and ionic treatments.
One of the newer devices is the so-called "skin scubber": this is a peeling device that removes dead skin cells and other impurities via ultrasound. This type of device is said to reduce wrinkles and make blemishes disappear. Its primary function is similar to a facial cleansing brush. Thanks to the ultrasound technology used, the Skin Scrubber even acts like a further development of the sonic face brush. You also apply a cleansing product to the skin before switching on the cleansing mode.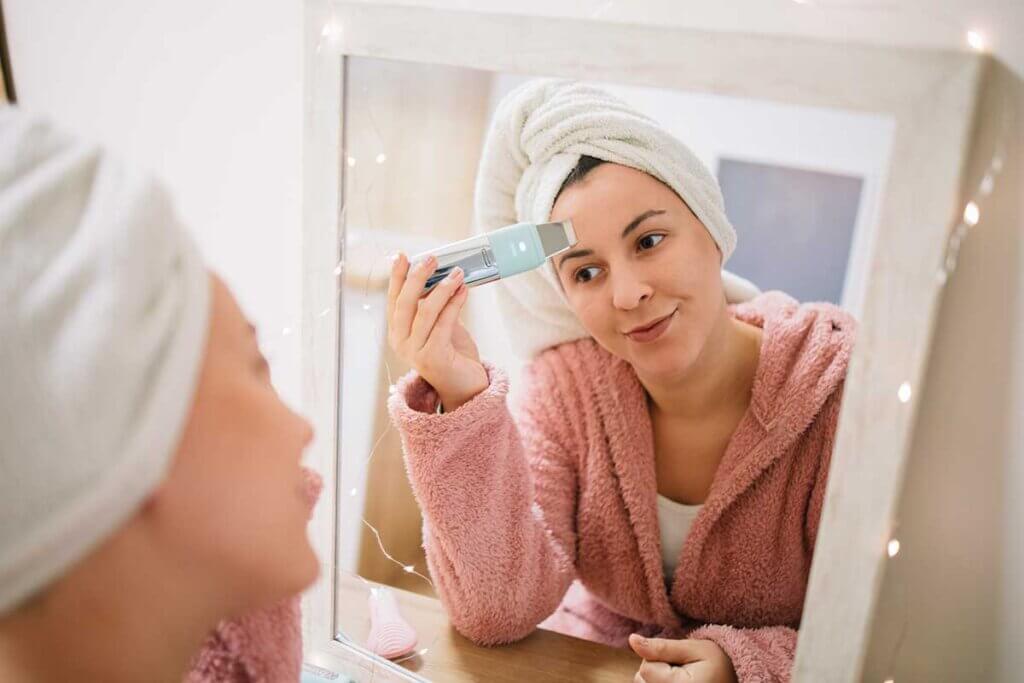 Instead of bristles, however, the Skin Scrubber has a single scoop head over which silicone cases, for example those with nubs, can be placed. In addition, other special functions are included that are unusual in conventional court cleansing brushes. The ultrasound peeling device by ANLAN, for example, has an EMS mode, which means that it sends out electrical impulses that are supposed to train the facial muscles and thus tighten the skin.