Travel cot purchasing advice: how to choose the right product
What you need to know
Ideally, a baby travel cot is easy to assemble and disassemble, as well as to transport and store in a space-saving manner.
The size of the lying surface and the carrying capacity of the travel cot are decisive for how long you can use it for your baby or toddler.
With the folding size, manufacturers specify the size of the baby crib when folded.
The included mattress is usually very thin and is better suited for occasional rather than permanent use.
Safe travel cots are made of materials free of harmful substances, ensure adequate air circulation and have a tilt-proof stand.
Baby cribs to go
Whether traveling or visiting relatives and friends: If you travel a lot with your baby, a baby travel crib is a sensible purchase. Thus, before a vacation, parents do not have to worry about whether there is a suitable sleeping accommodation for their offspring on site. It also has the advantage that the baby can get used to the bed and thus sleep away from home in a familiar environment. Most airlines even allow you to take the travel cot on the plane free of charge as special luggage. As a second bed, for example at the grandparents, or day bed and playpen in the living room, a travel cot is also suitable. When not needed, it can be compactly assembled and set aside.
Unlike classic cribs, baby travel cribs are made of lightweight materials and can be folded or unfolded in a few simple steps. In this way, they can be easily transported and stored in a space-savingmanner. Instead of bars, the sides of baby travel cots are typically made of a mesh-like fabric. This is lightweight and at the same time ensures adequate air circulation. Most models come with a thin, foldable mattress.
Baby travel cots are suitable for babies from birth. Depending on the lying surface, they can still be used for toddlers up to the age of three or four. Good baby travel cots manage the balancing act between light weight and stability. When you choose a baby travel crib, you should pay attention to sufficient comfort and safety for the baby. A compact folding size, light weight and reliable, but at the same time simple folding mechanism allow uncomplicated transportation.
Comfort and safety
In order for your offspring to be comfortable in the baby travel cot, the lying surface must be sufficiently large. In addition, the supplied mattress plays an important role. For safety, the most relevant factors are the absence of harmful substances, correct distances between the bed frame and the lying surface, as well as the load-bearing capacity of the travel cot.
Lying surface
From the lying surface of the baby travel cot depends on how long your offspring will have enough space in it. Similar to classic cribs, it measures 120 by 60 centimetersin many models. This size is still suitable for toddlers between three and four years. However, there are also travel cots with smaller lying surfaces. The following dimensions are among the most common:
90 x 50 centimeters: for babies up to 9 months
95 x 55 centimeters: for babies up to 14 months
120 x 60 centimeters: for toddlers up to 3 or 4 years old
Load capacity
The load capacity of a baby travel cot also helps determine how long you can use the model for your child. Some manufacturers also specify it under the designation "maximum body weight". The load capacity of many travel cots is 15 kilograms – a weight that children reach on average at the age of two. More robust travel cots carry a weight of up to 25 kilograms and are accordingly suitable for older children, some even up to primary school age, or two babies. If you want to use the travel cot as a playpen for toddlers, a model with a high load capacity is recommended so that it is stable enough to withstand bouncing and romping.
Mattress
Many baby travel cots come with a matching mattress. However, like the crib, this is designed for easy transport and is therefore very thin. Often it measures between two and three centimeters in height, foldable and made of lightweight materials. The frame of the travel cot is clearly noticeable through the mattress. Therefore, it usually does not offer a high level of lying comfort. It is more suitable for occasional use than for long-term use. Ideally, the mattress is equipped with a washable cover and can also be washed completely in the washing machine.
For more lying comfort, many manufacturers offer additional travel cot mattresses. Alternatively, they can use a higher quality baby mattress. However, their dimensions must match those of the baby travel cot. If you bend the mattress on a bed surface that is too small, it is not good for the mattress or the baby's back. If, on the other hand, you use a mattress that is too small, there is a risk of injury due to the gaps between it and the edge of the bed.
Adjustability of the lying surface
In some baby travel cots, the lying surface is height adjustable. This feature, on the one hand, increases the comfort. This allows the lying surface to be positioned in such a way that parents can comfortably place their baby in the crib without having to bend down deeply. On the other hand, it makes the bed safer. If the offspring can already sit or pull themselves up along the edge of the bed, a lying surface that is adjusted further down reduces the risk of falling out of bed. Most adjustable travel cots allow the height of the lying surface to be adjusted in two or more stages. In many cases, the lowest setting is just above the floor. Models with continuously height-adjustable lying surface offer the highest flexibility, but are very rare.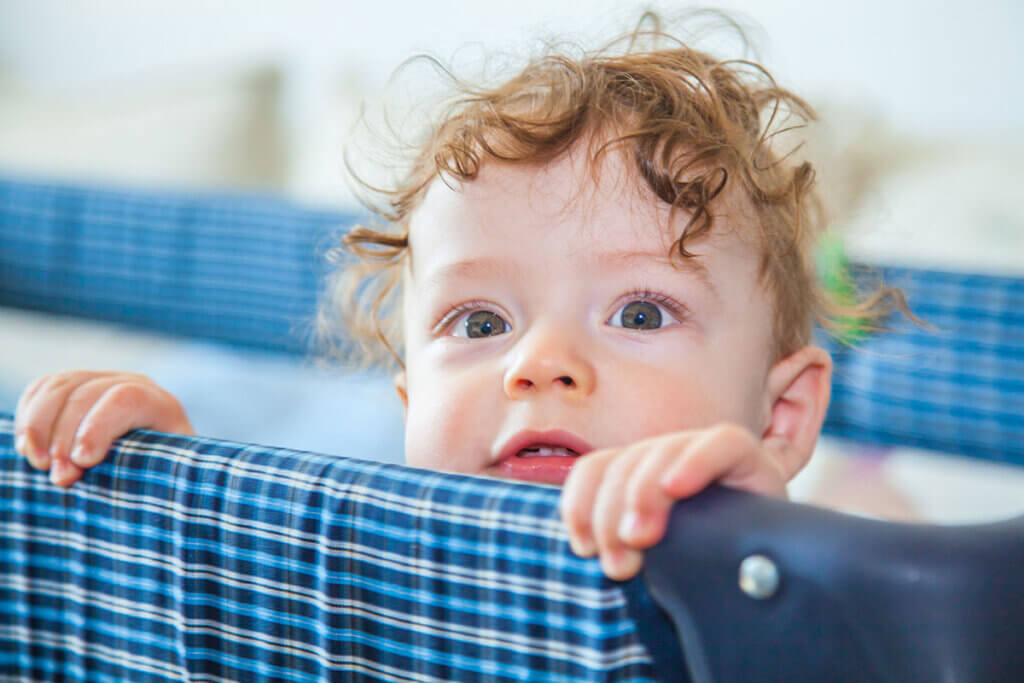 Air circulation and freedom from pollutants
While classic cribs automatically ensure adequate air circulation thanks to their design, this is not always the case with baby travel cots. To be on the safe side and make sure that your baby can breathe well, make sure that the sides of the travel crib are made of an airy mesh. It is also beneficial if you can see your offspring through it. Then you don't have to bend over the crib and risk waking your baby when you want to take an examining look.
Easy cleaning

The frame and mesh cover of a baby travel cot can normally be simply wiped clean with a damp cloth. In many models, the cover is even removable and can be washed either by hand or in the machine. It is best to refer to the operating instructions for more information.
In addition, it is important that all the materials of the baby travel cot are free of harmful substances. In addition to toxins such as organotin compounds, substances that can irritate the mucous membranes or trigger allergies, as well as substances suspected of causing cancer, are also considered harmful. Ideally, you can tell whether a baby travel crib is made of harmless materials by looking at test certificates such as the OEKO-TEX STANDARD 100, the TÜV seal, the GS mark or the FKT test seal. However, not all manufacturers provide information about the absence of harmful substances in their products or have them tested for potential harmful substances. In such cases, further tests such as those conducted by the consumer magazine ÖKO-TEST, in which baby travel cots are extensively tested for harmful substances, can help.
Other safety criteria
To ensure that the baby travel cot poses as little or no risk of injury as possible, when looking for a safe model you should make sure that it has no sharp corners or edges that your offspring could bump into. Ideally, the corners of the baby travel cot are rounded and have an edge protector that safely hides potentially protruding screws. Also, there should be no cross braces that toddlers can use to climb. Detachable small parts that the offspring could swallow in the worst case also pose a safety risk and should therefore not be part of a good travel cot.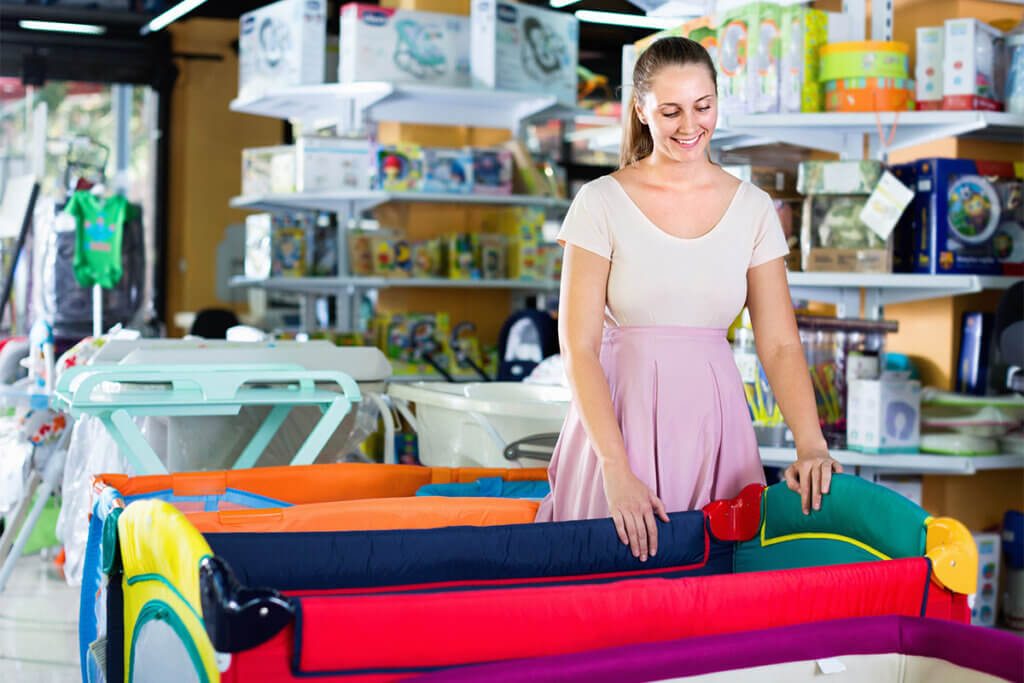 In addition, it is important that the baby travel cot is stable and does not tip over, even when children are crawling or jumping around in it. Fold-out support feet on the underside of the bed provide more stability. If the travel cot is equipped with wheels, it is best to make sure that at least two of them are lockable to ensure a safe stand. An integrated safety mechanism prevents unintentional folding of the travel cot.
Side entry
If the baby travel cot is used until toddler age, a side entry makes sense. This can be opened via a zipper in the net cover, so that children can crawl in and out of the bed on their own without having to climb over the edge. Depending on the model, the side entrance can be opened only from the outside or additionally from the inside.
Transportability
Traveling with babies or toddlers often involves stress and a lot of luggage for parents. In order not to further increase the stress factor and not to blow up the trunk, a good travel cot should be foldable as easily and compactly as possible. Equally simple at best works to set up, so that the tired offspring can be quickly put to bed.
Folding size and weight
When assembled, common baby travel cots are up to 130 centimeters long, 80 centimeters wide and 100 centimeters high. With these dimensions, however, the transport would be very tedious and they would probably hardly fit in a trunk. Therefore, travel cots are typically foldable – how compact differs from model to model.
If you carry the baby crib only over very short distances and transport it in a vehicle with plenty of space, the folding size can be quietly somewhat larger. On the other hand, it can hardly be compact enough for further walking distances, train journeys or with little space in the vehicle. In the latter case, the weight should also be as low as possible. Baby travel cots do not normally weigh more than 15 kilograms. Particularly lightweight models weigh less than 10 kilograms. The folding size of most baby travel cots is in the following range:
Length: 40 to 100 centimeters
Width: 20 – 60 centimeters
Depth: 10 – 30 centimeter
Assembly and disassembly
The assembly and disassembly of the travel cot should work as quickly and intuitively as possible, without having to study a complex instruction manual for a long time. Ideally, the instructions should contain only a few steps, be clearly and comprehensibly worded, and be clearly illustrated.
Especially easy to set up are so-called pop-up travel beds, which unfold independently. With these, you just need to activate the safety mechanism to prevent the bed from folding unintentionally, adjust the height of the lying surface if necessary and put the mattress inside. Many baby travel cots can be folded by releasing the locking lever(s) and pushing the frame together. Often included in the delivery is a practical transport bag, which also holds the mattress.
Rollers
If you know before buying that you want to move the travel cot more often, it is best to choose a model with two or four wheels. These should be detectable in any case to prevent unwanted rolling around. In addition, if they can be swiveled, you can maneuver the bed around corners more easily. Made wheels are usually either hard rubber or plastic. Hard rubber wheels are quieter and sturdier, while plastic versions are lighter.
Practical extras
In addition to a mattress and a carrying bag, some manufacturers equip their baby travel cots with other extras. This includes, for example, a changing top that can simply be placed on the travel cot to convert it into a changing table in just a few simple steps. Also practical are side pockets in which, for example, diapers, wet wipes, pacifiers or toys can be stored. Especially if you use your baby travel crib mainly in the summer, an insect net and sunscreen are useful. For both accessories, make sure they are attached to the outside of the bed so your baby can't pull them down and wrap themselves in them.
Some models without height-adjustable lying surface are supplied with a newborn insert. This is a kind of second lying surface, which is hooked further up in the travel cot, so that the baby can lie in it comfortably. For entertainment, some baby travel cots have a play arch that is stretched over the frame.
---
Fig. 1 : © Gabriela / stock.adobe.com | Fig. 2 : © JackF / stock.adobe.com