Electric adjustable slatted bed base purchasing advice: How to choose the right product
What You Need to Know
An electric slatted frame offers the possibility of continuously adjusting the head and sometimes also the foot section by means of a motor.
Changing to different sitting or lying positions is possible in seconds without any effort.
Good slatted frames consist of seven zones that support different areas of the body.
Bear in mind that not every electric slatted frame can be combined with every bed frame. Also make sure you have a suitable mattress.
An essential connecting element
A person spends a third of his or her life asleep – perhaps even more in bed. So it is consistent to want only the best and most comfortable when it comes to the sleeping area and all the parts connected to it. Besides the mattress, one of the crucial elements is the slatted frame. This consists of interconnected wooden slats, sometimes already built into a frame, and serves as a base for the mattress. In a way, it is the connecting piece between the bed frame and the lying surface.
What can an electric slatted frame do?
Slatted frames offer the possibility of adjusting individual elements to varying degrees. For example, the head end can be raised to different positions. With many models, the foot end is also variable and can be adjusted in height or angled so that you can literally put your feet up. An electric slatted frame allows you to adjust these comfortable settings continuously via a remote control.
Advantages
With an adjustable slatted frame, different sitting and lying positions are possible so that you can, for example, read or watch TV comfortably in bed. This type of bed can also be used as an aid for older people to get out of bed or if you need support in case of tension or muscular complaints. In addition, the bed is easier to cover because the mattress is slightly bent. The settings can be changed at the touch of a button. This means you don't have to get up if you want to change from the sitting to the lying position before sleeping, for example.
Disadvantages
Electric slatted frames are heavier and more cumbersome than models without a motor. However, this is only a problem when setting up the bed or, if necessary, when moving house. These slats are the most expensive models, but this is compensated for by their robust construction and durability.
Who is an electric slatted frame suitable for?
An adjustable or electric slatted frame does not automatically ensure that you sleep better or healthier. However, through various adjustable elements, it can support the mattress in certain zones and contribute to a pleasant lying feeling.
The electric drive extends the comfort of an adjustable head or foot section even further. At the touch of a button, you can adjust your lying or sitting position comfortably and precisely. While a manually adjustable slatted frame is often limited to different angles of inclination, the electric one can usually be adjusted continuously.
Protector prevents slipping

If you frequently adjust the head and foot zones, a mattress protector is worthwhile. Placed between the slatted frame and the mattress, it ensures that the latter does not slip. It also prevents the slatted frame from rubbing against the mattress or, in the worst case, leaving wood splinters behind. However, make sure that the protector is made of a material that does not impair the ventilation of the mattress.
Features of an electric slatted frame
Before buying a slatted frame, remember that it must be suitable for your individual requirements, for example in terms of size and load capacity. Check the manufacturer's specifications to see if there is a more suitable model that meets your needs.
Load capacity
For a single person, this point is usually not decisive, as the majority of slatted frames can withstand a weight of more than 120 kilograms. However, if two people are sleeping on the slatted frame, you should not disregard the maximum load capacity. Ideally, a slatted frame measuring 90 x 200 centimetres should weigh between 150 and 200 kilograms. However, there are also models that can carry up to 300 kilograms.
Dimensions
Common dimensions for a single bed are 90 or 100 x 200 centimetres, just like for mattresses. However, there are just as many models available for wider beds measuring 140 x 200 centimetres. For double beds, you will have to buy two grids according to the dimensions. In this case, remember to buy two matching mattresses. A king-size mattress on two electric slatted frames will not produce the desired result if the settings are different.
Spacing of the slats
The fewer slats the grate has, the greater the distance between them and the more uncomfortable you will lie. Some grates, especially from the lower price segment, only have 20 slats. Ideally, consider one with twice that number. The distance between the individual elements should not be more than three centimetres. But they should not be too close together either: about half of the mattress should be able to be ventilated from below.
Motor
With electric slatted frames, the motor is an important detail. It should work quietly if you do not want to disturb anyone while you are changing the lying position. An emergency lowering function is also practical. This allows you to return the slatted frame to its original lying position even if the motor is disconnected from the power supply, for example in the event of a power failure. The electric slatted frame is controlled either by cable or by radio remote control.
Other types of slatted frames
Many beds are only offered as a frame. In addition to the mattress, the slatted frame is also available separately. This allows you to choose the combination that suits you best.
Roll-up slatted frame
The individual slats are connected with a wide fabric band and can be rolled up. This variant is not only the simplest and cheapest, but also compatible with all types of beds. When moving or storing, it has the advantage of being space-saving and easy to transport. However, the slats do not bounce and can slip on the base.
Frame slatted bed base or springwood frame
In this case, the slatted frames are connected to a frame. This frame has rubber caps into which the ends of the slats are inserted. The slats are glued together from several layers, which gives them stability and flexibility. They are more complex and difficult to make than normal wooden slats. They are bent slightly upwards in the frame, which gives the slatted frame better springiness. In some cases, the slats are further stabilised in the middle by a fabric belt. Frame slatted frames can also be adjustable.
Height-adjustable slatted frame
This variant is equipped with the same height-adjustable elements at the head and foot end as the electric version; therefore, it ensures a similar lying comfort. However, you have to position the lying surface manually, which is why it cannot always be adjusted precisely, and often only in steps. In addition, you have to stand up to move from a sitting to a lying position.
Plate slatted frame
In this version, round elements are attached to the slats, which in turn have so-called contact pads. The latter allow for springing and flexibility in all directions. If you lie on your side or move around a lot during sleep, the pads will support you in the respective position. Slatted slatted frames are more expensive than conventional slatted frames because of their complex construction. They are also available with adjustable supports, for example in electric form.
How much does an electric slatted frame cost?
and their variety of functions. Like other frame slatted frames, they are very robust and durable – you are probably more likely to buy a new mattress or even a new bed frame than a new adjustable slatted frame. When looking for a suitable model, you will notice that prices usually start at around 300 euros. However, be aware that most sellers place their smallest and thus cheapest model prominently on their homepages. You will have to invest considerably more for a slatted frame measuring 140 x 200 centimetres than for one measuring 90 x 200 centimetres.
The seven zones of a slatted frame
Ideally, a slatted frame has seven zones that correspond to the regions of the body. With an electric slatted frame, not all zones can be adjusted separately, but to some extent the positions and angles of some zones have an influence on others.
The seven zones are usually the head, shoulders, back, pelvis, thighs, lower legs and feet. If the slatted frame is a five-zone model, the first and last two zones are combined. In seven-zone models, the rubber caps of the slats in the shoulder, pelvic and lower leg zones are often softer so that you sink in more easily here.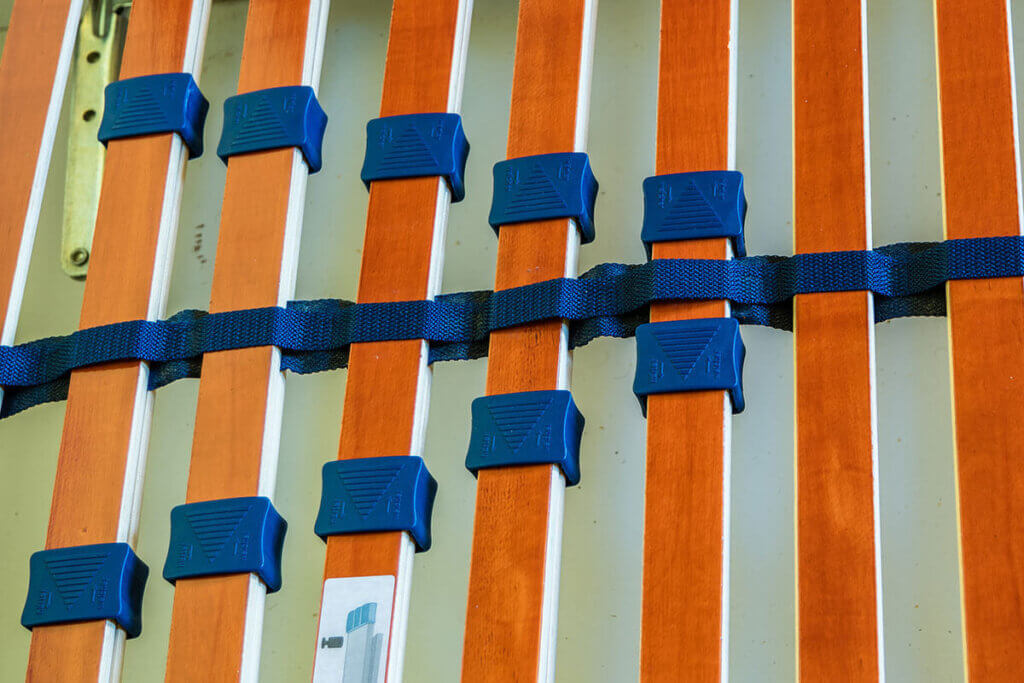 When the head section is adjusted, the shoulder section automatically tilts upwards – but to a lesser extent. The firmness of the back zone can usually be varied so that you can lie more firmly or more softly. The zone for the thighs can be raised on adjustable slatted frames, while the angle of the area for the lower legs can be adjusted separately.
Not all combinations work
Please note that not all bed types are suitable for electric slatted frames. So-called floating frame beds often have cross-connections as stabilisation. The slatted frame is placed on these; however, an electric version is often unsuitable. The motor, as well as the hinges and joints of the adjustable zones, need room to move downwards. The cross joints of the floating frame bed would be in the way in this case.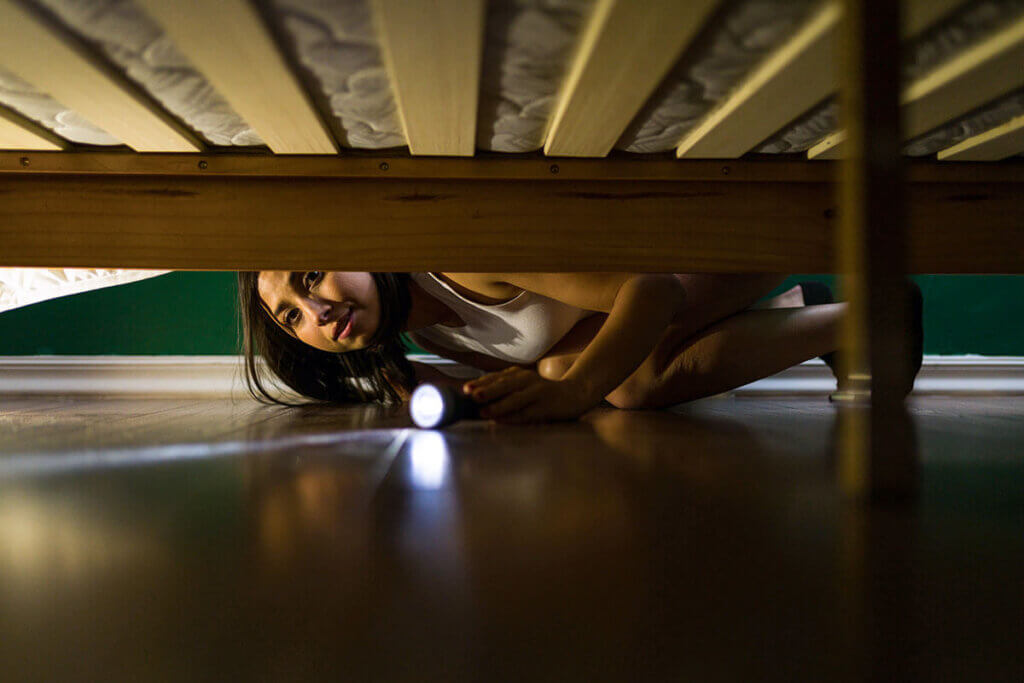 The same applies to drawers or similar storage spaces under the bed that could interfere with the slatted frame's ground clearance. Some electric slatted frames do not require this floor clearance, so check the manufacturer's instructions to see which bed type the model is compatible with.
Not all mattresses are ideal for use with electric slatted frames. Innerspring mattresses are often rather rigid and do not move optimally with every deformation. In contrast, cold foam mattresses are much more flexible and adapt to the shape of their base.