Hair straightener brush purchasing advice: how to choose the right product
What you need to know
Just like a straightening iron, a hair straightener brush uses heat to straighten the hair – but in a gentler way.
The use is simple and intuitive; it is possible to guide the brush with one hand.
Battery-operated and corded models are available; the heat can be adjusted in stages or individually.
Well-equipped hair straightener brushes have convenient extras such as an automatic switch-off and an ionic function.
Smoothing and brushing in one
The hair straightener brush, also called a straightening brush, combines the advantages of a regular hair brush with those of a straightening iron. It has heating plates that straighten the hair while you comb it. By brushing evenly, the heat can work particularly well into the hair. The hair is therefore only exposed to the high temperatures for a short time and is detangled in this way.
What is the difference between a straightening brush and a straightening iron?
With a straightening iron, you treat the hair piece by piece. Since the straightener cannot properly tame many hairs at once, you have to do it one strand at a time. With a hair straightener brush, on the other hand, you work on more hair at once. In the end, you need less time for the complete hairstyle – even if you have to go through your hair more often. Especially with very long or thick hair, the time saving is clearly noticeable. While you should comb your hair beforehand when using a straightening iron, the straightening brush saves you this step thanks to its 2-in-1 function.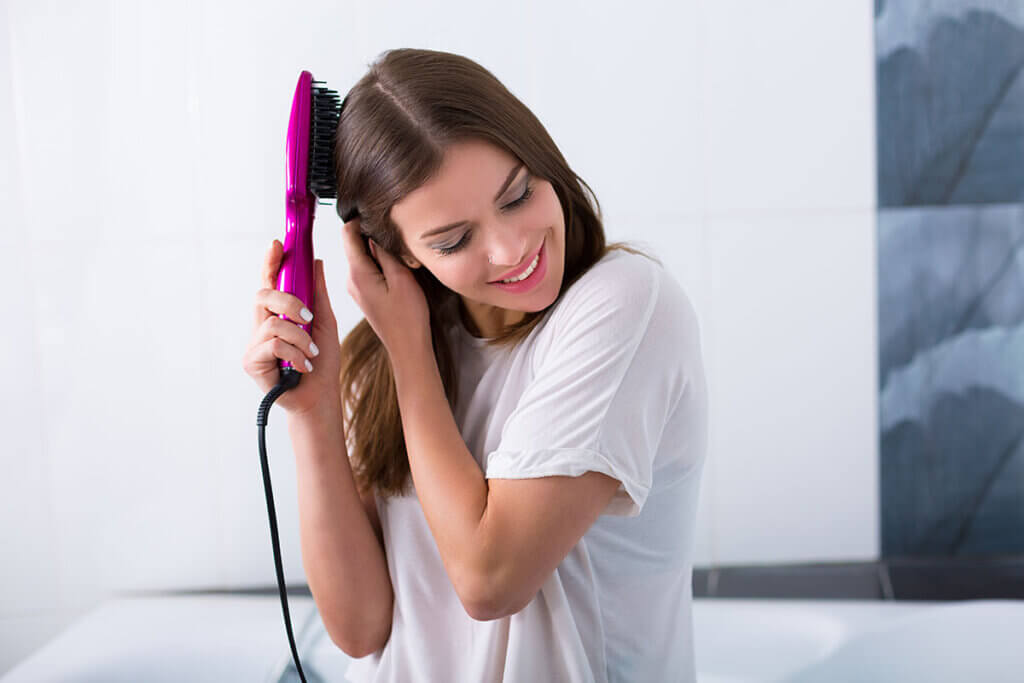 Uncomplicated and gentle application
When using a straightening iron, you need to be very concentrated: If you do not use the heating plates with the same pressure all the time, the result may be uneven. A big advantage of the hair straightener brush is therefore its handling, which is very simple and intuitive, just like a conventional hair brush. You can even guide the brush with one hand, whereas the use of a straightening iron always requires both hands.
Brushing during the heat treatment is gentle on the hair. It looks softer and more manageable afterwards because it has not only been straightened but also cared for at the same time. In addition, it is easier to reach hard-to-reach areas at the back of the head. Some models have soft nubs between the bristles for an additional massage effect.
Restore moisture to the hair

It is advisable to use a heat protection spray for the hair before using a hair straightener brush. The hair is dehydrated by the high temperatures. The spray provides protection and care with moisturising and revitalising ingredients such as oat milk, aloe vera, coconut extract and strengthening proteins.
Conditionally suitable for curls
Unlike a hair straightener brush, which is highly effective with all hair types, not all hair straightener brushes are suitable for particularly curly, frizzy or unruly hair. The straightening result can sometimes be less than after a treatment with straightening irons. However, a certain effect can always be seen; most models tighten even curls after repeated combing. Curly heads can also use the brushes to straighten their hair just a little or to shape waves.
Pro points
Combing and straightening at the same time
Gentler than straightening irons
Not too time-consuming
All areas easily accessible
Can be used with one hand
Sometimes massage effect
Temperature can usually be varied
Drawbacks
Not equally suitable for every hair type
Less effect than straightening irons
Targeted treatment of individual strands difficult
Features of a hair straightener brush
For many, the hair straightener brush may be the perfect tool for hair care, for others perhaps a useful addition to the straightener. On the market, you will find models from numerous well-known manufacturers as well as budget variants. Some have a variety of additional comfort features.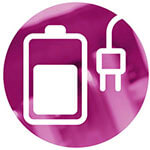 Power supply
Smoothing brushes can be purchased in battery-powered or corded versions. The advantage of the cordless versions is that you can walk around the home while using them and do other things on the side. Battery models are also ideal for when you are on the go and there is no power socket nearby. However, you have to be content with a limited runtime. If the battery is empty, it has to be charged first. You do not have this problem with corded brushes.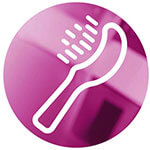 Material
The bristles of a hair straightener brush are made of either plastic or ceramic. While plastic is cheaper and the corresponding brushes therefore usually have a lower price, ceramic bristles are more robust and do not bend. They also get warm faster and can conduct heat better. The bottom line is that treatment time is shorter. On the other hand, ceramic brushes are usually a little heavier than models made of plastic. There are usually heat-insulating nubs at the tip of the bristles so that the heat does not reach the scalp directly.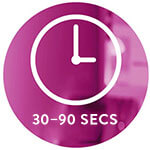 Warm-up time
Once the straightening brush is switched on, it heats up until it reaches a certain pre-selected temperature. The warm-up time varies from model to model, but is between 30 and 90 seconds for most appliances. For those in a hurry, one minute can be a lot of time. The higher the power of the hair straightener brush, the faster it reaches the target temperature.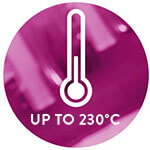 Temperature
The temperature to which the hair straightener brush heats up can be set in various stages on some models, others even allow infinitely variable regulation. The minimum temperature is usually 150 degrees Celsius, the scale goes up to 230 degrees. The thicker and more voluminous your hair is, the higher temperatures must be used to straighten it. Thin and soft hair should not be treated at more than 170 degrees. Curly or very thick hair can tolerate 190 to 230 degrees.
Additional functions
It can happen quickly that you are in a hurry and put the hair straightener brush aside without having switched it off first. In this case, it helps to have an automatic switch-off function on the appliance so that it does not continue to generate heat and consume electricity forever, but switches itself off after some time. This can be the case after 20 minutes with some appliances, others have a time period of up to two hours programmed in. Ideally, you can determine the time when it switches itself off.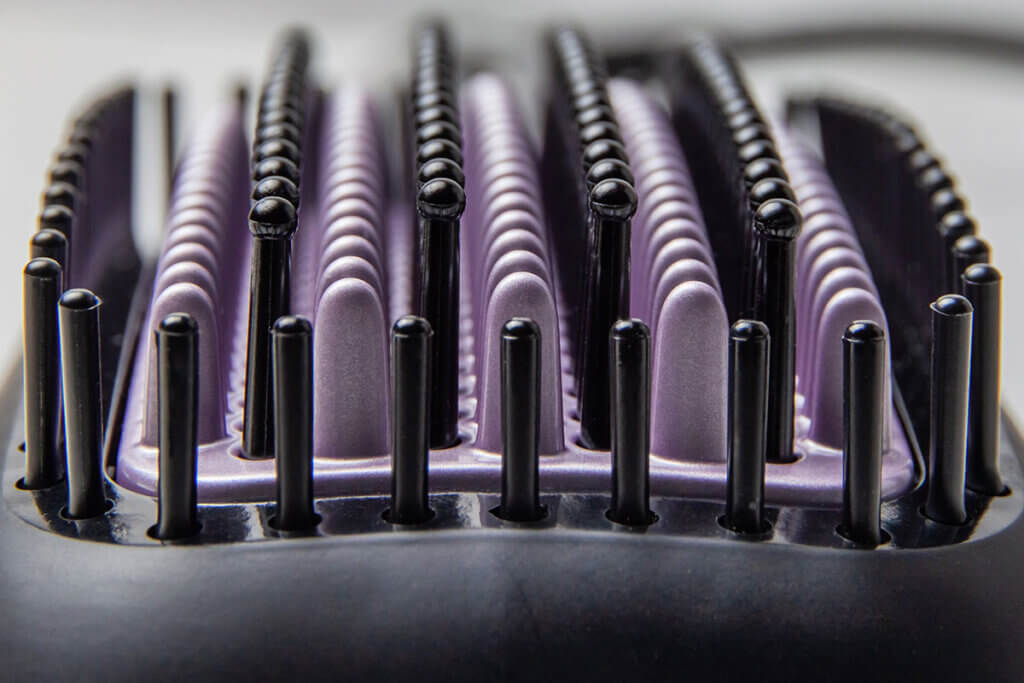 Some models have a so-called ionic function. With this, the brush generates a negative charge that prevents the hair from becoming electrostatically charged. This means that they do not fly around, as is often the case when combing. Especially with very long or thin hair, such a function can save you such inconveniences.
Maintaining and displaying the temperature
With a key lock, you can make sure that the temperature you have selected remains set. This prevents the brush from heating up or cooling down if you accidentally reach the switch. To keep an even better eye on the temperature, many models have a display with indicator. This is especially useful for the infinitely variable temperature setting.
Using the hair straightener brush
Before using the straightening brush – just as with a straightening iron – make sure that the hair is completely dry. As with a conventional brush, run it slowly and evenly through the hair. If necessary, you can comb it first with a normal hairbrush to untangle coarse knots. As with a straightening iron, it is also possible to work on individual strands and sections of hair with a hair straightener brush. With the iron, however, you must make sure that you do not clamp too many hairs between the plates at once – this problem does not occur with the straightening brush.
Don't expose your hair to heat for too long and don't stay in one place with the straightening brush for more than about two seconds. Also, make sure that your fingers do not touch the heating plate and that it does not come too close to your scalp.
Rather too little than too much

If you are unsure whether your hair is rather thin or already considered thick, it is better to start with a lower temperature. You can always finish with more heat. Even with tight curls, do not immediately use the highest heat setting. Working with a straightening brush takes some getting used to at first and may require a little practice. You should take special care with coloured hair: Temperatures above 170 degrees Celsius can fade the colour.
Cleaning the hair straightener brush
If you want to clean the brush immediately after use, you should first switch it off or disconnect it from the power supply and let it cool down. Then you can first remove most of the hair from the bristles with your fingers. Hold the brush upside down and tap on the housing so that any dandruff falls out. For a more thorough cleaning, use a slightly damp microfibre cloth. You can clean the spaces between the individual bristles with a cotton swab or a fine toothbrush.
Do not hold the smoothing brush under running water or place it in a water bath, as this can cause lasting damage to the electronics. You should also refrain from using too aggressive cleaning agents, as these will damage the outer casing. It is best to store the device in a drawer or in a special bag. This is included with many models. Some models also have an eyelet with which you can attach them to a hook.
---
Image 1: © Tinatin / stock.adobe.com | Images 2-5: @ FinalCheck | Image 6: @ Vladimir / stock.adobe.com