Roof box purchasing advice: how to choose the right product
What you need to know
The roof box or rooftop cargo carrier extends the storage space of the car for luggage, sports equipment, or shopping.
The box has several advantages over a trailer: parking spaces are easier to find, there is no need for tiresome manoeuvring, and no extra driver's license is required.
Roof boxes differ not only in length, width, and volume, but also in material. There are also soft boxes made of fabric.
Drivers have to adjust to a changed driving experience: the car is heavier, taller, and has a higher fuel consumption.
Whether side rails, rain gutters, or T-slot rails — roof boxes are attached in different ways depending on the car roof.
More storage space with a roof box
In a roof box, drivers can carry extra cargo for which there is no more room in the trunk or on the back seats. Roof boxes are relatively light and made of robust plastics. Some can be loaded with up to 176 pounds (80kg) of additional weight. They are therefore particularly suitable for people who have to transport a lot of cargo that would otherwise be too big for the car. For families with children or a dog, the inside of the car can quickly become cramped if everyone has their own suitcase or travel bag. A roof box can help. In addition, those who need extensive equipment for holidays or excursions such as skiing, diving, or surfing, are well advised to use a roof box.
The roof boxes are sometimes rectangular with rounded edges, but some are also very long and narrow. The designers have made sure that the objects are streamlined. This way, they're visually pleasing and affect the driving behavior and fuel consumption as little as possible. In most cases, the boxes slope slightly towards the front, making the aerodynamic.
What makes a good roof box?
Car roof boxes are light and easy to install. They can be attached to the vehicle with the help of a roof rack. Even long or bulky items that cannot be stowed in the trunk can find a place here. The boxes are made of robust materials that can withstand impacts and bumps. They're also resistant to external influences such as rain, sunlight, and dust pollution. No special driver's license is required in the US and UK.
The roof box is a practical companion not only for trips and excursions when large amounts of luggage have to be transported. It can also be used for larger purchases, for example at the furniture store. The permissible roof load of the car must always be taken into account, however. This varies from vehicle to vehicle and can be checked by the driver in the manual. If the limit is exceeded, safety is no longer guaranteed. Apart from this, there are no particular restrictions as far as the type of vehicle is concerned; correspondingly compact roof boxes are also available for smaller vehicles. Due to their streamlined shape, they are not a safety risk even when driving on the motorway, yet most manufacturers recommend not exceeding a speed of 80 mph (130 km/h). It is important that the driver adopts a safe driving style and deals with the changed driving conditions conscientiously. The boxes usually have little air resistance and stay firmly secured on the roof without jerking.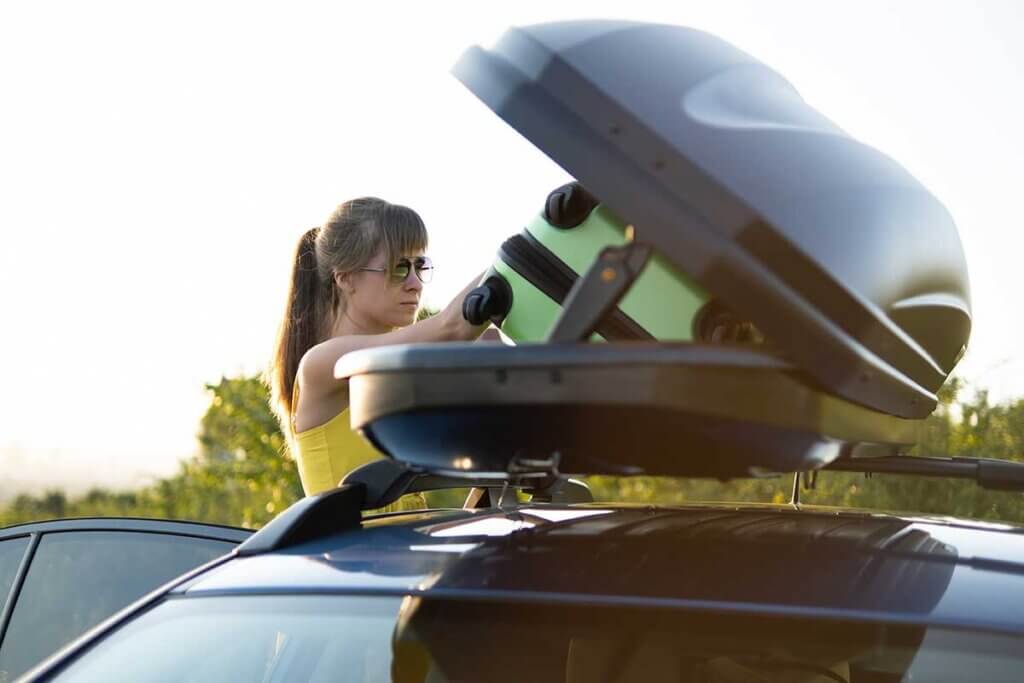 Most models have their own lock and offer the option of securing the load inside with tie down straps or nets. There is often a non-slip mat on the floor of the box to prevent the luggage from moving around. Even extreme weather cannot harm the roof box, as it is not only waterproof but also very weather-resistant.
Another advantage of stowing your extra load on the roof is the unrestricted view through the rear window. If you stack your trunk to the brim, you can no longer see through the rear windows. So before thinking about a trailer or even a new car, drivers should consider a roof box. This is a much more comfortable and cheaper alternative when it comes to increasing storage space.
Which roof box is right for me?
Roof boxes come in different sizes and shapes. The smaller versions usually have a capacity of around 8.8 to 9.7 cubic feet (250 to 275L), while larger models can sometimes hold twice as much. Therefore, you should carefully consider how much space you really need, what you want to use it for, and whether anything else will fit in the trunk. The roof boxes differ from one another especially in length — from 40 to about 75 inches (1 to 1.90m). Extra-wide or flat models are also available. For safety reasons, it is important that the box is not longer or wider than the roof. If it protrudes too far to the rear, it can also block the trunk.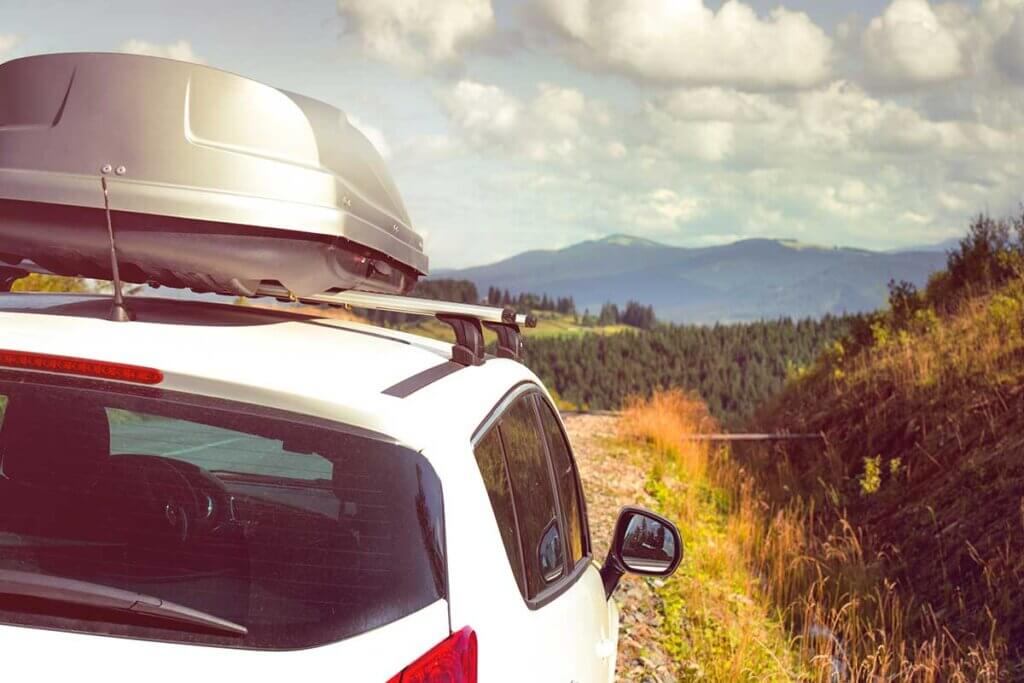 Therefore, consider what you regularly transport or what you want to use the roof box for in the future. It should be as large as necessary but also as small as possible. There are flat and almost roof-wide models, compact and somewhat taller versions, as well as very long and narrow versions. If you want to pack your ski equipment, a 47-inch (1.20m) luggage box is not enough. A roof box of maximum size that always only half loaded also isn't ideal. It unnecessarily increases weight, which leads to higher fuel consumption.
What are the advantages of a roof box over a trailer?
If you regularly want to transport larger quantities by car, you might want to think about buying a trailer. Up to a certain point, however, a roof box might be sufficient. Compared to a small trailer, it already has important advantages. The car doesn't take up any extra space, so finding a parking space is as easy — or difficult — as always. There is also no need for complicated maneuvering, which can be a nuisance with a trailer. The speed limit is significantly higher and fuel consumption is lower with normal car with a roof box. A trailer even requires an extra driver's license depending on its weight. Last but not least, a roof box is considerably cheaper to buy.
Effect on driving behavior?
In any case, be aware of the fact that a bulging roof box affects driving behavior. Even experienced drivers should familiarize themselves with this feeling before going on a long trip. The vehicle is heavier overall, and fuel consumption is higher as a result. The car is also taller. This can be particularly noticeable after forest sections and on bridges, as any gusts of wind from the side has more impact. The center of gravity is also slightly higher, which changes the car's behavior on curves in particular. So be prepared to adjust your driving behavior accordingly. Last but not least, keep a greater distance from other vehicles, especially on the highway.
Hard and soft roof boxes
Roof boxes are made of different materials. The boxes are characterized by their light weight. They are also available in different sizes. Whatever material you choose, the roof box is stable and protected against all weather conditions and dirt. It is also resistant to impacts and external forces, so thieves don't stand a chance. In addition to the rigid models, there are also elastic and foldable boxes that have some advantages and disadvantages.
The synthetic ABS (acrylonitrile butadiene styrene) is one of the most common materials for the production of roof boxes. It's robust and cheap to manufacture, making it an affordable option. There is, however, a chance that parts made of ABS will bend, especially under high loads. As a higher-quality and therefore somewhat more expensive alternative, there are models made of glass-fiber reinforced plastic (GRP). This material is much more stable and durable than ABS. This results in lower wind resistance. For frequent use, especially for long distances, it is advisable to use roof boxes of this type.
Foldable roof boxes made of plastic fabric, also called soft boxes, are even lighter than the hard boxes. Once folded, they can be stored in a space-saving way and transported inside the vehicle. The outer shell is flexible and soft but protects the contents from water and dirt, just like conventional roof boxes. The maximum permissible load varies depending on the size, but is comparable to that of rigid boxes.
The foldable box is usually stabilized with a wire frame or half-shells made of plastic and is approved for speeds of up to about 80 mph (130 km/h). Even though the material protects the contents and can be secured with a padlock, thieves could slit it open with a knife. Therefore, you should only use the box for transport and not leave it unattended on the roof when valuable luggage is inside. The price for the soft box is significantly lower making i t an attractive option if you use it sporadically.
How to mount the box to the roof
A roof box can be mounted on the roof of almost any car model with the exception of some sports cars or very small cars. Convertibles also aren't suited for roof boxes. Regardless of the roof box design a roof rack must be available in order to properly mount the box. Just make sure that it is compatible with your roof box – or the one you intend to buy –, but this should not be a problem with common roof rack designs.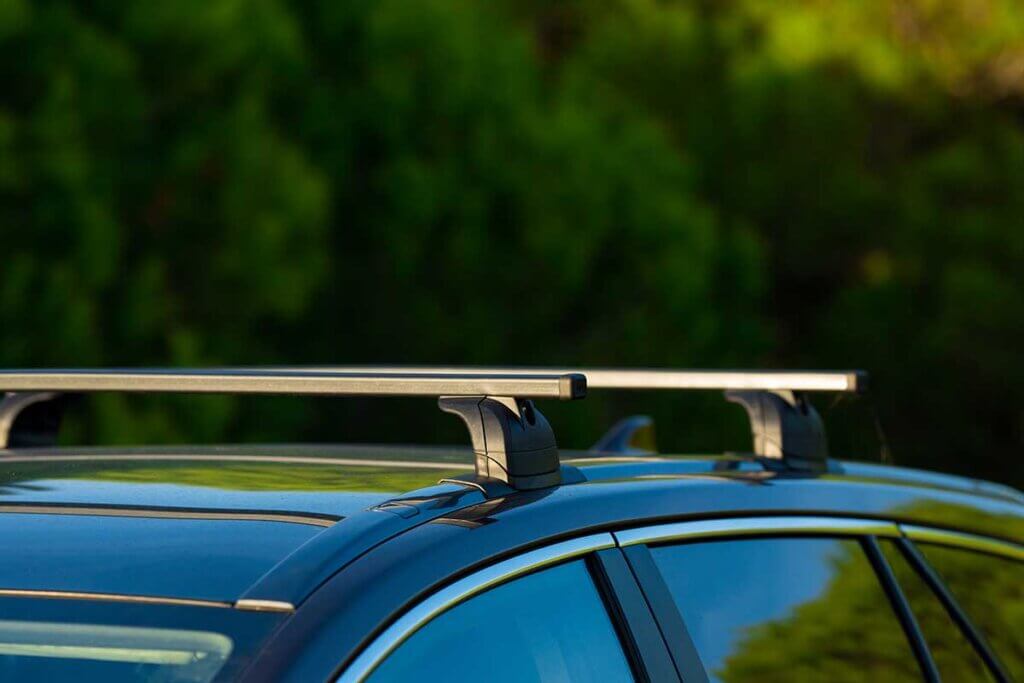 Mounting options
Depending on the vehicle, owners of a roof box have various fastening options. In general, there are four types of roof racks:
Roof rails
Rain gutter
T-slot rail
Mounting points
Some vehicles are equipped with a so-called roof rail ex works. Sturdy cross bars, which form the roof rack, can be attached to this. If there is no roof rail, the bars can be attached to the edge of the car roof — the rain gutter — using brackets. Other vehicles offer extra mounting points at the corners of the roof for luggage racks, which are protected with plastic covers. Narrow rails ("T-nuts") are also often installed on the long sides of the roof for this application. Before setting up, find out exactly what requirements the roof of your vehicle has for the carriers and which mounts are compatible with them.
Special case: suction cups / magnetic surfaces without roof rack
There are a few models of roof boxes that can be attached directly to the roof of the vehicle without any other brackets or carriers. There, they adhere with suction cups or magnetic surfaces. However, experts rarely advise the use of these boxes. Heavily packed and in the fast airstream, they can become a safety risk. If you cannot avoid using this type of roof box, you should handle it with particular care.
Mounting the roof boxes
Always mount the roof box empty and get help if the mounting becomes a bit confusing, especially with larger vehicles. Consult the manufacturer's manual if you are unsure, or if you are installing the roof box for the first time. Basically, the underside of the roof box is connected to the luggage rack. The exact design or handling of this fastening differs from manufacturer to manufacturer. To prevent the box from shifting during assembly, you can fix it with rubber stoppers. Assembly should be relatively easy, especially if two people are involved. Beforehand, it is best to clean the places where the crossbars are connected to the roof box and the gutter. Check for signs of wear and the condition of the connections and brackets to ensure a non-slip grip. Experts also recommend that, if possible, the box should be placed so that the heavy loads are placed at the height of the vehicle pillars, as this is where the vehicle is most stable.
Tips for optimal use
For better comfort, drivers should make sure that the roof box can be opened from both sides. This way, they don't have to keep this in mind when looking for a parking space. Some suppliers equip the box with a central locking system, which provides additional security. This means that the key can only be removed when all the individual components are closed.
Softer items of luggage such as blankets or sleeping bags are best stowed in the front part of the roof box. In doing so, heavier items are better cushioned in the event of hard braking. Heavy objects should be placed as centrally as possible and at the bottom of the roof box for a balanced center of gravity. Long, inflexible items such as skis or snowboards should be packed first. If particularly heavy parts increase the roof load too much, it is better to store them in the trunk. If in doubt, this also applies to items that are sensitive to moisture.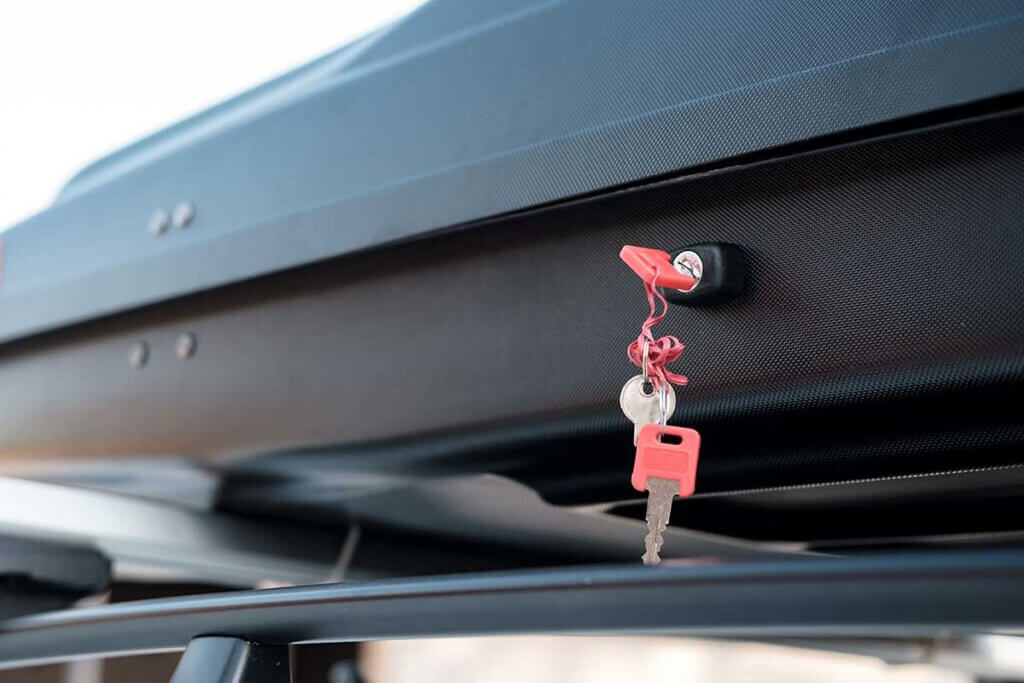 Always make sure that you don't exceed both the permissible roof load and the total permissible weight of the vehicle after loading. For optimum safety, the driver should check again a few miles after setting off to make sure that the roof box and load are optimally secured. Take your time to make sure all parts interlock and that the box is really tight. An inadequately secured roof box can become a life-threatening projectile in the event of an accident or even just a hard braking manoeuvre.
What extras are useful for the roof box?
To protect the roof box from dirt and scratches when not in use, a suitable protective cover can be used. Storage bags are available for foldable boxes. For storage in the garage or basement, you can attach special holders for the roof box to the walls, which saves storage space. Even more space-saving are the roof box lifts, which pull the box up and hold it under the ceiling. Inside, there should be useful utensils for additionally securing the load. These can be straps or carrying nets that are attached to the inside wall of the roof box with hooks. Some models have individual compartments or dividers to separate different types of cargo. Certain manufacturers evwen offer roof box bags to store clothes neatly.
---
Image 1: © Ievgen Skrypko / stock.adobe.com | Image 2: © bilanol / stock.adobe.com | Image 3: © Daria / stock.adobe.com | Image 4: © koldunova / stock.adobe.com