Motorcycle GPS purchasing advice: how to choose the right product
The most important facts in a nutshell
Motorbike sat navs have features tailored to the needs of bikers, such as glove-operated touch displays.
Since they are mounted on the handlebars, they have to be weatherproof and vibration-proof.
Motorcyclists often choose not the shortest or fastest, but the most scenic route for tours. Motorbike navigation systems take these wishes into account.
With the help of special mounts, they can also be used in cars.
GPS or navigation devices have been helping car and truck drivers reliably plan routes, avoid traffic jams and easily find their destination for years.
The special feeling of riding a motorbike – saddling up your beloved bike, cruising along winding country roads in the best sunny weather, picking out a nice route in advance, or simply following your nose and taking new routes at will – the navigation device brings man and machine back safely; yet the demands on such devices for bikers are quite special.
Ordinary navigation devices, such as those used in cars or trucks, are not suitable for use on a motorbike for several reasons:
They do not have features such as "exciting routes" with many curves and mountain-valley sections.
They are usually not protected from rain and splash water.
They are not anti-reflective, which can cause problems for bikers in the sun.
They usually cannot be operated with gloves.

Due to its place of use, a motorbike navigation device must be built many times more robustly than the models used in passenger cars. In contrast to the classic device that usually finds its place on the windscreen in the car cockpit, the two-wheeled version has to withstand a lot more: Mounted on the steering wheel, it is exposed to strong vibrations and high wind speeds, depending on the road surface and speed. In addition, the navigation device has to withstand weather conditions such as sunshine, dust and rain. Therefore, when choosing a device, prospective customers should make sure that it is both splash- and dust-proof.
In our text, we limit ourselves to special standalone devices that are specifically designed to meet the needs of motorcyclists. Classic car and truck sat navs as well as navigation apps for smartphones and tablets are not considered.
Display size and readability
It is also important to have a display with a sufficiently large screen diagonal, anti-reflective coating and high contrast values so that users can read the display without problems even when wearing a motorbike helmet. The display diagonal is limited, however, as the device must fit on the handlebars and not interfere with steering.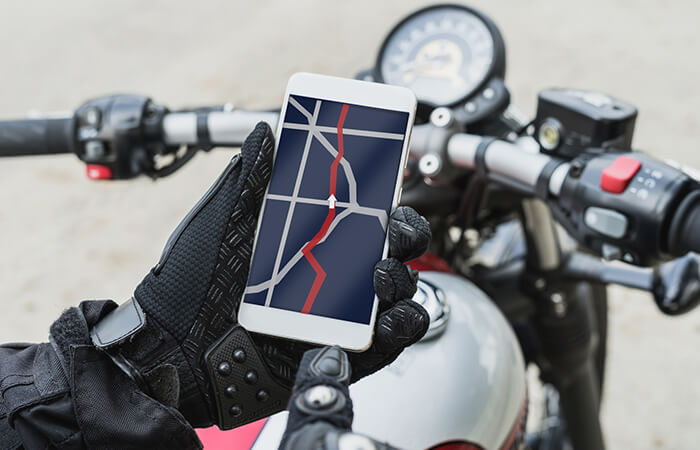 Intuitive operation, ideally even with gloves on
In addition to size, screen sensitivity is a major issue: while riding, the screen must remain operable even when wearing gloves. A few drops of rain should not affect the touch function. Small virtual buttons are not conducive to comfort, as gloved finger gestures tend to be generous. Intuitive operation is very important, especially for motorcyclists, as they should spend as little time as possible operating the device in order to have both hands on the handlebars. Of course, it is generally advisable to make adjustments only when stationary. Furthermore, the handling should feel natural and logical. Functions should not be hidden in convoluted menus, but should be quickly accessible.
Secure mounting on the handlebar
For secure mounting on the motorbike handlebars, bikers should either use the accessories supplied or purchase a sturdy metal mount. One mounting option that is particularly popular with motorbike fans is the RAM mount system. Such mounts are vibration-decoupled, i.e. they do not transmit the vibrations of the motorbike. This makes it possible to read the screen display comfortably without having to keep your eyes on the device for too long in the struggle against the trembling of the display.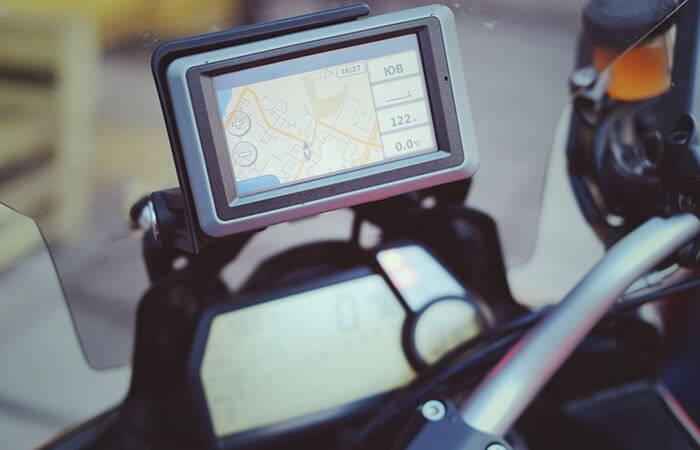 Some manufacturers offer special car mounts as accessories with which users can clamp their navigation device to the windscreen and thus also use it in the car. Matching 12-volt connection cables are available if these are not included in the scope of delivery.
Anti-theft device
Because of the way they are mounted – they are literally within reach – motorbike navigation devices make extremely tempting targets for thieves. After all, they are not hanging on the windscreen in a locked car, but are mounted on the handlebars, unprotected from access. The inhibition threshold of first having to smash a window or break open the door lock is eliminated. To make sure that thieves don't have too easy a time, there are several ways to secure the GPS assistant.
For example, there are steering wheel locks that prevent the navigator from being removed from its holder. Thieves would have to go to much greater lengths to separate the components with brute force. On the software side, it is possible to secure the device with a PIN code, as with a mobile phone. It can only be reset by the manufacturer. Without proof of purchase, it is difficult for thieves to resell stolen goods.
Battery power = flexibility
A long battery life is an advantage. If the user fully charges the device before riding, he or she can use it for up to six hours afterwards, depending on the load. Only some motorbike models have a connection for charging the navigation device's battery.
No power connection? No problem!
Motorbike navigation device batteries can usually be charged via a 12-volt or USB connection. If neither of these connections is available, bikers can help themselves by tapping into the motorbike's on-board electronics. However, this requires some technical skill. It is advisable to connect the cable to the circuit for parking lights or dipped headlights. In these cases, the power connection is disconnected when the ignition key is removed. If the owner forgets to disconnect the cable when parking, the battery will not be discharged, unlike the connection variant on the normal circuit. That saves a lot of trouble!
Route planning and exchange with other bikers
Motorbike enthusiasts know it: the feeling of freedom, the beautiful weather and the beloved machine with which they hit the track in the sunshine. Unlike car or truck drivers, the goal of a motorcyclist is usually not to reach the destination as quickly as possible or on the shortest route, but to choose a beautiful, challenging route through nature. The choice therefore tends not to be the motorway, which is always straight, but country roads. Factors such as
a wealth of bends,
as few speed limits as possible,
varied landscapes,
roads with many metres of altitude and
rest stops that are specialised for motorcyclists,

play a role.
Curves and metres in altitude make a route more challenging to ride and usually increase the favourability of the riders. Many devices therefore offer functions to plan an exciting tour off the main routes, taking sights into account. Here, driving pleasure clearly takes precedence over efficiency. That's understandable, because kilometre-long straight stretches don't demand much skill from bikers and quickly become monotonous.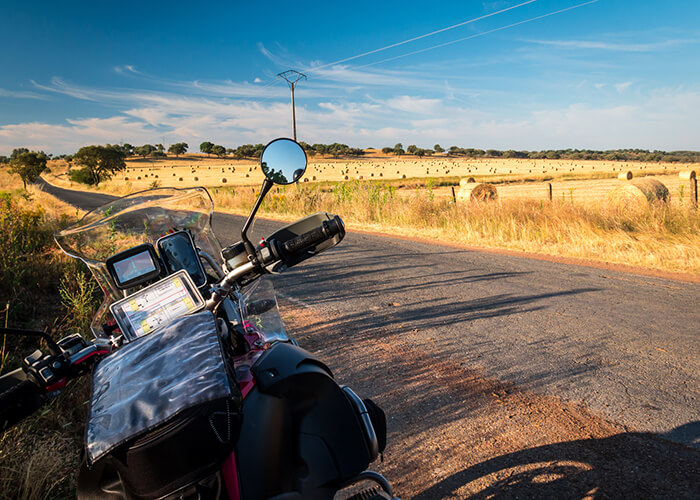 It is practical if the biker can plan a route in advance on the computer and then transfer it to his navigation device. Many navigation devices support the Tyre Pro software across all platforms. This is particularly practical because it allows users to share route maps regardless of the navigation device brand. It has also become common practice to record tours via a tracking function and make them available to other motorcyclists online. On the other hand, motorcyclists use online forums and download tour suggestions from others. In some cases, further data, such as maximum speed, average speed and altitude differences, can be called up here.
Connectivity thanks to Bluetooth
Unlike in a car, a conventional voice output is usually of no use to motorcyclists: it is simply drowned out by the noise of the bike and the wind. An in-ear headset or a hands-free system integrated into the motorbike helmet can help. In this way, the acoustic driving information is transmitted into the helmet. This can be done classically by cable – or, according to the state of the art – by wireless Bluetooth connection. The latter variant is more practical because it increases the driver's freedom of movement. A nice additional feature: some navigation devices allow the GPS to be expanded into a music player via their SD card slot.
Practical features for smartphones
Independently of the navigation device, further functions are available in combination with a smartphone. Playing music is also possible. In addition, there is the telephony function or the use of voice assistants such as Siri or Google Now. This allows the driver to dictate tasks while driving, such as programming a new destination, accepting a call or dialling a phone number, or searching for a specific topic on the internet. Radio connections to the pillion passenger or to other bikers have been established for some time.
Pay attention to hardware equipment
Keeping the maps up to date requires a large amount of memory. Ideally, therefore, the device should have ample hard disk capacity. If these reach their limits, there should ideally be an expansion option in the form of an SD or microSD slot. This ensures that the device is also well positioned for the future. In addition to the map data, users should also keep the firmware up to date. They will then benefit from new functions and product improvements, for example in terms of intuitive usability or the speed of route calculation.
Caution with radar warning function
In addition, it is possible on many devices to install programmes that go beyond navigation. These can be practical helpers such as dictionaries or calculators.
Another prominent example is a radar database that is always kept up to date and warns bikers of stationary and mobile speed cameras. But caution is advised here: the legal situation differs from country to country. Only a few states allow its use. Others permit the mere carrying, but not the use of the devices.
By the way, such apps are to be distinguished from radar warning devices: These are external devices that register the electromagnetic waves of radar installations and then emit an acoustic warning so that the driver has the opportunity to adjust his speed if necessary. In Germany, it is legal to sell and possess these devices, but it has been illegal to operate them or to carry them in an operational state since 2002. Depending on the country, this can result in heavy fines and even imprisonment. In some cases, the device is confiscated or even destroyed. In the case of a permanently installed radar detector, in the worst case the vehicle will be confiscated.
In addition to stand-alone navigation devices, for example from the companies TomTom or Garmin, which are equipped with robust housings, some with aluminium reinforcement or rubber coating, to protect against crash damage, various manufacturers also offer app solutions for smartphones.
Some advantages are obvious: most motorcyclists already own a smartphone. This means that the download of an additional app is associated with no or – compared to the purchase of a new device – very low costs. The smartphone solution also includes most of the functions of a separate device. Another advantage is the constant updating via the app stores and the WLAN or mobile data connection. Current danger warnings as well as information about traffic jams and delays are obtained by the smartphone during operation via the mobile data network.
However, smartphone apps have disadvantages. Power consumption is greatly increased by the operation of the GPS module. If a wireless headset is added, the Bluetooth technology also sucks up the battery. Users must therefore plan the approximate runtime or provide an additional charging option through an on-board power connection or a power bank. Some app systems do not have offline map data, but download the required information from the internet via the mobile data connection during operation. This puts a strain on the data volume and, in the case of extensive use, either leads to the internet speed being throttled or to additional data volume being required, which results in additional costs. However, many apps do not support route import. This means that users cannot share their routes with others or import routes from other users.
The weather can also cause problems for exposed smartphones. While the displays are difficult to read in strong sunlight due to the non-reflective display, rainy weather poses other challenges for the devices: Not all models are splash-proof or even waterproof and are already damaged by a moderately heavy shower. In this case, it is a good idea to buy a protective cover.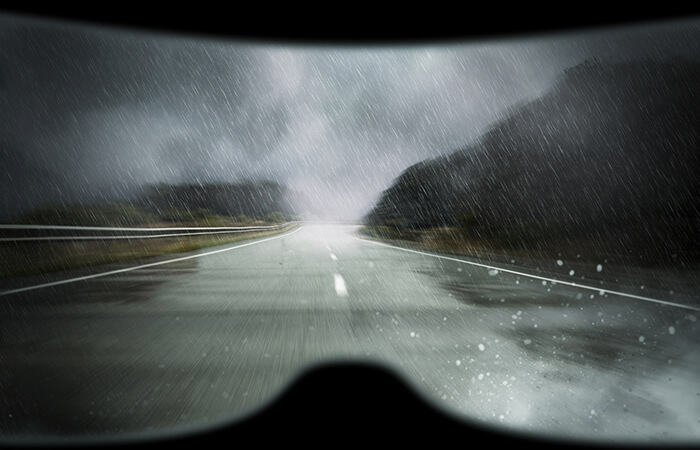 In addition, the models react differently to rainy weather: while some do not cause any problems in terms of usability in moderate rain, with others even a few drops trigger the touch function. This hampers use enormously, because in this case the map starts to "dance" while driving or simply jumps back and forth between different operating menus. With other models, operation is imprecise in the rain and buttons cannot be selected easily.
Everyday use presents bikers with some tricky problems: smartphones are simply not specifically tailored to their needs. Operating the phones with motorbike gloves is not possible or only with difficulty.
Plus Points
No need to purchase an additional device
Many functions included
Simple updates via mobile data connection
Automatic traffic jam warnings via mobile data connection
Drawbacks
High battery consumption due to GPS and data connection
High data consumption due to loading maps from the internet
No routes can be imported from friends or internet users
Mostly no matt displays, therefore poor readability in sunlight
Display cannot be operated with gloves on
Most are not waterproof
Significantly more sensitive to vibrations while driving
Technical functionality of GPS positioning
The map data of the countries covered are either stored in the device or, as in the case of smartphone solutions such as Google Maps, are downloaded from the internet as required. To determine the current position, navigation devices make use of the Global Positioning System (GPS) originally developed for the US military. This is a global system of navigation satellites that has been fully available to the civilian population since 2000. Once designed for military use, its location accuracy was limited for years by technical signal degradation. Since the turn of the millennium, this technical measure has been eliminated and private citizens benefit from position data with accuracies often below ten metres.
GPS is based on satellites that constantly transmit their current position and the exact time with coded signals. Thus, with the help of a receiver, for example a motorbike navigation system, it is possible to determine both the position and the speed of the device. To determine a position, the so-called "trilateration" is necessary, i.e. the distance measurement by at least three geostationary satellites.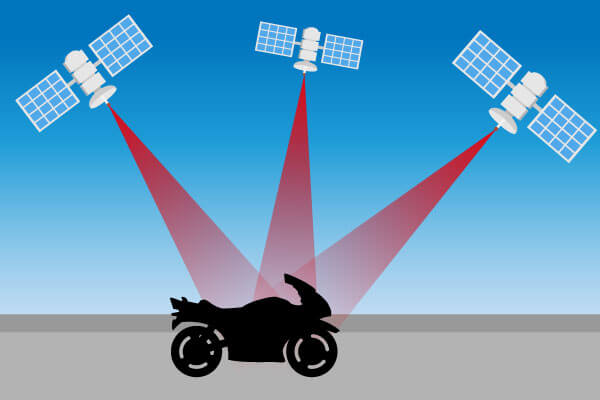 A fourth satellite is necessary to compensate for measurement inaccuracies resulting from the fact that the time in the receivers is never set as precisely as in the atomic clocks of the satellites. In practice, even five to eight satellites support the positioning of a single receiver, as the precision of the measurement increases with the number of satellites.
Map material and updates

Another purchase criterion concerns map updates. Map data with roads, infrastructure facilities such as railway stations or airports and points of interest are preinstalled on the devices. In most cases, data is available for Germany and neighbouring countries, often even for all European countries.
In order to keep the map data up to date and to add new routes, priority rules or addresses of shops and places of interest, the devices require updates at regular intervals. Many models offer free updates for a certain period of time. After that, users have the option of purchasing these updates for a fee. The offers differ in one-time updates or update packages for the entire lifetime of the device (usually limited to 30 years).
Depending on the model, the user downloads the data either via a cable connection to a computer or wirelessly and directly via the home WLAN connection to the device.
Classic sat navs: information on traffic delays via TMC signal

Sounds slightly outdated in times of the Internet, but it is still ingenious: the Traffic Message Channel (TMC). The service transmits messages on traffic disruptions via the inaudible range of the FM radio band in digital form. The whole thing works independently of a classic radio receiver. Suitable modules are integrated into navigation devices, which receive data regarding traffic jams and obstructions as well as suggestions for dynamic destination guidance in the background during operation. The data is sent free of charge in many European countries. The system works without the need for a SIM card and data tariff – there are no additional costs. Although there is a parallel paid version (payTMC, also TMCpro), this offers traffic information from automatic sensors on motorway bridges and measuring loops. However, the advantages over the free service TMC are not too great for most drivers, so the system is not widely used.
Further test reports
Attention: This is a comparison of motorbike navigation devices. We have not tested the products presented here.
Stiftung Warentest, probably Germany's best-known testing institute with one of the most extensive test databases, has so far only conducted general tests of navigation devices and apps. In 2019, the experts tested a total of 20 products with prices between 160 and 380 euros, including seven conventional navigation devices with suction cup mounts and seven apps for smartphones. The test criteria included navigation, handling, versatility, battery life, processing, data consumption via mobile radio and the data sending behaviour of the app. With regard to navigation, the following test criteria were of interest:
the driving recommendations
the announcements
the display
the time for starting and locating
the time for route calculation
the route guidance
the traffic services

In terms of handling, the testers focus on the help, installation, daily use, voice recognition and dealing with calls.
The test winner among all navigation devices is the Tomtom Go 6200 for 330 euros with a test mark of 1.8 ("Good"). Close behind were the Garmin DriveSmart 61 Europe LMT-D for 209 euros and the Tomtom Go Essential 6 for 239 euros, both with a test grade of 1.9. Third place went to another Garmin device, the DriveSmart 5 Europe MT-D for 166 euros, with a test grade of 2.0.
In contrast to Stiftung Warentest, the test magazine Computer Bild tested only motorbike navigation devices. The test devices had to withstand, among other things, half-hour dives in one metre of water, continuous rain in a splash chamber and a shaking and heat test. The test winner is the Garmin Zumo 660LM with a test mark of 2.0 ("Good"). Second place went to the Garmin Zumo 350LM with a test score of 2.1. The TomTom Rider came in third with a test score of 2.3. The NavGear Tourmate SLX-350 came in last with a test score of 3.9 and thus only a test rating of "Sufficient".