Exercise mat purchasing advice: how to choose the right product
The most important things in a nutshell
An exercise mat protects against injury and provides a stable surface during exercise.
The thicker the mat, the better the cushioning but the worse the grip. At best, the mat should be at least as long as your own body. A mat that slips during exercises not only prevents correct execution of the movements but can also lead to injuries.
A folding mat is easier to store than a rolling mat, but can wear out more quickly at the folded edges.
For a safe and comfortable workout
Thanks to online training via livestream, app or written instructions on the internet, it is now easy to exercise in the comfort of your own home. Those who practise yoga or Pilates, strength or endurance training do not need a collection of sports equipment of any size. Instead, a few utensils and your own body weight are enough. Exercises on the hard floor while sitting or lying down, however, can range from uncomfortable to painful. Furthermore, if you lack the necessary support to perform movements correctly, the work-out is not feasible. With a suitable mat, you train effectively and comfortably.
Known as gymnastics mats, sports mats or fitness mats, their purpose is to make exercise as safe and comfortable as possible. By both cushioning the body and providing a non-slip surface, mats protect joints, bones and muscles from undue stress and injury. Depending on the area of application, a gymnastics mat is constructed differently: For some athletic activities, a thick cushion is essential to exercise safely, while for others, this feature is sacrificed in favour of better support.
The term gymnastics mat, like sports mat, covers all variants that are designed for specific sports activities, but can also mean a universal mat that is suitable for a particularly wide range of activities. A distinction is typically made between yoga, Pilates and gymnastics mats, and there are also terms such as work-out or fitness mat. In the end, the various mats differ mainly in their length and thickness.
The characteristics of common gymnastics mats
Gymnastics mats with a certain thickness can be grouped into certain subcategories named after the area of skin use. This does not mean that you can only use a Pilates mat for this one purpose. However, knowing the characteristics of typical designations will help you find the ideal product for your intention.
Yoga mats
Yoga mats are the thinnest type. Their thickness is around 0.5 to 0.7 centimetres. They aim to provide practitioners with sufficient stability and support during balance exercises. Their cushioning effect is low, so that bones and joints are hardly padded. For this reason, yoga mats are poorly suited for dynamic floor exercises: The back and coccyx often bear a large part of the body weight during the exercises and hurt if there is insufficient padding.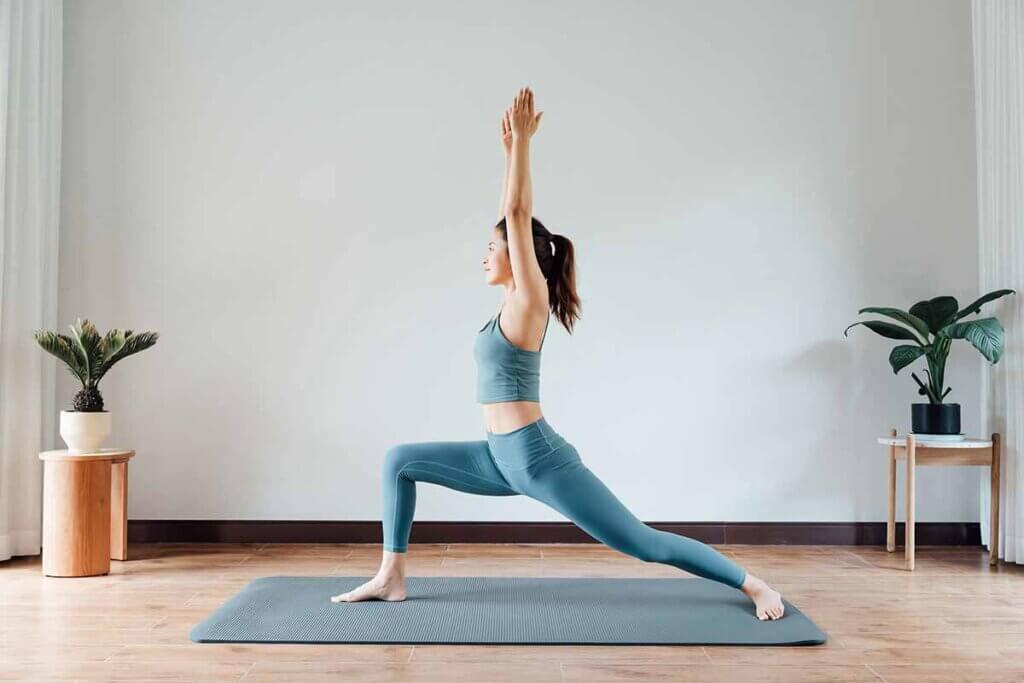 Pilates mats
So-called Pilates mats provide better cushioning. The name comes from the body workout of the same name, which consists of movements on the floor that are intended to improve posture and strengthen the muscles in the centre of the body. Such designs are thicker than yoga mats, averaging 0.8 to 1.5 centimetres. This is also important for a comfortable workout, as the bones, especially in the back and hip area, are exposed to greater stress during some exercises than during other movements. Nevertheless, the mats are thin enough to perform balance exercises effectively.
All-round gymnastics mats
With a thickness of up to 2.5 centimetres, all-round gymnastics mats offer a high level of comfort for all fitness exercises. Pilates as well as strength training with and without weights can be done on this type. The padding also ensures that even older and physically weakened people can exercise without pain. Therefore, gymnastics mats are also suitable for therapeutic use. Mats for rehabilitation are on average wider than work-out mats, so that there is enough space for patient and therapist. For balance exercises, however, gymnastics mats with a thickness of more than 2.0 centimetres are poorly suited because exercisers sink too much into the mat to maintain position and body tension.
Gymnastics mats
Gymnastics mats provide the highest possible cushioning. They are used, among other things, in school gymnastics as well as in clubs and courses. With a thickness of often more than 5.0 centimetres, their main area of application can be assigned to fall protection. For example, they protect against injuries during floor gymnastics: a handstand or somersault can only be achieved after long practice and is associated with frequent falls. Thanks to the thick padding, gymnastics mats absorb the energy on impact, leaving sensitive joints and parts of the body such as the head and neck unharmed. A stable stance, on the other hand, is not possible.
How to find the ideal gymnastics mat
The right gymnastics mat is not only suited to the exercises you want to do, but is also durable and easy to clean thanks to high-quality material.
Mat thickness
The thickness of the mat influences the area of application of the gymnastics mat and starts at about five millimetres. Thin mats with a thickness of less than seven millimetres are best suited for standing exercises, such as yoga, as they provide a stable hold. The thicker the gymnastics mat, the more difficult it is to maintain balance, but the more it protects bones and joints.
As soon as you exercise while sitting or lying down, cushioning is important: during exercises such as hip raises or the bug, the entire body weight rests on the back and tailbone. Without a cushioned base, such exercises quickly become torture. Therefore, a minimum thickness of eight millimetres is recommended for exercises in a lying position.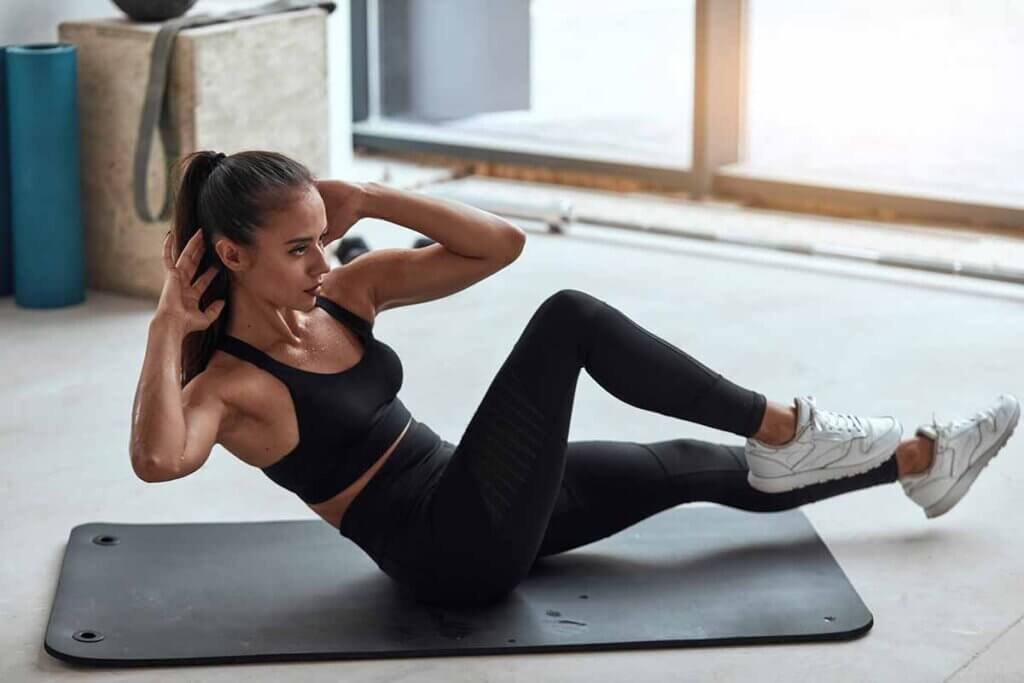 A thickness of 1.0 to 2.0 centimetres is suitable for Pilates as well as for muscle training. Mats for strength training have an average thickness of 1.5 centimetres: they not only protect bones and joints, but also provide sufficient support for standing exercises. If you want to lie particularly comfortably and do not want to do balance exercises, choose a thickness between 2.0 and 2.5 centimetres.
For floor exercises, you need a mat with maximum cushioning: insufficient cushioning leads to injuries when learning exercises such as a flick flack or a handstand somersault. Therefore, fall protection mats often have a padding of more than 5.0 centimetres.
Dimensions
Gymnastics mats have an average length of 180 to 190 centimetres and a width of 50 to 70 centimetres. Oversized versions are up to two metres long and one metre wide. In addition, there are small mats with a length of less than 170 centimetres that serve children and petite adults well. The rule of thumb is that your height should not exceed the mat length in order to exercise comfortably and effectively. However, if you mainly do exercises while standing, you can also use a smaller model. Mats with a width of one metre are also common in the therapy sector, as they allow a second person to help perform the exercises.
Rollable or foldable: which is better?
The majority of gymnastics mats can be conveniently rolled up and transported. Alternatively, there are versions that can be folded several times. For storage, such mats take up little space as they are a fraction of their original size when folded. Mats measuring 180 x 60 centimetres that can be folded three times have folding dimensions of 60 x 60 centimetres, while folding six times even reduces the length to 40 centimetres.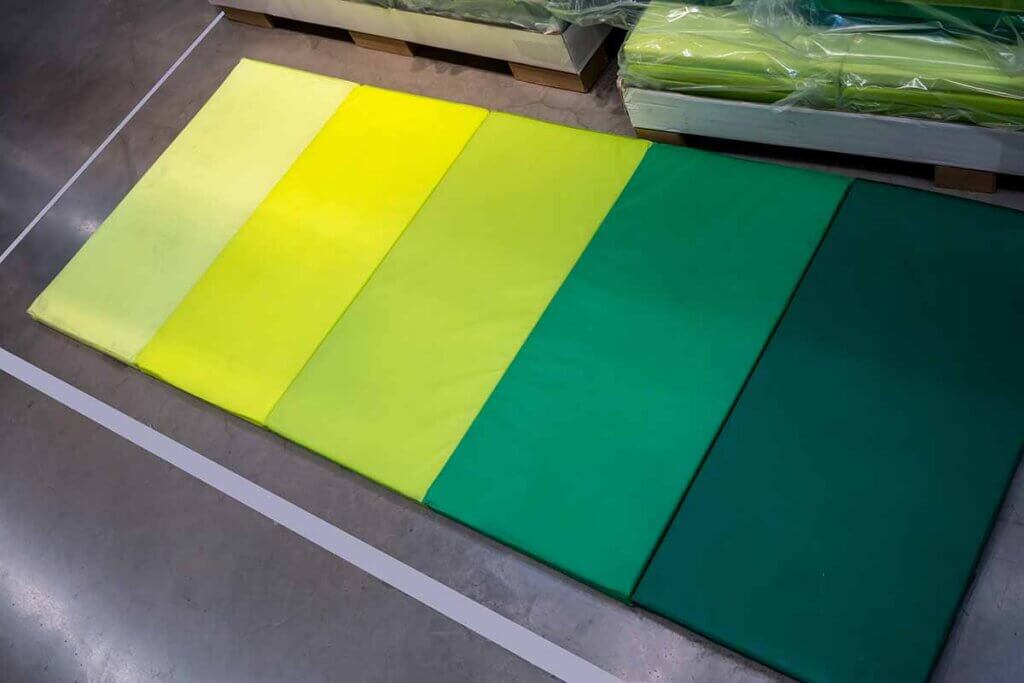 Folding mats fit shelves or drawers together with other utensils. They are particularly suitable in flats with little storage space. However, the mats wear out at the kinks, so their lifespan is shorter than that of an equivalent roll mat. While rollable gymnastic mats are more difficult to store, the product selection is wider in terms of design and shape.
Typical materials
A typical material for gymnastics mats is foam. Products made of closed-cell material are more resistant to dirt and moisture than those made of open-cell foam. Furthermore, they have a higher material density, which promotes a longer service life. In the lower price range, the plastic PVC (polyvinyl chloride) is used for foam production. The material is not harmless to health, as a small amount of plasticisers is required for its production. Make sure that the plasticisers used are not harmful phthalates. Unlike PVC mats, variants made of foamed thermoplastic elastomers (TPE) or nitrile rubber (NBR) do not require plasticisers. Natural materials such as cotton, virgin wool, cork and natural rubber are increasingly used for yoga mats.
Are gymnastic mats harmful to health?
Manufacturers usually advertise that their products are particularly skin-friendly and free of harmful substances. However, since manufacturers' claims such as "free of harmful substances" are not legally standardised, they are not meaningful without an independent test seal. Besides phthalates, harmful substances such as the heavy metal cadmium or the active ingredient triclosan and latex that causes allergies are not desirable in fitness mats. Fitness mats that have been tested for harmful substances often have the OEKO-TEX Standard 100 product class I test seal. If you are not sure whether this is valid, you can find out by looking at the label number on the OEKO-TEX site. Tests by independent consumer magazines such as ÖKO-TEST also provide a frame of reference.
Recognising quality
In many cases, the weight of the gymnastics mat allows conclusions to be drawn about its quality: closed-cell foam is heavier than that with open pores. High-quality foam mats weigh around 1.2 kilograms on average, although there are both lightweight versions weighing around 0.5 kilograms and those weighing more than 4.0 kilograms. In the case of two foam mats whose properties are apparently identical except for the weight, the heavier mat is usually of better quality. If you have a mat in front of you, the quality can be recognised by two characteristics: how flat the mat lies on the floor and how dimensionally stable it is. High-quality mats lie flat on the floor without the ends sticking up.
Dimensional stability or resilience is the ability of a mattress to return to its original shape. It is known as the memory effect. With good mats, pressure marks disappear within seconds after exercise.
An important property of gymnastics mats is their slip resistance. If the mat slips during an exercise, injuries can occur in the worst case. At the very least, correct execution of many exercises is not feasible if the mat moves. To check whether the underside of the mat is actually non-slip, run a damp hand over the surface. This way you can feel directly whether the mat is slipping. You can also find out whether the fitness mat stains, which is also a sign of poor quality.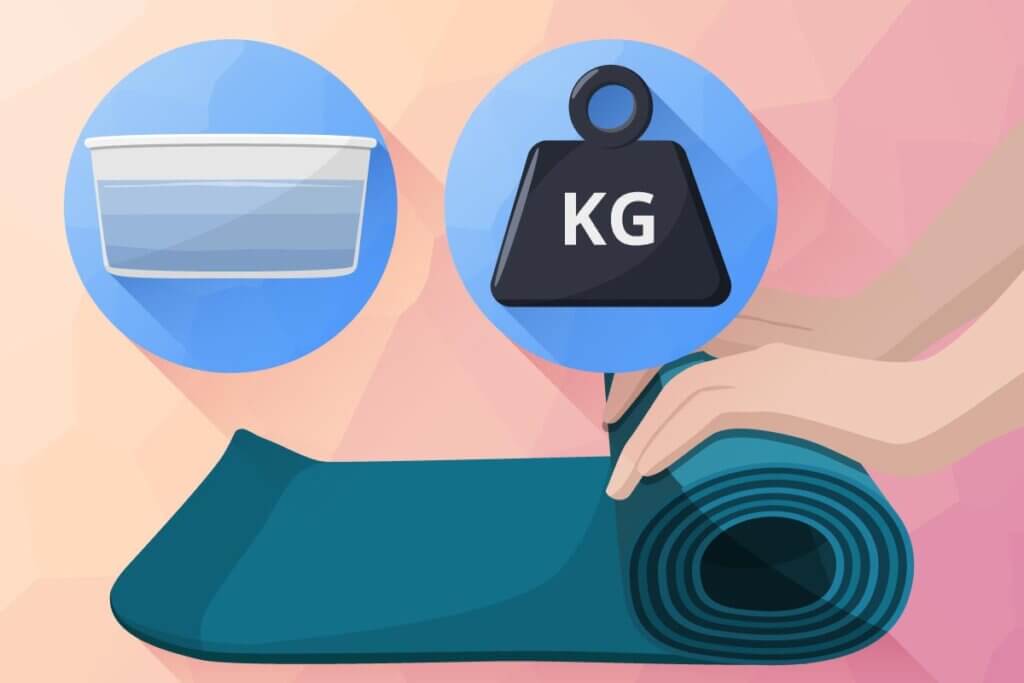 What else makes gymnastics mats special
In addition to features such as a non-slip underside and good resilience, which are indispensable for injury-free and correct training, many gymnastics mats have other features that make them more comfortable and easier to use. If the surface is sweat-resistant, for example, practitioners will not lose their grip during the workout despite sweating heavily. Otherwise, they slip during plank exercises, for example, and can no longer maintain the correct posture.
For training in different places or in the fresh air, a mat that is easy to transport and has a heat-insulating effect is recommended. It is therefore practical to have either a carrying handle or a bag included in the delivery. If one end of the mat has eyelets, it can also be hung up in course or equipment rooms.
Cleaning is uncomplicated with most mats: you can wipe the surface with a damp cloth after exercise. Cleaning is even easier if the mat has a dirt-repellent coating. For the sake of hygiene, it is advisable to choose a product that tolerates disinfectants. This information can usually be found in the manufacturer's description.
To relieve tension in the neck and back, it sometimes helps to train on a heated fitness mat. Models such as the Sport-Thieme Thermo Move gymnastics mat have an integrated heating element that is operated by mains current.