Ski helmet purchasing advice: how to choose the right product
What You Need to Know
Ski helmets are specially designed for skiing and snowboarding.
A perfectly fitting ski helmet is part of the basic equipment for every winter sport – for beginners as well as advanced skiers.
When buying, pay particular attention to the ventilation and impact protection system, the safety certificate and the right fit.
There are hardshell and in-mold ski helmets, which differ in their manufacturing processes and materials.
Safer on the slopes thanks to a ski helmet
Along with the right winter clothing and the basic equipment, i.e. the skis or snowboard, a ski helmet is part of the basic equipment of every skier or snowboarder. Just as with all sports and leisure activities, your own safety and health are paramount. Since falls and hard impacts often occur, especially among beginners – whether in the skiing or snowboarding section – winter sports enthusiasts should make sure to purchase a suitable helmet before their planned holiday in the mountains. The head must be protected at all costs; after all, no one wants to cut short the long-awaited holiday due to an injury or even seriously injure themselves.
Ski helmets not only protect skiers from dangerous head injuries, but also protect the head from the cold. Windy descents can cause the body to cool down faster than expected – and it is through the head that people lose most of their heat. The whole thing works in the other direction, too: if highly motivated beginners start sweating quickly, a ski helmet can help, provided it has an integrated ventilation system.
A ski helmet optimally cushions the head in the event of a hard impact. Winter sports enthusiasts therefore need it for every planned descent. No one can predict when and how they will fall while skiing or snowboarding. It is therefore advisable to wear a helmet even on supposedly easy slopes. You can take it off during lift rides as long as you hold it firmly in your hands. Handling the helmet, gloves and ski poles can be challenging from time to time. If you feel more confident about your own abilities and want to ski at a faster pace, you should remember to carry your ski helmet as well. The faster the descent, the greater the risk of injury in the event of a fall. In the worst case, unfortunate falls can end up being life-threatening.
Can I use a bicycle helmet for skiing?

You should only wear helmets specially designed for winter sports and never use a conventional bicycle helmet. Bicycle helmets protect other areas of the head, especially the top of the skull and less the sides. In addition, unlike bicycle helmets, ski helmets offer more warmth and space for suitable ski goggles, provided they are not equipped with a visor.
How ski helmets are constructed
Since every head has different requirements depending on size, head shape and age, there are different construction methods for ski helmets. However, the requirements to protect the head to the maximum are always the same.
Difference between hardshell and in-mold helmets
Hardshell models consist of a hard shell made of plastic. This is glued to the inside with a protective insert. Accordingly, two parts are combined in the manufacturing process. The inner part is usually made of EPS foam, a type of foam, while the outer part is made of carbon or hard plastic. During the manufacturing process, ventilation systems or protective grids can be installed. These models offer slightly more safety than in-mold helmets. On the other hand, they are somewhat more expensive and heavier.
In-mold models are characterised by their robust construction and low weight. Most versions are less expensive than hardshell helmets. The big difference in manufacturing is that in-mold products are made from a single mould. The inner material is polystyrene, the outer polycarbonate; both are firmly bonded together. Ventilation openings ensure good air circulation.
In hybrid versions, manufacturers combine both processes. These products score with optimal ventilation and shock absorption. The manufacturer Sweet Protection, for example, offers such models.
Difference between full-shell and half-shell models
Full-shell helmets offer protection over the entire head, including ears and temples. As a rule, professional skiers use this variant for racing. They are therefore not absolutely necessary for beginners. Full-shell helmets fulfil the safety criteria of the highest protection class, i.e. A.
Half-shell models, on the other hand, belong to protection class B and shield the upper part of the head. They are not only lighter, but also offer users a little more freedom of movement. Many models have removable ear pads. Beginners and advanced winter sports enthusiasts are equally well served by these products.
Both versions need a CE certificate to meet the requirements of EU safety standards. This is not a seal of quality, but an assurance from the manufacturer that they are aware of the requirements for the product and have taken these into account during manufacture.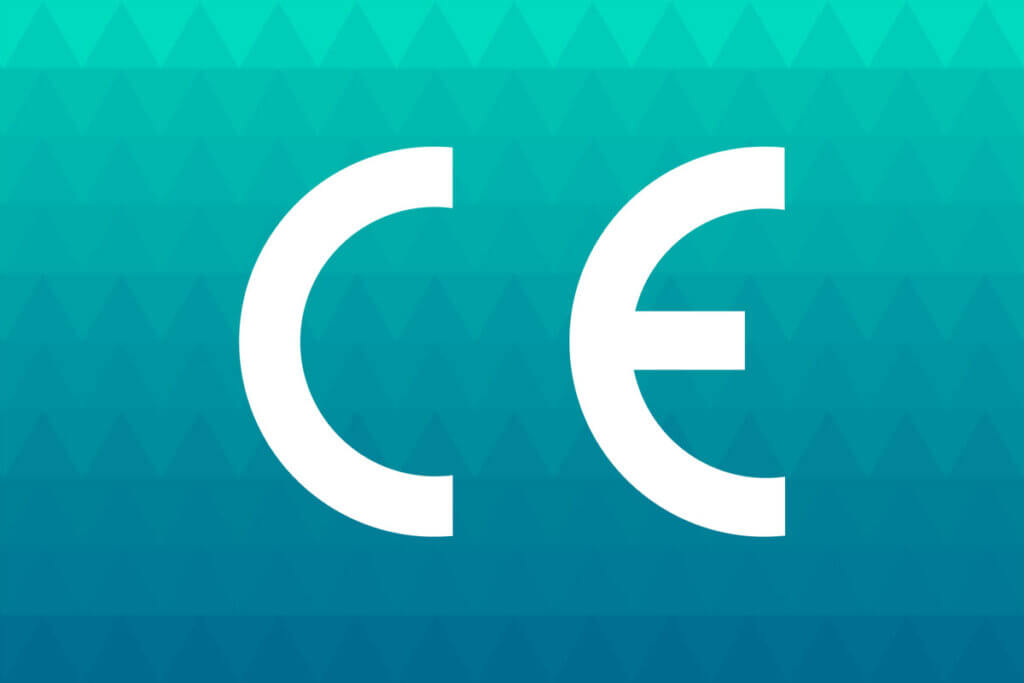 Do I need a ski helmet visor?
Visors are useful for skiers or snowboarders who do not want to wear ski goggles. The visor, which is integrated on the helmet like a kind of flap, functions as a substitute and does not need to be carried along additionally. The flap function is especially practical for spectacle wearers who do not wear contact lenses. Make sure that the visor is made of a high-quality material and does not scratch so quickly. However, you are less flexible with a fixed visor. Since the visors are usually tinted, you also cannot react to all weather conditions. Alternatively, you can use suitable ski goggles that can be put on or taken off depending on the weather.
Ventilation and air-conditioning systems for more comfort
Ventilation and climate systems vary depending on the type of ski helmet: hardshell or in-mold, full or half shell. As a rule, modern ski helmets provide good ventilation and air circulation because they have vents on the upper side. They prevent you from sweating heavily on your head and fogging up your goggles or visor. If you attach great importance to ventilation, you should opt for an in-mold half-shell model. This is particularly useful if you often do winter sports in milder temperatures.
Shock absorbers and impact protection for maximum safety
The abbreviation MIPS stands for "Multi-Directional Impact Protection System" and describes a protection system originating from Sweden that is designed to protect the head from rotational movements in the event of a severe fall. This means that the brain is shielded by a rotating inner shell in the event of an oblique, non-straight impact.
POC, another Swedish manufacturer, developed the SPIN technology. The abbreviation stands for "Shearing Pads Inside" and describes the pads integrated into the helmet that protect the head from injury in the event of an oblique impact. Both systems are said to protect users better from concussions than models without MIPS or SPIN. The following manufacturers offer such products: Giro, Sweet Protection, POC.
The chin strap must fit
An adjustable strap, which usually does not reduce wearing comfort due to padding, helps to provide the helmet with optimal support on the head. The chin strap should not be located directly under the chin. In any case, the ski helmet must fit perfectly with the chin strap tightened. At best, the strap can be opened and adjusted even with thick gloves.
Other important criteria for buying a ski helmet
To ensure the best possible protection, make sure you choose the right size. The best helmet is no use if it doesn't fit properly. Flexible adjustment options make the skiing experience even more comfortable. Also look for a safety certificate.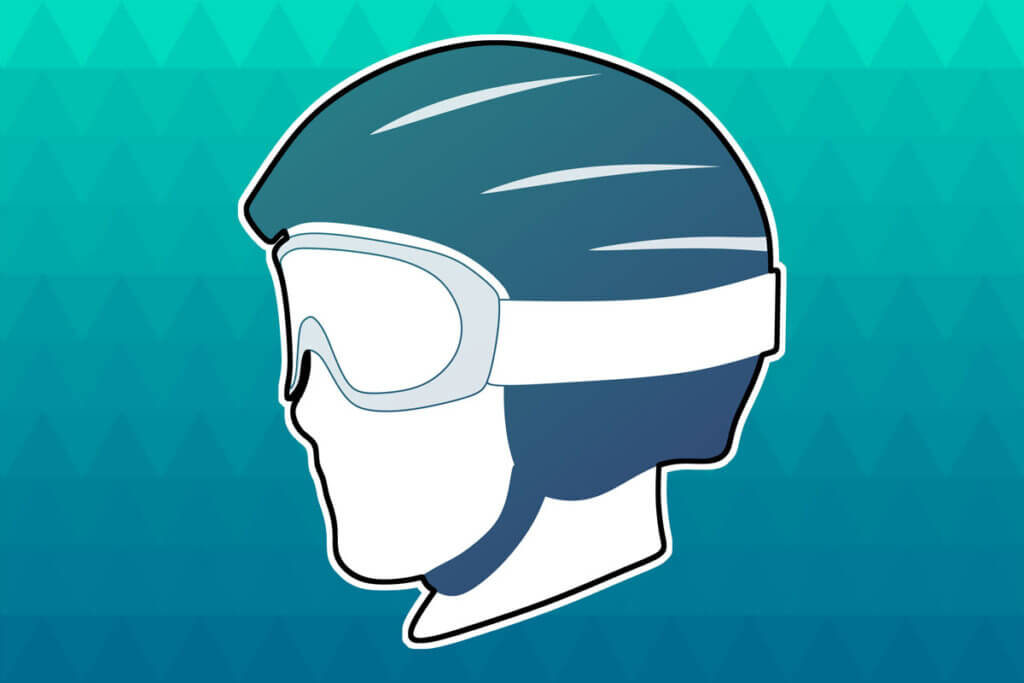 The right fit – the be-all and end-all
Not too tight, not too loose: Use a tape measure to measure the circumference of your head to determine the right size. To do this, place the tape measure just above your eyebrows and bring it together at the back of your head. It is better not to rely on size indications such as S, M or L; there are often deviations here. Depending on the centimetre of the head circumference, you can decide which size model is recommended depending on the manufacturer's specifications. There are models for men, women and children. To adjust the helmet perfectly to the shape of your head, some manufacturers offer the option of fine adjustment. This is done, for example, by turning a small dial. In technical jargon, this is called a "fitting system".
Ski goggles and headphones event
If you choose a ski helmet without an integrated visor, you should also look for suitable ski goggles. Without eye protection, it will be difficult to navigate the slopes because the snow reflects the sun so strongly that temporary snow blindness can occur. In addition, ski goggles protect the eyes from the snow and wind. Ideally, ski helmets and goggles are perfectly matched – especially if both products are purchased from one manufacturer.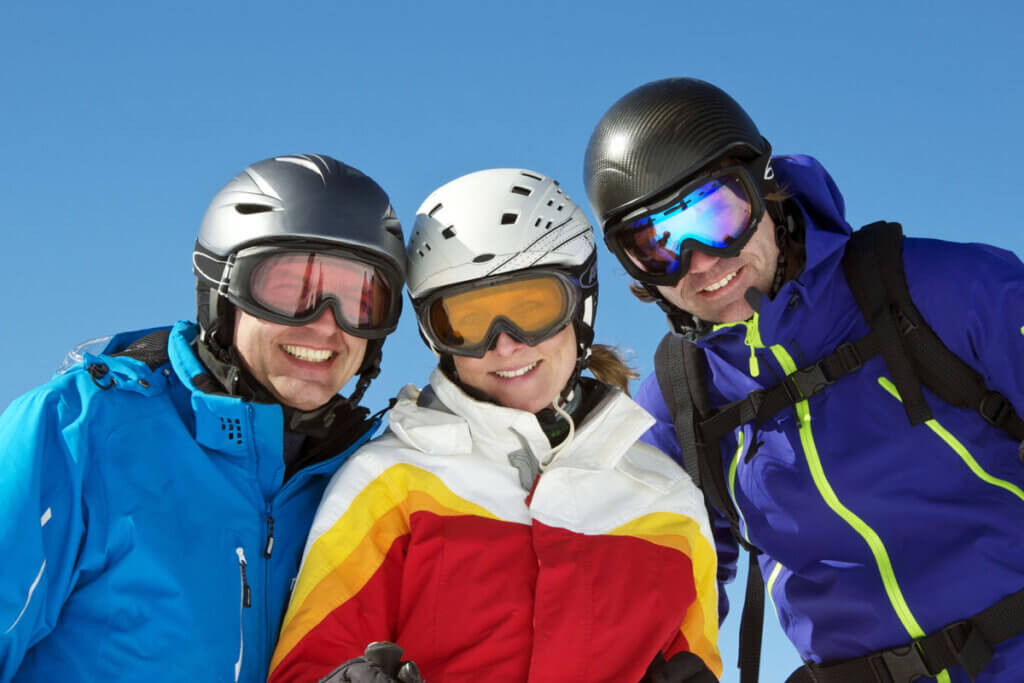 For some winter sports enthusiasts, wearing headphones is also important. You should make sure that the technical devices fit under the helmet and that they do not interfere or impair your concentration while wearing them. Headphones are already integrated into some ski helmets.
A safety certificate is indispensable
It is essential to comply with all recommended safety standards. With DIN standard EN 1077 certification, you are always on the safe side. Here, a distinction is made between protection class A and B. A safety guarantee is only given if the product is marked with this certificate.
Materials: Outside versus inside
The materials differ depending on the type of model. If winter sports enthusiasts opt for a hardshell model, they usually get carbon or hard plastic on the outside in combination with EPS foam on the inside. The in-mold variants are usually made of Styrofoam or EPS foam – expanded polystyrene – on the inside and polycarbonate on the outside. All models have softer materials on the inside such as foam, mesh or foam and are made of hard materials on the outside such as carbon, ABS or polycarbonate.
Tips and advice for wearing ski helmets
Since one's own safety or that of others is paramount at all times, winter sports enthusiasts make sure they have the right equipment. For skiers and snowboarders, wearing ski helmets is standard. Some countries have even made helmets compulsory on the slopes.
How do I wear a ski helmet properly?
When you put on the ski helmet, leave the chin strap open at the beginning. Shake your head, gently at first and then a little harder. Provided the ski helmet does not slip or affect your vision, you have chosen the right fit. Normally, the ski helmet sits just above the eyebrows – unless it is a ski helmet with a visor, which sits a little higher up. Now adjust the chin strap and tighten it. If necessary, make fine adjustments if the helmet has such a device.
Put on the ski goggles and check that they fit under the helmet. Ideally, there should not be a large gap between the helmet and the goggles. Ideally, the front top edge of the helmet should be flush with the top edge of the ski goggles. They should not interfere with each other. If you like to wear a cap under your ski helmet, you should already pay attention to the appropriate circumference when measuring your head.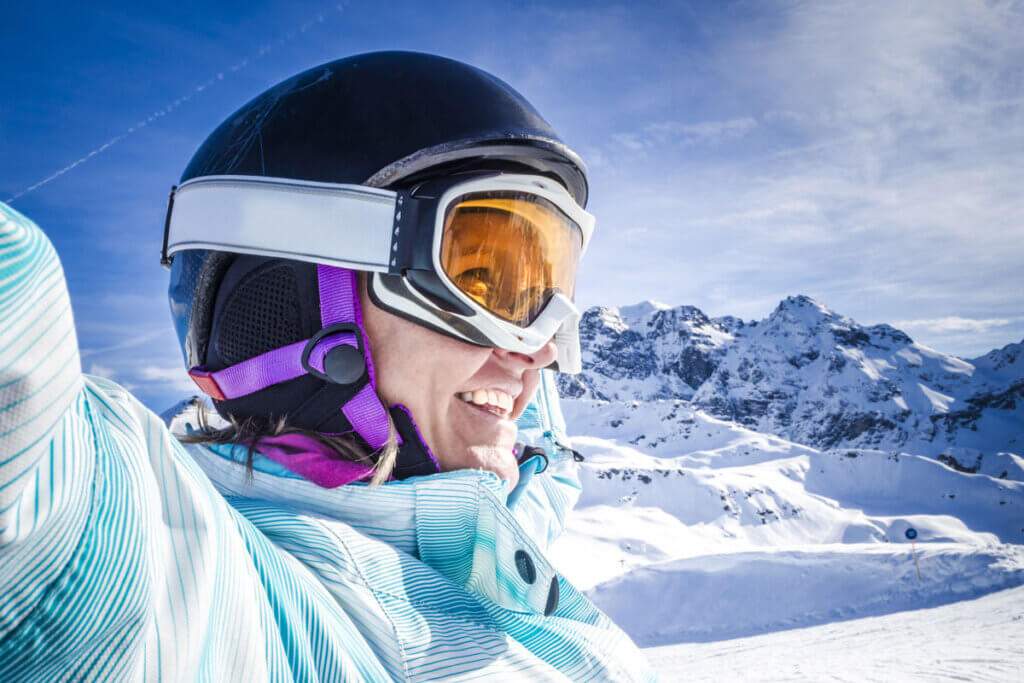 What do I have to bear in mind when using ski helmets?
Athletes should thoroughly inspect the outside and inside of the ski helmet for cracks or other damage after every fall; this is especially true after falls. In the case of very hard accidents, the helmet should be replaced immediately. Normally, a ski helmet should be replaced after a maximum of eight years. However, manufacturers' specifications vary: some state that their ski helmets only last three to five years. Any leisure product that is used frequently is subject to a certain ageing process, the material becomes brittle and can no longer provide optimal protection. Quality, workmanship and frequency of use have a significant influence on longevity.
Are ski helmets compatible with my glasses?
At best, spectacle wearers decide before they buy whether they want to wear contact lenses while skiing or snowboarding. As a rule, this is the most practical option. Users then have the choice between ski helmets with or without visors. For spectacle wearers who want to wear their everyday glasses while skiing, ski helmets with visors are a good choice because the glasses can usually be worn underneath. Normal glasses usually do not fit or fit poorly under ski goggles that are not mounted on the helmet. In addition, goggles can fog up or cause pressure points in this case. On slightly sunny days you can also use your normal prescription sunglasses. However, this is not advisable in wind and weather.