Trampoline purchasing advice: how to choose the right product
The most important facts in brief
A trampoline is a piece of sports and leisure equipment for young and old.
Jumping on a trampoline is fun and keeps you healthy: it trains endurance and balance, promotes metabolism and blood circulation as well as muscle development.
Garden or ground trampolines are suitable for families and everyone who has a large enough garden to let off steam and do sports.
In the home, indoor models in the form of small fitness and gymnastics trampolines keep you fit and reduce stress.
When deciding which trampoline to buy, it is important to consider not only the suspension and load-bearing capacity, but also the safety precautions. Test seals provide information.
Healthy fun for young and old

It is hard to imagine many gardens without trampolines. Children often spend hours on the equipment and adults can also relieve their everyday stress by jumping. Whether young or old: jumping on a trampoline is simply great fun.
You also do a lot for your health: about 400 muscles are used at the same time when trampolining. This sport improves coordination and fitness and is much more effective than jogging: Just ten minutes on the trampoline is more effective than a 30-minute run. For this reason, it is not surprising that this equipment has long since found its way into homes and gyms as a miracle weapon against excess pounds and for improving fitness.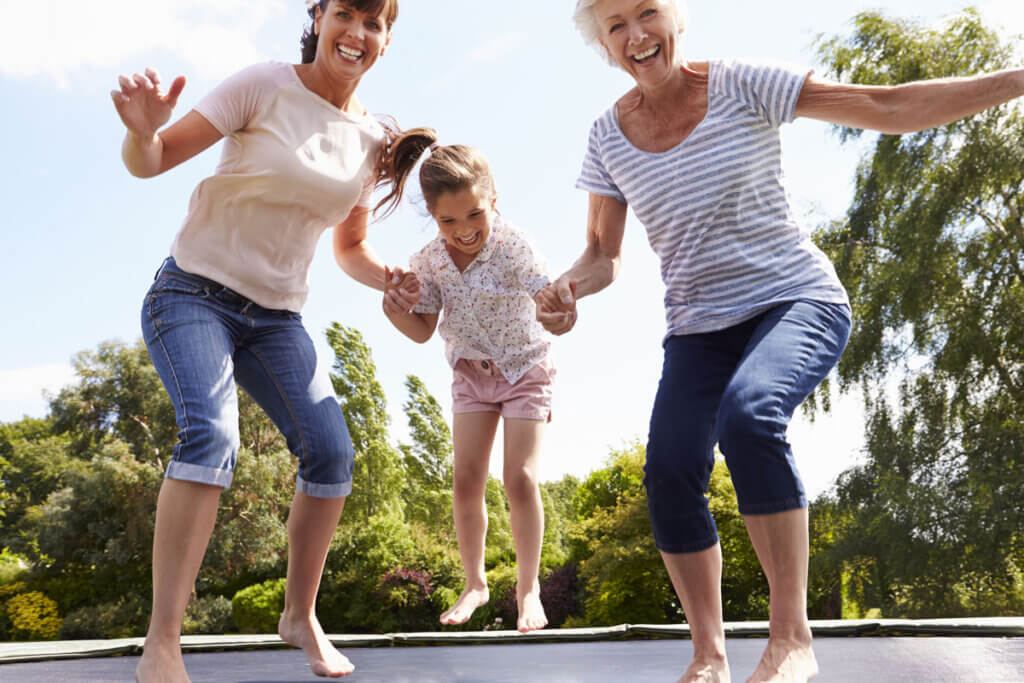 What positive effects do trampolines have?

Trampolines encourage children to move. By bouncing, they strengthen their muscles in a playful way. Almost every muscle in the body is used. Jumping on an elastic surface also improves balance and coordination. Furthermore, trampolines are easy on the joint cartilage and intervertebral discs, which benefits young and old alike. Bouncing on a trampoline contributes to an increased release of the happiness hormone serotonin, which has a positive effect on mood. Stress and anxiety can be reduced by the feeling of weightlessness as it calms the thyroid, pituitary and adrenal glands which regulate stress hormones.
Trampolining for health and fitness

The NASA study
In 1980, NASA conducted a scientific study to find the optimal workout for astronauts. Since the muscles of returning astronauts as well as their coordination suffer greatly due to weightlessness, they need suitable training during the first weeks. After testing various sports, trampolining turned out to be the most efficient and effective method.
Training on the trampoline is particularly suitable for those who often have to fight their inner pig: The trampoline is only a few metres away and invites you to bounce. Targeted and intensive fitness training with the trampoline is an excellent way to burn fat. Just bouncing up and down on the sports equipment gets the cardiovascular system going and improves the oxygen supply to the cells and organs. All it takes is ten minutes a day of simple springy walking and bouncing steps.
Trampolining works the skeletal muscles, the muscles of the internal organs and the heart muscle at the same time, thus strengthening them. Regular exercise on a trampoline makes the joints more flexible and reduces the risk of osteoporosis. In favour of weight reduction, trampoline fitness stimulates not only the metabolism in general, but also the fat metabolism in particular, as well as digestion. In addition, training can lower cholesterol levels. The back muscles benefit particularly from jumping, because the body has to balance itself constantly. Those who swing their arms to maintain balance also strengthen their pelvic floor muscles.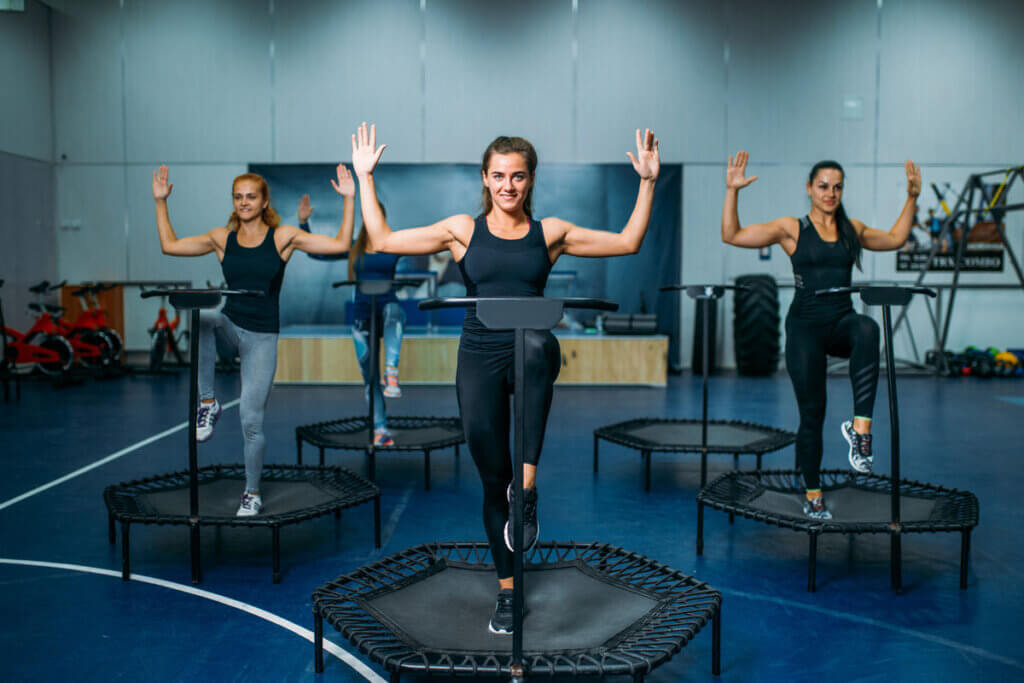 Are trampolines suitable for rehabilitation after an injury?

In the therapeutic field, trampolines are often used after injuries because they gently train the damaged bones and joints. By means of careful swinging movements, the intervertebral discs, for example, regain flexibility: with each swing, they first press together slightly and then apart again. Trampoline training also helps people who have had hip replacement surgery to recover more quickly. However, before you venture onto the trampoline after a serious injury, you should check with your doctor or physiotherapist whether jumping is suitable for rehabilitation and which exercises will achieve the desired results.
Different shapes of trampolines

A typical trampoline consists of a metal frame in which a jumping sheet made of durable synthetic fibres is stretched. Stretchable metal springs or rubber ropes are used to secure the fabric. Broadly speaking, trampolines can be divided into outdoor versions for the garden and indoor versions for the home.
Outdoor trampolines

Outdoor trampolines belong in the outdoor area, i.e. the garden or other larger areas. The two most common versions are garden and inground trampolines.
Garden trampolines are the most common type. They have a large jumping area and are particularly suitable for families: children can let off steam and adults can have fun improving their fitness. Experienced jumpers can also master acrobatic exercises on these devices. The trampolines have feet with a height between a few centimetres and one metre. A jumping net with a diameter of three to five metres is stretched over it. Most garden trampolines are round, but square versions are also available. To prevent accidents and injuries from falling, a safety net is stretched around the entire garden trampoline. A ladder is placed at the entrance of the net for easy access.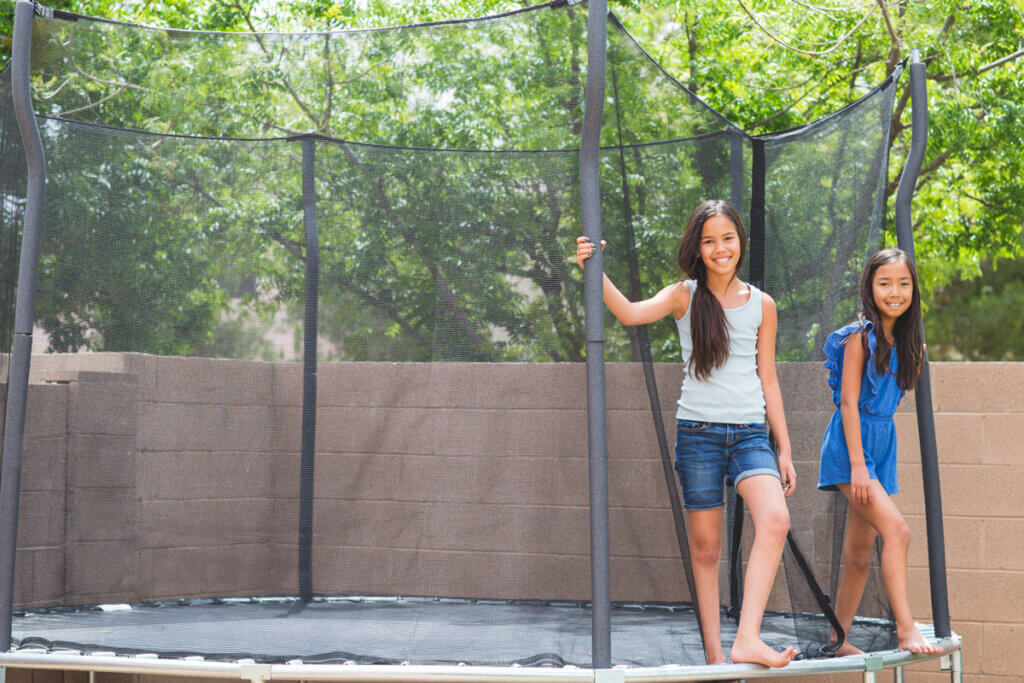 Inground trampolines are also known as ground trampolines and retractable trampolines because they are embedded and anchored in the ground. These trampolines are suitable for users who do not want to erect a towering structure with a safety net. An inground trampoline barely protrudes from the ground, which means it blends discreetly into the garden. Another advantage is that the ground-level design prevents injuries from falling, even without a safety net. Ground trampolines therefore offer more safety than garden trampolines, making them particularly suitable for children. The average diameter of trampolines is between 200 and 500 centimetres. . Once assembled, it cannot be flexibly moved.
Indoor trampolines

Indoor trampolines are designed for indoor use and are therefore smaller than outdoor models.
Mini trampolines are smaller versions of garden trampolines and, with a diameter of 90 to 130 centimetres, also fit in your own room. In their basic form, trampolines are suitable for young and old, consumers with and without prior knowledge, as well as for anyone who wants to exercise occasionally.
In principle, almost all indoor trampolines belong to the mini trampolines – however, depending on the purpose and group of use, the different variants differ in detail and price. None of the versions can be used for high and long jumps or even acrobatics due to their small size.
Those who want to exercise regularly with a trampoline should take a look at fitness trampolines. These are pieces of sports equipment for a gentle and effective whole-body workout: the trampolines not only help with weight loss and fat reduction, but also promote muscle development, coordination and balance. Many models have a removable support bar for additional stability, which allows complex workouts for the abdomen and back.
Therapy trampolines, also known as medical trampolines or gymnastic trampolines, are particularly gentle on ligaments, tendons and joints. Due to this property, trampolines are particularly suitable for therapeutic measures after serious injuries as well as for older people with weak joints. Trampolines with a rubber rope cushion the intervertebral discs and joints best, which makes jumping feel more pleasant and puts less strain on the body.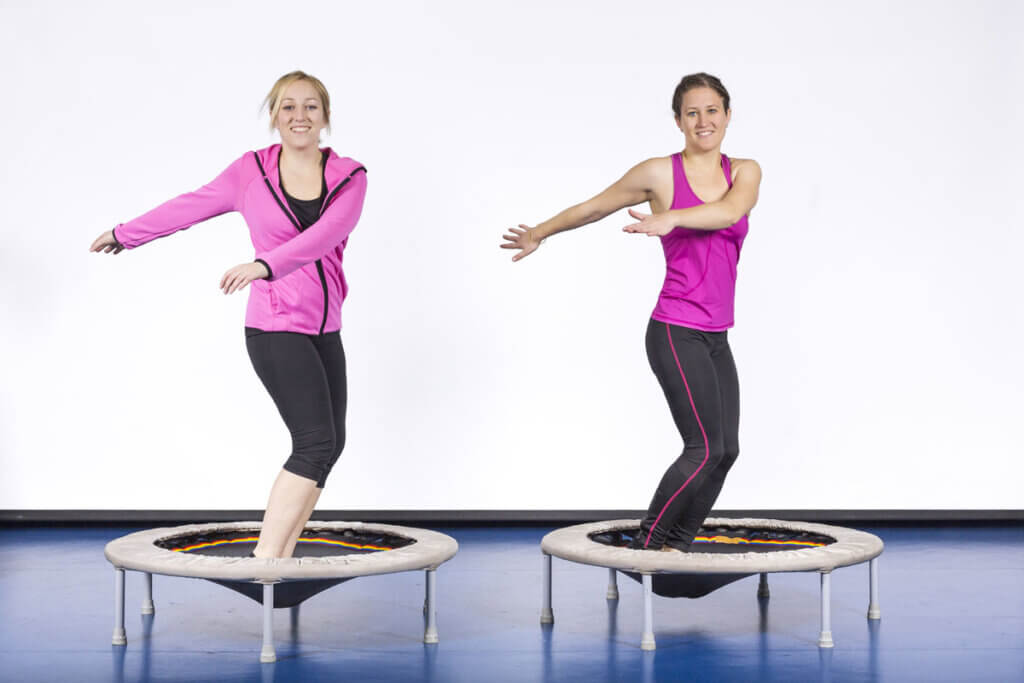 Children's trampolines are specially designed for younger users. So-called baby trampolines are even suitable for children from the age of one and a half. This means that even the little ones are able to release their excess energy in a fun way and train their coordination and balance at the same time. The colourful equipment has either a handle or a safety net. Children's trampolines with a handle are mainly for the youngest jumpers, who can use them to keep their balance.
The jumping net is adapted to the little ones' low weight and the overall diameter of the equipment is between 85 and 100 centimetres. Children's trampolines with a safety net are larger with a diameter of 120 to 150 centimetres and are suitable for children from the age of three. The safety net protects them from falling off, while a padded edge cover around the jumping mat counteracts minor injuries. This trampoline is also designed for the weight of (younger) children. Above a certain age or body weight, you should look for a larger trampoline. A regular trampoline is recommended from the age of six.
Special variants

In addition to trampolines for the home and garden, there are other variants such as mini trampolines, competition trampolines and water trampolines.
Mini trampolines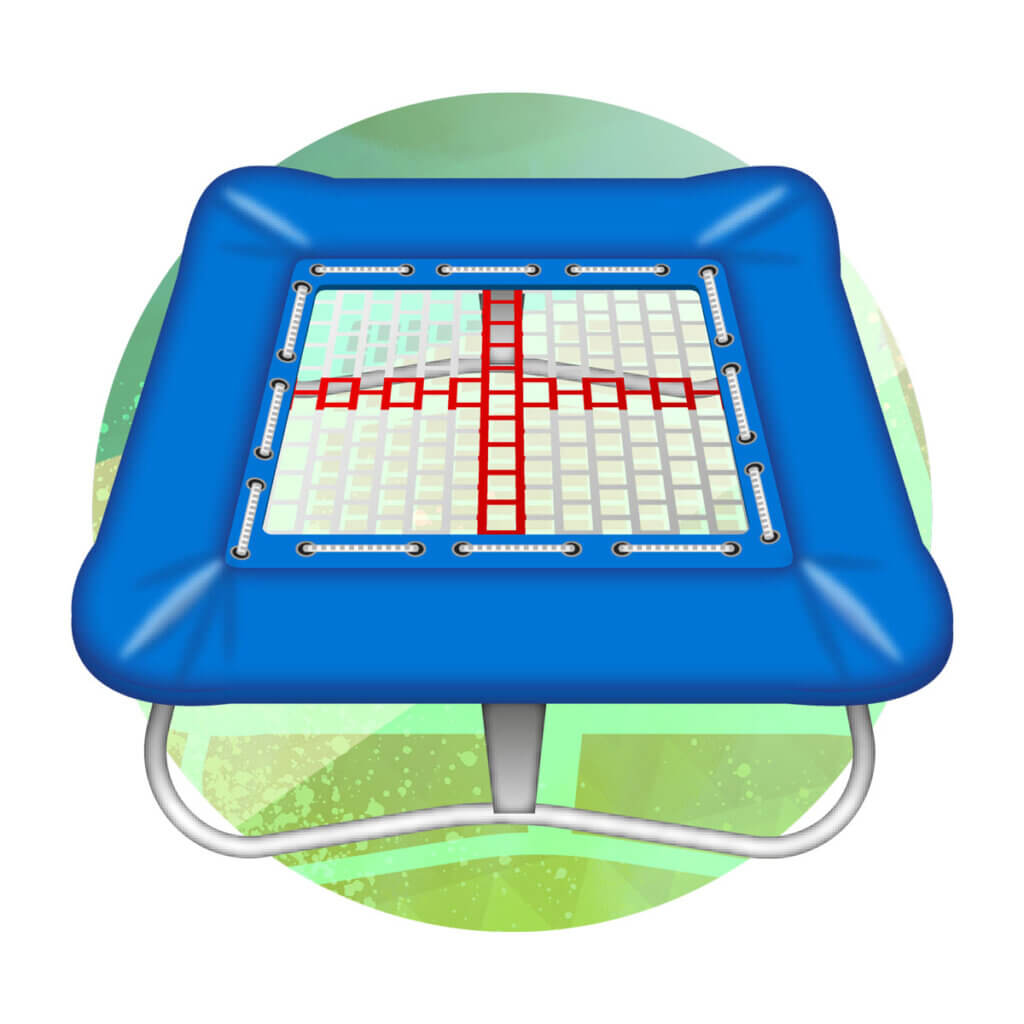 Minitramps is the abbreviation for mini-trampolines. However, they are not comparable to the indoor variants described above. This mainly rectangular variant helps users to jump over equipment, for example in gymnastics or for competition purposes. They are usually height-adjustable on one or both sides, so that an inclined mini-tramp increases their jumps in the desired direction.
Competition trampoline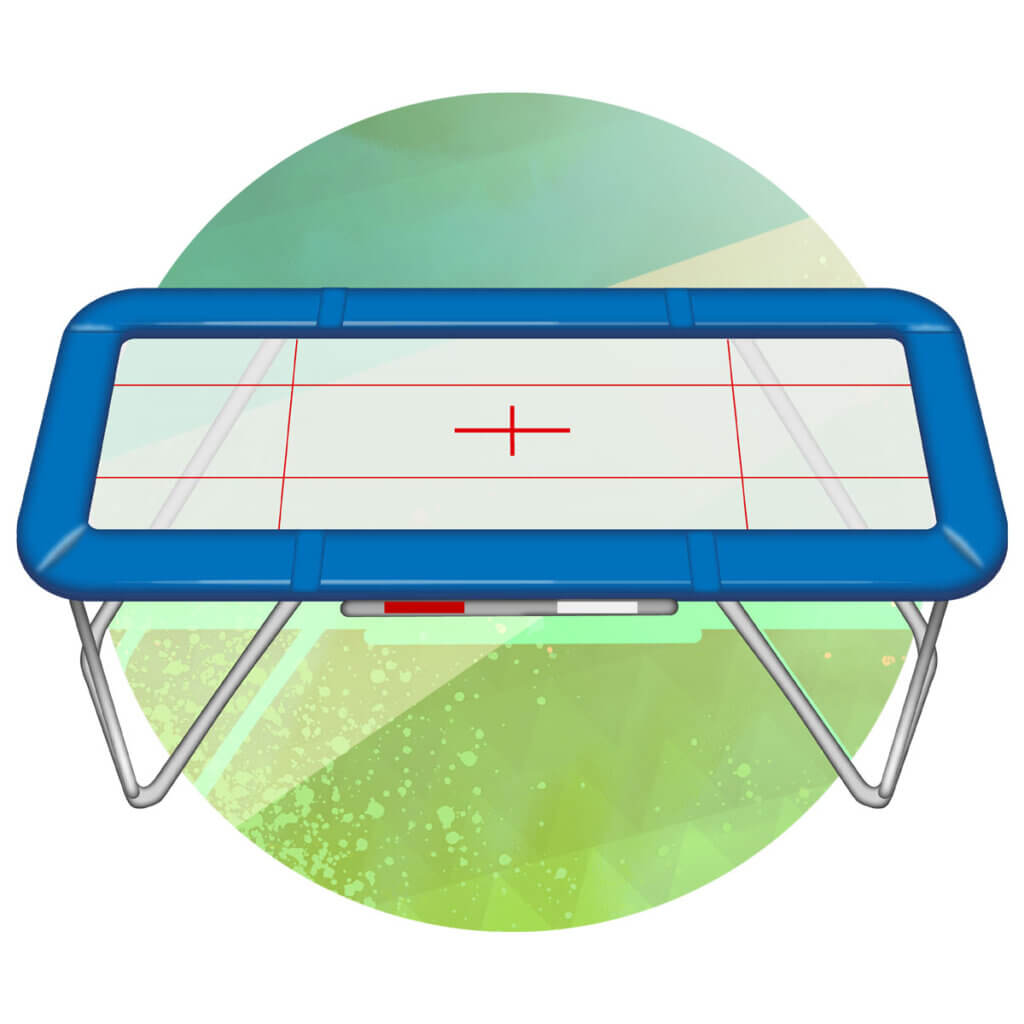 The rectangular competition trampolines are used for competition-oriented trampoline gymnastics. They have very good jumping characteristics and perfect springback. This enables professional jumpers to achieve jumps of up to nine metres. The models used at the Olympic Games are 520 centimetres long and 305 centimetres wide; their jumping surface is 426 by 213 centimetres. In order to be approved, the trampolines have to meet the high requirements for FIG and TÜV certification.
Water trampoline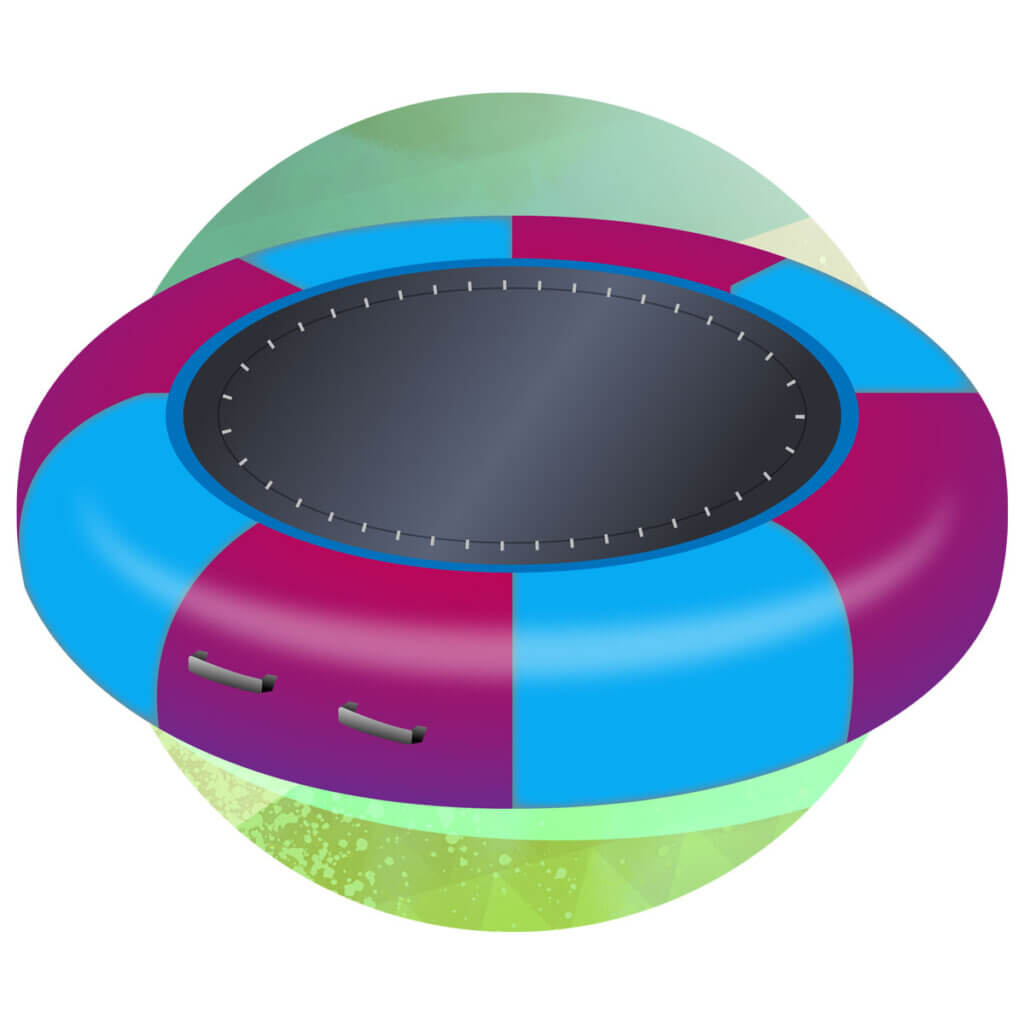 The inflatable trampolines specially designed for water, which you use for example in the lake, sea or swimming pool, are known as water trampolines. To prevent you from floating away, secure this variant with a hook in the ground. Water trampolines are particularly suitable for holidays as they are easy to stow away and therefore fit in your suitcase. As a rule, models with a diameter of between 200 and 700 centimetres are available. The large trampolines are more likely to be found in aqua parks.
This is what you should look for when buying

Before you start looking for the perfect trampoline, you should be aware of which design you need for which purpose. If you want to train specifically with a fitness trampoline, for example, you don't have to include the weather resistance of the jumping surface as a criterion in your purchase decision. The following factors will help you find the right trampoline for you.
Depending on your needs: The size

The size of your trampoline is a criterion that is closely linked to the type of equipment you want. Trampolines for the home, such as mini, fitness and gymnastic trampolines, have a diameter of 90 to 140 centimetres and can therefore be set up almost anywhere. For the majority of homes, size therefore plays a minor role in the purchase. The situation is different for garden trampolines and inground trampolines with a diameter of up to 500 centimetres: In this case, you should consider the footprint and the number of potential trampolinists. Large trampolines for the garden reduce the risk of injury when two people are jumping at the same time; however, they require a lot of space in the garden.
More than one shape

Round trampolines may correspond to the typical understanding of such equipment for private use. With this shape, you automatically jump in the middle due to the even tension, which makes round trampolines suitable for people of all ages and skill levels.
If you already have some experience and want to get high in the air, you can go for a rectangular trampoline. This allows you to jump higher and use the entire surface of the jumping sheet. While beginners can quickly lose control and injure themselves, this type of trampoline is highly recommended for older children and adults with sufficient balance and practice. Inground trampolines are much safer than square garden trampolines on standing legs due to their positioning on the ground, so that beginners of all ages can also have fun. Square garden trampolines, on the other hand, are more recommended for advanced players.
Oval trampolines such as the Grand Elite from the manufacturer BERG are rather unknown, but definitely recommendable. The jumping surface is longer on this shape than on round trampolines. Thus, oval trampolines combine the stability of a round frame with the large jumping surface of a rectangular model. The shape offers experienced jumpers plenty of space for tricks.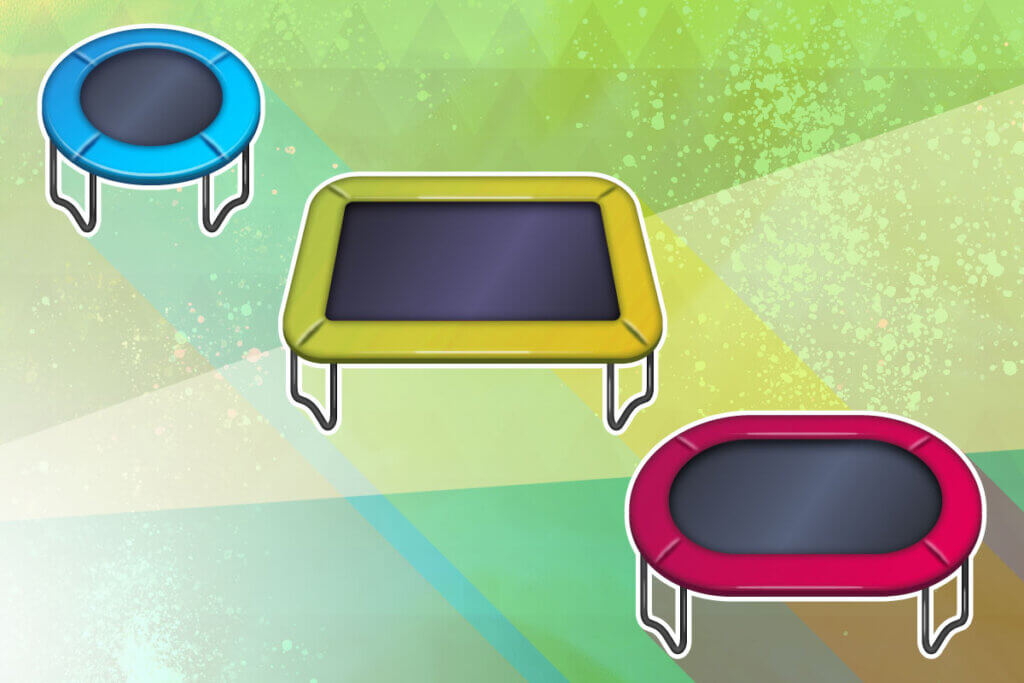 The type of suspension

The biggest differences between trampolines are found in the elasticity of the suspensions: The jumping mat is attached to the frame with either steel springs or rubber cables. While steel spring suspensions are used on every type of trampoline, you will look in vain for rubber cables on outdoor trampolines.
Steel springs can withstand intensive use and high body weight. The galvanised version is particularly durable and does not rust, which makes it recommendable for outdoor trampolines. The longer the steel wire, the further the spring stretches. Shorter wires are suitable for children's trampolines as they ensure optimal springback. Steel springs ensure safety and stability on the trampoline with their hard springback, which is very advantageous for therapeutic applications and fitness training: the running speed on such a trampoline is similar to the natural rhythm of movement when jogging or walking. You are also more likely to practise high and powerful jumps on steel spring rather than rubber cable versions.
Rubber cables create a gentle bounce regulation: not only do they bounce very softly, but they can be extended to twice their length. Due to these properties, trampolines with rubber cable suspension are easy on the ligaments and joints, making them an excellent solution for people with pain-sensitive spines or stressed joints. These trampolines are particularly effective for health rehabilitation. Although cables are less resilient than steel springs, they can be easily adjusted to be tighter or softer so that you can precisely adjust the trampoline to your own body weight. Rubber cable trampolines are very practical for thin walls or noise-sensitive neighbours because, unlike steel springs, they do not cause any noise. However, rubber cables become porous over time, so you should replace them regularly. The shorter service life and load capacity are also reasons why you will only find the variant for indoor trampolines.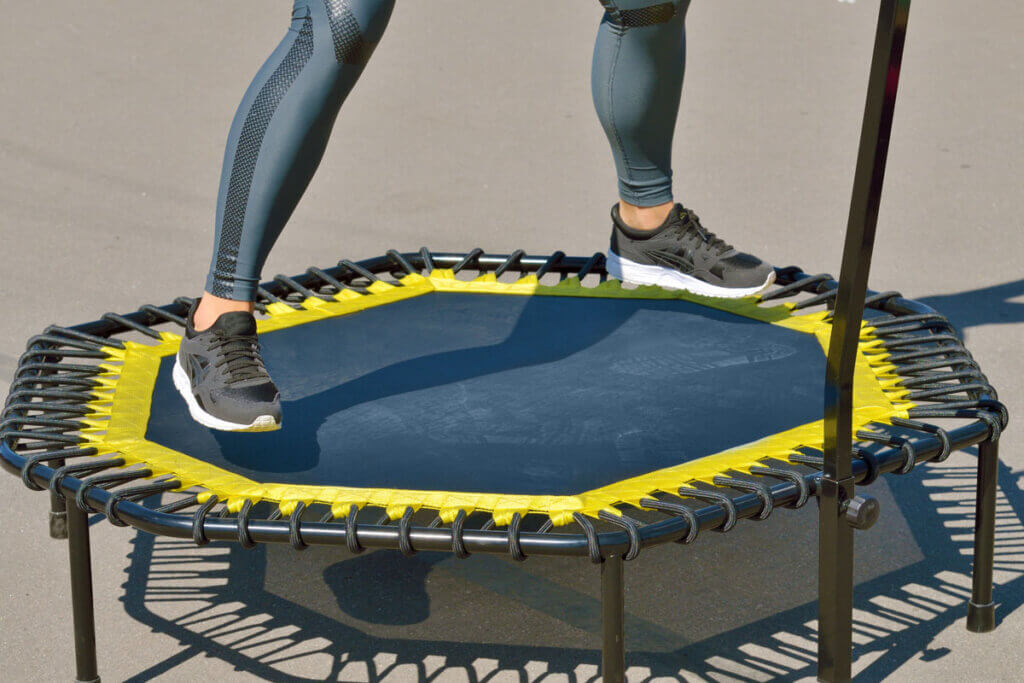 So you should choose galvanised steel spring suspensions for garden and in-ground trampolines and go by need for indoor trampolines. Trampolines with rubber cable suspension are recommended for consumers with back and joint problems or noise-sensitive neighbours. They also help to stay fit in old age and in the form of a fitness trampoline when exercising. Steel spring suspensions are excellent for a regular and intensive full body workout on the trampoline.
The maximum weight

Trampolines are designed for specific weights. So before you buy, make sure that the equipment can handle your weight or that of your children. Otherwise, not only will the product quickly take damage, If, for example, a person who is too heavy jumps on a rubber cable trampoline and the jumping cloth reaches the ground, they could injure themselves – even without leaving any damage to the device. The ordinary mini trampoline and its specialised versions allow a maximum weight of 100 to 140 kilograms. For children's trampolines, the maximum load capacity is much lower, which is why adults cannot use them. For severely overweight people, there are models that can withstand more weight. For outdoor trampolines, for example for you and your family, you should include all jumpers in your calculation. Also take into account that two users may be jumping on the trampoline at the same time.
Safety precautions: The right combination makes all the difference

If you or your family want to jump safely and without injury on a trampoline, you should not only pay attention to the quality of the materials and their workmanship, but also consider the accessories.
The frame should be made of a robust material, as it gives the entire trampoline the necessary stability. Steel is a good choice here. Ideally, all frame parts of outdoor trampolines should be galvanised on the inside and outside so that they do not rust. The feet of garden trampolines should also be weatherproof. For indoor trampolines, rubberised end caps ensure a non-slip stand; outdoor models do not sink into the ground thanks to continuous U or L legs.
The jumping net is the core of every trampoline and should be of very good quality to withstand greater loads. It is usually made of close-meshed polypropylene mesh (PP mesh), which makes it extremely tear-resistant. The mesh should be as smooth as possible to prevent abrasions from falls. While all jumping cloths are sewn several times and are water-repellent, UV resistance is an additional criterion for garden trampolines as well as ground trampolines, so that a long service life is guaranteed even in strong sunlight.
You can tell whether a trampoline meets all the important safety requirements according to the German and European framework by the GS safety test mark. If a product has the CE mark, it meets the minimum European requirements, but the safety is only confirmed by an independent testing and certification body if the number of the testing body is added to the marking.
When it comes to essential accessories for safety, the edge cover is one of the most important components. With this, you prevent yourself from accidentally landing on the suspension and injuring yourself when jumping. The edge cover should be waterproof and weather resistant. A soft padding that is at least 20 millimetres thick improves the protection.
A tear-resistant safety net must not be missing from garden trampolines: It covers the entire circumference of the trampoline so that children neither fall off the trampoline nor leave the jumping area due to uncontrolled jumps. A safety net can therefore prevent many injuries. It should also withstand UV rays. If the safety net is damaged, suitable replacements can be found on the manufacturer's website. Consumers can choose between safety nets without poles or a complete set.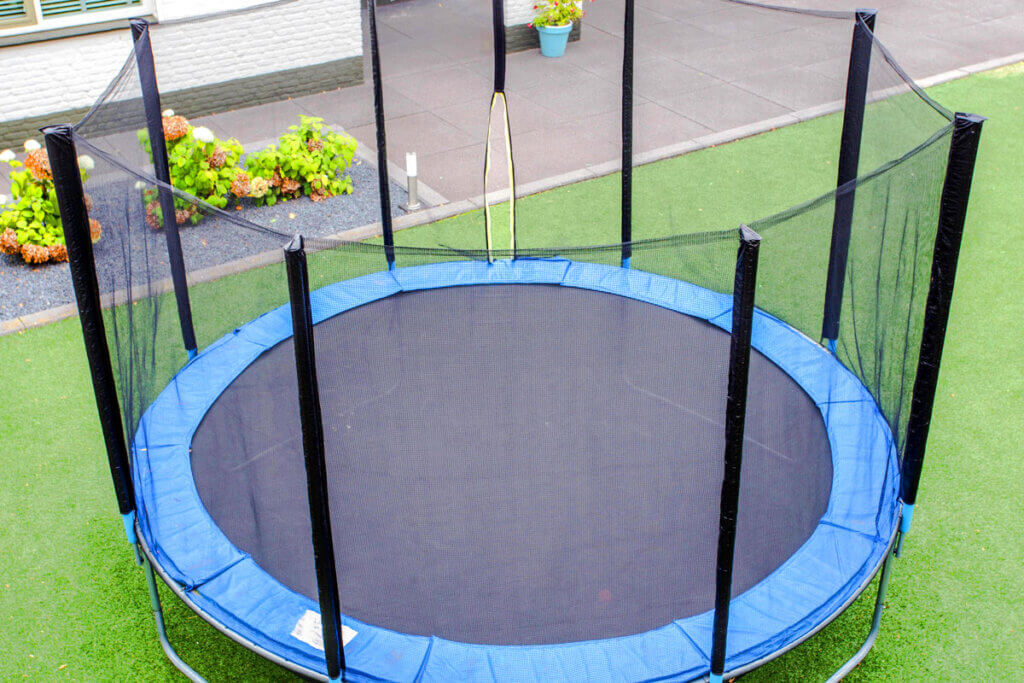 Last but not least, the poles on which the net is mounted pose a danger because the jumper can accidentally collide with them. Special foam pads to wrap around the poles cushion a collision and minimise the risk of injury. When buying your trampoline, look for complete sets that include the safety net, padded net posts and edge cover, as buying all accessories separately requires a higher price.
Other practical accessories

Use a cover to protect outdoor trampolines from leaves, weather and other dirt. A ladder helps to access a garden trampoline. Pay attention to the distance between the steps so that small children can also use the ladder without any problems. Fitness trampolines are often equipped with a handlebar that resembles a bicycle handlebar. It serves to stabilise the user and enables a wider range of fitness and rehabilitation exercises. You use steel springs with a spring tensioner. The tool is handy when assembling and disassembling the trampoline on the one hand, and on the other hand when the springs need to be replaced due to signs of wear.
Safe handling of the trampoline

You should not set up a garden trampoline in the immediate vicinity of trees, fences or garden equipment. Otherwise you run the risk of getting caught or otherwise injuring yourself or others by jumping uncontrollably. Also ensure that the surface is level so that the trampoline does not wobble or slip. Furthermore, the jumping sheet should be as tight as possible so that the jumper does not touch the ground during powerful jumps. After some time, it is advisable to check the trampoline for damage: Springs, screws and the edge cover wear out over time.
To ensure that neither you nor your possessions are damaged in the event of a fall, you should take off your jewellery and smaller items such as your mobile phone before stepping onto the trampoline. Street shoes are also taboo to keep the jumping surface clean. If your garden trampoline is wet, you should not enter it as the risk of slipping during jumping is too high.
Warm up before trampolining, especially before a fitness session, to preserve your ligaments. For example, alternate the weight from one leg to the other. When you have finished bouncing, do not jump off the trampoline: Your body gets used to the soft, springy surface, so jumping onto the hard surface is too abrupt for your legs. In the worst case, sprains or fractures can occur.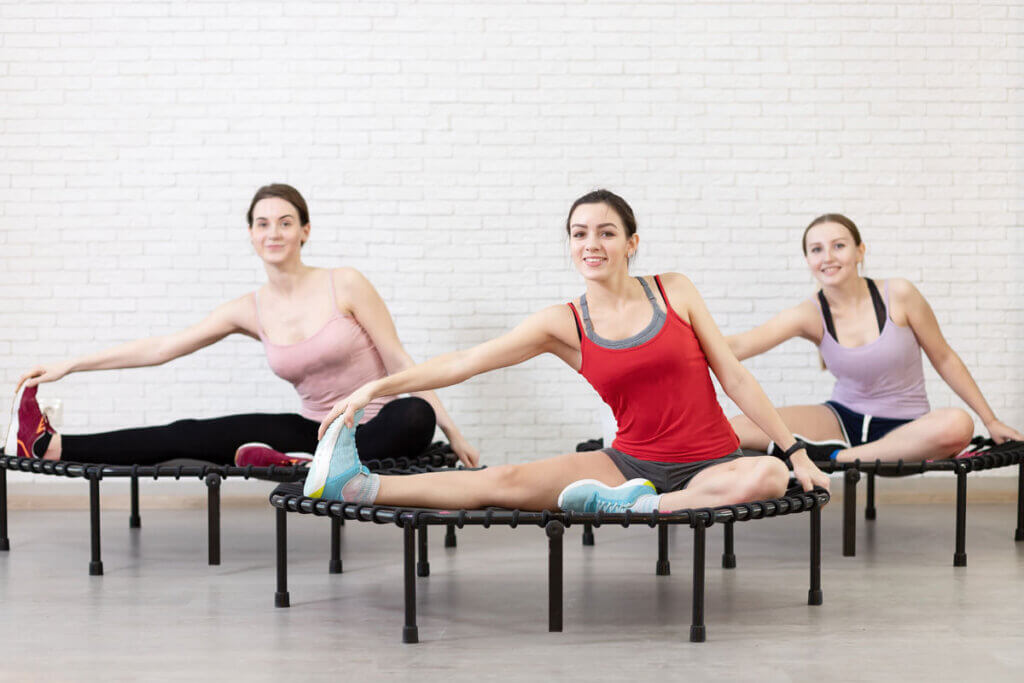 It is also recommended to use the trampoline alone or at most with one other person to prevent collisions. If two people are jumping at the same time, the device should allow as much distance as possible between the jumpers.
How is a trampoline assembled?

The construction of trampolines is roughly similar: you place the metal frame on the feet and tension the jumping sheet into the frame either with the help of springs or rubber cables. With indoor trampolines, the frame is delivered as a whole. While the springs on steel spring trampolines are already attached to the frame, you have to install the cables yourself on the rubber cable version. If it is a garden trampoline, first screw the frame tubes and feet together and assemble the entire frame. Then attach the jumping sheet to the frame of the trampoline with the help of the springs: the closed side of the springs goes to the eyelets of the sheet and the open side into the frame. Then the edge cover and the safety net can be attached to the garden trampoline.
However, as the assembly of the trampolines or accessories differs in detail, you should always consult the assembly instructions supplied when assembling your model. Especially with garden trampolines, the assembly, for example the hanging of the jumping net, is easier with at least one other person.
How can a trampoline be cleaned?

First, remove leaves and dirt from the trampoline with a broom or damp cloth. Then spray the unit with water; the garden hose is a good choice for outdoor models. For stubborn dirt such as bird droppings, a damp sponge, washing-up liquid and warm water are sufficient. Then remove the dissolved dirt and soap residues with cold water. Let the water run off and dry the trampoline. Avoid hot water, washing powder and chemical cleaners as they will damage the jumping sheet. Inspect the jumping surface and the springs for possible damage. If the springs show signs of wear, it is advisable to replace them. To ensure that the jumping sheet does not lose all its tension, it is a good idea to replace each spring of the trampoline individually.