Heart rate monitor watch purchasing advice: how to choose the right product
What You Need to Know
Heart rate monitor watches are worn on the wrist and measure the heart rate during exercise. Sensors in the watch or in connected chest straps are used for this purpose.
The data is used to carry out a training analysis that can be viewed on a PC or smartphone via a cable or Bluetooth connection.
Watches with optical sensors are more suitable for endurance athletes, while models with a chest strap are suitable for team and strength athletes.
In addition to the basic functions, i.e. the watch display and heart rate measurement, many heart rate monitor watches have other features such as a music player and messaging services.
A training partner directly on the body
If you use a heart rate monitor watch, you can get the most out of every exercise session. Whether you are trying out a new interval training or going for your daily jog – the heart rate monitor watch measures your heart rate and analyses your body's performance. During training, the watch's screen displays the current frequency while the progress is recorded in the background. This not only provides a short-term sense of achievement during training or immediately afterwards, but also helps in the long term.
The body breaks down fat most effectively when the heart beats at a rate that is around 70 percent of its maximum output. Even more: training with an optimal load on the heart leads to an intensive afterburn effect. This means that the body continues to break down fat for up to two days after exercise. So you are doing something for your health even when there is no time for the next workout.
The right heart rate monitor watch for your sports
The gadget responsible for measuring your pulse should fit the sport you do and ideally be comfortable to wear. There are two different types to choose from: Heart rate monitor watches for the wrist without additional accessories and those with an associated chest strap that is flexibly attached to the chest. The strap can be connected to the watch via Bluetooth so that your body values are transferred to the device.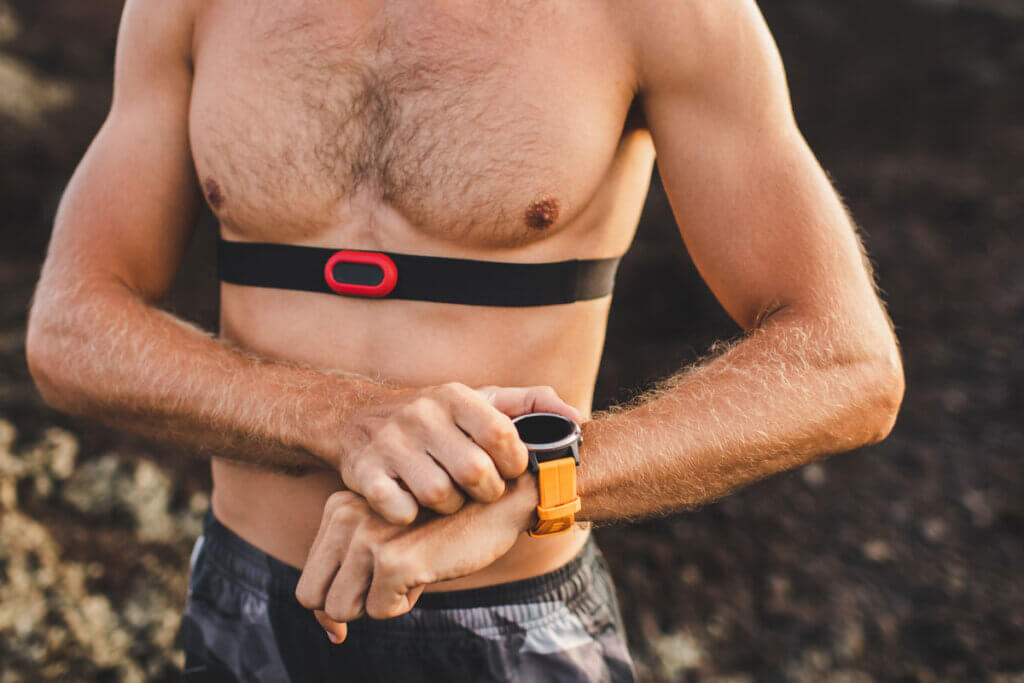 Heart rate monitor watches with optical sensors measure the heart rate by shining at least two LED lights through the skin on the wrist. The light is either reflected or absorbed depending on the blood volume. In this way, the sensor detects the changes in blood volume and uses them to determine the heartbeats per minute. Heart rate monitor watches with a chest strap measure directly on the heart: the chest strap uses electrical sensors to determine heart activity and transmits the information to the heart rate monitor watch. In this way, the device can produce an exact electrocardiogram.
ECG: The most accurate way to measure heart rate
An electrocardiogram is more accurate than measuring your pulse with optical sensors on your wrist because it reacts more quickly to changes in your pulse. If you want to be precisely informed about your heart activity during sports or have to be for health reasons, it is therefore best to use a heart rate monitor watch with an ECG chest strap – especially if you do sports where shorter performance intervals occur repeatedly. The measurement method is suitable for strength, interval or cross training, for example, as well as team sports such as football or handball. It is also more accurate under water, which is why swimmers and triathletes in particular use models with a chest strap.
Exemplary sports for heart rate monitor watches with chest strap are:
Strength and cross training
Interval and circuit training
Team sports
Martial arts
Using a watch with an optical sensor, on the other hand, is well suited for endurance sports. Such a model is perfectly adequate if you want to keep an eye on your heart rate during occasional jogging laps without sprints and strength sessions. Most heart rate monitor watches do not come with a chest strap; you can buy one if you are interested.
Heart rate monitor watches with an optical sensor can be used for the following sports:
Running
Hiking and Nordic walking
Trekking and mountaineering
Swimming
Cycling
Yoga and Pilates
Skiing and snowboarding
Everything must fit
Regardless of the type of measurement, the correct positioning and attachment of the heart rate monitor watch and the chest strap are crucial for correct measurement. To function optimally, the heart rate monitor watch should be slightly above the wrist. The chest strap must be at the level of the heart to provide valid results. In addition, it must not slip during exercise, as this would falsify the measurement.
For certain sports, the heart rate monitor watch should also have special functions. For example, it should be equipped with a GPS sensor if you often run or cycle on set routes. There are special outdoor watches for mountaineers and Nordic walkers that are particularly robust. If you do several sports based on both endurance and interval units, a so-called multisport watch is recommended.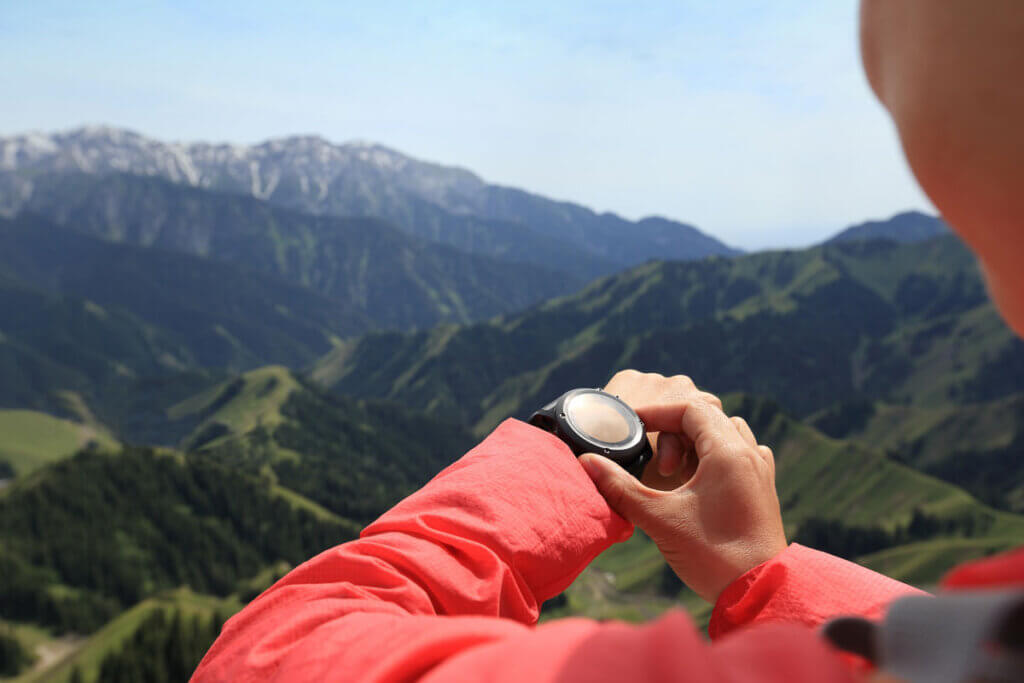 Which is better: a heart rate monitor watch with or without a chest strap?
A chest strap with ECG measurement provides more accurate readings than a wrist-mounted heart rate monitor watch with optical sensors. With the help of a chest strap, the heart rate monitor watch registers rapid changes in heart rate, which leads to more accurate evaluations in the training analysis. Accordingly, a sports watch with a chest strap is useful for interval-based sports such as team sports, triathlon, circuit or strength training. For endurance sports such as running, cycling or swimming, however, a device without a chest strap is absolutely sufficient. Chest straps can usually be purchased separately.
More flexibility with smartwatches
If you want to wear the watch as a wristwatch in everyday life, you will find a good choice among the visually high-quality smartwatches. These usually have a touch display and support fitness apps offered by various manufacturers. This gives you more flexibility and variety during training with a smartwatch.
How useful is the use of apps on a heart rate monitor watch?
Models with a wide, functional range of apps, which are often operated via touchscreen, usually belong to the premium segment. They turn pure fitness watches into versatile everyday companions. Apps enable, for example, the playback of music, the display of weather forecasts, chat conversations with family and friends, and the use of map services. The possibilities for using a heart rate monitor watch with apps – or a fully-fledged smartwatch – are almost endless. However, this versatility is usually accompanied by complicated user interfaces and a shorter battery life of sometimes less than 24 hours. Heart rate monitor watches without apps, a constantly active Wi-Fi connection and other power-hungry functions usually last many days without recharging.
Less is sometimes more

With a smartwatch, you can not only use fitness apps, but also countless other applications. However, if the watch is only used during sports, a pure heart rate monitor watch is more recommendable. The reduced but optimised functions motivate you and let you keep the focus. With a heart rate monitor watch, the focus is on training.
Battery life and water resistance
As with most small electronic devices, not only the appearance and functions of heart rate monitor watches are decisive, but also the battery life. During training, it is hardly possible to charge the watch at a power outlet. In addition, most athletes will rarely carry the charging cable or even a power bank with them. Watches that have a long battery life are usually heavier because they have a more powerful battery built in. It is also possible that the long battery life is achieved through a reduced range of functions. However, the extensive and varied functions of other heart rate monitor watches may result in a shorter battery life. So it's all about finding the right balance.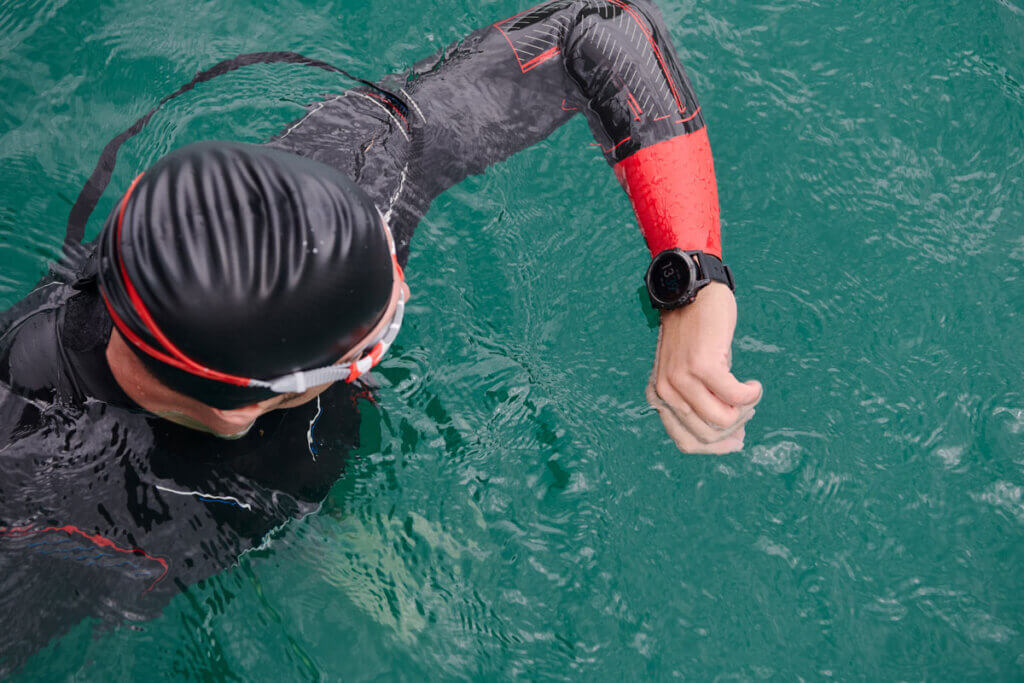 Heart rate monitor watch for swimming
Heart rate monitor watches should ideally be water-resistant. This feature is particularly important for water sports enthusiasts so that they can wear the watch on their body during training. But a certain degree of water resistance is also recommended for land sports. Athletes who spend a lot of time outdoors train not only in sunshine, but often also in the rain. Therefore, the watch should be able to withstand bad weather. Last but not least, a heart rate monitor watch should not be affected by sweat.
Heart rate monitor watches have staying power
The battery life of a heart rate monitor watch can vary due to different functions and modes of use. The battery of a watch that only measures heart rate and uses the GPS sensor will last much longer than a device that has other functions, such as a music player. In addition, touch screens are a big battery guzzler, especially on cheaper models without optimised software. On average, the battery of most popular heart rate monitor watches lasts several days. When used in GPS mode alone – i.e. without WLAN or Bluetooth – you sometimes only have to recharge a heart rate monitor watch after one to three weeks.
Smartwatches, on the other hand, need to be recharged almost daily. This happens relatively quickly with most models. Completely discharged batteries are usually fully recharged within one to two hours. All you have to do is plug the supplied charging cable into a power socket. With power banks, make sure you have a suitable cable for connecting to the watch.
How water resistant are heart rate monitor watches?
To determine the water resistance of a watch, manufacturers usually specify how much pressure the device can withstand. The value is expressed in units of physical atmosphere, or atm for short. One atm is roughly equivalent to one bar. Heart rate monitor watches are usually waterproof up to a value of 5 to 20 atm. Some watches are slightly less than this, which is why water sports enthusiasts in particular should check the rating in advance.
Some manufacturers subject their heart rate monitor watches to an additional protection test and determine a so-called IP value. The IP value expresses the protection of an object against dirt and water with two digits: The first digit describes the protective properties against contact; here, 6 is the highest value and stands for "dustproof". The second digit refers to the protection against water and ranges from 0 to 9. For example, IP class IPX7 means that a device is only protected against short-term submersion.
| Pressure in bar/ atm | Properties | Examples |
| --- | --- | --- |
| 3 | Withstands splashes of water | Drizzle |
| 5 | Suitable for daily use under water | Showering, bathing, washing hands |
| 10 | Can be submerged for short periods | Swimming, snorkelling |
| 20 | Suitable for diving | Diving at shallow depths |
The water resistance of a watch depending on the bar or atm value.
What else heart rate monitor watches can do
In addition to special external designs, manufacturers are increasingly focusing on additional functions that optimise heart rate monitor watches for everyday use. The result is a wide range of watches, from simple fitness watches to full-featured mini-computers for the wrist.
The other features of heart rate monitor watches can be divided into three categories:
Material and design
Connectivity and connectivity options
Additional sensors and software functions
Appearance: From inconspicuous to extravagant
Because heart rate monitor watches are worn on the wrist for everyone to see, many users attach great importance to the appearance of the devices. The appearance is, of course, a matter of taste and always depends on the offer of the respective brand. The selection is correspondingly wide: from slim watches made of sweat-repellent plastic to noble smartwatches with leather straps. The shapes and operating options also vary: Some cases are round and equipped with various buttons as well as a crown on the side, others are more oval or square and minimalist with only two buttons.
The material: from plastic to titanium
Heart rate monitor watches are available in different materials. High-quality materials make a heart rate monitor watch more robust, but usually also heavier. Light materials like aluminium and plastic are lighter than, for example, stainless steel or titanium. The weight of a heart rate monitor watch is usually between 30 and 60 grams. The wristband in particular should be able to repel moisture well. That is why heart rate monitor watches are made of plastic or impregnated leather.
Connectivity: Connections and functions
Almost every heart rate monitor watch has a Bluetooth function for transmitting training data. A GPS sensor is now also found in most models. In addition, heart rate monitor watches are usually WLAN-enabled and suitable for near-field communication by means of an NFC chip. However, the active use of all these functions has a negative effect on the battery life. To charge the watch, the devices have a mini-USB port to which you connect the charging cable.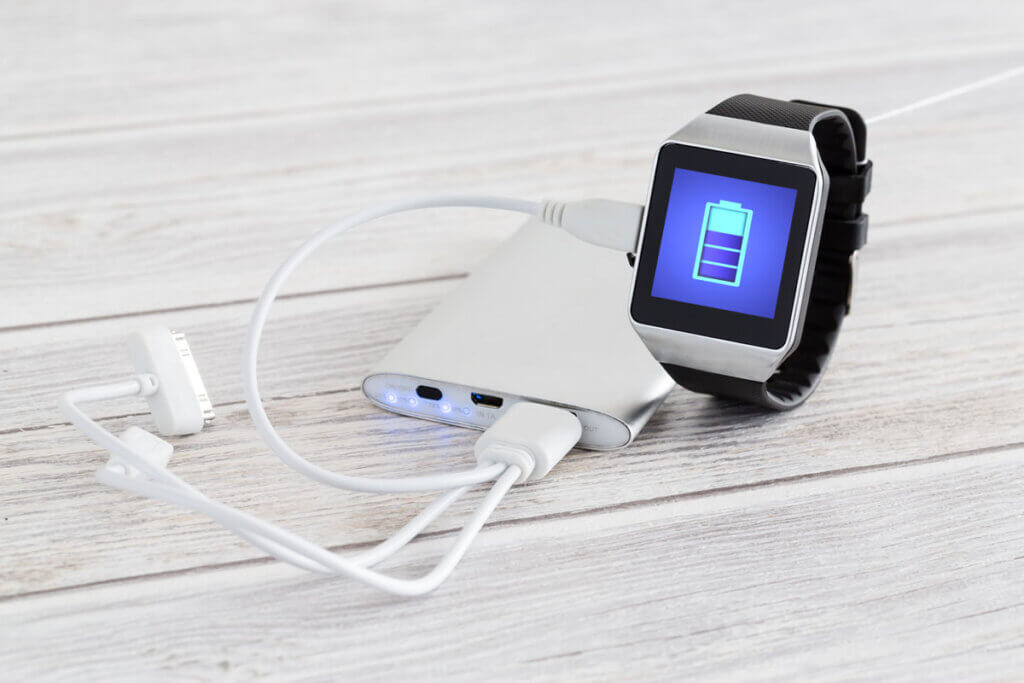 How important are GPS, WLAN and Bluetooth for heart rate monitor watches?
If you not only want to know how your heart is beating during training, but also how many kilometres you have covered while running or swimming, you should invest in a GPS heart rate monitor watch. Almost all current devices have a GPS sensor; in addition, they are usually Bluetooth- and WLAN-enabled. While a WLAN connection is necessary to access training data via an online account, the Bluetooth function is especially important for using compatible chest straps. You can also connect your smartphone to the watch via Bluetooth to use a corresponding fitness app or to receive short messages on the watch.
A smartphone to the watch
If you want to integrate the fitness watch into your everyday life, you definitely should not do without the active use of its smartphone connection. This offers you many useful functions, such as the possibility to make contactless payments in shops, to use the watch for route navigation during sports and also in the car, or to listen to music via it with Bluetooth headphones. Some current heart rate monitor watches also have apps pre-installed or can be downloaded from the respective app store.
A fitness app from the respective manufacturer collects all training data on the smartphone. Such apps are a prerequisite for more versatile heart rate monitor watches in order to be able to use all advanced fitness functions. The training data and fitness values are not always all visible on the watch, so you are forced to have a smartphone to use some devices. The integrated pedometer counts your movements in everyday life and related activities, for example how often you stand up while working at your desk. Other functions such as measuring stress levels and sleep analysis help you keep track of your mental health and general recovery.
How do heart rate monitor watches help with exercise aside from heart rate measurement?
First, heart rate monitor watches usually record other data for a comprehensive training analysis. This includes calorie consumption and the distance covered while running, swimming or cycling. Some values can already be seen on the watch display during training. The analysis data can be used after exercise to optimise training routes and sequences. With activity tracking around the clock, sleep analyses and stress level tests, many fitness watches in combination with smartphones also help with holistic health optimisation of body and mind in everyday life.
---
Fig. 1: © Oleg Breslavtsev / stock.adobe.com | Fig. 2: © lzf / stock.adobe.com | Fig. 3: © .shock / stock.adobe.com | Fig. 4: © REDPIXEL / stock.adobe.com