Men's bike helmet purchasing advice: how to choose the right product
What you need to know
Bicycle helmets are not mandatory, but they greatly reduce the risk of serious injury in the event of an accident.
It is important that you measure your head circumference and find a suitable helmet on this basis.
Recesses for ventilation, padding on the inside, protection from insects or blinding sun are helpful criteria for a good helmet.
For mountain bikers or cyclists, there are other extras or requirements for the optimal helmet, such as a visor or particularly low weight.
Helmets should not be reused after an accident, as any undetected damage to the interior could minimize the protective function.
A helmet for all cases
Whether fast-paced on a road bike, off-road on a mountain bike or on the daily commute to work – anyone who travels a lot by bike should not do without a bike helmet for their own safety. Although helmets are not compulsory in most countries, a helmet can be a lifesaver, especially in road traffic, when you need to rely on others to keep you alert, and at high speeds or in confusing terrain.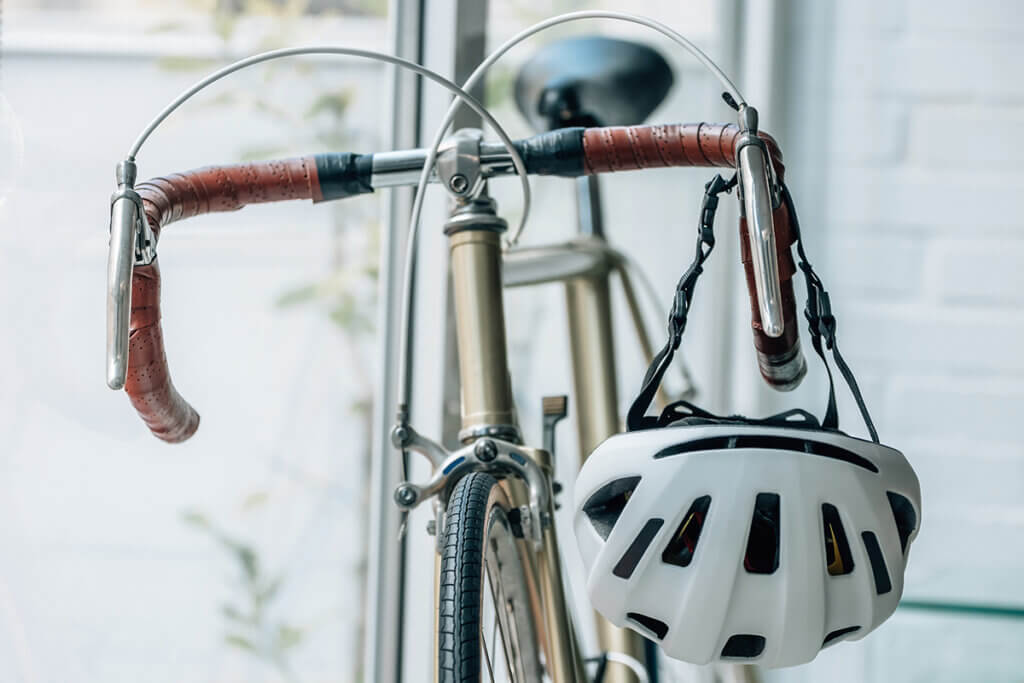 The term "men's bicycle helmets" is misleading, because basically bicycle helmets are unisex. While women would choose a smaller helmet due to their often smaller head circumference, this is not dependent on the model or manufacturer, but on the design of the helmet.
Certified by safety standards
Helmets available on the EU market must be tested according to EU standards and meetvarious material and safety standards. They also have to pass a crash test before they are certified with the DIN EN 1078 standard.
No helmet obligation

In most countries, helmets are not compulsory for either children or adults, even though various parties, such as doctors, insurance companies or the police, repeatedly call for them. In addition, it has been proven that the risk of injury to the forehead area is reduced by 90 percent when wearing a helmet during an accident. According to the experts, severe traumatic brain injury is the main life-threatening injury in cycling accidents.
Manufactured using the in-mold process
Good bicycle helmets are made using the in-mold process. The outer shell made of robust plastic is connected to the rigid foam core made of expanded polystorol (EPS), a type of Styrofoam. This creates a resistant, durable construction that distributes the energy acting on the helmet in the event of an accident. The EPS can compress to a certain degree and acts as a crumple zone. The smooth surface of the helmet glides better over the surface.
On this basis, there are different types of helmets. The most common is the micro-shell helmet; it is lightweight, has vents, and is good for both everyday riders and professionals. Twin shell helmets have a grid of polycarbonate between the outer shell and the EPS layer. This ensures high stability, even if the helmet has additional or particularly large vents. Hard shell helmets have a thicker outer shell and usually no or very small vents. They are used for downhill or BMX rides. The very light soft shell helmets consist only of the EPS layer, but are hardly available anymore due to their lower protective function.
How do I find the right helmet size for me?
First, you need to measure your head circumference to determine the appropriate helmet size. Place a tape measure approximately one centimeter above your eyebrows and run it around your head once. Make sure it runs straight, along about just above the ears. If you know the circumference, you can choose a suitable helmet. Often these are also declared with the sizes XS to XXL.
| Size designation | Head circumference |
| --- | --- |
| XS | 46-51 cm |
| S | 51-55 cm |
| M | 52-57 cm |
| L | 56-62 cm |
| XL | 61-65 cm |
| XXL | > 65 cm |
Helmet sizes at a glance.
This table corresponds approximately to the size specifications of the manufacturer. However, they are not standardized and may differ marginally in places. In addition, bicycle helmets are usually adjustable to a certain extent. For values that would fit two sizes, you should tend to the larger version, for example, at 54 centimeters to M or at 57 centimeters to L.
Once you've found a helmet that fits, it's time for fine-tuning. With a strap buckle or wheel located at the back of the helmet, you can adjust the inner part tighter or wider until the helmet fits perfectly. Then close the chin strap; this is usually done with a simple click closure, which can also be opened again with one hand. Between this strap and the chin should be about a finger width. The helmet must fit tightly enough so that it does not wobble when you shake your head, but it must not pinch. The straps should not rub against the ears. A helmet that doesn't fit – whether too tight or too loose – can increase the risk of injury.
With helmet and goggles

If you wear glasses in everyday life or special sports glasses while driving, you should try on the helmet when you wear them. This ensures that both parts are compatible and that the frame of the glasses does not bump against the edge of the helmet or the sun visor.
Criteria for a good helmet
A good bicycle helmet must have some components so that, in addition to the safety aspect, it also meets demands for comfort. Ideally, you should feel the helmet as little as possible and not feel hindered by it – after all, you want to wear it for a long, accident-free period of time. Weigh what criteria you consider important and keep an eye on what individual models bring to the table.
Ventilation
Slots and openings on the surface of the helmet are important to allow fresh air to reach the head while riding. In addition, heat accumulation is prevented in this way. Many manufacturers equip their models with more than 20 vents.
Upholstery
On the inside of the helmet are small foam pads that provide a more comfortable fit. Ideally, they have a Velcro surface so you can remove and wash them.
Insect screen
A fine mesh on the inside protects against insects such as flies or wasps getting under the helmet through the vents.
Sun visor
This extension of the helmet protrudes a bit forward over the forehead and acts as a glare shield from the sun when it shines from above or at an angle. In addition, this element protects in the event of a fall. If necessary, the orifice plate can also be disassembled.
MIPS (Multi-Directional Impact Protection System)

Many bicycle helmets of more modern design are equipped with the so-called MIPS technology. This has an additional protective layer of plastic on the inside of the helmet. This can move back and forth by 1.0 to 1.5 centimeters. Developers from Sweden found that cyclists often hit the side of their heads when they fall, causing the brain to experience a potentially damaging twisting motion. This is at least partially compensated by the MIPS.
Special features for special circumstances
Professional bike helmets that go beyond everyday use may need a few more components in some situations for optimal protection or best possible comfort.
Better visibility
If you spend a lot of time on the road in the dark or in twilight, built-in reflectors at the back and sides ensure that you are better seen by other road users. Some helmets have an integrated light or an inlet where you can install a light. The Lumos Kickstart bike helmet even has turn signals that you operate with a controller via Bluetooth.
Rain cover
Less a part of the bike helmet per se and more a useful extra is a rain hood that you put over the helmet when needed. It is made of waterproof but air-permeable material and ensures that your head stays dry in the rain, but the heat does not accumulate under the helmet.
Visor
Downhill or mountain bike riders are well advised with an integrated visor. It can be folded when not needed and otherwise protects the eyes from swirling dirt and stones. A visor is also a good choice for fast-paced rides, as it protects against headwinds and oncoming insects.
Lightweight
A standard bicycle helmet usually weighs about between 250 and 350 grams. Cyclists like to resort to helmets with very low weight. This is particularly advantageous on longer routes. Weight can be saved especially by using expanded polystyrene as a building material as well as large ventilation holes. The latter are arranged so that the helmet becomes more aerodynamic.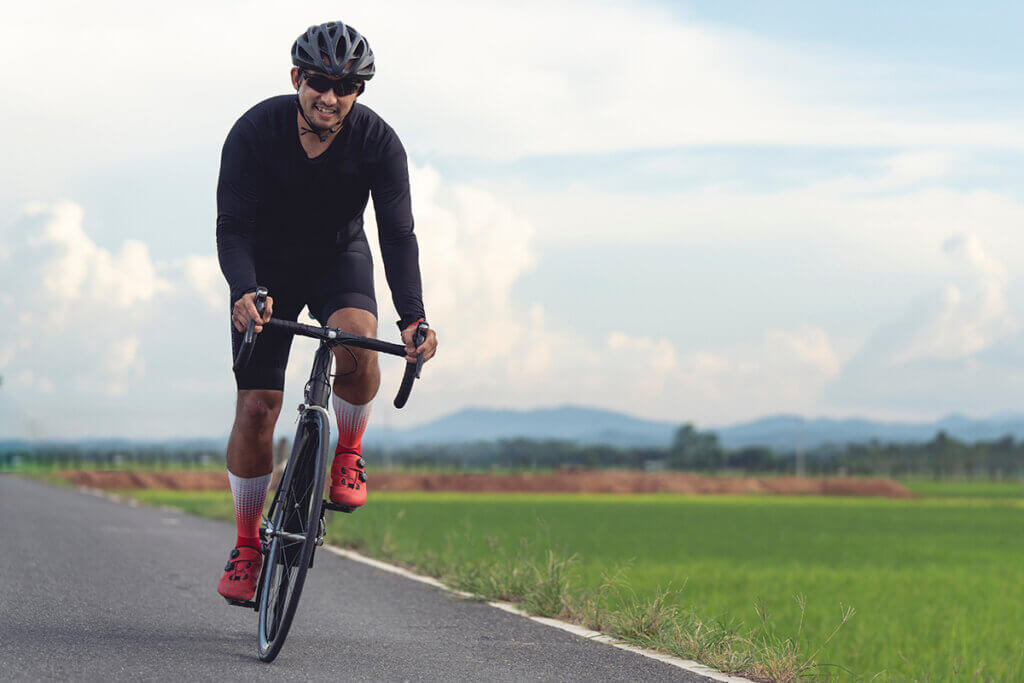 A very special model: The Hövding airbag helmet
Although it is strictly speaking not a bicycle helmet, the airbag helmet Hövding of the same name company from Sweden is an innovative development in the field. The model consists of a ruff, which you need to activate after flipping. In the event of a strong jerky movement acting on you in an accident, the neck brace opens and tightens a protective airbag around your head in a flash. This unfolds within a tenth of a second and then looks like a thick anorak hood.
It protects the head from shock and injury in the event of an impact. The shock absorption is three times better than conventional bicycle helmets, but it can not provide the same protection in frontal collisions. Since the weight of the neck brace stresses riders for a long time and can affect the sitting posture, the airbag helmet is more suitable for everyday riders. In tests, the model is often not even included in the rating. Reason: It does not meet the DIN specifications for a bicycle helmet.
When should a helmet be replaced?
In any case, after a fall on the helmet, you should replace the same. Even if it looks undamaged or barely damaged afterwards, it may be that small cracks have formed in the material or inner workings of the helmet. This would mean that the safety function would no longer be guaranteed. For this reason, you should never buy a used bicycle helmet.
However, helmets generally have an expiration date; even if you remain accident-free, the time for a helmet change will eventually come. After about six years in use – not from manufacture – you should replace it. Cold and heat, but also sunlight and moisture can affect the material during this time. It may show porous spots and lose its optimal protective effect.
---
Fig. 1: © caballo / stock.adobe.com | Fig. 2: © PIPAT / stock.adobe.com