Cantilever parasol purchasing advice: how to choose the right product
What you need to know
In contrast to a conventional parasol, a cantilever parasol does not have a center pole. The large shaded area can be used entirely.
There is a wide variety of shapes, sizes, materials, colors and designs.
Rotation and tilt options allow sun protection throughout the day.
Enjoying the shade
When the sun appears in the sky, many people want to enjoy the nice weather in their garden. But no one wants to sit in the blazing sun. A cantilever parasol provides pleasant shade and doesn't need a center pole that takes up space in the shaded area.
What are the characteristics of a cantilever parasol?
A cantilever parasol is a type of umbrella. A characteristic feature of the construction of a cantilever parasol is that it doesn't have a center pole. In contrast to a normal parasol, the shaded area doesn't rotate around the center pole. The umbrella base is not mounted in the middle, but offset to the side. The sunshade itself hangs on a very sturdy metal pole, which is also called a cantilever. This is where the name for this parasol type comes from. Various adjustment options (depending on the model) allow users to shield themselves from the sun from various angles. This is advantageous if you are sitting outside for many hours, since the sun changes positions.
Cantilever parasols in cafés and restaurants

Cantilever parasols tend to be larger than normal parasols. This has the advantage that, depending on the model, a significantly larger shaded area can be used. The cantilever parasol was originally developed as a large-area solution for cafés and restaurants. In the commercial sector, it is a standard solution. But it is also starting to make its way to private households.
How does a cantilever parasol work?
Cantilever parasols are easy to operate. They are opened by hand using a simple mechanism. In most models, a crank in combination with a pulley ensures smooth opening and closing. Even large parasols can be stored in a space-saving manner when folded. They are also space-saving in that they can be placed directly next to house walls or furniture. The operating elements are usually placed at seat height. The pole of the parasol is deliberately curved so that it can be kept out of the seating area as much as possible. Cantilever parasols can also be pivoted so that an individual inclination can be set with regard to the incidence of sunlight. The degree of inclination can be adjusted with the crank on some models. Free-standing and 360-degree pivoted cantilever parasols are very practical because they can keep the sun out at any time of day.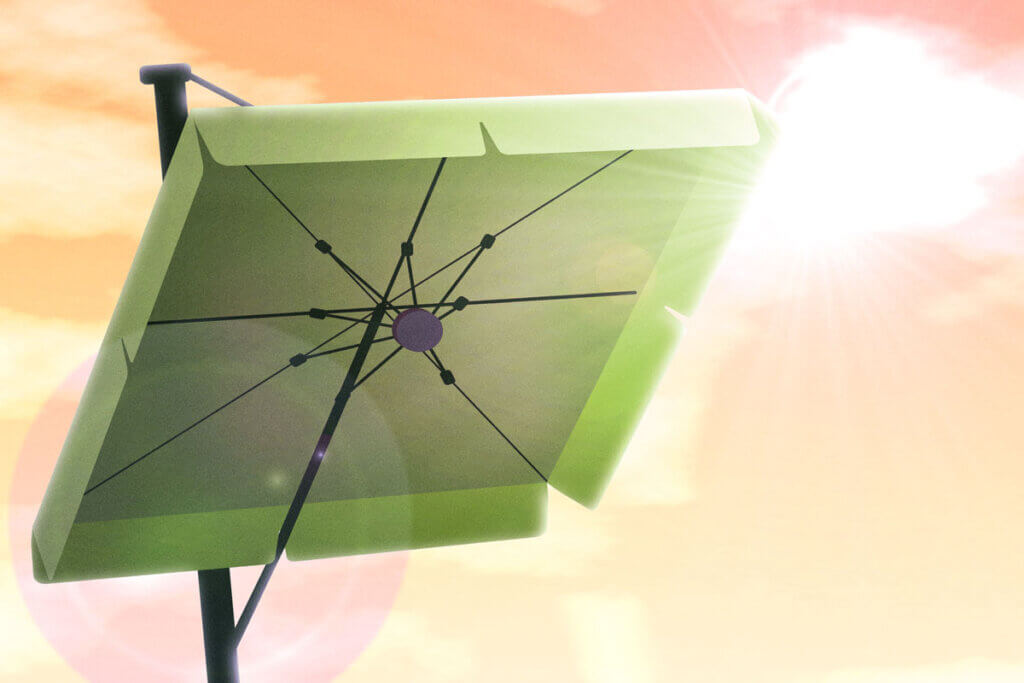 Why should I buy a cantilever parasol?
A sunshade is indispensable for outdoor use in high summer. However, if you don't want to buy a classic parasol because of the center pole, a cantilever parasol is a good choice. The larger shaded area means that larger seating areas can also be shaded, while the cool design can make a visually enhancing contribution to the overall picture. Modern designs can be quite eye-catching.
Advantages
No disturbing parasol pole in the middle
Large shaded area
Can be used very flexibly
Pivoting and rotating options effectively block the sun at any time of day
Available in many sizes, shapes, materials, and colors
Disadvantages
Cantilever parasols are more susceptible to wind
A larger base or other fixation is necessary to provide the necessary stability.
Types and designs
Cantilever parasols come in different shapes. Square, rectangular, and round models are common. In addition to personal taste, the available space can speak for or against a particular shape. In terms of their basic construction, however, all cantilever parasols are similar. Irrespective of the shape, the cantilever parasol always hangs on a stable pole.
There is a great variety in the materials that can be used for a cantilever parasol. In general, the materials must be able to withstand various conditions over a long period of time, with sunlight, wind, and moisture being the most important. A look at the product descriptions of cantilever parasols shows that these three materials in particular are used very frequently:
Acrylic fibers are most frequently used for the covering of cantilever parasols. They are very functional and don't provide a breeding ground for mould. This plays an important role for outdoor use. A high color and light resistance also speak in favor of this material. Since cantilever parasols made of acrylic are usually impregnated, the surface is water and dirt-repellent as well as rot resistant. However, models with this material are the most expensive. On the one hand, this is due to their longevity, on the other hand due to the fact that some manufacturers have patented their coverings.
Polyester is also a very functional, but somewhat cheaper option for the covering. This synthetic fiber is very dimensionally stable, but doesn't offer quite as effective protection against mould. In individual cases, it always depends on which protective impregnation a model has. If you are looking for a cantilever parasol in the lower price segment, you will usually get a polyester covering. One disadvantage one has to live with is that the colors fade relatively quickly.
Finally, olefin is a very light material with excellent covering properties. It is ideally suited for cantilever parasols because it dries quickly and absorbs very little moisture. High-quality cantilever parasols with olefin are characterized by low color loss. This material also proves to be suitable for outdoor use with regard to stains and weathering.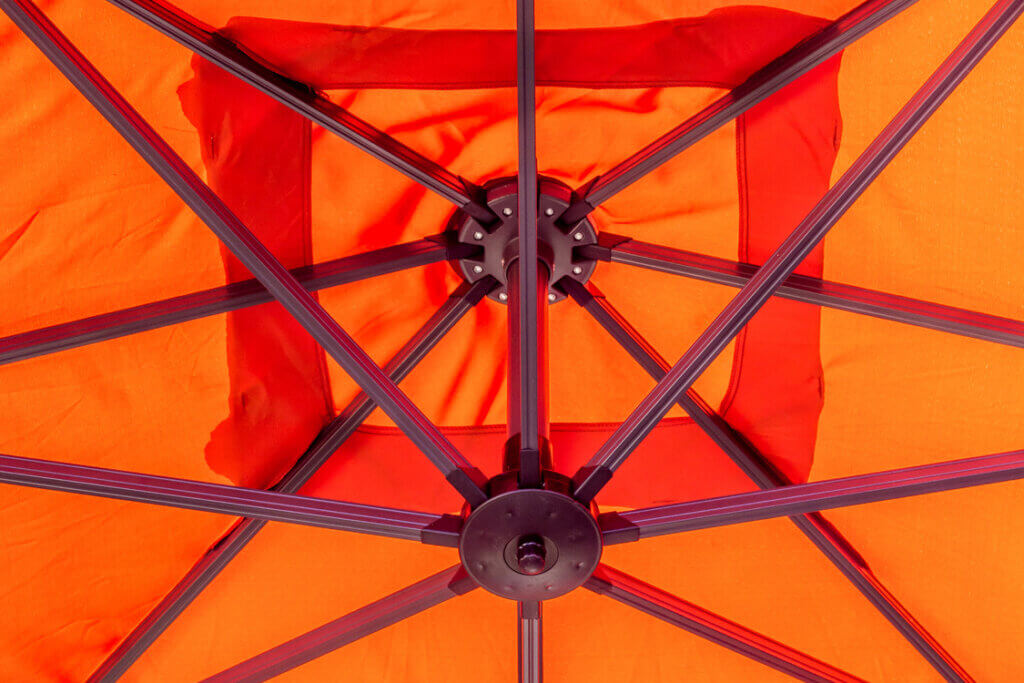 Often there are also fabric combinations. Blends are intended to combine the advantages of individual materials. Some manufacturers point out that the material mix has a direct influence on the quality of the impregnation.
The pole
Differences can be seen above all in the pole of a cantilever parasol. The larger and heavier the umbrella, the more stable the pole must be. This results in different pole diameters. The materials used are mostly aluminum, steel and wood. Aluminum enjoys great popularity thanks to its modern look and light weight. Cantilever parasols with a wooden pole are ideal for creating a harmonious overall appearance if wooden garden furniture is already available. Steel usually has an additional powder coating to make the surface more resistant.
Base and mounting
A cantilever parasol must not tilt due to light wind or contact. Therefore, cantilever parasols are usually supplied with a heavy base in the middle of which the pole is fixed. Filling with water or sand can provide more stability, especially for large models. The respective manufacturer's description indicates up to which wind force the use of the cantilever parasol is still permissible. With some models it is possible to fix the base (e.g. with pegs) or even to set it permanently in concrete.
Other construction features
Some models have an escape vent and valances. The escape vent is in the center of the covering and offers improved air permeability. If there are stronger gusts of wind, escape vents are very advantageous. They also noticeably improve the air circulation under the covering.
Valances are also found on awnings, for example. These are fabric overhangs that at first glance only look like an optical addition. However, they also serve to keep out particularly deep rays of sunlight.
A few models are equipped with a motor, which provides additional comfort. Most cantilever parasols, however, are operated manually by a crank, whereby the necessary effort is kept within limits anyway. As far as the adjustment options are concerned, there can be significant differences depending on the price range. Particularly practical is the ability to rotate 360 degrees, which makes it possible to adjust the angle to the sun during the course of the day.
What to look for when buying
It is important that the sunshade is easy to operate. Anyone who wants to enjoy shade on the terrace wants to be able to do so in just a few simple steps.
Basically, the following purchase criteria are important:
Size of the shaded area
Stability
Structure
Design
How much should a cantilever parasol cost?
The prices of large parasols of high quality are in the low to mid three-digit range. Inexpensive models are already available for around $50 to $100. If you value an unusual design and high quality, you have to look in the premium segment and pay a price in the mid three-digit range.
The materials
The frame in particular should be made of robust materials. Anodized aluminum is used for many models. As far as the coverings are concerned, you should place importance on easy maintenance. Here, the material thickness comes into focus, which is indicated in g/m². If you want to keep out even the deeper UV rays, you should choose a model with a high UV protection factor (50 or higher). This allows you to spend several hours in the shade without worry.
Even midsummer, a short rain shower can never be ruled out. Models with water-repellent properties can keep the rain out. With them, there is no need to fold the parasol immediately.
The different fabric classes

Parasol manufacturers often specify a fabric class in the product description. As a rule, the fabric classes I to V are found, whereby the last one represents the most robust material quality. The fabric class was introduced in order to be able to define the lightfastness. With the fabric class I, the first color changes can be seen after about 40 days of exposure to strong sunlight. With class V, on the other hand, it takes over 700 days before the first effects of UV radiation are slightly visible.
Suitable for everyday use?
The crank and pulley ensure smooth working. With regard to this important purchase criterion, it can be useful to read reviews from customers. The cantilever parasol should be easy to operate.
What should the new cantilever parasol look like?
Of course, the new cantilever parasol must also meet personal taste and fit seamlessly into the existing aethetic. In this respect, too, there is a wide choice, as the market offers many different shapes and colors. Dark colors are recommended if very high UV protection is desired. As a rule, the lighter the color, the lower the UV protection. The perceived shading also depends on the color of the covering. As far as the shape is concerned, attention should be paid to compatibility with the garden furniture in order to achieve a harmonious effect. Ultimately, individual taste decides what is pleasing to the eye.
Scope of delivery
As a rule, the necessary base is included with most models, but this sint't always the case. Perhaps one or the other will opt for a larger base to provide even more stability.
A protective cover is only rarely included in the scope of delivery. Since it plays an important role in preservation, this accessory should not be missing. To weigh down the base, heavy plates must be added to some models. These are usually not included in the scope of delivery, so that additional costs are to be expected. It should be checked in each individual case whether any spare parts are included.
Does a large cantilever parasol need a concrete foundation?
If you buy a quality-tested cantilever parasol including a base, you can assume that the construction will hold. If the option of filling with sand or water is available, additional stability can be achieved with a few simple steps. In this respect, a concrete foundation is not necessary, especially as this would mean that the cantilever parasol would be tied to a fixed location.
To be on the safe side, you should read the manufacturer's product description carefully, as it will tell you what stability the supplied base provides for the cantilever parasol or what alternative might be considered.
Maintenance tips
In general, weather effects cannot be completely avoided over a very long period of time. However, in order to keep these as low as possible, you should take the following care tips for cantilever parasol to heart.
If the material doesn't already have a repellent property from the start, impregnation can be useful. This way, moisture and dirt cause less damage to the surface.
To ensure a long life, a protective cover is highly recommended when not in use. This also ensures that the umbrella doesn't get wet and is therefore always ready for use. Since the parasol isn't used in winter anyway, it should be stored in a protective cover in the basement.
It is advisable to clean dirt such as bird droppings quickly with gentle agents. Water and a soft brush should be sufficient in most cases. Chemical agents are not advisable, as they can attack the surface or the color of the cantilever parasols. Bird droppings should never remain on the surface for a long time as they are very damaging.
The parasol should only be folded up and packed into the protective cover when it is completely dry. Otherwise there is a risk of mold forming, which can considerably shorten the life of the parasol. It is even possible to wash the covers of many models. The corresponding instructions can be found in the manual.
---
Image 1: © FinalCheck | Image 2: © Ralf Geithe / stock.adobe.com