Petrol lawn mower purchasing advice: how to choose the right product
What You Need to Know
Petrol lawn mowers are characterised by high performance and long range.
For use on hilly terrain, a lawn mower with switchable wheel drive is recommended.
Ride-on mowers and lawn tractors are suitable for maintaining large lawns.
What is a petrol lawn mower?
Maintaining the lawn with a hand mower quickly becomes a sweaty affair. A petrol lawn mower makes trimming the lawn easy and can also cope with lawns that have not been maintained for a while. The powerful mowers do not need a power connection and can be used flexibly. Ride-on mowers and lawn tractors are recommended for large lawns. There is a wide choice of models and variants.
A petrol lawn mower is a powerful garden tool for maintaining the lawn. A rotating blade located under a protective bonnet trims the grass and transports the cut greenery into a catch bag. A hand-held lawn mower is pushed across the lawn by the user with muscle power. In the case of petrol lawnmowers with wheel drive, a powered axle assists propulsion – a welcome relief, especially on slopes and when maintaining large plots of land.
Who invented the petrol lawnmower?
The lawn mower was invented as early as 1830. The first petrol-powered lawn mower was introduced by the English company Ransomes, Sims & Jefferies in 1902. These lawnmowers quickly became a success. Ransomes, Sims & Jefferies remained the market leader until the First World War. During and after the war, petrol was rationed. This meant that motorised lawn care remained a luxury for the time being. The petrol lawnmowers of the time made a lot of noise and were not very environmentally friendly. They were also very heavy and unwieldy. Nevertheless, the early lawn mowers are appreciated by enthusiasts, even if the old-timers of lawn care are hardly used any more.
Petrol mowers master small and large lawns
If large lawns or properties with slopes need to be tackled, ride-on mowers and lawn tractors come into play. Here the gardener sits on a seat, benefits from a good overview and controls the machine with the steering wheel. Ride-on mowers and lawn tractors are characterised by versatility and high performance. Due to their large cutting width, they are suitable for lawn care on large properties. Even wildly overgrown lawns can be easily mown with a powerful lawn tractor.
The construction of the petrol lawn mower
The petrol lawn mower consists of four core modules:
Chassis
Engine
Cutting unit
Discharge/catch bag
Modern machines are equipped with a 4-stroke engine. Lawn mowers with 2-stroke engines are no longer offered, as the mowers fuelled with a petrol-oil mixture no longer meet today's requirements for environmental compatibility in terms of emissions and noise.
With or without wheel drive?
The petrol engine of a pushed lawn mower is responsible solely for operating the cutting blade. On wheel-driven lawn mowers, the engine turns a drive shaft that is connected to a gearbox via a drive chain or belt. The gearbox is necessary to adjust the speed to the diameter of the wheels.
Speed control and gear shift
Ride-on lawn mowers and lawn tractors often have a gear shift or a variomatic that allows the driving speed to be adjusted. With conventional petrol lawn mowers, the speed and power are either fixed or adjustable via a throttle cable on the handlebar.
How does a petrol lawnmower work?
The blade in a petrol lawnmower consists of a steel blade and rotates at about 3,000 revolutions per minute. The grass shredded by the blade is thrown into a catch bag or ejected to the side. On a petrol lawnmower with mulching function, the cut grass is shredded a second time after the first cut and can be left on the lawn as fertiliser. The mulching function can be deactivated.
Short check before starting
Before the petrol lawnmower is put into operation, take a look at the condition of the operating materials. Are the fuel and oil filled? As engine oil is subject to a natural ageing process, only fresh lubricant should be added when the oil level is low. On a walk-behind lawnmower, release the engine brake before starting the engine.
Starting a petrol lawn mower
The choke should be activated according to the manufacturer's instructions. The pull cord is then pulled gently until resistance is felt. After a firm pull of the starter rope, the petrol engine should run. Finally, you still need to regulate the gas supply. Many ride-on lawnmowers and lawn tractors are equipped with electric starters that make starting the engine almost as convenient as starting an automobile.
Should I choose a petrol lawn mower over an electric model?
In recent years there has been a trend towards electric drive lawn mowers. Corded or battery-powered lawnmowers have their merits, but in many cases a petrol lawnmower is still the better choice. This is especially true for large lawns and demanding terrain. Electricity is not always available and cordless mowers are not powerful enough for demanding terrain.
Ride-on mowers and lawn tractors also mow large plots of land
With a ride-on lawn mower or a lawn tractor, even very large lawns can be maintained effortlessly and comfortably. Modern petrol lawn mowers are equipped with economical and quiet four-stroke engines that have nothing in common with the noisy and smoky two-stroke mowers of earlier years. Therefore, petrol lawn mowers, ride-on mowers and lawn tractors are just the right choice for many gardening enthusiasts.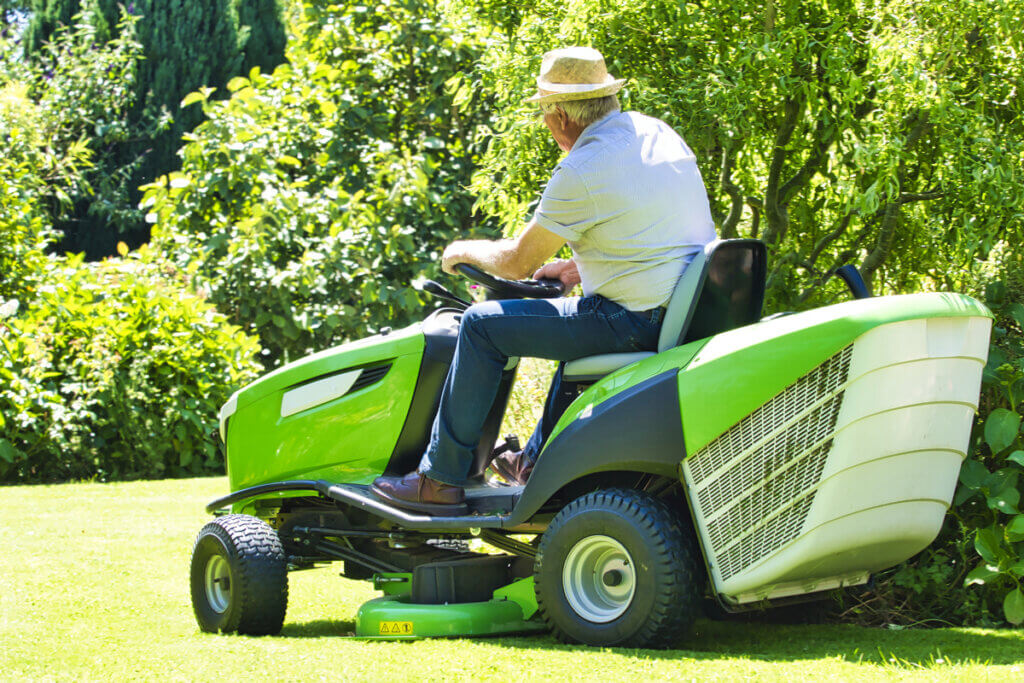 What fuel does a petrol lawnmower need?
A petrol lawnmower, just like a car, has a tank for fuel and a container for engine oil. Lawn mowers with mixture lubrication have disappeared from the market because two-stroke engines are no longer used. For petrol lawnmowers, ordinary petrol (super unleaded) is usually used. The operating instructions provide precise information on which fuels are possible.
Lawnmower oil is single-grade oil
Since a lawn mower is only used in the warm season, you can do without multi-grade oil. However, when it comes to the lubricant, you should follow the manufacturer's specifications. Usually a lawn mower oil of viscosity class SAE30 is used. Since many petrol lawnmowers with 2-stroke engines are still in use, the trade also offers engine oils intended for mixture lubrication. You should therefore be careful when choosing the oil so as not to cause engine damage by filling it with unsuitable engine oil.
Types of petrol lawnmowers
Before buying a petrol lawnmower, the buyer should consider what areas he wants to mow with the machine. Many people are only interested in maintaining their own garden lawn. Those who use their petrol lawn mower for commercial purposes, on the other hand, will often have to deal with different lawn areas and different terrains.
A petrol lawnmower offers a lot of flexibility. The buyer only has to decide whether he prefers a conventional petrol lawnmower pushed by muscle power. In addition to wheeled models, ride-on mowers and lawn tractors are also available.
Petrol lawnmowers with and without mulching function
In a petrol lawnmower without wheel drive, the engine only drives the blade mounted under the protective bonnet. The user pushes the mower over the lawn with muscle power. These petrol lawn mowers are a suitable choice for manageable, level lawns. A petrol lawn mower with mulching function turns the grass cuttings into a natural fertiliser that can be thrown out onto the lawn and does not have to be disposed of separately.
Wheel drive makes gardening easier
On a petrol lawnmower with integrated wheel drive, the powered axle makes it easier to take slopes over 5%. Many wheel drive lawn mowers can also be moved at different wheel speeds. Wheel drive lawn mowers are becoming increasingly popular as they adapt well to different terrains and allow people with little muscle power to maintain their lawns comfortably.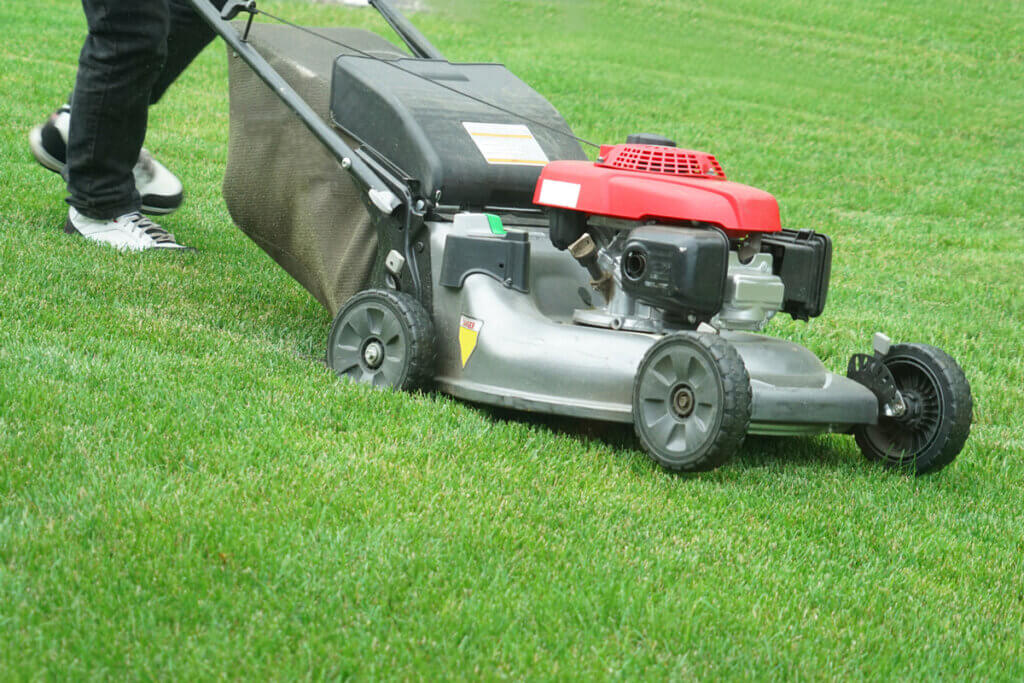 Ride-on mower
A ride-on mower offers more comfort than a petrol lawnmower with wheel drive. The user sits on the machine and can steer the mower over the lawn. There is a wide range of accessories available for riders that allow them to expand to special lawn care tasks. The grass collected by the catcher can be conveniently emptied from the rider's seat.
Before purchasing a ride-on mower, it should be checked whether the investment is in reasonable proportion to the lawn area and the tasks. Ride-on mowers are best suited for lawns between 500 and 1500 square metres. For smaller plots, a ride-on mower is usually oversized and therefore not necessarily recommended – unless particularly challenging topography such as slopes and inclines makes "normal" mowing difficult.
Lawn tractors
Which gardening enthusiast does not dream of taking care of the lawn on a lawn tractor with lights and four-speed gear shift? The powerful lawn tractors come into consideration for large lawns over 1500 square metres. The powerhouses among the lawn care machines can be equipped with many accessories and enable a particularly effective way of mowing. A lawn tractor has a powerful four-stroke engine. The top machines score with many features such as a snow plough attachment and other attachments.
There is no alternative to a lawn tractor for the effective cultivation of large lawns. The only drawback of these machines is their comparatively high energy consumption. The manufacturers of lawn tractors offer numerous different models in different performance classes, so that every buyer can find a device that meets their own requirements.
How to find the right petrol lawn mower
The petrol lawn mower market is large and offers a wide variety of models. Therefore, it is not always easy to find the right machine for you. In the following, we show you which criteria you should look out for.
Handling
Lawn care is only fun if the lawn mower is easy to handle. Ergonomics play a major role with hand-held devices. If you want to make lawn care easier, you should go for a lawn mower with a wheel drive and several gears. Of course, the ergonomic aspects weigh a lot, especially with large lawns and when maintaining a demanding property. With ride-on mowers and lawn tractors, a comfortable sitting position is important, among other things.
Starting and operation
A petrol lawnmower should first and foremost impress with its good cutting performance. The devices equipped with air-cooled combustion engines rarely leave anything to be desired in this respect, unlike their electrically powered counterparts. The starting process should also go smoothly in wet weather. Some petrol lawnmowers make the starting procedure easier by dispensing with the throttle lever and primer. Hand-held lawnmowers are still usually started with the starter rope. Ride-on mowers and lawn tractors often score with an electric starter.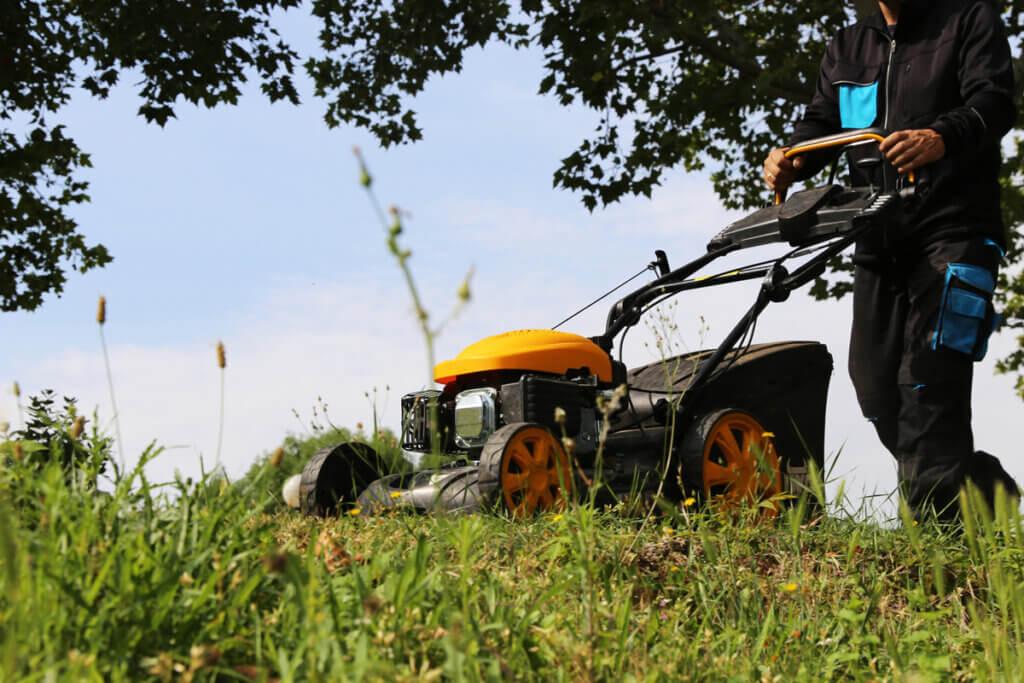 Property with slopes?
A wheeled lawn mower shows its advantages on large areas and slopes. Petrol lawn mowers equipped with a larger engine usually support the user with a wheel drive. If different wheel speeds can be set, this makes the use even more comfortable.
Environmental compatibility
Petrol lawnmowers have a reputation for being less environmentally friendly due to their noise and emissions. Even today, petrol lawnmowers are not as quiet as electric lawnmowers, but compared to earlier generations of petrol lawnmowers they emit significantly fewer pollutants and are also quieter. The buyer should make sure that a 4-stroke engine with catalytic converter is installed in the petrol lawnmower.
Wheeled petrol mowers, ride-on mowers and lawn tractors
When deciding on a type of lawn mower, the following factors should be considered:
Size of plot
Property layout
Accommodation
Equipment
Accessories
Newcomers to lawn care in particular often underestimate the effort required to push a petrol lawnmower. Those who choose a petrol lawnmower with wheel drive are often on the safe side.
For storing ride-on mowers and lawn tractors, a dry place such as a tool shed should be chosen. If there is only an open carport or other parking space exposed to the weather, the ride-on mower or lawn tractor should be protected with a tarpaulin. Suitable tarpaulins are offered by the manufacturers for many models.
Scope of delivery
The scope of delivery of a petrol lawn mower often includes inserts for the catcher box, tools and a second sickle blade. Some models also come with a mulching kit. Attachments are available for ride-on mowers and lawn tractors, most of which are offered as optional accessories.
The pros and cons of petrol lawnmowers:
Pro Points
The most powerful lawn mowers, ride-on mowers and lawn tractors are all petrol-powered. Petrol lawn mowers are best suited for maintaining large lawns and challenging terrain.
Petrol lawn mowers are characterised by a solid and durable construction.
Due to the higher power, petrol mowers are also suitable for mowing woody and unkempt lawns.
With petrol lawnmowers there is no cable. This makes the machines flexible.
Refuelling is considerably faster than recharging a battery.
Petrol lawnmowers are on average hardly more expensive than comparable electric lawnmowers, although they have a higher output.
Drawbacks
Petrol lawn mowers are noisier and less environmentally friendly than their electric counterparts.
Compared to electric lawnmowers, they are often more unwieldy.
Petrol lawnmowers require more maintenance. If care is neglected, costly engine damage is possible.
Operating the start cord and the entire starting procedure requires some practice, depending on the model.
Safe handling of the petrol lawnmower
Most petrol lawnmower manufacturers do a lot to ensure safety, but users still need to be careful when handling them. Here are some safety tips to help prevent accidents:
Keep children and pets away – the petrol lawnmower is not a plaything.
Instruct other people thoroughly in the operation of the petrol lawnmower and make them aware of the dangers.
Only mow during daylight hours.
Guide the start rope back slowly when starting – do not let it snap back.
Before mowing, check the lawn for objects such as toys left behind.
Keep all four wheels of the petrol lawn mower on the ground so that the machine does not tip over.
Always push the lawn mower across the slope on slopes.
Switch off the petrol lawn mower before crossing a pavement or driveway.
Never repair the mower with the engine running.
Wear safety goggles when mowing on lawns with debris.
Allow the engine and other hot parts, such as the exhaust system, to cool sufficiently before repairing.
Changing the lawn mower blade – the right way!
In the following we will guide you step by step through the process of changing lawn mower blades. Important: Always follow the manufacturer's instructions in the operating manual!
Pull out the spark plug cable.
Close the petrol tap.
Swing petrol tap upwards.
Clamp blade bar with blade blocker or piece of wood.
Loosen the screw with the washer and put it aside.
Lift out the knife while turning it slightly.
Place the new cutter bar on the screw opening.
Screw in the screw with washer and tighten well.
Care and maintenance
The petrol lawnmower can provide many years of good service provided it is maintained regularly. Many maintenance tasks can be carried out even by a user with little technical experience. For other tasks, a specialist company should be contacted. The easier tasks include filling up with petrol and oil. Spark plugs can also be removed and cleaned without much effort. At the end of the gardening season, the petrol lawnmower should be subjected to a more intensive inspection.
A petrol lawnmower requires more maintenance than an electric lawnmower. However, if you carry out a few simple maintenance tasks, you can both reduce consumption and significantly lower emissions. With good and regular maintenance, fuel savings of up to 30% can be achieved. During an inspection, the mower deck should be cleaned, the cutting sickle cleaned, the engine oil topped up, the air filter changed and the spark plugs replaced.
Oil changes should not be neglected either. You must change the oil at least once a year, as the lubricant is subject to ageing processes and attracts moisture. Suitable kits with suction pump and funnel are available for changing the oil on the lawn mower.
Preparing for the cold season includes emptying the fuel tank. To do this, start the lawn mower and run it with the remaining fuel in the tank until it runs out on its own. This protects the carburettor and prevents gumming.
All moving parts in the lawn mower can use a drop of universal oil. Before cleaning the mower deck, be sure to remove the mower blade to avoid injury. Stubborn dirt can be removed with a rim cleaner.
---
Fig. 1: © catherinelprod / stock.adobe.com | Fig. 2: © nd700 / stock.adobe.com | Fig. 3: © U. J. Alexander / stock.adobe.com