Cordless grass trimmer purchasing advice: how to choose the right product
What You Need to Know
Cordless grass trimmers are ideal in confined areas that are problematic for lawn mowers, i.e. kerbs, walls and other edges.
They reliably and evenly remove the last blades of grass in front of an obstacle.
Versions with a shrub blade attachment can be used to trim box trees. High-quality models also cut thin branches of privet and bridal spirea.
The battery is not always included in the delivery. With some cordless grass trimmers it must be purchased separately.
If the battery cannot be changed, you must replace the cordless grass trimmer when the battery is weak or defective.
Mowing the lawn to the edge
Many people know the situation: the lawn is mown and at the end unsightly edges remain on plants, kerbs or other obstacles. Now, of course, you can get to grips with the remaining blades of grass with a pair of scissors, but after only a short time, back pain would set in. With an electric cordless grass trimmer, on the other hand, the tedious fine work is done quickly and easily. Small blades on the grass shears cut the grass quickly and without the necessary effort.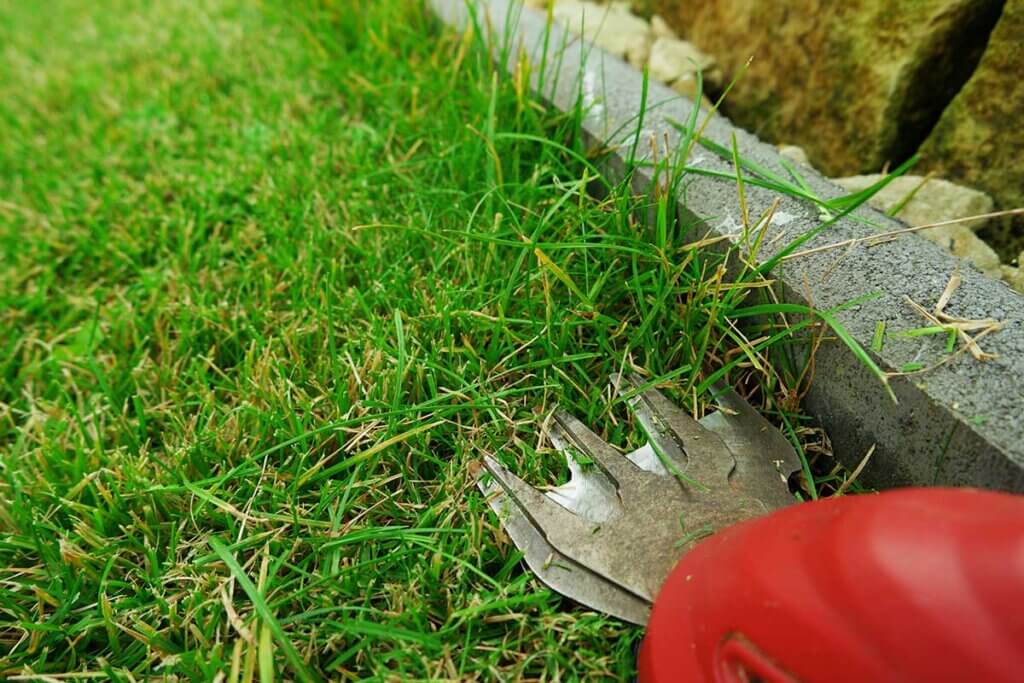 What is a cordless grass trimmer?
A cordless grass trimmer is an electric lawn trimmer and therefore the comfort version of a manual grass or lawn trimmer. Because they are battery powered, users find it easier to get a clean, even cut. Although manual shears are still available on the market, you are better off with a cordless lawn trimmer, especially for larger lawns with many edges.
A cordless grass trimmer essentially consists of the motor housing, the handle with control element, the battery and the cutting tool. Some manufacturers offer accessories such as telescopic poles or wheels for their cordless shears. These are intended to make it easier for you to cut larger lawns evenly. The telescopic pole eliminates the need to bend down and the wheels ensure a consistent distance to the grass surface.
How do cordless grass trimmers work?
Most cordless grass shears are fitted with so-called lithium-ion batteries. They have a voltage of 3.6 to 18.0 volts and give the shears the energy they need to cut grass. When the cordless grass trimmer is switched on, the cutting blade starts to move. It consists of two parts, one of which is movable and the other fixed.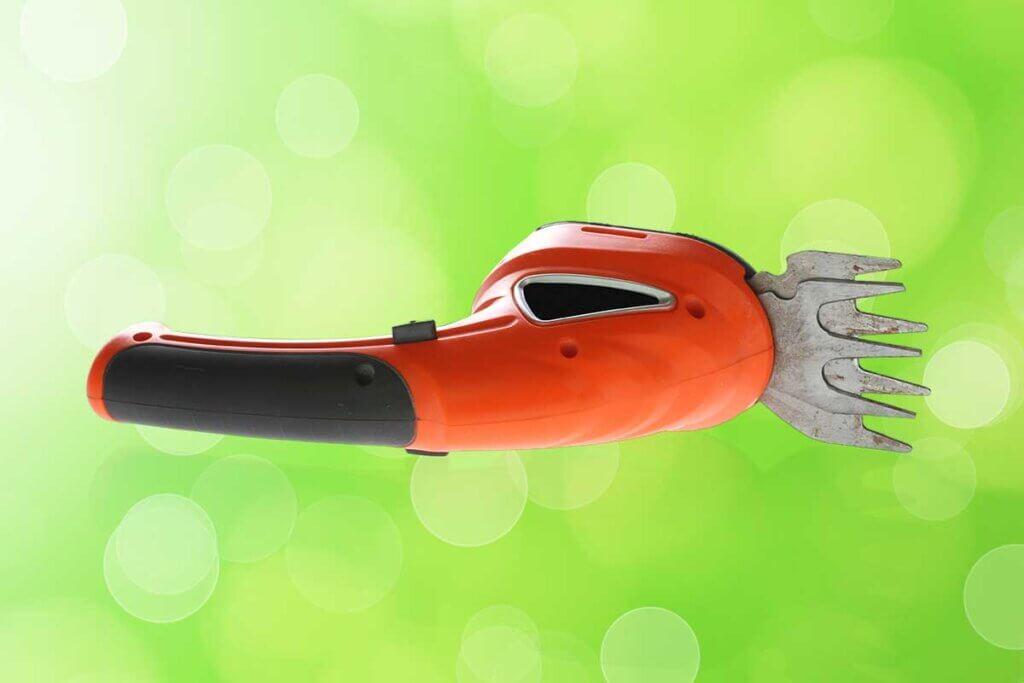 As soon as you press the on button, the oscillating movement of the cutting part starts and cuts the grass. However, you have to keep the switch-on button pressed continuously. This is part of the safety equipment and is mandatory in Germany to minimise the risk of injury. The pendulum movement is caused by a gear wheel inside the grass shears. It is connected to the motor shaft via a second, oval gear wheel and is driven in this way. The motor shaft is the heart of a cordless grass trimmer. Many manufacturers make it out of metal so that it lasts as long as possible.
Cordless grass trimmers that can also be used to trim shrubs have a third wheel in addition to the two gear wheels mentioned above. This creates a movement from the front to the back. In this way, the thin branches or twigs get between the cutting blades and are also cut.
Where are cordless grass trimmers used?
While large lawns can be quickly and easily brought into shape with the lawn mower, there are always a few annoying blades of grass left on the fence or flower beds. One option is to tackle them with a string trimmer. Sometimes, however, the space is so limited that you can't get anywhere with a lawn trimmer. In such cases, a cordless grass trimmer is the solution. They are small, manoeuvrable and can reach even the most awkward corners of the garden. You can use them to cut the lawn uniformly even under overhanging plants or bushes.
Advantages and disadvantages of cordless lawn trimmers
The application possibilities make the biggest advantage of cordless grass trimmers clear: you can use them to cut the lawn uniformly throughout the garden. It is easy to operate and ensures precise results.
Some models have telescopic handles, which makes them even easier to use. The option of using it to cut smaller twigs or thin branches is also available on many models. One disadvantage, however, is the battery: you can only use the tools if the battery still supplies power. Otherwise, you have to charge it first. The battery cannot always be replaced. If it cannot be replaced, in the worst case you will have to buy a new cordless grass trimmer and dispose of the defective model. Given the sometimes high purchase costs, this can quickly add up to a lot of money.
Pro points
Easy to use
Sharp cutting tool for precise results
Upright work possible with telescopic handle
Often versatile
Drawbacks
Battery charging required
Comparatively expensive to buy
The different types of cordless grass trimmers
There are three different types of cordless grass trimmers: those with a fixed blade, those with interchangeable attachments and cordless grass trimmers with a telescopic handle.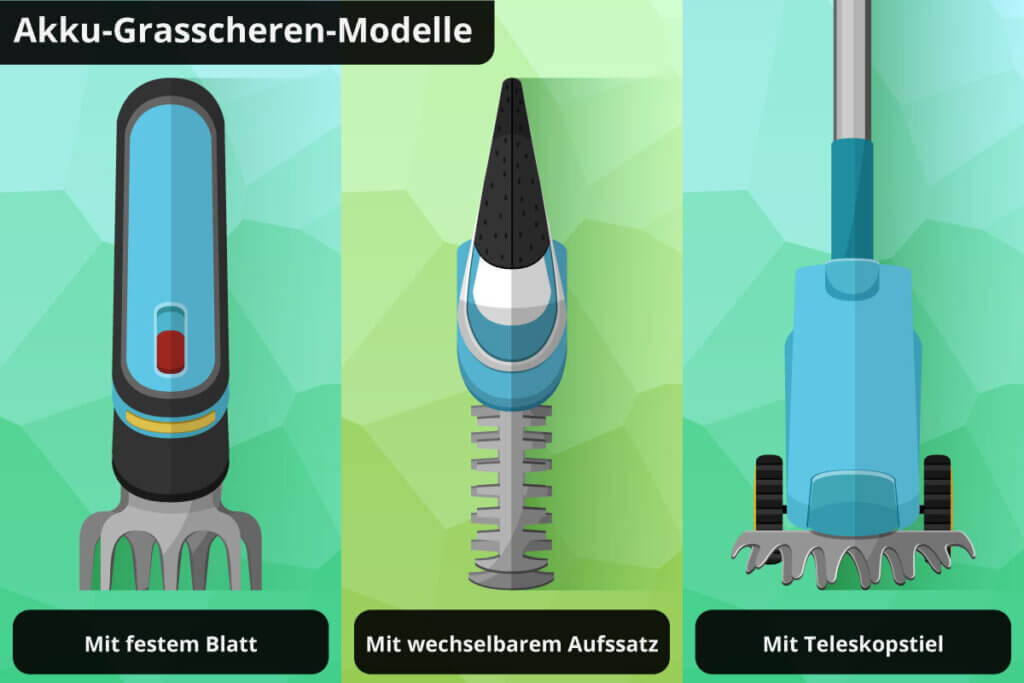 Cordless grass trimmer with fixed blade
The cordless grass trimmer with a fixed blade is one of the cheaper variants of cordless grass trimmers. The battery is usually permanently installed. The cutting tool is also fixed and cannot be supplemented with other attachments. This makes these cordless grass trimmers less flexible to use. It also ranks behind the other models in terms of performance. The cutting pattern is good, but less precise than shears with replaceable blade attachments.
Cordless grass trimmer with replaceable attachment
The battery-powered grass shears with interchangeable attachments are very popular because of their flexibility. You can use them not only as grass shears but also as shrub cutters. Its power is sufficient to tackle all common tasks in the garden. The cutting result is just as good as the battery life. Changing the different blade attachments is usually possible without additional tools. This means you can quickly change from grass shears to shrub shears and get to work flexibly.
Cordless grass trimmer with telescopic handle
A cordless grass trimmer enables a clean cut all over the garden. Whether on flower beds, under larger plants or bushes, the lawn is always cut evenly. However, working in a stooped position for a long period of time can quickly cause back pain. A cordless grass trimmer with telescopic handle brings relief. Here you have all the advantages of the handy cordless grass trimmer, but do not have to bend down all the time to cut. Many manufacturers offer a telescopic handle as an optional accessory for their grass shears and refer to the extension as a driving stick. With some suppliers it is already included in the scope of delivery.
What matters when buying
When choosing the right cordless pruner for your garden, the battery is of particular importance: Is it permanently installed or replaceable? What capacity does it have and how long is its runtime? Equally important are the criteria for using the tool, i.e. the cutting width, the height adjustment, the telescopic handle, the rotating blades, the safety aspects, the flexibility, the dimensions and the weight. Finally, the noise level and the price also play a role in the purchase decision.
Battery
The quality of the battery is crucial for the performance and service life of cordless grass trimmers. Many manufacturers therefore use lithium-ion batteries. They are much more durable than the nickel-cadmium batteries used in the past. How long a battery charge lasts depends on its capacity. As a rule, cordless grass trimmer batteries have a capacity of 1.3 to 1.5 ampere hours (Ah). This allows you to work for about 45 to 60 minutes. Particularly powerful batteries have 2.0 ampere hours. However, this does not usually change their running time. On the other hand, they have a higher cutting capacity.
Many manufacturers attach the battery to the grass trimmer. This is not always an advantage. If it is defective, you have to buy a completely new cordless grass trimmer. This is not the case with a replaceable battery. Here, the defective part can simply be replaced. In addition, you can continue working immediately if the battery's runtime is not sufficient for all the work you have to do and you have a spare battery. The charging time of a battery varies depending on its capacity, but is usually between three and five hours.
Cutting width and height adjustment
The cutting width varies considerably between models. There are cordless grass trimmers with a cutting width of just 10 centimetres. In contrast, there are models with a working width of 16 centimetres. This can make a big difference, depending on how wide the lawn edges to be cut are, for example. It is therefore best to measure in advance how wide the lawns that have been left standing are. You can then determine the optimum cutting width of the cordless grass trimmer.
The advantage of a generously selected cutting width: The cutting result is more even because you have to reposition the shears less often. For even better results, some manufacturers offer a height adjustment for their cordless grass trimmers. The distance between the shears and the lawn is adjusted with wheels. In this way, you have the same distance throughout and achieve clean cutting results.
Telescopic handle
If you choose a cordless grass trimmer with a telescopic handle, you do not have to kneel. The handle relieves your back, is usually quick to assemble and simplifies the work. However, the greater distance to the lawn means that precision is somewhat lost. It therefore takes practice until you achieve an even cutting result. If the handle is not included in the delivery, it is at least offered as an optional accessory with most models. If working standing up is important to you, you should pay attention to this.
Rotating blades
Rotating blades on cordless grass trimmers are not standard. Nevertheless, they are practical. How much they can be rotated varies from model to model. For example, there are shears with blades that can be rotated 180 degrees in four positions. This means you can even cut sloping edges, horizontal or vertical lines.
Safety features
Garden tools such as cordless grass trimmers require certain safety features to ensure hazard-free operation. Therefore, it has become standard that the power button must be continuously pressed for operation. The shearing blades therefore only run as long as you press the button.
In addition to the on button, many cordless grass trimmers have a second safety button. You press this button in addition to the switch-on button to start the shears. However, you do not have to keep it pressed. The combination of both buttons ensures that the cordless grass trimmers are not accidentally triggered.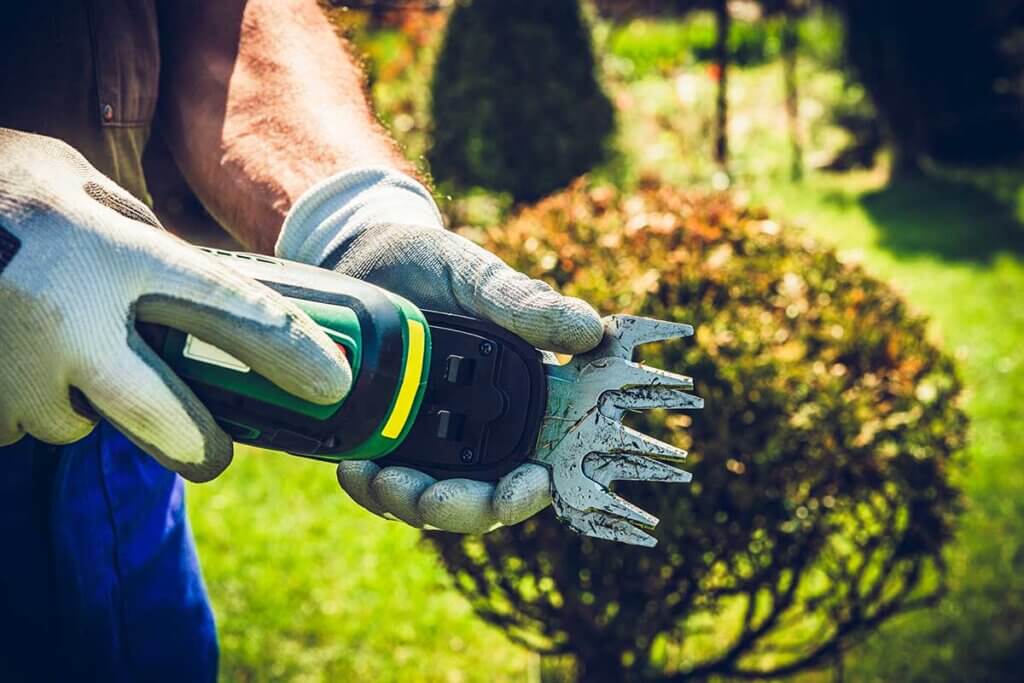 How noisy are cordless grass trimmers?
A certain amount of noise cannot be avoided when using garden tools. The volume of quieter models is around 60 decibels, while louder devices reach over 80 decibels. While a noise level of 60 decibels corresponds to a conversation at a normal volume, 80 decibels is comparable to an argument or playing the piano, for example. At 85 decibels, it becomes somewhat exhausting in the long run. Depending on how long you work with the cordless grass trimmer, this can become noticeable later in the form of headaches or similar discomforts. We recommend that you wear hearing protection if you use the grass trimmer regularly.
Handling
It is not unusual for cordless grass trimmers to be used for 30 or even 60 minutes until all edges have been cut cleanly and evenly. Consequently, comfortable handling of the shears is important. A telescopic handle is certainly a plus point here, but even independently of this you should pay attention to two things: the dimensions and the weight of the cordless garden shears.
If the cordless garden shears are too large, you may not be able to cut all the edges you want. So when choosing, pay attention to how wide or long it is. The weight is also interesting. Most cordless garden shears weigh between 500 and 1,500 grams. That doesn't sound like much at first, but if you have been cutting the lawn edges for a long time at a stretch, you will notice the weight clearly.
Cordless grass trimmers, lawn edge trimmers and shrub shears
Cordless grass trimmers are often equated with lawn edgers. This is not completely wrong, but it is not completely correct either. Cordless grass trimmers can be used as lawn edgers. Some manufacturers also refer to string trimmers as lawn edgers. However, this use is less common. The term is more common for manual garden tools. Lawn edgers are designed for specific edges and only cut the lawn at these edges. Shrub shears cannot be completely distinguished from cordless grass trimmers either. Some cordless grass trimmers have interchangeable blade attachments that can be used to convert them from grass trimmers to shrub trimmers. In this sense, shrub shears are nothing more than cordless grass trimmers with the appropriate blade attachment.
Further test reports
Please note: This is a comparison. We have not tested the cordless grass trimmers ourselves.
There are numerous cordless grass trimmers from manufacturers such as Bosch, Black & Decker or Ryobi. However, current cordless grass trimmer tests are not easy to find.
In 2014, ETM Testmagazin conducted a product comparison of eight different cordless grass trimmers. In addition to safety, important criteria in the test were handling, flexibility and the cutting result. The partially interchangeable blade attachments, which allowed the cordless grass trimmers to be used for cutting bushes and shrubs, attracted positive attention. Three cordless grass trimmers scored well in the comparison and were rated "very good". The test winner was the Bosch Isio cordless grass trimmer, which impressed with its anti-jamming system, replaceable blade attachments and overall very good handling. The only small negative point mentioned was the slight faltering of grass tufts. Overall, however, the grass shears scored with an exact cutting result.
A second, much more recent test was conducted by selbst.de in spring 2020. 14 different models were tested in a cordless grass trimmer comparison. The testers focused on leading manufacturers in the garden tool sector such as Bosch, Einhell, Gardena and Stihl, among others. The most important assessment criteria included the handling, versatility and cutting result of the cordless grass trimmers. Overall, the testers were satisfied with all the tools in the test. They delivered at least good cutting results, the cutting widths were comfortably dimensioned and the guiding hand had sufficient free space everywhere. Of course, there were also a few shortcomings with some models, but most of them proved themselves overall in the test. The editors were convinced by the test winner, the Stihl HSA 25. They also recommended the Gardena Comfort Cut model. The test editors awarded the cordless grass trimmer Gardol GGS-E 12 Li the rating "price tip". They praised all three of these tools as easy to use with good all-round cutting performance.