Leaf blower purchasing advice: how to choose the right product
The most important facts in brief
Leaf blowers blow leaves and garden waste together so that they can be collected afterwards.
A leaf blower or leaf vacuum prevents the lawn from not getting enough oxygen due to leaves that are too dense.
Leaf blowers are available in battery, electric and petrol versions.
If you want to use both a leaf vacuum and a leaf blower, you can use a combination device that offers both functions.
Due to their loudness, leaf blowers and leaf vacuums may only be used between 9 a.m. and 1 p.m. Monday to Saturday and between 3 p.m. and 5 p.m. Monday to Friday.
Alternative to the rake – the leaf blower
When the trees lose their leaves in autumn, it's a colourful spectacle. All the pavements and lawns are covered in leaves, which is pretty but also a lot of work to pick up. To save themselves the tedious process with a rake, many garden and home owners turn to a leaf blower.
Leaf blowers are garden tools with a motor that drives a blower. This creates a stream of air that passes through the blowpipe to the outside. With the help of this air flow, leaves and garden waste can be brought together in a pile. Leaf blowers are either electric or petrol powered. Electric-powered devices have a power cable or are battery-operated. Petrol models are equipped with a tank containing the petrol mixture.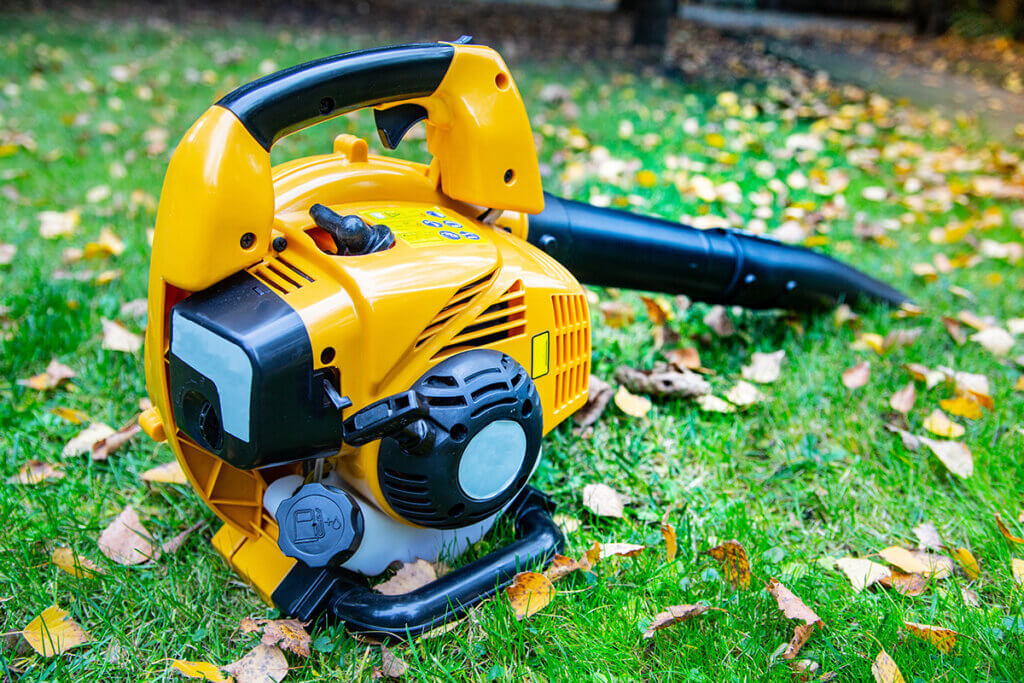 For gardening, leaf blowers save a lot of time, because the leaves are collected more quickly than with a rake. Since the device is also light and easy to operate, leaf collection is possible without physical effort. A leaf blower frees pavements and gardens from leaves and garden waste within a short time. Therefore, the device is well suited for people who have little time for gardening. Most leaf blowers are also useful in different seasons. In spring they can blow away falling flowers, in autumn they can blow away accumulating leaves. Some tools are even suitable for winter, for blowing away light powdery snow.
Why do leaves need to be removed from lawns and pavements?
Because leaves make good fertiliser, the soil benefits from a few leaves left lying around. However, if there is a lot of foliage that completely covers the ground, it will deprive the lawn of oxygen, causing it to die. Wet leaves can also be slippery on footpaths. So that no one falls, they must be removed.
What kind of soil can a leaf blower remove leaves from?
In principle, leaves can be removed from almost all soils with a leaf blower. For gravel or mulch beds, a delicate touch is required; the leaf blower should have somewhat less power for this purpose or the air speed should be adjustable. Battery-powered devices are somewhat weaker than petrol or electric devices and are therefore usually well suited for gravel beds or mulch. For wet leaves, on the other hand, a more powerful model is recommended; leaf blowers with a rechargeable battery are not powerful enough.
A question of drive – The different types of leaf blowers
Leaf blowers are available with either a rechargeable battery, electric or petrol drive, each of which is differently powerful.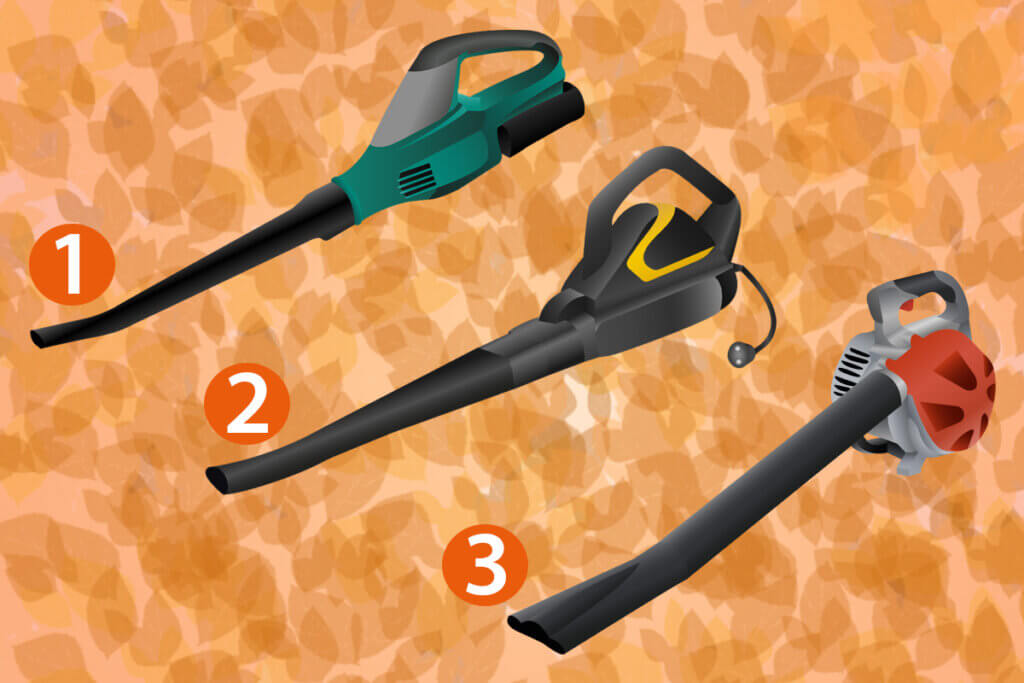 The battery-powered leaf blower
This type of leaf blower is relatively new on the market and very flexible. However, such a device usually does not have enough power to blow away heavy leaves and garden waste. Because of the limited battery life, a leaf blower with a rechargeable battery is more suitable for small areas. However, it does not have an annoying power cable and is quieter and less smelly than petrol-powered devices. In addition, a battery-powered leaf blower is very light and therefore easy to transport and hold. Since water would damage it, it cannot be used in the rain. A battery-powered leaf blower is more suitable for small areas and dry leaves.
The electric leaf blower
A corded electric leaf blower is the cheaper of the three garden tools. It can work continuously as it does not need to be charged or filled. In addition, an electric leaf blower requires less maintenance and is lighter than the petrol version. However, due to its power cable, it is dependent on a power socket, which makes it less flexible than a battery or petrol leaf blower. An electric leaf blower is recommended for both small and medium-sized gardens.
The petrol leaf blower
A petrol leaf blower is particularly powerful and is therefore well suited for large gardens. It also removes wet leaves without any problems. It has more blowing power than the other models and guarantees a long working time without interruptions and with plenty of freedom of movement. However, exhaust fumes are produced during use and have an unpleasant odour. This emits hydrocarbons that are harmful to the environment. The petrol engine of the leaf blower must be maintained regularly, which means more effort than with a battery or electric leaf blower. The petrol leaf blower is the noisiest model, so hearing protection is recommended. In contrast to a battery and electric leaf blower, a petrol model is more expensive, especially as petrol has to be refilled. The tank with the petrol mixture holds about 350 to 500 millilitres. Unlike a leaf blower with a battery, a petrol leaf blower can be used in all weathers. They are also considerably heavier than other devices due to the high weight of their engine. Petrol leaf blowers can be divided into variants with two-stroke engines and four-stroke engines. Most machines have a two-stroke engine because it is cheaper.
Leaf blower versus leaf vacuum – what is the difference?
If you want to get rid of your leaves, you can use a leaf blower or a leaf vacuum. The leaf vacuum is the more popular and frequently used device. It works like a kind of large, handy hoover and transports the leaves into a collection container. This saves time because the leaves do not have to be collected separately. However, depending on its size, the collection container must be emptied frequently. Unlike a leaf vacuum, a leaf blower does not pick up the leaves but blows them together. It is blown into a pile and then picked up by hand. Although a second step is necessary, there is no need to empty a container. The main difference between leaf blowers and leaf vacuums is that the former work with a stream of air and the latter with a suction of air.
Combination units
In addition to simple leaf vacuum cleaners and leaf blowers, there are models that can both blow and vacuum the leaves. These are so-called 2-in-1 combination units. These devices allow you to switch between the functions at the flick of a switch, while others have to be converted. Users can first blow up the leaves and then vacuum them up as with a leaf vacuum cleaner. This saves having to bend down to collect the leaves.
3-in-1s also have a shredding function. It shreds the leaves and garden waste that have been sucked in, making them much smaller. In practice, however, combi-devices usually do not perform well because the individual functions are weaker than those of special leaf vacuum cleaners or leaf blowers.
What environmentalists think of leaf blowers
Due to their impact on the environment, leaf blowers and leaf vacuums are often criticised. Since the leaves are removed and do not decompose on the ground, humus and nutrient formation are inhibited. In addition, the leaves protect the soil from extreme cold and drying out, which would no longer be the case if they were removed with a leaf blower. Animals such as spiders, insects or worms need food and habitat, both of which are taken away by the device. Petrol models also emit pollutants such as nitrogen oxides. In addition, they stir up fine particles on the road, which are hazardous to health. Many environmentalists therefore consider leaf blowers to be so harmful to the environment that they recommend rakes and rakes as alternatives to leaf cleaners and leaf blowers.
What you should look out for when buying
When buying a leaf blower, there are some details you should pay attention to. Relevant are the air speed, the operating time and the volume.
Air speed
Weak leaf blowers achieve an air speed, also called blowing speed, of 190 to 200 kilometres per hour. This is sufficient for dry leaves, but for wet leaves the unit should have an air speed of at least 250 kilometres per hour. Particularly powerful leaf blowers can even reach speeds of more than 400 kilometres per hour. However, too high an air speed is not recommended, as it will also move medium-sized stones or branches. It is therefore worth buying a device with an adjustable air flow.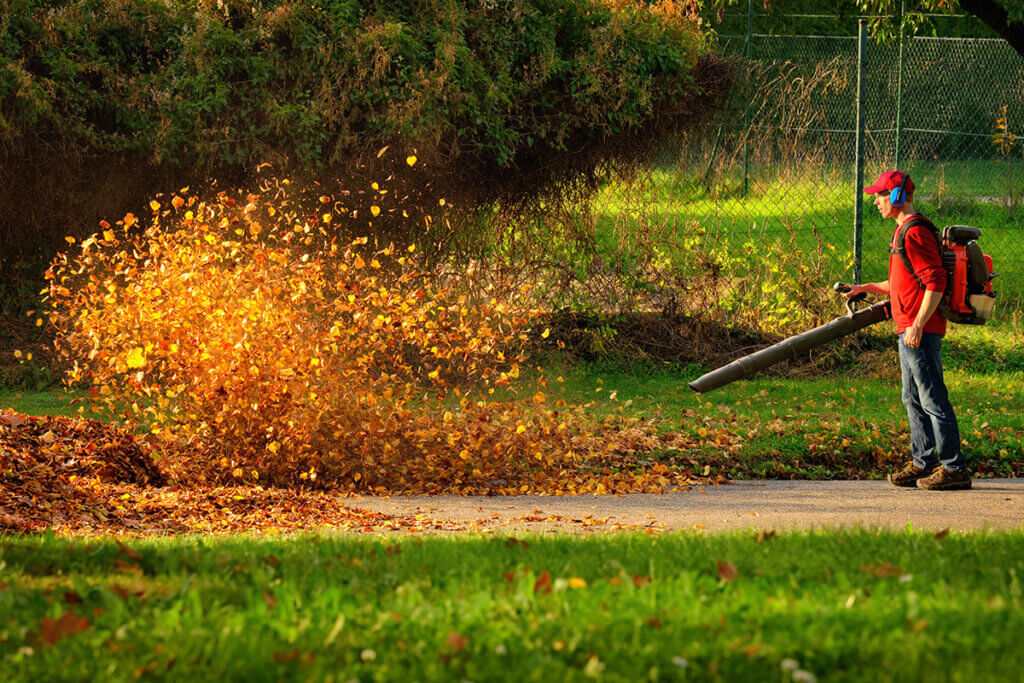 Suction power
If you own a combi unit or leaf vacuum cleaner, you should also pay attention to the suction power of the unit. It is usually at least ten cubic metres per minute. With a suction power of 14 cubic metres per minute or more, the garden tool can also remove wet leaves.
Operating time
When buying a cordless or petrol leaf blower or leaf vacuum, it is worth paying attention to the operating time. In the case of a battery-powered leaf vacuum, this depends on the power of the device and the running time of the battery. With most devices, the battery has 1.5 to 2.0 ampere hours. Depending on the power level you choose, this corresponds to an operating time of about 15 minutes. Some units can even run for 30 minutes. The larger the area you want to clean, the longer the operating time should be.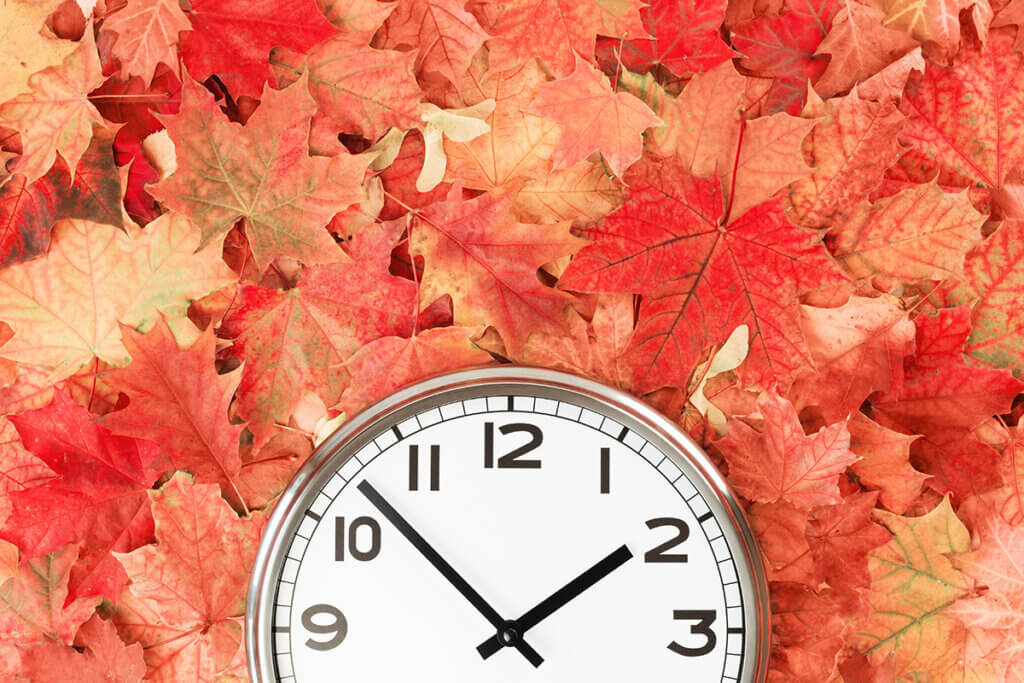 The operating time of petrol leaf blowers or leaf vacuums depends on the engine power, the capacity of the tank and the fuel comparison. Depending on the size of the tank, a tank filling is sufficient for about 60 to 90 minutes. However, a leaf blower with a larger tank is considerably heavier than a model with a smaller one.
Battery charging time
Charging the battery takes different amounts of time depending on the manufacturer. Inexpensive models can take longer than three hours, while brand-name products can sometimes do it in as little as 20 minutes. However, make sure that the voltage of the battery and the charging cable match.
Price
Leaf blowers vary in price, depending on model and performance. The cheapest models cost around 30 euros. These are simple models without any additional functions. Combination units cost a little more, and models with a shredding function are available from around 150 euros.
Scope of delivery
The scope of delivery of leaf blowers varies depending on the model and manufacturer. This is particularly the case with battery-powered devices, as the battery and charger are often not included in the scope of delivery. Users must therefore expect additional costs when buying a cordless leaf blower. It is advisable to choose devices from brand manufacturers. They offer chargers and batteries that are compatible with their own leaf blowers. Combination units have a collection bag that is included in the delivery.
Shredding function
With 3-in-1 leaf blowers, you should also pay attention to the shredding ratio, which can vary. The smaller the device shreds leaves and garden waste, the easier they are to dispose of later. A higher ratio is therefore recommended. The shredding ratio is between 10:1 and 16:1. With the former, the garden waste is reduced by a tenth, with the latter by a sixteenth.
Volume
Since leaf blowers vary in volume, it is advisable to pay attention to the stated volume. Battery-powered leaf blowers reach about 60 to 90 decibels, petrol leaf blowers are even louder. At a volume of 80 decibels or more, the leaf blower is harmful to the ears. Therefore, you should always wear hearing protection. For comparison: A sewing machine reaches 65 decibels, a hoover 70 decibels.
The sound power level (indicated as LWA) is the volume that can be measured directly at the leaf blower. In contrast to the sound power level, the sound pressure level (indicated as LPA) describes the loudness at the user's ear. However, it depends on the distance between the unit and the user. The sound power level is always higher than the sound pressure level and will be specified by almost all manufacturers. Make sure that this value is below 85 decibels.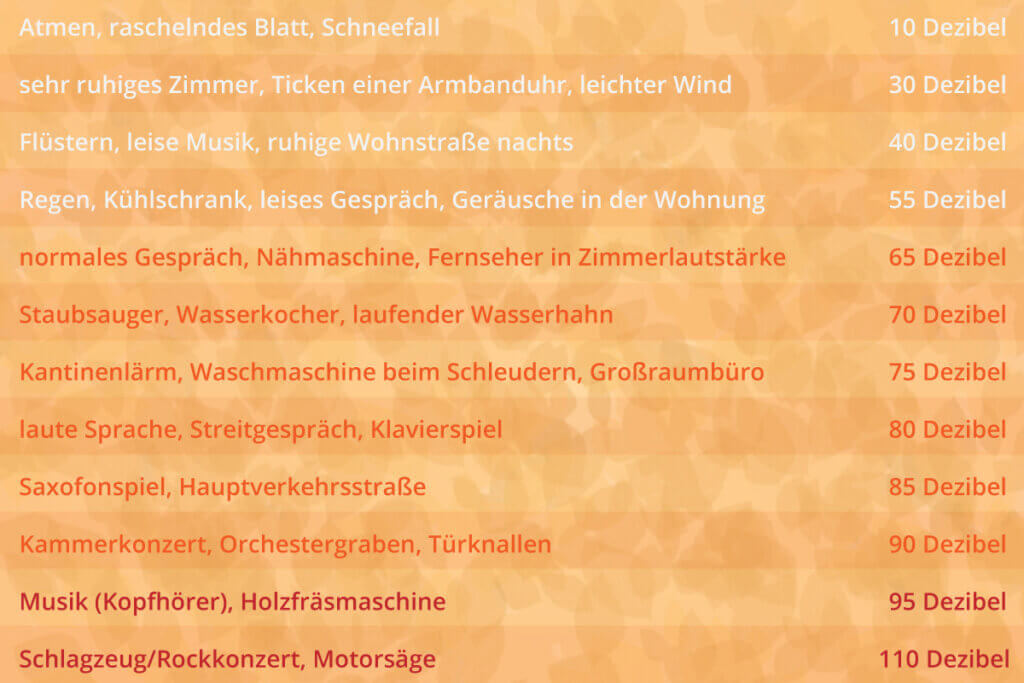 Weight
The weight of the leaf blower is relevant for handling. The lighter the device, the . Combination units are usually significantly heavier than ordinary leaf blowers. Most leaf blowers weigh between three and five kilograms. Battery-operated or electric leaf vacuum cleaners are the lightest. They usually weigh less than four kilograms, while petrol-powered units weigh at least four kilograms. For users who can carry little weight, battery or electric leaf blowers are therefore more suitable. Many devices come with a shoulder strap that distributes the weight evenly over the body and makes carrying easier.
The legal conditions
Leaf blowers and leaf vacuums, especially petrol ones, can reach a volume of up to 110 decibels. The Federal Protection Ordinance therefore classifies leaf blowers and vacuum cleaners as noise level 2. Since the devices can cause noise emissions that are harmful to the environment, specified times apply to their use. In residential areas, leaf blowers may be used on weekdays between 9 am and 1 pm and between 3 pm and 5 pm. For commercial use, however, use is not permitted on Saturdays. On Sundays and public holidays, the use of leaf blowers and leaf vacuums is prohibited. Anyone who uses their gardening equipment outside these hours faces a fine of up to 5,000 euros. Since wet leaves on the pavement are not a significant slip hazard, every property owner has a duty to clear. This means that they must remove leaves from the pavement in front of their house and will be warned if they do not comply with this duty.
These regulations apply all year round throughout Germany. In some cities or municipalities, however, the regulations may differ. Therefore, if in doubt, ask your city or municipal administration. The European Commission is also planning a regulation on noise limits for leaf blowers and vacuum cleaners; however, this has not yet been implemented.
Goodbye, leaf blower

In the Austrian cities of Graz and Leibnitz, leaf blowers have been banned since October 2014. The reason for this is the dust and noise pollution caused by the devices. Anyone who still uses a leaf blower must expect a fine of up to 2,180 euros.
Instructions for use
If you use a leaf blower, you should pay attention to a few things. This way you can protect the environment and your neighbours:
To reduce the time the leaf blower is used, do not use it for individual leaves.
Blow the leaves into a pile using circular movements.
For a gravel bed, use the leaf blower at a distance of at least five centimetres at first to test the force of the air flow and adjust it if necessary.
It is also important to watch out for passers-by so that they do not get the whirled-up leaves or garden waste.
Do not use the leaf blower near parked cars to avoid damaging them.
How do I clean my leaf blower?
Soil, grass and leaves that get stuck on the leaf blower can cause damage in the long run. Therefore, you should remove dirt and leaf debris from the unit after use. The collection bag must be emptied and dried before using it again. With petrol leaf blowers, the spark plug must be checked regularly and replaced if necessary. The air filter can be easily removed and tapped. This prevents it from becoming dusty and attracting moisture. Combination units have a shredding disc that you should clean carefully with a damp cloth from time to time. It is best to store your leaf blower in a shed, storage room or cellar.
What do I do with the collected leaves?
You can dispose of collected leaves and garden waste in the compost or use it for mulching. The organic waste adds nutrients to the soil and thus enriches your garden. However, you can also leave piles of leaves in the garden where they act as a shelter for hedgehogs. The animals need them to hibernate. An exception is oak leaves, which prevent plant and root growth due to their tannins. Oak leaves should therefore always be disposed of completely.
The best-known manufacturers of leaf blowers
Which product is suitable depends on the purpose for which it is intended. Some manufacturers mainly offer products for professionals. These include Stihl, Bosch Professional and Makita, for example. For everyday users, models from Güde, Einhell or Wolf-Garten are well suited.