Baby carrier purchasing advice: how to choose the right product
What you need to know
A baby carrier is well suited as an alternative or as a supplement to a baby stroller.
The close physical contact between parents and child promotes their bond.
It is important that the carrier is comfortable and safe for both the wearer and the child.
Many baby carriers can be used with newborns or extended with inserts.
There are full-buckle and half-buckle carriers as well as slings, which differ in the way they are fastened.
Baby carriers: for a feeling of comfort
Children are our future. They need to grow up safely and develop into new, positive generations. Since their bodies are still very sensitive, their protection is important. The bones have to grow together first; they are thin and therefore break easily. For them to develop well, closeness to parents, movement, and protection are top priorities. To ensure this, many parents carry their child in a baby carrier.
What is a baby carrier?
A baby carrier allows parents to carry their child comfortably on the belly, the hip, or on the back. Most carriers can be used in all three positions, but there are also special back carriers and hip carriers. A distinction is usually made between carriers and slings, but there are also mixed forms. Baby carriers are usually made of a very strong material, slings are made of a softer material. Depending on the model, baby carriers can already be used for newborns. Even small children can be carried in them until they are too big or too heavy. Baby carriers are an alternative to strollers, but are also often used as a supplement.
Safety and closeness – the advantages of a baby carrier
If you decide to use a baby carrier, you will benefit in many ways. It has a particularly positive effect on the relationship between parents and child. Parents carry their child close to their body, which promotes the child's basic trust. This makes the child feel particularly comforted and safe. Especially in the first months, the baby needs a lot of attention and closeness. The physical contact calms the child because it feels the warmth of the parents. This gives the child a sense of comfort. If it is carried in a belly carrier or hip carrier, you can also stroke your child well, which additionally strengthens the bond. For fathers, it is also an ideal opportunity to bond with the child after its birth. Other family members and friends can also create a relationship with the child. For the wearer, using a baby carrier also has a positive effect on the back, as it strengthens the back muscles.
Unlike in a stroller, the baby doesn't lie still in a baby carrier, but is in motion. This promotes their motor skills and sense of balance. The upright sitting position and the reassuring closeness to the parents are particularly helpful for babies with tummy aches. A baby carrier is also a good alternative for children who cannot fall asleep well in a stroller. In general, most babies like to be carried.
A baby carrier is particularly suitable as an alternative or supplement to a stroller. The person carrying the baby has both hands free when transporting them. Baby carriers are also cheaper than strollers. A baby carrier also has some advantages over a stroller when out and about. When shopping, narrow aisles are no problem because the baby carrier doesn't take up much space. With a baby carrier, parents are also no longer dependent on lifts, so they can also take the stairs. In the car, a baby carrier has the advantage that it is not very big. It can be easily stowed even in smaller vehicles.
These types of carriers are available
There are many different types of baby carriers. They differ mainly in their material, their fasteners and the way they are worn.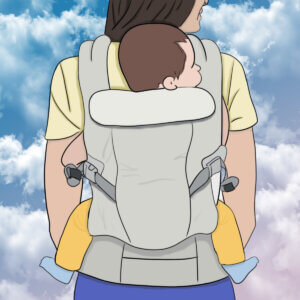 The soft structured carrier (SSC)
This carrier consists of a pre-shaped carrying bag that is attached to the wearer's body by padded shoulder straps and a hip belt. Many offer the option to carry the baby on the front or on the back. The material is robust, but also less flexible than other variants. The buckles make a comfort carrier easy and quick to put on; there is no need to learn any wrapping or tying techniques. Some variants can be used from birth, but many are more suitable for children five months and older.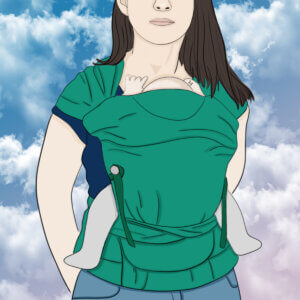 The Mei-Tai
The mei-tai (also Meh Dai) is a hybrid of a baby carrier and a sling. It consists of a rectangular, firm back section to which long straps are sewn. Unlike an SSC, these are tied. The lower straps become the hip belt, the upper ones the shoulder straps. There are also versions with a buckle on the waist belt. The flexible straps allow the Mei-Tai to be worn equally well on the back, stomach, or hips.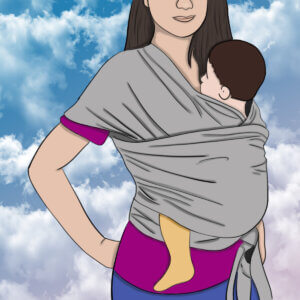 The sling
This classic baby carrier consists of a ribbon between 15 to 17.7 feet (4.6 and 5.4 m) long. It is wrapped tightly around the body and ensures that the child is particularly close to the wearer's body. Since nothing on this carrier is pre-shaped, it is particularly flexible and can be tied in different ways. However, tying it requires practice. If it is done incorrectly, the child's safety suffers.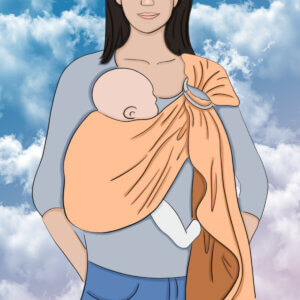 The ring sling
This baby sling also consists of a length of fabric that is 5 to 10 feet (1.5 to 3.0 m) long and is attached to the shoulder with two rings made of metal. The sling is easy to put on, the fabric is only pulled through the rings. However, the weight of the child is only on one shoulder and is therefore unevenly distributed. For newborns, only the cradle position is suitable, as their neck is not yet fully developed, and the ring sling has no head support.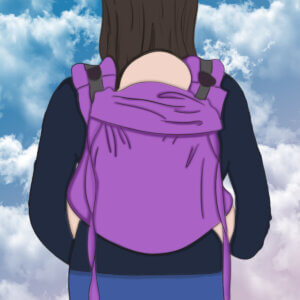 The Onbuhimo
The Onbuhimo is another baby carrier that is usually used on the back. It doesn't have a waist belt, but only shoulder straps that are fastened with buckles. They run from the top to the bottom of the back and are usually easy to tighten. The Onbuhimo therefore resembles a backpack. Since there is no hip belt, the load is distributed on the shoulders of the wearer. However, pressure is built up in the child's neck due to their sitting position.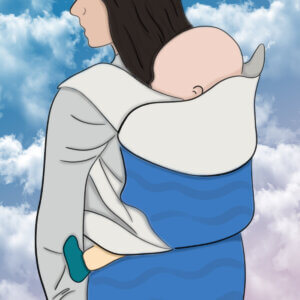 The Podaegi
The Podaegi is another carrying aid without a fixed sling. It originated in Korea and is mainly worn on the back. Unlike the Onbuhimo, the straps are not held in place by buckles, but are tied. They are passed over the child's legs, crossed under its bottom, and then knotted at the front. This type of knotting requires a little practice, which is why this carrier is not necessarily suitable for beginners. The back part is usually longer than in other carriers.
What is important when buying a baby carrier?
If you want to buy a baby carrier, you should consider a few criteria. The most important are the comfort of the child and the carrier, the posture of the child, and the carrying position.
Different fastening systems
Carriers that are not exclusively tied have buckles or hook-and-loop fasteners. A distinction is made between two different fastening systems. Full buckle carriers are similar to backpacks because they have buckles or hook-and-loop fasteners on both the shoulder straps and the hip belt. A classic example of such a stretcher is the soft structured carrier.
The counterpart to this is the half-buckle carrier. They only have buckles or a hook-and-loop fastener on the hip belt, and the shoulders are tied as with classic slings. This makes them more flexible than full-buckle carriers, although they are not as quick to put on. Mei-Tais, for example, are half-buckle carriers.
Comfort
It is especially important that the wearer and the child feel comfortable. The baby carrier should therefore be adapted to the body measurements of both of them. Slings are easily adjustable, but they require more time to put on. Petite mothers usually manage best with them. The look of the baby carrier should also appeal to everyone. For more comfort, some carriers have padding in the buttocks and back area so that the child sits particularly softly.
Essential: the child's well-being

Not all children feel comfortable in a baby carrier. Therefore, it is important to test whether your child prefers a carrier or a stroller. If they are comfortable with both, you can use the baby carrier as an ideal supplement.
Carrying position
Since not all carriers can be worn on the hip, stomach, and back equally, you should consider which position you prefer and choose an appropriate model. Especially if your child is very small, you should choose a belly or hip carrier. The hip position is best when the baby is not sleeping so much. Carrying the child on your back is more advisable when the child is older, as they won't require as close monitoring. As the child gets older, it also gets heavier and puts strain on the pelvic floor of the carrier, which is why the hip position is then no longer recommended. If you want a carrier for the back, an Onbuhimo or a Podaegi is a good choice. The former is mainly suitable for short distances due to its one-sided load for child and carrier.
Posture of the child
The ergonomics of the baby carrier are also particularly important, as they have an effect on the child's physical development. The sitting area must be adjustable so that the joint socket is not damaged by an incorrect posture. In babies, the neck muscles need a few months before they are fully developed. Therefore, they cannot hold their head upright on their own and need a neck support. In order for the baby to maintain a healthy posture while sleeping, the carrier must completely enclose its back.
Handling
It is important to choose a carrier that is easy to put on and take off. Consider whether you would do better with a full-buckle carrier, a half-buckle carrier or a sling. If you are usually short of time, an SSC is a good choice as it can be put on or taken off in 15 seconds or less. If you change carriers frequently, a half-buckle carrier or sling is more advisable as they are easier and quicker to adjust. Make sure that the sitting area and neck support can be adjusted to the child.
Size, age, and weight of the child
It is also important how old, tall, and heavy the child is. The maximum load capacity of most carriers is between 28 to 132 lb (13 and 60 kg), depending on the material. Manufacturers usually offer models for different age groups, such as "Baby size", "Toddler size", or "Preschooler". The carriers differ in the width of the seat, the length of the back section, the shoulder straps, and the type of padding. Some baby carriers are suitable for several age groups. It is important that the carrier is well adapted to the size and weight of the child, because unlike clothes, the child cannot grow into it first. There are not only special carriers for newborns, but also inserts for normal models that can be removed when the child grows. Slings are especially recommended for premature babies, as they lack the closeness they had in the womb.
At what age is a baby sling useful?
In principle, newborn babies can already be carried in a baby sling. However, not all models are designed for this. Slings are usually more suitable for newborns. Until the child is one year old, it is recommended to use a hip or belly carrier. For newborns, an additional head support is recommended.
Material and workmanship
The baby carrier should be made of high-quality materials. To ensure that it lasts a long time, it must be stable and tear-resistant. The shoulder straps are important for support and comfort. Therefore, they should be wide and, if possible, padded. Since babies suck on the material, it must be free of harmful substances. When buying, make sure that the carrier has an eco-certification and GS certification. To ensure that you can also use the carrier in summer without any problems, it should be made of a fabric that is as light as possible, such as cotton, linen, or silk. Carriers made of polyester are very easy to clean, but they don't have good temperature properties. The child could quickly become too warm in it.
Accessories
Some accessories can be useful for the further protection and comfort of your baby. In cold weather, for example, a baby carrier jacket or cover can help. A baby carrier jacket is large enough to fit easily over the carrier and baby. Such jackets have an opening for the baby's head. They come in different designs, such as sweat jackets or fleece. Some models also have a removable lining so that the jacket can be used in any season. A baby cover is simply a large cloth that is pulled over the child to protect it from the elements. It is cheaper than a baby carrier jacket and can be used over normal clothing.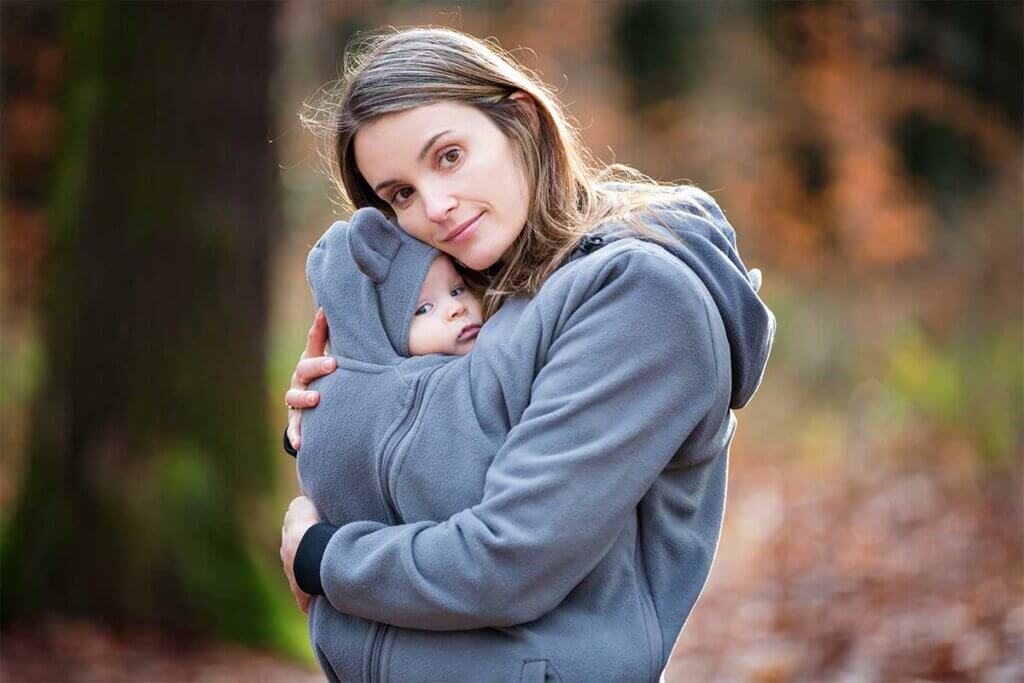 Tips for use
To keep you and your infant safe, you should use the carrier correctly. There are a few important aspects to consider.
What you need to consider when putting on the carrier
The right fit of the carrier is important: if this is right, the rest is usually just a matter of practice. Some babies don't like to be in a baby carrier or baby sling; they scream and cry when you try to put them in. This may mean that your baby is fundamentally more comfortable in a stroller, but it may also have physical causes. If you feel a physical problem could be the obstacle, talk to an doctor. In any case, keep calm, because your child senses your insecurity and frustration, which also makes it restless.
Make sure that the straps are adjusted correctly and that the baby carrier fits snugly against your body. When putting on and taking off the carrier, you should always have one hand on the child's back. Remember that putting on a baby sling requires a lot of practice because of the way it is wrapped. It is therefore best to practise on the bed or another soft surface beforehand.
To prevent you and your baby from falling, you should pay particular attention to your surroundings when carrying your baby. Don't bend at the hips, but at the knees. Remember that the safety of the child is more important than the speed of movement. It is also particularly dangerous if the baby carrier is tied too loosely. Then the child is tossed back and forth in it, its posture changes adversely, and in the worst case it slips out.
Attention

In the first few weeks after birth, mothers shouldn't use a hip carrier because their pelvic floor first has to recover and the pubic bone structure has to become firm again. If you have a slipped disc or back pain, you should always consult a doctor before using a carrier.
You and your baby shouldn't be dressed too warmly. The close body contact increases the warmth and since baby carriers are made of fabric, they act as an extra layer of fabric. Too much clothing will cause the baby to overheat. However, the baby's feet are sensitive, so you should always put socks, cuffs, or booties on your toddler.
The right position for your baby
To ensure that carrying your baby isn't just comfortable, but also safe for your baby's health, it must assume the correct position in the carrier. The so-called spread-squat position is especially important for newborns and babies, as it supports the natural development of the body. For this, the child must sit on the hip, bend the legs, and spread them slightly. From behind, this results in an M-shape. The baby's knees should be at about the level of the belly button. If the legs hang lower than the bottom, the child is sitting incorrectly. Since the hips are not yet fully developed, an incorrect sitting posture can lead to hip dysplasia, i.e. a misalignment of the hips. The baby's back should always be slightly rounded when being carried, as this supports the formation of the double-S shape of the back.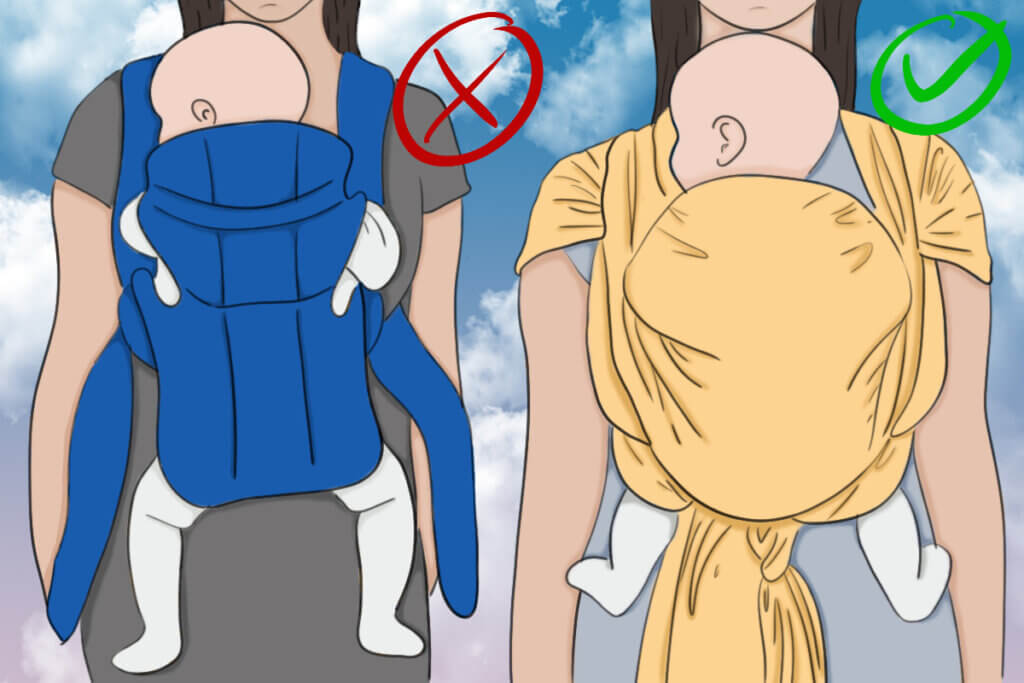 The child should always sit facing the carrier's body to ensure the correct posture. If it is carried facing forward, there is a risk of sensory overload, and both the baby's back and hips can suffer. Make sure your baby is protected from the sun and rain, but always gets enough air.
How to clean and care for the baby carrier
Body fluids, food, or milk can quickly make a baby carrier dirty. Regular care is essential so that it can be used for a long time. Most models can be washed in the washing machine at 90 °F (30 °C), some at 100 °F (40 °C). Some, however, may only be washed by hand, such as carriers made of polyester. You can find more specific information in the instructions for use.
In principle, a baby carrier should be washed about every 14 days if it is used regularly. Additional washing should only be done if the carrier is particularly dirty, as too frequent washing wears out the seams. Only use detergent without whiteners, otherwise it will harm the child. You should also avoid using fabric softener for this reason.
Many baby carriers shouldn't be put in the tumble dryer as the material will suffer. Particularly pre-shaped baby carriers usually become deformed as a result. Models with hook-and-loop fasteners aren't suitable for the dryer as they won't close properly. Before folding the carrier or using it again, make sure that it is completely dry.
---
Images 1-6: © FinalCheck | Image 7: © Tomsickova / stock.adobe.com | Image 8: © FinalCheck