Hand blender purchasing advice: how to choose the right product
What you need to know
A hand blender is a handy kitchen appliance that can be used to prepare smoothies, cream soups, and purees in seconds.
With different attachments, it becomes a true jack-of-all-trades, suitable for pureeing, blending, and chopping food.
While a battery-operated blender scores with its mobility, a corded device is not dependent on the battery charge.
An ergonomically shaped, non-slip handle, infinitely variable speed adjustment, and well-placed switches simplify handling.
The splashing, the amount of force required, and the noise vary depending on the product being blended.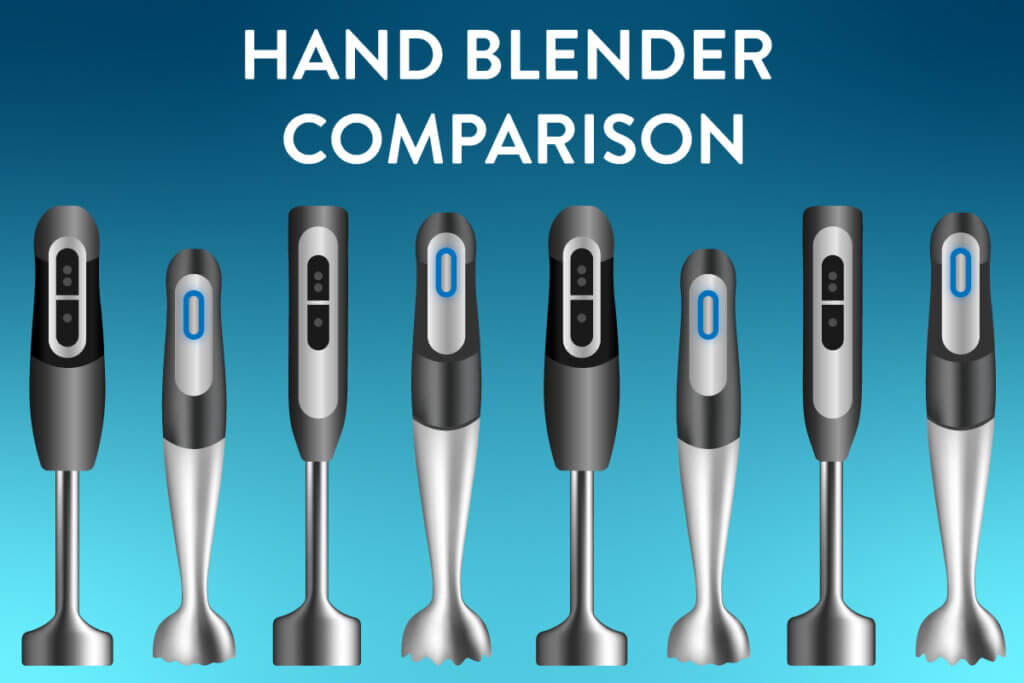 When preparing mashed potatoes, pea purée, and baby food many households have used the reliable masher for a long time. However, this requires not only a lot of strength, but also time. The more convenient solution is a hand blender, also known as immersion or stick blender. The electric kitchen gadget relieves hobby chefs and restaurateurs of tedious tasks such as chopping, whipping, and pureeing, which previously had to be done tediously by hand. In addition to making the work easier, users also benefit from a finer pureeing result. With a hand blender, you can whip up smoothies, cream soups, and sauces in no time at all. The sharp blades not only puree fresh fruit, but also chop vegetables, meat, and nuts; high-quality appliances even function as ice crushers. With its wide range of applications, the hand blender clearly stands out from the mass of kitchen appliances that can be found on the market. At the same time, its handling is so intuitive that it is also suitable for people who have little experience in cooking and baking.
Delicious dishes as if by magic

The hand blender made a name for itself early on as a portable kitchen appliance. In 1950, the Swiss Roger Perrinjaquet applied for a patent. Four years later, the ESGE company launched a hand blender on the German market under the name "Zauberstab der Hausfrau" (The housewife's magic wand) . In Switzerland, however, the appliance was marketed under the name Bamix, a combination of the French words "battre et mixer", meaning to beat and mix.
In addition to its handiness, it is especially its flexibility that makes the hand blender irreplaceable in many kitchens today. With its handy dimensions, the hand blender can also be conveniently taken along to use in a different kitchen. Depending on the amount to be cooked, it can be used in a small bowl or in a large pot. There is no need for tiresome decanting, as the food is chopped directly in the cooking pot. With a blender, users must use the pitcher provided. Unlike a food processor, which has numerous features but also takes up a lot of space, a hand blender takes up very little space. Thanks to its slim design, it can easily be stored in the cupboard.
Although it can replace a bulky food processor in many ways as a cheap alternative for occasional use, there are situations that push the hand blender to its performance limit. When kneading heavy dough or chopping particularly hard foods, for example, consumers are better off with a larger appliance. Finally, a food processor is also indispensable when grating vegetables or cutting them into thin slices. However, a hand blender rarely comes alone: in a set with a variety of accessories, it becomes a compact universal appliance.
Multifunctional helpers
Regardless of the manufacturer, all hand blenders have the same basic equipment: they consist of a handle with a motor block and a blending arm with rotating blades. With the exception of some cheap products, the base unit can usually be detached from the arm. The removable blending arm makes cleaning much easier. On the other hand, it can also be exchanged for other attachments.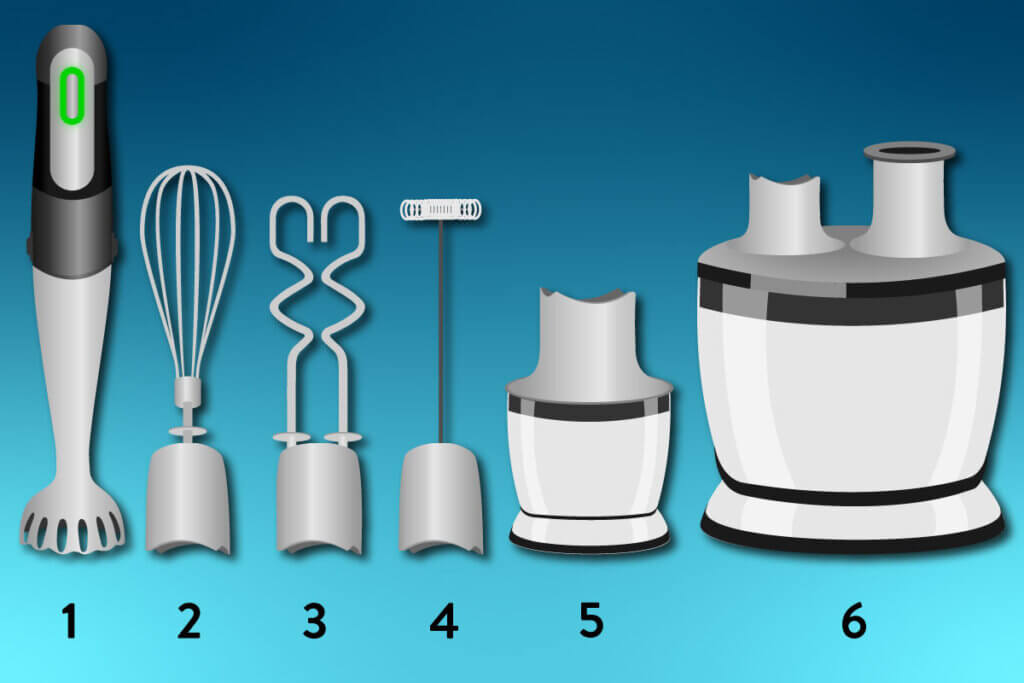 Stirring, mixing, frothing: the range of functions
The range of functions varies greatly from one appliance to the next. While simple hand blenders cannot go beyond simple pureeing and would be irreparably damaged if they came into contact with hard ice, some expensive brand-name appliances are real all-rounders. 3-in-1 or 4-in-1 sets make a food processor largely superfluous. The additional elements add numerous uses to the blender:
a whisk for whipping cream,
a dough hook for mixing cake batter,
a milk frother,
a universal chopper for chopping herbs, nuts, and onions, as well as
attachments for grinding cereals and coffee beans.
Which attachments are really necessary depends on the user's cooking preferences.
Blender cup, splash guard, and blade guard: accessories
Some manufacturers equip their hand blenders with additional accessories that would otherwise have to be purchased at great expense. Although additional accessories are not absolutely necessary, they do make working with the hand blender easier. In any case, a blender cup is useful. Ideally, it should be scaled, non-slip, and fitted with a lid so that you can keep the blender cup sealed in the fridge. If the cup has a spout, not a drop will go astray when filling shakes and smoothies. The filling capacity should be at least 17 ounces (500ml). A rubber base also ensures a secure stand and a handle makes it easy to transfer or carry.
Since the blades can cause splashes during blending that might end up on clothing or the worktop, a splash guard is recommended. A particularly high blender cup is often sufficient. Some manufacturers equip their appliances with a bell-shaped attachment at the lower end to prevent splashing. However, very high and deep blender bells cause a lot of residue to collect in them during pureeing.
Especially if the hand blender is stored in a kitchen drawer, it should be equipped with a blade guard. On the one hand, this minimizes the risk of injury, and, on the other hand, the blades don't come into contact with other objects, which could cause them to blunt. To ensure that the cable doesn't hinder users when pureeing, some appliances also have a small suction cup to fixate the cable to a kitchen tile.
From power to weight
Cooking fans can derive great benefit from a blender. However, they need to make sure that the appliance comes with everything needed for the desired uses. In the following, prospective buyers will find some tips and advice for their selection.
A question of consistency: performance
Before purchasing a blender, it is important to consider which dishes the blender will be used for. For milkshakes and soups, a hand blender with low power is perfectly adequate. If, on the other hand, you frequently chop solid foods, you would be better off with a more powerful device.
The wattage
The range extends from products with just 150W to 1,000-watt models. The higher the wattage, the more efficiently even hard components can be chopped and the less force users have to apply themselves. The power should never be less than 200W, as the pureeing result would be uneven in this case. Nuts and frozen fruit would only be coarsely chopped or the motor might even overheat. At 600W and above, even the hardest ingredients are chopped. For everyday use, however, wattages between 200 and 500W are sufficient. The wattage required depends on what is to be shredded:
| | | | |
| --- | --- | --- | --- |
| Mixed goods | Smoothies, milkshakes, cream, dips, curd, sauces, soft fruit such as bananas, and berries | Apples, pears, pineapples, and pasta | Nuts, meat, frozen fruit, vegetables, seeds, and ice cream |
| Power | 300 to 350W | 400 to 700W | from 700W |
The performance requirements for various foods at a glance.
The speed
In addition to the wattage, the speed also influences the function and quality of a hand blender. The speed describes revolutions per minute (rpm) of the blade and can be between 10,000 and 20,000 rpm, depending on the model. Basically, the higher the speed, the finer the pureeing result. More solid foods such as frozen fruits and nuts require higher speeds, whereas soups and sauces need to be processed at a lower speed.
While the simple models only have an on/off switch, in other words a standard speed, and thus only have a few preparation options, other appliances are equipped with switching levels. Regulating the speed allows flexibility, as the speed can be varied individually depending on the consistency of the food. Although three levels are sufficient for normal household use, a stepless setting allows for even more precise operation. The adjustment is made either by applying pressure to a button, which requires some sensitivity, or via a wheel. However, appliances with stepless adjustment are not standard, but are found without exception in the higher price segment.
For fast, demanding chopping, a turbo button is useful. It provides full power and chops hard foods in no time. However, it is only designed for operation for a few seconds. If it is pressed for too long, overheating can occur.
How loud is a hand blender?

At speeds of more than 10,000 revolutions per minute, a high noise level is inevitable. The higher the speed, the louder the hand blender. In addition to the speed level, the noise level also depends on the food being blended. On average, values in the range of 60 and 80 dB result. While a volume of 60 dB is comparable to a loud conversation, 80 dB is close to the noise of a lawn mower. However, since a hand blender is never used for very long, there is no health risk.
Cord versus battery: the operating mode
In terms of operating mode, consumers have a choice between corded and battery-powered appliances. Mains-powered blenders are not limited by battery life. However, they are always tied to a socket, and their cable can sometimes be annoying, as it not only significantly restricts freedom of movement, but could also get caught on vessels placed on the worktop.
Models with integrated rechargeable batteries work independently of the mains connection and are more flexible in this respect. Since they can be carried anywhere, users can, for example, use them without any problems even if the pot is still on the cooker. In principle, this is also possible with a corded appliance, but users must be careful that the cord doesn't come into contact with a hot plate.
Cordless models have two decisive disadvantages. Their battery only lasts for a limited time. Users must therefore take forced breaks when the battery is empty. An LED light usually indicates the remaining battery power. So if you regularly want to puree larger quantities, you should go for a hand blender with a cable. For these, a longer operating time is no problem. In addition, battery blenders are usually heavier due to their powerful battery.
Flexible, simple, and convenient: handling
When choosing a blender, make sure it is easy to use. If you opt for a corded hand blender, you will have to consider the length of the cable, for example. A short cable makes it difficult to use, especially if the socket is far away from the work surface. However, the power cable should not be too long so that it doesn't get caught on other objects. A cable length of between one and 60 inches (1.5m) usually offers enough leeway. A spiral cable is particularly flexible, as it only grows to over two meters long if necessary.
Ideally, blenders with interchangeable attachments have an easy-click system. This allows the blending arm to be removed with just one movement and without much effort. The quality of the handle is also important. An ergonomically shaped, rubber surface not only provides slip resistance, but also ensures that the hand blender lies comfortably in the user's hand. The better the grip is adapted to the hand, the less force users have to exert when holding. For comfortable use, the switches must also be sensibly positioned. The on/off switch, as well as the speed settings, should be positioned so that they are easy to reach without having to use a second hand.
Safety first
Since a hand blender uses sharp blades, users should not neglect safety. Children are not the only ones to benefit from a child safety lock that prevents accidental switch-on; it also protects adults from injury, for example when reaching into the drawer. Even safer are appliances that have a latch or a pressure point that users have to press or hold down to start the motor and set the blades in motion. This safety feature ensures that the blender cannot be switched on without pressing the button.
A non-slip handle ensures that the appliance always sits securely in the hand, even when it is wet. A heat-resistant cable is particularly advantageous when dealing with hot plates. But even if the cable should withstand higher temperatures, the cable should not come into contact with hot pots and pans or even hot plates. It could melt and lead to a short circuit. The appliance itself should also have overheating protection, such as an indicator light that warns the user in good time. Some appliances switch off automatically before the motor gets too hot.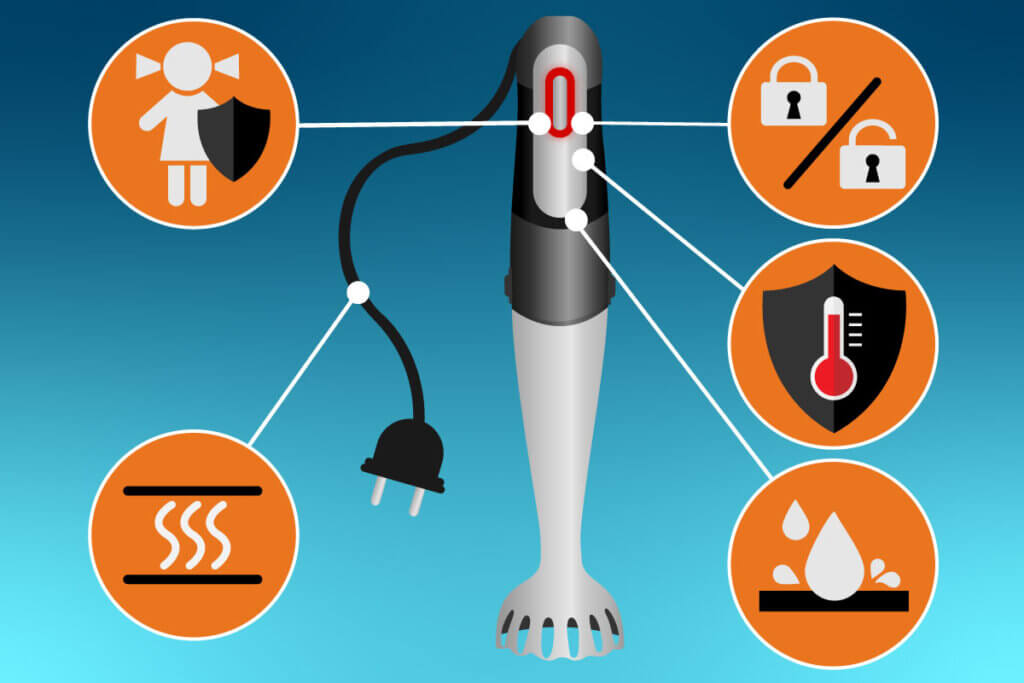 Preferably light weight
Hand blenders weigh between one to two pounds ( ½kg and 1kg). At first glance, the differences in weight do not seem significant. However, it should be borne in mind that they are very noticeable during prolonged use when the hand begins to tire. In addition, handling a heavy hand blender requires a certain amount of strength for foods that offer greater resistance. A light weight, on the other hand, makes for easier handling. Here, just a few ounces can make a big difference.
Just as important as the weight is the size of the blender. Small devices (approx. 12″/30cm) can be stored in a drawer to save space. However, it is difficult to use them in very tall containers and they can also cause burns on the hand if the food is hot. Longer blenders (approx. 18″/45cm) take up more space, but are more versatile and less likely to burn.
Stainless steel or plastic: the material
Since it is an object of daily use in many kitchens and, on top of that, processes food, prospective buyers should make sure that the blender is of high quality. This applies to both the housing and the blades. However, the quality depends not only on the workmanship, but also on the choice of materials. Of course, the higher the quality of the materials, the more durable the hand blender.
The housing
When it comes to the housing material, buyers have a choice between plastic and stainless steel. Plastic, the cheaper option, is easy to clean and very hard-wearing despite its light weight. Users can choose from various colors and patterns. However, the material doesn't withstand high temperatures as well as stainless steel, which makes pureeing hot soups problematic. Plastic hand blenders are also more susceptible to breakage and scratches. Spices such as turmeric cause the material to discolor. Finally, prospective buyers should make sure that the appliances are free of plasticizers or more precisely the pollutant bisphenol A (BPA).
Stainless steel blenders are more expensive, but they also have some advantages. The material not only looks more elegant than plastic, but is also much more stable. This goes hand in hand with a longer lifespan. However, a solid stainless steel version is somewhat heavier. The greater maintenance effort is another drawback. A good compromise are models with a stainless steel arm and a plastic body.
The blades
The quality of the blades plays an important role in the blending result. That is why most manufacturers use stainless steel, which ensures good and, above all, consistent cutting quality. Ideally, the stainless steel blades have undergone a special hardening process, which makes them extremely sharp, stable, and durable. However, there is one material that even trumps stainless steel: blades made of titanium are not only exceptionally light, but six times as hard as stainless steel blades. This means they stay sharp longer and deliver very good results even with hard foods.
Number and arrangement of blades

Most hand blenders have two or three blades, but it would be better to have four (two vertical and two horizontal) so that you can chop harder foods quickly and effortlessly. The higher the number of blades, the finer and lump-free the blending result.
Correct use and cleaning
Using a hand blender is as easy as can be: put food in a container, hold the blending arm on the food and press the start button. Thanks to its compact size, it can even be operated with just one hand, leaving the other hand free to hold the container, for example.
How to make every dish a success: tips for food preparation
When using a blender, a certain amount of caution is always advised. The following tips should be followed when preparing food:
When chopping hard foods, it is helpful to add a little water.
For foods that contain a lot of liquid, it is advisable to puree at short intervals and only increase the speed slowly to avoid splashing.
Cut the fruit and vegetables into smaller pieces beforehand to make pureeing easier.
Assist the blender by moving the appliance up and down while holding the container.
Be careful not to raise the blender head too high, as this will cause splashing.
Use slim, tall blender cups to avoid splashing. If you don't have these to hand, a tea towel or piece of kitchen paper placed over the container will help.
If the mixing cup is a little wider, it helps to make light circular stirring motions to speed up the mixing process.
For smaller quantities, a mixing cup with a smaller diameter is better so that the blending arm can be completely immersed.
When processing hot liquids, it is important to keep a distance. If splashes occur, there is a risk of burns.
Only press the start button when the blender head is completely immersed in the food.
The blender head should never reach all the way to the bottom, but always keep a sufficient distance.
If food residues get stuck between the blades, remove them with a brush or sponge, but not with your bare fingers.
Smoothies, creams, and more

A blender is ideal for smoothie creations. In addition to frozen fruit, you can add water, milk, or yoghurt as you wish until the desired consistency is reached. There are no fixed preparation rules when combining the ingredients: you can combine fruit and vegetables with oat flakes, chia seeds, spices, or fresh herbs as you like. Adding ice cubes makes the smoothie refreshing. Apart from smoothies, a blender can also be used to make protein shakes, sauces, pestos, cream soups, sorbets, salad dressings, and dips among other things.
Cleaning tips
After the work is done, the blender needs to be cleaned. This is particularly important to ensure that food preparation always remains hygienic. Conveniently, most appliances have a removable attachment that can be cleaned in the dishwasher. Ideally, you should clean the appliance immediately after use, as this prevents food residues from drying. After a while, some residues can prove to be very stubborn, making them difficult to remove even in the dishwasher. It is generally advisable to wash the blade attachments by hand, as the high temperatures in the dishwasher will cause them to lose their sharpness in the long run. If you don't have the time for a complete cleaning, it is helpful to temporarily soak the blender head in a container with water and some washing-up liquid. Make sure the attachment is completely submerged in water and switch on the appliance briefly.
Clean the housing and the cable every now and then with a soft, dry or slightly damp cloth to remove any splashes. However, the motor block must never be immersed in water. Sharp cleaners, alcohol, and scouring pads are also unsuitable. To prevent discoloration on the blender head or measuring cup, rub the affected areas with cooking oil and then wash off.
The most popular brands
There is now a wide variety of hand blender models in different price ranges on the market. Simple appliances without accessories and only little power are available for as little as ten dollars. In the medium price segment, i.e. for about $30 to $40, the hand blenders are of a higher quality. They are usually equipped with a higher output of about 500 to 600 watts and at least one blender cup. From $60 upwards, consumers get top models with high-quality workmanship, a powerful motor, and numerous accessories. The more money those interested in buying spend, the more accessories they typically receive in the scope of delivery.
Braun, for example, is among the well-known manufacturers on the market today. Some of its high-quality blenders have long been bestsellers, including the new flagship in the range, the Braun Multiquick 9 hand blender MQ 9087X. In addition to a powerful 1,000-watt motor, the all-rounder has a wide range of accessories for food preparation, be it for pureeing, kneading or mixing, which can also be replaced with just one click. Thanks to ActiveBlade technology, the blade moves up and down depending on the amount of pressure applied, with 2.5 times the active cutting zone and 40 per cent less effort.
Another multinational manufacturer with German roots is Bosch. Bosch has many high-quality products in the home sector. Its blenders are generally high-quality and can be found in various price categories. High-priced Bosch products are characterized by their stainless steel housing and 4-blade system. Philips offers very powerful hand blenders with matching accessories for flexible and convenient use. Lower-priced entry-level models with a lower wattage can be found at Siemens, among others.
However, a lower wattage doesn't have to mean a loss of performance: the ESGE wand may only have 200W, but it is still a popular wand blender in both private and professional kitchens. This is due on the one hand to its solid, durable workmanship, and on the other hand to its 17,000 rpm performance. Kenwood also offers a similarly stylish design.
---
Images 1-3: © FinalCheck