Integrated dishwasher purchasing advice: how to choose the right product
What you need to know
Dishwashers are one of the most popular household appliances in many parts of the world.
For a newly planned kitchen, an integrated dishwasher that fits seamlessly into the kitchen is the best choice.
It has been proven that washing dishes with an integrated dishwasher uses significantly less water than washing dishes by hand.
Most kitchen items today are dishwasher-safe. This means that heat damage caused by washing in a dishwasher has become very rare.
What is an integrated dishwasher?
Everyone knows the situation: the shared meal with friends and family was nice, but no one feels like washing all the dirty dishes. How good it is if your dishwasher is already waiting for its turn in the kitchen. Dishwashers are machines specifically designed for cleaning tableware, cutlery and cookware, as well as a variety of kitchen utensils.
Dishwashers clean dishes by rinsing them with hot water at high pressure, while a special dish cleaning agent works inside the machine to dissolve food residues. After the rinse cycle, the dirty water is pumped out and another rinse cycle with clean water takes place.
The main distinction of an integrated dishwasher is that it is built into existing kitchen furniture and becomes part of it, i.e. it is integrated. This distinguishes it from freestanding or simple built-in dishwashers, which are installed next to or under the worktop without being connected to the kitchen furniture.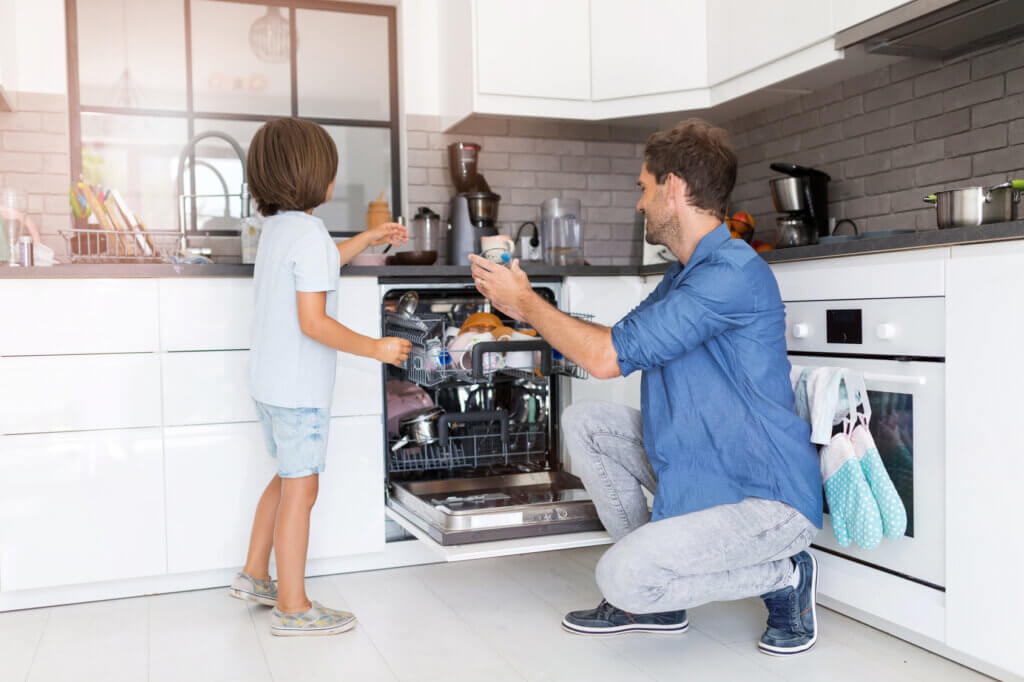 The invention of the dishwasher
The dishwasher is now considered to have been invented by Josephine Cochrane, who filed a patent in 1886 for a water-pressure-powered cleaning machine for kitchen utensils. Miele built the first dishwashers in Germany and Europe from 1929. However, it was not until the 1960s that the dishwasher became widespread in Europe.
Common types
Integrated dishwashers are now the most frequently purchased type of dishwasher. Depending on your individual requirements, there are a few different variants of the integrated dishwasher. Common types are:
Fully-integrated dishwasher
Semi-integrated dishwasher
Integrated dishwasher for single households with a smaller width
Fully-integrated dishwashers
These are the "undercover agent" dishwashers. This is because, after installation in the intended kitchen cabinet, they are fitted with a furniture panel that is visually indistinguishable from the adjacent doors and drawers in the kitchen. This makes fully-integrated dishwashers virtually invisible. In such models, the operating elements are located on the inside of the flap and are therefore only visible and usable when opened. Functionally, fully-integrated dishwashers offer no significant special features compared to other models.
Advantages
Kitchen cabinets don't get interrupted by a machine
Additional noise insulation thanks to the mounted panel
Just as powerful as comparable freestanding or semi-integrated models
Best suited for design purists
Disadvantages
Sometimes more expensive than other models
The appliance can only be controlled when the door is open
Assembly of the cabinet front may be difficult
No display possible on the outside of the appliance (e.g. to show time remaining)
Semi-integrated dishwashers
Compared to fully-integrated models, semi-integrated dishwashers are also fitted with a matching furniture panel. However, this ends under the appliance's control panel, which remains visible and freely accessible at all times. The color of the control panel can vary. Today, appliances with a stainless steel control panel are particularly popular. However, panels in white, black or brown are also available to match your kitchen. Often, the control panel also has a display that shows all the information about the current wash cycle or, when not in use, the time.
Advantages
Control panel can be used as an additional design element
The controls can be used and read at any time.
No difference in performance to fully-integrated models
Sometimes cheaper comparable fully-integrated dishwashers
Disadvantages
Usually somewhat higher noise level than fully-integrated models
No uninterrupted kitchen front possible
Installation of the front panel often more complicated than with fully-integrated dishwashers
Does not fit into every kitchen due to the control panel design.
Slimline integrated dishwashers for singles with smaller widths
Most fully or semi-integrated dishwashers available on the market have standardized dimensions so that they can be installed in standard, 60 cm (Europe) or 24 inch (61 cm) (US) cupboards. If your kitchen is not large enough for this or you simply don't need that much dishwasher space, a slimline dishwasher is a good solution. These appliances have a reduced width of 45 and 50 cm in Europe or 18 and 22 inches in the US. They are designed for households with a lower volume of dirty dishes, but are otherwise just as efficient as their big siblings. Most single models use less water than larger dishwashers. In fully planned kitchen units, however, it is difficult to retrofit a wider appliance if, for example, the volume of your dishes increases due to an addition to the family.
Advantage
Enable automatic dishwashing even in the smallest kitchens
Often use less water than larger models
Available as fully and semi-integrated models
Save space that can be used as storage space
Disadvantage
Often more expensive to buy than a normal-width model
If more dishes are collected, one rinse cycle is not enough
Cannot be integrated into all kitchens
It is often not possible to install a wider appliance at a later date
Buying tips
Once you have decided that your kitchen is to be fitted with a semi or fully-integrated dishwasher or an extra narrow appliance, there are some more choices to make. This is because there is a wide selection of all variants available on the market from numerous manufacturers. Prices for an integrated dishwasher start at roughly $300 and go up to around $1,500, – this does not necessarily make the decision in favor of a particular appliance any easier. In addition to the results of a dishwasher test, the following tips can help you find an appliance that suits your own requirements and needs.
Consider the installation location for the dishwasher
Even before buying, you should be clear where you will install your integrated dishwasher. In existing kitchens, the amount of space you have is usually determined by the old appliance. If the kitchen is being redesigned, the water and electricity connections should not be forgotten. As a rule, it is best to install the appliance near to your sink. In this case, the sink's water connection can be used without any problems and there is no need to run a long, trouble-prone supply and drain hose through half the kitchen. Also important: before buying, check whether the kitchen manufacturer offers suitable front panels for the appliance at all, or at least whether they can be cut from other visually suitable panels.
How many dishes should fit in the dishwasher?
This is a very essential question. After all, the dishwasher you choose should ideally clean all the dishes from a meal for the whole family in just one wash cycle. Most standard-sized dishwashers are designed for 12 to 14 standard place settings. Of course, smaller appliances will fit far fewer. However, if there is no more space for the dishwasher, a narrower appliance is the best possible compromise between space requirements and capacity.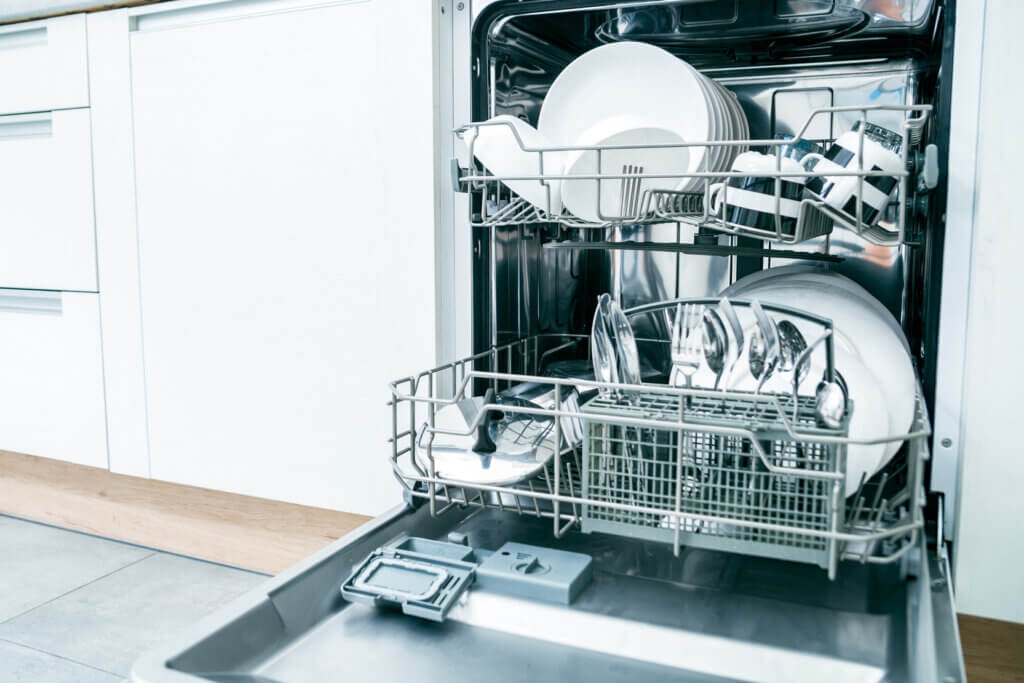 Extra tip: It is worth checking whether an integrated dishwasher is equipped with cutlery trays, height-adjustable baskets and other additional features. They often make loading and unloading the machine much easier, saving time and effort.
What is a standard place setting?

This is a standard to indicate the capacity of a dishwasher. The EU standard EN 50242 specifies exactly what a place setting consists of: a soup plate, a dinner plate, a dessert plate, a saucer, a cup, a drinking glass, a fork, a knife, a dinner spoon, a tea spoon and a dessert spoon.
Energy and water consumption
When buying an integrated dishwasher, it is important to consider how much electricity and water the appliance consumes per wash cycle. It is worth comparing several appliances of equal quality in terms of features and technology. This is because some of them differ enormously in terms of water and electricity consumption. If you can estimate how often the machine is used each year, you can easily find out how much money you can actually save with a more economical integrated dishwasher. Information about the environmental compatibility and energy requirements of the appliance is provided both by the energy label and the consumption values given in the specifications.
Handling, ergonomics and clarity
Anyone who uses an integrated dishwasher daily needs an appliance that is easy and intuitive to operate. So before purchasing, check that all the operating elements are arranged so that they are easy to reach. Semi-integrated dishwashers often have an advantage over fully-integrated appliances in this respect. One of the reasons for this is that their display informs the user at all times about the set washing program and its progress. It is also important that the individual programs are clearly marked and the symbols of the controls are easy to read. This makes it easier to operate the appliance.
Features and functions
The features and functions offered by an integrated dishwasher are usually closely linked to the price of the appliance. Higher-quality and thus more expensive machines usually provide you with significantly more washing programs and additional functions. Here it is important to weigh up what you actually need, and what is overkill. As a minimum, you will want at least two to three programs with different temperatures. This means you can adapt the cycle depending on how dirty your dishes are.
Some models also have special programs for glassware or for half-loads, or offer the option of a start-time preselection. High-quality models in particular often have an energy-saving mode. You should therefore decide before buying which functions you absolutely need and which you can safely do without. Less important are, for example, short programs, gentle programs and an automatic door opening function. They are usually only used very rarely or are simply unnecessary – all they do is drive up the price of the machine.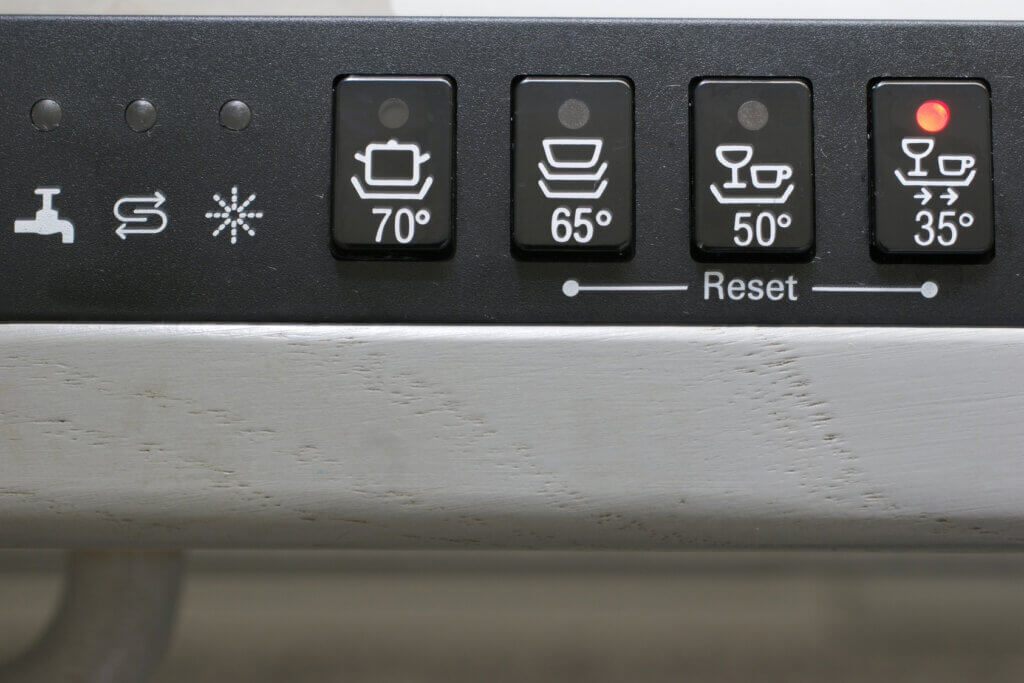 Drying efficiency of integrated dishwashers
Integrated dishwashers sometimes differ significantly in their drying effectiveness. With high-quality machines, your dishes come out of the appliance virtually "dust-dry" at the end of the wash cycle, while many inexpensive models, in particular, will require almost all parts to be dried again by hand. In this respect, integrated dishwashers with zeolite technology perform best. Zeolite reacts with water, absorbing it and releasing heat in the process. This makes it possible to achieve optimal drying results. Of course, this has its price: you should budget at least $600 for models with zeolite technology.
Safety
Water damage due to a leaking dishwasher can be expensive. In fact, some insurance companies won't cover the costs if your integrated dishwasher is not equipped with safety guard. Therefore, make sure that the dishwasher you buy at least has an aquastop system. All-round water protection is even better. In machines equipped with this system, the valve with the hose usually disappears completely out of sight inside the dishwasher. If there are small children in the household, your integrated dishwasher should also be equipped with a child lock. It prevents the appliance from being opened and switched on unintentionally and can thus prevent serious burns and scalds.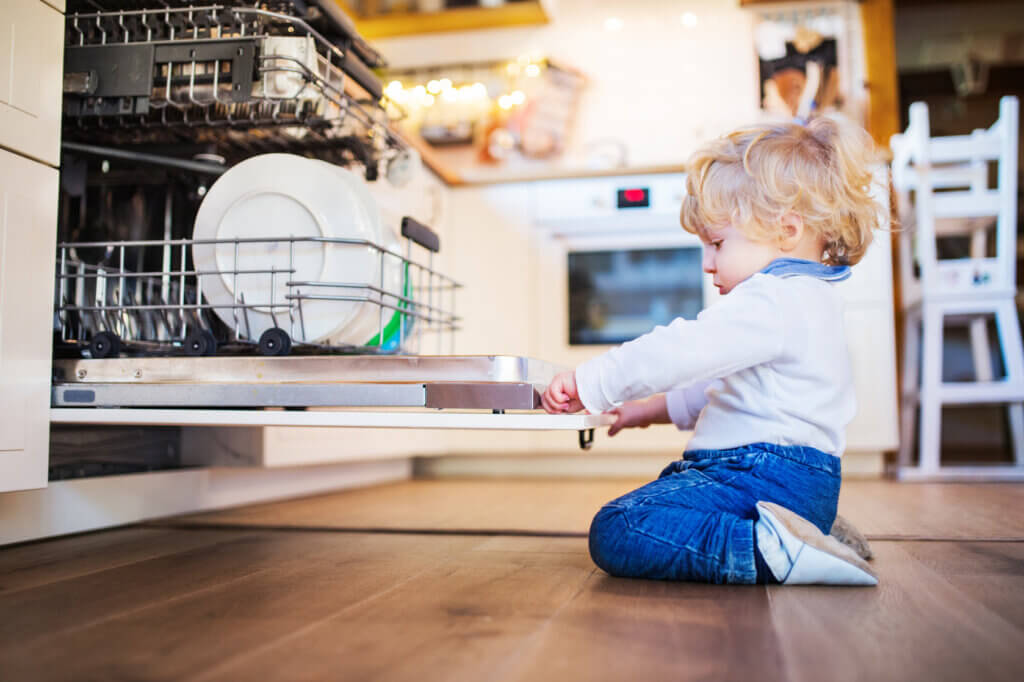 Noise output
People often neglect considering the operating volume of a dishwasher when choosing a model, only to find out that it is quite loud once it's already installed. This quite common, especially with low-priced machines. It is therefore well worth comparing the decibel levels of different dishwashers before buying. If possible, go for a machine with a low value. However, other factors, such as energy consumption or safety, should always be given greater weight.
Tips on use and care
To get the best possible performance out of an integrated dishwasher, it is important to familiarize yourself with all the functions and programs before putting it into operation. This enables optimal use of the appliance. This in turn results in lower consumption of electricity and water. Reading the appliance manual carefully is therefore an absolute must for every buyer.
Do not overload the integrated dishwasher
This glass still has to go in and this pot too. Anyone who constantly overloads their dishwasher is not doing themselves any favors, because the cleaning performance always suffers as a result. The fuller the machine, the less water and detergent reach the last corners.
Clean integrated dishwashers regularly and use dishwasher salt
The front of the dishwasher and the controls should only be cleaned with warm soapy water and never with harsh detergents. It is advisable to use a special dishwasher cleaner at least once a month. It removes stubborn dirt and grease deposits, prevents bad odors and thus maintains the machine's performance. The filter should also be cleaned regularly to ensure that the dirty water runs off unhindered. If you also use dishwasher salt, you will counteract hard water and limescale deposits on your dishes.
Do not overdose detergents
Dishwasher tablets are always preferable to liquid dishwashing detergent. The latter can easily lead to overdosing. This not only affects the cleaning performance but, in the worst case, damages the machine.
Warning

Never use normal detergent in an integrated dishwasher! This will cause extreme foaming, which can lead to defects in the appliance.
---
Image 1 © pikselstock / stock.adobe.com | Image 2: © leszekglasner / stock.adobe.com | Image 3: © matthias21 / stock.adobe.com | Image 4: © Halfpoint / stock.adobe.com