Pram purchasing advice: how to choose the right product
What You Need to Know
Combination prams can be converted from a pram to a buggy and can be used from birth up to an age of about four years.
The GS mark and the TÜV badge guarantee that the pram has been tested and thus provide parents with guidance on safety issues.
A safe pram should be equipped with a padded 5-point harness, a powerful parking brake and good suspension.
On asphalt paths, smaller rubber wheels are perfectly adequate, while larger pneumatic or air-chamber tyres are recommended for uneven forest or field paths.
What do I need a pram for?
There are hardly any parents-to-be who don't ask themselves the question about the right pram. It is high on all first-time baby equipment lists and keeps parents mobile. Carrying a baby in a sling, a carrier system or simply in the arms becomes strenuous in the long run, especially with the increasing weight of the child, and puts a strain on the back. A pram is therefore the ideal solution for longer walks and excursions. Most prams can be folded compactly for car journeys and simply stowed in the boot. So it can be taken everywhere and becomes the family's constant companion.
Sleeping aid and storage space
The rocking of the pram soothes many babies and helps them to fall asleep. In addition, the pram tray and the canopy shield the baby well and offer protection from wind, rain and sun. And there is room not only for the baby in the pram, but also for shopping and all the baby care utensils without which parents can hardly go on longer trips, such as spare nappies, wet wipes, disinfectant gel or feeding bottles.
In our pram comparison, we show which different models are available and what is particularly important when buying.
Which pram is the right one?
The first step in choosing a pram is deciding which type is right for you. Which model is the right one depends primarily on the age of the child and the terrain on which the pram will be used. In the following, we present the most common types of prams with their respective advantages and disadvantages.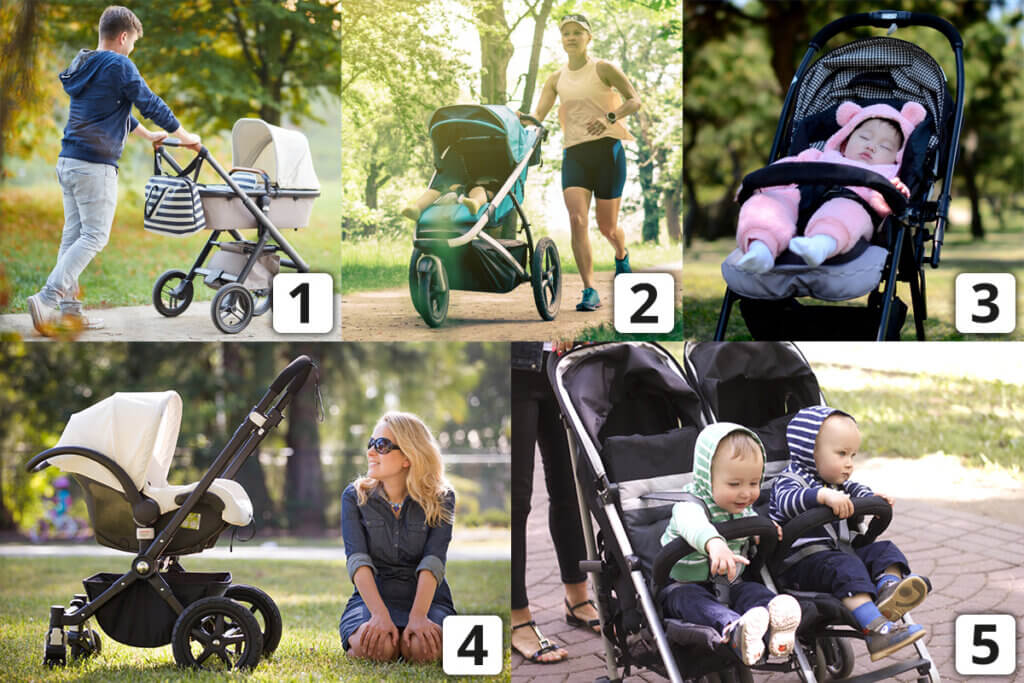 The first pram: the safe one
The first pram is a pushchair with a fixed carrycot. It is designed for the early days and is intended to offer the baby sufficient protection and peace of mind from birth onwards. For this purpose, typical first-time models are equipped with a canopy. It is also important to have a large, flat lying surface, a stable, robust frame and good suspension so that the baby's sensitive spine is relieved and protected. To ensure a smooth ride even on uneven surfaces, most of these prams are equipped with large, wide pneumatic tyres that largely absorb vibrations.
Trendy as retro prams

The design of the first-time prams is often reminiscent of the classic prams from the 70s. This helps these models compete with the combination pram. After all, "retro prams" are currently in vogue. These include prams with a wicker basket baby seat or in an extravagant leather look.
The advantage of this type is that it is precisely designed to meet the needs of babies. Its disadvantage compared to a combination pram is that it cannot be converted into a pushchair and can therefore only be used for the first six to eight months until the baby reaches sitting age. Then a successor pram with a seat function and sufficient space becomes necessary. Most commercially available first prams cost between 400 and 800 euros and weigh between ten and twenty kilograms.
Pro Points
Stable and robust
Large, flat lying surface
Precisely designed to meet the needs of infants
Very good suspension
Drawbacks
Can only be used up to sitting age
Joggers and sports buggies: the sporty ones
As their name suggests, joggers and sports buggies are aimed at sporty parents who want to take their offspring for a run or extended walk. This type of pram is designed for rough terrain such as field and forest paths and therefore has large running wheels. Some models are three-wheeled and therefore particularly manoeuvrable. At the same time, joggers and sports buggies are very robust. To ensure that the child sitting in it is not shaken too much on sporty journeys over hill and dale, parents should pay attention to good suspension.
Testing the suspension of the pushchair

If parents want to find out whether the suspension of a pushchair is sufficient, a test drive over different surfaces is the best way to find out. In this way, the model and its suspension can be assessed under real-life conditions. It is also advisable to place a weight, such as two 1.5-litre water bottles, in the pushchair to test how the model handles under load.
As a rule, sports buggies and joggers have a large, comfortable seat with adjustable backrest and hood. However, they are not designed for lying down. Therefore, they are only suitable from an age when the child can already sit. This type of pram is therefore a good successor to the infant pram. Depending on the manufacturer and model, joggers and sports buggies cost about 50 to 800 euros. With weights between about 10 and 15 kilograms, they are usually somewhat lighter than a first-time stroller.
Pro Points
Manoeuvrable
Robust
Large, comfortable seat
Suitable for rough terrain
Drawbacks
Partially high weight
Only suitable from sitting age
The buggy: the practical one
The buggy is a compact and lightweight version of the sports buggy or jogger. This type of pushchair is aimed at toddlers who can already walk or are in the process of learning to walk. When the toddler has run out of steam or is tired after walking for a long time, he or she takes a seat in the buggy and can be pushed. The backrest can usually be folded back to create a reclining surface so that the child can take a comfortable nap. However, buggies are not designed for prolonged lying down. The same applies to rough terrain. Parents will have little fun with a buggy here because of the small wheels. It is more suitable for journeys on paved roads and footpaths.
Modern buggies often weigh between five and ten kilograms and are therefore particularly light. On the other hand, they are less stable and robust than heavier sports buggies.
Good buggies can be folded and unfolded very easily, ideally with a flick of the wrist, making them uncomplicated and space-saving to transport in the car or other means of transport. They are also equipped with swivel wheels that make the vehicle particularly manoeuvrable. Compared to other types of prams, buggies are rather cheap to buy. Very simple models are available from 35 euros.
Pro Points
Compact and manoeuvrable
Low weight
Easy to fold and unfold
Comparatively cheap
Drawbacks
Only suitable from sitting age
Not suitable for rough terrain
The combi pushchair: the flexible one
The so-called combination pram combines a classic pram and a sports buggy and thus the advantages of both types in one model. It is available as a 2-in-1 pram with carrycot and buggy attachment and as a 3-in-1 version with an additional attachment for the infant carrier. This makes the combi stroller suitable from the baby's birth until around the age of four. Once the child has outgrown the infant carrier and is able to sit, parents simply convert the pushchair into a buggy and continue to use it in this way. This saves them having to buy a successor model – probably the main reason for the great popularity of the combination pram.
The combi pushchair is the most flexible of all pushchairs. Parents can also carry the removable carrycot separately. For example, if the baby falls asleep in the pram during a walk, parents can carry it into the house in the carrycot and leave the pram in the hallway. When converting to a buggy, the seat attachment can be used in both directions. Parents can therefore decide, depending on the situation and their needs, whether the child should look towards the parent pushing the pushchair or towards the front during the journey.
However, most combi prams are considerably larger and heavier than a buggy or pushchair. Most models weigh 15 to 25 kilograms. This is a particular disadvantage for parents who often want to transport the pram in the car or on public transport, or who have to carry it up and down stairs. Depending on the manufacturer and model, common combi prams cost 200 to 1,000 euros. More expensive models often come with a lot of extra equipment.
Pro Points
Can be used from birth to 4 years of age
Combines several types of prams in one model
Portable carrycot
Fixed lying surface
Protection from wind and weather
Drawbacks
Comparatively large and heavy
The sibling or multiple pram: space for several children
There are special prams for multiples or siblings with a short age gap. This not only saves parents from having to buy several prams, but also gives them a great deal of freedom. After all, trips with several babies or toddlers are an organisational challenge that can be mastered more easily with a multiple or sibling pram.
Depending on the model, there is room for two or more children next to or behind each other in a sibling or multiple pram. The advantage of the double-seat version, i.e. with two seats next to each other, is that the siblings can communicate well with each other during the journey. However, such models are very wide, so that narrow passages, paths and doors quickly become a problem. They are also difficult to stow in the boot. In contrast, the tandem version of the stroller, in which the seats are one behind the other, is much narrower but also longer, and the children cannot occupy themselves with each other in it.
For siblings with a small age gap, a sibling pushchair with a carrycot and buggy attachment is a good choice. With combination models, the carrycot can later be replaced by a second seat. For slightly older siblings who can already walk safely, a footboard for the pram is an inexpensive alternative.
One advantage of larger prams for parents is the extra storage space they provide.
Pro Points
Several seats/reclining places in one model
One purchase for several children
Plenty of storage space
The most important buying criteria: These are the things you should look out for
The market offers a huge selection of prams. Well-known manufacturers outbid each other with new models and vie for the favour of buyers. It is no wonder that first-time parents feel overwhelmed by such a wide range of products. By listing and explaining some of the important buying criteria, we would like to give consumers some guidance to help them find their way through the pram jungle.
Safety
It is particularly important that the pram offers the baby or toddler sufficient safety. This includes good suspension and a padded seat or reclining surface, so that the child is not jolted when being pushed over uneven terrain and, in the worst case, suffers injuries. Good suspension is also very important for babies so that their still very sensitive spine is adequately supported.
Secure footing and a powerful parking brake
When buying a pushchair, consumers should make sure that the chosen model has a safe, stable stand so that it does not tip over too easily. They can test the stability by shaking the frame and the carrycot or carrycot a little. You should also try out the parking brake to test its strength. A locked pram must not roll away in the park or on the bus or train.
Safety belt, quality seal and road safety
To ensure that the child sits safely in the pushchair or buggy and cannot fall or slip out, the pushchair should be equipped with a harness system and a sturdy safety bar. A well-padded 5-point harness secures the child sufficiently without cutting in uncomfortably.
In addition, it is important that the pram is clearly visible in the dark. Some models are equipped with reflectors and lights for this purpose. However, users can buy both of these at a later date if they wish to equip the pram with them.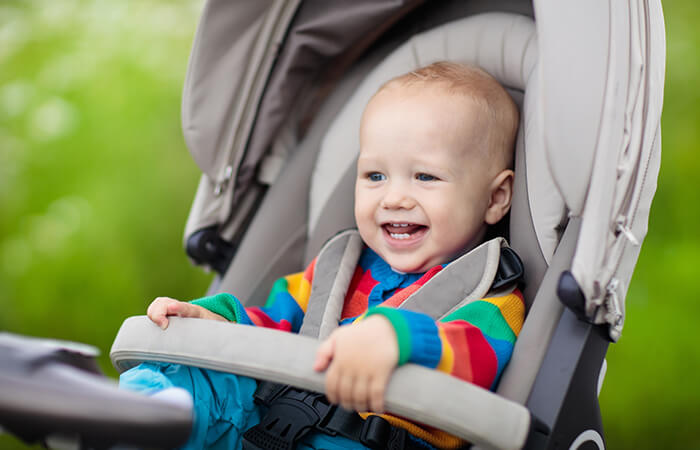 Different harness systems

There are basically two different harness systems for prams and child seats. With the so-called 3-point safety belt, also known as the harness belt, the belt runs over both shoulders and is fastened between the child's legs. The 5-point belt additionally secures the child on both sides. This prevents the child from slipping out of the pram sideways and increases safety.
The GS ("Tested Safety") and TÜV (Technical Inspection Agency) seals of approval provide guidance on the safety of prams. They are awarded by independent institutes that subject the prams to thorough tests beforehand. To receive the TÜV seal, a pram must, for example, prove the parking brakes as well as the strength and stability of its fastening devices and locks. In addition, the TÜV ensures that the pram awarded the seal complies with EN 1888, the European standard for prams.
Checklist for a safe pram
Good suspension
Secure stand
Strong parking brake
Padded 5-point harness (in the case of a buggy or pushchair)
Safety bar (in the case of a buggy or pushchair)
TÜV or GS seal
Reflectors and lights
Size and weight
Ideally, the pram should be as stable and robust as possible and at the same time light, compact and manoeuvrable. Especially parents who often have to transport the pram up and down stairs, for example because their home is higher up in a house without a lift, should pay attention to a low weight. Usually, models with an aluminium frame weigh little. A low weight is also an advantage for frequent train, bus or car journeys.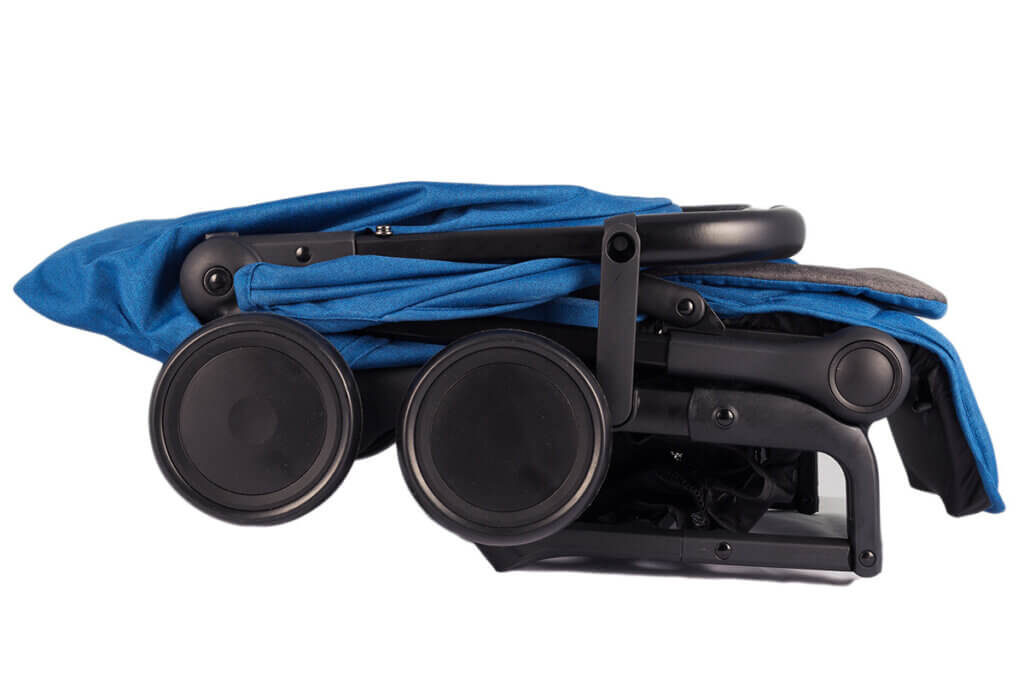 If you want to stow the pram in the boot of your car, you must also pay attention to the folding dimensions of the frame. The size when unfolded can also be important if, for example, the stroller is parked in a narrow hallway. It is also easier to travel by public transport with a compact pushchair. Basically, buggies are more compact than first and combination prams. Large combination prams are, for example, 66 centimetres wide, 110 centimetres long and 110 centimetres high when unfolded. In contrast, an example of a compact combination pram is 39 centimetres wide, 65 centimetres long and 85 centimetres high.
The seat or lying surface
If you choose a combination pram, you have a choice between a hard carrycot and a soft carrycot as far as the lie-flat seat is concerned. The carrycot is very stable, provides optimum support for the baby's back and is very comfortable to lie in. It also provides good protection against rising cold. However, it is heavy and unwieldy compared to the carrycot. If you plan to take the carrycot off the frame more often, for example to carry the baby around the house in it, you would be better off with a lighter soft carrycot. Another practical feature is that soft carrycots can be converted into footmuffs later, when the child has reached sitting age and is riding in a buggy.
Using the baby car seat as a pram attachment

Some combination prams make it possible to use the infant carrier, which is used as a child seat in the car when the child is an infant, as a pram attachment with suitable adapters. Users should note, however, that this option is only suitable for short journeys. For longer periods of time, the curved posture that the infant assumes in the infant carrier damages its still weak spine.
With the seat unit of the buggy, jogger or pushchair, consumers should make sure that the backrest is adjustable so that the child can also adopt a healthy sleeping position. In addition, the seat unit should be equipped with stable footrests and a 5-point harness. Ideally, the reclining and seating units of a pushchair should be as easy to replace as possible.
The tyres
The tyres of the pushchair play a very important role. Their optimal number, size and type depend on how smooth the surface is on which the parents mainly use the pushchair.
Three or four wheels?
Classic pushchairs run stably on four wheels. Sporty joggers, on the other hand, have only one front wheel and are thus somewhat more manoeuvrable. However, they can also tip over more easily.
Prams with swivelling wheels are generally more manoeuvrable. The front wheels can turn 360 degrees around their own axis and thus allow the person pushing the pram to easily manoeuvre around any obstacle instead of having to laboriously lift the pram for every change of direction. Swivelling front wheels are therefore recommended for parents who travel a lot with the pram in the city and, for example, in narrow supermarket aisles.
Swivel wheels on uneven terrain?

If you opt for the manoeuvrable swivel wheels and plan to drive the pushchair frequently over uneven ground, you should make sure that the front wheels can be locked. Otherwise the pram will be difficult to steer on forest and field paths, for example.
Wheel size
The size of the wheels also has an influence on the driving comfort and the possible uses of the pushchair. Smaller wheels are more agile and manoeuvrable, making them ideal for navigating through the crowds of busy pedestrian zones.
Prams with large wheels, on the other hand, negotiate bumps and bumpy patches better, which is more comfortable not only for the person pushing, but also for their offspring. In addition, they do not get stuck so easily in snow, sand or piles of leaves. However, larger wheels are harder to steer because they weigh more and require a larger turning circle.
In general, the larger the wheels, the more stable the pram's handling. If you want to use the pushchair both on smooth pavements and on bumpy terrain, an "all-rounder" with small front wheels and larger wheels at the rear is a good choice.
Avoid flat tyres

Check the tyres regularly and pump in some air if necessary – but not too much, otherwise the tyres will lose some of their springy quality. It is advisable to always carry a repair kit consisting of an air pump, repair kit and spare inner tube.
The material of the tyres
Pram tyres can be divided into the following three categories according to their material:
Rubber tyres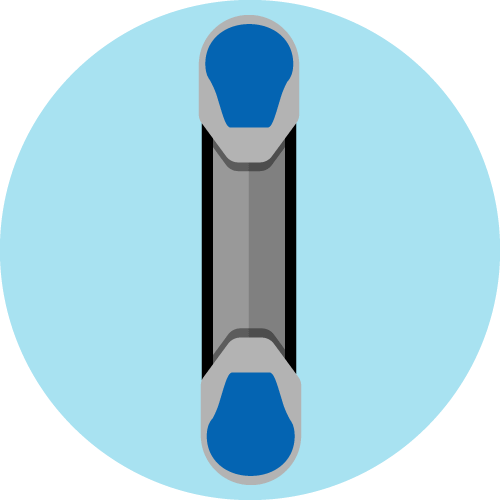 Tyres made of solid or hard rubber and are found especially on buggies. Since there is no air inside them, the user does not have to keep inflating them. In addition, because of the resistant material, neither broken glass nor sharp stones or nails pose much danger to rubber tyres, which is why these tyres are ideal for the city. However, they do not bounce very well and are therefore not suitable for rough terrain.
Pneumatic tyres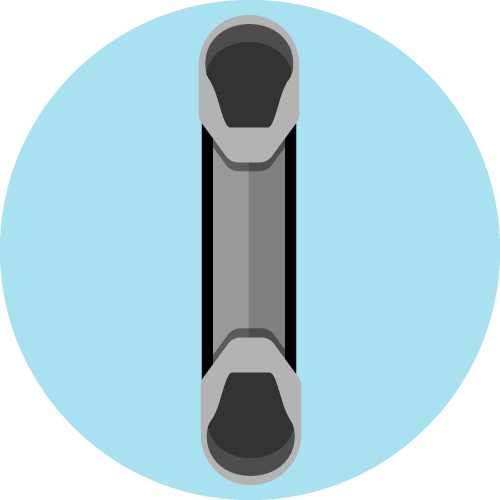 Pneumatic tyres are filled with air in a similar way to bicycles. They cushion shocks very well and thus protect the baby's sensitive spine, making them well suited for first-time strollers. However, their durability is somewhat disadvantageous. They wear out more quickly and are more susceptible to damage from broken glass, nails and the like, which means that in the worst case scenario you suddenly find yourself with a flat tyre.
Air chamber tyres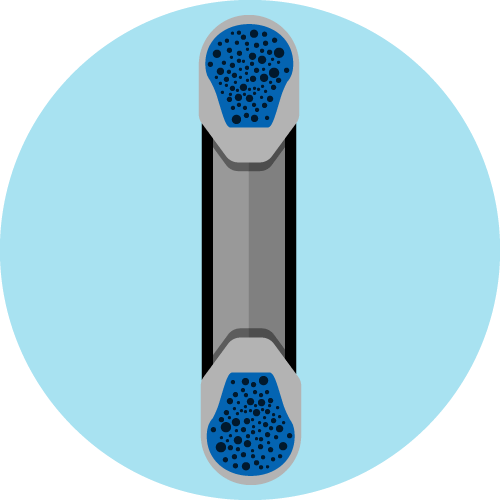 Air chamber tyres are a combination of hard rubber and pneumatic tyres. They have chambers that are filled with foamed plastic. This gives them very good suspension and at the same time makes them as robust as rubber tyres. They are well suited for use in the city, but also in rough terrain. Consumers recognise the tyres, among other things, by the fact that they can be pressed in a few millimetres with the finger and do not have a valve.
The right tyres at a glance
The following table summarises which tyres are suitable for which terrain:
| | | |
| --- | --- | --- |
| Surface | Diameter of rear wheels | Tyre material |
| Forest and field paths | At least 25 centimetres | Pneumatic tyres, air chamber tyres |
| Gravel and cobblestones | At least 15 centimetres | Pneumatic tyres, air chamber tyres |
| Asphalt | irrelevant | Hard rubber sufficient |
The right tyre size and material for different surface conditions.
The direction of travel
The question of the direction of travel does not arise for the first pushchair. The pram top is naturally open towards the person pushing the pram, so that the parents can always see the baby. This is not the case with prams that are used from the sitting age, i.e. the buggy, the jogger and also the combi pram when the sports seat is used.
With many buggies and joggers, the child faces in the direction of travel. Logical, after all, the child should see as much of its surroundings as possible, right? Not necessarily. Looking in the direction of travel makes it difficult to communicate with the person pushing. Parents do not have a direct view of their child and cannot see, for example, whether the child has dozed off in the pram or is feeling unwell. Nor can the child see the person pushing it. For children, however, facial expressions are an important key stimulus for their social development as well as for the formation of synapses in the brain. In addition, there is a risk of stimulus overload if the child is exposed to so many impressions without a filter.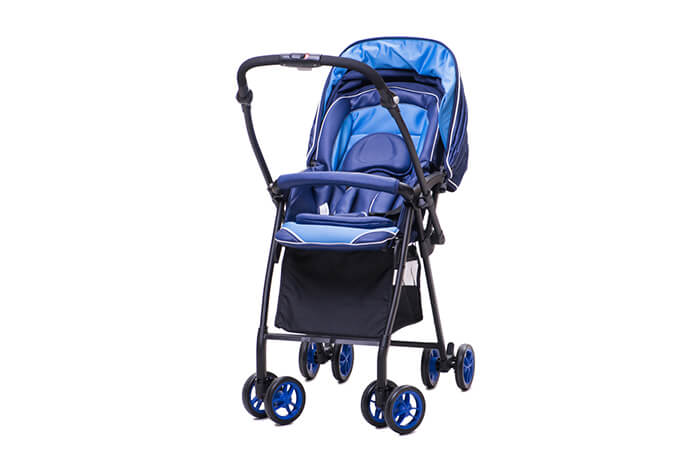 On the other hand, there are of course also children who quickly get bored if they only see the person pushing the pram for the entire pram ride. They would rather soak up their surroundings and gather new impressions. The solution: a so-called swivel pusher. It enables parents to change the direction of travel of the pram by swivelling the push bar and thus adapt it to their child's needs at any time. Alternatively, the seat unit of some buggies and combi prams can be used in both directions.
Height adjustability of the pushchair
Regardless of whether the pushchair is equipped with a swivel handlebar or not, the handlebar should be height-adjustable so that parents can adjust it to their height and push the pushchair comfortably in an upright position. There are two different adjustment mechanisms.
The telescopic pusher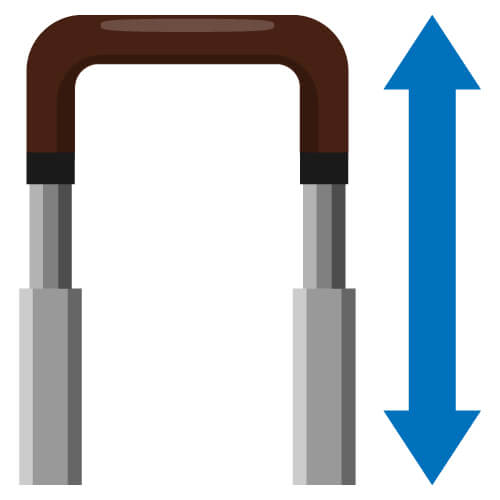 On pushchairs with telescopic sliders, the height of the push handle can be adjusted simply by pushing it in and pulling it out. Adjusting the push handle is usually very easy and can be done with one hand. In addition, a telescopic pusher usually offers more room for adjustment than an articulated pusher and is therefore well suited for parents with a significant difference in height. When buying, however, you should pay attention to the minimum and maximum slide height.
The articulated slider
With an articulated slider, users adjust the height of the slider by changing its angle of articulation. To do this, they press a button on both sides of the slider at the same time and bend the slider bar downwards or upwards to reduce or increase the distance to the pram. Typically, kink pushers offer less clearance than telescopic pushers and are therefore more suitable for parents with a small height difference.
The right pushchair height

For an upright, back-friendly posture, the push handle of the pushchair should be at about belly button height of the person pushing.
Important for tall parents: The maximum height
When buying a pushchair, tall parents with a body length of more than 190 centimetres should pay particular attention to the maximum height of the handlebar in order to be able to push the pushchair comfortably and in a way that is easy on the back. For most common prams, this is 1.10 metres. Such a height is not sufficient for tall parents. A maximum pushchair height of 1.20 or 1.25 metres, which can be found on a few models, is better.
The storage space
In many families with a baby or toddler, the pram serves as a constant companion and is with them on all outings and errands. A good pram should therefore have enough easily accessible storage space to stow not only the baby but also shopping and necessary baby utensils. For example, many models have a large shopping basket under the carrycot. Others have a shopping net attached to the pushchair.
What additional equipment do I need?
Some combi pushchairs already come with a number of accessories; with other models, parents may have to buy additional accessories separately. First-time parents in particular ask themselves what they really need and which accessories are more of a gimmick.
Important accessories
The list of possible accessories is long. Especially important are the things that serve the safety, health and comfort of the baby or toddler. These include:
The baby seat for the car
Reflectors for safe driving in poor visibility and in the dark.
A rain cover for journeys in bad weather (ideally PVC-free made of PEVA)
For pushchairs with pneumatic tyres, an air pump, repair kit and spare inner tube
A mosquito net to protect against insects
A back-supporting mattress for weaker padded carrycots or bassinets
A warm footmuff for the cold season
If the seat unit is uncomfortable for the child, additional seat pads can help. Parents can increase pushing comfort with handle pads if necessary. If you leave the pram in the hallway, cellar or garage, you should also buy a good lock to protect it from theft.
Practical accessories
A bottle holder on the pram is not absolutely necessary, but it is very practical. This way, the bottle has a stable place to stand and does not have to be searched for in the diaper bag, for example, where it can quickly spill.
When the baby starts to become aware of its surroundings, it can quickly become boring in the baby bath. Parents can remedy this with a colourful pram chain or a mobile that they simply attach to the hood. Then the baby has something to admire and grasp.
Many manufacturers offer a changing bag to match the pram. Of course, parents can also carry the most important baby utensils in any other changing bag or simply in a rucksack. However, matching diaper bags from the manufacturer are usually very easy to attach to a suitable holder at the front or back of the pram.
On walks in low temperatures, pushers benefit from a so-called hand muff, also called a pram hand warmer. It is usually attached to the pushchair with press studs or a Velcro fastener. Many models are lined with wool or fleece and keep the hands nice and warm while pushing. Thanks to such an attached hand muff, parents don't have to constantly take off and put back on their finger gloves, for example when they just want to quickly adjust their baby's cap or blow their own nose.
The category "you can buy it, but you don't have to" includes a sun sail and a parasol. Of course it is important to protect the child from strong sunlight. With most prams, however, the hood is already sufficient as sun protection and parents save themselves the often quite awkward attachment of a sun sail or parasol. In addition, it is advisable to dress the baby in light-coloured clothing that covers most of the body on sunny days.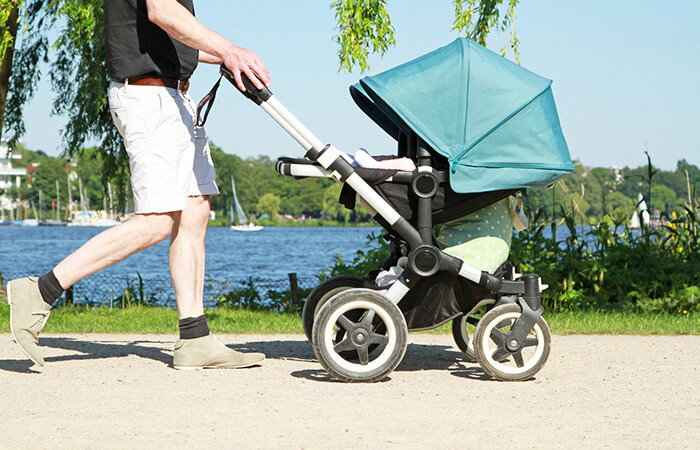 Useful tips for using the pushchair
Many questions often arise not only when choosing the right pram, but also when using it on a daily basis. We answer some of the most important ones in this section.
Where is the best place to park the pushchair?
Especially parents who live in a small space in their home wonder where best to park their pram. If the house rules allow it and there is enough space, they can park the vehicle in the hallway. Alternatively, there may be space in the basement. There, it is advisable to protect the pram from dirt and unpleasant smells with a protective sheet.
If all else fails, parents have no choice but to take the pram into their home. In this case, they should look for the smallest possible folding size when buying the pram so that it can be stored in a space-saving way.
How do I secure the pram on public transport?
Not all routes can always be covered on foot. If you don't have a car, you will have to use public transport, even with a pushchair. If you take the following tips into account, you need not fear your first bus or train journey with a pushchair.
Get on forwards (with the carriage in front) and get off backwards (pulling the carriage last).
If the means of transport is not barrier-free, ask the driver or a fellow passenger for help when boarding in order to safely transport the pram and its occupants inside.
Make sure there are designated spaces for prams.
It is safest for babies in pushchairs to travel with their feet facing the direction of travel, as this prevents them from hitting their heads in the event of a braking manoeuvre.
However, a buggy is safer against the direction of travel.
Once the pushchair is in the appropriate place, apply the parking brake.
Hold the pushchair firmly while driving so that it cannot tip over.
What about tickets?

Babies and children up to and including five years of age usually travel free of charge on public transport without a ticket.
How do I equip the pram for winter?
Babies need sufficient light and oxygen even in winter. Therefore, parents should not let bad weather stop them from taking their offspring out, preferably every day. Of course, it is important that the baby stays warm and dry even when it is wet and the temperatures are low.
For one thing, it helps to dress the baby appropriately warm in winter, ideally according to the onion principle. This means that parents put several layers of clothing on their child, one on top of the other, which can easily be taken off or put on again depending on the temperature. The ears and hands are protected from the cold with a little hat and mittens. A blanket or a lined footmuff in the buggy provide additional warmth. Lambskin is particularly warm and cosy and is therefore ideal for cold winter days.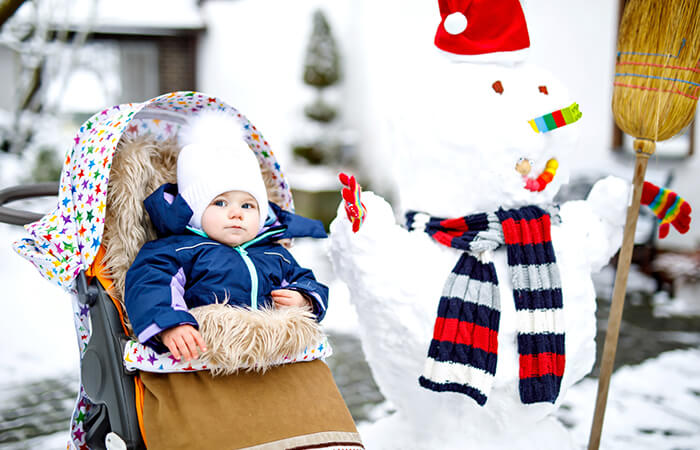 A suitable rain cover over the hood and blanket or footmuff keeps the pram and its occupant dry. Parents should also make sure that the pram hood is adjusted to keep draughts away from the child.
How do I clean and care for the pram?
A high-quality pram is quite an expensive purchase. To keep it in good condition for as long as possible, regular cleaning and care are necessary.
The wheels and axles
The tyres carry the pushchair and are therefore subjected to the most stress. To prevent premature wear, regular cleaning is particularly important. On many models, they can be easily removed so that users can simply rinse them in the sink or bathtub with warm water. More stubborn dirt is best removed with washing-up liquid and a brush. Fixed tyres are easy to clean with a garden hose.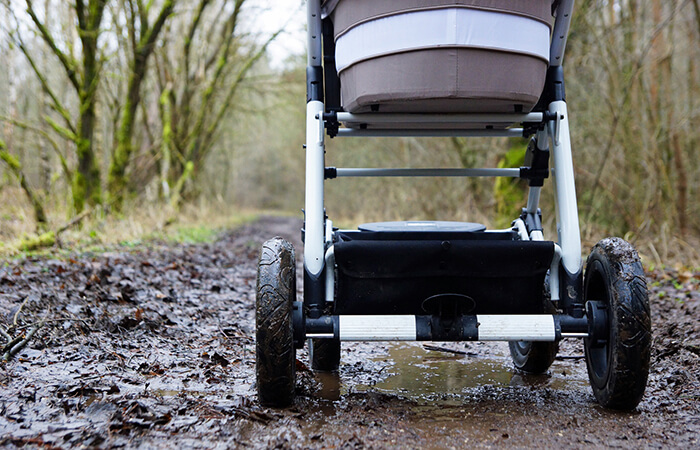 It is advisable to oil the axles regularly to keep the wheels running smoothly and to prevent them from squeaking. Users can prevent rust with a special silicone spray.
Upholstery and covers
The covers of the pram should be cleaned thoroughly at least once a month. On the one hand, they get dirty easily and on the other hand, germs and bacteria can collect there. Most pads and covers on many models are removable and can be machine washed at 30 degrees Celsius. Users can find possible restrictions in the instructions for use or on the labels of the covers.
Users should use a mild detergent for washing, as the textiles come into contact with the baby's sensitive skin. Fixed upholstery is best cleaned with a sponge, lukewarm water and a mild detergent or vinegar water. More stubborn stains should be soaked a little with the washing-up liquid beforehand. Parents should avoid chemical cleaning agents.
The pram frame
The frame of the pram is comparatively easy to clean. It is usually sufficient to simply wipe the frame with a damp cloth. However, users should make sure that rust does not form on it. If there are traces of rust, it is best to treat them with lemon juice.