Pushchair purchasing advice: how to choose the right product
What You Need to Know
Pushchairs are lighter, more compact and more manoeuvrable than first and combination prams.
They are suitable for children who can already sit independently and are not older than about 3.5 years.
In addition to classic pushchairs, there are special models for more comfort as well as for jogging and travelling.
The material and the size of the wheels are decisive for which surface the pushchair is suitable.
For the safety of your child, you should look for a padded 5-point harness and DIN-EN-1888 certification.
Compact, light and manoeuvrable
Although many parents are increasingly carrying their babies and toddlers in a sling or carrier system, very few are prepared to do without a pushchair altogether. For one thing, carrying a baby over long distances puts a strain on the parents' backs and arms, and for another, many children simply like to be pushed in a pram. A pushchair is a type of pram that is the successor to the first pram with a carrycot or soft carrycot.
From what age is a pushchair suitable?
A pushchair is not designed for newborns and younger babies, but rather for toddlers. Instead of a tub or carrycot, it has a seat unit in which the child is strapped in. This makes a pushchair suitable for children who can already sit independently. This is usually the case from the age of about six to nine months. By this time, the baby's spine has already developed to such an extent that vibrations during the ride cannot harm it. How long you can use a pushchair for your child depends on the weight of your child and the maximum load capacity of the pushchair. For many models, this is between 18 and 25 kilograms.
Ideal for little explorers
Sitting in the pushchair has the advantage that the little explorers can examine their surroundings instead of only seeing the pushchair roof or the sky when lying down. Similar to a child car seat, safety belts ensure that the child does not fall or jump out of the buggy during the journey. If the child can already walk, the pushchair is a good option for rest breaks on longer journeys. Many models have an adjustable backrest that can be brought into a reclining position. This allows tired babies and children to take a nap in the pushchair while on the move.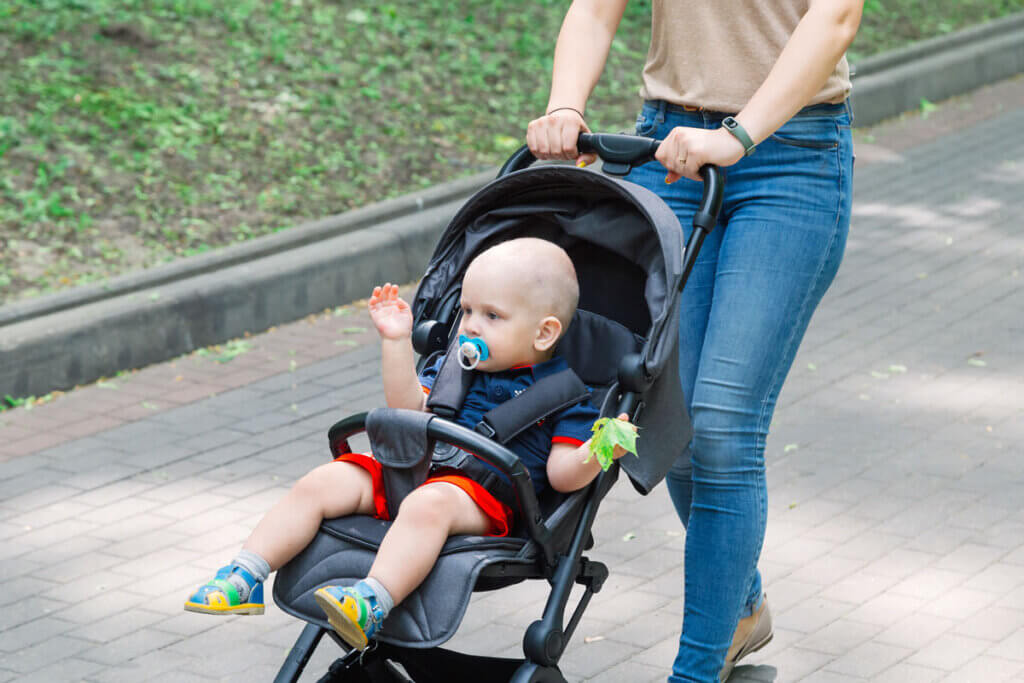 When do I need a pushchair?
While infant and combination pushchairs are usually heavy and cumbersome, buggies are light and manoeuvrable. They are very easy to fold compactly – sometimes with one hand – and can therefore be transported in a space-saving way. If you find a pushchair too bulky for everyday use, then a buggy is the ideal solution. If you are using a first-time pram that cannot be converted into a pushchair, you will need a follow-up model if your child is too big for the carrycot and prefers to ride sitting up rather than lying down. Depending on the model, pushchairs are suitable as a second stroller for short, spontaneous outings and trips or as a complete replacement.
What is a combination pram?

So-called combination prams can be converted from a first-time pram to a pushchair in just a few easy steps. This means you get two prams for different ages in one model.
Different types of pushchairs
The term "pushchair" is often used as a collective term for pushchairs with a seat unit. Depending on their purpose and design, these manoeuvrable pushchairs can be divided into classic buggies, pushchairs, joggers and travel buggies.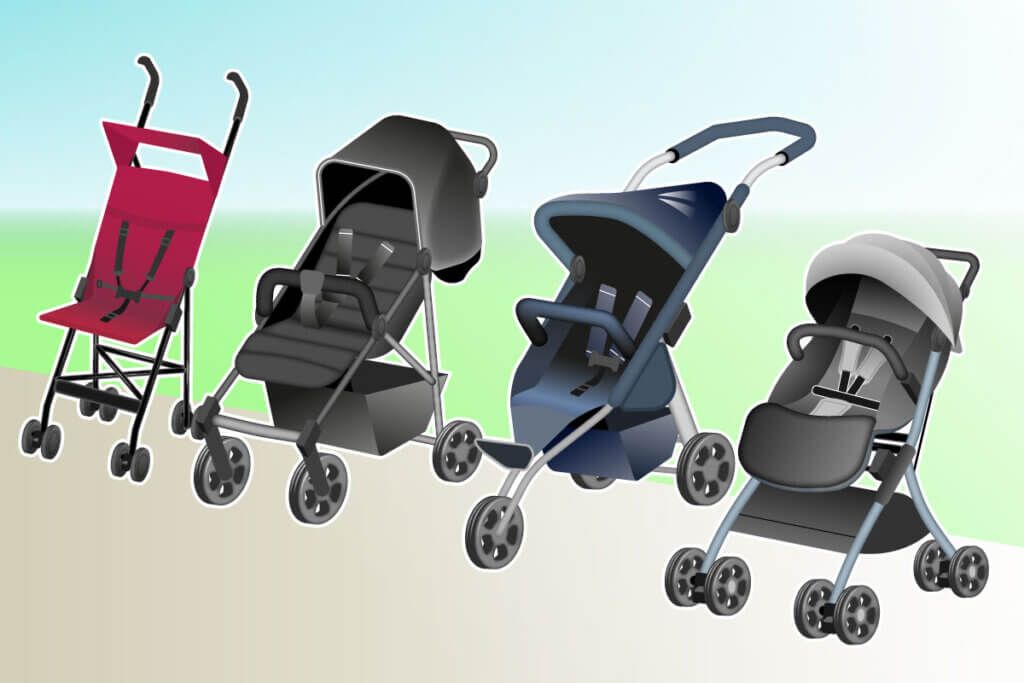 Classic pushchairs: ideal as a second car
Classic pushchairs are simple, light and compact models. Some models have a sunshade and a shopping basket under the seat unit, but they do not usually have any other additional features. The seat unit usually has little or no padding. On the one hand, this makes pushchairs particularly lightweight and space-saving when folded, but on the other hand it makes them unsuitable for longer journeys, as the child has less seating comfort. On the other hand, they are ideal for short walks and can be easily taken along in the car or on public transport. In addition, their low weight makes pushchairs very manoeuvrable, so they are very easy to manoeuvre through narrow streets. With prices starting at around 30 euros, pushchairs are comparatively inexpensive.
Pro Points
Low weight
Particularly compact
Easy to transport
Very manoeuvrable
Comparatively cheap
Drawbacks
Low seating comfort
Not suitable for longer distances
Limited to the most necessary equipment
Pushchairs: For longer trips
While classic pushchairs, with their low weight and compact folding size, are primarily designed for the comfort of the parents, pushchairs, also known as sports buggies or comfort buggies, focus on the seating comfort of the child. Sports buggies have a well-padded seat unit that provides good support for the baby's back. Many models have a reversible seat unit. This means that you can push your child both in and against the direction of travel. In addition, pushchairs have good suspension and are therefore also suitable for uneven roads. They often come with a rain cover and a shopping basket. However, the extra equipment makes pushchairs somewhat heavier and larger than classic buggies. They are usually also easy to fold, but somewhat less compact. With prices starting at about 90 euros, they are a little more expensive than simple classic pushchairs.
Pro Points
High seating comfort
Good suspension
Ideal for longer trips
Drawbacks
Larger and heavier than classic pushchairs
More expensive than simple pushchairs
Joggers: Ideal for sporty parents
Joggers, also known as jogging buggies or jogging prams, are characterised by the fact that they only have three wheels instead of four: two rear wheels and one front wheel. This design makes the pushchairs particularly easy to steer and ensures that they run smoothly and stably even at high speeds. This means that parents can also take their child for a run in the pram. Some jogger models are even suitable for skating. However, you should make sure that they have sports approval from TÜV. This ensures that the joggers have been tested for tipping safety and the load-bearing capacity of the straps and that your child is well protected in them even at higher speeds. In addition, most joggers are only suitable for children from the age of about one year. It is particularly important for a jogging stroller to have good suspension and a handbrake so that the speed can be reduced on sloping terrain. You should budget at least 150 Euros for a good jogger.
Pro Points
Easy to steer and manoeuvrable
Suitable for high speeds
Good suspension
High seating comfort
Drawbacks
Larger and heavier than classic pushchairs
Comparatively expensive
Travel buggies: To take along
A classic pushchair is also suitable as a second pram for travelling. However, some manufacturers, such as Joie and Hauck, also offer special travel buggies. These have a particularly small folding size so that they can be transported in a space-saving way. In addition, they usually weigh less than six kilograms, which means that they can be carried on planes as hand luggage. In contrast to a classic pushchair, a travel buggy offers greater seating comfort so that the child can sit comfortably in it for longer periods of time. Higher priced travel buggies starting at around 100 euros are often equipped with a reclining function, a sun canopy with UV protection, a rain cover, a footrest and a shopping basket.
Pro Points
Very small folding size
Particularly light
More comfortable than classic pushchairs
Often suitable as hand luggage
Practical additional functions
Drawbacks
More expensive than simple pushchairs
Which type of pushchair is right for you?
If you are looking for a lightweight, compact and inexpensive second pushchair for short journeys, a classic buggy is the right model for you. If you want your pushchair to replace the first pushchair and be used for longer journeys in the countryside and in the city, a well-padded comfort pushchair is recommended. For frequent journeys where the child spends more time in the buggy, a handy travel buggy with a higher seating comfort and practical additional functions is worthwhile. If you want to carry it on the plane as hand luggage, choose a model that weighs less than six kilograms.
Important criteria for choosing a pushchair
Once you have found the right type of pushchair for your needs, there are a few more things to consider when buying. For example, depending on the intended use, other wheels may be more suitable. The most important criteria for choosing a pushchair are explained below.
What is most important to parents when choosing a pushchair?

The baby shopping portal mibaby asked over 1,000 users what they particularly value when choosing a pushchair. The result: For over 85 percent of parents, the comfort and safety of their child is the top priority. Almost 80 percent of the respondents also consider the versatility of the pushchair important; it should be suitable for trips through the city as well as over rough terrain.
Weight and foldability
Basically, pushchairs are designed to be as light as possible and easy and compact to fold. To keep the weight down, many pushchair manufacturers use aluminium constructions. Particularly lightweight pushchairs weigh less than five kilograms. These are usually very simple designs without padding and additional equipment. More comfortable pushchairs and well-sprung joggers are somewhat heavier, weighing up to about 15 kilograms. If you often use public transport with the pushchair, for example, a lightweight model is advantageous.
The folding size of the pushchair is crucial for transport in the car and for space-saving storage at home. Models with a continuous pushchair can be folded almost squarely, while pushchairs with two handles make an elongated package. If you want to take your travel buggy on the plane as hand luggage, it is advisable to take a look at the hand luggage regulations of the respective airline. Often the folding dimensions must not exceed 55 x 35 x 20 centimetres.
The pushchair should be as easy to fold as possible. Many models have a so-called one-hand folding mechanism. There is a toggle switch on the handle that you slide to the side, whereupon the pushchair can be folded down with one hand. This allows you to fold the pushchair with one hand, for example to stow it in the boot, and at the same time hold your child with the other hand.
Wheels
Which wheels your pushchair should have depends on the type of surface you want to use it on. Generally speaking, there are three types of wheels for pushchairs, just like for other prams: Hard rubber, pneumatic and air chamber tyres.
Rubber wheels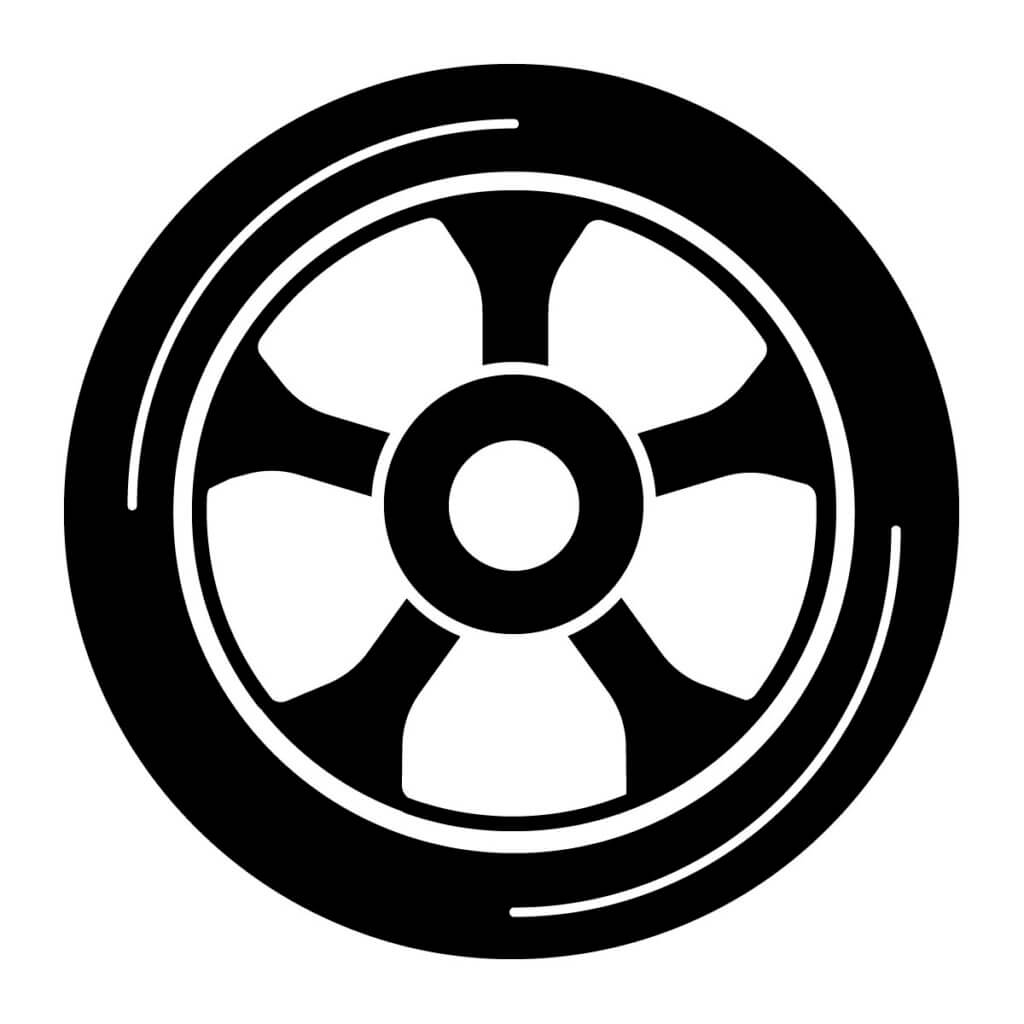 Wheels made of hard or solid rubber are particularly robust and wear-resistant. Pointed stones, broken glass or nails do not pose a great danger to them – they are almost indestructible. However, rubber wheels tend to have poor suspension, so that they quickly become bumpy on uneven paths. They are best suited for flat, asphalted paths, for example in the city.
Pneumatic wheels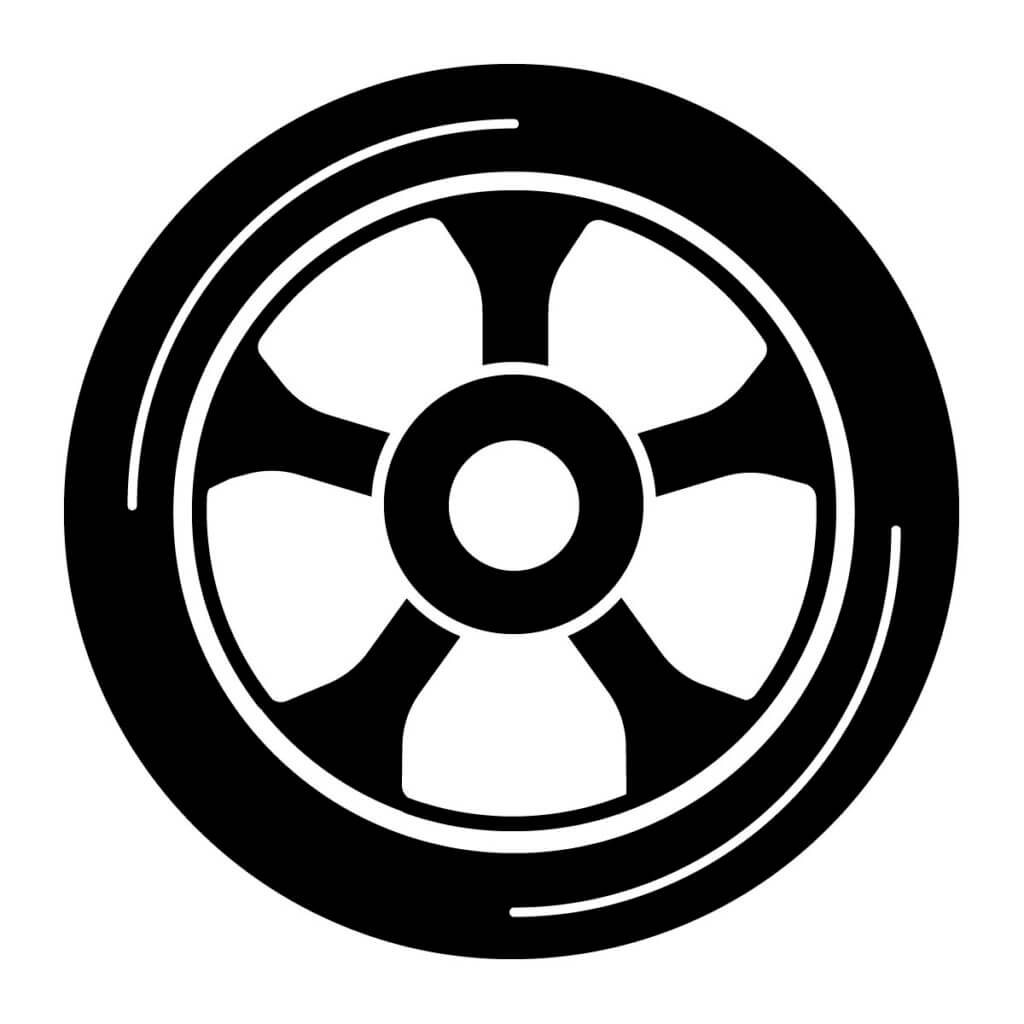 In contrast to models with hard rubber tyres, pushchairs with pneumatic wheels offer particularly good suspension. This makes them ideal for uneven paths and journeys through rough terrain. However, they have the disadvantage that the wheels are relatively susceptible to damage and wear out quickly. In the worst case, you will end up with a flat tyre after a ride over sharp stones.
Air-chamber wheels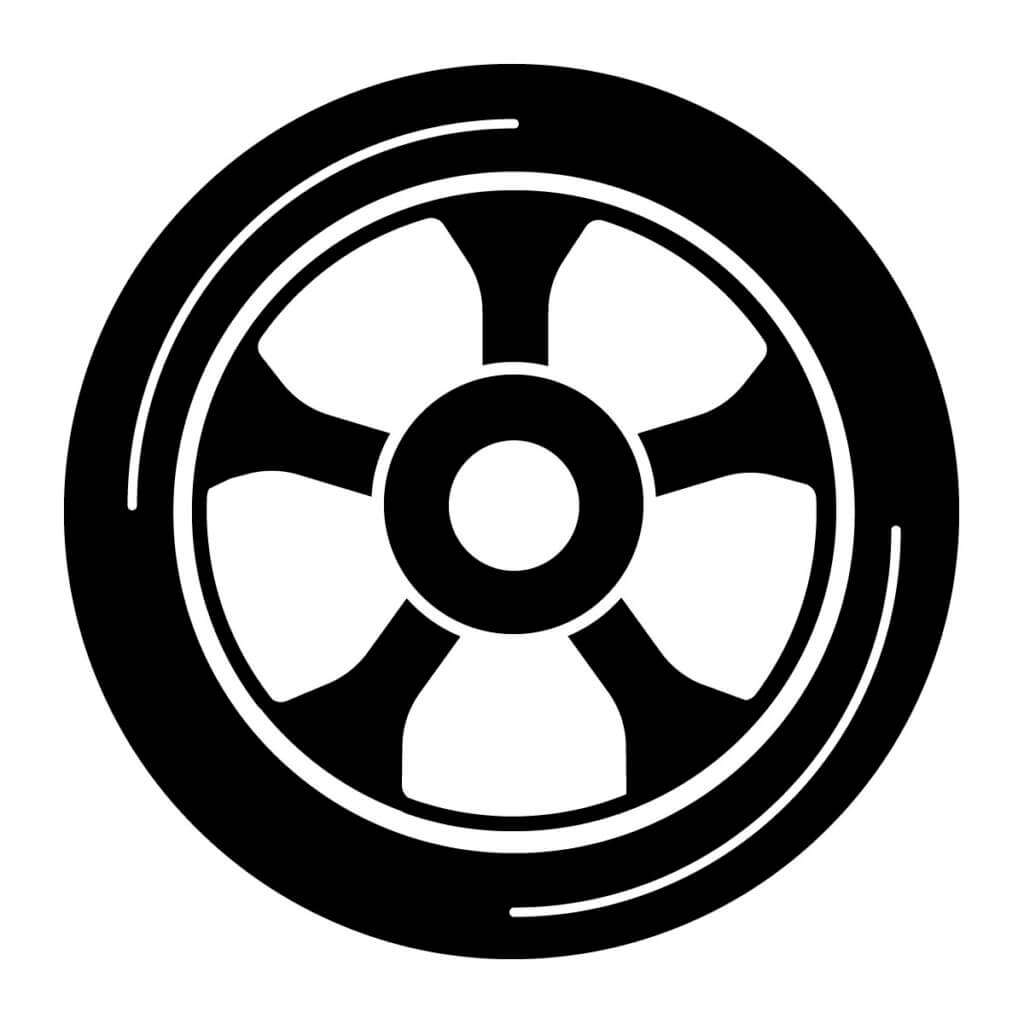 Air-chamber wheels are a good compromise between suspension and durability. The tyres contain chambers filled with foamed plastic. They have much better suspension than hard rubber tyres and offer a more comfortable ride on uneven surfaces. At the same time, they are as robust as rubber tyres. With these characteristics, air chamber tyres are suitable for driving over asphalt as well as through rough terrain.
Wheel size and spacing
In addition to the material, the wheel size is decisive. The larger the wheels, the smoother the cart can be pushed. Flat, asphalted paths, for example in the city, can be easily negotiated with small wheels, while larger tyres with diameters of at least 15 centimetres are recommended for uneven ground.
The distance between the front wheels is crucial for the manoeuvrability of the pushchair. The smaller the distance, the easier it is to push the buggy around tight bends. Joggers with only one front wheel are particularly manoeuvrable. However, manoeuvrability comes at the expense of stability.
For flat surfaces such as asphalt, 360-degree swivelling front wheels are recommended to make the pushchair manoeuvrable. For uneven paths, however, they should be able to be fixed, otherwise the ride will be very wobbly.
Which pushchair wheels are suitable for which purpose?
Asphalt: Hard rubber wheels are sufficient, size is irrelevant.
Forest and field paths: pneumatic or air-chamber wheels with diameters of at least 25 centimetres.
Cobblestones and gravel: air-chamber wheels with diameters of at least 15 centimetres.
Narrow, winding paths: swivelling, closely spaced front wheels
As an all-rounder: air-chamber wheels with diameters of at least 15 centimetres, front wheels with locking option
Load capacity
The load capacity of the pushchair determines how much weight you can carry your child in it. Particularly lightweight pushchairs are often less stable and limited to a maximum weight of 15 to 18 kilograms. This makes them suitable for children up to the age of two to three years. In contrast, somewhat more robust comfort buggies and joggers can often carry a load of up to 25 kilograms and can also be used for older children up to about 3.5 or 4 years of age. If you want to put shopping in the pushchair in addition to your child, for example, you should look for a higher load capacity.
Safety
A good harness system is crucial for a safe ride, so that the child cannot slip, fall or climb out of the buggy. Like car seats, pushchairs are equipped with a so-called 5-point safety belt. This runs between the child's legs on the right and left over the shoulders as well as over the stomach. The belts should be well padded so that they do not pinch or cut in uncomfortably.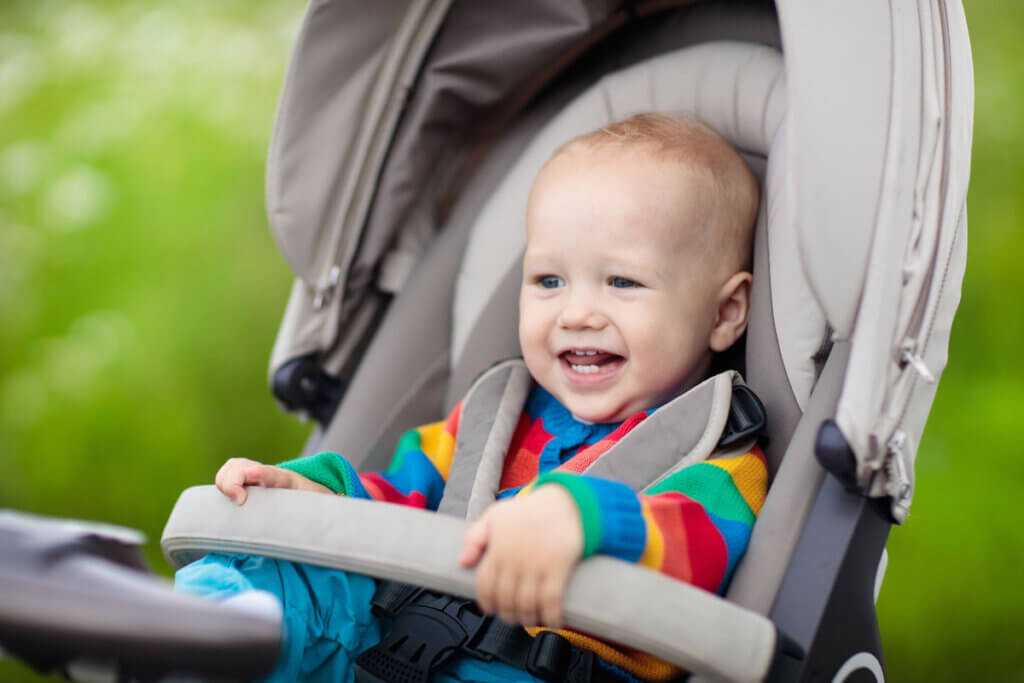 Some pushchairs offer additional protection with a protective bar at the child's stomach level. The highest possible safety standards are met by harnesses that are certified according to the DIN EN 1888 safety standard.
To be able to park the pushchair safely during stopovers and on buses and trains, it needs a parking brake to prevent it from moving unintentionally. This is usually located above the wheels and can be easily operated with the foot. With jogging buggies, a handbrake is important to be able to brake it safely when running faster. With three-wheeled pushchairs, you should also pay particular attention to tipping safety, as they are somewhat more unstable with one front wheel than four-wheeled pushchairs. You can be on the safe side with a jogger that has a sports certification from TÜV. The general tipping safety of pushchairs is tested during certification according to the DIN EN 1888 standard.
What features does a safe pushchair have?
Well-padded 5-point safety harness
Certification according to DIN EN 1888
Safety bar
Parking brake
Handbrake (for joggers)
Seat direction
If you do not want to push your child exclusively facing the direction of travel, the seat unit should be rotatable. Then you can transport your child facing the person pushing it if necessary, for example if it is overstimulated by environmental impressions or if you want to keep it in your field of vision while sleeping. An alternative to the swivelling seat unit is a so-called swivel pusher. It makes it possible to change the direction of travel of the pushchair by swivelling the push handle.
Push handles
The push handle is crucial for the comfort of the parents. While simple pushchairs are often equipped with split handles, more comfortable models usually have a continuous push bar. The latter makes it possible to steer the pushchair with one hand. The push bar should be padded for a comfortable grip. Ideally, it should also be height-adjustable so that parents can adjust it to their height.
Adjustable backrest and reclining position
The backrest of a pushchair should be adjustable so that you can adjust your child's sitting position. This works particularly well with an infinitely adjustable model. The backrest of some models can be adjusted to a reclining position. This allows your child to slumber in the pushchair on longer journeys. Other pushchairs can only be used in the reclining position, where the backrest is slightly less inclined backwards.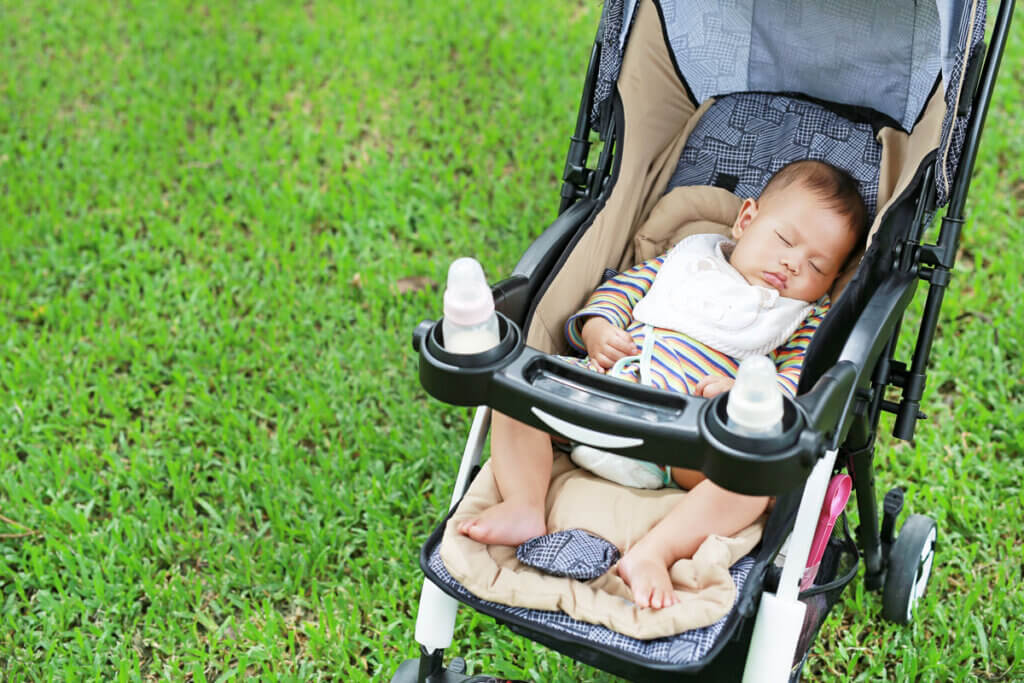 Useful pushchair equipment
Higher-priced comfort buggies in particular come with various additional features. The following, for example, are practical:
A footrest on which the child can rest its legs.
Removable covers that can be washed in the washing machine.
A shopping basket under the seat unit as storage space
A hood that can be used as sun and rain protection
A warm footmuff for cold days
Well-known pushchair brands
You will find a large selection of buggies from various manufacturers on the market. To give you a better overview, we present some popular pushchair brands and their special features below.
Hauck
The family-owned company Hauck has been manufacturing baby products for over 90 years. In addition to prams, you can find car seats, side and travel cots, high chairs and toys from this brand. Many Hauck pushchairs, for example the Hauck Apollo Pram and the Hauck Mars, are combination prams. These can be used as a first-time pram from birth thanks to the baby bath that comes with them.
In addition, Hauck has some sports buggies with recline function in its range, which can carry a load of up to 18 or 25 kilograms depending on the model and are suitable for different purposes:
All-rounders for city and country use with large, puncture-proof comfort wheels like the Hauck Rapid 4S.
Particularly light and manoeuvrable city pushchairs such as the Hauck Eagle 4S and the Hauck Sunny
Pushchairs with reversible seats like the Hauck Mars, the Hauck Saturn R and the Hauck Apollo
Shopping companions with large shopping basket and cup holders such as the Hauck Shopper Neo II and the Citti Neo II
Particularly light and very small folding travel buggies such as the Hauck Swift Plus
Manoeuvrable three-wheel pushchairs with large wheels such as the Hauck Rapid 3 and the Hauck Runner
Safety 1st, Maxi-Cosi and Quinny
The brands Safety 1st, Maxi Cosi and Quinny all belong to the Dorel Juvenile company. While Quinny only offers pushchairs, Maxi-Cosi and Safety 1st also offer child seats and accessories for the nursery. Of the three brands, Quinny offers the largest selection of pushchairs and unusual designs. With the Quinny Hubb Duo, for example, you get a comfortable two-seater for twins or siblings with a small age gap, and with the Quinni Yezz Air a particularly light and manoeuvrable tricycle model. In contrast, Maxi-Cosi and Safety-First each offer only a few, exclusively four-wheeled pushchairs. The Safety-First models are all equipped with split handles, while Maxi-Cosi relies on a continuous push bar.
knorr baby
The company knorr-baby is an official licence partner of Volkswagen and offers the Volkswagen GTI model, a comfortable reclining buggy in Volkswagen design. In addition, knorr-baby has various comfort buggies with a one-hand folding system and a continuous push bar as well as sibling buggies in its range. For outdoor activities, knorr-baby recommends, for example, the three-wheeled, well-suspended pushchair Easysport3 with multi-adjustable hood and large shopping basket.
tfk
tfk specialises in a wide range of prams and pushchairs. The company produces buggies, pushchairs, pushchairs and sibling pushchairs. In production, tfk focuses on sustainability: the pollutant-free models are made of sustainable materials; in addition, tfk offsets the annual CO2 emissions in pram production by supporting the climate protection organisation PRIMAKLIMA. In addition to various sports pushchairs for children aged six months and over, tfk also offers a particularly compact and lightweight pushchair with reclining function and sunshade.
Joie
In 2011, a few parent friends founded the company Joie in Great Britain. Safety, design and technology are the strengths of this children's equipment manufacturer. In addition to various prams, the Joie range includes high chairs, car seats, baby bouncers and travel cots. Among others, there is the Joie mirus with a swivelling push bar, the light and manoeuvrable Joie nitro lx with split push handles as well as the Joie brisk lx with a flat folding backrest and extra-large hood. The Joie pushchairs all have rather small wheels made of plastic. For frequent journeys over rough terrain, the manufacturer's pushchairs equipped with large air-chamber wheels are recommended; for example, the Joie litetrax 4. This model is also available in a version with pneumatic tyres as the litetrax 4 air.
Cybex
The CYBEX company was founded in Hong Kong in 2005 and specialises in child safety products. These include child car seats, baby carriers and prams. CYBEX divides its products into the CYBEX PLATINUM, CYBEX GOLD and CYBEX SILVER lines according to features and price. For example, you can configure the luxury buggy PRIAM from the PLATINUM series according to your individual wishes by choosing a frame and combining it with different seat units. In the CYBEX GOLD series you will find different comfort pushchairs that can be used with a matching infant carrier from birth onwards; for example the all-rounder Eezy S Twist+2 or the city pushchair Melio. Particularly light and manoeuvrable pushchairs are available in the CYBEX SILVER series.
Gesslein
The German family business Gesslein was founded in 1950 and produces prams, pushchairs and accessories such as changing bags. Most Gesslein pushchairs have small plastic wheels that are well suited for trips around town. A particularly lightweight, compactly foldable pushchair is the MODEL S8. With the MODEL S5 REVERSE, the seat can be installed both in and against the direction of travel. With the MODEL S4, Gesslein also has an all-rounder with large pneumatic wheels in its range.