Fan heater purchasing advice: How to choose the right product
The most important facts in brief
Fan heaters are very cheap to buy.
Heat is generated exactly where it is needed within a very short time.
Fan heaters are particularly suitable for short-term heating or as a temporary solution.
Fan heaters: All-round talents in every household
Fan heaters are now not only used on building sites or at parties in unheated basements. Even in living rooms that are used on a daily basis, it can happen that the room does not get properly warm due to poor insulation or other circumstances. Especially in the cold season, we would like to have it nice and cosy and warm at least in our own home. Whether in the bathroom in the morning or in the living room in the evening – the fan heater can be used in different rooms. Fan heaters are not expensive to buy and usually create a pleasant temperature in the room within minutes, exactly where it is desired. A fan heater is also worth its weight in gold as a temporary solution when, for example, the heating fails.
Unlike a conventional wall heater, the fan heater does not heat an additional element that stores the heat and gradually releases it into the room. Instead, the fan heater consists of heating coils or other heating elements made of ceramic or metal that heat the air directly. An integrated fan ensures that the room air is sucked in and ends up in the fan heater. This air is then passed through the heating coils, heats up and then exits the device again to warm up the room. The advantage of this mode of operation over other heaters is that the air is heated much more quickly and effectively.
There is little to consider when using a fan heater: The air inlets and outlets should allow the air to circulate freely at all times and should not be covered by objects or walls. If the air inlet or outlet no longer functions properly, the unit switches off automatically. This serves as a precaution against overheating. Otherwise, fan heaters are very flexible in use and can be used almost anywhere as a short-term or permanent source of warmth. All that is needed is a nearby power connection.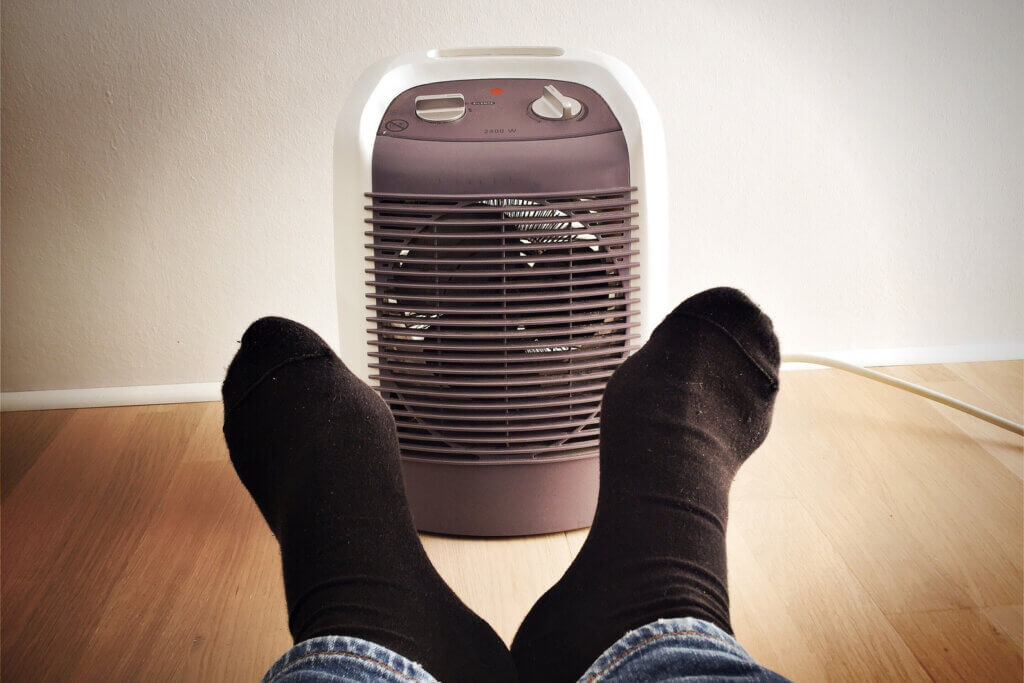 Almost every fan heater has an infinitely variable thermostat that can be adjusted easily at any time. The desired room temperature can be set via the thermostat. Once this is reached, the fan heater goes into sleep mode and switches on again when the temperature in the room begins to drop.
Older and cheaper devices usually only have a toggle switch with which the device can be switched on and off again and with which a maximum of two different heating levels can be selected.
Features
Protection against both splash water and high humidity is now standard on newer models. Therefore, the fan heater can be used in the bathroom without any problems. A programmable timer is also part of the range of functions for devices in the middle price class and above. Of course, this makes the use of a fan heater much more comfortable. For example, you can look forward to a warm bathroom when you get up.
Who is a fan heater suitable for?
Fan heaters are suitable for almost every household. Since you can set the desired temperature, they can also serve as frost protection in rooms where the only aim is to prevent freezing. In summer, the fan heater can be used as a fan. This is possible with most models via the practical cold setting, which only switches on the fan (without the associated heating function). You can therefore use the fan heater all year round.
Pro points
The room reaches the desired temperature quickly and effectively
Low acquisition costs
Can be moved even when warm
Little space needed
Can be used as a fan or frost monitor
Time controlled use possible
Drawbacks
The fan heater never works completely noiselessly
High power consumption compared to other forms of heating
The generated air flow can be perceived as disturbing
Tips for the purchase decision
Before buying, you should consider when and where the fan heater will be used and what additional functions you want. There are fan heaters in all price ranges, and for someone who only wants to use the fan heater once for the next garage party, a different model is recommended than for someone who needs the device daily in the bathroom.
Power consumption
Two different wattages, for example 1000 and 2000 watts, are the absolute minimum. In terms of effectiveness, the fan heater is clearly superior to a conventional gas heater. Almost all of the electrical energy consumed by the device ends up as warm air in the environment. However, it is important to remember that electricity is also far more expensive than gas. Even if the efficiency of a gas heater is only 90 per cent instead of almost 100 per cent as with a fan heater, you will probably end up paying for it, since electricity is about three times more expensive than gas.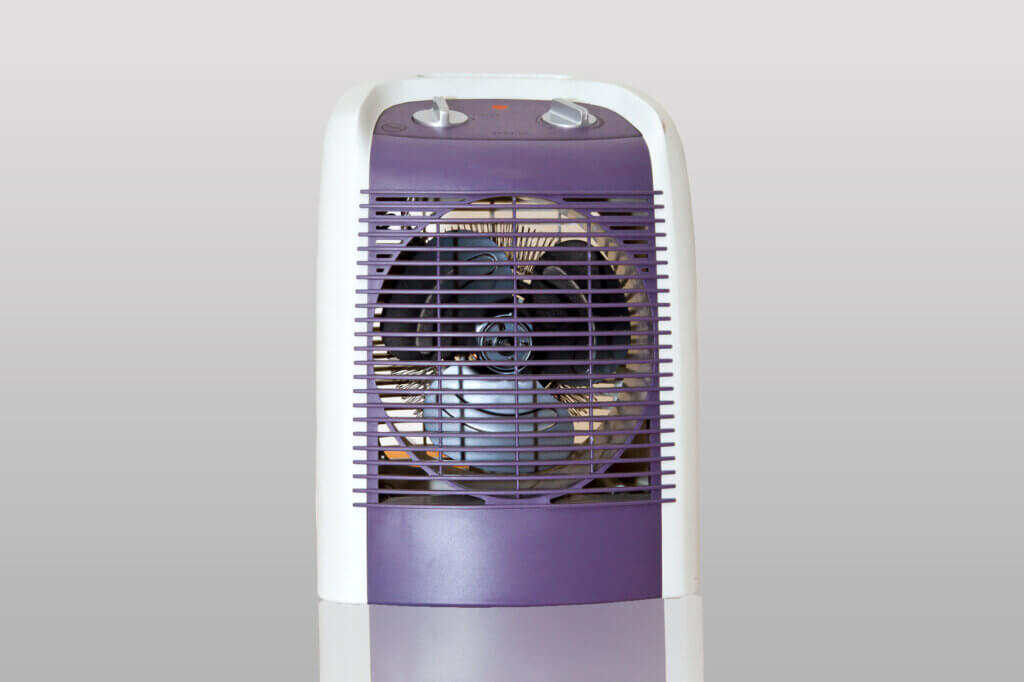 If the fan heater is only used for a short time during the day and only in certain areas of the home over the winter months, it certainly won't add up to a huge amount – but it should be clear that a fan heater cannot fully replace a heating system. In addition, it should be remembered that the use of fan heaters is not exactly environmentally friendly, especially because of the high electricity consumption.
Location of the fan heater
Before buying a fan heater for a particular room or occasion, you should also think carefully about where the unit will be placed. Most fan heaters are not particularly large and do not take up much space – however, it should always be remembered that the fan heater needs to be mostly free-standing in order for the heat to circulate optimally. This means that the device should not be covered by walls, people or objects, especially where the air is drawn in and where it is let out again, so that heat does not build up. In the worst case, this could lead to a fire. It is therefore also important to choose a fan heater with a safety mode that switches itself off in the event of a heat build-up.
Despite all safety precautions, the fan heater should never be left unattended. If there are children playing in the room, special care must of course be taken. If the fan heater is purchased specifically for the bathroom, a device with integrated splash protection and protection against excessive humidity is necessary, as otherwise the fan heater could suffer considerable damage.
Fan heaters cost between about 10 and about 100 euros. The most expensive fan heater offers many useful features: from splash protection to a thermostat with frost protection to an automatic shut-off function and even a washable filter. The heat output also increases with the price, while the annoying noise level decreases.
But there are also good models in the lower price segment, some of which even come with a thermostat and a fan function. Especially for beginners or for infrequent use, these inexpensive models are absolutely recommendable.
Other functions to look out for
Every fan heater should also have an anti-tip device that immediately switches off the appliance if it tips over. This works in the same way as if the air supply or air outlet is blocked. The fan heater switches off automatically before heat builds up, which in the worst case could lead to a fire. If you don't want to be in the room the entire time the fan heater is on, this safety feature is absolutely essential.
Some models even come with a remote control, which is especially recommended for physically impaired people, such as wheelchair users. But it can also be convenient for everyone else to be able to operate and adjust the fan heater from the comfort of their sofa. A timer is recommended for people who want to find a room already warmed up. This could be the bathroom in the morning or the living room after work.
Even distribution of heat

It should also be noted that fan heaters should distribute their heat as evenly as possible to the surroundings so that no cold zones can develop. This way, the user's upper body and legs are heated to about the same extent. Cold feet can thus be avoided and possible colds prevented. If the temperature is about equally warm in all areas of the room, this provides a noticeably better indoor climate. A fan heater with a swivel function distributes the warm air in the room even more evenly. However, this effect only starts with a device output of 2000 watts or more.
Ceramic models
Especially if the fan heater is used often or even daily, you should consider a high-quality ceramic model. Compared to other radiant heaters, ceramic heaters have the advantage that they make less noise. They run much quieter in operation and thus hardly disturb their surroundings. In addition, they do not need to be supplied with air as strongly as models made of metal, which is why the generation of wind is lower. This is an advantage above all because every time wind is generated, dust is stirred up, which can be particularly problematic for small children and old people; it can lead to allergies, for example. Furthermore, heating elements made of ceramic are much less sensitive, especially to impacts and external influences, and thus much more durable than models made of metal.
There is hardly any odour formation with ceramic fan heaters, as neither dust nor hair can burn on the heating rods and significantly fewer viruses, germs and bacteria form due to the material. In addition, ceramic fan heaters are characterised by a higher stability.
Good to know
The following points must be observed:
The existing safety precautions on the fan heater, such as overheating or tip-over protection, should never be tampered with.
Especially existing metal should not be touched during operation and up to two hours after operation.
Before use, read the operating instructions carefully and follow any safety instructions.
When buying a fan heater, look for quality and safety labels, such as the CE mark, which indicate how extensively the particular model has been tested.
Overview of fan heater applications:
Garage, summerhouse or unheated cellar rooms.
Bathrooms (e.g. as a heated towel rail)
Rooms that are not to be heated but only kept frost-free
Bedrooms or other rooms where the fan heater is used as a ventilator in summer
Building sites or other unenclosed rooms, as long as a power socket is available
Guest rooms that are not normally heated
Proper care and cleaning
Fan heaters are generally designed in such a way that time-consuming maintenance and cleaning measures are hardly necessary. However, if cleaning is necessary after some time, the unit must be cooled down sufficiently beforehand. Depending on the model, this can take up to two hours. After that, the first thing to do is to check the filter of the fan heater. Some models use washable filters to remove any blockages. Then you can also check the air vent for dirt or blockages. If there is dirt, dust or hair, it is best to remove it with a soft brush.
If you want to clean the entire fan heater, it is best to carefully wipe the surface with a dry or slightly damp cloth without using harsh cleaning agents that could damage the material. If the fan heater is wiped with a damp cloth, make sure that no water can run into the appliance at any time.
Caution: The hot surface must not be touched with bare hands during cleaning or at any other time, as there is a risk of burns. Children should always be kept away from fan heaters.
If the fan heater is only used for special occasions or, for example, only in winter, it should be stored in a dry and protected place in between, preferably in a garage or cellar room. To prevent too much dust from settling on the unit, you should place a cloth on it.