Wall chaser purchasing advice: how to choose the right product
What you need to know
Wall chasers are tools for slotting grooves.
They can be used on concrete, plaster and masonry.
Wall chasers are primarily used in the building construction and interior finishing trades.
In addition to simple cutters with only one grinding wheel, there are also models with several grinding wheels.
Applications of wall chasers
A wall chaser, also known as a wall cutter and slot cutter, is an indispensable part of many construction sites.
Wherever pipes such as fresh water or heating pipes as well as electricity or data cables are to be laid, the milling of materials such as plaster, concrete or masonry is necessary.
This is necessary for new buildings as well as for extensive renovations to enable the invisible laying of cables and pipes in the masonry. In this way, grooves can be slotted, i.e. elongated depressions into which the materials are later laid. This is why grooves are also known as slots. After plastering over and later wallpapering, the lines are invisible. The walls are smoothly sealed; there is no need for the aesthetically unpleasing plastering-on. The name of the tool is therefore derived from its purpose: to cut wall slots in walls, floors and ceilings.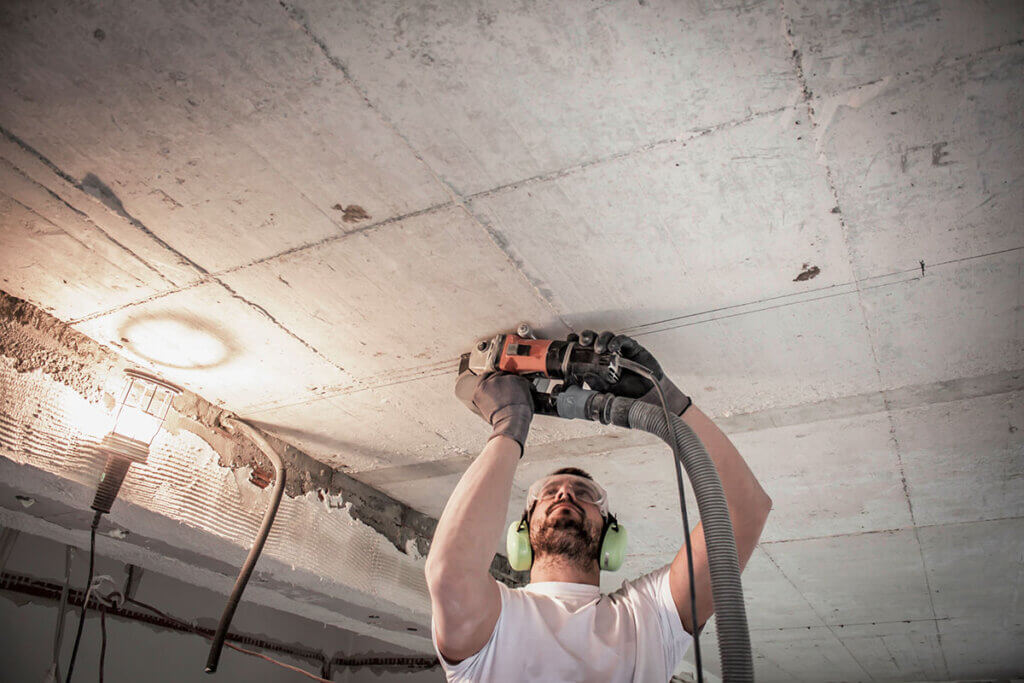 Along with the demolition hammer, wall chasers are among the heaviest tools used by craftsmen in the plumbing and electrical sectors in their daily work, for example to lay water and electrical lines. In addition, do-it-yourselfers use the tools when a more extensive renovation is pending. If, for example, a new heating system is being installed, it is a good idea to simultaneously rearrange the pipes that connect the central heating system and the individual radiators in the living rooms. In this way, living areas that were not previously connected to the heating system can be connected.
The most important purchase criteria
Wall chasers are available in different price categories. Inexpensive devices cost less than 100 euros, expensive professional devices cost many times that. If you want to be sure that the wall chaser you buy is suitable for the intended use, you should pay attention to a few things. For example, models differ in terms of power and speed as well as cutting depth and groove width.
Number of grinding wheels
Ordinary wall chasers have two diamond grinding wheels mounted in parallel, which are driven by a motor to cut two identical, parallel slots in the wall, ceiling or floor. Depending on the type and quality of the wall chaser, a concrete ridge remains between the slots, which must then be removed with a tool such as a hammer drill. Removing the excess material is no problem for skilled craftsmen.
Only use diamond grinding wheels
Only diamond cutting discs are suitable for insisting in hard material and removing space. Therefore, do not use any other discs from the milling or flex range.
On some models, the distance between the two grinding slides can be adjusted so that the width of the resulting groove can be varied. Very simple devices, which are more comparable to a sanding witch, also called a flex, only have one sanding disc. The disadvantage is that a second slot, running as parallel as possible, must be milled next to the slot that has already been made. This is the only way to remove the web remaining between the slots afterwards with the help of a chisel or a demolition hammer, thus creating a clean groove.
Diameter of the cutting discs and holder
Usually the cutting discs of a slot cutter, also called diamond discs or diamond cutting discs, have a diameter of 150 millimetres (mm). Less common are discs with a diameter of 125 millimetres. These are suitable for particularly fine work, but are not necessary for most DIY activities. Remember that a smaller diameter goes hand in hand with a shallower working depth. There are also discs with smaller diameters as well as diameters of up to 350 millimetres. Keep in mind that especially the slotted discs with the largest diameters are potentially not compatible with all tools.
Things become a little clearer when it comes to the receptacle, i.e. the hole in the centre of the disc. Here, the bore with a diameter of 22.2 millimetres is standard for the largest parts. Discs with different outer diameters are available with this type of mounting. Discs with a bore of 25.4 millimetres are rarer.
Attention: different receptacles are not compatible with each other
Even though the 25.4 millimetre bore is not very widespread, the following warning applies: these discs and discs with the standard mount, i.e. a diameter of 22.2 millimetres, are not compatible with each other. Incorrect mounting can lead to serious injuries due to out-of-round running and loosening cutting discs. Therefore, after changing the discs, subject the tool to a half-minute test run. Under no circumstances should the discs be allowed to egg.
Cutting width
Common adjustable slot widths or groove widths of wall chasers are 14, 24, 34 and 44 millimetres. They can be selected by means of the spacer rings on the suspensions. If the model has more than two cutting discs, there is no need to cut out a centre ridge manually, as this does not occur in the first place: The discs work at such a small distance from each other that the material between the individual grinding discs is removed completely.
Planning required before milling

Before buying, think about how many cables or pipes are to be accommodated in one shaft. If there are several cables or pipes, a wide groove is required.
Cutting depth
In addition to being able to vary the cutting width, it is also a great advantage to be able to adjust the cutting depth. On slot cutters that support this function, this is usually possible by means of a lever attached to the side of the tool. Since there are different slot depths to choose from, you should first ask yourself up to which slot depth you would like to use the wall chaser. Average models reach a working depth of up to 45 centimetres. Some models can cut up to 60 centimetres deep. Many wall chasers offer only two or a few additional cutting depths, while the working depth of other models is infinitely variable, allowing you to make adjustments in the millimetre range.
The usable cutting discs themselves are also important: small cutting discs only allow a shallow depth of cut, while discs with a large diameter can create deeper slots. If you can already foresee that you will also need the tool for deeper cuts, you should consider the possible maximum diameter. When buying new cut-off wheels, also pay attention to the bore, i.e. the receptacle of the cut-off wheels, via which the round cutting tools are attached to the wall chaser. This way you do not run the risk of buying diamond cutting discs that do not fit.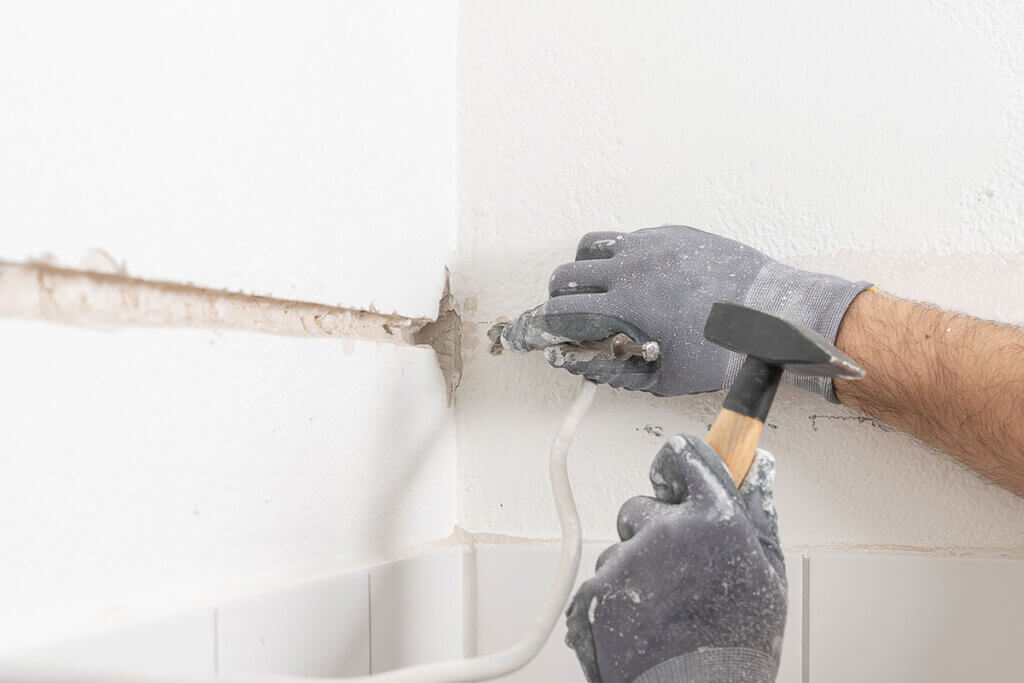 Power and revolutions
One of the most important criteria for buying a wall chaser is the motor power. If the engine is too weak, the work will not only be more difficult, but the machine will also heat up more quickly and threaten to jam. If the machine starts to bounce due to a blockage, there is a risk of injury.
A rated input power of 1,400 to 1,800 watts is ideal. The speed varies from model to model and should not fall below 4,500 revolutions per minute (rpm). Some professional machines even have a power rating of 2,400 watts and up to 10,00 revolutions per minute. You cannot regulate the rotation speed yourself.
Volume
The working volume of most models is between 80 and 100 decibels (dB). All wall chasers are therefore loud. You should generally wear hearing protection when using them to prevent long-term damage.
Attenuation
When working with a wall-slotting machine, vibrations are inevitably generated by the milling process. The power of the motor as well as its possibly unstable position also influences the degree of vibration. Highly vibrating models can make work difficult or even hinder it. The rule of thumb for most models is: The higher the quality of the device, the better the damping and the lower the vibration.
Vibrating function
Modern machines have a so-called shaking function, which ensures that the dust produced during the processing of the materials is not deposited between the individual sanding discs and the motor filter. Otherwise, the dust will have a negative effect on the cutting performance and the motor cooling.
Weight and size
The majority of models are comparatively large, heavy and rather unwieldy. However, the tasks, namely milling plaster, concrete or masonry made of stone, are not child's play either: the devices with the unwieldy weight have to chip away heavy material and are therefore designed to be correspondingly powerful and robust.
Wall chasers have an average size of 45 x 40 x 35 centimetres. Most models weigh about five to six kilograms. In addition, there are cutters that weigh up to ten kilograms. However, it should be taken into account that the tools have to be pressed on for a long time, which becomes a problem especially when working at head height and above. A wall chaser should therefore not weigh more than eight kilograms.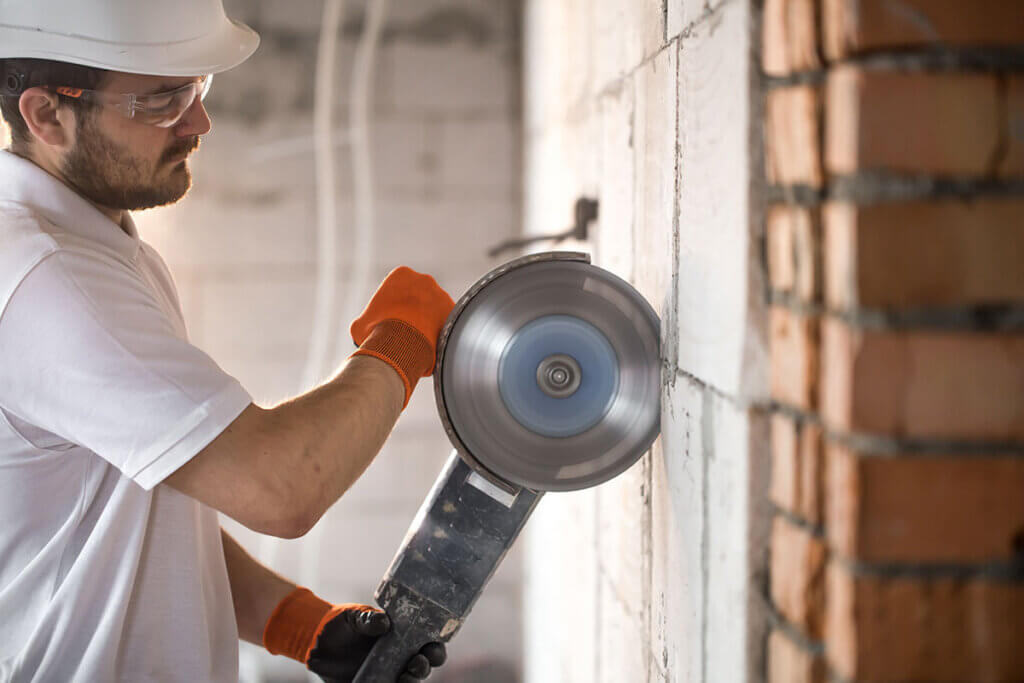 In any case, all machines are designed for two-handed operation; they are too heavy for single-handed operation. Experienced users will find a wall chaser a practical tool for preparing the laying of cables and pipes.
Price
As with many tools, there is a wide range of products from different manufacturers in different price categories in the wall chaser segment. There are small, handy models in DIY store quality as well as robust wall cutters for professional craftsmen. The professionals use the cutters for many hours every day. For them, it is worth investing a little more money in a durable and comfortable working tool. Accordingly, the price range for slot cutters is between about 70 and 800 euros.
The compact, lighter models for private users are cheaper to buy. However, these machines are not suitable for intensive, professional use because the motors installed are not powerful enough. Instead, they are designed for home use. Therefore, they are suitable for do-it-yourselfers who want to create channels themselves when converting the attic or basement or renovating their own aging house or condominium, where pipes and cables will later run.
High-quality professional models, which are used daily by craftsmen, have more powerful motors, are more robustly manufactured and thus designed for continuous use. However, power and value are reflected both in handling and price: the professional tools are heavier than the do-it-yourself versions, so operation requires both practice and increased effort. On the other hand, the more robust construction promises longer durability. As with the do-it-yourself models, users who use a wall chaser for the first time and are not used to this type of physical work will experience sore muscles in their upper arms the next day at the latest.
Well-known brands

Einhell | Güde | Makita | FERM | Bosch | VONROC | Arebos | Zollernalb | Huanyu | DeWalt | AEG | Flex | BAUTEC | Varo | Powerplus | Meister | Eibenstock | Ryobi | Milwaukee | Metabo | Mannesmann | Hitachi | Festool
Additional comfort functions
In addition to the listed purchase criteria, there are a number of other extras that are not exclusion criteria when choosing a model, but which make handling and the work to be done much more pleasant. These include, for example, a dust extraction system to avoid building dirt and a laser projection display for more precise guidance during cutting.
Laser cutting display
A laser cut indicator is a projection laser that makes the handling of wall chasers much easier: With the help of the laser beam, you can always see where exactly the cutting discs will hit the wall, ceiling or floor while you are working. This function can be a worthwhile addition to lines drawn on the wall. In combination, these guide lines assist in creating an optimally drawn, straight groove.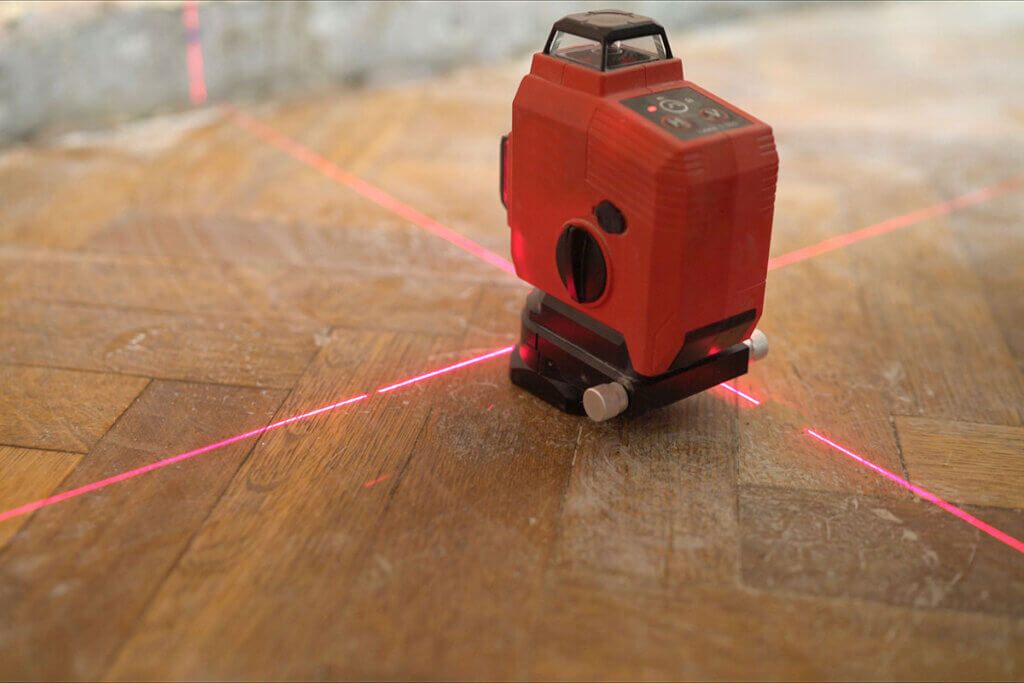 Spindle lock
A spindle lock enables the cutting discs to be changed quickly. The spindle itself is locked by a built-in device, so that the tools can be released with a key or by applying pressure by hand. While the discs are being changed, the device locks the spindle, preventing it from starting up and preventing injuries.
Dust extraction
You can connect the metal pipe or the flexible hose of a hoover to a hoover connection. If you switch on the hoover before using the wall chaser, most of the small material and demolition dust will be sucked in directly and caught in the dust bag. This makes for a cleaner construction site, eliminating some of the time-consuming cleaning work. In addition, clean indoor air makes it easier to breathe. This is true even if a mouth guard is always worn during work.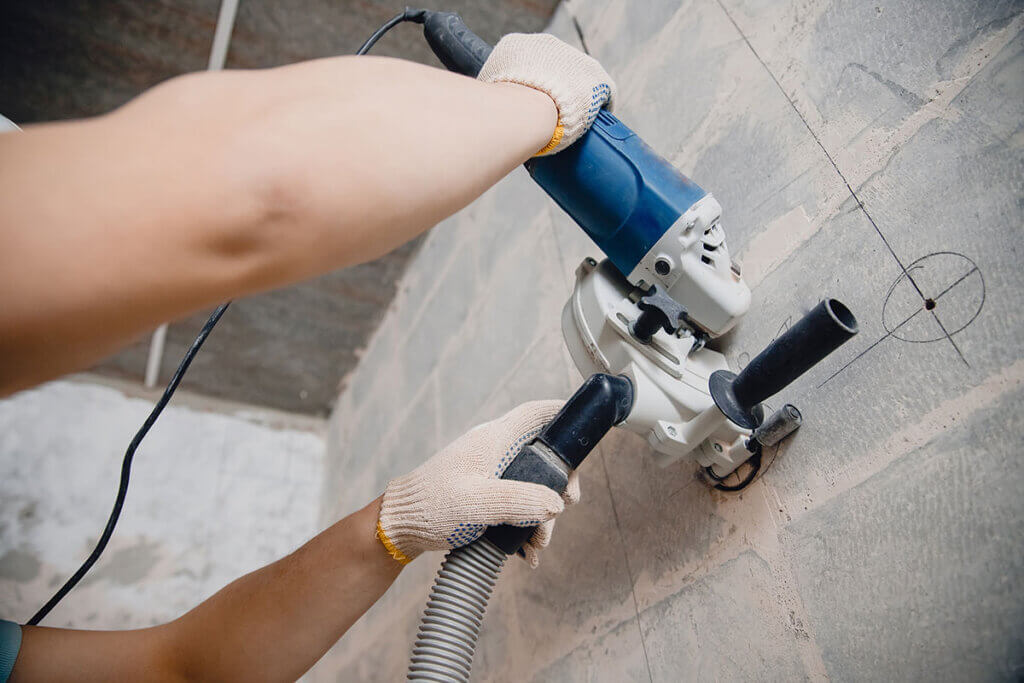 Pick up only small amounts with the hoover
Slotting grooves produces a lot of dust. However, you should only use a hoover if you are slitting a very limited section. Better suited are special industrial and wet-dry vacuums that don't mind the dust or even larger pieces of concrete, stone and plaster demolition. Pay attention to the connection and check whether you need an adapter to connect the extractor.
Safety features
To prevent accidents during use, models with high safety requirements help the user to prevent accidents. We present a selection of the most important safety mechanisms.
Soft start
The soft start, also known as automatic speed control, ensures that the wall chaser does not start up with maximum power immediately after being switched on, but that the speed is increased over a few seconds. This makes handling immensely easier: slipping on the smooth wall, floor or ceiling is prevented. Instead, the milling discs can slowly work their way into the material to be cut.
Restart protection
The restart protection guarantees that the tool does not switch on again automatically after a power failure, for example. You have an easy way to test this restart interlock on your machine:
Switch on the tool.
Pull the mains plug out of the socket during operation.
Plug the mains plug back into the socket.
The appliance must not start now, even though the switch is in the "On" position. This is to prevent accidents and injuries caused by uncontrolled milling without the possibility of intervention.
Overload protection
The overload protection, overload protection or hot run protection ensures that the machine switches off automatically as soon as it runs too hot. This can happen, for example, if the material is very hard or the sanding sheets have become too dull. The automatic shut-off prevents damage to the motor.
The cutting disc can also overheat
If the cutting disc heats up too much during use, it can become unusable. The following two signs may indicate that the disc is too hot and you should take a break:
A blue ring of sparks suddenly surrounds the disc.
The disc turns blue
If the second case has occurred, the disc has already become too hot. Resharpening is no longer possible; the disc is unusable and must be replaced with a new one. You should examine the material to be milled: Is there an obstacle in the wall, floor or ceiling that prevents slitting? There may also be a problem with the wall chaser itself, as well as prolonged use without a break. All these scenarios are typical causes that cause the discs to overheat.
Take regular breaks

If you have a machine without overload protection or are unwilling to rely on it in an emergency, the following rule of thumb applies: after two minutes of continuous use, give the machine a break of at least ten seconds to allow the cutting disc to cool down.
Other safety tips
When using a wall chaser, it is important to follow a number of safety tips. We list some important points that have not yet been mentioned.
Pay attention to the cutting direction
When making vertical cuts, always move the router from top to bottom. In this way, you make use of the wall chasers' own weight. The dust extraction system and the power cable should point downwards. Also make sure that the cable does not accidentally get caught in the run of the wall chaser.
Do not cut around the bend
Wall chasers are only suitable for straight grooves. Therefore, never try to cut a curve with the device: The circular cut-off blades are not suitable for this task. If you dare to cut a curve, they risk shattering, which poses a risk of injury.
Do not start the unit in the material
Never start the machine if the cut-off wheels are still buried in the material. Instead, plunge the unit into the material from above each time you cut.
Always wear suitable protective clothing
Wall chasers carry an increased risk of injury due to the rotating cutting discs compared to other power tools. Wearing suitable gloves is recommended. Finally, it cannot be ruled out that you will lose control of the tool due to a defect or application error. In addition, milled-out and free-flying spoil material poses a risk of injury. For this reason, you should also urgently wear protective goggles.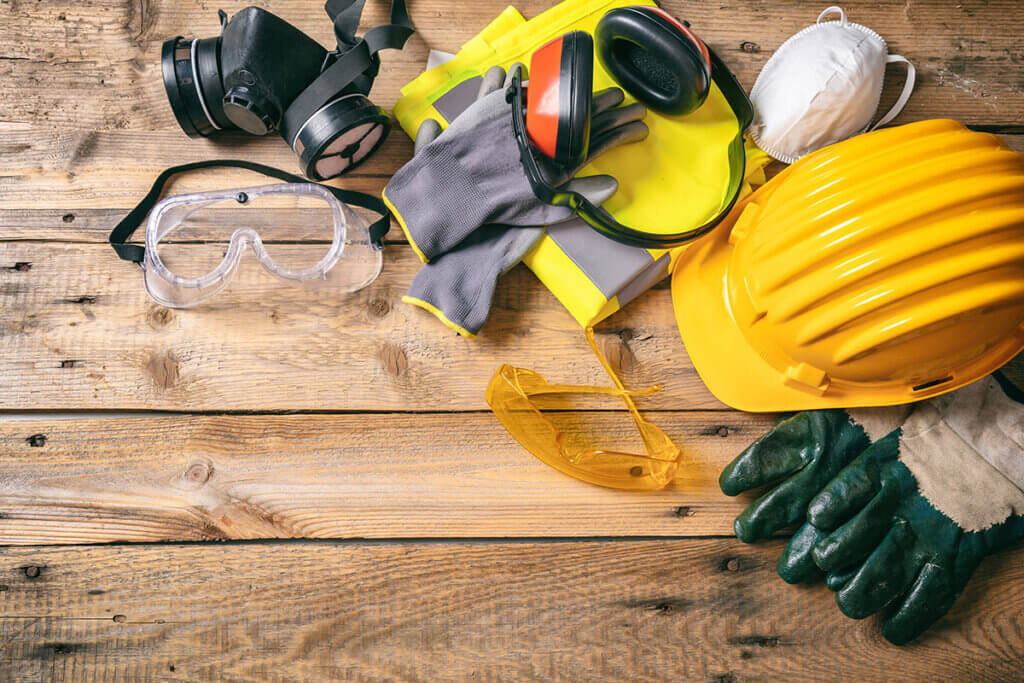 Working with heavy equipment also causes a lot of noise. According to the Occupational Health and Safety Act, ear protectors are mandatory for noise levels above 85 decibels. Wall chasers easily exceed this noise limit: 90 to 120 decibels (dB) are not uncommon. Wearing a mouth guard is also recommended.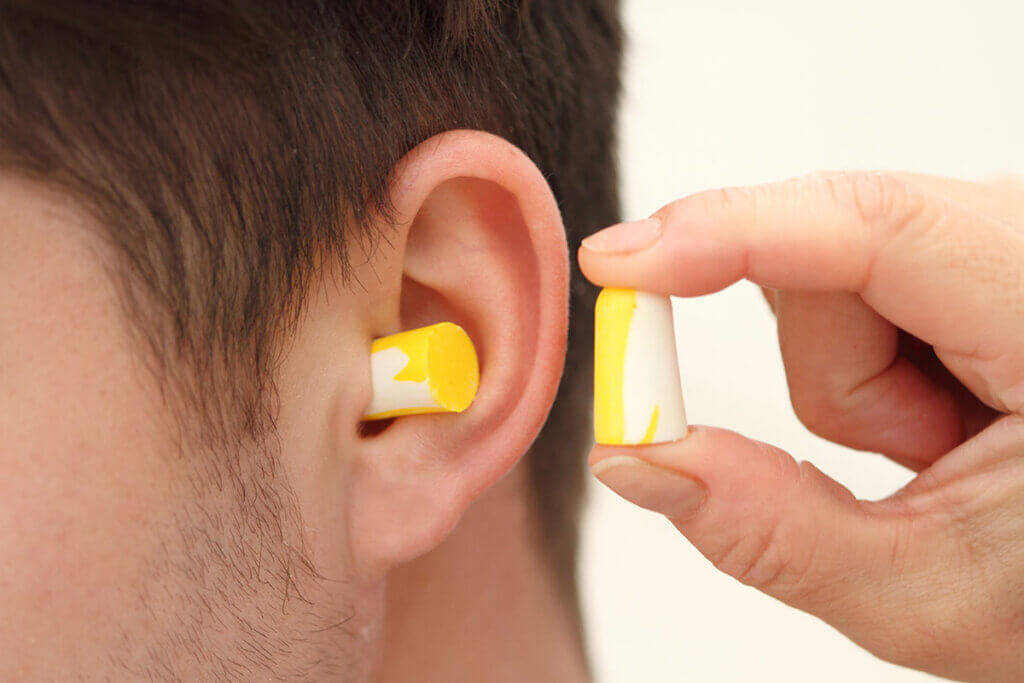 Even if the dust extraction system removes a large part of the debris that accumulates when cutting concrete, screed or stone, there is still a residue in powdered form in the air. In the short term, these particles cause coughing; in the long term, breathing problems or asthma would be the result. Therefore, in addition to wearing a mouthguard, make sure that the work area is adequately ventilated.
---
Image 1: © Anselm / stock.adobe.com | Image 2: © Jens Rother / stock.adobe.com | Image 3: © puhimec / stock.adobe.com | Image 4: © Ruslan / stock.adobe.com | Image 5: © Parilov / stock.adobe.com | Image 6: © Rawf8 / stock.adobe.com | Image 7: © maho / stock.adobe.com