Bosch washing machine purchasing advice: how to choose the right product
What You Need to Know
Bosch washing machines stand for tradition, innovation and outstanding cleaning results.
Compared to many other manufacturers, Bosch machines save water and electricity and thus money.
The manufacturer has various product series for different customer groups in its portfolio.
Bosch offers both basic models with basic functions and machines that are state-of-the-art in terms of design and technology.
The Bosch brand
Robert Bosch GmbH was founded by its then 25-year-old namesake in 1886 as a workshop for precision mechanics and electrical engineering in a backyard in Stuttgart. The manufacture of components for the automotive industry began early on.
The Bosch product range grew to include other industry-specific products, such as windscreen wipers and injection pumps. Bosch is now the world's largest automotive supplier.
Traditional product features in the company logo

The first successful mass-produced product from Bosch was the magneto ignition device for internal combustion engines, which can still be found stylised in the company logo today.
Another division is Robert Bosch Hausgeräte GmbH, which also trades under the name Bosch Home and produces appliances for the kitchen and household. This was founded in 1967 as the joint venture Bosch-Siemens-Hausgeräte GmbH (BSH) and is now a wholly-owned Bosch subsidiary.
Today, the portfolio includes household appliances such as refrigerators, dishwashers, cookers, small household appliances and washing machines. Products from the company enjoy a great reputation and trust. This also has to do with the umbrella brand strategy: no matter which product is launched on the market: It always bears the Bosch brand name. Especially with umbrella brands, damage to the image of one division can spread to the entire product range. This risk can only be countered offensively. No company is given customer trust as a gift, it has to earn it. Even at the time of its foundation, Bosch pursued a strategy called quality.
Bosch washing machines
Users are used to the fact that Bosch washing machines clean clothes and textiles thoroughly and deep into the fibres. They also appreciate the high quality, the wide range of functions and the innovative technology that distinguishes Bosch washing machines from models from other manufacturers. Everyone will find what they are looking for at Bosch – whether single, couple, family or pet owner. There is a machine to suit every need. Special gentle and delicate washing programmes ensure optimum care even for demanding fibres. But in addition to outstanding cleaning results that buyers have been able to rely on for years, they also choose Bosch washing machines with the latest energy efficiency classes. In this way, they do something good for the environment and save on running costs.
Different designs: front loader versus top loader
Like many other manufacturers, Bosch offers washing machine models of two types: Front loaders and top loaders. Front loaders have a porthole in the front, top loaders are filled on the top instead. In the following, we explain the differences and show both the advantages and disadvantages of each design.
Front loader
The most common type of Bosch washing machine is the front-loading model. A characteristic feature of this type of machine is the porthole on the front, which users use to load the machine with dirty laundry. These models can even hold a lot: up to nine kilograms of laundry.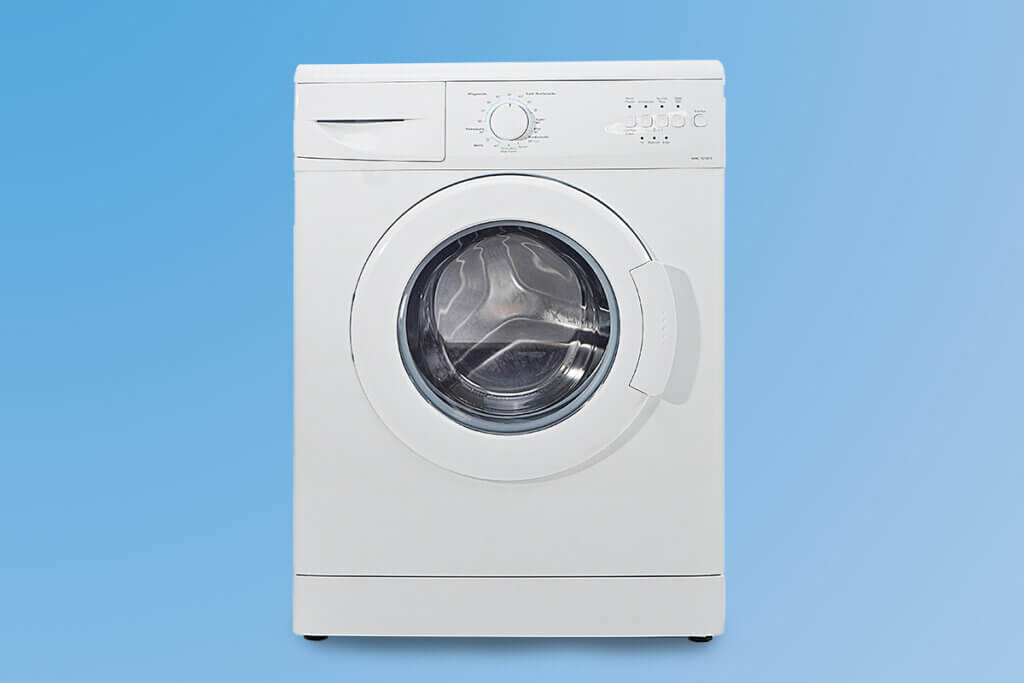 A big advantage of front-loading machines is that they can be installed underneath. Since the loading opening is at the front, consumers can place such machines under a worktop. In addition, the top can serve as a storage surface even without a superstructure. Unlike top-loaders, front-loaders offer more wash programmes as well as additional and convenience functions. In addition, it is possible to place a dryer on top of the washing machine.
This saves space. The disadvantage of this design is the width: Unlike slimmer top-loading models, they do not fit into every niche. You should also leave some space in front of the machine for loading.
The standard dimensions of Bosch front loaders are:
Height: 85 centimetres
Width: 60 centimetres
Depth: 60 centimetres
Pro points
Large capacity thanks to drum volume of up to nine kilograms
Can be installed underneath thanks to the opening at the front
More wash programmes as well as additional and convenience functions.
Stackable with a dryer
Drawbacks
Do not fit in small niches
Space-saving: Slimline models with a shallower installation depth
Slimline models, which have a shallower installation depth, are a special feature. Instead of 60 centimetres depth, these appliances have a depth of about 45 centimetres. Slimline models are ideal for very narrow rooms where every centimetre counts. The disadvantage of these special models is the comparatively small drum, which is due to the slimline dimensions.
Top loader
The loading and unloading opening on top-loaders is not on the front but on the top of the appliance. The smaller overall width compared to front loaders is appreciated by many users as an advantage, as it allows the appliances to fit into niches where a front loader model cannot be operated. Since loading is possible from above, top loaders can also be installed in narrow rooms, as space in front of machines does not necessarily have to be kept free.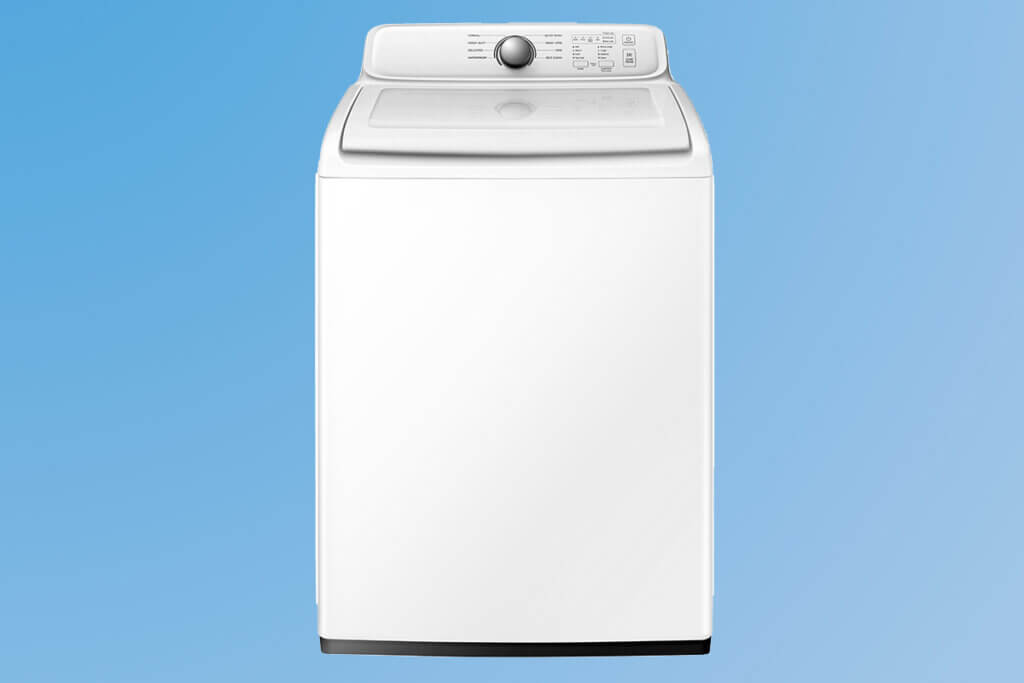 On the other hand, there is also a disadvantage. The drum has a smaller capacity, which is a disadvantage for multi-person households and larger families: Several wash loads may be necessary. Most top-loaders have a load capacity of five to seven kilograms. This means that several wash loads may be necessary. Top-loaders are now a niche product and are somewhat more expensive to buy due to lower production figures.
Older people in particular appreciate the loading and unloading opening at the top: they do not have to bend down to load or unload laundry. However, top-loaders are not suitable for underfloor installation because a worktop would block the opening. Moreover, the appliances are not suitable for stacking: a dryer placed on top of the washing machine would also block the loading opening. Owners must therefore install them freestanding. If a top-loading model is chosen, users usually have to do without some washing programmes as well as additional and convenience functions.
The standard dimensions of Bosch top-loaders are:
Height: 85 centimetres
Width: 40 centimetres
Depth: 60 centimetres
Special features of Bosch washing machines
Bosch washing machines not only stand for their own quality standard, but also come with a wide range of special programmes and convenience functions. We highlight the quality and innovations.
i-DOS
The i-DOS automatic dosing system from Bosch regulates the detergent and water quantity according to the degree of soiling and the water hardness. The system also regulates the dosage according to the selected programme and type of fabric. This saves water and electricity resources as well as your wallet. In addition, you no longer have to add detergent before each wash cycle, as one tank filling is sufficient for up to 20 wash loads.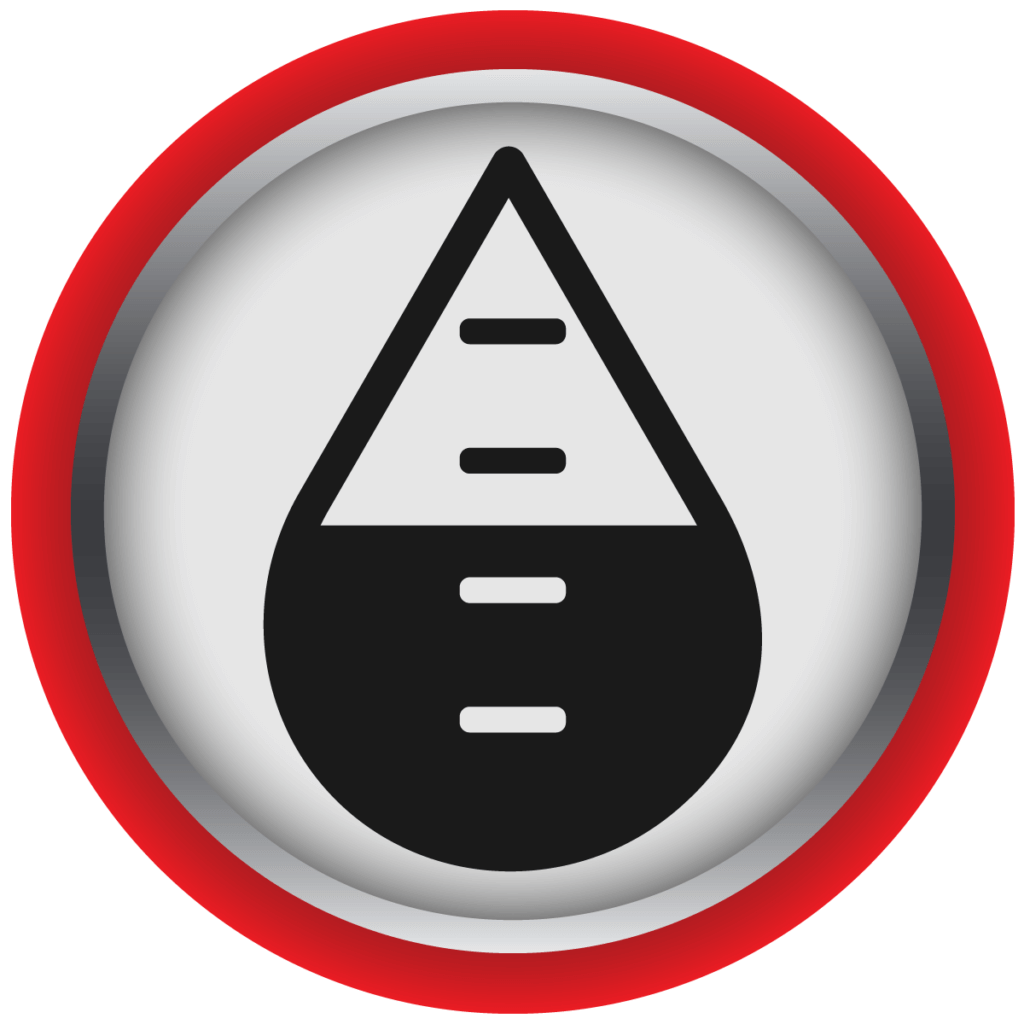 According to Bosch, you save up to 38 percent detergent and up to 10 litres of water per wash cycle. According to the EU energy efficiency label, an average household washes 220 loads. Particularly efficient appliances therefore pay for themselves after just a few years through the electricity and water costs they save. i-DOS is not limited to the automatic addition of detergent, however: the machine also doses fabric softener automatically if desired. In this way, the system prevents both under- and overdosing and thus ensures that the laundry always comes out of the machine perfectly clean and well cared for. Commercially available universal and colour detergents in liquid form can be used. If you no longer wish to use the dosing system, you can also add washing powder via a separate compartment.
ActiveWater/ActiveWater Plus
Under the motto "Every drop counts", Bosch has developed an automatic water quantity control system called ActiveWater for its washing machines. Sensors automatically detect the amount of laundry and calculate the amount of water needed based on the load. With conventional washing machines, the same amount of water is always used within a programme, regardless of how much laundry they are loaded with or how dirty they are. In Bosch washing machines with the ActiveWater or ActiveWater Plus function, you benefit because you don't have to pay for the water you don't need.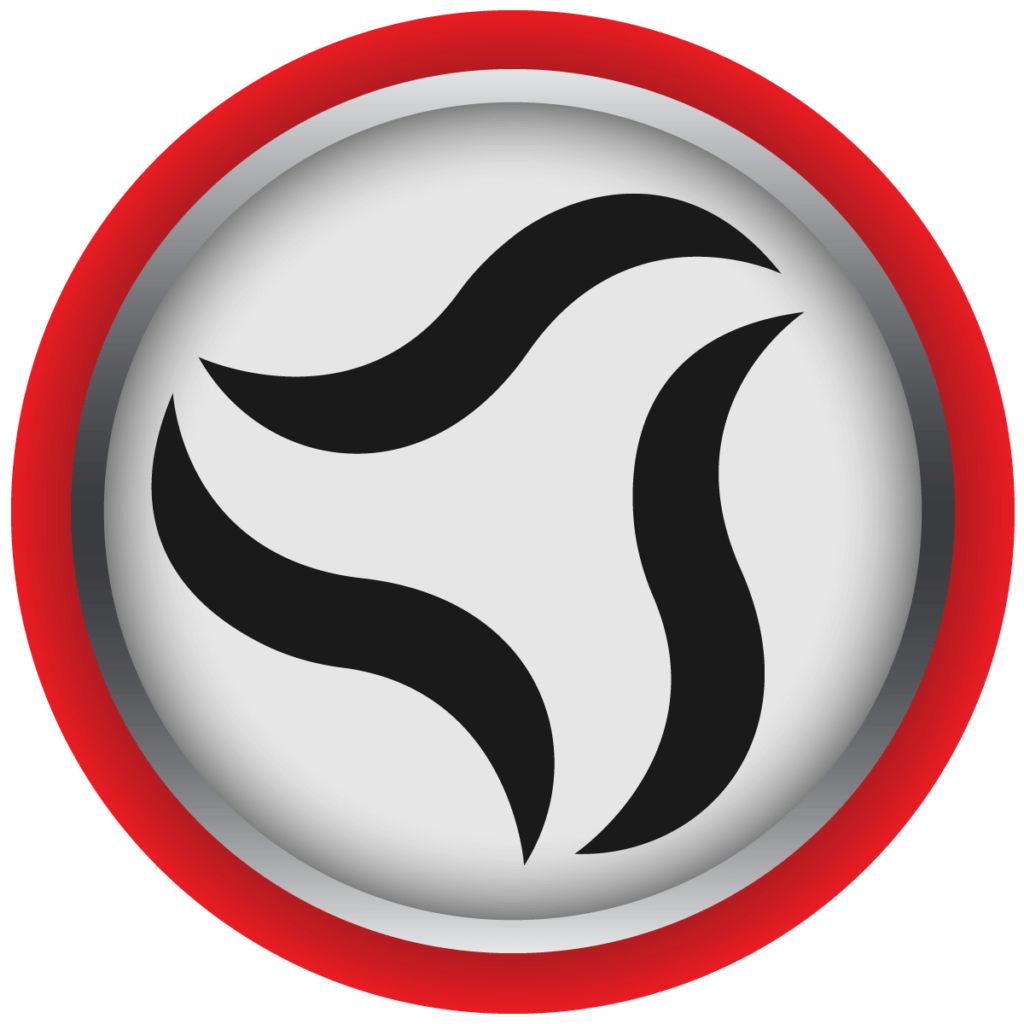 Besides, the system protects the environment. ActiveWater Plus is a further development of the Bosch automatic water quantity control. Here, two sensors calculate the amount of water needed, thus enabling further savings through more precise calculations. Bosch also calls this procedure "stepless automatic quantity control".
Refill function
Just about everyone knows it: the phenomenon of having just started the washing machine and realising that you forgot to put an item of laundry in the drum with it. With the add-on function, Bosch offers the option of adding items of clothing even after the washing programme has started. To do this, you interrupt the programme that is currently running and the display informs you whether it is possible to open the door at this time. Then simply continue the programme.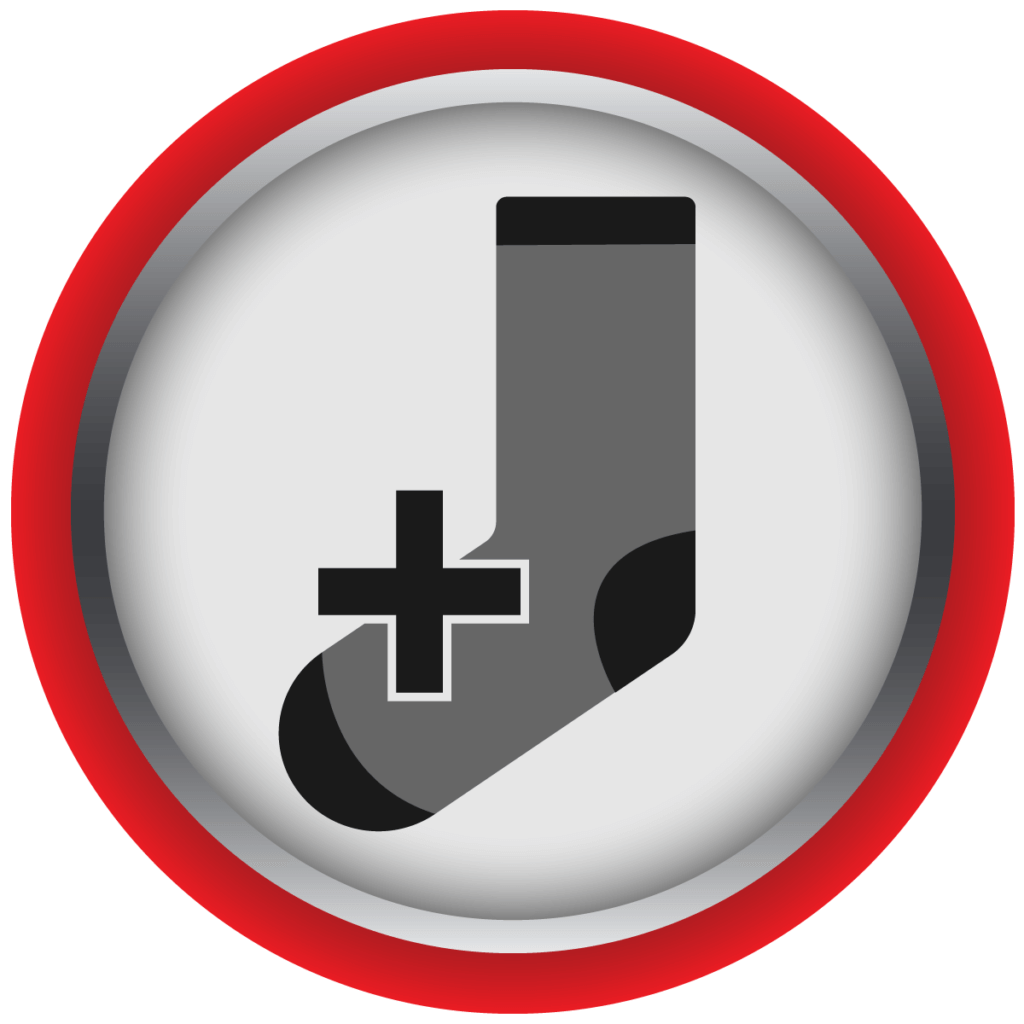 AntiVibration Design
Bosch appliances with AntiVibration Design make less noise due to their more stable running characteristics. The side walls of the machines have circular contours that reduce vibrations. Sound and shock absorbers make the machine even quieter.
ECOSilence Drive
In combination with the AntiVibration Design and the Bosch ECOSilence Drive, the washing machine operates as quietly as a whisper. This is particularly important for shift workers who want to do their laundry during the night. But also those who want to be considerate in general, who live in apartment buildings, or who have children who go to bed early, benefit from this technology. Bosch uses a magnetic drive instead of a brush drive for the motors, which produces a low operating noise. The system is also more resistant and thus more durable and saves electricity. In addition, Bosch appliances have special programmes that, for example, dispense with the acoustic notification when the wash cycle is complete.
4D Wash System with Intensive Plus Option
The 4D Wash System developed by Bosch and the optional Intensive Plus programme ensure perfect washing results even when you have loaded the drum completely. The 4D Wash System ensures that all laundry items are optimally soaked with water and detergent. An extra-fast drum rotation presses the laundry items directly against the drum wall through centrifugal forces. This creates a so-called laundry tunnel into which water and detergent are specifically sprayed.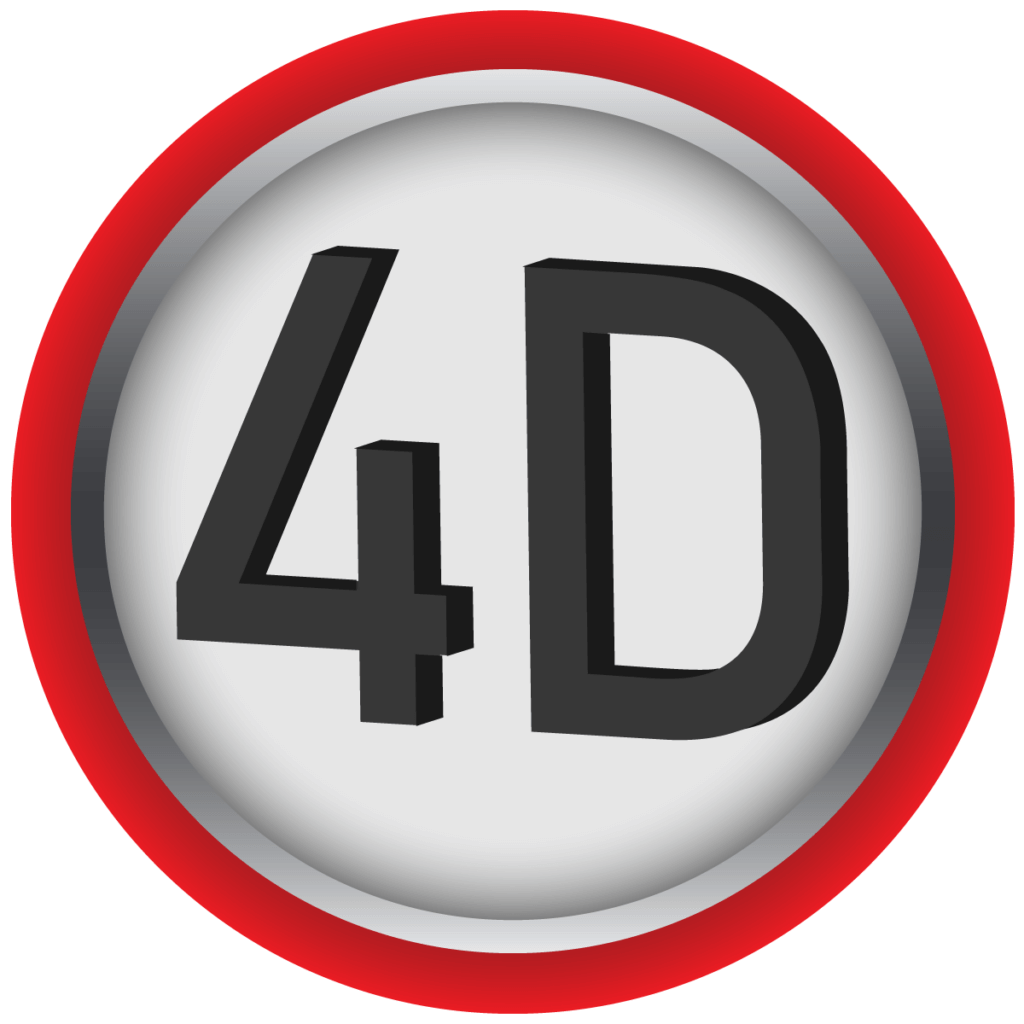 The combination of the water spray jet, which hits the laundry directly, and the laundry tunnel ensures the efficient effect of detergent and water. In contrast to washing in a standard washing machine, spotlessly clean laundry is ensured even at full load.
For very heavily soiled laundry, for example football jerseys with lawn and mud stains, select the Intensive Plus programme in addition. It activates an additional wash cycle lasting about half an hour.
Home Connect
Home Connect is the smart interface from Bosch that allows you to monitor and control your home appliances, such as your WLAN-enabled washing machine, via smartphone, tablet and the like. For example, you can select the programme for red wine stains, heavily soiled laundry or delicate textiles in the app and then let the washing machine get started thanks to Home Connect. On the way home, you can ask your children to put their dirty laundry in the machine; you then select the programme you need remotely and press the start button. When you get home, the laundry is done. If you simply want the laundry to be finished at a certain time, enter the desired target time.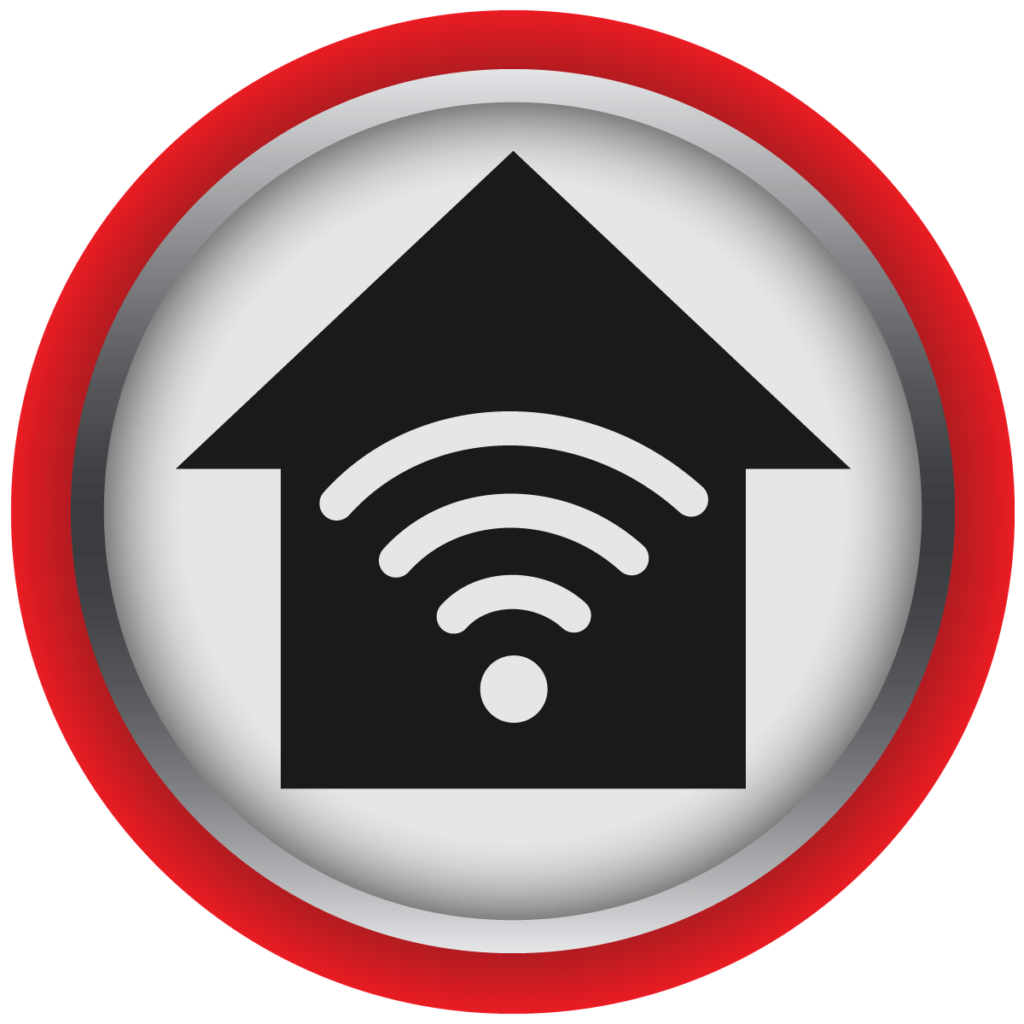 So that you don't have to check whether your laundry is done, the washing machine sends you a message if you wish. You can also be automatically notified if detergent or fabric softener needs to be refilled on an appliance with the i-DOS function.
ActiveOxygen
ActiveOxygen technology cleans your clothes of 99.99% of typically occurring bacteria and germs, even at low temperatures. To do this, add the option to any wash programme. The effect even starts at a washing temperature of 20 degrees and without any chemical additives. For this purpose, ambient air is drawn in and finely atomised as active oxygen and transported into the drum. Bacteria and germs are thus removed in a first cycle even before the actual washing begins. A second ActiveOxygen treatment takes place before the final rinse cycle to ensure hygienically clean laundry.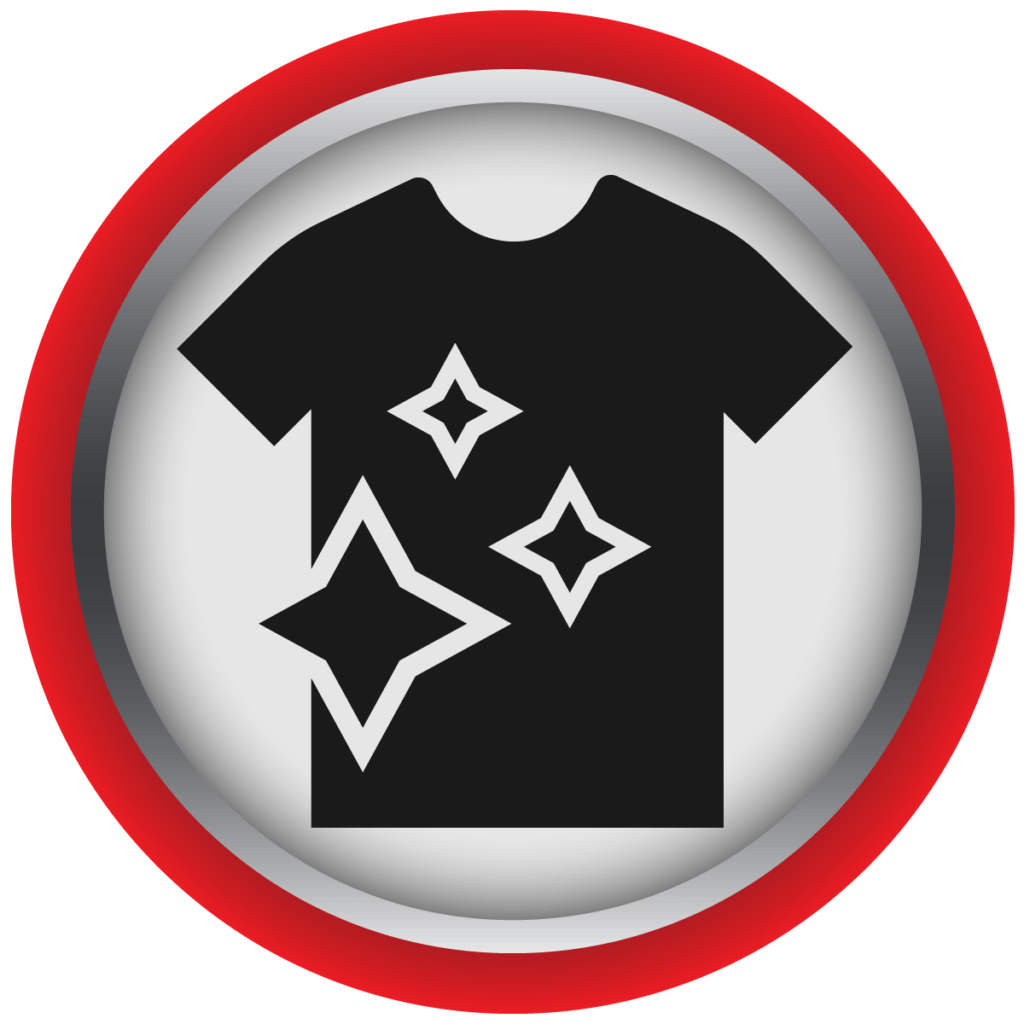 What is the automatic stain removal system in Bosch washing machines?
Modern Bosch washing machines have an automatic stain removal system that removes even stubborn dirt completely. To one of the programmes, you select from the four most common types of dirt – oil, blood, red wine and grass. The machine adjusts the water temperature, soaking time and drum movements. So even removing difficult stains is no longer a problem. Additional washes or chemical stain removers are not necessary.
What are the Bosch VarioPerfect programmes?
With the VarioPerfect programmes from Bosch, you can wash your laundry either particularly economically or particularly quickly, as you wish. If you are not pressed for time, you can save up to 50 percent of the energy with the EcoPerfect function. If you are in a hurry, choose the SpeedPerfect option and save up to 65% of the running time.
What is the AllergiePlus function from Bosch suitable for?
Washing machines with AllergiePlus function from Bosch are particularly suitable for users with sensitive skin and asthma. Allergies are triggered by pollen, animal hair or house dust mites, which can become trapped in textiles. Appropriate programmes remove 99 percent of allergens during washing.
Comfort Control/Comfort Control Plus
Appliances with ComfortControl are particularly easy to operate via a programme selector switch, various option buttons and a large, clear display that shows the selected programme and the remaining time. Most Bosch models also include the ComfortControl Plus function, which displays additional details on electricity and water consumption.
Buying criteria for Bosch washing machines
In addition to the special features specific to Bosch washing machines, there are a number of other general criteria you should consider when choosing a Bosch washing machine. We describe the most important buying criteria for Bosch washing machines below.
Dimensions
For users who have sufficient floor space, the best-selling option is the front-loading model. For these models, sufficient space must be allowed at the front so that users can ideally open the porthole completely to fill the laundry. If there is little space in the bathroom or other installation room, you can also opt for a slimline machine, whose depth is up to 20 centimetres less. This results in a smaller drum volume.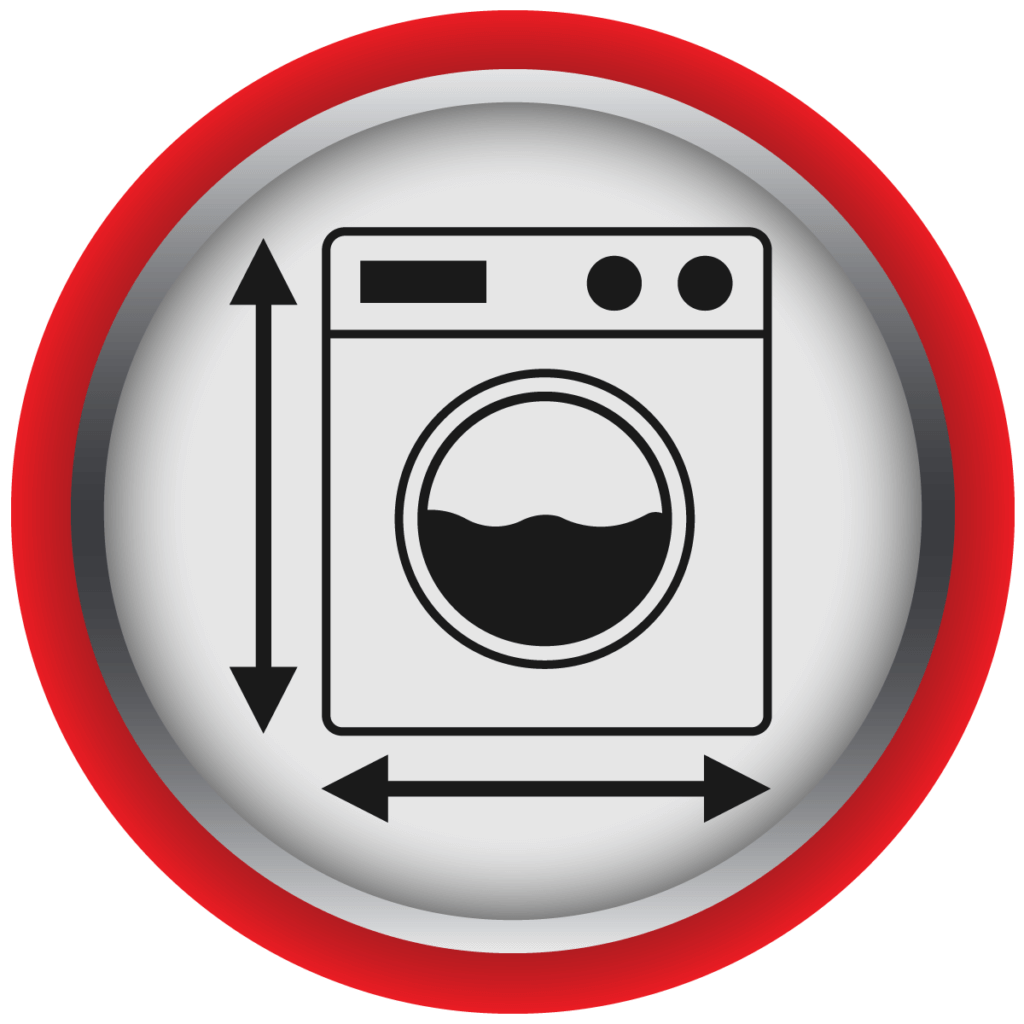 Top-loading machines are another solution for confined spaces. They have roughly the same dimensions as classic front loaders. Unlike front-loading models, however, you don't have to reserve space in front of the machine because the loading opening is on the top. On the other hand, you cannot place anything on these machines. In addition, they are not suitable for underfloor installation.
Capacity
The capacity of the washing drum is given by the manufacturer in kilograms. This unit refers to the weight of the dry dirty laundry. In Bosch washing machines, the maximum capacity is between five and nine kilograms of laundry. In general, top loaders have a lower maximum load capacity than front loaders because their drums cannot be too large due to their design, whereas the drums of particularly large front loaders can hold up to 9 kilograms. The drum size should suit the household.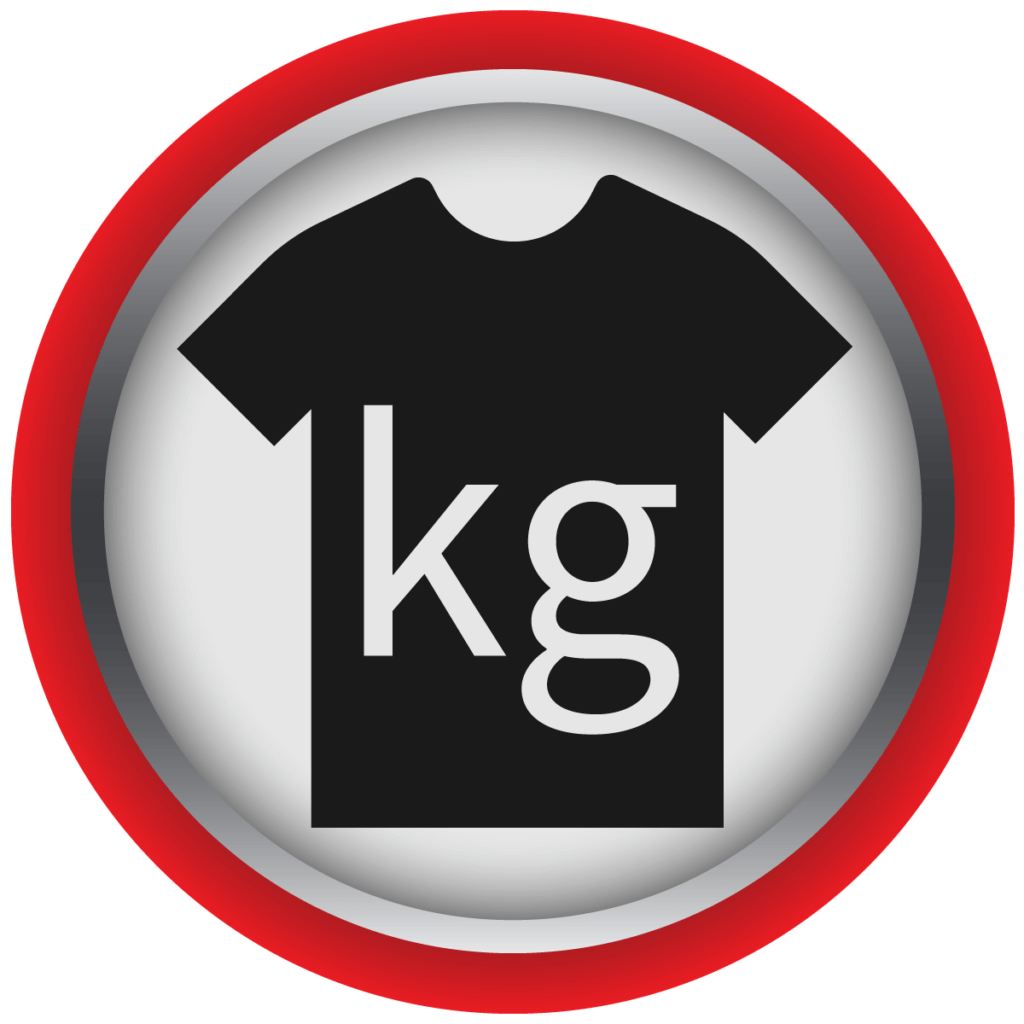 If you live alone, a machine with a small drum makes sense: alone, you will have problems getting a full load of laundry together with a machine that is too big. Families with several children, on the other hand, need a machine with a higher capacity: they are more likely to have no problem getting a wash load together in a short time.
What capacity should the Bosch washing machine have?
5 kilograms: 1 to 2-person households
6 kilograms: 2- to 3-person households
7 kilograms: 3- to 4-person households
8 kilograms: 4- to 5-person household
9 kilograms: more than 5-person household
If you are considering a new purchase, you should choose the drum size according to the number of people living in the household. If you are planning to start a family soon, choose a slightly larger capacity accordingly.
Energy efficiency class
One of the most important criteria when choosing a washing machine model is its energy and water consumption. The more economical the Bosch model, the better for your wallet and the environment. You can find information on the electricity and water consumption of the appliances on the standardised EU energy label, on which the manufacturers must indicate the consumption levels. This label is not only mandatory for washing machines, but also for other household appliances such as refrigerators, dryers or dishwashers.
The EU label divides appliances into seven classes. In the EU energy label, which will be reformed in 2021, class A identifies the most energy-efficient models. The information is calculated from practical test conditions and thus enables better comparability for the customer. This has consequences in terms of classification: a washing machine with the old A+++ classification can now be classified in classes A, B, C or even D with the same technology and features. The front-loading models listed on the Bosch homepage are all classified in energy efficiency classes A to C.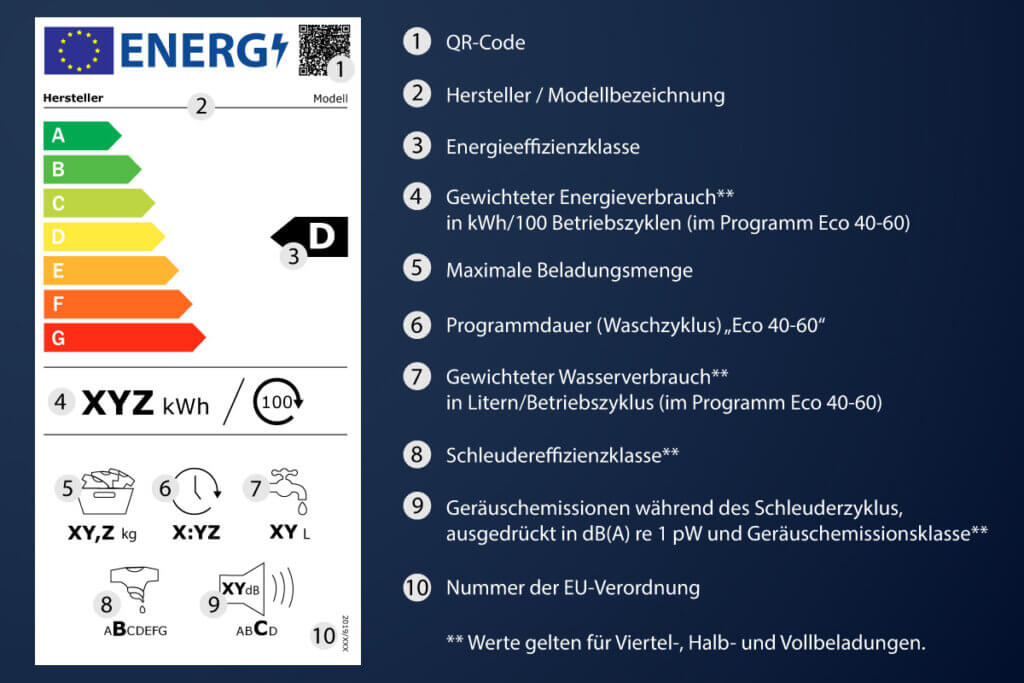 The essential decision-making aid for interested parties should be the manufacturer's data on annual electricity and water consumption. These are determined on the basis of 220 washes in the standard programme. Prospective buyers should bear in mind that only models with the same capacity can be meaningfully compared. After all, a machine with a capacity of nine kilograms needs more water and electricity, but also cleans a larger amount of dirty laundry.
What is the annual consumption of a Bosch washing machine?
All washing machines in the current Bosch range are in energy efficiency class A and are very economical. For example, the Bosch WAN28270 with a capacity of seven kilograms consumes 137 kilowatt hours of electricity and 8,580 litres of water per year. By comparison, the Beko model WM 6101 PS in energy efficiency class A+ with the same capacity consumes an average of 195 kilowatt hours of electricity and 8,799 litres of water per year. A higher purchase price for a more economical Bosch appliance thus pays for itself after just a few years of use. If you use the EcoPerfect function, you may have to wait longer for your laundry, but you also use up to 50 percent less energy.
| Washing machine model | Electricity consumption per year | Water consumption per year |
| --- | --- | --- |
| Bosch WAN28270 | 137 kWh | 8,580 litres |
| Beko WM 6101 PS | 195 kWh | 8,799 litres |
Thanks to their lower consumption, Bosch appliances often pay for themselves after just a few years of use.
Standard programmes
Almost everyone knows them: the washing machine standard programmes such as "Coloureds", "Easy Care" or "Wool". With many programmes, users also have the option of changing the wash temperature if they wish, to kill bacteria at high temperatures or to save energy and money when washing at low temperatures. Many Bosch washing machines have special programmes to treat stains specifically and without chemicals during the wash cycle so that no pre- or post-wash cleaning is necessary. The automatic quantity control of Bosch appliances determines the required amount of detergent and water from the weight of the laundry. This eliminates the need for manual dosing and the selection of a "small quantity" button.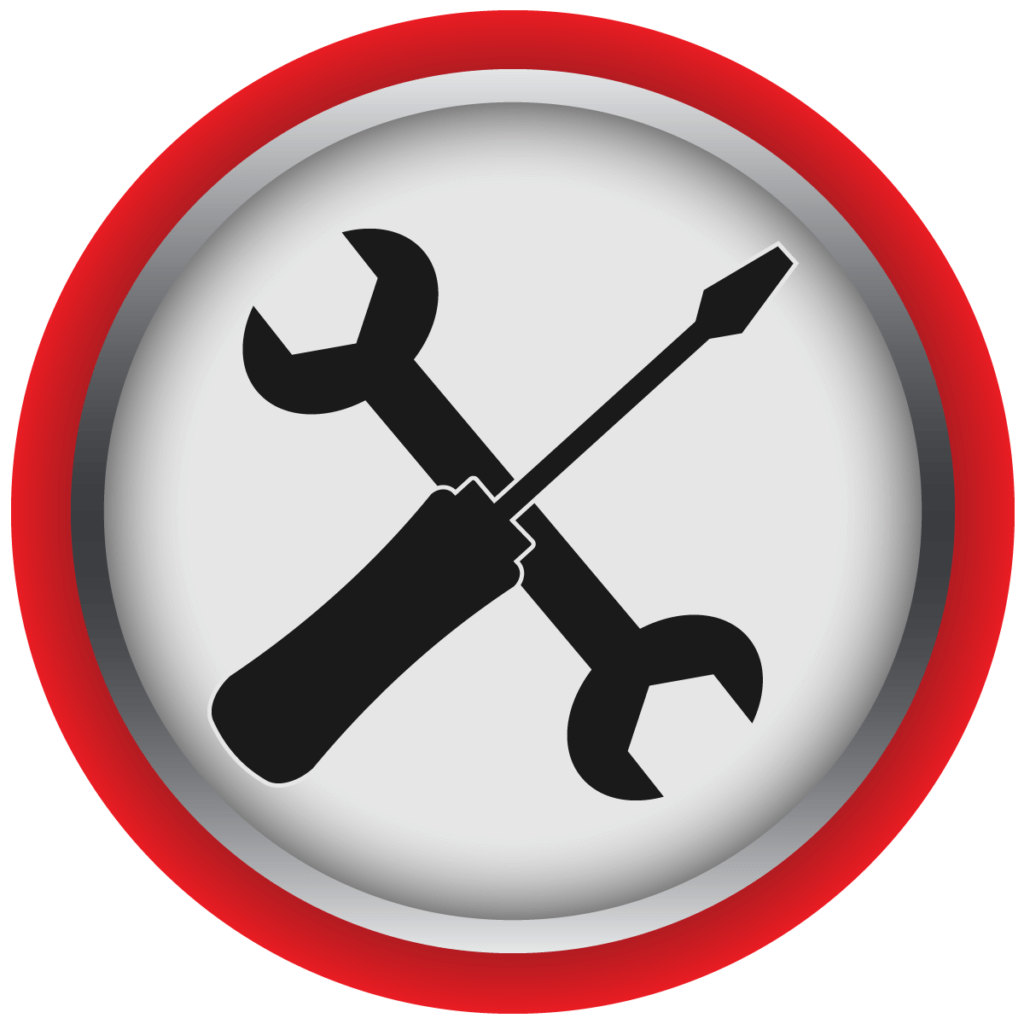 Spin speed
The spin speed indicates the number of drum revolutions per minute. This drying process, known as spinning, follows the actual washing. Centrifugal forces spin the water out of the laundry. The higher the speed, the less water remains in the clothes and the faster they dry.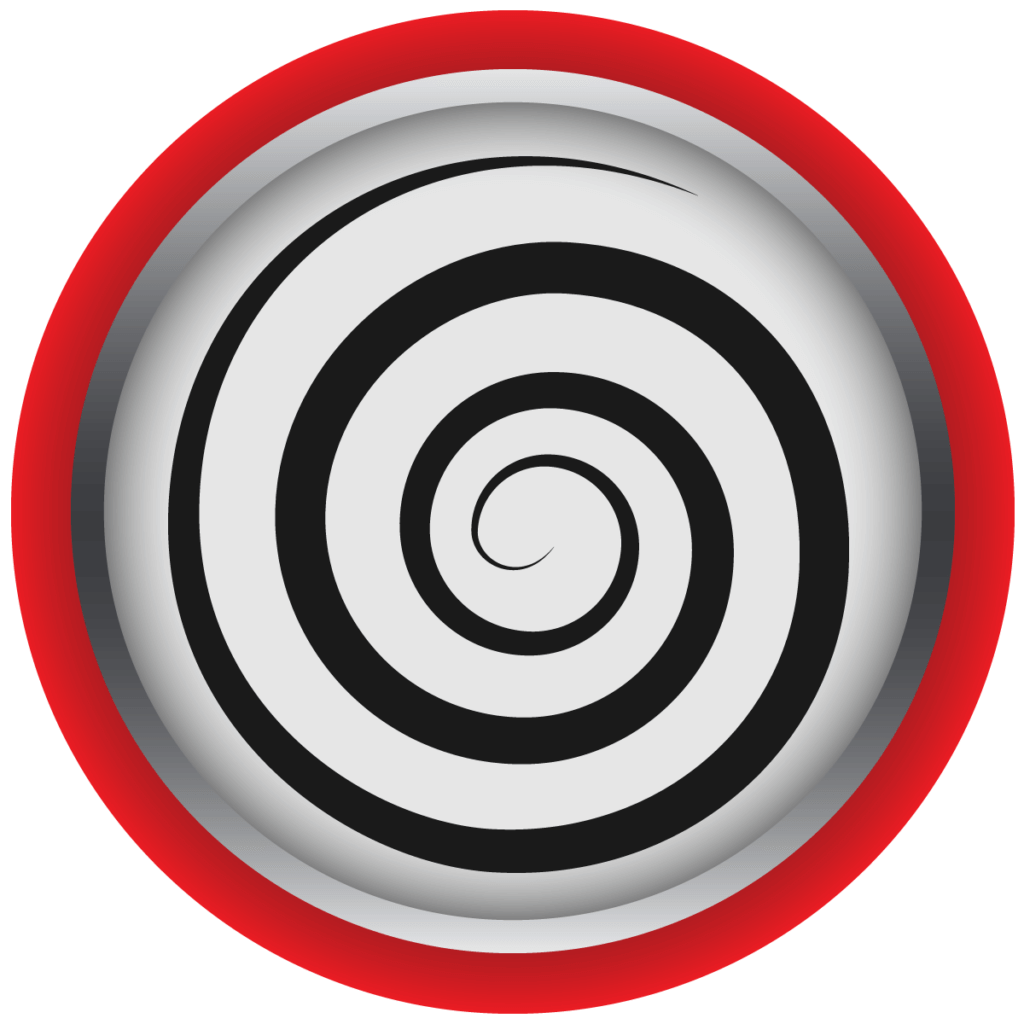 Modern washing machines operate at a spin speed of between 1,200 and 1,600 revolutions. Almost all Bosch machines work at a maximum of 1,400 revolutions. Only a few machines from the HomeProfessional series reach up to 1,600 revolutions per minute.
Aquastop
Bosch offers appliances with a so-called Aquastop function. This is the interruption of the water supply in the event of a defect in a water-carrying system. This prevents damage caused by leaking water. There are various mechanical and electrical systems for detecting a leak, shutting off the water supply or collecting or pumping out water. The system is typically found in washing machines and dishwashers.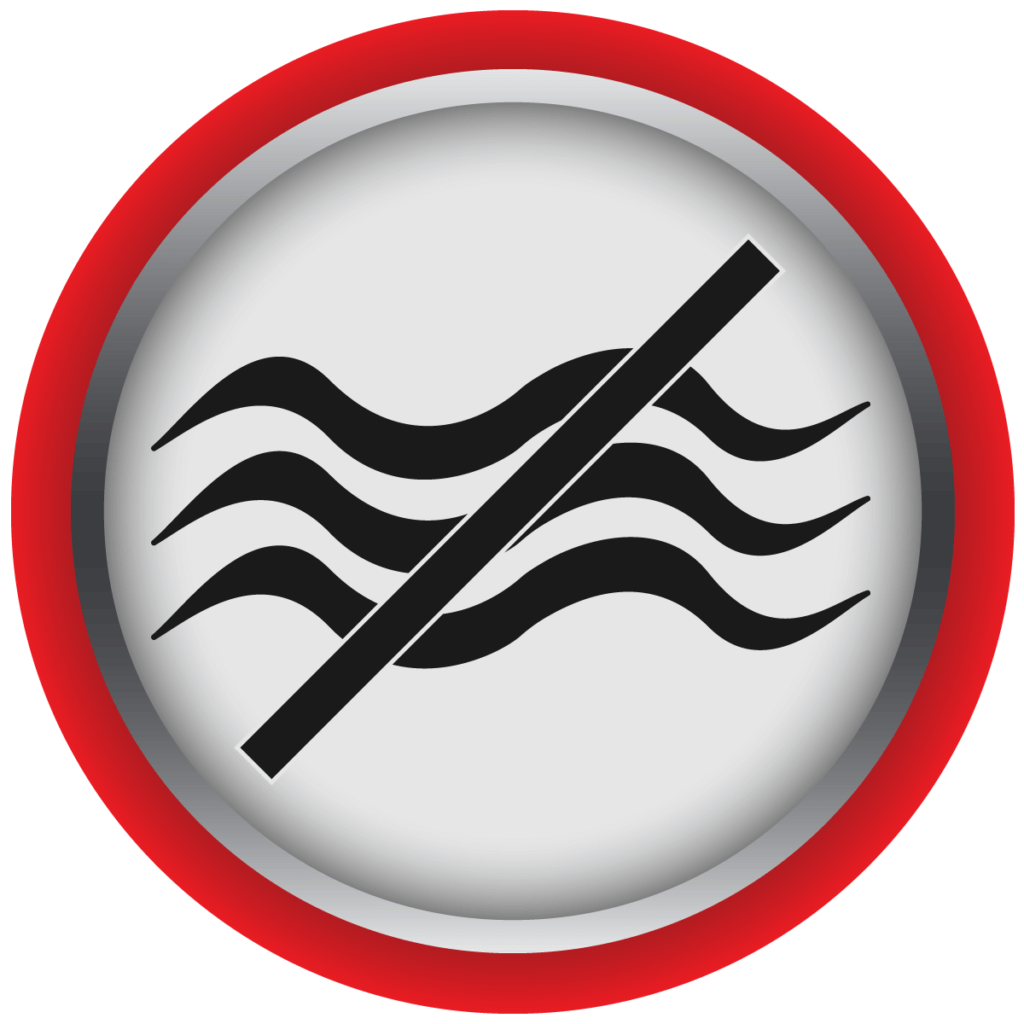 Dryer function
Like other manufacturers, Bosch offers washer-dryer models. These are combination appliances that clean and then dry laundry. However, these appliances consume a lot of energy. For most users, it is therefore advisable to buy an energy-efficient washing machine and a separate, dryer with equally low energy consumption instead of the washer-dryer.
Care and cleaning of the machine
It is a widespread annoyance: you expect fragrant laundry after the washing process, but instead the clothes come out of the machine smelling smelly, despite the use of detergent. But how can this happen? The culprit is bacteria that spread in the drum after some time of use. A washing machine with its warm and humid environment is the ideal breeding ground for these uninvited guests.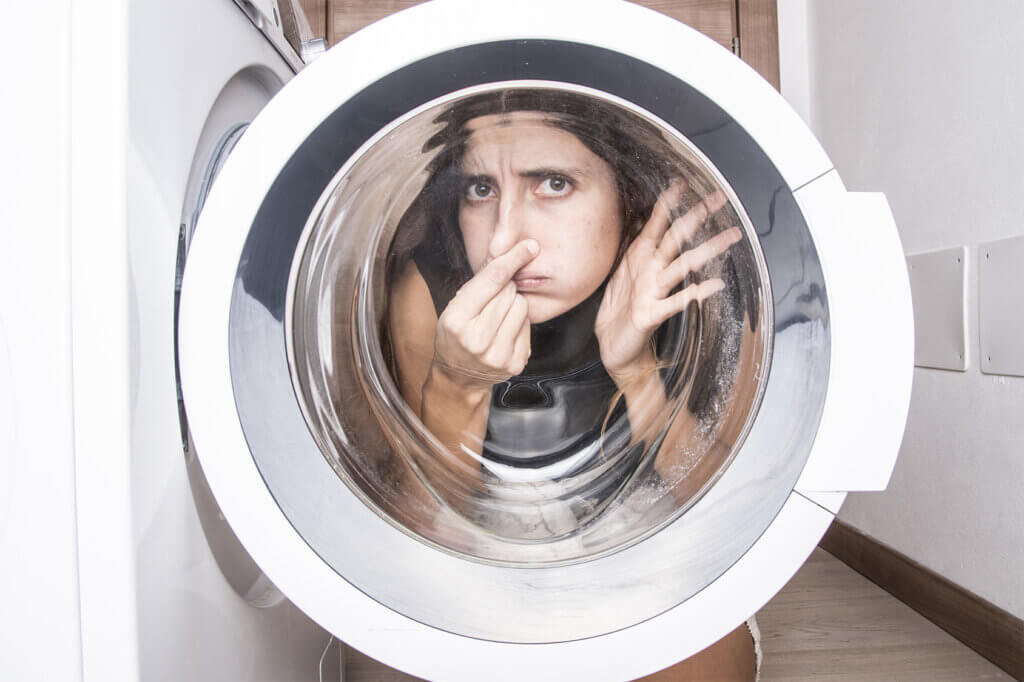 Bacteria multiply particularly frequently when you wash at low temperatures of 40 degrees or less. The problem therefore affects precisely those users who want to protect the environment and save energy costs with economy programmes at low temperatures.
You can avoid this annoyance by running the empty washing machine through a boil wash programme about once a month. The high temperatures of up to 90 degrees effectively kill the pests.
The German Federal Institute for Risk Assessment recommends that textiles contaminated with microbes, such as underwear and dish towels, should always be washed at at least 60 degrees and with a detergent containing bleach.
Bosch washing machines automatically remind their owners after 20 washes that the drum should be cleaned. However, they have the option of postponing cleaning until a later time. The Bosch drum cleaning programme then takes over the settings regarding temperature, amount of water and running time.
Bosch model series
The traditional Bosch brand has divided its washing machines into five model series: Series 2, Series 4, Series 6, Series 8 and HomeProfessional. They differ in their range of functions and are aimed at different customer groups due to price differences. We will show the differences in the following. The features already included in the "smaller" series are no longer listed in the "larger" ones.
Bosch Series 2
The Bosch Series 2 washing machines are basic models. The laundry gets clean at an excellent price-performance ratio, but users have to do without special and convenience features in these models. They are suitable for smaller budgets, for example in single or student households.
Solid basic functions:
Highest energy efficiency class
Special programmes for particularly time- or energy-saving wash loads
Special programmes for allergy sufferers
Bosch Series 4
The Bosch Series 4 washing machines are reliable and easy to use. They are therefore ideal for households with two or more people and a large amount of laundry.
Additional features compared to the Series 2:
Gentle and efficient washing thanks to the special drum structure
Bosch Series 6
The Series 6 and higher appliances are particularly quiet and therefore well suited to people who occasionally have to do their laundry at night. This way, they avoid trouble with family members, flatmates or neighbours.
Additional features compared to the Series 4:
Particularly quiet and long-lasting as well as energy-saving motor.
Bosch Series 8
With the Bosch Series 8 appliances, the traditional German company meets the highest demands with very high-quality models. Here, the traditional German company meets the highest demands with very high-quality models. Functional diversity and exceptional design form a coherent overall package. Technology fans will also find what they are looking for here: From Series 8 onwards, they will find washing machines that can be connected to the WLAN thanks to HomeConnect and can be monitored and controlled remotely via smartphone or tablet.
Additional features compared to the Series 6:
HomeConnect functionality
Exceptional design
Bosch HomeProfessional
To crown the exclusive segment, Bosch has the HomeProfessional series in its portfolio. The manufacturer advertises these appliances as "the best washing machines Bosch has ever built". The latest innovations are always incorporated into this product series. For example, before users of Series 8 appliances could enjoy the HomeConnect functionality, it was initially reserved for owners of HomeProfessional appliances. These models are therefore recommended for technology lovers who always want to be up to date.
Additional features compared to the Series 8:
Always up to date in terms of technical refinements