Built-in fridge purchasing advice: how to choose the right product
The most important facts in brief
Built-in refrigerators can be installed in an existing kitchen unit and adapted to the cabinet design.
Just like conventional refrigerators, built-in refrigerators are also divided into energy efficiency classes, which provide information on how economically the appliances work.
Combination appliances are particularly practical for those who do not have a separate freezer or the space required for one.
When buying a built-in refrigerator, pay attention to the dimensions so that it fits perfectly behind the panelling in the kitchen unit.
Practical hiding places for small kitchens
After the cooker and oven, the refrigerator is the most important electrical appliance in the kitchen. This is where you store supplies that need to be kept cool. This includes opened food packages as well as drinks, fruit or vegetables. Not every home has a separate pantry and space in the kitchen is often limited. A built-in refrigerator is a good choice in these cases because it can be integrated directly into the kitchen counter. This allows you to match the front of the refrigerator to the design of the rest of the cabinets and visually harmonise the kitchen. In this way, the built-in refrigerator is not recognisable at first glance and makes the kitchen shine in a uniform splendour.
Built-in refrigerators do not always have to be smaller than their free-standing counterparts. In this model class, too, there are appliances that, in combination with a freezer, extend from the floor of the kitchen to the top shelves. Two-door versions are also available. Thus, built-in refrigerators offer space for all kinds of food: you can store fresh and packaged food as well as drinks in the refrigerators. This spaciousness combined with the unassuming design make built-in refrigerators a good choice for those who want to design their kitchen from scratch. Uniformity and functionality add the finishing touches.
What is a built-in refrigerator?
Built-in refrigerators are distinguished from beverage refrigerators, mini refrigerators and the large freestanding refrigerators. They are designed to be integrated into a kitchen unit. Therefore, they often do not have a plastic casing as you know it from other refrigerator models.
Usually, built-in refrigerators are supplied as metal containers that are inserted into a kitchen cabinet. This is why they are sometimes also called undercounter refrigerators. However, these are much smaller in size and offer a smaller volume. In addition, you mount undercounter appliances such as a dishwasher below the worktop. Classic built-in refrigerators, on the other hand, are often installed higher up and are larger.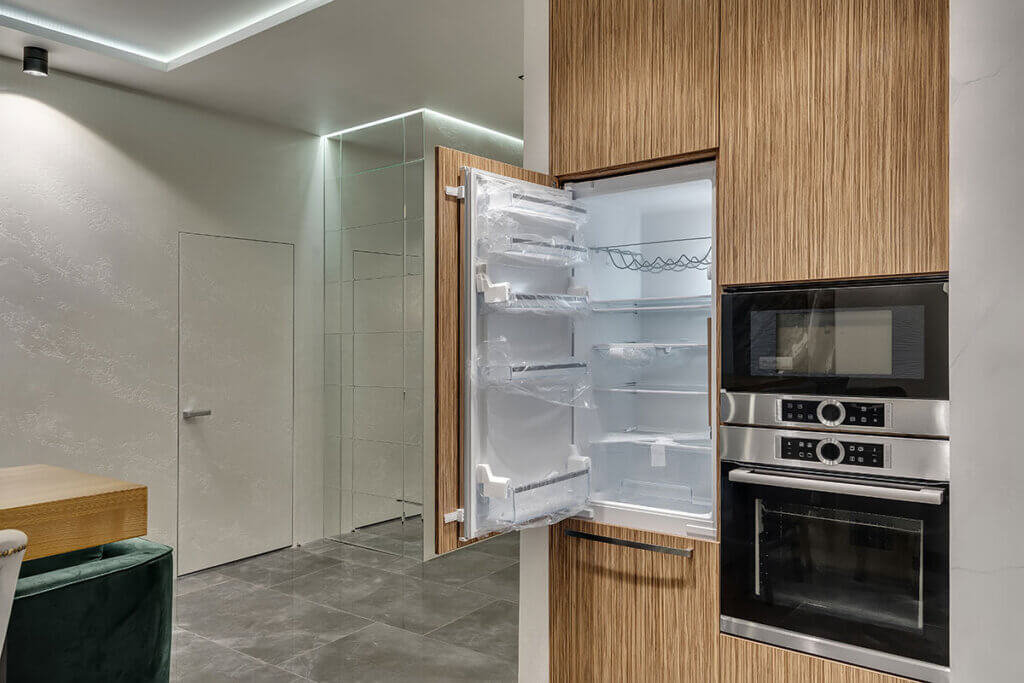 Advantages and disadvantages of a built-in refrigerator
In addition to the obligatory refrigerator compartment, built-in refrigerators often also have a freezer compartment. Although it is usually relatively small, it is at least sufficient to keep ice cream or frozen food on hand. Alternatively, you can buy built-in refrigerators as fridge-freezer combinations; these offer a little more space in the freezer compartment.
One advantage of built-in refrigerators is that they can be integrated into a kitchen. The fully integrated refrigerators disappear completely into the cabinet and have the same design as the desired kitchen front. As a result, they are not recognisable at first glance and blend perfectly into the overall look of the kitchen. Built-in refrigerators are also comparatively inexpensive to buy.
Since a built-in refrigerator has to fit into a kitchen cabinet, they are limited in their capacity. An additional drawback is the sometimes awkward installation, as the cabinets have to fit perfectly and the door cover has to rest exactly on the refrigerator. The installation of conventional refrigerators, which you simply have to put down and plug in, is much more convenient.
What types of models are there?
Built-in refrigerators are primarily divided into models with a freezer compartment and those without. Fridge-freezer combinations are particularly practical, but they take up considerably more space in the kitchenette than built-in fridges with a small freezer compartment. If you already have a freezer or chest freezer, a simple built-in refrigerator will suffice in any case.
You can usually vary the interior thanks to removable shelves. Many refrigerators also have two small drawers or one large drawer for storing vegetables and other cold-sensitive foods. Built-in refrigerators with a freezer compartment have a separate compartment in the upper section. You can store ice cream or a small amount of frozen food in this compartment. These compartments usually have a capacity of 10 to 20 litres. Built-in refrigerators without a freezer compartment are available in different sizes.
What matters when buying
When buying a built-in refrigerator, the dimensions are particularly important, as it has to fit exactly into an existing cupboard. You should also look at the capacity – after all, you want the fridge to be able to hold all your food. Last but not least, it is worth taking a look at the energy efficiency class and the existing equipment or the interior design of the appliance.
Installation dimensions
To make sure that the refrigerator fits into the kitchen cabinet, you should measure it in advance. This will give you a guideline that you can use when buying.
First of all, the niche height, i.e. the height of the built-in refrigerator, is relevant. Small refrigerators have a niche height of about 80 centimetres. However, there are also models with a niche height of 180 centimetres. The second important value is the width of the refrigerator. Most models have a standard width of 60 centimetres.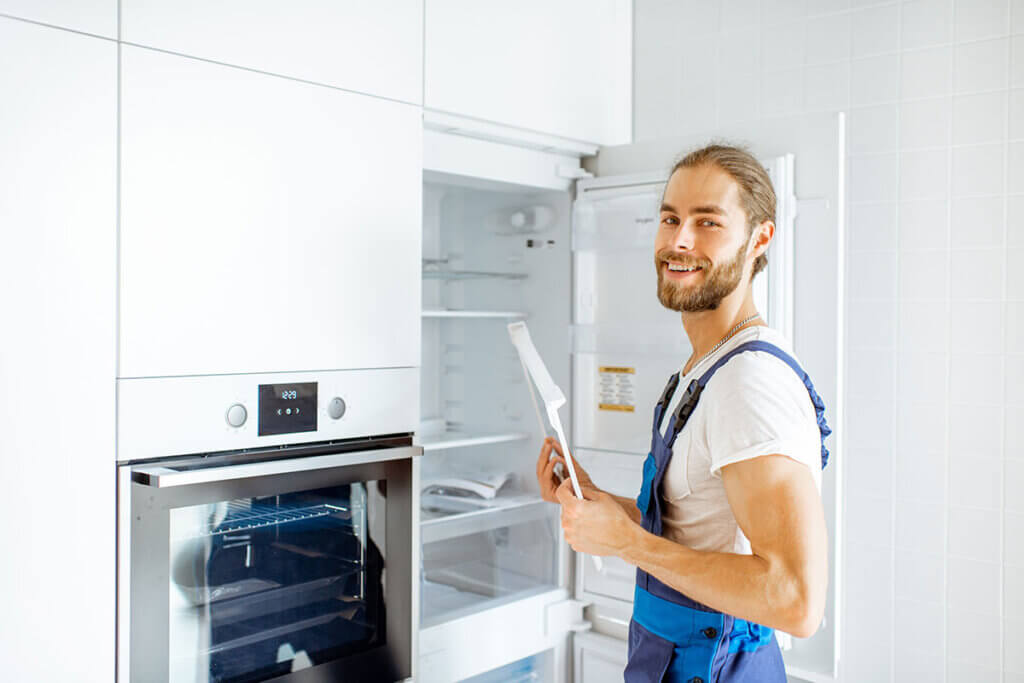 Capacity
The dimensions of a built-in refrigerator do not always allow you to draw conclusions about its capacity. Built-in refrigerators with the same dimensions can differ in their capacity. They usually offer more space than they appear from the outside. Even average models have a capacity of around 120 litres. Some of the larger models even have a capacity of up to 200 litres and are comparable to freestanding models in this respect.
If the built-in refrigerator has a freezer compartment, its volume is also relevant. Depending on the design, it can hold about 20 litres. A fridge-freezer combination with several freezer compartments has a correspondingly higher capacity for frozen food.
Energy efficiency class
Classification in an energy efficiency class has been compulsory for all electrical appliances for some years and must be obvious to the buyer at first glance. A built-in refrigerator runs around the clock, seven days a week. To keep electricity consumption low, its energy efficiency class should be correspondingly high. Until 2003, there were efficiency classes from A to G, after which the classes A+ and A++ were added. At the same time, class G was abolished and was thus no longer permissible for any new electrical appliance. In 2011, the efficiency class A+++ was added, which has an energy saving of 60 percent compared to efficiency class A.
A larger room requires a higher cooling capacity. Therefore, the larger the refrigerator, the more important the energy efficiency class. However, appliances in a higher energy efficiency class are usually more expensive than those with a lower classification. Considering the long-term electricity consumption, however, the investment is worthwhile.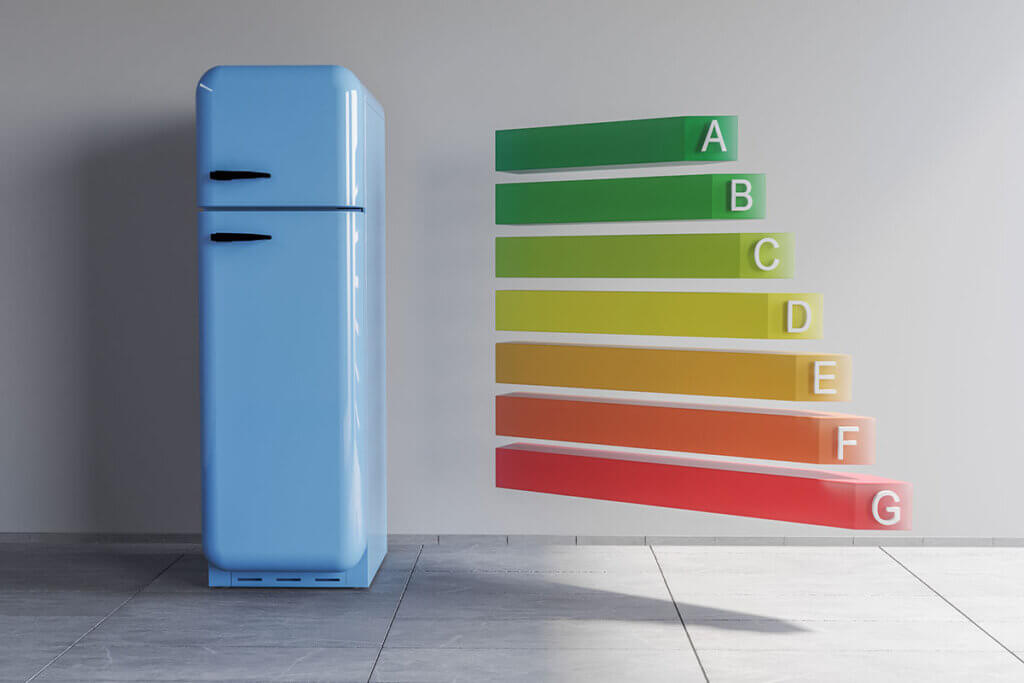 Equipment and additional functions
Thanks to removable shelves, the design of the interior is flexible, so you can individually determine the height of the individual storage compartments. Some refrigerator models also have an interchangeable door hinge. This means you can decide for yourself whether you prefer to open your new built-in refrigerator to the right or left. An alarm on the fridge door is very practical: if it is open for too long, an acoustic signal sounds and reminds you to close the door. This makes it even easier to save electricity.
Tips and tricks for your new built-in refrigerator
To use your built-in refrigerator as efficiently as possible, you only need to do a few things. You can save energy as early as the installation location. To make efficient use of the interior, you should not stack food indiscriminately, but sort it systematically. Cleaning also promotes the longevity of the appliance.
Energy-efficient use
Despite a high energy efficiency class, there are a few points you should bear in mind if you want to effectively keep power consumption low. First of all, bigger is not always better. So choose the size of the refrigerator according to your needs. If the fridge is only half full and empty space is being cooled, this will cost you unnecessary energy. A refrigerator with too little storage space, on the other hand, means that the available space is quickly used up. In this case, the air in the refrigerator can no longer circulate properly. The food would be unevenly cooled and ice could form.
The refrigerator should not be installed directly next to a heat source, for example next to a cooker, an oven or a heater. The heat would transfer to the refrigerator and cause it to cool more. Also, do not put leftovers that are still warm or hot in the refrigerator. Rather, let them cool outside the appliance and put them inside later. Also pay attention to the temperature in the refrigerator. It should be set so that all the food stored in it is cooled. At the same time, it must not be too cold, otherwise the food may lose flavour and change its consistency. In addition, more energy is needed to maintain the low temperature and, in the worst case, the interior will ice up.
Make sure that the refrigerator door is always closed properly. Only open it to take something out of it. A door alarm that reminds you to close the door after a while is useful here. If the refrigerator door is closed properly but the alarm continues to sound, you may need to replace the door seals.
Proper food storage
The food stored in a refrigerator has different temperature requirements. Therefore, modern refrigerators are divided into cooling zones, each providing ideal conditions for the different foods.
For example, drinks, eggs or milk are stored in the door of the refrigerator. It is warmest on the top shelf. It is therefore advisable to store longer-lasting dairy products here. Fresh dairy products such as yoghurt or cream cheese should be stored directly below. One shelf further down, the temperatures are optimal for meat and sausage products. At the very bottom of the fridge is the vegetable compartment. It is pleasantly cool there so that both fruit and vegetables stay fresh for a long time.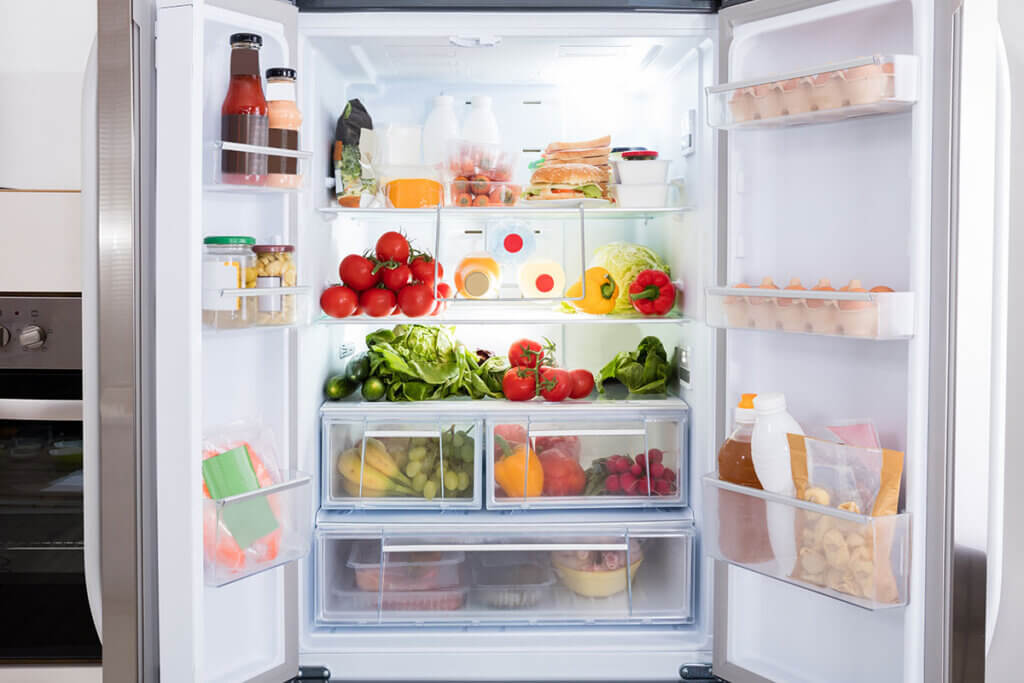 Cleaning the built-in refrigerator
Most of the time, the food packages stored in the refrigerator have already been opened. This makes it all the more important to pay attention to cleanliness and to clean the refrigerator regularly. With many cabinets, you can remove the shelves to wash them thoroughly. You can also clean the shelves in the refrigerator, but you should remove all food first. In addition, the energy consumption is higher in this case, as the refrigerator door is permanently open during this time. Normally, water and a little washing-up liquid are sufficient to clean the shelves. Alternatively, you can use vinegar water for particularly stubborn dirt.
---
Fig. 1: © flywish / stock.adobe.com | Fig. 2: © rh2010 / stock.adobe.com | Fig. 3: © OrthsMedien / stock.adobe.com | Fig. 4: © Andrey Popov / stock.adobe.com