Cordless handheld vacuum cleaner purchasing advice: how to choose the right product
What you need to know
Handheld vacuum cleaners are quick and easy to use – they're great in addition to a standard vacuum.
Most models are battery-powered and bagless.
Wet-dry devices can also clean up liquid and wet dirt.
Go for a device with long battery life and a short charging time.
Suction power is one of the most important specs on a handheld vacuum cleaner.
Small vacuum cleaners
Your living room looks nice and clean, but there are a few crumbs on the carpet! Getting the big vacuum cleaner out of the cupboard is a lot of time and effort for such a small mess. It would be much easier if you had a small handheld vacuum cleaner close to hand.
Handheld vacuum cleaners are quick and easy to use. They don't have any cables, and they are extremely light and compact. Most models are bagless and aren't much bigger than a shoebox. This means they are easy to maintain, and don't take up much space.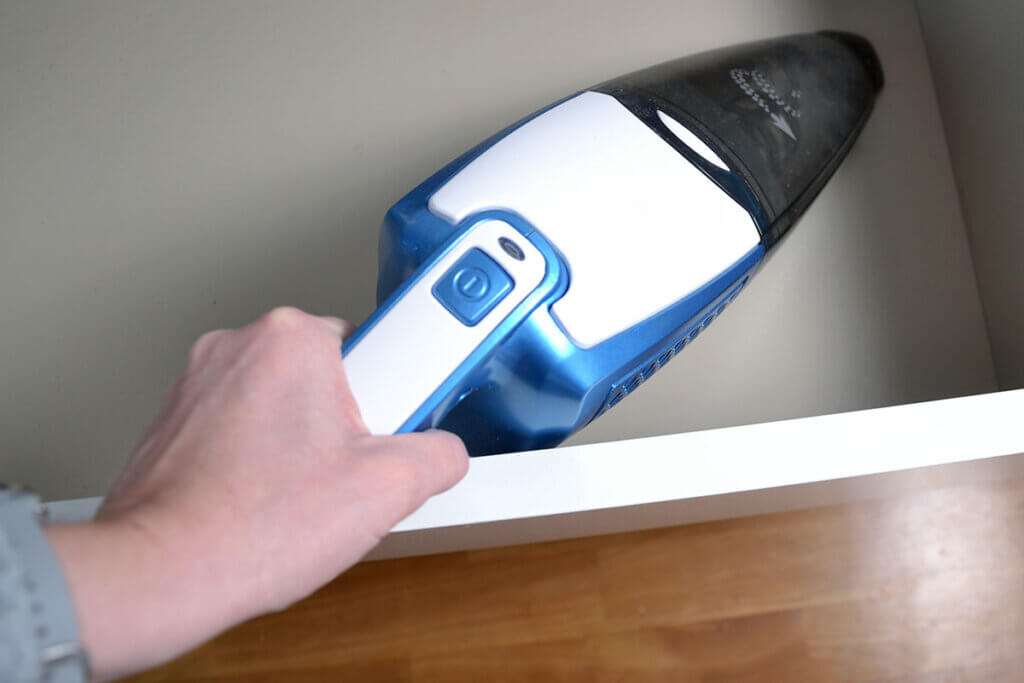 If you're thinking about buying a handheld vacuum cleaner, this article will give an overview of the things to look out for when choosing one. One thing to note is that most handheld vacuum cleaners shouldn't be used as a replacement for a standard vacuum cleaner. They are designed to be compact secondary devices.
Advantages
Compact design
Handy and light
Quick to use
No annoying cable
Ideal as a secondary device
Disadvantages
Run time is limited
Not a complete replacement for standard vacuum cleaners
Battery needs to be recharged
What are cordless handheld vacuum cleaners best for?
Cordless handheld vacuum cleaners are great for cleaning places you can't reach with a normal vacuum. Crumbs and dust often gather in small nooks and crannies – handheld vacuum cleaners make removing these a walk in the park. You can also easily clean furniture and raised surfaces like windowsills with them.
Cordless handheld vacuum cleaners also make it easy to clean places without a power socket. This can include vehicles, stairs, garden furniture, and balconies. It is important to note that these devices aren't designed to remove a lot of dirt. If you've got a big task at hand, use a broom or a conventional vacuum first, and then vacuum the smaller residues away.
Different types
Battery-powered handheld vacuum cleaners can be roughly divided into four categories. They can come with or without a bag, and with or without wet-dry capabilities. You can also get 2-in-1 devices that stand out due to their versatility.
In terms of their design, the different types of cordless handheld vacuum cleaners are largely the same. They have long case with a motor, collection compartment, handle, and nozzle. Compared to conventional vacuum cleaners, they don't have a stem or a suction hose. The exception to this is 2-in-1 devices, which have removable stems and hoses. Prices start from as low as $25, and can go up to over $300 for multifunctional devices with a lot of additional features.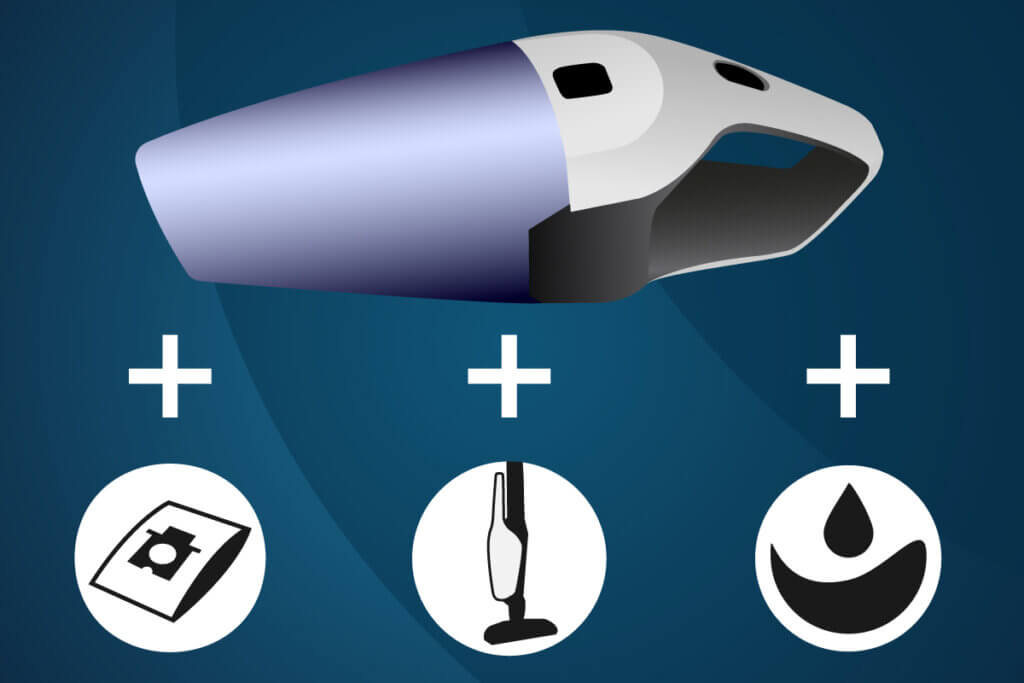 Bagless
Most cordless handheld vacuum cleaners are bagless. They collect dust and dirt in an integrated container. This is usually made from plastic and needs to be emptied regularly. A bagless design also means the only running costs are electricity – no need to buy vacuum cleaner bags. The one disadvantage is that when emptying the container, you can get a lot of dust particles in the air. If you have allergies, a bagless design probably isn't best.
Advantages
No need to buy vacuum cleaner bags
Particularly compact
Quick and easy to empty the dust container
Practically no running costs
Disadvantages
Not suitable for allergy sufferers
A little more expensive to buy
Vacuums with bags
Cordless handheld vacuum cleaners with bags are practically identical to bagless ones, except for of course, the dust collection system. Instead of being collected in a plastic container, the dust is collected in a vacuum cleaner bag. This needs to be replaced when full. The cost of replacement bags can get quite annoying, but there are a few advantages. Bagged devices are much better for people with allergies, as emptying a bagless vacuum can often be a dusty task.
Advantages
Good for allergy sufferers
Cleaner to empty
Disadvantages
Additional cost of replacement bags
Bags produce more waste
Bags can be cumbersome to put in
2-in-1 vacuums
2-in-1 vacuums combine the benefits of a fully handheld vacuum as well as a conventional one with a stick and handle. The trick is that the motor and collection container are removable from the stick and handle such that you end up with a mini handheld vacuum cleaner. Due to this, 2-in-1 vacuums can replace your normal vacuum cleaner – they let you clean your floors without needing to bend over. This said, compared to standard vacuum cleaners, 2-in-1 devices tend to have less suction power. If you want a decent model, you'll have to pay for it. Prices start at around $35 but can reach over $150.
Advantages
Multifunctional
Can be used for large surfaces
Easy on your back
More compact than conventional vacuum cleaners
Can replace cable vacuum cleaners
Disadvantages
Expensive
Less suction power than standard vacuum cleaners
Wet-dry vacuums
As their name suggests, wet-dry vacuum cleaners can be used to suck up liquids. This is useful when cleaning your kitchen or vacuuming on your balcony and terrace. These devices are bagless. Instead, they have a collection container specially designed for liquids. Most wet-dry vacuums have a rubber nozzle. Prices start at around $50 for cordless wet vacuum cleaners. Don't try cleaning liquids with a conventional vacuum cleaner, as it can lead to clumping and blockages which could cause permanent damage.
Advantages
Inexpensive
Versatile
Suitable for kitchen and garden
Compact and practical
Disadvantages
Need to be emptied frequently
Cannot replace standard vacuums
Battery life sometimes limited
Buying tips
No matter how useful a cordless handheld vacuum cleaner might be, it will end up spending more time in the back of your cupboard if the battery only lasts five minutes. Alongside battery life, the other main thing to consider is suction power. If the vacuum you go for isn't powerful enough, it will be extremely frustrating to use. Other important points to consider are container volume, noisiness, dimensions, and weight. The ideal handheld cordless vacuum cleaner should have the following characteristics:
Short battery charging time
Long battery life
High wattage
Large container volume
Low noise level
Low weight
Compact dimensions
Battery
Lithium-ion batteries are the newest and most common type of battery you'll find in cordless vacuum cleaners. They are much better than the older nickel-metal hydride batteries. They charge faster, and hold more power for longer. Don't try saving money on the battery of a handheld vacuum cleaner, as the performance will really suffer. Watch out for cheaper products with nickel-cadmium batteries, as these will discharge quickly.
Battery life
Ideally, go for a device with at least 20 minutes of battery life, even if it costs a bit more. Top-end devices can run for over 30 minutes. Cheaper models will have less, and if you aren't planning on using yours much then you should be ok with one that has a run time less than 20 minutes.
Battery life also depends on the power settings on the vacuum. If you can choose the suction power, the battery will go down faster on the highest level. Similarly, if you can't select the suction power, you might find that your device has more suction when the battery is full, and less when it is running out.
Charging speed
Make sure the battery on your handheld vacuum is fully charged before you use it, so just put it on charge whenever you're not using it. Some models need a few hours to charge, others need much longer (over ten hours). It's a good idea to check the charging time before making a purchase.
Performance and suction power
Since cordless vacuums are only battery-powered, they tend to have less suction power than conventional corded models. They are much lower powered: conventional vacuums tend to output 1000-2000W, whereas cordless vacuums have a power output of 100-500W. Note that the wattage refers to the motor power, which affects but does not completely determine suction power. For example, if the collection container is full or the battery is weak, the suction power will also decrease. This said, broadly speaking, the higher the motor power, the more suction.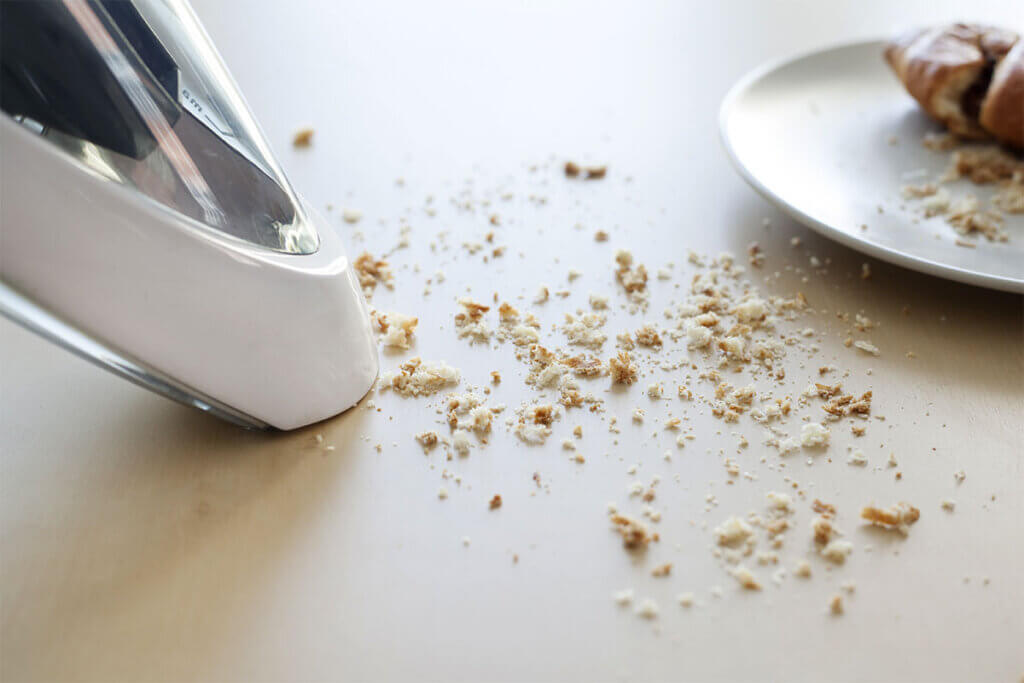 Some models have rotating brushes that can attach to the front. These can make cleaning easier, and are especially effective for pet hair on carpets and furniture. A lot of devices have at least two different power settings for different suction power.
More power for large particles

If you want to vacuum up big bits of dirt like gravel or cat litter, go for a model with at least a 500W motor.
Capacity
The dust containers in handheld vacuum cleaners tend to have a volume of between 0.2 and 0.8 quarts. If your device has a small container, you will have to empty it more frequently. A container volume between 0.4 and 0.7 quarts is recommended. However, you should also bear in mind that devices with larger containers are heavier. A small container will be enough for light use as it's best to empty it after each use anyway for hygienic reasons.
Cyclone technology
If you suffer from allergies, look for a vacuum with cyclone technology. In essence, cyclone technology uses centrifugal force to filter dust particles out from the air. A lot of devices with cyclone technology don't have extra filters as the cyclone filter is sufficient. Vacuums without cyclone technology tend to have different filters, some of which need to be replaced after a while.
Noise
Vacuum cleaners are often quite noisy. If you have thin walls at home, the decibels produced by a vacuum cleaner should be an important thing to consider. To avoid annoying your neighbors, go for a device that only emits a slight hum or a low whistling sound. Some devices are unpleasantly loud, especially at a high power setting. The maximum volume should be specified by the manufacturer. It is given in decibels (dB). Loud devices produce up to 80 dB, which is about as loud as a lawn mower. Quiet cordless handheld vacuums tend to have maximum volume of 60 dB which is similar to normal conversation in a room.
Dimensions and weight
Battery vacuums weigh between 1.5 and 3 pounds. If you want a light vacuum, go for one that doesn't weigh more than a couple of pounds. If you're cleaning for 20 to 30 minutes, a heavy vacuum can end up being a bit of an unintentional arm workout.
Cordless hoovers tend to measure between 4 x 4 x 13 inches and 7 x 7 x 17 inches (width x depth x height). If you are tight for storage, or want to move your vacuum around a lot, then go for a smaller device. The smaller the device, however, the smaller the dust container, so if you want to do bigger cleaning jobs, go for a bigger model.
Controls
The more intuitive a vacuum is, the easier it is to use. Most of the time, bagless devices are easy to empty. A lot of models have a useful button which you press to release or open the container. Some devices have ergonomic handles to make them especially comfortable to use. Other useful features include a battery level indicator and the ability to set different suction power levels.
Price
Cheap cordless handheld vacuum cleaners start at around $25. In most cases, these devices have short battery life and weak suction power. The most expensive models can cost over $300. These are from high-end manufacturers such as Dyson, and have extremely strong suction. In the middle of the price range – between $40 and $100 – you can get great vacuums with strong performance. A good 2-in-1 vacuum can cost around $70.
Useful extras
There are some useful accessories that come with handheld vacuums that can make life much easier. These include special attachments, brushes, and nozzles. If you plan on using your vacuum a lot, things like wall mounts and additional batteries are also a good idea.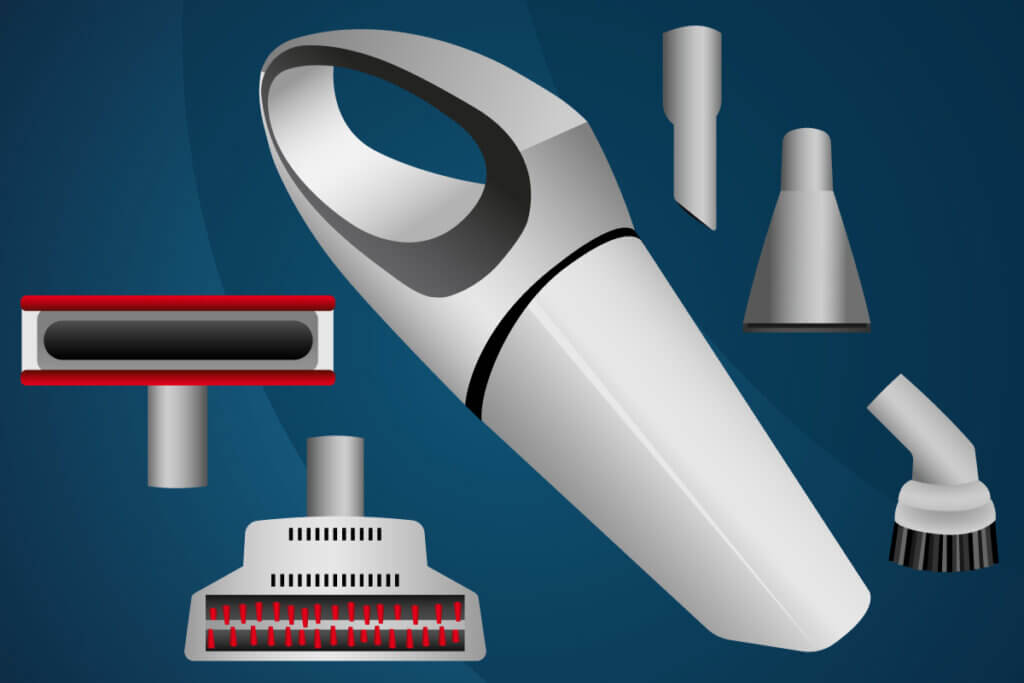 Crevice nozzle
Narrow cracks and crevices in the corner of a sofa or in your car are tricky to reach. Crevice nozzles are a great option for this kind of problem. They are long and thin with a flat tip which makes it easy to vacuum in corners. Most conventional vacuums will come with one, but not all handheld devices do. Check that the one you're buying comes with one, or have a look at accessory kits.
Upholstery brush
Upholstery brushes have a wide nozzle with short soft bristles designed for removing hair, lint, and dust from textiles.
Round brush
Round brushes are similar to upholstery brushes. They are designed to be used in tight corners, and have soft bristles so you won't scratch anything you're vacuuming.
Pet hair attachment
Handheld vacuum cleaners are a popular option with pet owners for removing hair. You can get rotating brush attachments that are specifically designed to remove pet hair.
Battery level indicator
Having a charge level indicator is a really useful feature – nobody wants their vacuum to run out of juice in the middle of cleaning.
Vacuums for mattresses
Dust mites in your mattress are a nightmare for people with allergies. There are special handheld vacuums designed to help with the problem. They have a UV light that kills and disinfects your mattress while you vacuum it.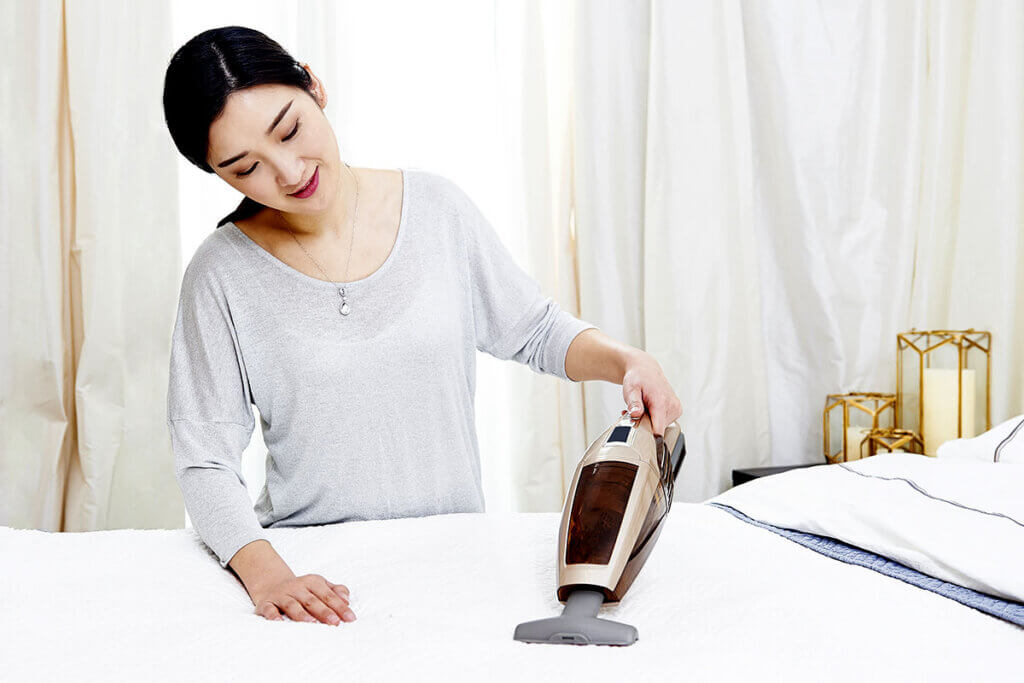 Wall mount
While most handheld vacuums will fit comfortably in a cupboard, you can also get wall mounts if you want. Some mounts even double as charging stations.
Spare batteries
Some handheld vacuums come with a spare battery. This can be really useful if you use your vacuum a lot. However, not all devices have removable batteries. Most handheld models have one integrated rechargeable battery that is permanently installed. Since handheld vacuums are designed for small cleaning tasks, this isn't usually an issue. There are some situations, such as if you keep your vacuum in your car, where you might prefer to have a removable battery with spares.
Maintenance
Whether it's dust, dirt, crumbs, or liquid – cordless vacuum cleaners need to be emptied regularly. If you have a wet-dry vacuum and often use it for liquids, it's a good idea to clean the container thoroughly after each time you use it. Otherwise, you could get mold growth and bad odors. To do this, rinse the container with warm water and let it dry fully before reinstalling it. For vacuums with bags, make sure to replace the bag when it is full, otherwise you will damage the motor. If your vacuum has a filter, make sure to clean or replace it regularly. Some models have a metal filter that you can just rinse off.
---
Image 1: © Daniela Stärk / stock.adobe.com | Image 2: © FinalCheck | Image 3: © sebra / stock.adobe.com | Image 4: FinalCheck |  Image 5: © jeson / stock.adobe.com