Built-in steam oven purchasing advice: How to choose the right product
The most important facts in brief
Ovens with steamers combine the functions of both individual appliances.
Not only can common oven functions and steam cooking functions be used separately, but they can also be combined with each other.
In addition to typical built-in ovens, there are also freestanding tabletop ovens with a steam cooking function.
For the water supply, a water trough, a container or a fixed water connection are used.
Oven cleaning with catalysis and steam is just as practical as it is energy-saving.
A combi appliance for all occasions

Ovens are part of the basic equipment of every kitchen, but steam cookers are less common. Yet they have a long tradition in Asian countries such as China, Japan or Vietnam: meat, fish, vegetables or sweet and savoury baked goods can be prepared in the classic steamer. Steam cooking is a particularly gentle method of preparation that preserves vitamins and nutrients that are sensitive to heat or water. They also make it possible to reheat food in such a way that it looks and tastes like freshly cooked. This is also known as "regenerating".
In the meantime, steam cooking has gained popularity nationally and internationally. Oven manufacturers have also recognised this and developed versions with a steam cooking function that combine the advantages of two kitchen appliances. Ovens with steam cooking functions are also known as steam ovens or combination steam ovens.
Classic heating modes such as top/bottom heat, convection or hot air can be combined with steam, for example, or steam cooking functions with a specific heating mode. For example, if you bake a cake and add steam, you get a crispy outside and a juicy inside. The functions can also be used separately. However, steam ovens offer less space for steam cooking than freestanding electric steam ovens. On the other hand, ovens with steamers are more space-saving than two individual appliances.
Important features of ovens with steamers

Ovens with steamers differ in their design, size and the way they generate steam. In addition, the energy consumption varies from model to model.
Built-in or freestanding oven?

Built-in ovens can be seamlessly integrated between the cabinets of fitted kitchens so that only the oven door is visible. They are larger than freestanding steam ovens and have more functions. On the other hand, they are more expensive. Furthermore, users need to consider the placement and dimensions of the oven according to the design of their kitchen: They need a model that fits exactly into the space provided.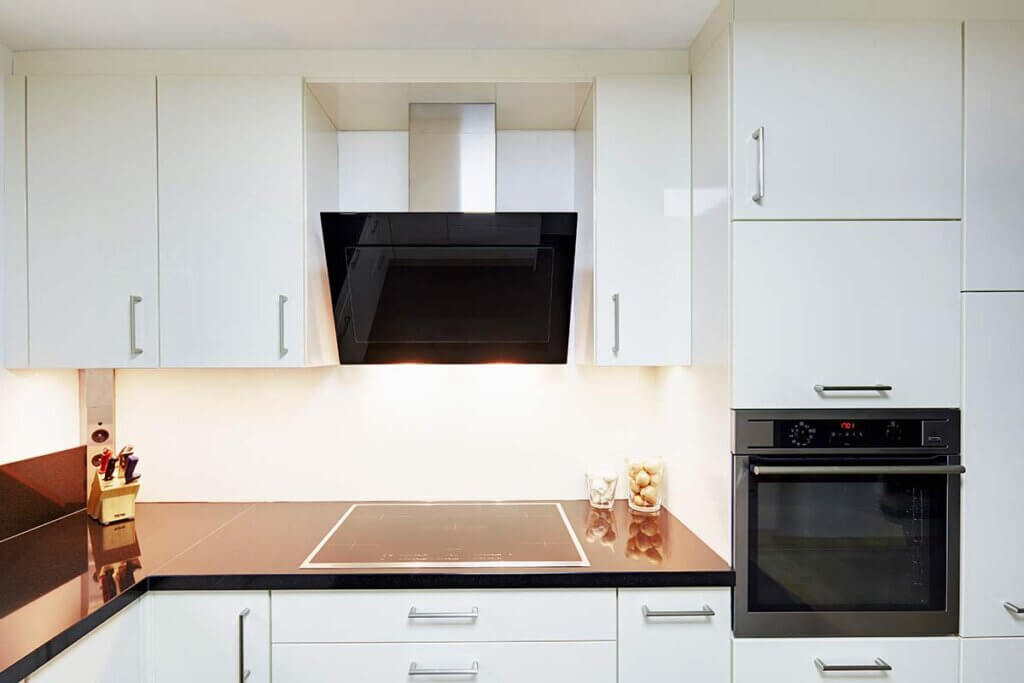 Floor-standing appliances, on the other hand, are not only freely placeable, but also transportable. Their size is similar to that of microwaves or mini ovens. They therefore take up much less space than built-in appliances. Due to their smaller cooking space, however, they are primarily suitable for single-person households.
Water supply

In order for ovens with steamers to produce the necessary steam, they need a water supply. The simplest version is a trough at the bottom of the oven into which the water is fed. When the steam cooking function is switched on, the water in the well is heated and steam is produced. For longer cooking times, however, it can happen that the water is used up before the food is ready. In this case, it is necessary to refill the water.
The second variant is an integrated water tank or drawer. Once users have filled the tanks and switched on a steam programme, the water is heated and the resulting steam is directed to the cooking chamber of the oven. The water tank and drawer usually hold between 0.7 and 2.0 litres of water.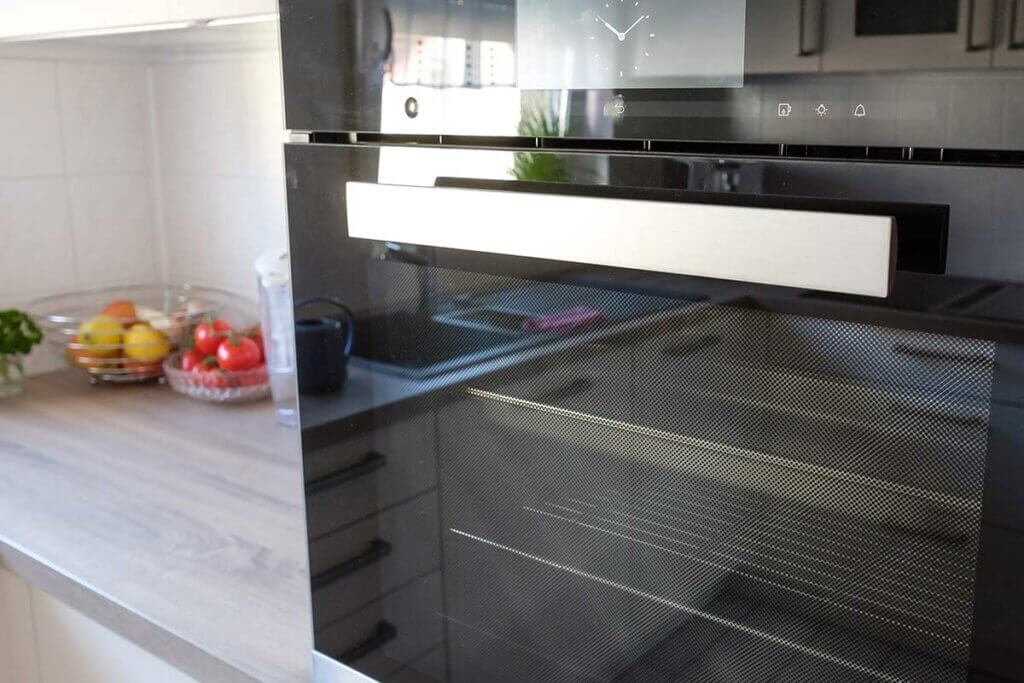 The third variant is more difficult to set up, but is the most practical in everyday use: it is a fixed water connection that allows the steam oven to be connected to the water pipe. This eliminates the need for manual filling and emptying, as the water comes directly from the tap.
To be able to use the fixed connection, the oven must be within reach of a fresh water pipe. For anyone who is fitting out a completely new kitchen, it is advisable to plan for the location of this pipe. Integrating a new oven with a fixed water connection into an existing fitted kitchen is problematic if the oven area is too far away from the fresh water pipe. A professional tradesman may have to lay a new pipe.
Size and capacity

There is little freedom of choice when it comes to the dimensions of built-in ovens. If you want to integrate an oven into a fitted kitchen, you need an appliance that fits into the niche intended for the oven. There are three standard built-in sizes (each given in width times height):
60 x 45 centimetres,
60 x 60 centimetres and
60 x 90 centimetres

In private households, the latter version is of little importance. Ovens for this installation size rarely have exactly these dimensions, but the differences are often in the millimetre range, for example 44.5 centimetres instead of 45.0 centimetres.
The maximum size of the cooking chamber depends on the built-in size, but in terms of the exact capacity, the versions with the same built-in dimensions sometimes differ greatly. Combination ovens with a built-in size of 60 x 45 centimetres can hold a maximum of 52 litres, while 60 x 60 centimetre ovens can have a capacity of up to 84 litres. The small Bosch CDG634BS1 Series 8 steam oven, for example, has an interior volume of only 38 litres; the next largest steam oven, the Bauknecht BAR2S K8 V2 IN, holds 71 litres.
Unlike built-in appliances, users of freestanding ovens with steamers are not limited to a few dimensions or a fixed location. On the other hand, freestanding ovens have a smaller capacity. Most do not even exceed 30 litres. The Caso Steam Chef, for example, has a 25-litre cooking chamber and measures 35 x 21 x 30 centimetres (length x width x height). However, there are some freestanding models with a cooking space of more than 30 litres. These include the Klarstein VaporChef with a capacity of 31 litres, a length of 60 centimetres, a width of 40 centimetres and a height of 49 centimetres.
Performance and energy efficiency

Ovens consume a lot of electricity, especially if they are used for a long time every day. It is therefore important to buy an appliance that is as energy-efficient as possible. These can be identified by the energy label, which is intended to educate consumers about energy consumption. It has existed for large household appliances since 2012 and specifically for ovens since 2015. The energy label divides each appliance into a class from A+++ to E.
Since March 2021, there has been a new energy label that assigns appliances to classes A to G. The changeover will take place gradually. The changeover will take place gradually. The new label already applies to dishwashers and washing machines, washer-dryers, refrigerators and freezers, televisions, monitors and lamps. Ovens, including those with steamers, will not receive the new label until 2024. Until then, a model with energy efficiency class A++ or A+++ is recommended.
Note that ovens with the same energy efficiency class but unequal capacity can have very different consumption values. A large oven needs more electricity than a small model to do the same task. Therefore, a direct comparison of energy consumption is only worthwhile for ovens of similar size.
Another factor that significantly influences electricity consumption is the insulation of the oven door: the less heat that escapes to the outside, the less electricity is required for cooking. In addition to good sealing, it helps if the door is also multi-layered, e.g. triple-glazed instead of double-glazed.
Usability and features

To use the various programmes and additional functions of an oven with a steamer effectively, the operation must be simple and intuitive. It is usually done by touch display, knobs and dials or a combination of all. The display should be bright and easy to read. If the appliance has a water tank or drawer, we recommend models that are easy to remove, fill and insert. Telescopic rails are helpful for removing baking trays, racks or kitchen utensils from the oven: Instead of having to reach deep into the cooking chamber, racks and trays can simply be pulled out and the food removed.
It is also advisable to have several shelf levels. A different dish is placed on each level. This makes it possible, for example, to steam cook entire menus. With some high-end ovens, it is even possible to heat each level individually, so that both levels can have a completely different heat supply.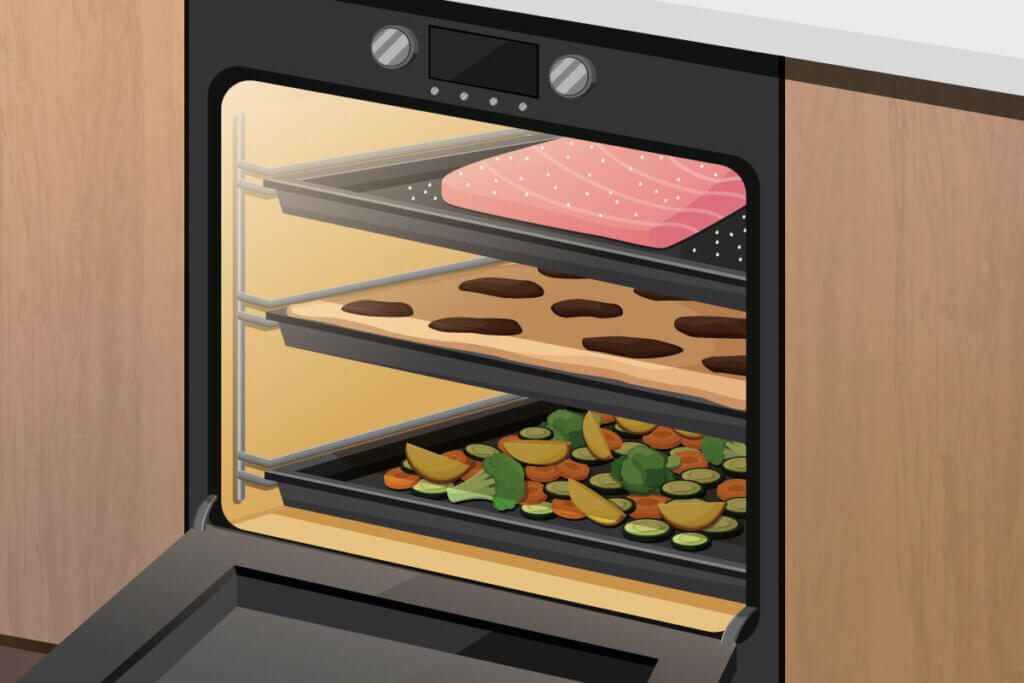 A special feature that is mainly found on NEFF ovens is a fully retractable oven door. This so-called Slide&Hide door can be slid under the oven to save space, so that it disappears completely.
Common functions

The range of functions of steam ovens varies greatly depending on the product: However, a timer with automatic safety shut-off is part of the basic equipment of many steam ovens. It allows users to do other things while the food is cooking. After the set time has elapsed, the appliance switches itself off. The child safety lock is another typical feature and especially useful for families, so that the little ones do not injure themselves while playing with the oven.
Ideally, the temperature range is continuously adjustable. Ovens often allow cooking temperatures between 30 and 230 degrees Celsius, which can be adjusted to within five or ten degrees Celsius. In addition, some appliances allow the steam to be regulated separately. On the Caso Steam Chef, temperatures can be adjusted from 80 to 115 degrees Celsius in increments of five. The AEG SteamPRO offers steam temperatures between 50 and 99 degrees.
Other functions such as a baking sensor and roast thermometer or adjustable steam intensities are more common in higher-priced appliances. The baking sensor measures the moisture in baked goods and adjusts the process based on the measurement results. The roast thermometer guarantees the perfect core temperature of meat and fish, as the oven uses it to continuously measure and adjust the temperature. With some appliances, the steam intensity can be adjusted in several stages. Some steam ovens also allow the steam to be added at intervals.
In addition, some steam ovens are also WLAN-enabled. They can be seamlessly integrated into smart home concepts. In addition, consumers have access to extensive recipe collections, among other things, with the associated app.
Heating modes and programmes

Typical heating modes such as top/bottom heat, convection and hot air are supplemented by steam. This not only enables steam cooking of various foods, but also combined variants such as convection with steam support, steam cooking with convection or grilling with steam. In addition, steam ovens allow vacuum cooking, sometimes even with a special sous-vide cooking programme. Steam also supports the rising of dough.
In addition, depending on the appliance, there are special settings, for example for crispy pizza, air-fried food or dried food. There are also often specific programmes for sterilising, fermenting and low-temperature cooking.
Many premium ovens with steamers have cooking assistants such as Bosch Assist. When the consumer selects a dish via the control panel, the oven sets the heating mode, temperature and preparation time itself. With Bosch Series 8 ovens, for example, users can put fresh lasagne in the oven, select the "Lasagne, fresh" programme in the menu and let the oven work. Simpler appliances, on the other hand, are only equipped with a manageable number of automatic programmes, such as a soup or cake programme.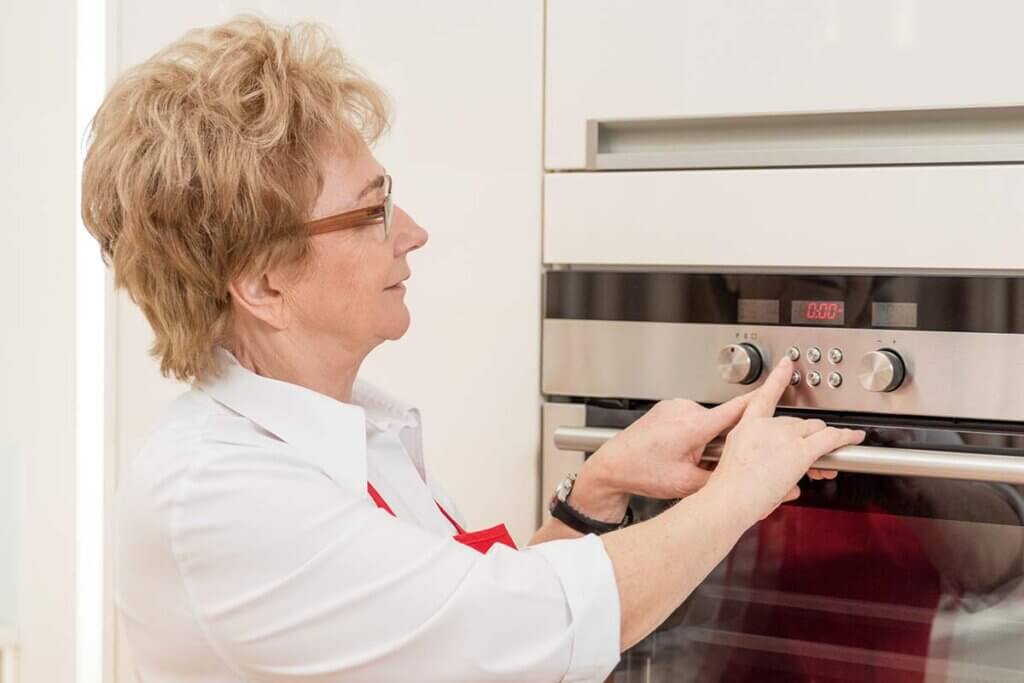 Cleaning

Many ovens are now equipped with features that make cleaning the interior easier. Appliances that have a self-cleaning function are usually so-called pyrolysis ovens. Other self-cleaning functions include catalysis and hydrolysis.
Pyrolysis

Pyrolysis is a process in which grease and food residues are carbonised in the cooking chamber at temperatures between 400 and 500 degrees Celsius. Accessories such as baking trays and grids must be removed beforehand and cleaned separately.
The cleaning process takes between one and a half and three hours. At the end, the oven unlocks again. After pyrolysis, some ash remains, which can easily be wiped off with the cloth. However, this method is rarely used with steam ovens because the rubber seals, which are usually used to prevent condensation from escaping, cannot withstand the high temperatures of pyrolysis.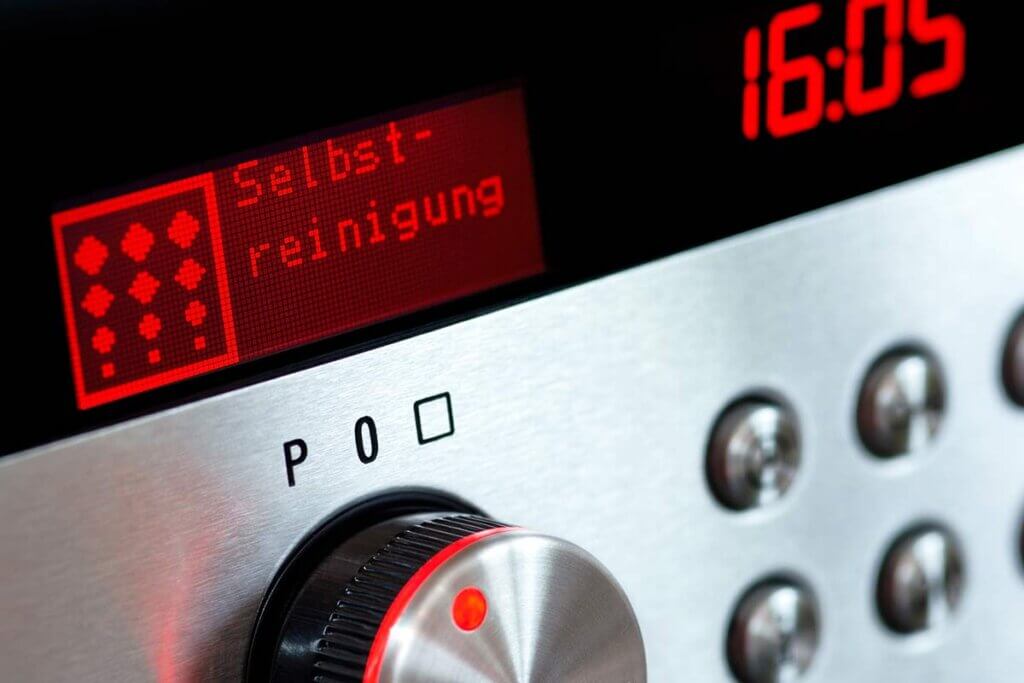 Catalysis

In steam ovens with catalysis, the inner surfaces are covered with enamel or ceramic-coated sheets. They also contain metal oxides that function catalytically. As soon as the oven reaches a temperature of more than 200 degrees Celsius during cooking and baking, the catalysts split fat into water and carbon dioxide. After use, it is sufficient to wipe out the cooking chamber with water and a gentle cleaning agent. Since the coating dissolves over time, consumers should replace the trays after about three years.
Hydrolysis

The third method, hydrolysis, uses water vapour consisting of a water-rinsing agent or a water-vinegar essence mixture, depending on the manufacturer's instructions. Users pour the mixture onto the oven floor, a tray or into a special evaporation tray and switch on the hydrolysis programme. This method softens even stubborn dirt so that it can be removed with a sponge or cloth and clean water.
Cleaning methods of different manufacturers

It is often very difficult for consumers to keep track of the cleaning methods because every manufacturer calls them differently. For example, the hydrolysis function is called AquaClean at Gorenje and EasyClean at Neff. Miele calls the catalysis function PerfectClean, while Neff, Siemens and Bosch call it EcoClean. Catalytic-coated ovens with steam cookers with hydrolysis are practical: Stubborn dirt that remains after catalysis can be softened with steam afterwards and wiped off.