Coffee capsule machine purchasing advice: how to choose the right product
The most important facts in brief
Coffee capsule machines produce speciality coffees by forcing hot water at high pressure through a capsule filled with fine coffee powder.
The brewing process is quick and easy: coffee is prepared in less than a minute at the touch of a button.
Many models offer the option to brew other coffee variations as well as cocoa or tea.
With additional gadgets such as a milk frother or water filter, the machine can be optimised for individual requirements.
The fast way to coffee enjoyment

For many Germans, coffee is part of everyday life – whether in the morning with breakfast or as an accompaniment to afternoon cake. According to Statista, everyone in Germany drinks over 160 litres of the hot stimulant every year, and the trend is rising. That corresponds to about two cups a day. In offices or home kitchens, the appearance of coffee machines has changed over the years. Although there are still the classic machines for filter coffee, coffee capsule machines, coffee pod machines and fully automatic machines are also very popular. The number of capsule machines in particular has grown rapidly because they are practical and easy to use. They produce various coffee specialities and other hot drinks in no time at all.
How do coffee capsule machines work?

The coffee is contained in small capsules, also called aroma capsules. They are sealed vacuum-tight so that the coffee powder inside retains its aroma for as long as possible. The capsule is placed in a recess in the machine, which is closed with a lid. At the touch of a button, the machine presses brewed water through the capsule at high pressure. The hot coffee drink comes out of the machine through the spout. Every model produces coffee or espresso without any problems, but some also offer the option of cocoa or tea. Latte variations are also possible with the appropriate capsules or an external milk tank. The best-known manufacturers usually use exclusive capsules that only work with their own machines.
Advantages and disadvantages of capsule machines

One of the clear advantages is that coffee drinkers can choose from a wide range of capsules. There are options for every coffee variation – single or double espresso, cappuccino, latte macchiato or café Americano. Different types of beans, roasts and flavours can also be found. Many manufacturers offer the option of brewing hot chocolate or tea. With one appliance, you get a true all-rounder in your home. What's more, in most cases a cup is ready in less than a minute – an advantage not to be sneezed at compared to filter machines.
Most appliances are self-explanatory; with just a few options, many beverage variations are covered. But even more complicated-looking devices are easy to understand and soon coffee preparation at the touch of a button is as easy as sleeping. Tassimo has developed a special system with Intellibrew. Here you scan a barcode on the capsule and the machine immediately knows what to do. Operating errors are ruled out and the taste always remains the same.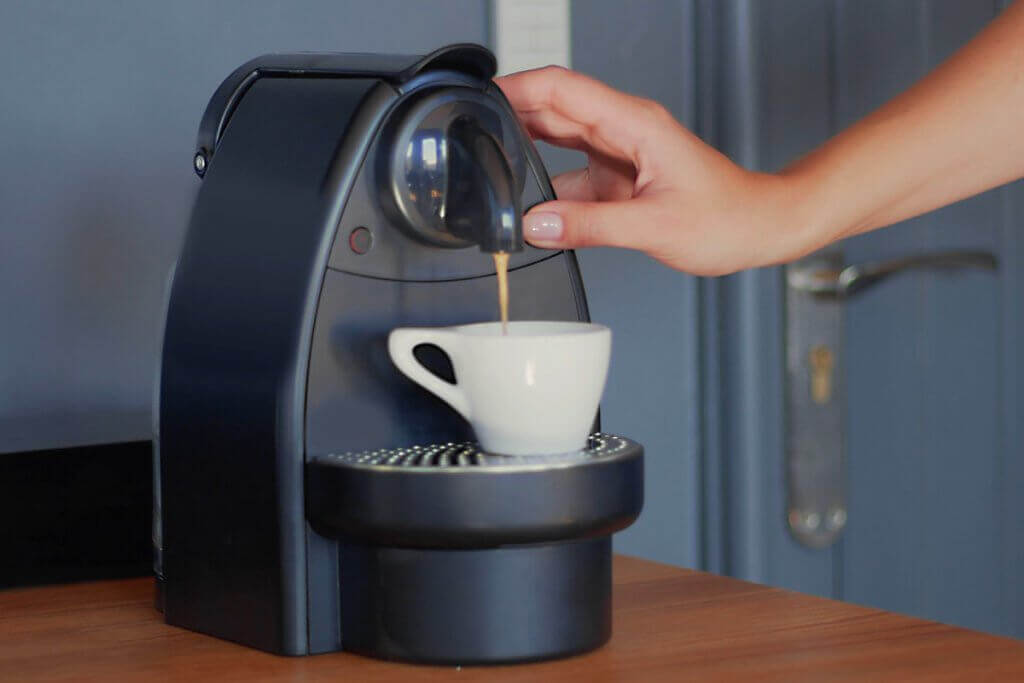 One disadvantage is that many manufacturers rely on their own capsule system and only the in-house capsules work in their machines. In some cases, they can only be bought in certain shops or online. Accordingly, the prices for these exclusive brands are set high. Discounters sometimes offer cheaper machines that are not tied to a specific brand. Sometimes, however, these machines are not of the best quality.
Furthermore, it cannot be denied that the capsules generate a lot of waste. Some manufacturers use aluminium capsules that can be recycled, but their production is not very environmentally friendly. So always make sure to dispose of the capsules properly. Separate recycling points are offered for some of them. Nevertheless, capsule machines are difficult to reconcile with an ecologically sustainable lifestyle.
Pro points
Wide choice
Easy to use
Fast
Drawbacks
Often limited to one manufacturer
High waste production
Relatively expensive
What you need to consider with a capsule machine

Capsule machines are very diverse in their designs. Depending on what speciality coffees you prefer to enjoy or how often the machine is accessed, certain components may have a particular impact. Consider what is important to you and choose according to these criteria.
Pump pressure

If you want to drink a good espresso, the pressure of the water must meet certain requirements. It should be 15 bar so that the beverage can develop its optimal taste. Most models from leading manufacturers easily manage 19 bars. The right water pressure also creates the beautiful crema, the coffee foam on the surface of the beverage. Some models allow you to adjust the pressure manually before brewing.
Water tank

The capacity of the tank containing the water for the coffee varies. It is usually between half a litre and one litre. For offices or larger households where a lot of coffee is drunk, a correspondingly large container is recommended so that it does not have to be refilled so frequently. If the water in your region has a high degree of hardness, a water filter for the machine can be useful. It filters limescale and thus contributes to the purity of the water. This can have a positive effect on the taste of the coffee.
Heating time

Before the coffee can be prepared and enjoyed, the water for the brewing process must first heat up. This should be done as quickly as possible. Especially when time is short in the morning and you need a coffee to go, you don't want to wait minutes for hot water. Some manufacturers guarantee that their coffee capsule machines are ready for use after no more than half a minute.
Collection container

This container inside the machine catches the used capsules. Larger machines even hold several dozen. But regardless of whether you have a large or small collection container, it is advisable to empty it about every two to three days, even if it is not yet completely full. Otherwise, an unpleasant smell can quickly develop or mould can start to form.
Hot stuff at the spout

Make sure that the spout through which the coffee flows into the cup does not get too hot. If you accidentally come into contact with that part of the machine when removing the drink, it can cause unpleasant burns. Models with this safety flaw usually fail the comparison test.
Additional functions for optimal enjoyment

Depending on the model and manufacturer, coffee capsule machines come with different settings and additional functions. Not everything is essential, but especially frequent coffee drinkers optimise their enjoyment with one or the other gadget and make the daily handling of the machine easier. Before buying, think about what you expect from the machine and what you are prepared to invest in amenities.
Milk frother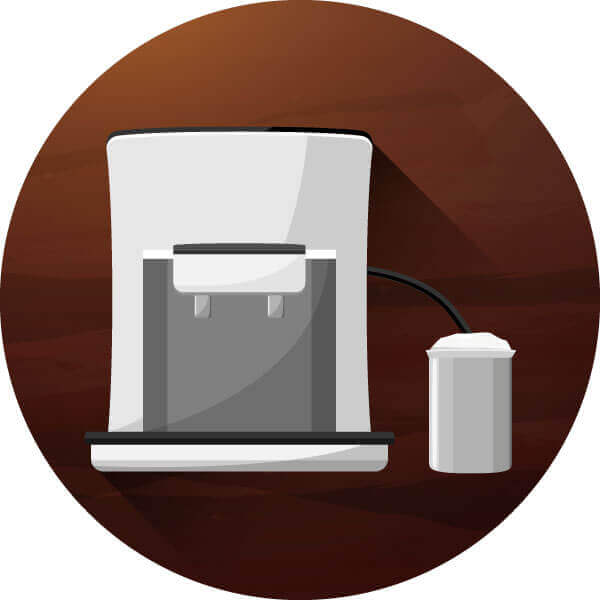 If you like to drink cappuccino or latte macchiato, your capsule machine should have a milk frothing function. The milk is pumped directly from the carton or glass via a hose. It is then heated and foamed in the cup. Although there are also capsules that contain milk in powder form and are thus used to prepare cappuccino, those who value fresh milk are well advised to use a milk frother. Of course, this can also be used with alternative products such as almond and soy drinks.
Adjustable surface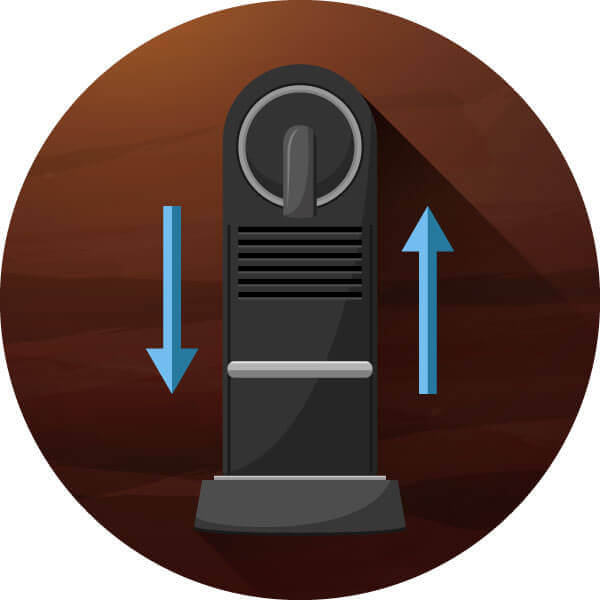 If you want to enjoy different coffee specialities and use cups of different sizes for them, the spout must be positioned accordingly. Only then will espresso cups, latte macchiato glasses and conventional coffee mugs all fit underneath. To prevent the coffee from dripping into the cup from too high a height and possibly spreading splashes over the rim, the base on which the cup is placed should be adjustable in height.
Stand-by/set-down function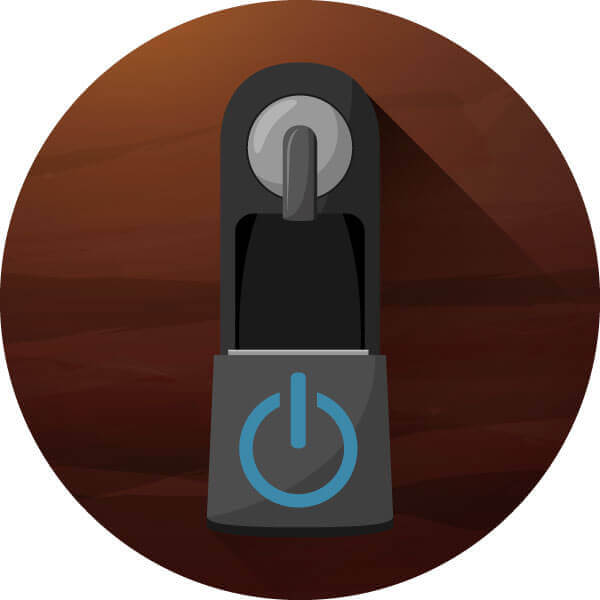 With an automatic switch-off function, the machine remains in stand-by mode for a while after you have used it. This way you don't have to restart it if you want another cup a short time later. Such a function is also useful for an office where several people have access to the machine. The time after which the machine switches itself off can be selected individually.
How expensive is a coffee capsule machine?

A comparative test by Stiftung Warentest from August 2020 shows that the expensive devices are not necessarily the best. One of the best results was achieved by the K-fee One, which only costs around 50 euros. A device costing almost 400 euros, on the other hand, fails the test with "Poor". The price of the capsules should be included in the calculation for the prospective buyer. Any additional gadgets for the machine also increase the price. According to Stiftung Warentest, the cost of a cup of espresso for the models rated "Good" is between 20 and 45 cents. Singles and households with few coffee drinkers in particular can get smaller machines that meet their needs for little money.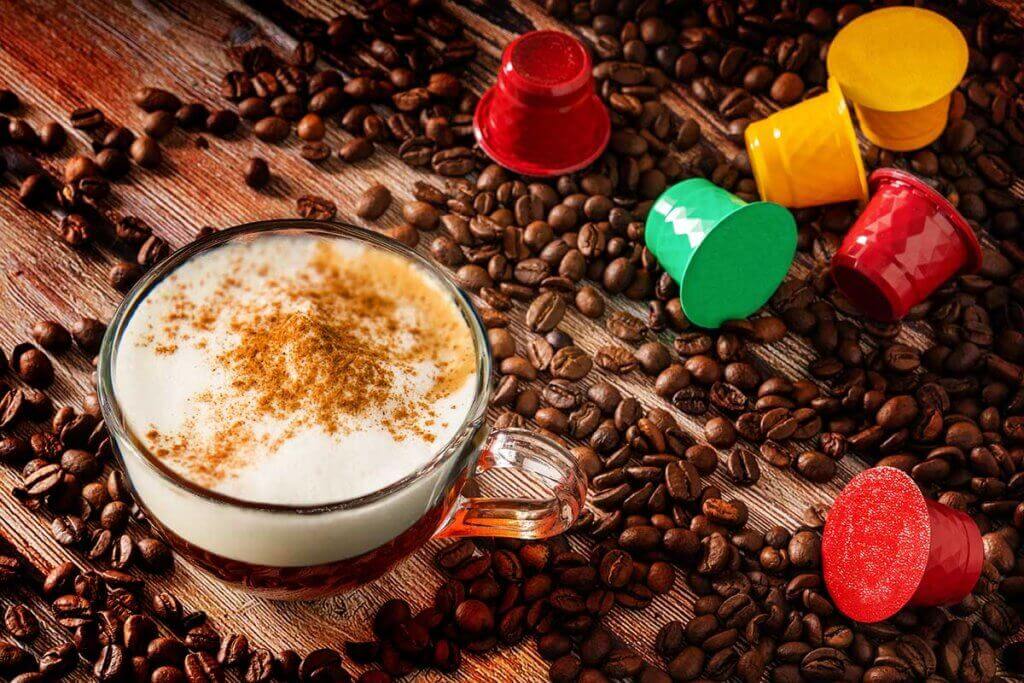 How do I clean the coffee capsule machine?

To prevent dirt from accumulating inside the machine, it must be cleaned regularly. The models have different cleaning programmes that can be started at the touch of a button. A warning signal usually alerts the user when the time has come. The hose connecting the milk tank should be rinsed with hot water once a day. Refer to the respective manual for information on proper care.
Rinse the collection container with lukewarm water after emptying it. Wipe the corners and edges with a damp cloth so that no coffee grounds remain and dry the inside well.
To descale the machine, you can clean it with a vinegar solution. Mix this with water in the water tank of the machine in a ratio of 1:2 and call up the descaling programme in the system. Alternatively, a few squirts of citric acid in the water will work. After cleaning, be sure to rinse the machine two or three times with clean water to remove any descaler residue.