Coffee pod machine purchasing advice: how to choose the right product
The most important facts in a nutshell
Coffee pod machines are easy to use and ideal for a quick coffee in between meals.
Compared to coffee capsules, pods are more environmentally friendly because they are biodegradable.
With the exception of special E.S.E. pods for "real" espresso, the coffee pods of different brands are the same size and compatible with all common pad machines.
Models from the upper price segment are often equipped with an integrated milk system and prepare milk-based coffee drinks such as cappuccino at the touch of a button.
Practical additional features include a height-adjustable coffee spout, a descaling indicator and a cleaning programme.
The compact alternative to fully automatic coffee machines

Coffee is one of the Germans' favourite drinks. A morning without the wake-up drink is unthinkable for many people. For larger households and frequent drinkers who prepare a few cups a day at home, it is often worth buying an expensive portafilter machine or a fully automatic coffee machine. However, those who only occasionally want to brew one or two cups of the hot beverage do not want to spend several hundred euros. For such cases, a coffee pod machine is a good solution. To put it bluntly, it is the small man's fully automatic coffee maker: more compact, cheaper, with fewer setting options, but just as convenient to use.
How does a coffee pod machine work?

Whereas with a classic filter machine you fill coffee powder into a paper filter, with a pad machine you insert a so-called coffee pad. The ground coffee is pre-portioned and packed in filter paper. The pad is placed on a removable sieve insert, you also fill the machine with water and then only have to press the start button. The pad machine heats the water comparatively quickly and prepares cups of coffee using the surge brewing method familiar from filter machines. After just a few seconds, the cup is ready, you remove the pad, switch the machine off again and enjoy your coffee.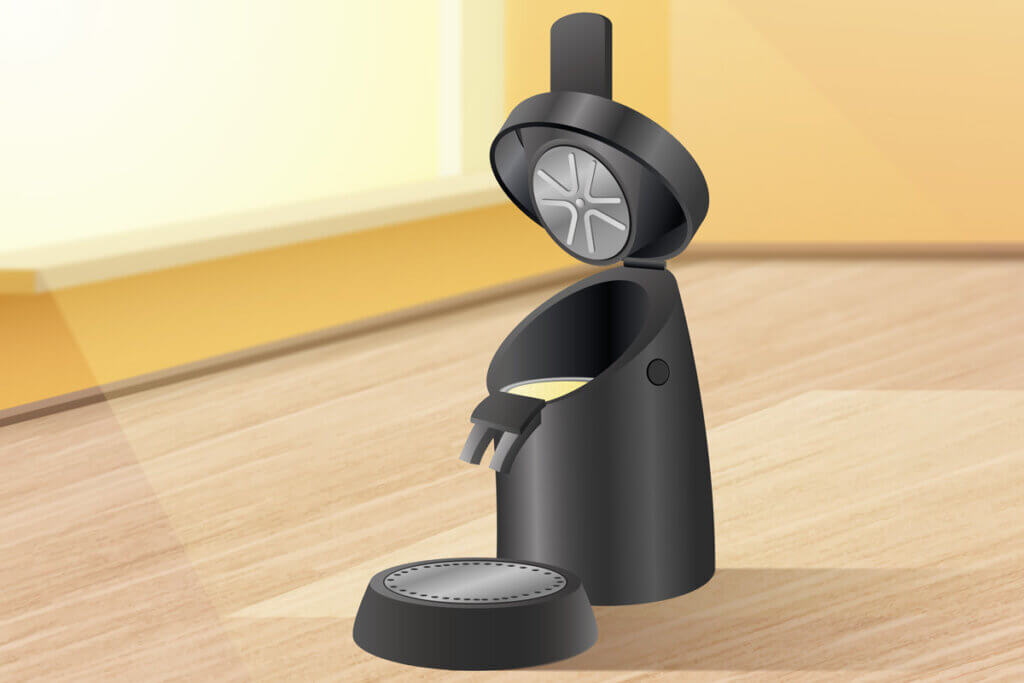 The advantages of coffee pod machines

The simple and quick preparation is one of the biggest advantages of coffee pod machines. Unlike portafilter machines, they do not require a long heat-up time or time-consuming preparation. You don't have to make any settings or measure out the right amount of coffee powder. This makes pad machines ideal whenever you need to make coffee quickly. They are also ideal for single-person households. While you can brew a whole pot of coffee with a classic filter machine, a pad machine brews one or, in some models, two cups per run. In addition, pad machines are significantly cheaper than high-quality portafilter machines and fully automatic coffee machines and take up less space thanks to their compact design.
Another advantage of coffee machines with pods is the short contact time between coffee powder and water. This means that no bitter or irritating substances get into the drink, making the coffee particularly digestible. However, it is not possible to adjust the amount of coffee powder individually, for example to brew stronger coffee. On the other hand, the pre-portioned pods are available in various versions for every taste and are not limited to coffee – tea and cocoa are also available in the practical portion pad.
Compared to the other variant of single-serve coffee machines, the capsule machines, the pad models are more environmentally friendly. Although a pad for each cup of coffee and the associated packaging also produces quite a lot of waste, unlike plastic or aluminium capsules, the pads are biodegradable and often not individually packaged. If you want to use a coffee pod machine and avoid waste, you can use reusable pods. You fill these with standard filter coffee.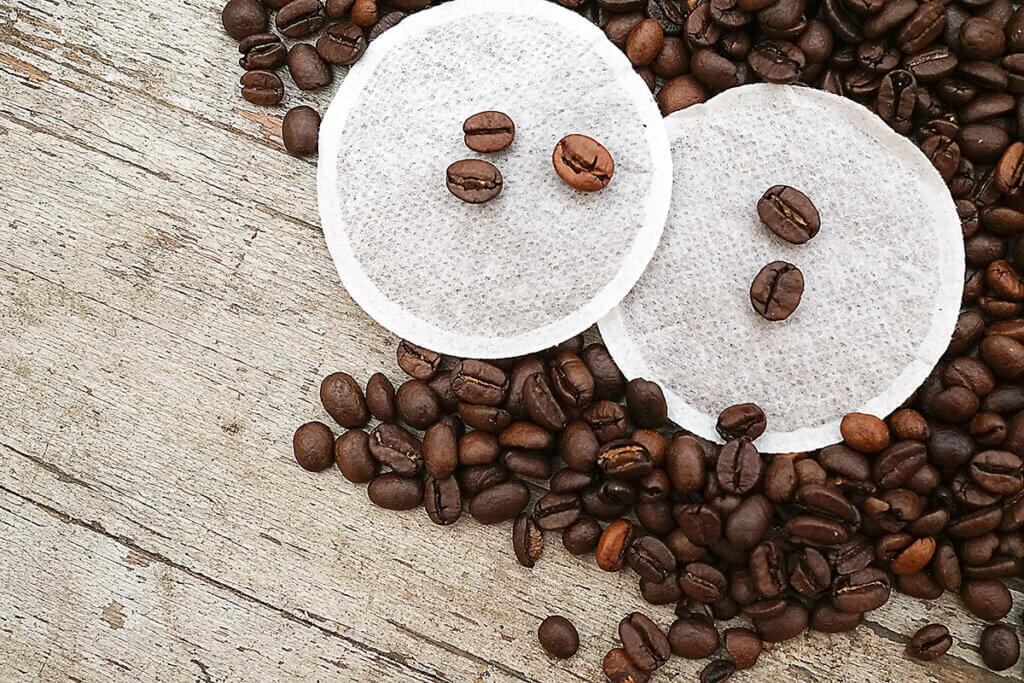 Classic pods or E.S.E. – what is the difference?

Most pad machines work with classic coffee pads, which are made of filter paper, have a round shape with a diameter of seven centimetres and are filled with seven grams of coffee powder. The problem for espresso lovers is that coffee machines with pads are not able to press the water through the pad with enough pressure to make "real" espresso. This requires models that work with a higher pump pressure of at least eight bar and special pods. The latter are known as E.S.E. pods, which stands for "Easy Serving Espresso". Compared to the classic coffee pods, the E.S.E. variants are significantly smaller with a diameter of 4.4 centimetres, but less flat. E.S.E. pods are not compatible with the usual coffee pod machines, but they can be used with many portafilter machines.
The compatibility of classic pods

Classic coffee pods have a standard size and are therefore compatible with machines from different manufacturers. The best known are the pods from Senseo, where the selection of flavours is particularly large: classic, strong and mild coffee as well as a variant with vanilla flavour and cappuccino are just some of the numerous Senseo varieties. There are also coffee pods from Jacobs, Dallmayr, Tchibo, Melitta and various discounter own brands. The latter are cheaper than Senseo pods, for example, but usually limited to two or three varieties. In addition, the taste of the inexpensive pods often cannot compete with the coffee quality of the higher-priced Senseo pods. Incidentally, the compatibility of the pods is another advantage over single-serving coffee machines with capsule systems. Unlike the coffee pods, the capsules from different manufacturers differ, so you can't use them all with every machine, but are tied to a particular system.
The cost of the pods

Depending on the type and pack size, you will pay a unit price of 15 to 40 cents for Senseo brand pods. Special pods for cappuccino or hot chocolate cost the most. You can often save a few cents by buying value packs, as well as coffee pods from discounters' own brands. The latter cost between five and ten cents per pod.
What types of coffee pod machines are there?

According to their features, coffee pod machines can be divided into simple models without a milk frother, machines with a milk frothing function and 2-in-1 pod machines. The latter can prepare single cups of coffee from pods as well as brew an entire pot of coffee using a classic coffee filter. The pad machines that are able to froth milk are available with a milk frothing nozzle or integrated milk system, just like fully automatic coffee machines.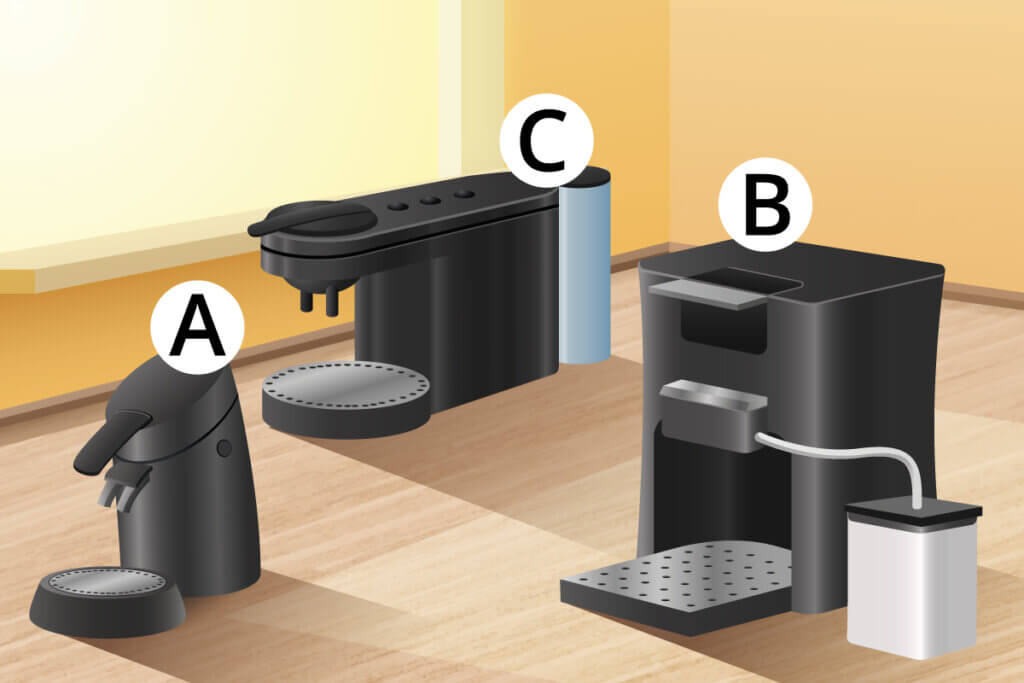 Coffee pod machines without milk frother

The classic coffee pod machines cannot froth milk. Milk-based coffee specialities such as cappuccino or latte macchiato are therefore not possible, at least not in the same way as in a café. Senseo offers pods for some of these drinks that contain coffee powder and a layer of milk powder that creates a kind of milk foam. However, it is not quite as creamy and fluffy as freshly foamed milk. The simple coffee pod machines are therefore more suitable for purists who only fancy a coffee speciality with milk now and then and otherwise prefer to enjoy their coffee without frills. On the other hand, coffee pod machines without a milk frother are easier to clean, require less maintenance and are cheaper to buy than models with a milk frothing function. Simple pad machines are available from around 50 euros. Popular models include the Philips Senseo Original, Philips Senseo Viva Cafe and the Senseo Quadrante.
Senseo accessories for milk foam

As an alternative to coffee pods with milk powder, Philips has the Senseo Milk Twister in its range. The compact electric milk frother can prepare both cold and hot milk foam. However, with a price of over 50 euros, it costs similar to a simple pad machine.
Coffee pod machines with milk frothing function

If you want a little more luxury and milk-based coffee drinks, a coffee pod machine with milk foam function is a suitable device. A few models are equipped with a hot air nozzle for this feature, with which users froth milk in a separate container. Otherwise, these models function like simple coffee pod machines. However, the hot air nozzle requires more cleaning. Coffee pod machines with an integrated milk frothing system are the more common variant. They have a milk container that can be removed for filling and cleaning. At the touch of a button, the system draws milk from the container, froths it and adds it to the coffee in the cup. For cleaning the milk system, the pad machines are usually equipped with a rinsing programme. The milk container is usually removable and dishwasher-safe.
A popular model of this type is the Senseo Latte Duo Plus. For milk-based hot drinks with "real" espresso, for example, the Breville Primalatte is suitable, a portafilter machine with integrated milk system that can be used with coffee powder and E.S.E. pods. With prices starting at around 180 euros, coffee pod machines with integrated milk system are significantly more expensive than the simple versions without milk froth function. However, consumers would have to spend at least twice as much for a fully automatic coffee machine with a milk system.
2-in-1 coffee pod machines

For filter coffee fans who want to brew not only single cups but also the occasional pot of coffee, a 2-in-1 coffee pod machine is a good choice. The manufacturer Philips offers such a machine with the Senseo Switch. It is characterised by its 2-in-1 brewing technology as well as its large water tank and includes a stainless steel thermal pot in the scope of delivery. In no time at all, you can convert the model from a pad machine with pad holder to a classic filter coffee machine. The disadvantage: with a price of over 100 euros, this is a rather expensive filter machine.
What should I look for when buying a coffee pod machine?

The various coffee pod models differ mainly in their features. While some machines only allow you to brew one cup per cycle, others allow you to brew two. In addition, the water tanks vary in size and the machines each offer different setting options. Among other things, only a few models allow you to adjust the coffee strength individually. Other important purchase criteria are performance, which determines the heating time and power consumption, and handling. The latter should be as intuitive and convenient as possible, to which additional features such as a cleaning programme contribute. Last but not least, the price of the pad machine is a factor in the decision of many consumers.
One or two cups per cycle
Particularly compact pad machines can only prepare one cup of coffee per run. With most models, you have the choice between one and two cups. For this purpose, these models come with two different-sized filter inserts that can hold one or two pods respectively. You make the selection using two separate buttons, which are typically illustrated with one and two cups. With a 2-in-1 pod machine, you also have the option of making a pot of coffee for up to seven cups.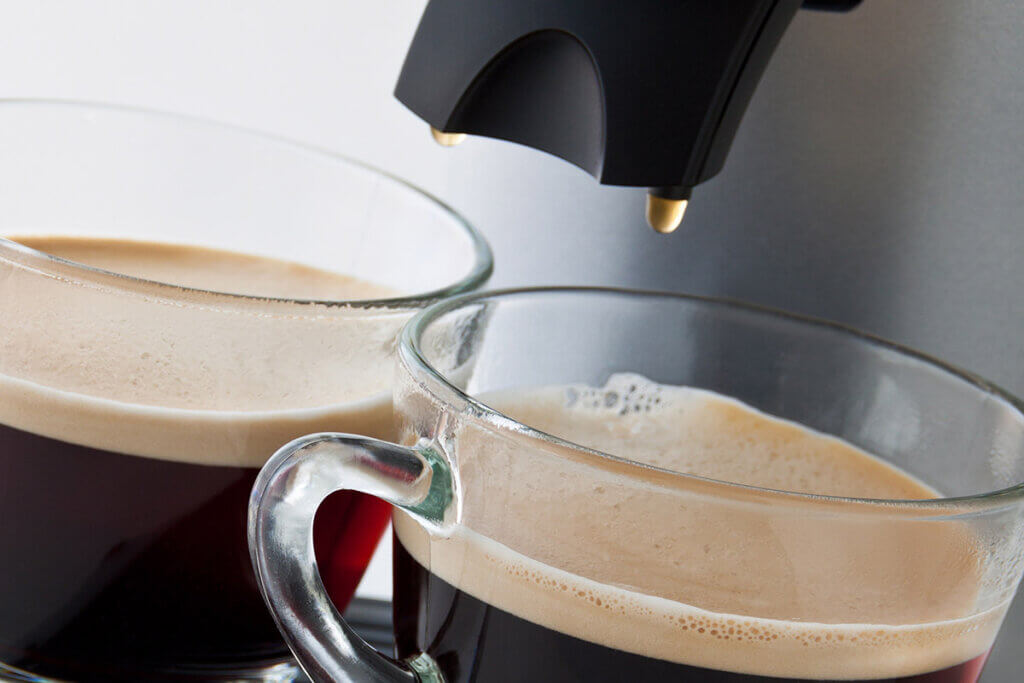 Water tank

The larger the water tank, the more cups of coffee you can brew with the machine without having to refill it in between. Since coffee pod machines are aimed more at occasional users and are designed to brew single cups, a huge water tank is not necessarily an advantage and is mainly worthwhile for 2-in-1 models that are used to brew whole pots. In small pad machines, the water tank holds 0.5 to 0.7 litres, while larger ones have a capacity of up to 1.2 litres.
Setting options

Unlike fully automatic coffee machines or portafilter machines, pad models have only a few setting options. With very basic machines, you can't make any individual adjustments at all. More extensive pad machines offer a choice between one and two cups and between a mild and a strong coffee. A few machines in the higher price segment, such as the Senseo Latte Duo Plus, allow you to adjust the amount of coffee and milk individually, as well as choose between different milk-based drinks such as café latte, latte macchiato and cappuccino.
Brewing time and power consumption

The power of coffee pod machines is specified in watts. The higher the wattage, the faster the machine is able to heat the water and brew the coffee. At the same time, more power means higher electricity consumption. Since pad machines are designed to make coffee quickly, they are generally characterised by quite high power consumption. Depending on the model, the power consumption for a brewing process is between about 1,300 and 2,800 watts. To brew a cup, the machines need 30 to 60 seconds. For example, the comparatively economical Senseo Original consumes 1,450 watts of power for a brewing process. But the coffee is ready in only 30 seconds. In standby mode, pad machines have a power consumption of between 0.2 and 0.4 watts.
Low pump pressure

While pump pressure is an important decision criterion for other coffee machines, you have no choice when it comes to coffee pod machines. All current pad models work with a pump pressure of one bar.
Dimensions and weight
In general, coffee pod machines are comparatively compact and light. They weigh between 1.5 and 2.5 kilograms. The dimensions are particularly relevant for households with little space. Simple pad machines are usually particularly space-saving, while you should plan a little more space for 2-in-1 models. The dimensions of common pad machines are in the following range:
Width: 15 to 25 centimetres
Depth: 25 to 40 centimetres
Height: 25 to 35 centimetres

Operation

Coffee pod machines are very easy and intuitive to operate. In most cases, the controls are limited to a few buttons, for example to switch the machine on and off and to select one or two cups. The water tank and drip tray are removable and can be easily filled, emptied and cleaned. The removable parts are usually all dishwasher-safe. The pad holders can also be easily rinsed under running water and are thus ready for use again immediately.
Convenience features

Pad machines in the upper price segment often come with additional features for more convenience, such as an integrated milk system for preparing milk-based coffee specialities at the touch of a button. In contrast, simple models are usually limited to an automatic switch-off function that saves electricity. Other practical features of higher-priced models are:
A height-adjustable coffee spout
A height-adjustable drip tray
A descaling indicator
An empty water tank indicator
A descaling programme
An automatic cleaning function

How much does a coffee pod machine cost?

Compared to other coffee-making devices, coffee pod machines are in the lower average price range. They are slightly more expensive than most filter coffee machines and cost significantly less than high-quality automatic coffee machines and portafilter machines. Their prices are similar to those of capsule machines, although the latter entail higher follow-up costs because the capsules cost a little more than pods. The cheapest pad machines are simple models without a milk foam function. They cost about 50 to 120 euros. For the combination of pad and filter machine, you have to budget 100 to 130 euros, and for the luxury version with integrated milk system, 180 to 250 euros.
Cleaning and care of the coffee pod machine

Regular cleaning and care are necessary to ensure the hygiene and longest possible life of your coffee pod machine. Cleaning pad machines without a milk frothing function is somewhat easier. In this case, it is sufficient to remove the pad after each use and rinse the pad holder and the drip tray under running water. It is also advisable to empty the water container after each use to prevent bacteria from accumulating there. For coffee pod machines with a milk system, it is also necessary to clean the milk container and rinse the hoses. For the latter, most models are equipped with a rinsing programme. You can clean the inside of models without a rinse programme by running a cup of hot water through it. To do this, simply press the corresponding button without inserting a pad first.
It is also advisable to put all removable parts in the dishwasher once a week – provided, of course, that they are suitable for this. Alternatively, rinse them thoroughly by hand and let them dry thoroughly afterwards. The housing and the non-removable parts such as the water spray head in the lid are best wiped clean once a week with a damp cloth.
Regular descaling

To prevent limescale from building up in your pad machine, clogging the pipes and causing faster wear, you should descale your machine every three months. Models with a descaling indicator will remind you by lighting up a light. To descale, use either special descaling agents offered by the manufacturer or a mixture of water and citric acid. According to the manufacturer's recommendations, you should not use mineral acids, as these can damage the machine. The exact procedure for descaling varies from model to model. Follow the instructions in the user manual. The procedure is usually divided into the following steps:
Mix the descaling agent from citric acid and water.
Pour the mixture into the water tank
Insert the pad holder and insert the used pad as a filter.
Place a suitable container under the spout.
Run the machine through several cups until the water tank is empty.
Remove water tank and rinse thoroughly
Repeat the process with water without descaling agent to rinse the machine.
Popular brands and models

The Dutch company Philips clearly dominates the coffee pod machine market with its Senseo range. Competition in the form of pad models from other manufacturers is almost non-existent. Pad machines from WMF, such as the WMF Lono, the WMF 10 and the WMF 5, are currently no longer manufactured and are only partly available from third-party suppliers. The same applies to Petra coffee pad machines Petra Artenso Latte KM 42.12 and Petra KM 45. In the meantime, Senseo pad machines are competing with capsule machines such as the Nepresso models from Krups and De'Longhi or the Tassimo systems from Bosch. Senseo coffee pod machines come in different variants, each of which addresses different needs. We present the current series and their special features below.
Senseo Original: The basic pod machine

The Senseo Original is the most affordable Senseo model. It can brew one or two cups of coffee in one go and has an automatic switch-off after 30 minutes. It is also the most compact Senseo model. This model is suitable for anyone looking for a simple, space-saving coffee pod machine without a lot of bells and whistles.
Coffee Boost and Crema Plus

All current Senseo models feature Coffee Boost and Crema Plus technologies. The latter ensures a particularly fine and velvety crema layer on the coffee. With Coffee Boost technology, the hot water is distributed very evenly over the coffee pod via 45 aroma nozzles, allowing the coffee to develop its full aroma.
Senseo Viva Cafe: The big sister of the Original

The Senseo Viva coffee pod machine is very similar to the Senseo Original, both visually and in terms of its features. With its metal drip tray and coffee spout, it looks a little more sophisticated than the Senseo Original, but it is also a little heavier. In addition, the water tank of the Viva Cafe holds 200 millilitres more and the coffee spout is height-adjustable, unlike that of the Senseo Original. As a practical additional feature, the slightly more expensive Viva Cafe comes with a descaling indicator.
Senseo Quadrante: Rectangular with extra-large water tank

The design of the Senseo Quadrante model is what sets it apart from the other simple Senseo machines. While the Original and Viva Cafe models are characterised by round shapes, the Senseo Quadrante is rectangular. Its price is almost double that of the Original, but it offers some practical features such as a descaling indicator, an empty water tank indicator and a height-adjustable drip tray. The water tank can be conveniently removed from the side and is particularly large with a capacity of 1.2 litres.
Senseo Latte Duo Plus: The luxury pod machine with milk system
If you are looking for a coffee pod machine with milk foam function, the Senseo Latte Duo Plus is the right choice. With its integrated milk system, it conjures up latte coffee, cappuccino or latte macchiato from coffee pods at the touch of a button. As with some fully automatic coffee machines, you can even adjust the amount of coffee and milk individually and save the settings. In addition, the Senseo Latte Duo Plus is equipped with an automatic cleaning function and a descaling programme, which makes it particularly convenient to use. However, luxury comes at a price: at over 200 euros, the Latte Duo Plus is the most expensive Senseo model.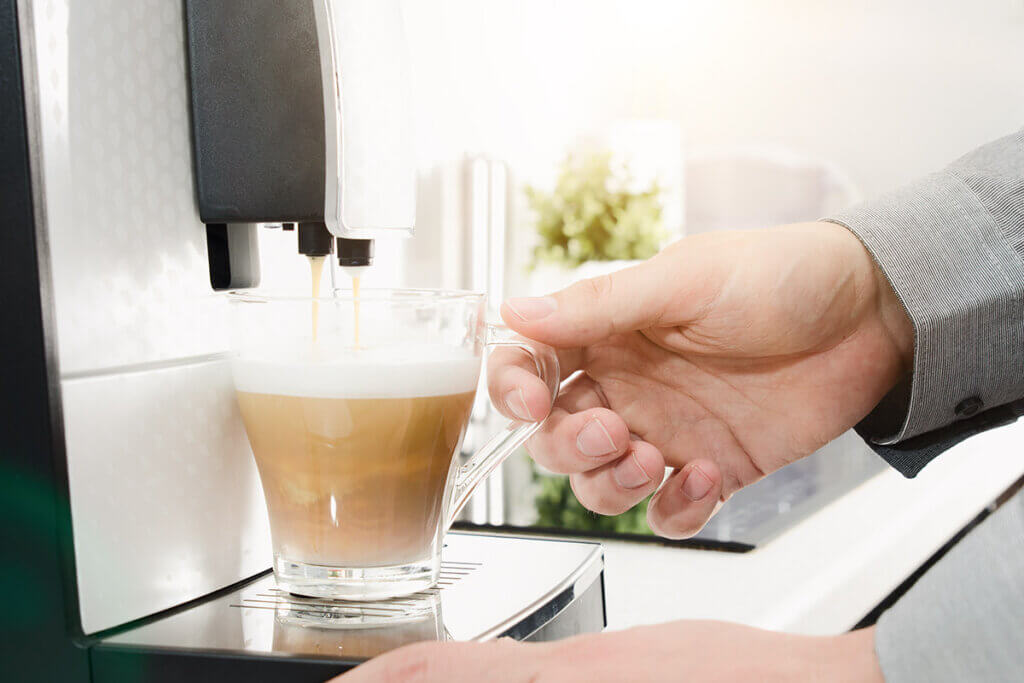 Senseo Switch: The 2-in-1 machine

The Senseo Switch is a combination of pad and filter machine. In addition to two pad holders for one or two pods, the scope of delivery includes a shatterproof thermal jug and a filter insert for conventional coffee filters. This allows you to brew a pot of filter coffee with up to seven cups in one go. With a capacity of one litre, the water tank is slightly larger than in the Original and Viva Cafe models. As comfort features, the machine offers a descaling light and a water level indicator.