Pet hair vacuum cleaner purchasing advice: how to choose the right product
The most important facts in brief
While conventional hoovers are sufficient for smooth floors, a powerful pet hair hoover is recommended for upholstered furniture and carpets.
Unlike a normal hoover, a model specially designed for pet hair comes with a wide range of accessories such as turbo brushes and special nozzles.
Pet hair hoovers are available as floor hoovers (with and without bag), battery hoovers, wet-dry hoovers and vacuum robots.
Key selection criteria are the emission class, the cleaning class on hard and especially soft floors, and the volume in decibels.
With this solution, pet owners no longer lose their hair
Pet owners know the problem all too well: Despite intensive fur care, the hair of their four-legged friends can be found everywhere in the apartment. Especially carpets and upholstered furniture magically attract pet hair. Without regular vacuuming it cannot be prevented that vast amounts of animal hair are visible. At the latest when clumps of fur are visible, there is a need for action. After all, no one wants to subject their visitors to this. In addition, this poses a health risk for allergy sufferers that should not be underestimated.
The vacuum cleaner is the obvious choice, but consumers quickly reach their limits in the fight against pet hair with a conventional model: Too many hairs stick. Therefore, the question arises whether a special vacuum cleaner for pet hair is a sensible investment. For visibly convincing cleaning results, the purchase is without alternative. In the following, we answer the most important questions around the purchase of a pet hair vacuum cleaner.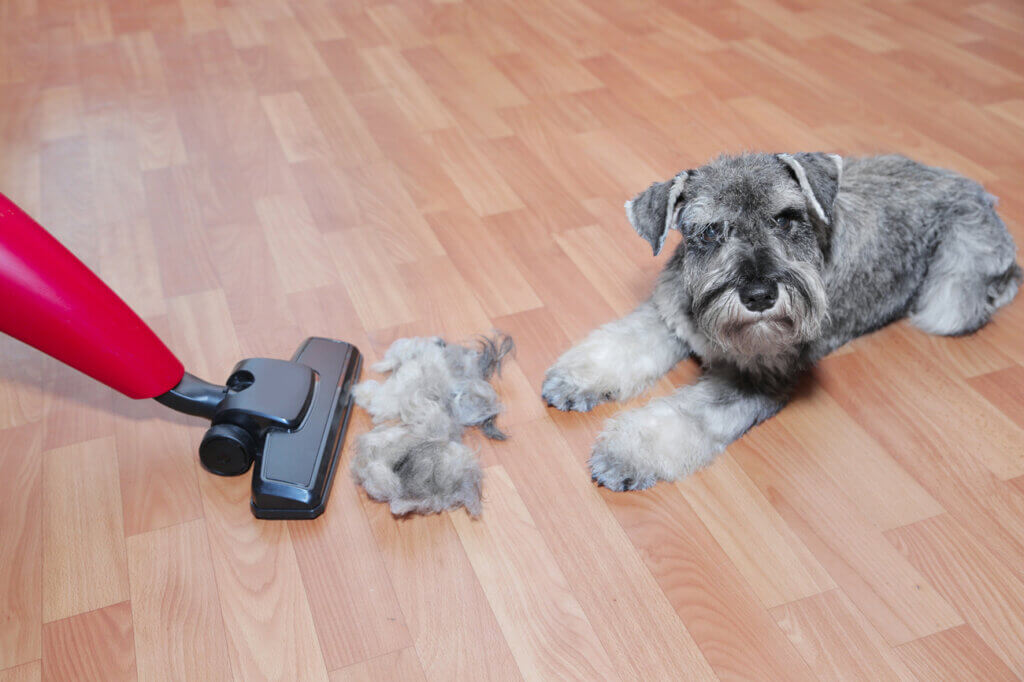 How does a pet hair vacuum cleaner work?
In principle, it is a very ordinary vacuum cleaner that works on the same vacuum principle as any other model. However, differences are mainly seen in the functional accessories that are included in the package. A vacuum cleaner for pet hair has special brushes that can effectively remove hair from carpets and upholstery. Furthermore, attachments designed specifically for upholstered furniture are available, allowing users to reach every nook and cranny to ensure hair-free thoroughness there as well. Another plus point is that the filters of pet hair vacuum cleaners often have higher standards, which is an added health benefit for allergy sufferers in particular. Since there are significant differences depending on the model, consumers should select a suitable solution specifically with their own household in mind.
Why should I buy a pet hair vacuum cleaner?
Anyone who keeps dogs or cats that lose a lot of hair despite careful grooming will appreciate a pet hair vacuum cleaner in any case. At the latest when the hair can no longer be removed by conventional means, the question arises whether the purchase of a device specially designed for pet hair is inevitable. A look at the technical details shows that a pet hair vacuum cleaner for this area of application clearly has better performance than a conventional vacuum cleaner. Thanks to suitable nozzles, users have optimal suction power at their disposal. These are included in the scope of delivery, so there are no additional costs for this. Especially on upholstery, a normal vacuum cleaner only delivers insufficient results. In addition, a larger amount of time has to be factored in here. With special nozzles and turbo brushes, users can free their upholstered furniture from pet hair in just a few easy steps. The devices are designed in such a way that clogging of the pipes is difficult.
The time and labor saving factor should not be underestimated in everyday life and, in addition to the gain in hygiene, is the decisive reason for many pet owners to buy such a vacuum cleaner. Thanks to the particularly thorough filters, less dust is emitted with the exhaust air. For allergy sufferers, the purchase of a pet hair vacuum cleaner should consequently be seen as an investment in their own well-being.
On the whole, a pet hair vacuum cleaner offers the following advantages:
Effective removal of pet hair due to the extensive accessories.
For allergy sufferers a health-oriented gain
Can be used for all other cleaning tasks apart from animal hair
Handling comparable with conventional models
Neutralization of odors through the use of special filters and additives
Lower energy consumption in the course of the new EU regulation
At most, the higher purchase price is counted among the disadvantages. However, this is put into perspective by the extensive range of accessories – especially since there are also quite a few models in the mid three-digit range among conventional vacuum cleaners.
Classic, cordless or multifunctional? The different types
Pet hair vacuum cleaners are available in various designs: from the classic floor vacuum cleaner to the cordless variant and the wet-dry combination. The robot vacuum cleaners are a special feature.
Floor vacuum cleaners: The classics
The floor vacuum cleaner is the classic design. Most pet hair vacuum cleaners are therefore visually similar to conventional models, with the functional accessories (brushes and nozzles) making all the difference. Due to the use of electricity, a high suction power is usable, but the cable can prove to be a nuisance when vacuuming; especially when explorative dogs and cats want to play with it.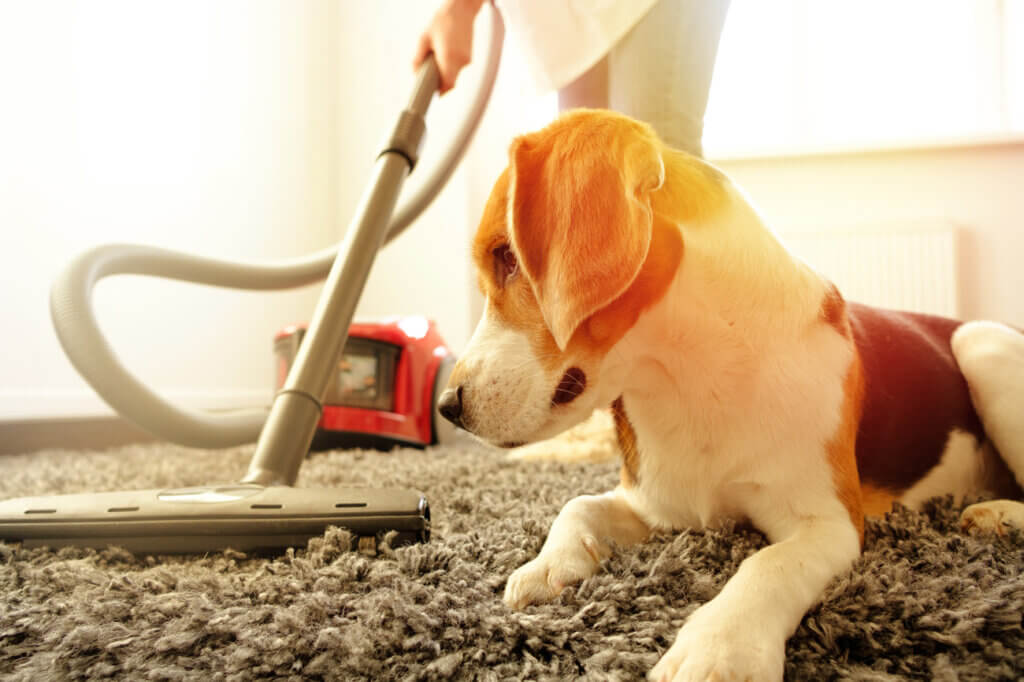 Basically, vacuum cleaners can be divided into models with or without a bag (we will discuss this purchase criterion in more detail later in the text).
Cordless vacuum cleaner: The cordless alternative
A very short cord can greatly limit the action radius, much to the annoyance of the user. If there are also animals and small children living in the household, a cordless vacuum cleaner for removing animal hair is an interesting alternative. Due to the compact design, hard-to-reach places can be thoroughly cleaned. When not in use, it is possible to store the cordless vacuum cleaner in a space-saving way, preferably in the charging station provided. Many models also have a hand-held vacuum cleaner that can be flexibly removed, which provides great application flexibility.
However, the limited usage time is a disadvantage for daily use: The vacuum cleaner can be used for about 30 minutes with one battery charge. In addition, the suction power tends to perform worse. Since their absorption capacity is limited, such models are recommended for short use in between or as a functional addition to the household.
Wet-dry vacuum cleaners: Vacuuming and cleaning in one operation
If explorative free-rangers live in the household, a wet-dry vacuum cleaner is a good choice. This combination allows you to take advantage of the fact that pet hair on carpets binds with water. This bond ensures that animal hair and also dust are not blown out again. In this respect, it is an attractive alternative for allergy sufferers. The wet function also allows carpets to be thoroughly cleaned in a single operation. Since a bag is not necessary for such models, there are no follow-up costs apart from the power consumption.
It should not go without mentioning the fact that cleaning the collection container causes a certain amount of work, and after each use. However, such a wet vacuum cleaner is usually not used daily, but at regular intervals for basic cleaning. It can therefore be a functional and hygienic addition to a household's cleaning repertoire.
Robot vacuum cleaners: vacuum yourself or let a robot do the work?
In recent years, more and more vacuum cleaning robots have been found in German households. Vacuuming robots, which are also available for the "pet hair" application area, set out on a thorough reconnaissance tour themselves. The idea of never having to vacuum up pet hair yourself again is particularly appealing to pet owners – especially because it has long been a usable reality in the home. Robot vacuum cleaners take over the work while owners are away, moving quietly and unobtrusively but very purposefully through all the rooms on their own. Of course, this assumes that there is enough room to move around, as a robot cannot achieve optimal results in cramped living spaces. To get the most out of a vacuum robot's efficiency, the home would need to be specifically designed for it. However, most people probably do not have the time to do this.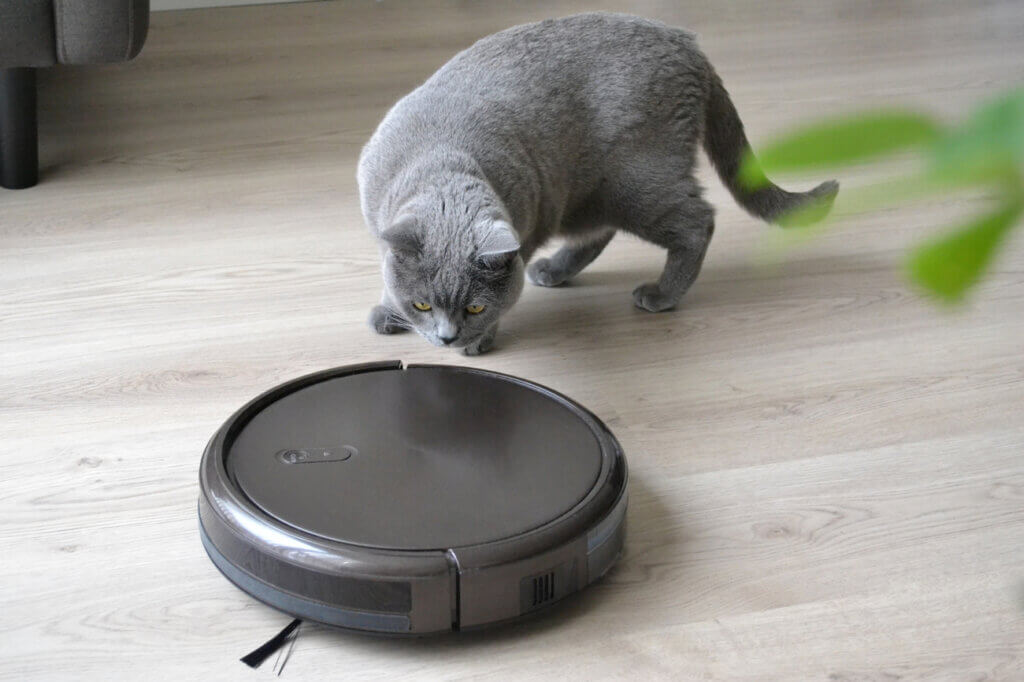 However, such models are only recommended to a limited extent for pet hair, since they cannot climb upholstered furniture, which means additional work for consumers. If animals live in the household, they can also react very sensitively or even aggressively to the vacuuming intruder. In addition, it is not uncommon for vacuum robots with convincing quality to devour several hundred euros. Consequently, these are rather luxury items.
What to look for when buying
If you want to buy a pet hair vacuum cleaner, you usually have to budget more than 100 euros for the purchase. Inexpensive models are often qualitative losses to accept. These contradict the goal of removing as much pet hair as possible and ensuring visible thoroughness. Many pet hair vacuum cleaners are in the price segment between 150 and 250 euros, with battery-powered models sometimes being significantly more expensive. Generally, the price of a pet hair vacuum increases with the amount of equipment or performance.
To ensure that the model is of high quality, the product description should include information on the following features:
strong suction power (also in comparison with alternative models)
special pet hair brushes and attachments for various floors and surfaces included in the scope of delivery
excellent exhaust air filtration with powerful HEPA filters
As for the price, any follow-up costs should also be taken into account on the invoice. If all nozzles and brushes are included, there are no further costs in this regard. If the vacuum cleaner is operated with bags, however, constant additional costs are incurred in the course of their renewal. These are not incurred by models that operate without bags.
With or without bag?
Apart from the cost aspect, the functionality in everyday use must also be considered. Basically, neither of the two alternatives is better than the other. In terms of hygiene, however, allergy sufferers in particular fare better with a bagged vacuum cleaner. When emptying the container of a bagless pet hair vacuum cleaner, depending on the design, more dust may escape. Models without a bag also require more maintenance and cleaning. The container is usually not very large, so it must be cleaned thoroughly on a regular basis. In the case of a model with a bag, this is simply replaced in a few simple steps. Special devices ensure that hardly any dust or hair can escape from the bag.
These advantages and disadvantages offer pet hair vacuum cleaners without bag:
Advantages
Low follow-up costs
Usually reliance on efficient cyclone technology
Constant suction power (with regular maintenance)
Modern designs available
Often lightweight
Especially recommended for frequent vacuum cleaners and large living areas
Disadvantages
Frequent maintenance and cleaning
Emptying the bag not hygienic
Only recommended to a limited extent for allergy sufferers
High volume sometimes disturbing for pets
The EU energy label: All important criteria at a glance
In the course of improving transparency for consumers, the so-called energy label has been introduced in the European Union. It shows the most important characteristics of a vacuum cleaner at a glance, so that the strengths and weaknesses of the respective product are immediately visible. In addition, this label allows different models to be compared with each other in a meaningful way. The following information can be viewed on this label:
The energy efficiency class or the power consumption per year.
The dust collection class on hard floors
The dust collection class on carpet
The dust emission class
The noise level in decibels
In the following, the individual criteria are examined in more detail with a view to the targeted selection of a pet hair vacuum cleaner.
The areas of use: Hard floor or carpet?
When it comes to the area of application, the concrete need in the household determines the decision to be made: Those who have tiles, laminate and carpet in their living spaces should choose a pet hair vacuum cleaner with the corresponding range of functions. When buying, pay attention to the label, which, in addition to the energy efficiency class, also contains information on the hard floor cleaning class. If you want to remove pet hair from hard floors more often, you should look for a correspondingly good class, which basically also goes hand in hand with high quality. In the case of a pet hair vacuum cleaner, the focus is primarily on the specified carpet cleaning class, because hair is more difficult to remove from soft surfaces. In this respect, a recommendable vacuum cleaner for pet hair should perform particularly well in this area. The classes are marked with the letters A to G, with A being the respective top grade. Incidentally, this also applies to energy consumption.
The emission class: Decisive for allergy sufferers
A very good dust retention capacity is marked with a good emission class for a pet hair vacuum cleaner. Specifically, this value indicates how much dust is released into the ambient air via the exhaust air. The less dust is secreted, the more thoroughly and health-friendly the filter in a pet hair vacuum cleaner works. So, if you are allergic to pet hair and dust, you should attach great importance to the top rating A in this category. A look at the product description will show which filter is used. Modern versions are able to retain mites as well as dust and hair.
The filter technology: The heart of a vacuum cleaner.

Most product descriptions talk about HEPA filters. This is the most common technology. The abbreviation stands for "High-efficiency particulate arrestance." These filters have the task of stopping even the smallest particles. How well they can do this depends on the respective classification. While E10 filters trap 85 percent of fine dust, H14 filters achieve a value of 99 percent.
The noise level: a stress test for pets?
Vacuuming involves a certain level of noise. Therefore, a look at the volume value in decibels is very informative. Thus, a comparison of several models shows which vacuum cleaner works the quietest. This is especially interesting for pets, because anxious dogs and cats quickly get stressed. A very quiet model makes the removal of dust and pet hair as pleasant as possible for everyone involved. Vacuum cleaners with a value of 70 decibels are generally considered to be quite quiet. With such a model, the four-legged friends quickly get used to the housework, so it does not have to degenerate into a stress test.
Size, weight and ergonomic features
Functionality and quality are basically in the foreground when deciding on a purchase. Ultimately, however, the household helper that is used regularly must also be easy to operate. Lightweight models that are easy to move are therefore advantageous. Individually adjustable lengths also allow ergonomic or back-friendly product use. With a view to flexible use, it is important to ensure that the cable is sufficiently long so that the operating radius is as large as possible. Nothing is more annoying than having to constantly interrupt vacuuming because of the search for a new socket. All in all, a pet hair vacuum cleaner should be very maneuverable so that it can deliver optimal results even in confined spaces.
What features does a pet hair vacuum need to have?
Depending on the specific area of use, the required range of features of a pet hair vacuum cleaner varies. However, low dust emission and very good values for picking up pet hair on different floor coverings should be the focus as functional core competencies. If you want to get as much done as possible in a single operation, you should opt for a model that also sucks up liquids or works with the spray extraction method, for example. This is a special wet cleaning process that is used primarily for carpeted floors.
The scope of delivery for a pet hair vacuum cleaner should include the following:
Turbo nozzle: the spinning bristles efficiently pick up hair instead of pushing it into the fabric.
Upholstery nozzle: This attachment allows you to use the optimal suction power with pinpoint accuracy.
Pet hair brush (optional): So far, the "grooming" nozzle for direct fur care with a vacuum cleaner has only been offered by a few manufacturers. With this feature, pet hair can be vacuumed virtually directly at the source.
A question of power: What power does a pet hair vacuum cleaner need?

A few years ago, manufacturers were still flaunting enormous power ratings that were well over 2,000 watts. That has changed since the tightening of an EU directive in 2017. Now vacuum cleaners are only allowed to have a maximum power of 900 watts. However, there is no need to fear a loss of quality with a pet hair vacuum cleaner, as the nozzles and brushes make a great functional contribution.
Cleaning and care tips: For long-lasting performance
Since a pet hair vacuum cleaner is used frequently, you should maintain it just as regularly. This is the only way to ensure proper functioning and a long service life. Whether with a bag or bagless: Regularly changing or emptying the container ensures that there is no loss of suction power. Therefore, it is important to regularly check whether the respective container is full. After all, with a low suction power, more hair than necessary can be left behind, which is not the purpose of a pet hair vacuum cleaner.
The suction pipes: check for blockages
To maintain high suction power, you should regularly check the pipes and connections for clogs. Apart from pet hair, larger objects such as socks can be sucked up unnoticed, which has a direct impact on the suction power. To free the pipes, for example, a thin rod is suitable, which can not cause damage.
The floor and upholstery nozzles: removing blockages
It is in the nature of things that hair gets caught in the floor nozzle of the vacuum cleaner. As a rule, it should be possible to remove entanglements by hand without any problems. One thing to keep in mind is that such adhesions, especially on carpets and upholstery, mean that only a small amount of pet hair pickup is guaranteed. As soon as you notice that the vacuum cleaner no longer works as thoroughly as it did at the beginning, you should take a look at the nozzles or brushes. The suction opening in particular should be checked for any blockages. Flexible tube brushes are ideal for this purpose.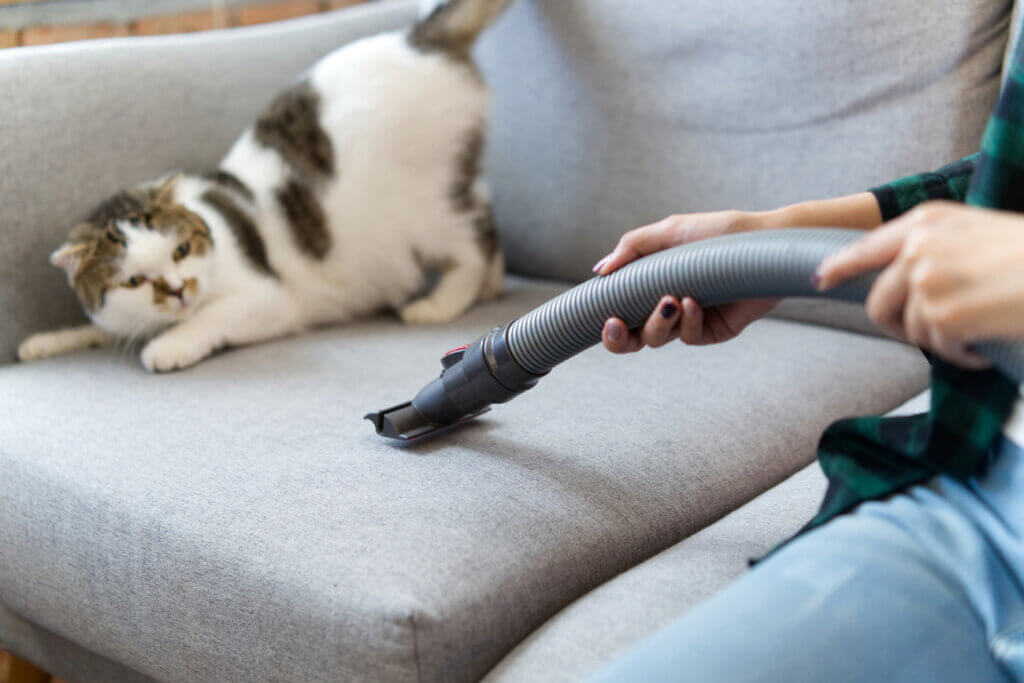 The bagless dust collector: Emptying and washing it out
With bagless vacuum cleaners, follow-up costs can be reduced. To ensure a high level of hygiene, you should clean the dust collector regularly. It is also advisable to thoroughly wash out the container to remove stubborn dust deposits. Here, the manufacturer's instructions should be followed. If you have a model with a bag, you should not wait too long to change it. Firstly, the suction power decreases when the bag is already almost full, and secondly, if the bag is overfilled, dust and hair may escape when the interior is opened. Therefore, take a look at the indicator light regularly.
The filters: change them regularly
Powerful filters are essential for the quality of the exhaust air, which should be as dust-free as possible. Therefore, you should replace them after a few months, depending on the intensity of use. In the case of so-called cyclone vacuum cleaners, filters usually have to be cleaned by hand. Before you put the filter back into operation, it must be completely dry.
Measures for fresh room air
With many vacuum cleaners, especially those for pet hair, an unpleasant, musty smell can become noticeable after a few weeks or months. However, you can prevent this by regularly replacing filters. In addition, there are special filters that neutralize odors. For owners of dogs and cats, such odor-neutralizing additives are particularly recommended. Special fragrance oil is also available for this purpose, which you apply directly to the filter.