Electric scooter purchasing advice: how to choose the right product
What you need to know
E-scooters are similar to classic push-scooters, but powered by an electric motor.
Light, foldable electric scooters are particularly suitable for short journeys such as commuting to work.
Those who want to ride for leisure should opt for more robust models — optionally with a saddle.
Certain electric scooters are allowed to participate in road traffic but require a driving license (at least category Q).
Electric scooters in use
Walking is healthy, but we don't always have the time or energy to get from A to B on foot. Conveniently, there are other solutions and the modes of transportation are constantly growing. For a long time, the bicycle functioned as the primary alternative or addition to buses, trains, cars, and our own feet. In the meantime, the pedal-powered two-wheeler has also undergone an electric update and the whirring of e-bikes can be heard more and more frequently on the streets.
It remains to be seen whether e-scooters will eventually prevail and take over from electric bikes. The e-duel is certainly exciting, all the more so as the e-scooter trials have been once more extended to November 30, 2022. The upswing is already visible: more and more people are using the new form of e-mobility, especially for short journeys.
What is an electric scooter?
We come closer to a definition when we use a synonym that is less common but all the more succinct: electric kick scooters. Here we have immediate images in our minds of how we happily scooted through our childhood. These are exactly the models we are referring to, but with a motorized drive that usually allows a speed of up to 20 km/h (12.4 mph).
Clearly defined

E-scooters are motorized kick scooters that are powered electrically rather than by an internal combustion engine to transport private passengers.
The typical e-scooter does not have a seat. Instead, riders stand with both feet on the elongated deck; the drive is provided by an electric motor. Instead of pushing with your legs, you use a throttle, for example, to move the vehicle.
However, there are also models with an integrated saddle. Here the terminology coincides, because such versions are usually offered as 'electric scooters with a seat'. In contrast to the classic e-scooter, these vehicles are often more luxuriously equipped, for example with larger wheels and rear-view mirrors. This makes them heavier and more cumbersome.
Different types of electric scooters
Three different models of electric scooters can be distinguished, depending on age group and intended use:
The differences lie primarily in the design and performance. This results in typical areas of use for the respective models. Before you buy an e-scooter, you should know exactly in which situations you will be using it.
Ideal for short journeys: business electric scooter
Only very few people enjoy the good fortune of a short commute to work. For many commuters, the way to work makes them rely on different means of transport. This is where compact e-scooters come in handy, making it easier for you to walk to and from stations and stops.
With a business electric scooter, the commute to work is much more comfortable than with a bicycle. Although the bicycle market also offers foldable models, most of them are rigid and therefore very bulky. So the more people there are on public transport, the more difficult it is to transport a bicycle in it. In this area, foldable e-scooters score with their low weight. Due to their compactness, the models usually do not have a seat, so you can comfortably take them with you on public transport, provided the regional transport companies allow it.
However, you must know that the battery capacity of such vehicles is not designed for long distances. If your vehicle can cover 12 miles on a full battery charge, for example, you should keep an eye on the energy level during regular use. Scooters that you can also move in the traditional way with your foot are particularly practical.
Advantages
Perfect for short distances
Easy to transport
Can often also be moved with your legs
Disadvantages
Low range
Can usually only be used standing up
Perfect for touring: leisure electric scooters
A picnic in the open, fresh air in the forest, a trip to the countryside or relaxing in the park — there are many reasons to go outside. But we don't always want to walk, drive a car on crowded roads, or take packed trains. This is where the e-scooters with the longest possible range come in handy.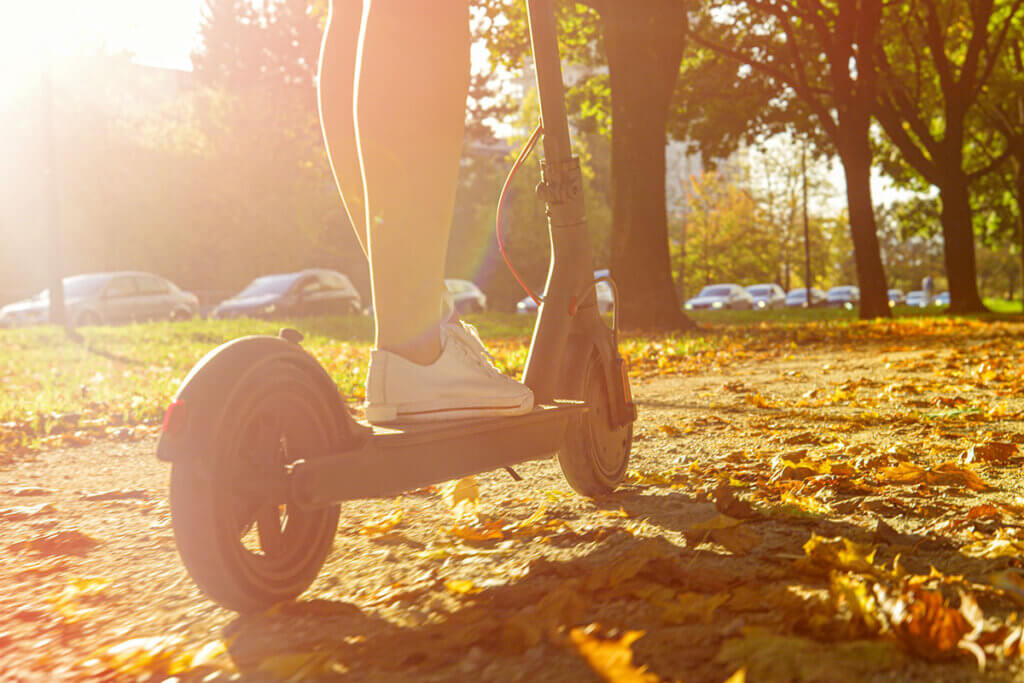 The maximum range of current electric scooters for leisure is about 40 miles which is three times as far as some other models go. The typical business rider knows the route and knows exactly how much energy his or her ride needs per day. In our free time, however, we tend to change plans. For example, if you are sitting at the lake with friends and spontaneously decide to have dinner in a restaurant 3 miles away, it is practical to be flexible in terms of possible riding distance. Since leisure scooters are usually not foldable and comparatively heavy, they are not ideal for public transport or for stowing away in the office.
More robust models are often equipped with a saddle compared to the agile business scooters and are therefore suitable for people who cannot stand for long periods of time. They might be an option for older generations as an alternative to electric mobility scooters in order to go shopping or fulfil other everyday tasks.
Advantages
Also suitable for longer distances
High flexibility
Very comfortable
Disadvantages
Usually not foldable
Comparatively heavy and unwieldy
Great fun for young riders: electric kick scooters for children
There is an age limit for the use of e-scooters with a road permit, which is currently 16 years. Whether or not this changes after the e-scooter trial period remains to be seen. In other countries like Germany, no driving license is required and the legal age is 14. There, even younger children may use e-scooters when accompanied by an adult.
E-scooters for younger generations usually have a child-friendly, colorful design. More important, however, are aspects such as construction and performance. Because children's motor skills are not yet fully developed, models with a low maximum speed of 6 km/h are ideal. A height-adjustable handlebar is also necessary in order to adapt the scooter to the child's changing size.
The scooter itself should be as lightweight as possible, as not every child has the strength to be able to push or even carry heavier e-scooters. In addition, the vehicle must be easy to handle to ensure the greatest possible safety at all times.
Advantages
Fun means of transport
Learning effect in terms of technology and traffic
Promotes balance
Disadvantages
Certain age regulations
Dependent on physical fitness
The equipment of electric scooters
The market offers a number of electric scooters that are very similar at first glance. Although renowned brands such as Xiaomi, Segway, and Miweba generally stand out, consumers looking for the right model will come across a wide range of suppliers. If you want to buy an e-scooter, it is advisable to take a closer look at individual components, because safety and comfort should be the pillars of the purchase decision.
There is a lot to consider: the choice of tyres depends on the type of surface you will mainly be riding on, a comprehensive lighting system is important in road traffic, and a well-fitting brake is also important to ensure your safety. The speed and battery power of the vehicle should depend on the intended use. For optimal use, a comfortable deck and various extras that are not standard equipment are recommended. In the following we inform you about all the important 'e-lements'.
The basic equipment
Whether with or without a saddle, the minimum requirements for the construction of electric scooters should consist of the following components in addition to the obligatory electric motor, controller (for regulating the speed), and the battery that functions as the energy source: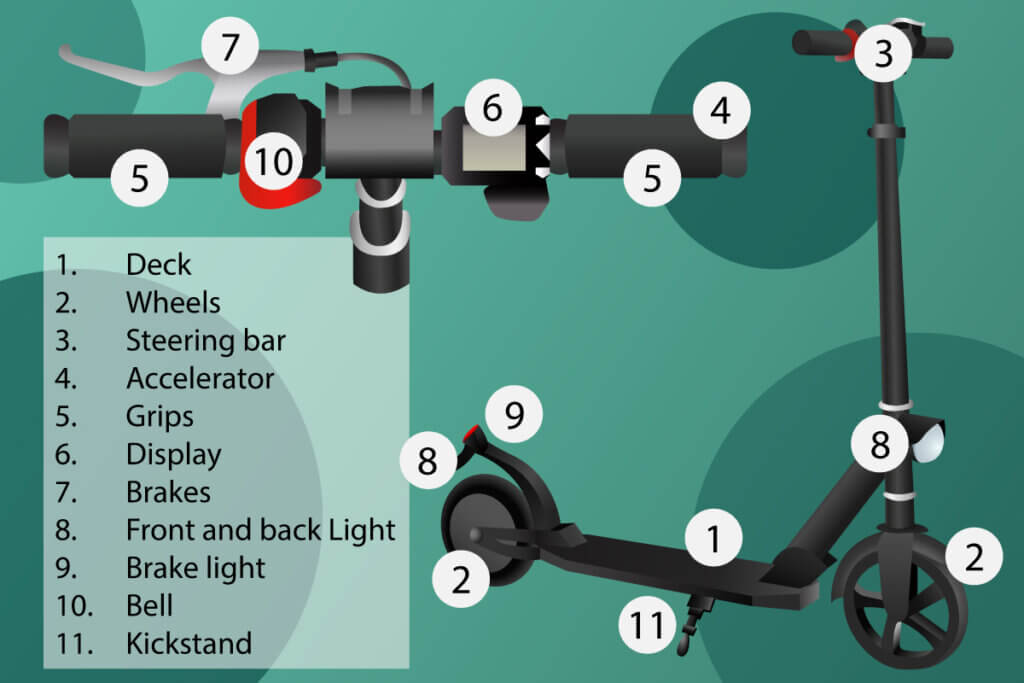 A secure stand: high-quality deck
Especially with e-scooters without a saddle, the deck is of great importance and has a strong influence on safety when riding. A secure standing position with both feet should be possible. For this, the deck should be large enough for you to feel safe all around. If you are worried about slipping off the scooter while riding because your feet don't fit on the surface, you will steer the scooter with less accuracy.
In addition to the size, you should also consider the texture of the surface. Ideally, it should have a coarse surface, as smooth surfaces can become slippery when wet, for example, if it suddenly starts to rain. A non-slip tread surface is recommended.
Safe driving with good brakes
Situations can always arise in road traffic in which you have to stop the scooter abruptly. In any case, make sure that it has front and rear brakes that you can operate independently by hand.
Hydraulic brakes are recommended because they are easy to operate and have high braking power. They are safer because they rely less on friction compared to mechanical brakes. A brake that you have to operate with your foot at the back of the scooter is not recommended, as it could throw you off balance during an emergency braking manoeuvre.
Two types of tires to choose from
The choice of tires depends on the scooter's use and the distance it is to be ridden. In principle, the more uneven the surface, the larger the tires should be. However, this does not only apply to off-road activities, but can also apply to a commute in the city if the road's surface consists mainly of cobblestones.
Most suppliers agree on the material, namely, rubber. Nevertheless, two options are available. The most common type of tire is filled with air. Such models require more maintenance, as the air level should be checked regularly to ensure optimal tire pressure. Inflation and deflation is done by hand. The other variant is made of solid rubber and is said to be more resistant to broken glass, sharp stones, and the like. But solid rubber tires have a higher weight. Those who prefer a lightweight electric scooter are better off with air-filled rubber tires, which generally provide a smoother ride.
Responsible riding

As an e-scooter rider, you are a traffic participant who is also responsible for the safety of others. It is therefore all the more important that you feel comfortable and safe on the vehicle. Always observe the road traffic regulations and consider other road users.
Lighting: what it should be able to do
Sometimes it gets dark outside faster than you think. At the latest when twilight sets in, a functioning lighting system is important to create the best possible visibility conditions — for yourself and other road users. The e-scooter should therefore have both a front and a rear light. A separate brake light provides even more safety.
Some manufacturers fit additional light sources on the sides. Reflectors are also possible. Pay attention to how they are operated: either all light sources are interconnected and receive their energy from the e-scooter's lithium-ion battery, or they have to be switched on and off manually due to battery operation.
How long does an e-scooter battery charge last?
The battery capacity differs from model to model. Many manufacturers now use modern lithium-ion batteries to replace lead-acid batteries. Lithium-ion batteries have several advantages: they significantly reduce the total weight of the scooter, are comparatively durable, and powerful. As a result, some e-scooters have a range of up to roughly 40 miles. At the lower end, the range starts at around 12 miles. Here, too, the focus is on the distance for which you will mainly use the electric scooter. Note that the supplier information on range refers to the unloaded state. In other words, the weight and the type of route travelled reduce the stated value by 20 to 25% on average.
If you have a second lithium-ion battery, you can afford not to always have an eye on the battery level. While one battery is in the scooter, the other is charging, so you always have a full battery ready. E-scooter batteries usually require a lot of charging time to restore full capacity. The range here is from two to eight hours.
Note on permanently installed batteries

Not all batteries can be removed. If you are planning to use a second battery, you must therefore choose a scooter where the battery is not permanently installed. Such models are highly recommended because replacing a worn-out battery via the manufacturer is usually much more expensive.
More power for a better performance
The power of electric motors is expressed in watts. Here, too, the values vary greatly depending on the model. The minimum power is 250W, but many electric scooters have between 350 and 500W. In addition, real power scooters are offered with a motor output of 1000W. In this context, you will often read about continuous rated power, which refers to the highest useful output in a period of 30 minutes.
The wattage values are particularly interesting in relation to gradients. If you live in a hilly region and often have to master inclines with your e-scooter, a more powerful model is a good choice. The dead weight carried is also important: the heavier the rider, the more power is required to accelerate the scooter.
Practical extras
The standard equipment is not always enough to meet the individual requirements of an e-scooter. We present five extras that optimize riding comfort, safety, and even range. With them, you increase the scooter's riding comfort and safety as well as battery performance.
Regenerative brake
For an e-scooter with regenerative brakes, you have to dig deeper into your pocket, but the investment pays off. The so-called 'Kinetic Energy Recovery System' (KERS) converts the braking energy into electrical energy for the battery. This means that when you brake, the battery charges a little.
Seat
E-scooters with a seat allow the rider to use the vehicle not only while standing. The emphasis is on 'not only', because ideally you have the choice. Look for models where the saddle is removable so that you can also use the deck when standing if necessary.
Display
Inexpensive scooters have a rudimentary display that shows the speed and battery level. If you want more detail, you should opt for a model with a larger display that also shows kilometer or mile readings. In any case, the display must be illuminated so that you can read the values easily even at night.
Basket
If you use your electric scooter for shopping and do not want to carry a backpack or bag, a basket is recommended. These baskets are usually made of wire and are attached either to the front of the handlebars or to the rear above the rear wheel.
Turn signals
Turn signals are rarely part of the basic product range, but highly recommended. The fact is that integrated turn signals greatly increase safety because you do not have to indicate the appropriate direction by hand and let go of the grips in the process.
Clearing up terminology
E-scooters with road approval have only been around since 2019, but it's hard to imagine an urban setting without electric scooters. A number of shared e-scooter operators place their models at the side of the road in cities and hope to attract customers who are eager to ride or just tired of walking.
Until the end of the trial period in November, 2022, privately owned e-scooters may not be used on public roads or the pavement in the UK. It is, however, expected that they will be legalized in one way or another, as they are in most other countries in Europe. But there is also a lot to be said for buying an e-scooter — especially since you have a lot of leeway with a price range of around $320 to $2150. This makes it all the more important to make a good purchase decision.
In some cases the designations 'e-scooter' and 'electric scooter' are also used for different means of transport. We offer some terminological clarity.
Danger of confusion: electric scooters and mobiles
Outside the product group discussed here, motor scooters and mobility scooters can also be found in cities. Motor scooters refer to motorized scooters with an electric drive, which visually resemble electric scooters with a seat. However, depending on the maximum speed, motorized two-wheelers of this type require a certain registration and driving licence.
The robust design of mobility scooters is reminiscent of motor scooters. They have three or four wheels and a very low top speed of around 6.4 km/h (4 mph). Mobility scooters are usually used to assist people with walking disabilities.
Legal information
An e-scooter is not a toy. That is why you must have the category Q entitlement on your driving licence to use it in the UK. But a full or provisional UK licence for categories AM, A, or B includes entitlement for category Q. Special rules apply in public spaces. We inform you about the currently applicable guidelines in the UK (as of April, 2022).
Rules for the use of e-scooters
E-scooters are vehicles classified under category Q which is for 2-wheeled and 3-wheeled vehicles without pedals. The top speed is 25 km/h (15.5 mph) and you are allowed to ride them on roads (except motorways) and in cycle lanes. You must not use them on the pavement. Helmets are not legally required but highly recommended. E-scooters require insurance, but this is arranged by the rental operator.
What is more, they are only allowed in the following trial areas in the UK (until at least November, 2022):
Bournemouth and Poole
Buckinghamshire (Aylesbury, High Wycombe and Princes Risborough)
Cambridge
Cheshire West and Chester (Chester)
Copeland (Whitehaven)
Derby
Essex (Basildon, Braintree, Brentwood, Chelmsford and Colchester)
Gloucestershire (Cheltenham and Gloucester)
Great Yarmouth
Kent (Canterbury)
Liverpool
London (participating boroughs)
Milton Keynes
Newcastle
North and West Northamptonshire (Northampton, Kettering, Corby and Wellingborough)
North Devon (Barnstaple)
North Lincolnshire (Scunthorpe)
Norwich
Nottingham
Oxfordshire (Oxford)
Redditch
Salford
Slough
Solent (Isle of Wight, Portsmouth and Southampton)
Somerset West (Taunton and Minehead)
South Somerset (Yeovil)
Sunderland
Tees Valley (Hartlepool and Middlesbrough)
West Midlands (Birmingham, Coventry and Sandwell)
West of England Combined Authority (Bristol and Bath)
York
Safety rules for e-scooter users
The following safety rules for e-scooters were suggested by the Department for Transport to ensure a safe ride for all road users:
e-scooters should only be used within the local area hosting the trial.
e-scooters should be used by one person at a time.
you must not tow anything using an e-scooter.
you must not use a mobile phone when using an e-scooter.
you may use a screen to display navigation information, but this must be set up prior to setting off.
always ensure bags or other small items you are carrying will not cause a danger to you or others around you – for example, never hang them from the handlebars.
you should not ride an e-scooter while drunk or otherwise intoxicated – you may be prosecuted under drink or drug driving laws, as careless and dangerous driving offences also apply to users of e-scooters.
you should also refer to the terms of use of the e-scooter operator before renting a trial e-scooter.
---
Image 1: © helivideo / stock.adobe.com | Image 2: © FinalCheck