Kids sewing machine purchasing advice: how to choose the right product
What You Need to Know
Children can discover sewing with either a toy sewing machine or a kids' sewing machine.
Above all, a kids' sewing machine must be safe. Make sure that it complies with the DIN EN ISO 10821 standard and that it has a finger guard.
Most machines have up to 20 sewing programmes.
A toy sewing machine is more suitable for children under the age of eight, and a kids' sewing machine for children over the age of eight.
While simple toy sewing machines are available for less than 15 euros, high-quality kids' sewing machines with many sewing programmes cost around 100 euros or more.
Great sewing fun for the little ones
It is not only adults who can be creative when sewing. Children also want to emulate their parents and try their hand at a sewing machine at some point. In the process, they learn not only how to put their ideas into practice, but also patience and precision. But many parents fear that the risk of injury from the needle is too high. To avoid this danger, but still teach the children to sew, there are kids' sewing machines. They are similar to conventional sewing machines, but have some important safety features, such as a finger guard, and fewer functions so as not to overtax the child. Because they are designed for children's hands, they are more compact than large sewing machines. With them, children can tackle a wide variety of sewing projects, such as cushion covers, doll clothes or clothes for themselves.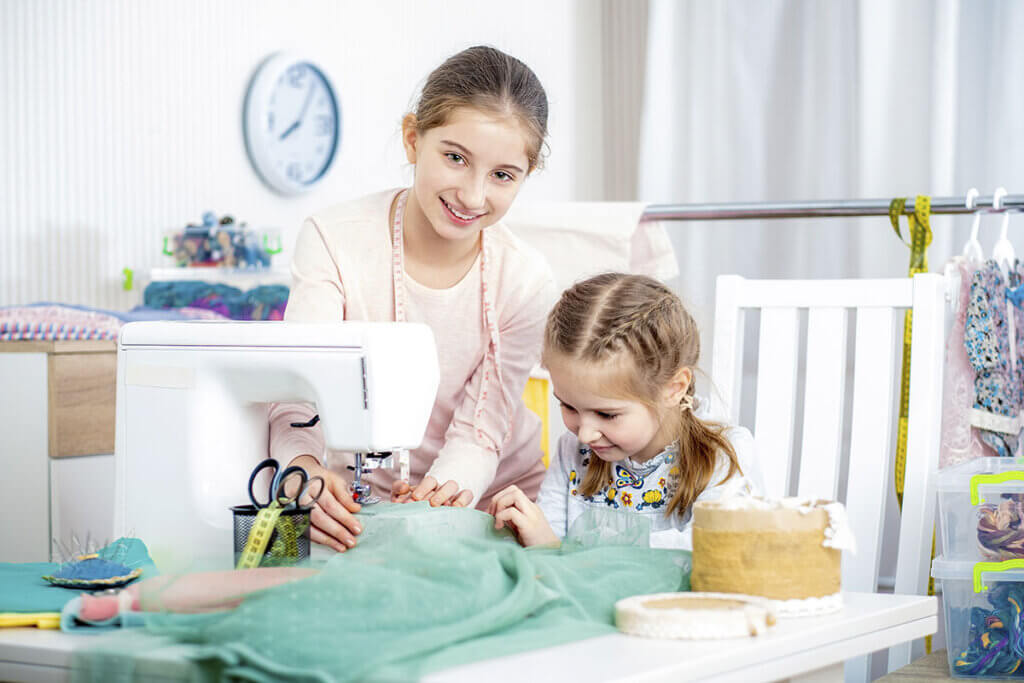 The right sewing machine for every age
Depending on the age of the child, either a toy sewing machine or a kids' sewing machine is recommended. Younger children should not be put on a kids' sewing machine, while older children will probably get bored with a toy sewing machine.
Toy sewing machine: For the little ones
Children under eight are too young for a kids' sewing machine. However, to introduce them to the principle of sewing, parents can buy them a toy sewing machine. This is a simplified form of a kids' sewing machine that does not involve any risk of injury and only allows a few types of stitches. For very young children, there are also sewing machines that do not actually sew but simulate the sewing process. A toy sewing machine is particularly light, not very robust and often brightly coloured. It only processes a few fabrics and is usually battery-operated. Although they usually do not last long, they are sufficient for first sewing experiences.
Are there kids' sewing machines without thread?
Some kids' sewing machines work without thread. They are designed for working with felt and are well suited for beginners. These machines still have needles to sew the felt together, but they are made of plastic to protect the sewer's hands from the needle. This means there is no risk of injury.
Kids' sewing machine: for older children
If the child is at least eight years old, he or she should be able to use a kids' sewing machine. Some machines are recommended for children from 8 years old, others from 10 or 14 years old. Unlike a toy sewing machine, a kids' sewing machine has a much wider range of functions. It offers several speed levels controlled by a foot pedal and is operated by a power cable. This makes it more powerful than a toy sewing machine, but there must always be a power socket nearby. There are also models with batteries, which are suitable for travelling but have less power. The risk of injury is low thanks to various protective features. Adults can also learn to sew quickly and easily with a kids' sewing machine.
What you should look for when buying
To ensure that the sewing machine is fun for your child in a safe way, you should pay attention to a few criteria when buying it. In addition to safety and the age recommendation, the ease of use and the range of functions are also decisive.
Safety
Since these sewing machines are devices for children, safety is the number one priority. To ensure that there is no risk of injury, manufacturers are bound by certain safety guidelines. These include, for example, the German Industrial Standard, abbreviated DIN. All sewing machines must meet the requirements of DIN EN ISO 10821.
The most important safety function is the finger guard. This is a metal bracket that is attached to the presser foot and is intended to prevent fingers from being injured by the sewing needle. If a finger guard is not included, it can be purchased separately. A firm stand prevents the sewing machine from slipping during operation and children from pricking themselves on the needle as a result. To prevent slipping, the feet should be fitted with rubber studs.
Age recommendation
Almost all kids' sewing machines come with an age recommendation from the manufacturer. This depends on the range of functions and the complexity of operation. Models with few functions and particularly simple operation are suitable for children from the age of 8. Other, more complex machines, on the other hand, are designed for children from the age of 10 or 14. Since the age recommendations are only guidelines, the experience of the child is important in addition to the manufacturer's specifications. For example, some children as young as 6 can handle a more sophisticated sewing machine, while others as young as 10 should perhaps first work with a sewing machine from the age of 8.
Operability
Very few children want to deal with a long instruction manual, as it usually contains a lot of text and few pictures. Therefore, the operation of the machine should be intuitive and easy to learn.
Ideally, all levers, buttons and cogs should be visible at first glance and quickly accessible. Beginners should use a machine that does not have too many functions. This facilitates the overview and the learning process. If the child is already a little more experienced, a sewing machine with a wider range of functions can be used. For an easy start, a model with a slow sewing process is also recommended.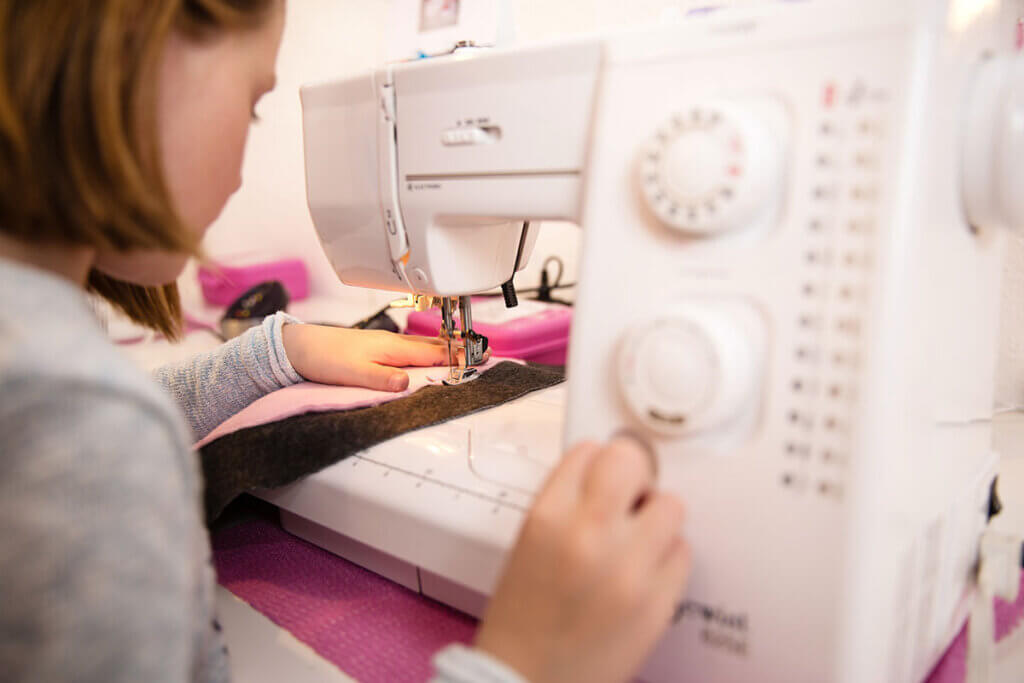 Functions
Almost all machines are equipped with a variety of stitch types, a threading aid and an automatic buttonhole machine. How many stitches the kids' sewing machine should have depends on the child's ability. Simple machines for beginners have up to 6 stitches. Kids' sewing machines with 10 to 14 stitches offer sufficient scope without overtaxing the user. Some machines even have up to 20 stitches and thus come close to conventional sewing machines. Different speed settings are also useful.
The threading aid simplifies threading. If it is not already integrated, you can easily purchase it later and attach it to the machine. The automatic buttonhole function is now found on most sewing machines and makes sewing on buttons easier. A practical feature is a reverse sewing function, which helps when sewing at the beginning or end of the fabric to be sewn. The child simply sews backwards over these areas with a backstitch, creating a prettier stitch pattern.
Additional features
Many kids' sewing machines not only have the functions mentioned above, but also other extras that make sewing easier. A sewing light integrated into the machine can also be useful. It provides the right lighting and thus ensures that the child can sew carefully. A handle is worthwhile for transporting the sewing machine.
What types of stitches should the kids' sewing machine allow?
How many types of stitches the child should be able to work with depends on their experience and the sewing projects they want to do. The straight stitch, zigzag stitch and buttonhole stitch are particularly common.
Straight stitch
The standard stitch is the straight stitch. It is easy to sew and topstitch fabrics together. It is suitable for almost all sewing jobs. The uncomplicated straight stitch is particularly suitable as an entry-level stitch. However, it cannot be used for buttonholes or neatening seam allowances. If the seam needs to be reinforced, use the triple straight stitch. This is three straight stitches sewn next to each other, which provide the necessary hold for the seam.
Basting stitch
The basting stitch is a simple hand stitch. It is suitable for trial sewing, gathering or fusing and is therefore an option for beginners. However, it is not locked and does not hold very well, so it is usually removed after sewing.
Zigzag stitch
The zigzag stitch is also very simple. It uses two intermediate stitches to serge the edges of the cut. This type of stitch is a good choice for most fabrics, such as jersey. However, the beginning and end of the seam must always be locked to prevent the thread from coming loose.
Buttonhole stitch
With the buttonhole stitch, children can sew buttonholes themselves. Small knots are created at the cut edge to protect the buttonhole and hold the button in place. This stitch is also suitable for attaching patches.
Weight
A kids' sewing machine is usually much lighter than a conventional sewing machine, weighing between one and six kilograms. If you want the sewing machine to stay in a fixed place, a heavier model that is made of higher quality materials and has a stable stand is recommended. However, if you want to take the machine with you when you travel, it should be particularly light so that it is easier to transport.
Design
Most kids' sewing machines come in colours like purple, turquoise or pink. However, if you prefer a more plain look, you can also opt for a white model. Some machines come with colourful stickers to spice up the look of the machine.
Useful accessories
Besides the obligatory accessories such as fabric and thread, fabric scissors, spare needles and pins are also helpful. To draw the fabric patterns on the fabric, a marking pen is useful. The markings can be wiped off later. This works especially well with chalk. A tape measure is also part of the basic equipment and is worthwhile when sewing doll's clothes or clothes for your own use.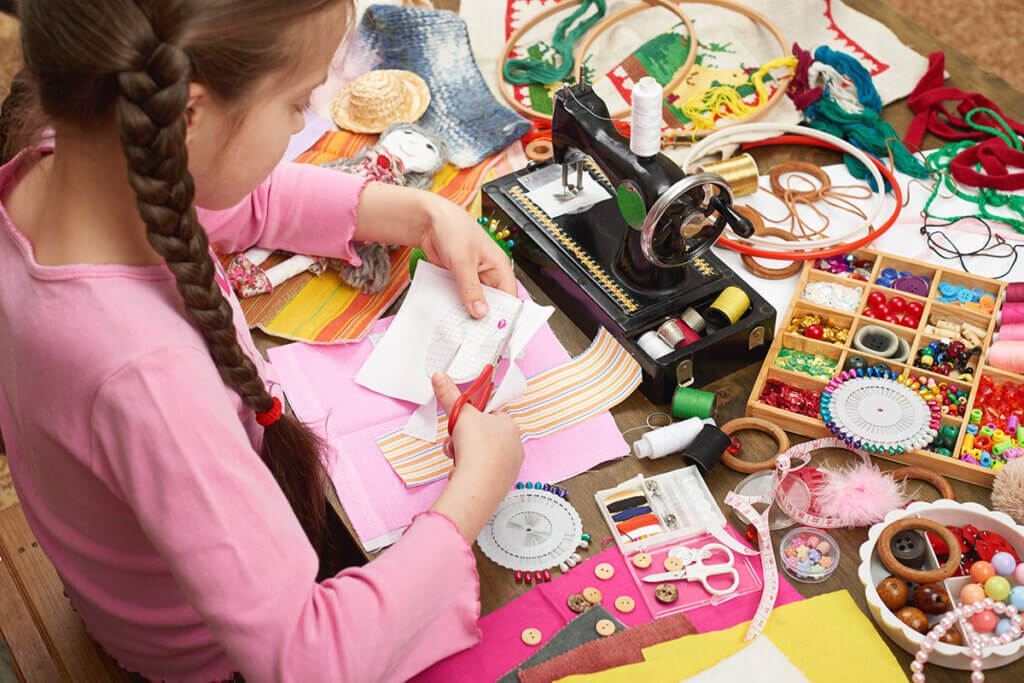 How much do kids' sewing machines cost?
The price of a kids' sewing machine depends on the features, quality and brand. Toy sewing machines are usually of lower quality and have only a few functions. They cost between 10 and 15 euros. Kids' sewing machines for children over the age of eight come in different price ranges. The cheapest models cost about 20 euros, the most expensive up to 300 euros. How much money you should spend on the kids' sewing machine depends on the frequency of use and the desired range of functions. If the machine is only used once in a while, a machine for 50 euros or less will suffice. However, it also has fewer functions. If the child uses the sewing machine often and wants to try out a variety of functions, it should be a kids' sewing machine for 100 euros or more.
How should a kids' sewing machine be cleaned?
Ideally, regular maintenance will prolong the life of your sewing machine. Dirt accumulates especially on the stitch plate and bobbin and needs to be removed. A duster can be used to remove much of this dirt. Wipe the machine regularly, especially if it has not been used for a long time. The openings of the sewing machine can be cleaned with a cotton swab or brush. Before cleaning, always make sure that the machine is switched off and unplugged from the mains.
To clean the bobbin case, remove the needle plate. Then the dirt can be removed from the bobbin case with a soft cloth. The hook of the sewing machine must be cleaned and oiled occasionally. To do this, carefully remove the bobbin case, put two drops of oil on the hook and spread it well. The instruction manual for the kids' sewing machine tells you which parts need to be oiled and how. Oiling usually occurs after about six hours of sewing and should be done thoroughly. Since the kids' sewing machine is not a mechanical device, regular oiling is not necessary. The inside of the sewing machine must not get wet. Therefore, never clean the machine with a wet cloth. A cover protects the machine from getting dusty and thus reduces the cleaning effort.
Which sewing projects are suitable for beginners?
Learning to sew is fun and varied, but should be kept simple. For the beginning, it is therefore advisable to practise the desired stitches on paper templates. This gives the child an impression of the sewing machine and its functions without wasting fabric. Once they have mastered the first steps, they can try out simple patterns. For example, gym bags or pillowcases are a good place to start.
---
Fig. 1: © Ievgen Skrypko / stock.adobe.com | Fig. 2: © Claudia Marx / stock.adobe.com | Fig. 3: © soleg/ stock.adobe.com