Shopping trolley purchasing advice: how to choose the right product
What you need to know
With a shopping trolley, all shopping can be transported home with little effort.
For those who live in a multi-storey building, stair climbing shopping trolleys are particularly practical, as they are easy to move over steps.
Trolleys have an average capacity of 20 to 60 liters. The larger they are, the more storage space is needed and the more difficult they are to handle.
EVA wheels with a diameter of more than 8 inches (20cm) put up well with obstacles and bumps. Small wheels manoeuvre well through narrow aisles.
Comfort features such as height-adjustable handles, additional compartments, and holders for shopping trolleys make everyday handling easier.
Everyday helpers with a new look
Aids that were mainly used by the older generation often have a bad reputation among younger people. And yet they can be extremely practical in everyday life. Neither young nor old enjoy carrying tons of grocery bags. A shopping bag on wheels, on the other hand, can be pulled along without much of an effort.
With a shopping trolley, also called a shopping caddy, everyone can easily transport groceries from one place to another. Even for pregnant women or people with injuries, shopping is no problem. An increasing number of younger consumers are also slowly turning to shopping trolleys, especially in big cities where owning a car is not necessary.
In addition to classic shopping trolleys, there are also some models that can be folded, have several compartments, or are equipped with a seat. Furthermore, some trolleys are especially designed for climbing stairs.
The construction of shopping trolleys
Classic shopping trolleys consist of a fabric bag that can be attached to a frame and can have a capacity of up to 90 liters. Depending on the model, the bag can be equipped with various compartments and side pockets. Simple shopping bags have only one main compartment, which can be closed with an elastic band and a lid. Other types of closing mechanisms include a zip or hook-and-loop fastener. With many shopping trolleys, the bag can be removed.
The frame has a grip that serves as a handle. In some cases, a height-adjustable telescopic pole is used. Two wheels with a diameter of between 6 and 10 inches (15 and 25cm) are usually mounted at the bottom of the frame. To prevent the trolley from tipping forward, a rest is attached to the other side of the bottom. There are also versions with four wheels that can be pulled and pushed.
Trolley types
Shopping trolleys can be divided into different types that stand out from the classic version due to a special shape or feature.
The so-called Carry Cruiser is an invention of the company Reisenthel. It is equipped with a rectangular shopping bag whose shape is reminiscent of a shopping basket. It has a removable inner mesh pocket that can be carried thanks to the integrated shoulder strap. The handle has the shape of an telescopic pole.
The basket trolley doesn't use a bag but a foldable box. Its volume of up to 35 liters is smaller than that of other types of trolley. Thanks to the side handles, the box is easy to carry. When folded, it can easily be stowed away.
A particularly space-saving and easy-to-transport variant is the folding trolley. With this shopping trolley, the frame can be folded together with the bag.
For those who have to carry their groceries up a lot of stairs, there are trolleys with a stair climber function. Stair climbing trolleys have six wheels, three of which are positioned on a rotating axle. They are smaller than the wheels of classic models. To climb the stairs, the wheels rotate over the steps, which significantly reduces the effort needed to pull the trolley.
With rolling duffel bags, the frame is reduced to a minimum: the bag has a stable base as well as a reinforced back to which an extendable telescopic pole is attached. The wheels are small, which means the bag only rises a few inches off the ground.
Finding the ideal shopping trolley
As the popularity of shopping trolleys has grown, so has their range in recent years. Nowadays, prospective buyers are spoilt for choice. The following criteria help with the decision.
Material and workmanship
In terms of the materials used, shopping trolleys don't differ significantly from one another. The differences lie in the quality of the materials and workmanship, mainly durable nylon fibers or polyester fabrics. These often have a coating to protect the contents from water.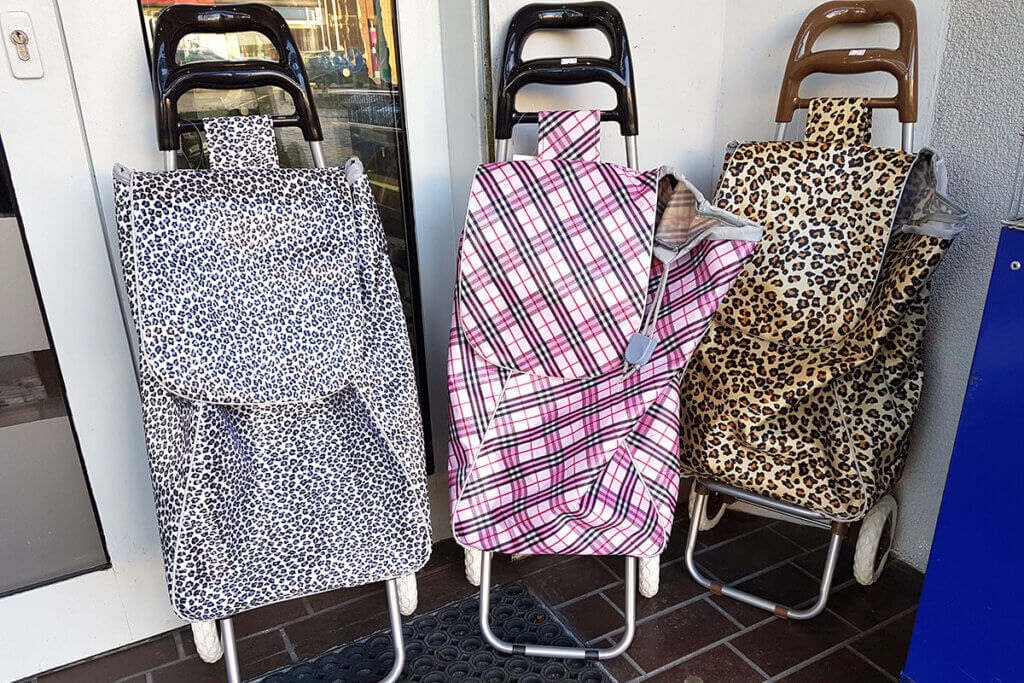 While most bags are water-repellent, only a few high-quality designs are waterproof. With water-repellent fabrics, raindrops roll off but may seep through over time in heavy rain. With waterproof fabrics, water should not penetrate the surface material. The effectiveness varies from model to model.
Nevertheless, it makes sense to buy a trolley whose material is described as water-repellent or waterproof. For easier cleaning, it is also advisable to buy a bag that can be cleaned in the washing machine.
The frame is mostly made of aluminum, but in some cases plastic or steel components are also used. As aluminum is not only a light material but also a hard-wearing one, it is ideal for manoeuvrable, easily transportable, and at the same time robust shopping trolleys. The majority of shopping trolleys weigh between 4.5 an 11 pounds (2 to 5kg), with products weighing more than 9 pounds (4kg) predominantly found in the premium class.
As long as the raw material and the workmanship of the frame is of a high quality, the shopping trolley will be stable and not wobble even under a heavy load. If the handle is a height-adjustable telescopic pole, it should also be firmly attached. The higher the quality of the materials and workmanship, the higher the trolley's load capacity. The maximum load can be found in the product description.
Wheels
The size and material of the wheels have a great influence on comfortability. The diameter of the wheels on classic models is between 6 and 10 inches (15 and 25cm), although they may well be smaller on stair climbers: the wheel diameter of the Andersen Royal Senta, for example, is 5 inches (13cm). The wheels of rolling duffel bags are the smallest with a diameter of about 2 to 3 inches (5 to 7cm).
Large wheels are run smoother and overcome obstacles more easily. They do well with with cobblestones as well as dirt roads. The larger the wheels, the easier it is to transport heavy shopping. The same principle applies to stair climbers: large wheels travel more easily over steps. In addition, they are more resilient than smaller ones.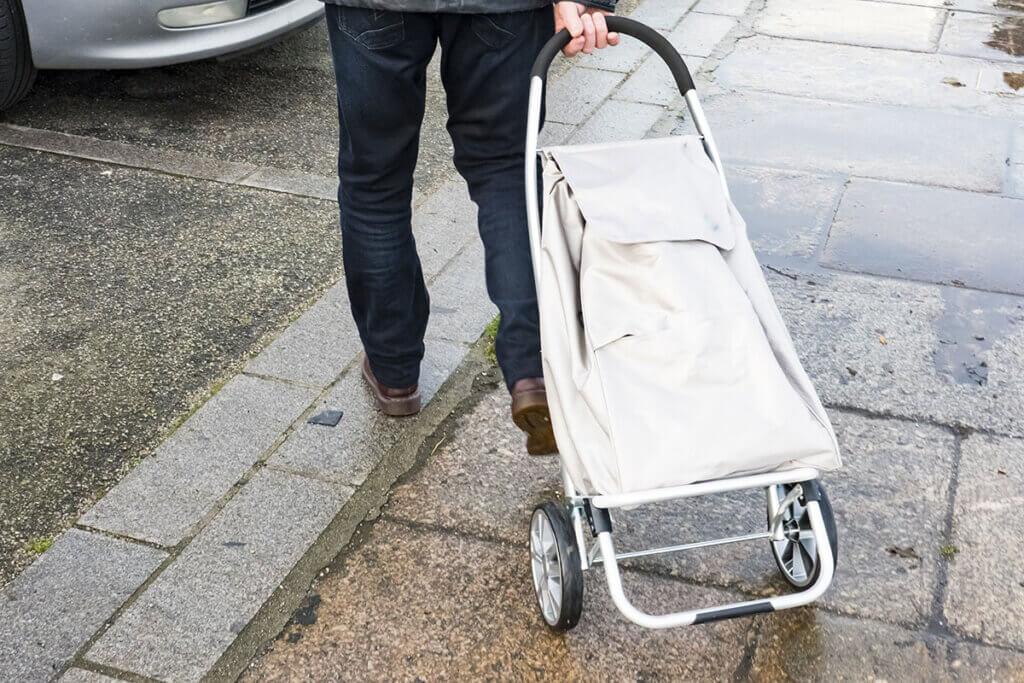 The strength of shopping trolleys with small wheels is not in transporting large hauls, but in manoeuvring through narrow streets, around passers-by, and in taking them along on public transport. However, uneven roads, obstacles, and unpaved paths cause them major problems. Rolling duffel bags are excellent for small and light loads on asphalt surfaces. For larger errands, the small hard plastic wheels do not provide enough stability.
While the wheels of many shopping trolleys are made of the rubber-like plastic EVA (ethylene vinyl acetate), there are some premium models with pneumatic tires. Pneumatic tires ride best on uneven ground, mud, and snow, but they are the most expensive high-maintenance than EVA wheels. In addition, pneumatic tires are more likely to be damaged than EVA wheels when driven over sharp stones or shards.
Storage space
The capacity of the shopping bag must be at least large enough to hold all your shopping. Conventional shopping trolleys have a capacity of 20 to 60 liters, larger models up to 90 liters. The maximum load in kilograms roughly corresponds to the capacity: with a capacity of 30 to 40 liters, the maximum load is around 30kg. A kilogram is about 2.2 pounds, so a capacity of 40 liters corresponds to a max load of 88 pounds. The higher the capacity of the shopping bag, the more groceries and items can be transported in it. But bear in mind: the heavier the trolley is, the more difficult it is to manoeuvre.
For small purchases and single-person households, a small bag with a storage capacity of less than 35 liters is often sufficient. In multi-person households, on the other hand, larger models make sense. Here it is important to weigh up capacity and handling.
Equipment
The traditional shopping trolley used to only consist of a simple bag and a frame to which it is attached. Modern designs, on the other hand, can be equipped with different features. Especially in the higher price range starting at $100, various comfort features are used: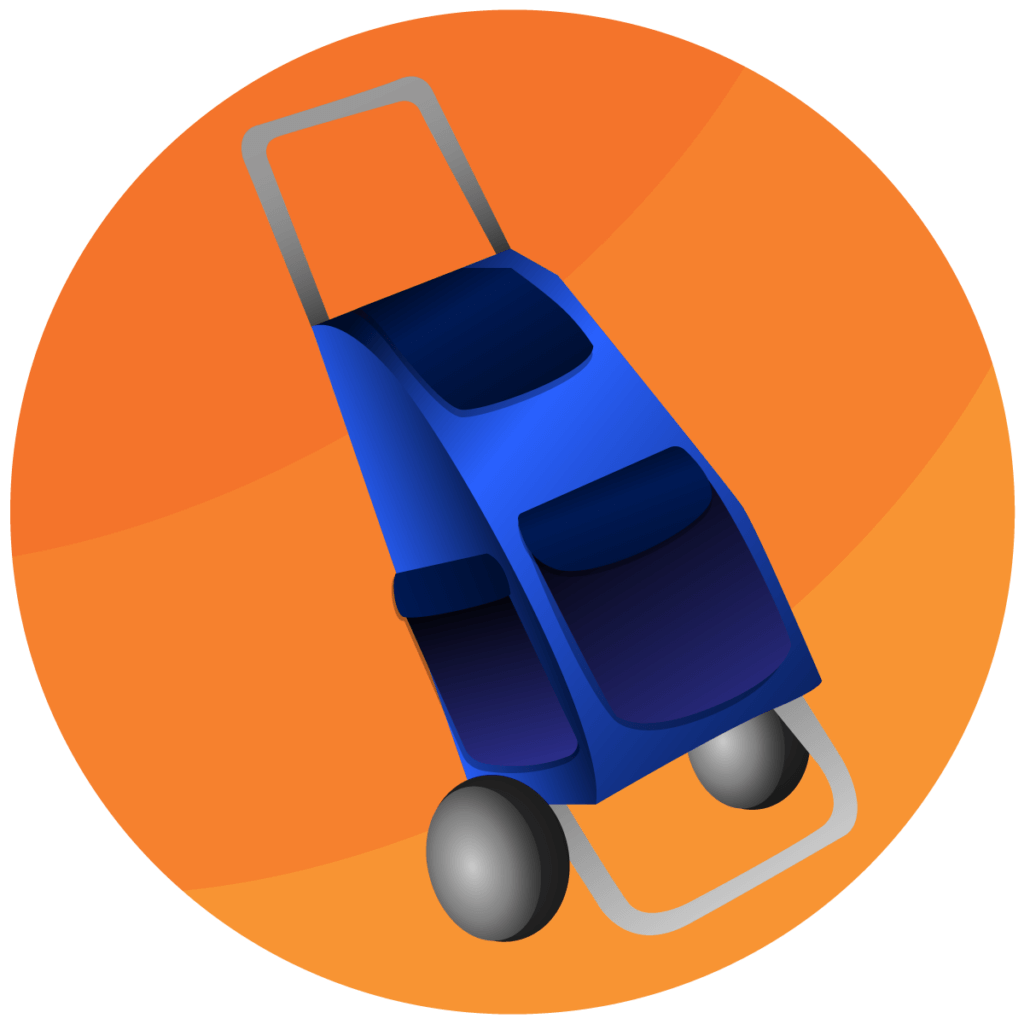 Additional compartments and pockets
Many shopping trolleys have additional compartments and side pockets. Several compartments allow the user to store some products separately from the rest of the goods. Delicate fruit and vegetables can be protected from pressure marks in this way. Side compartments and zipped pockets inside a compartment offer space for other utensils. An umbrella fits in a side pocket, for example, while zipped pockets are suitable for valuables.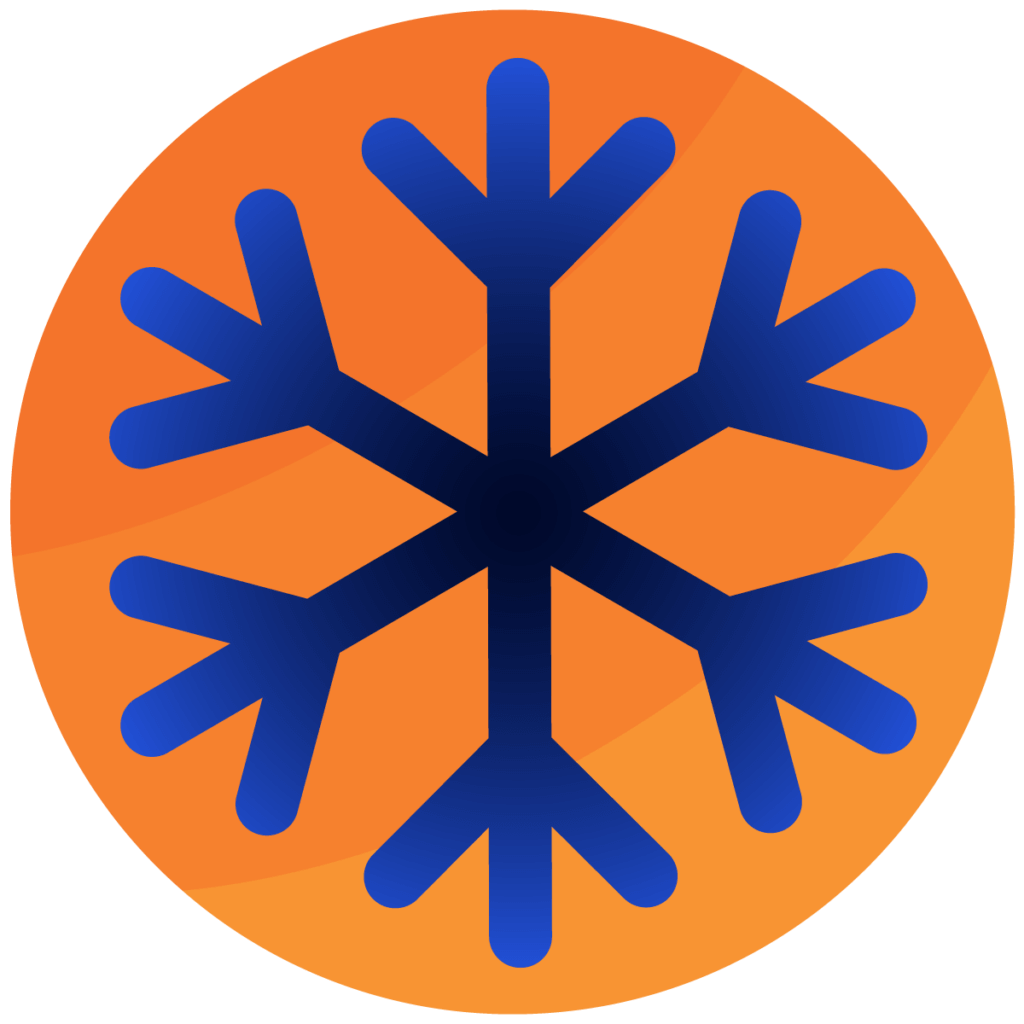 Cooler compartment
Some bags have a cooler compartment. It can be used to transport frozen goods home even at high outside temperatures. It can also serve as a thermal compartment. Users can transport warm food and drinks to the next picnic, for example. However, the compartment only takes up a small part of the total volume. With small bags, the cooler compartment is often already filled after two boxes of pizza and perhaps a pack of frozen vegetables.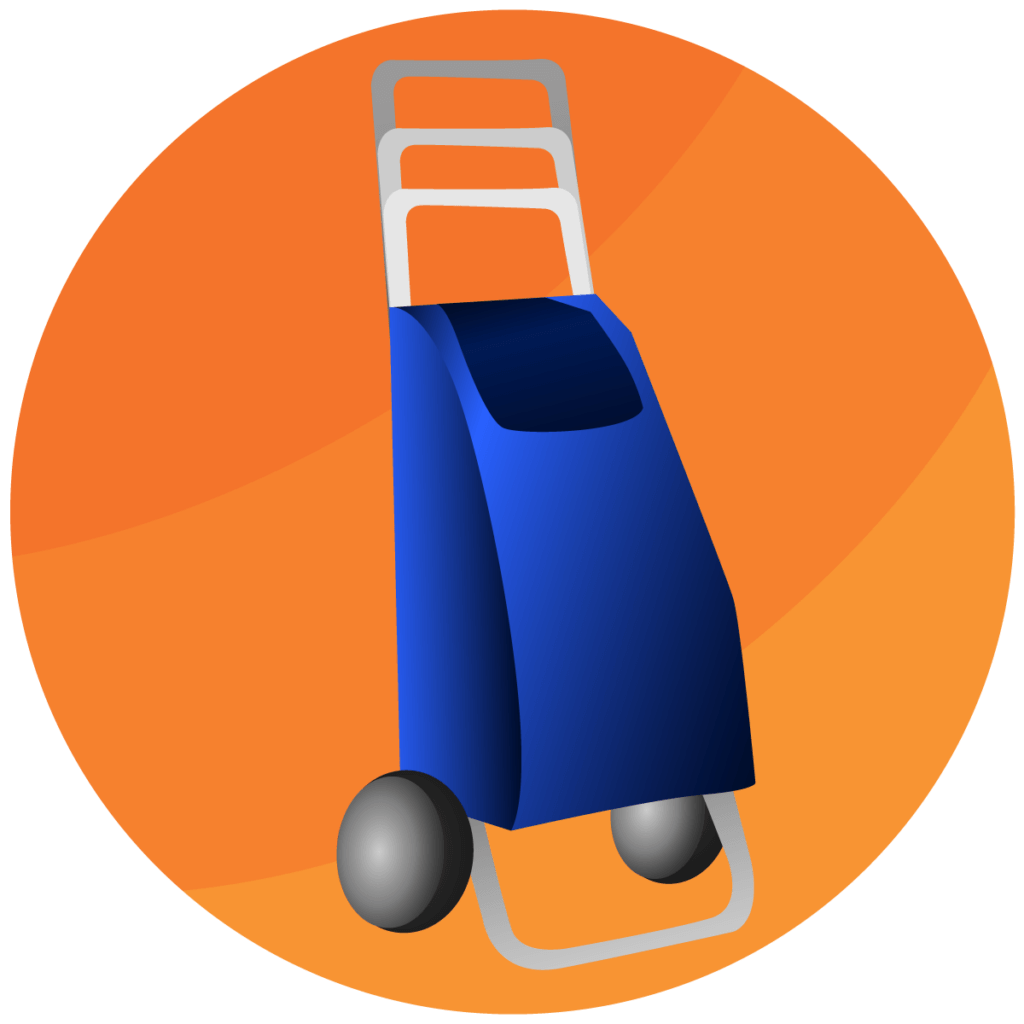 Height-adjustable handle
The frame can also be extended with various comfort features. Especially for particularly tall or short people as well as in households with people of different heights, the possibility to adjust the height of the handle is a great advantage. Depending on the model, an adjustment range between 33 and 34 inches (85 and 110cm) is possible. For a height of 6 feet (185cm) upwards, handles with a height of more than 40 inches (100cm) make sense. If several people use the same trolley, each person can adjust the handle to their own height.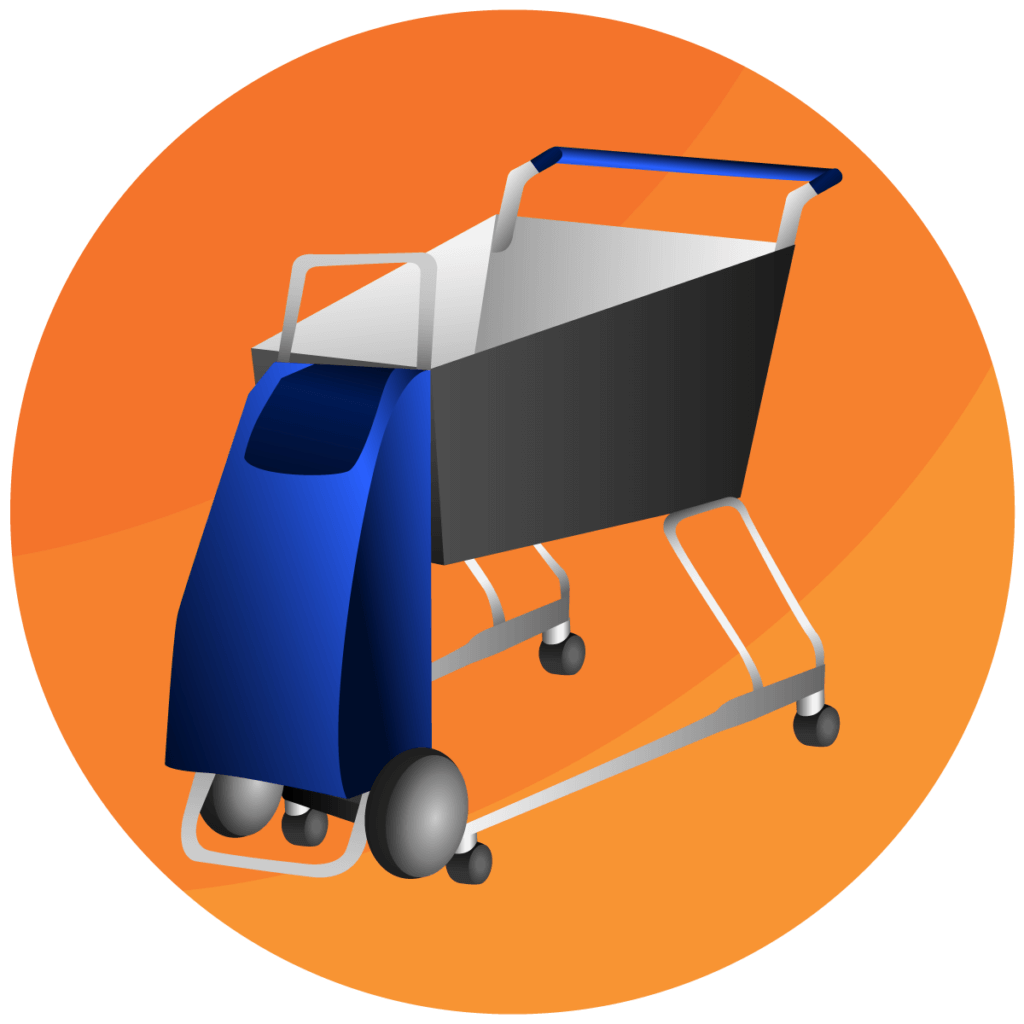 Shopping cart holder
You often only have two subpar options, so that the trolley does not get in the way during shopping: either you store it on the lower tray of the shopping cart or inside the cart. Both options take up space you need for groceries. Models with a shopping cart holder are a good alternative. The trolley can simply be attached to the cart.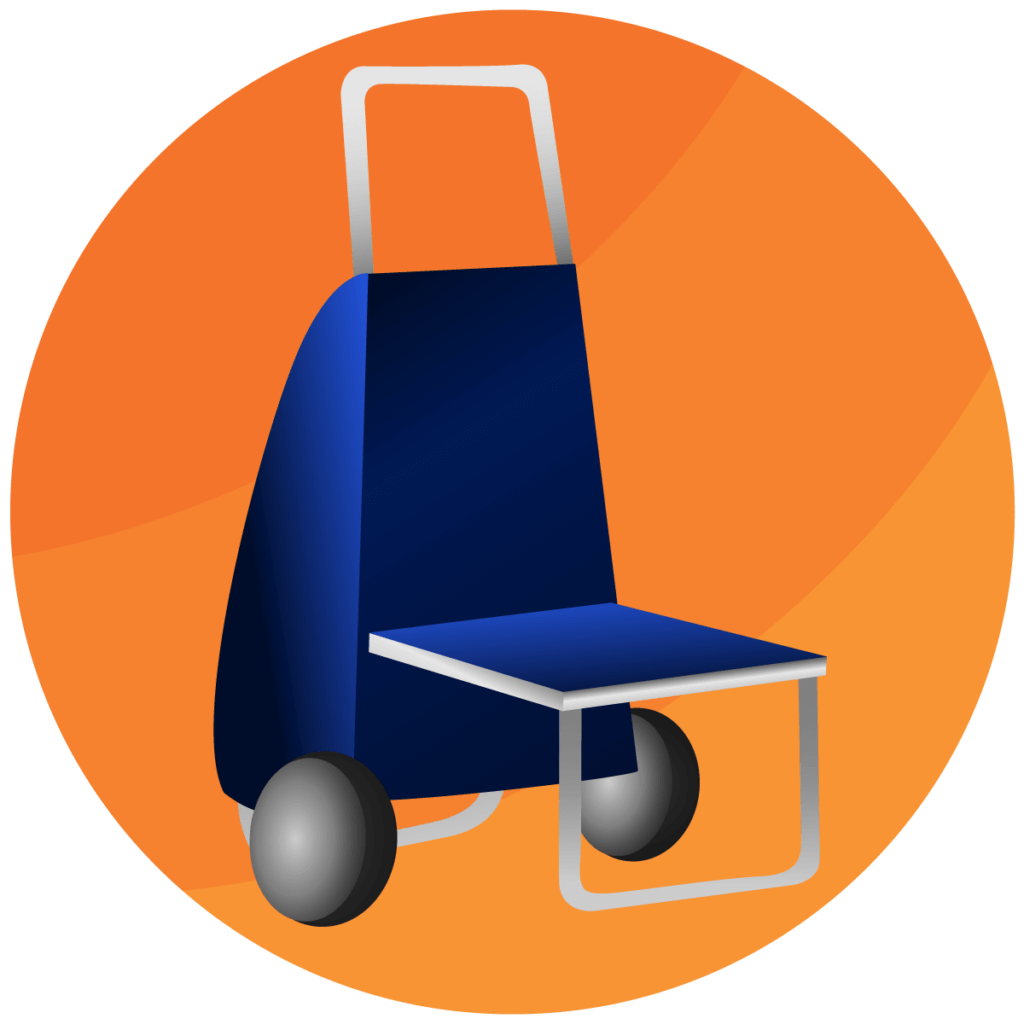 Seat
For older or physically impared people, a trolley with an integrated seat is advantageous. If they need a break, they can simply fold down the seat. Those who use the trolley or just the frame for leisure activities such as picnics or excursions in addition to shopping, have a practical seat and do not have to rely on benches or the floor.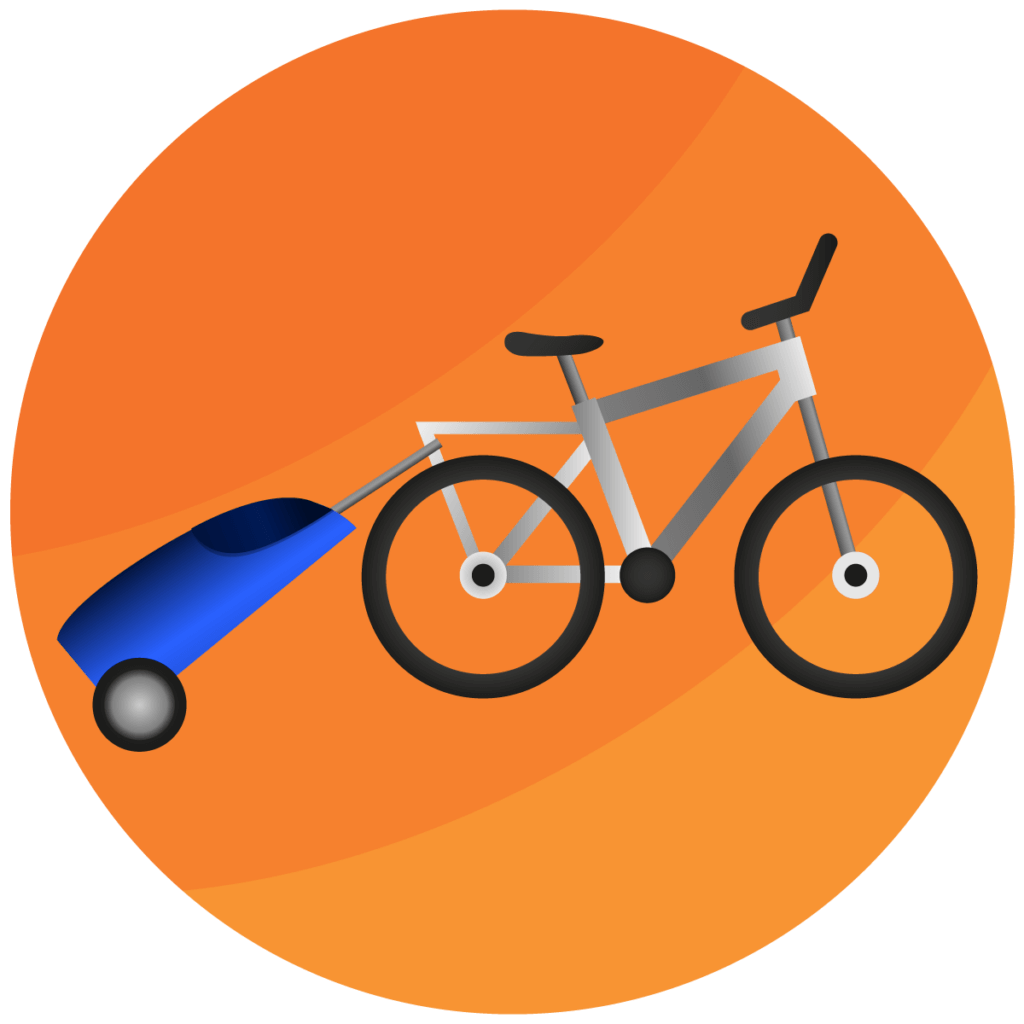 Bicycle hitch
Shopping trolleys are also an alternative to shopping bags for those who like to do their shopping by bike. With the help of an extension set and a coupling, cyclists can attach the trolley directly to the bicycle. However, these are not usually included in the scope of delivery. Instead, manufacturers offer the appropriate equipment as accessories. Coupled trolleys are similar in function to bicycle trailers.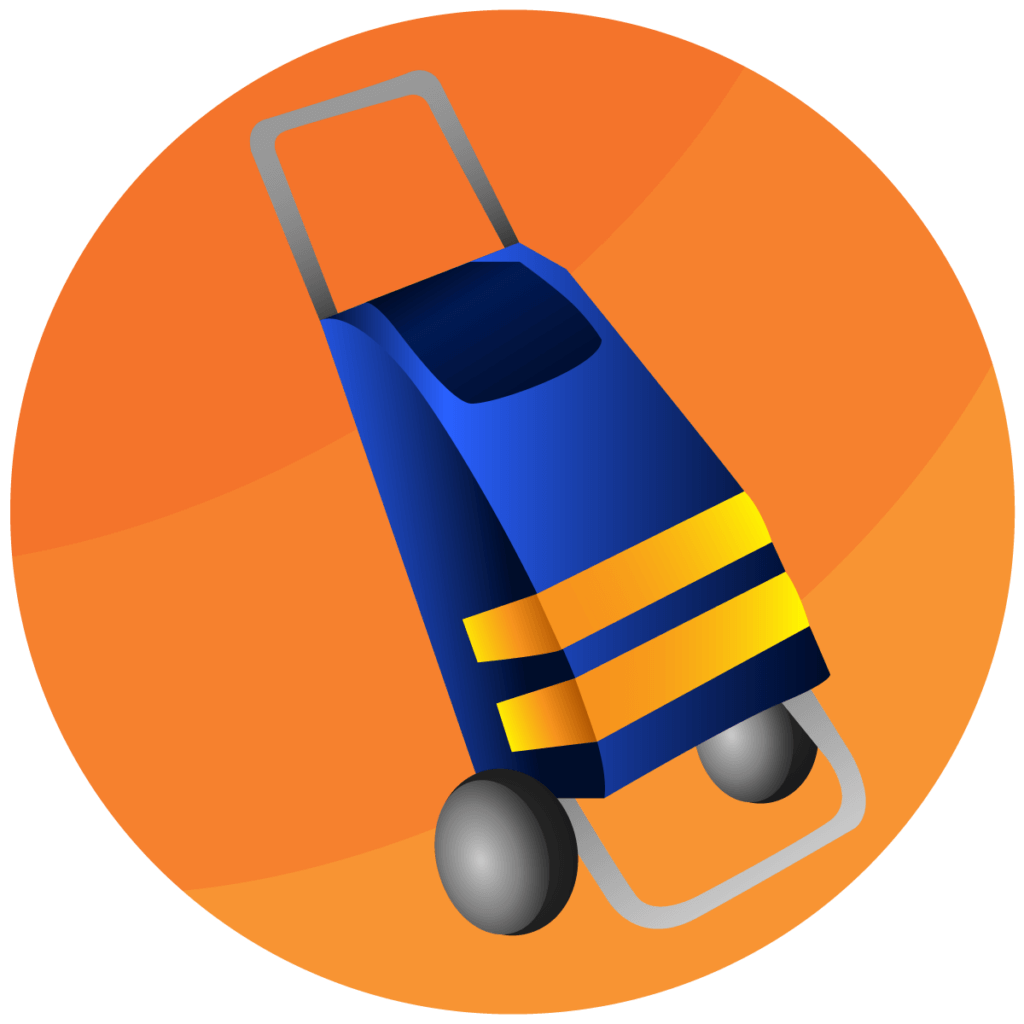 Reflectors
Some shopping trolleys have reflectors on both the bag and the frame. Especially in autumn and winter, when it gets dark quickly, it is important to be clearly visible to cars. Reflectors are a useful safety feature to prevent accidents in the dark. Instead of equipping the trolley with them to begin with, many manufacturers sell them as accessories.
---
Image 1: © hkmedia / stock.adobe.com | Image 2: © catherinelprod / stock.adobe.com | Images 3-9: © FinalCheck