Kids scooter purchasing advice: How to choose the right product
What You Need to Know
Children's scooters and kickboards are often an intermediate step from a tricycle or running bike to a bicycle.
Riding a scooter uses different muscle groups and trains the body's motor skills and sense of balance at an early age.
Depending on their experience and riding ability, children may prefer a three-wheeled kickboard or a more professional footbike.
Additional protective measures such as a bicycle helmet and knee pads, as well as lights and reflectors, ensure more safety – especially during first experiences in road traffic.
Mobile for the first time
For children, scooters are often a step from walking to cycling. If the child wants to get from A to B more quickly or wants to get around in a playful way, the scooter is an ideal introduction to independence. In most cases, the little ones can already handle such a vehicle at kindergarten age. Of course, it is up to the parents to decide when they want to let their offspring whiz around on a scooter, and it depends on the child's development. In any case, it is a good exercise for balance and body control: it uses leg, abdominal and back muscles so that the child trains its body tension. With protective measures such as a bicycle helmet, knee and elbow pads, you also know your child is more protected. In addition, scooters may also be ridden on the footpath, which minimises the danger posed by road traffic in contrast to bicycles.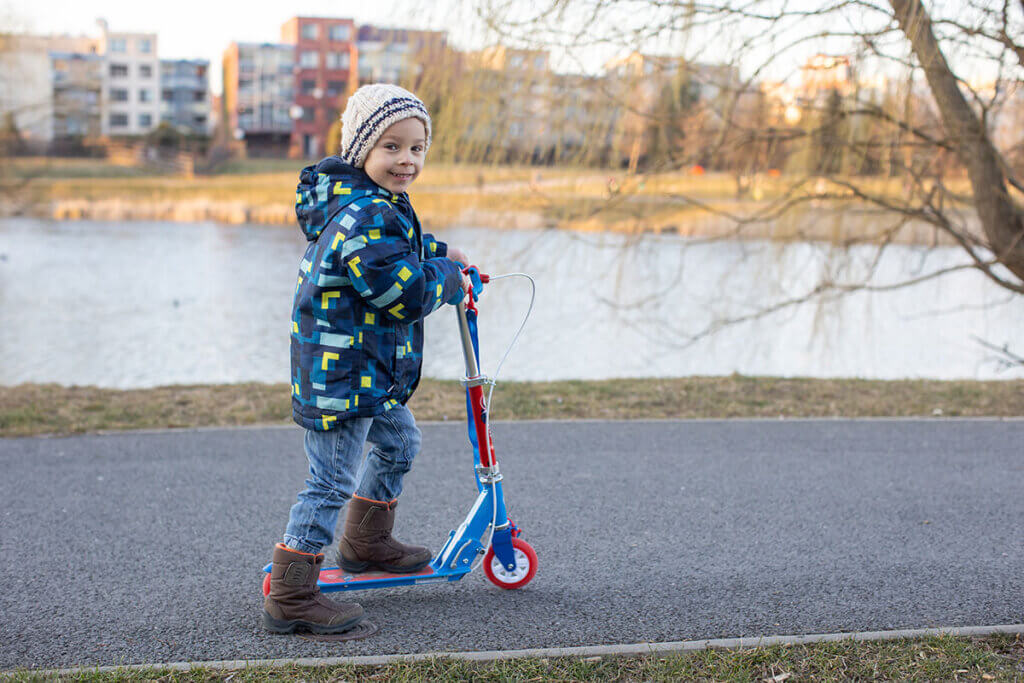 A round thing
The wheels of the scooter usually have a plastic core frame surrounded by a tyre made of polyurethane (PU). This plastic is also used, for example, in wheels for skateboards and inline skates. Depending on whether the children want to ride longer distances or are often on uneven ground, you should pay special attention to the wheels. Some scooters have wheels with a particularly large diameter of about 18 to 23 centimetres and rubberised tyres. They cushion better on cobblestones or sandy paths; even gravel paths can be ridden on them.
Small wheels – between 10 and 14 centimetres in diameter on the pedal scooters – are more suitable for smooth and well-built paths. However, children will quickly feel bumps here. In general, larger tyres promise more comfort because they are smoother and safer to ride; scooters with smaller wheels, on the other hand, are more manoeuvrable. Stunt scooters, for example, are equipped with small wheels because tricks require a quick reaction and the courses are built on concrete.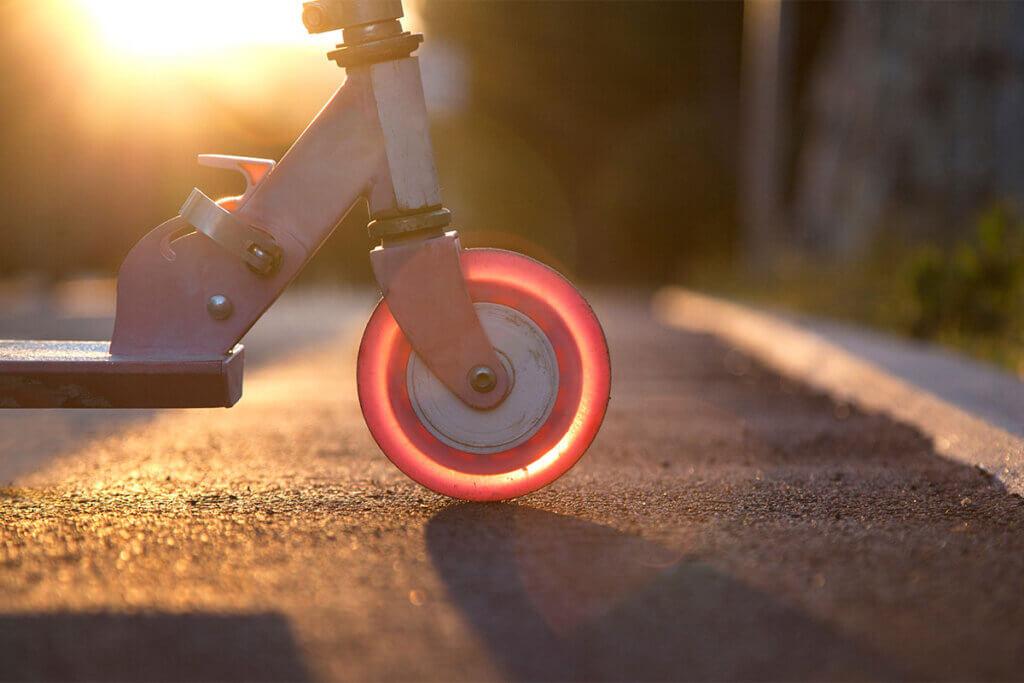 Secure footing
The tread should be non-slip and covered with a rough grip tape. The surface structure is reminiscent of coarse sandpaper and is also used on skateboards, for example. If the surface is a maximum of five centimetres above the ground, it is called a lowered scooter. Since the distance to the ground is very small in this case, smaller children in particular can gain momentum more comfortably. Higher standing boards, on the other hand, are less susceptible to obstacles such as bumps or stones.
The tread surface is also an important factor, especially for older children. The standing surface must be wide enough for both feet to fit on it, but also long enough for the children to comfortably place their feet on it one behind the other. The longer the footprint, the more stable the scooter will be on straight stretches.
Smooth ride
An important detail of the wheels is the ball bearing, as it is also installed in the wheels of inline skates or skateboards. The higher the quality of the ball bearing, the lower the rolling resistance and the smoother the ride. You can recognise good ball bearings by a high ABEC (Annual Bearing Engineering Committee) value; the scale ranges from one to nine. You will find many scooters with a value between five and seven, which is perfectly adequate for everyday use with children's models.
What else is important
In addition to the wheels, there are a number of other components of a pedal scooter that are crucial, or at least have some influence, in deciding which model to buy. Think about what is important to you and let your child participate in the decision for the first vehicle.
Up and down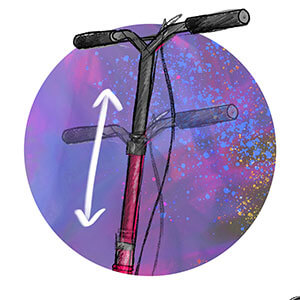 If several children – or perhaps even adults – want to use the scooter, the handlebars should be height-adjustable. The handlebars can usually be extended telescopically and adjusted in height by up to 30 centimetres. The handlebars are optimally adjusted when they are at about hip height, measured from the ground, as this is the most comfortable position for the rider. A few centimetres more or less is not important if it feels more comfortable.
On the brake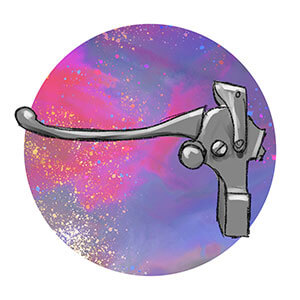 Kick scooters are usually equipped with a small pedal brake on the rear wheel. This brakes the vehicle when the child steps on it with one foot. Alternatively, there are friction brakes that look like a small mudguard and are also released with the foot. Some models, especially footbikes, also have brake levers on the handlebars. This either actuates a small brake disc on the rear wheel or supports the foot brake. Make sure that the child can easily release the brake while riding.
Folding mechanism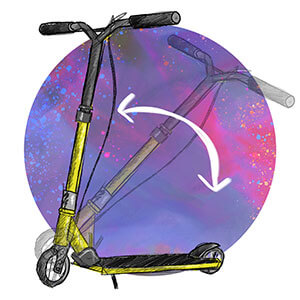 Some scooters have a practical folding mechanism. This makes it easy for children to transport the scooter – often even with a carrying strap – for example on the bus or when climbing stairs. An additional effect is that the scooter takes up less space and can be parked in any corner of the house or in the garage. The folding mechanism is usually very easy to operate by means of a lever that automatically engages as soon as the scooter is folded in or out again. So it is ready for use within seconds.
Material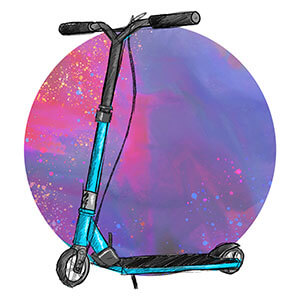 On the whole, children's scooters are made up of a handlebar and a kickboard. Most kick scooters are mainly made of aluminium, which is very robust and at the same time light. This makes them last a long time – which is not unimportant if they are handled carelessly – and they are easy to carry. The handlebar grips are usually covered with rubber or foam and ergonomically shaped. This means that riding a scooter does not become uncomfortable on the hands, even after a long time.
Safety measures when riding a scooter
Generally, with a few exceptions, children's scooters do not have lights by themselves; this is not mandatory even when used on footpaths in the dark. You can find small lights or LED headlights in bicycle shops, DIY shops and many household goods shops. Just make sure that you can attach them, for example to the handlebars. In addition, reflective elements, for example in the form of stickers or Velcro strips, can be attached to helmets or clothing. Then the little ones can safely whiz around on the streets even at dusk and be seen by passers-by and cars. Even if children's scooters do not have a road permit, they sometimes influence traffic. Therefore, you should take appropriate precautions.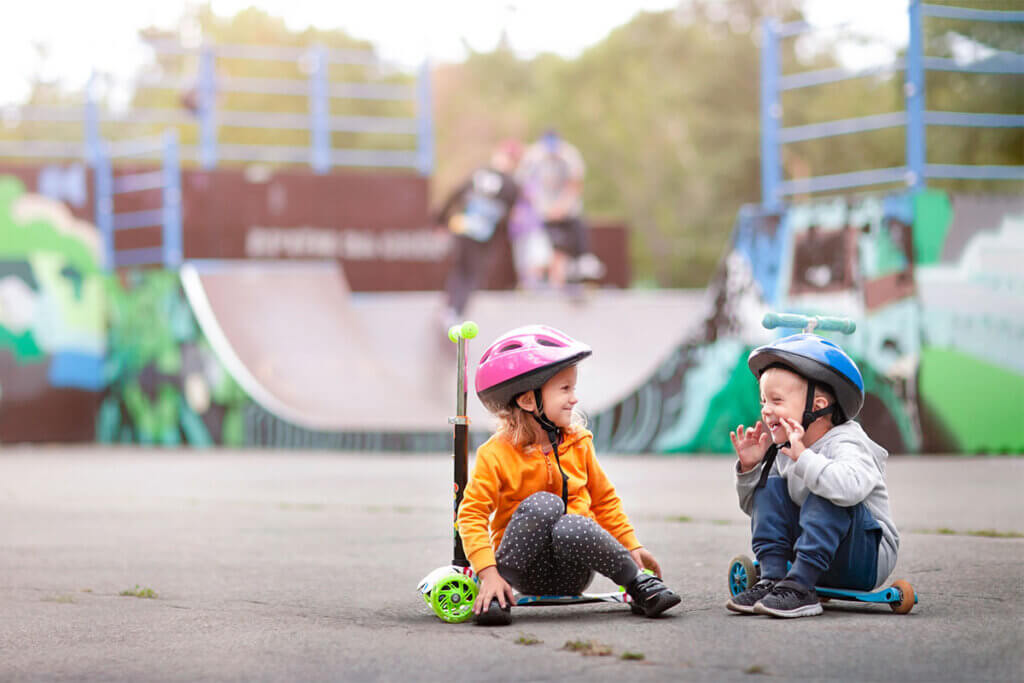 Similarly, a safety helmet is not mandatory for scooters. However, especially for beginners who are not yet very confident with the vehicle, appropriate protective measures are recommended, for example in the form of knee pads or cycling gloves. Especially in busier areas or in pedestrian zones, a collision can easily occur. Appropriate protective equipment is a must for children who ride carelessly in road traffic.
Especially in the early days, you should always accompany your child when he or she is riding a scooter in the neighbourhood to make sure how he or she is doing with the new vehicle. They should also not ride around alone on busy streets if they do not yet have much experience with road traffic. Children often misjudge the speed not only of cars, but also of cyclists and e-scooters.
From a simple pedal scooter to a kickboard
If you think of the scooter from your own childhood, you probably have a very clear picture in mind. Nowadays, however, there is a whole potpourri of different scooters on the market with different designs, materials, uses and names. Besides the English term scooter, kick scooters or pedal scooters are the most common – they all usually mean the same thing. In skate parks and on halfpipes, you will find children and young people practising tricks on stunt scooters. These are more robust, but not quite as manoeuvrable. Extensively equipped models are the footbikes, which have a steel frame, inflatable tyres and rim brakes.
The three-wheeled model
If your child feels unsafe on a scooter, a so-called kickboard is a good choice. With two wheels at the front and a wider footboard, it provides a stable stance. For children who are making their first attempts at riding a toy, the kickboard is a safer alternative because it does not tip over as easily. However, it is somewhat slower than a standard scooter and has a larger turning radius. This results, among other things, from the fact that the kickboard can be steered differently than an ordinary scooter. Because of the wide wheelbase, the handlebars cannot be turned so easily: The child always has to steer by shifting his or her weight.
Two wheels at the rear

Some models have two wheels on the rear axle. In a way, they are a hybrid of a tricycle and a scooter. This means that even the smallest children can do their first scooter exercises without being exposed to great danger from falling. In addition, these models are easy to steer and often have springy pneumatic tyres.
Support durability
Even scooters made of robust material are not infinitely durable. Children are often careless with toys and other things. The scooter is quickly dropped carelessly, scraped along edges or left overnight in the mud Parents should keep an eye on the children to ensure that they take good care of their vehicle so that they can enjoy it for a long time. Take the scooters indoors when it rains and overnight or store them in the garage or garden shed. Regularly tighten the existing screws and nuts and lubricate the ball bearings with oil if necessary so that everything continues to run smoothly.