Women's electric bike purchasing advice: how to choose the right product
What you need to know
Electric bikes are a great way to explore longer through cities and the countryside, without running out of steam — although you will still get some good exercise.
The main difference between men's and women's e-bikes is the shape of the frame.
Some women's electric bikes have a low step through design, which means it is easy to get on and off as the top bar of the frame is lower—this can be very helpful for people who are less mobile.
Before buying an electric bike, make sure to check the current law to see what category your chosen model fits into.
An e-bike for everyone
Cycling is extremely popular, and for good reason. It's a great way to exercise, and a speedy way to get around. The most recent cycling innovation has been in electric bike motor technology. E-bikes are ever more popular nowadays — they're a great option for anyone who likes cycling and wants to keep fit. Since there are lots of different settings and options, electric bikes are suitable for everyone, no matter your age, fitness, or experience. Just as with standard non-assisted bikes, manufacturers produce electric bikes with frames that are designed with frame geometry that better suits women. While the differences might not be immediately visible at first glance when compared to a men's version, there are a few crucial details that become apparent upon closer inspection.
What are the advantages of e-bikes?
Electric bikes aren't just an eco-friendly way to get around, they're a gentle form of exercise and a good way to stay healthy. This means they are a great option if you've got any health problems which prevent you from doing other sports. However, this isn't to say they aren't for athletes — they're a good choice if you want to travel long distances without blowing steam. Women's electric bikes are also designed to make things easier: namely, their lower frame geometry makes getting on and off much less tricky.
What's the difference between men's and women's e-bikes?
The main difference between men's and women's e-bikes is in the frame geometry, that is to say, the shape of the bike. Compared to men's e-bikes, women's e-bikes have:
smaller frame sizes
different tube lengths and angles
different riding position, possibly more upright
Despite these key differences, the right frame size and shape completely depends on your own needs. For example, some women will find a better fit with a unisex model, and likewise, some men prefer frames designed for women. As a result, more and more manufacturers are designing and developing e-bikes specifically for women's body shapes.
Possible uses: city or trekking bike
E-bikes are extremely versatile machines. This makes them great for both old and young, whether you're riding effortlessly in the city or on long tours out in nature. Depending on your fitness level and intended use, it can be a good idea to get an e-bike as a second bicycle, or even to completely replace your normal bike. E-bikes are a great option for older women as they let you ride for longer before you get tired. This being said, since you can adjust the amount of power assistance you get from the motor, you can use your e-bike both as a fitness challenge and as a way to reduce effort when riding.
Different types of e-bike
When it comes to choosing an e-bike, you need to know about the different categories out there on the market. There's actually three main types: e-bikes, pedelecs, and S-pedelecs. The confusing part is that people often use the word 'e-bike' as a blanket term for all three types.
What's the difference between pedelecs and e-bikes?
Pedelecs – the abbreviation stands for Pedal Electric Cycle—and e-bikes often get confused with each other. There is in fact a huge difference between the two, and its due to the way in which you engage the motor. The motor on an e-bike gives the bike power without you needing to pedal — it works at the push of a button. Pedelecs, by contrast, have pedal-assist motors — this means the motor only gives the bike power while you are pedaling. So, if you stop pedaling on a pedelec, the motor will disengage. This has big repercussions when it comes to road legality. While the rules differ depending on where you are, in general, pedelecs come under the same designation as push bicycles, whereas e-bikes fall into the same category as mopeds. This means that a lot of manufacturers sell pedelecs rather than e-bikes, since they don't require any registration to be ridden on the road. What it also means, is that a lot of people use the term e-bike to refer to what are actually pedelecs.
What's an S-pedelec?
The S in S-pedelec stands for the word speed. The way in which the motor engages only while pedaling is the same, except the top speed is much higher. This means that they often fall into the category of a motor vehicle rather than a bicycle, which means they usually require a licence plate, registration, and a helmet.
Different models
To help you choose the right model, the following section details the different styles of electric bikes on the market.
What is an e-mountain bike?
E-mountain bikes, also abbreviated as E-MTB, are becoming increasingly popular, especially among experienced female bikers. This is because you can use electric mountain bikes for serious training, not just for making rides easier. The reason for this is that E-mountain bikes let you expand and extend how long you ride. For example, while on a normal MTB you might be able to make two downhill runs in a day (since you need to cycle back up each time), on an E-MTB, you could do more like four or five. Cycling uphill is a breeze on electric mountain bikes, which has made them extremely popular both with men and women. They are characterized by the following criteria: precise steering, strong motor support, suspension fork, derailleur gears, hydraulic disc brakes, special frame suspension (full or hard-tail) and suitable tires.
City e-bikes: all-rounders for everyday use
City e-bikes are, as you may have guessed, specifically designed for urban riding. City pedelecs are great for zipping around the streets without breaking a sweat. They're also a good option for commuting. The seating position is more relaxed than on an e-mountain bike, more like a Dutch bike. You can get models with low step through frames which are easy to get on to, or ones with more sporty frames. Low step through frames are especially good for comfort, less so for speed.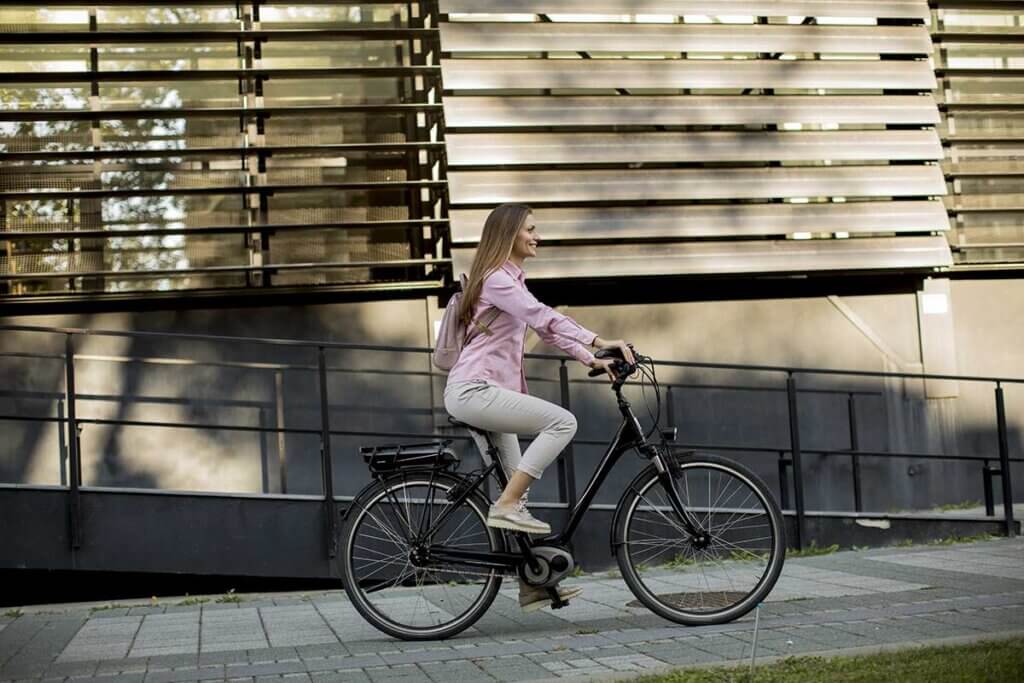 Overall, electric city bikes are ergonomically designed to be comfortable, and are fitted with various features such as electronic gears and high-quality brakes to make your life easier.
Trekking e-bikes: a bike for all purposes
Trekking models combine the sportiness of e-mountain bikes with the comfort of city e-bikes. They are a true all rounder, equally at home zipping through urban streets as on country trails. Suitable for all types of terrain, trekking e-bikes also have pannier racks which you can use for cycle touring. Since they have sturdy frames, you should look for models with a powerful battery.
Trekking e-bikes often come with hydraulic disk brakes and nine-speed gears. If you can't decide between an e-mountain bike and an electric city bike, an electric trekking bike might be just right.
XXL e-bike: for more stability
These bikes are designed for people who have a higher body weight. XXL e-bikes are designed to make riding comfortable and secure, so they are extremely stable. Visually, these bikes aren't any different to standard models, they are just built more sturdily, which means you might want to consider one if you're planning on transporting heavy loads.
Folding e-bikes: a practical travel companion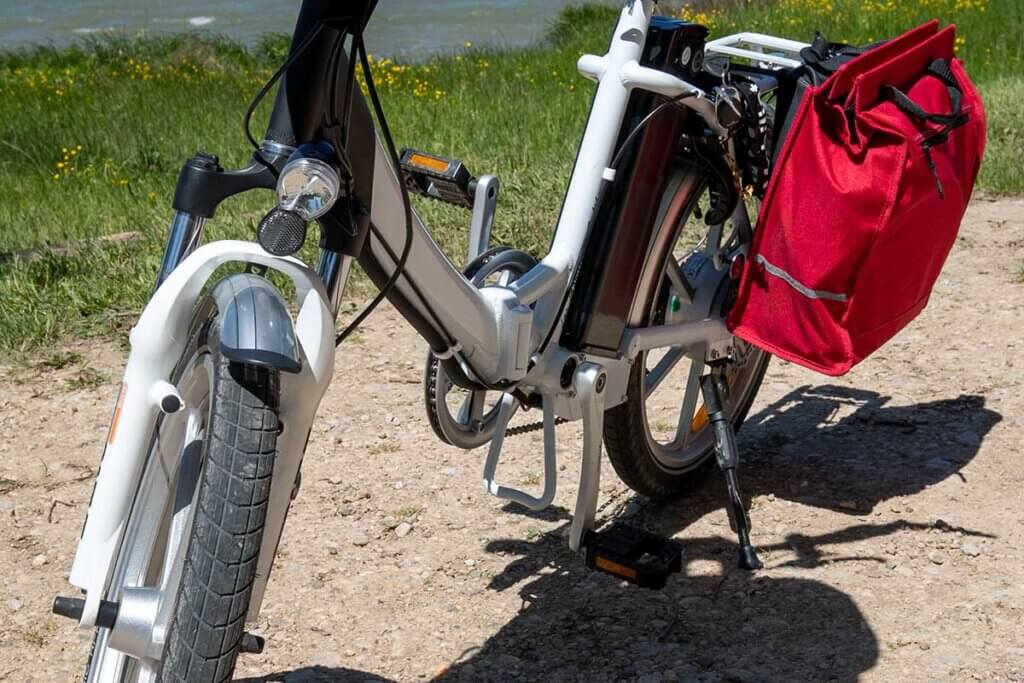 Folding electric bikes are top of the pile when it comes to practicality. Say you're about to get on a train, being able to fold your bike up into a compact package is extremely useful. The payoff is that folding bikes aren't that fast, but they are just as comfortable as city bikes.
Purchasing tips
When choosing an e-bike, you should always test ride it first. Key factors are the size and type of the bike, as well as the intended usage such as city riding, travel, commuting, or cycle trekking tours.
Load capacity, dimensions and weight
Wheel and frame size is often given in inches per centimeter (inch/cm). A 28-inch bike is suitable for taller women, a 26-incher fits smaller people better. Frame dimensions usually range from 17 to 20 inches (44-50cm), depending on the model. You should also compare the maximum load weight with your own body weight plus any additional loads (like panniers) you might want to put on the bike.
How to calculate maximum load:

Body weight + load (e.g. child seats, pannier racks, shopping bags) < permissible total weight.
Electric bikes are all relatively heavy, most models weigh between 45 and 65 pounds (20-30kg).
Carbon frames are much lighter

If you envision yourself carrying your e-bike, say over trees on mountain bike trails, you might want to consider a model with a carbon frame. This being said, the weight saving you get with carbon will certainly not save you money.
Power: three different motor types
The way in which e-bike motors differ depends largely on where they are located on bike. The majority of high-quality electric motors are made by Bosch, but nowadays there are other manufacturers also making good e-bike motors.
Rear-mounted e-bike motors are extremely powerful and have a few useful features. They can partially recharge the battery through heat recovery while braking, and are extremely durable and quiet when in operation. The main disadvantage is that they mean your bike won't be equally balanced, which can become a problem when riding uphill. Rear-mounted motors are also more cost effective than mid-mounted motors. They are most commonly found on sporty e-bike models.
Centrally mounted motors offer good, even weight distribution, which results in a great riding experience with equal and direct power transmission and the ability to coast. Also known as bottom bracket motors, they have relatively few disadvantages. The main issue is that they are quite expensive, and can also result in increased wear due to higher loads on the chain and cassette.
The third and final option when installing an e-bike motor is to mount it to the front wheel. While this is an affordable option, it comes with a fair few disadvantages. Steering is much more difficult, since the front wheel has much more weight due to the motor. This can result in swerving, which has meant that front-mounted motors are rare nowadays.
Gear system and number of gears
The following table gives a comparison between hub and derailleur gearing, so you can work out which type is best for you:
Hub gears
Low maintenance
Suitable for city riding and normal cycling trips
7-speed gears are sufficient
Derailleur gears
Cleaning and maintenance necessary
Suitable for mountain rides and sporty bike tours
10-speed gears recommended
Fast, precise shifting
Brakes
Women's e-bikes either have rim or disc brakes. Disc brakes are preferable to rim brakes because they usually have more braking power. Hydraulic disk brake systems are more effective because they brake with the help of two pistons on both sides. Good braking is important in all situations, however this is especially important for downhill mountain riding. Also bear in mind that you are usually faster on an e-bike than on a normal bike.
Battery
The battery capacity is always given in watt-hours (Wh). The longer the battery lasts, the longer the possible range of your e-bike. Run and charge time depends on the quality of the battery. 500 watt-hours are standard for e-bikes nowadays. When you aren't using your bike, it's best to remove the battery and store it in a dry place. A lot of models have LCD displays to show the battery status at all times. If your battery is almost empty, you should charge it immediately. Do not let it become completely empty as this will have a negative effect on its longevity.
Most manufacturers do not offer extension batteries. However, replacement batteries are available for some models, but these must then be installed in a bicycle workshop. The batteries can be installed on the frame, in the frame itself or in the form of a luggage carrier.
Range
Depending on the battery capacity, women's e-bikes usually have a range of between 30 and 60 miles (50-100km). You can find out the maximum range of any model from the manufacturer's specifications. The range refers to the highest distance a single battery charge can last. This will always depend on external circumstances such as weather, rider weight, ground conditions and of course, how much assistance you are getting from the motor. A good rule of thumb is to expect your battery to last for half the maximum range stated by the manufacturer. Always start a longer day trip with a fully charged battery, you won't want to be cycling home without any juice.
How much do women's e-bikes cost?
Inexpensive women's e-bikes start at around $700. Depending on the model, higher-priced bikes normally cost over $1,000. However, these models also have better battery capacity and lots of gears, which improves their maximum range. At the top end, you can expect to pay over $3000.
Other noteworthy features
Frames made of aluminum are heavier than frames made of carbon. When choosing a bike, you should take this into consideration as it makes a big difference when it comes to handling. Frame shape and size are crucial for comfort, as mentioned above. You need to have a bike that is the right size for you, and you can also choose between higher or lower top tubes. If you have trouble getting going, look for a model which has extra power for starting riding. Bikes with this kind of motorized start assistance provide power from a standstill, which can be extremely helpful for hilly rides.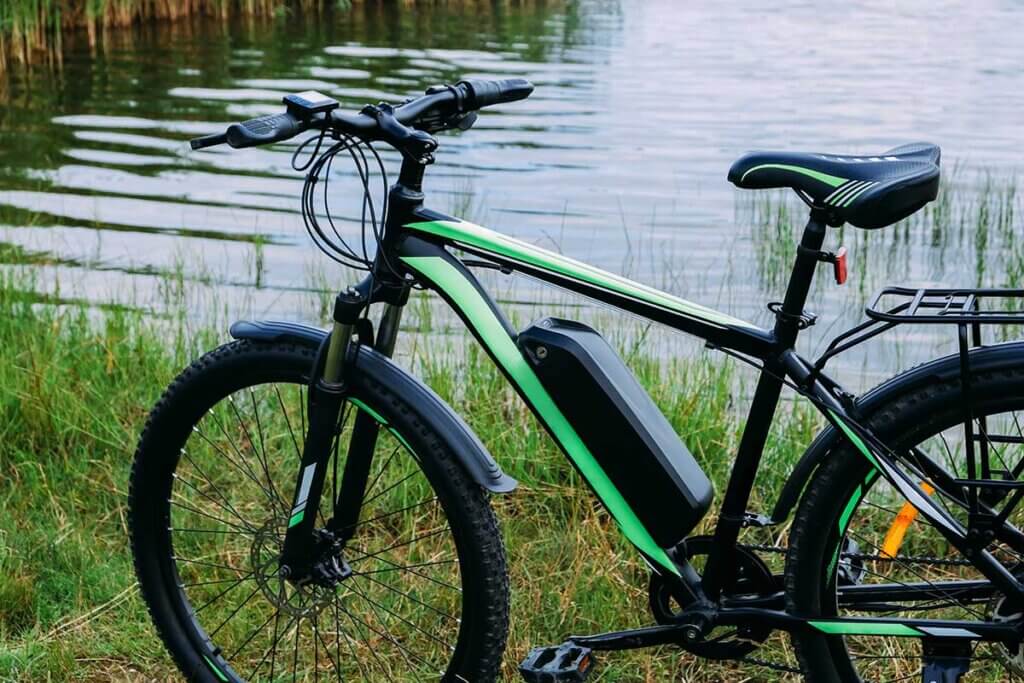 The following features are highly recommended when it comes to safety. As a rule, most e-bikes come with these features as standard, although some can be purchased by riders as an afterthought:
Mudguards
Lights
Luggage rack
Rear view mirror
Reflectors
Display to show speed and total distance travelled
Lights and reflectors are essential and should be fitted to every women's e-bike. A luggage rack and mudguards, on the other hand, are not absolutely necessary and can make your bike unnecessarily heavy. This is something to consider if you're planning a sporty mountain tour. For shopping in the city, on the other hand, a sturdy luggage rack makes much more sense sense. If your e-bike has a bike computer, you can use it for navigation or to check the battery charge level. Some e-bikes also offer the option of linking their integrated bike computer with a smartphone app.
---
Image 1: © BGStock72 / stock.adobe.com | Image 2: © HPE / stock.adobe.com | Image 3: © Zhuravleva Katia / stock.adobe.com