Hard shell suitcase purchasing advice: How to choose the right product
What You Need to Know
In addition to luggage with a soft outer shell, there are also hard shell suitcases.
They are made of a robust, stable material, which is often plastic, more rarely aluminium.
Suitcases with a hard shell differ in size, volume, material and features, among other things.
Hard-shell suitcases with four wheels and an extendable handle are particularly comfortable to transport.
Since strict rules apply to air travel in terms of size and weight, travellers should always observe the airline specifications.
Hard shell, soft core
Holiday – the word alone warms the heart, awakens fond memories of past trips and makes one think hopefully of coming excursions. But every holiday includes an outward and return journey, which can be long and multi-stage depending on the destination. Whether it's a train journey, a road trip or a long-haul flight: investing in a hard suitcase is worthwhile. Besides family trips and holidays with friends, this also applies to business trips. However, not every hard-sided suitcase fits exactly to all undertakings. For example, the suitcase of a large family travelling to the seaside for several weeks should be larger than the one of a manager travelling to another city for a weekend seminar.
Different types of suitcases
A rough distinction is made between two categories:
Hard-shell suitcases
Soft-sided suitcases
So the key question is: how flexible is the outer shell of the suitcase? Soft models are usually made of leather or fabric. The market also has soft products with particularly sturdy frames. Other alternatives for transporting clothes and other items, especially for short trips and excursions, are travel bags, backpacks and sports bags.
Important for air travel

The size and weight determine whether air travellers have to check in their luggage for the large baggage compartment or are allowed to take it with them as hand luggage.
What is a hard case?
A suitcase with a so-called "hard case" is a piece of luggage with a very robust outer shell. There are different types of hard cases – for example, cases with and without wheels as well as models in small and large formats. Although the shell is always hard, as the name suggests, the cases also differ in the material used. Hard-sided suitcases are ideal for people who like to fly on holiday and travel by train or car – whether for private or business purposes. Hand luggage hard cases are also available.
The advantages outweigh the disadvantages
In contrast to suitcases made of flexible fabric, hard-sided suitcases are more robust, more stable and thus tend to be more durable. They also offer extra protection.
The last point is especially important if the suitcase is often on baggage carousels and being reloaded. After all, handling luggage is not always careful. Hard-sided suitcases protect the contents better from bumps and bruises – this is particularly advantageous for electronic devices such as laptops and fragile items. But cosmetics and liquids are also safer stowed in a piece of luggage with a hard shell.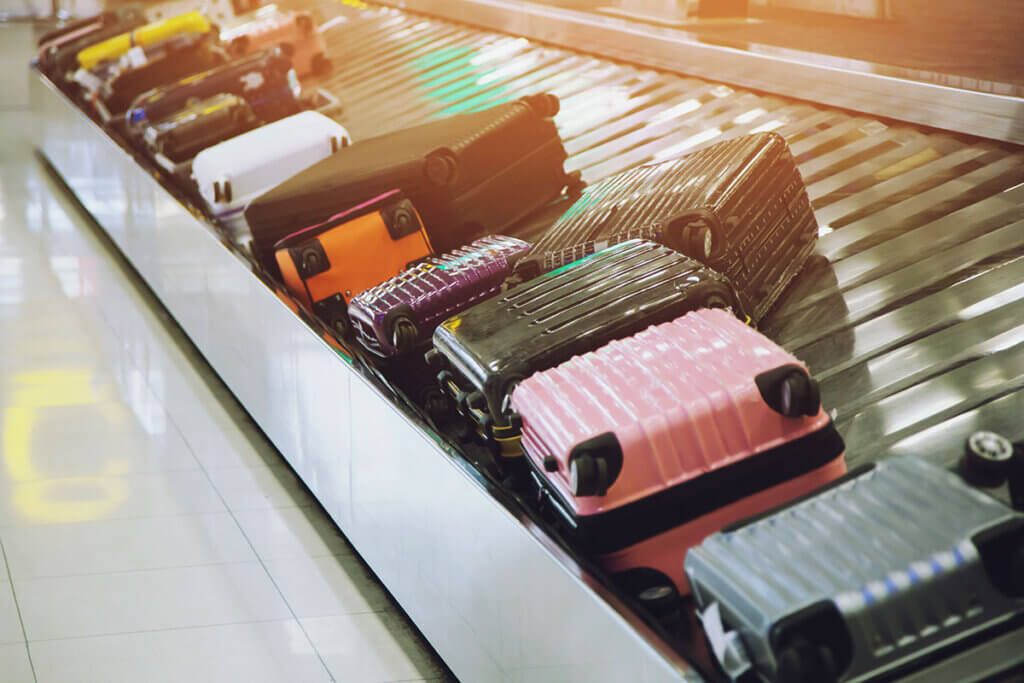 In addition, hard-shell cases provide much better protection against moisture penetration than models with a fabric outer shell. Thieves also have a harder time, as fabric bags can be cut open more easily to access the contents, despite the lock. However, this robustness is also reflected in a higher tare weight, which reduces the load capacity, i.e. what you can put in the suitcase, due to weight limits with many airlines. Another disadvantage is that hard-shell suitcases offer virtually no option for external pockets. These are popular with travellers for storing documents and small items that have run out of room in the main compartment.
Pro points
Better protection against shocks
Theft of contents more difficult
Protection from rain
More durable
Drawbacks
Often higher dead weight
Storage space not expandable
No outside pockets
The different types of hard cases
The two aspects of size and transport distinguish hard cases on a general level before detailed criteria allow further differentiation.
Large versus small
If you are on holiday for a longer period of time, you usually need more clothes. In this case, a large hard-sided suitcase is a good choice so as not to have to use several small models. On the other hand, a small hard-shell trolley is often sufficient if you are only travelling for a weekend or on a business trip, for example. The big advantage is that most of these are hard-sided hand luggage cases that can be taken into the cabin on a flight.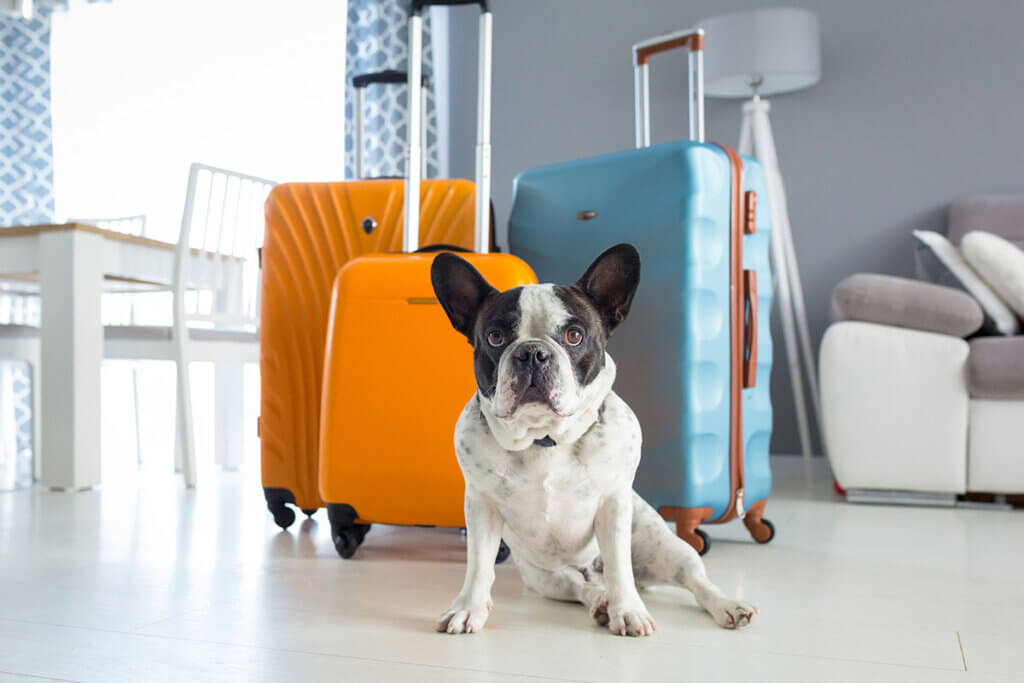 What is the difference between carry-on and wheeled suitcases?
Depending on the physical condition, it is decisive whether travellers have to carry the suitcase permanently or can pull it. Many models, especially the larger ones, come with wheels that make transport much easier because they can be pulled easily, especially on level ground. A pullable hard-sided trolley can be helpful for elderly people, for example. When it comes to a hard-shell carry-on suitcase, it all depends on the features: In any case, padded handles are useful to optimise carrying comfort.
Trolley or suitcase?

Originally, a trolley was a piece of luggage on wheels, and even today many people associate the term primarily with smaller models. In fact, the terms are becoming increasingly blurred, so that there are also large hard-shell trolleys and generally visually similar designs that are called either suitcases or trolleys.
Hard on hard: the most important buying criteria
When comparing hard-shell suitcases, the following criteria are central to the purchase decision in order to find the right model: the material and weight as well as the classification of sizes. For air travellers, the question always comes to the fore as to whether the model, with its dimensions and payload, still qualifies as hand luggage. In addition, the dimensions and capacity, the handle, the number of wheels, the colour, the need for a TSA lock, other extras and the prices of hard suitcases come into focus.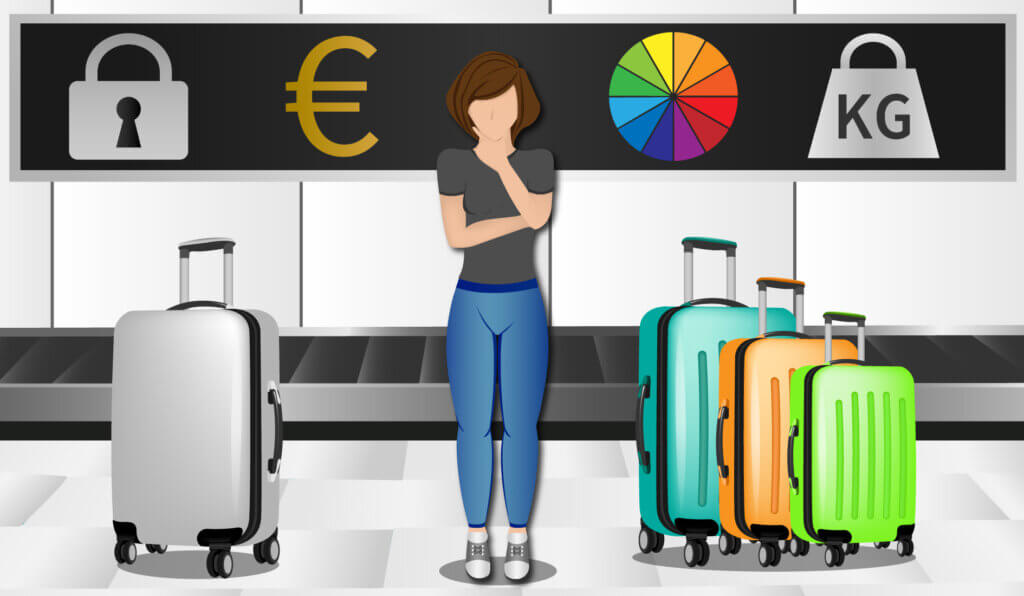 Material
Hard-shell cases are made of aluminium or plastic, whereby the second category can be further subdivided into
Polycarbonate,
polypropylene,
ABS and
HDPE.
Polycarbonate (PC) is one of the most common materials for hard cases. It is characterised by its low weight and high resistance to breakage and impact. Since it is expensive, it is often mixed – for example with ABS, which is also very stable, impact and scratch resistant. There can also be differences in quality within a group of plastics.
Polypropylene (PP) is similar in its properties to the plastic polycarbonate, but tolerates very low temperatures below freezing point worse. The company Propex Fabrics wanted to counteract this and produced the so-called Curv – an optimised polypropylene. HDPE is considered particularly temperature-resistant and impact-resistant in both directions. On the other hand, the material is heavier, so it is rarely used in the production of conventional hard shell cases.
Thermoplastics

All the materials mentioned belong to the group of thermoplastics that deform at a certain temperature. Thermoplastics provide design advantages in the manufacturing process and are considered more sustainable – although there are differences here too: Polycarbonate, for example, is much more recyclable than ABS.
As a light metal, aluminium convinces with its low weight – nevertheless, the cases are heavier compared to the plastic versions. In the areas of corrosion and strength, aluminium hard-shell cases provide very good arguments. Over time, however, dents can appear in the outer shell if the luggage is bumped or pressed against other harder materials. Most hard-shell case manufacturers nowadays prefer plastics.
Weight
Weight is a very important attribute, as travellers often have to carry their suitcases – whether rolled or carried – by hand over long distances. That it is a correspondingly important purchasing characteristic is also known by manufacturers who prefer to process lightweight materials.
The tare weight of hard suitcases is relevant because it directly influences the load capacity – comparatively heavy unloaded suitcases reach certain maximum values, for example for air travel, much faster. When comparing hard shell suitcases, it is noticeable that the weight rarely exceeds five kilograms. Instead, the figures usually fluctuate between two and four kilograms, giving an average tare weight of around three kilograms for hard-sided suitcases.
Size classification
Many suitcase manufacturers work with international sizes, which most people know from the fashion shop or from their own wardrobe: S, M, L, XL and XXL. "S" stands for "small" and describes the smallest size, while "XXL" (extra extra large) stands for the heaviest weight in this range.
Hard cases can be roughly classified as follows:
| Indication | Height in centimetres |
| --- | --- |
| S | Up to 55 |
| M | Up to 64 |
| L | Up to 74 |
| XL | Up to 80 |
| XXL | More than 80 |
Common size classification of hard suitcases in centimetres.
The width is on average around 25 to 50 centimetres. The depth varies in a very wide range between about 20 and 70 centimetres.
Capacity
The capacity of suitcases is given in litres and correlates strongly with the size. Accordingly, there are also rough classifications here:
| Indication | Volume in litres |
| --- | --- |
| S | Up to 49 |
| M | Up to 69 |
| L | Up to 89 |
| XL | Up to 120 |
| XXL | More than 120 |
Common volume classification of hard cases in litres.
If you need several hard suitcases, it is best to opt for a suitcase set. However, XXL models with a capacity of more than 120 litres are usually only available individually.
Handle
Holidaymakers have to put their suitcases on luggage racks, lift them when boarding the train, stow them in the boot and move them around town. These are just a few examples. Therefore, the rule of thumb in normal suitcase manufacturing is: the more handles the hard-sided suitcase has and the more variable they are – for example on the sides – the more comfortable the transport. Ergonomic handles and padding are also a good idea.
Travelling is even more pleasant with a telescopic handle typical of trolleys. In upright suitcases, these are usually top-mounted, flexibly extendable handles. The maximum telescopic length should match your height. In other words: very tall people look for a relatively long telescopic handle so that they do not have to stoop.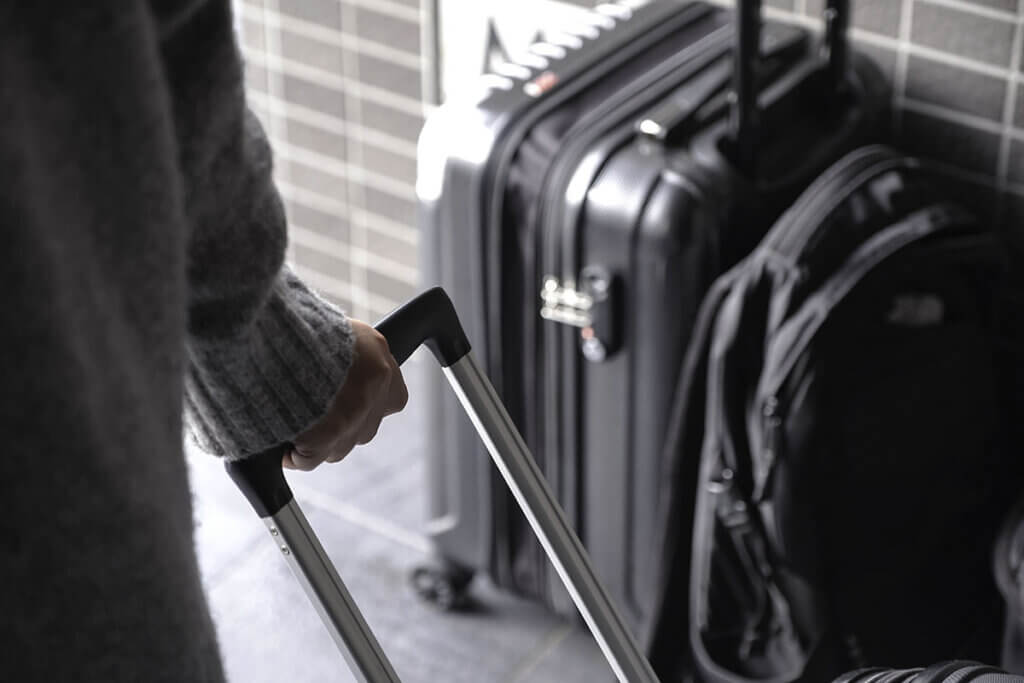 Number of wheels
Many suitcases usually have two or four wheels. The connection is logical: four wheels are better than two, as the hard-shell roller suitcase is then even easier to transport. On four wheels, a suitcase stands and moves more stably, which is especially noticeable on uneven ground.
Mobility of the wheels

If you attach importance to particularly functional wheels, you should also keep mobility in mind. In the best case, the suitcase wheels are not rigid, but can be moved freely in all directions, so that even manoeuvring around curves is no problem.
Colour
Design is a personal statement for many people. When it comes to suitcases, holidaymakers can choose from a variety of colours and types – including:
Classic Black
Unobtrusive Grey
Bright yellow
Playful Colourful
Metallic look
Child-friendly motifs
Modern patterns
But the colour also has a practical function: the better the hard-shell case stands out from the standard models, the greater the recognition value without a manually applied bow, for example on the luggage belt.
TSA lock
The lock on suitcases is very important. On the one hand, high-quality designs reduce the risk of theft, and on the other hand, the luggage should not open accidentally during the journey. A special type is the so-called TSA lock, which is mainly used in the USA for security purposes.
TSA stands for "Transportation Security Administration". This refers to US security personnel who have a master key for each TSA lock with which they can open affected suitcases in case of suspicion. A TSA lock is not mandatory to travel to the USA. However, security personnel may break open the suitcase without a TSA lock in the case of suspicious items after the standard screening process.
Less security with TSA locks

Apart from the ethical questioning of this method, a general access always provides the option to mimic the matching key. In fact, in 2015, a blueprint of sorts even went online offering the option to make a TSA master key using a 3D printer.
Extras
It is also worth taking a look inside a hard case. For example, lashing straps can optimise stability and built-in nets offer storage space for items that holidaymakers want to pack separately – such as books or a laptop. For business trips, separate interior compartments are also recommended to safely transport important documents.
Price range
The prices of hard-sided suitcases vary widely. Although they tend to reach higher ranges the more volume the piece of luggage has, even here comparable specimens differ in price. In general, interested parties can assume a price range between 50 and 200 euros per suitcase. But the market also has very high-priced versions in store, costing several hundred euros.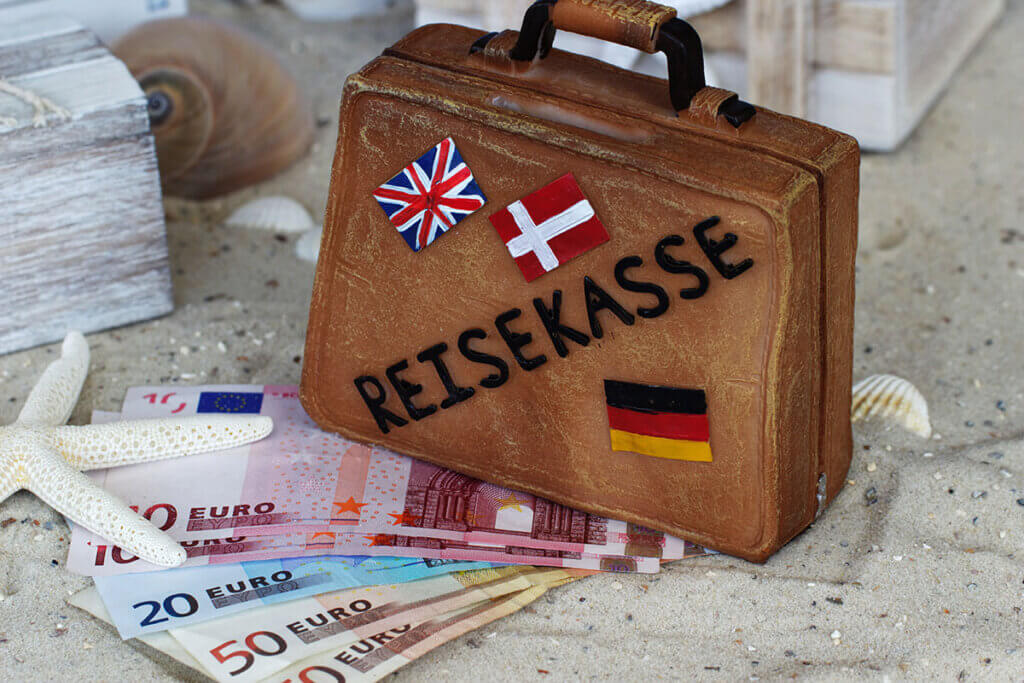 To make a connection with certain materials: ABS hard-shell cases usually fall into the low or medium price category, while models made of polycarbonate are among the higher-priced cases.
Notes on specifications and health
Especially for air travel, there are strict guidelines regarding the weight of luggage. In addition to organisational issues, holidaymakers must also consider health aspects, as experts have already been able to detect toxic substances in some suitcase handles.
When is a suitcase considered excess baggage?
If a suitcase, which is free of charge up to a certain maximum weight, weighs more than allowed, it is considered excess baggage. Costs are then incurred – either as a lump sum or based on the additional weight. The specific regulations vary from airline to airline, but on average the weight of baggage to be checked in free of charge should not exceed 20 kilograms.
It is advisable to check the regulations of the booked airline in advance and compare them with the weight of the suitcase measured at home. Normally, there is also a basic maximum weight of around 32 kilograms for regular luggage. Anyone who exceeds this weight must check in the suitcase as cargo.
Possible pollutants under control
In a test from 2012, Stiftung Warentest already identified potentially hazardous substances in the handles of every second model. Four years later, three suitcases received the unwelcome rating "poor" in this area:
Eminent Noblesse from Galeria Kaufhof
Samsonite Smarttop Spinner 55
21″ Upright Suitcase from Primark
Harmful substances can include, for example, phthalate plasticisers and polycyclic aromatic hydrocarbons (PAHs).