Folding bike purchasing advice: how to choose the right product
The most important facts in a nutshell
Thanks to their compact packing size, folding bicycles can be easily transported not only in the boot but also on public transport, thus making commuting to work easier for commuters.
In addition to the classic folding bikes, which are also available as city or mountain bikes and as racing bikes, there are also motor-driven electric folding bikes.
Not only the folding mechanism, but also the frame material, workmanship and gears play a major role in choosing the right model.
With the right accessories – from a headlamp to a multifunctional tool to a navigation device – users are equipped for all situations.
Folding bikes: fold them up, take them with you and go.

Bicycles are not only particularly practical in the countryside to get from one place to another quickly, but are also suitable in the city as an alternative to public transport. Commuters in particular, however, sometimes have to cover long distances between the stops or the station and their workplace. A bicycle would be a good choice here if most models were not so unwieldy and heavy to fit comfortably on public transport such as the bus.
The solution is so-called folding bicycles, which can be folded to a compact size. This means that city dwellers, commuters and the like can travel not only quickly but also comfortably. When folded, the bicycle is considered luggage and can be carried free of charge, i.e. without an additional ticket, currently on the train or bus. Moreover, the vehicle fits effortlessly into any car boot, cellar or flat.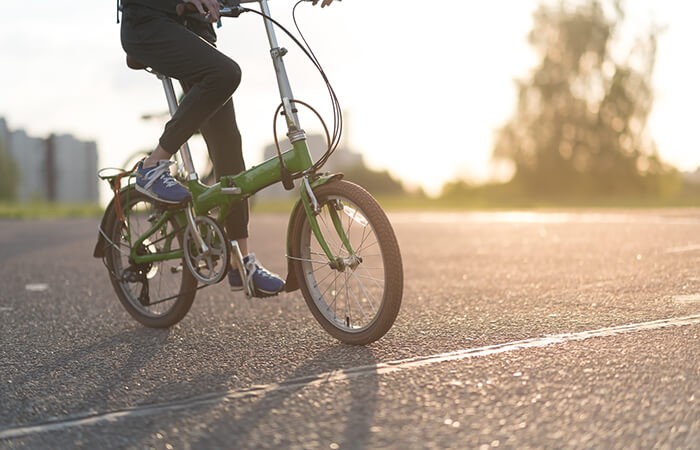 In the 1960s and 1970s, folding bicycles were folded via a joint in the main frame bar by retracting the seat post with the help of a folding mechanism. By folding at the centre joint, the bike was only half the size. Nowadays, the folding technique works in a similar way, but the workmanship of the bicycles – from their weight to their technical equipment and materials – has changed significantly. Depending on the model, modern folding bikes have more hinges and some can also be folded over the handlebars. The term "folding bike" therefore refers primarily to modern folding bikes. Simple models are available for as little as 200 euros, whereas bicycle enthusiasts spend up to 500 euros on high-quality versions. Electric folding bikes are priced between 500 and 1,300 euros.
History on the sidelines

The folding wonder was invented in 1878 by William Grut: to make the so-called penny-farthing more transportable, he added a mechanism that allowed the bicycle to be dismantled. 18 years later, the "Faun" appeared, a bicycle with the folding mechanism in the middle of the frame.
However, the predecessor of today's folding bicycle is considered to be the Stowaway models, which were developed in the 1960s and were no longer dismantled but folded; at that time, however, in a rather unstable way. The mechanisms and frameworks were constantly improved until finally in 2010 the first electric folding bikes appeared. Whether electric or more manually operated, folding bikes are versatile, whether for pleasure, sport or simply to save time.
The pros and cons of folding bikes

Being flexible is an enormous advantage, especially in urban life. Public transport is often cancelled or delayed, so a bicycle is worth its weight in gold. If the weather turns and sends down rain, it's nice to be able to escape on the bus or train without having to heave an overly bulky, heavy bicycle into it. But this trump card of folding bikes also has a downside:
The advantages
The heart of the folding bike is the folding mechanism, which allows the bike to be easily transported or stored in a space-saving way. A bicycle rack on the car is therefore just as unnecessary as a trailer, which makes taking the bike with you much less stressful. Since a folding bicycle is extremely compact and usually weighs no more than ten kilograms – in contrast to a conventional bicycle weighing 15 to 20 kilograms – even stairs are no longer a problem. Their compactness has another advantage: as long as the folding bicycles are stored primarily in the home or cellar, they are safe from theft. In addition, a certain feeling of lightness goes hand in hand with folding bicycles. Although they can be accelerated intensively, they also generate smaller gyroscopic forces, which makes riding seem wobbly to some extent.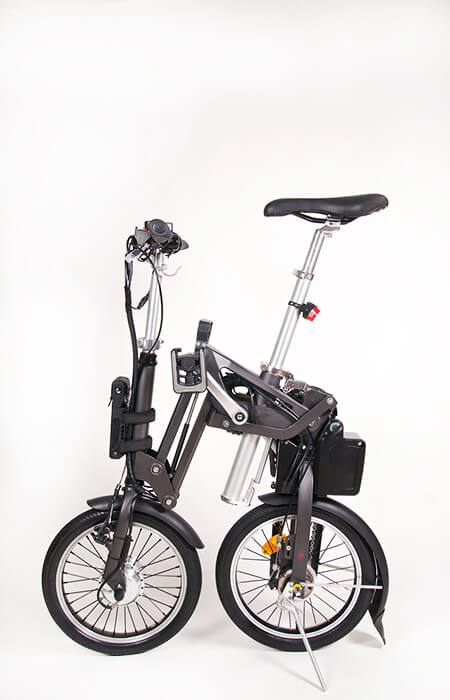 The disadvantages

Since the small tyres rotate more frequently around their own axis, they have more contact with the road and wear out correspondingly faster. Overall, a folding bike is only conditionally suitable for (off-road) terrain. Ultimately, however, they are mainly used in the city, so this drawback is of little consequence. Anyone who rides both in the city and more frequently on forest paths should think about purchasing a folding mountain bike.
The upright and high seat on the folding bike ensures that the body has more surface area to attack in the airstream and thus creates more resistance to the air – this slows you down and more leg work is needed to make progress. The thick tyres also have a higher rolling resistance, making it difficult to reach the top speeds of a road bike. Folding bikes are technically reduced to the bare essentials to make them as transportable as possible. The special construction requires parts specially designed for the bike, be it seat posts or the long handlebar tube, so that repairing them involves not only more costs but also more effort.
Pro points
Foldable and space-saving
Compact folding size
Low weight
Transportable
Counts as luggage in public transport
Easy to take into the home offers theft protection
Drawbacks
Low technical equipment
High wear and tear
High maintenance
Less comfort
A bike to fold: The variants

Anyone interested in a folding bike will quickly realise that there is not one design model for every requirement, but that numerous variants are available on the market for different situations and needs.
Classic or electric

Basically, folding bikes can be divided into two categories: the classic and the motorised models. The differences can be seen not only in the price, but also in the weight.
The classic folding bike

Classic folding bikes are limited to basic equipment. The simple construction goes hand in hand with light materials, usually aluminium. As a rule, the weight of a conventional folding bike is between 8 and 11 kilograms. In terms of wheel size, customers choose between 16 and 20 inches, with the 20-inch models usually having a stable hub gear that prevents the chain from slipping. Otherwise, the gears on most folding bikes are limited to seven gears.
The electric folding bike

The technical equipment is similar to the classic folding bike, with the difference that an electrically powered motor is built in, which increases the total weight to up to 15 kilograms. The motor is powered by batteries or rechargeable batteries which, once fully charged, are sufficient for up to 100 kilometres, provided the maximum speed does not exceed six kilometres per hour. The maximum speed must not exceed six kilometres per hour. The practical starting and pushing aid is available with front or rear wheel drive. In addition, the mid-mounted motor ensures a balanced ride. When buying an electric folding bike, customers should also make sure that the bike is CE-EN15194 certified and safety-tested to ensure that all regulations have been complied with.
For the city, the countryside or the highway?

Folding bikes can be subdivided even further: For example, there are models that are constructed similarly to city bikes, mountain bikes or racing bikes.
The folding city bike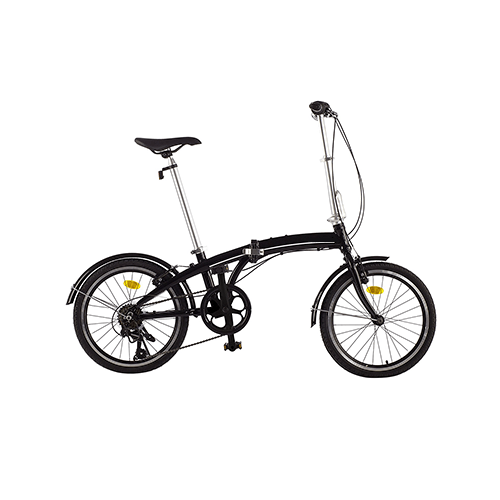 City folding bikes are probably the best-known model. A distinction is made here between bikes with small (from 16 inches) and large wheels (up to 26 inches). While the small bikes are suitable for commuters, large bikes are suitable even for long journeys. When folded, they measure about 60 by 50 by 90 centimetres and weigh between 11 and 12 kilograms, unless their frames are made of aluminium. The manoeuvrable folding bicycles have a low step-in and generate hardly any rolling resistance, making them ideal for the city if you want to get on and off quickly and comfortably during stop-and-go. Thanks to their frame geometry combined with the adjustable handlebars and seats, even taller people ride ergonomically and comfortably on the folding bikes.
The folding mountain bike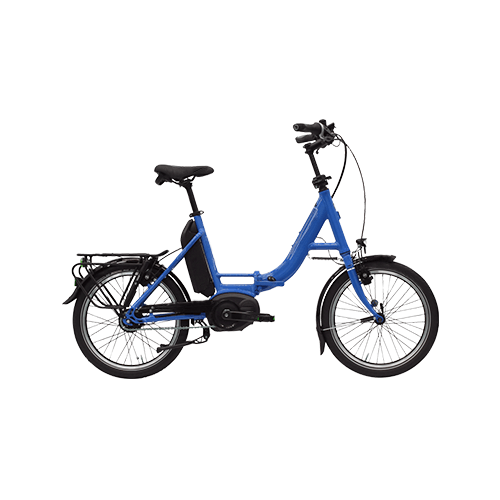 Since the classic folding bike would not be able to cope with the demands of a mountain due to its spartan construction, off-road riders resort to a folding mountain bike at best. This folding bike variant is particularly suitable for a clientele that travels both in the city and in rougher terrain. Its high-quality, well-balanced frame is made of either carbon or Aliminium, the folding hinges are particularly secure and the gears are more pronounced than on an ordinary folding bike. A hydraulic disc brake is just as useful for this bike as an off-road tyre tread.
The folding road bike
If you don't want to give up mobility or the thrill of high speeds, go for a folding road bike. These models are specially designed for speed and still have the advantages of a folding bike, so that they can not only be folded quickly, but can also be ridden enduringly. However, due to the rather sporty seating position, users should think about carrying luggage, such as a backpack, beforehand, as it is rather uncomfortable to carry.
The buying criteria: To make it work safely

According to the Road Traffic Licensing Regulations (StVZO), certain equipment is required for ordinary bicycles as well as for folding bicycles in order for them to be considered roadworthy. These include:
a bright sounding blade
two independent brakes
two non-slip pedals with yellow reflectors to the front and rear, screwed on tightly
one white front headlight and one red rear light
reflective stripes or yellow spoke reflectors
one white reflector at the front and one large red reflector at the rear.

However, it is not compulsory to carry a bicycle helmet. In addition to the mandatory equipment, there are some criteria to consider when choosing the right folding bike model:
Frame height

Finding the right frame height is a problem for many new customers, as it depends on the individual body size of each prospective buyer. It is one of the most important selection criteria, as incorrect posture can always have health consequences. Even with folding bicycles, the legs should be able to stretch almost all the way through in order to maximise the power and to sit as comfortably as possible. Among other things, an incorrect inch size is associated with an inadequate posture, which is particularly noticeable on longer rides. Due to their smaller frame and smaller tyres, the tyre sizes of folding bikes are usually between 20 and 24 inches. With larger wheels, the off-road capability increases.
How to choose the right size
The table shows which frame height is the right one for your body size, because only with the right frame height does the riding experience remain safe and ergonomic:
| Body size | frame height |
| --- | --- |
| 160–165 cm | 15″-16″ |
| 165–170 cm | 16″-17″ |
| 170–175 cm | 16,5″-17,5″ |
| 175–180 cm | 17,5″-18,5″ |
| 180–185 cm | 18″-19″ |
| 185–190 cm | 19″-20,5″ |
| 190–195 cm | 20,5″-22″ |
The frame material

Usually, the frames of folding bikes are made of aluminium, steel or carbon. Most folding bikes have an aluminium frame because they roll easily over the roads and are not only particularly light but also very robust. Steel frames are even more robust; however, they weigh considerably more. Folding bicycles made of carbon are very light, but also very expensive. In terms of stability, they can now compete with aluminium bikes.
The folding mechanism

Folding a folding bike should be as quick and uncomplicated as possible in just a few steps. Before buying, customers should consider whether they need tools for dismantling and assembling. Especially models that require users to mount the front wheel or mudguard separately are only suitable for commuters to a limited extent. During the folding process, the bike should always remain stable and have tidy, compact dimensions after the process. Depending on the model, the folding bike can then either be rolled or carried. While some models have a hinge, other folding bikes can be unfolded in the middle. Other folding techniques:
Folding or pushing together parts, such as the saddle or handlebars into the frame.
Folding the front or rear end behind the frame
Folding the frame like an umbrella or parallelogram.

It is not uncommon for these mechanisms to be combined. It is important that the sensitive parts are adequately protected.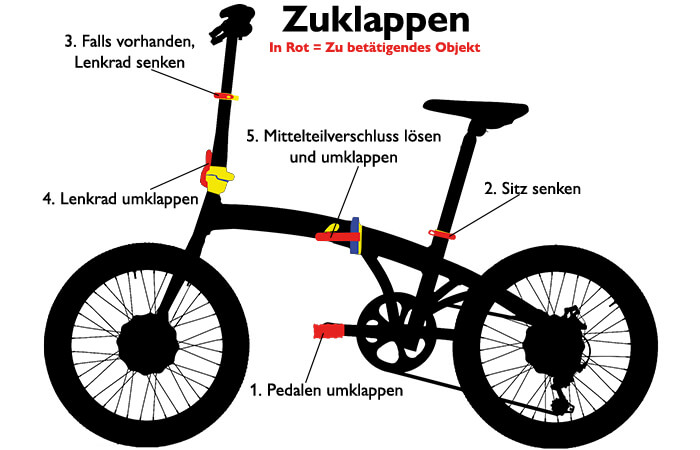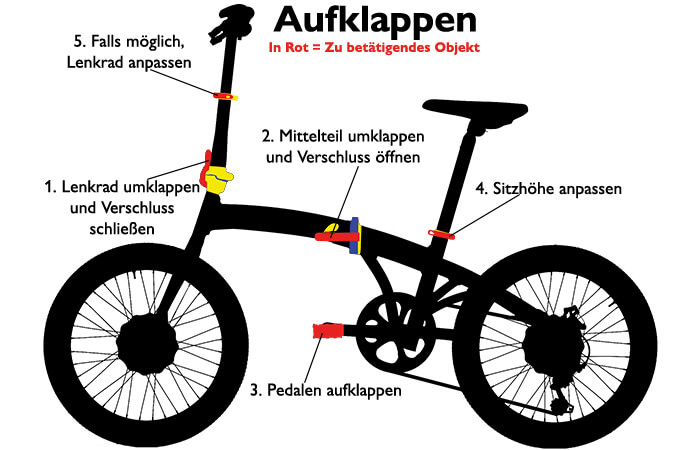 The gear shift

The so-called hub gears guarantee noiseless shifting without pedalling interruption or mis-shifting. Riders can select the gear ratio without losing speed. The more gears available, the better the ride can be adapted to the environment, be it a straight road, a hill climb or a wet surface. At least three to seven gears are advisable.
The workmanship

The hinges, rails and frame should not only be made of high-quality materials, but also be cleanly finished. Quality bikes have smooth-running axles and bearings. Since the folding bike is constantly folded, the hinge must be able to withstand this kind of stress. During the folding process, the bicycle chain must not come off. In order to be able to stand outside, the majority of the materials should be rustproof and scratch-resistant – especially if you are going to the coast, for example.
Final criteria

Finally, there are one or two points to consider in order to be sure you have found the right model for you, including:
Are there mounting options for a luggage rack or even a bicycle lock – both when folded and unfolded?
Does the folding bike run smoothly or is it equipped with good suspension?
Can the pedals be folded in so that they do not press against the wall or the back?
Are the pedals non-slip?

Accessories from saddle to bag

With the right accessories, users of a folding bike are comprehensively equipped and prepared for anything:
Saddle: Whether wide or thin, padded or sporty – saddles exist in countless models so that they meet every need.
Pedals: Since a pedal could break during a tour, it is advisable to take a replacement pedal with you so that you are always ready for use again immediately.
Mudguard: The mudguard over the tyres prevents splashes thrown up by dirt and puddles from landing on the rider while riding.
Multifunctional tool: The useful tool combines various tools from open-ended spanners to ring spanners and Allen keys.
Air pump and repair kit: In case the inner tube of the tyre is damaged, it is a good idea to carry a repair kit and an air pump with you to ensure that you can continue your journey.
Navigation device: Especially on holiday or on unknown routes, navigation devices for bicycles are very helpful.
Lock: With a lock – be it a U-lock or an electronic anti-theft device – users can lock their folding bike at any time and thus give thieves no chance.
Headlamp: If it is not possible to mount large-scale lighting on the folding bike, headlamps can be used to stay safe in the dark.
Protective cover: A cover not only protects against damage and scratches, but also makes it easier to transport the folded bike thanks to the carrying straps.
Bags and baskets: For more storage space, various types of bags are recommended, such as luggage carrier, front or saddle bags, which must be removable at all times.

Care tips

The many joints on a folding bike require a certain amount of care in order to function safely and comfortably at all times. After a running-in period of about one month, users should check all moving parts and readjust them if necessary. Depending on the use, the intervals may be longer or shorter. While daily journeys of more than 20 kilometres in all weathers require monthly maintenance, a quarterly check is quite sufficient for recreational riders. After a longer rest period, for example in winter, users should definitely check the lights and the brakes. It protects the chain if it is oiled regularly, and the correct tyre pressure also protects against punctures; a care spray seals the paint of the frame and protects it from unsightly scratches.
Who is a folding bike suitable for?

While commuters and city dwellers are the main target group for folding bikes, the practical bikes are also appreciated in other situations, such as
when you want to get to the starting point of a cycle tour by public transport
when a storm is coming
if you have to change to a taxi or a ride-sharing service at short notice
if you are planning a camping trip
if you are travelling by sailboat