Luggage set purchasing advice: how to choose the right product
The most important facts in a nutshell
With a suitcase set, travellers always have the right size at hand.
Suitcase sets are suitable for all means of transport, whether by plane, car, ship or train.
There are hard-shell suitcases made of robust plastics and soft-shell suitcases made of flexible textiles.
While hard-shell models are usually waterproof and offer more security, soft-shell suitcases are lighter and more flexible.
In addition to the number of suitcases in the set, the most important buying criteria include the material, the weight and the size.
The numerous advantages of suitcase sets

Before every trip, holidaymakers decide what they want to take with them and how big the suitcase needs to be to fit everything in. A trip therefore requires precise planning. This in turn depends on whether you are travelling by plane, train, car or another means of transport – and for how long.
The numerous advantages of suitcase sets
Before every trip, holidaymakers decide what they want to take with them and how big the suitcase needs to be to fit everything in. A trip therefore requires precise planning. This in turn depends on whether you are travelling by plane, train, car or another means of transport – and for how long.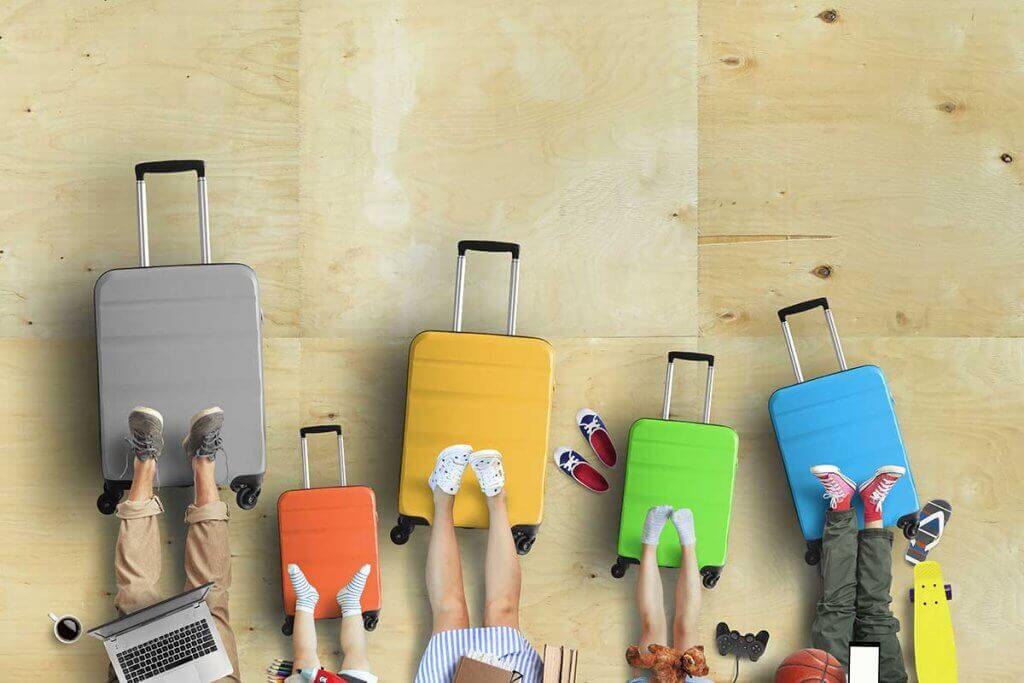 In the following, we have summarised the reasons for purchasing a suitcase set:
Choose from different sizes
Coordinated for every trip
Luggage can be divided up
Never too much or too little space in the suitcase
No unnecessary carrying and therefore easy on the back
Always the right dimensions – weight and size – for aeroplanes at hand
Same design and material in the set
Easy to stow away and space-saving
Matched to one's own taste
Quickly recognisable due to its appearance (for example at the baggage carousel)
Suitable for individuals and families alike

Hard versus soft: these types of suitcases are available

To choose the right product, you should first be clear about which type of suitcase you prefer. There are hard and soft suitcases, which differ mainly in the materials they are made of. Hard cases are less flexible, but score points for their robust construction. Soft cases impress with maximum flexibility, but are less stable.
Hard cases – robust and waterproof

Hard cases are made of very strong materials such as plastic, polycarbonate, aluminium or titanium. They are primarily characterised by their stability and safety, which is why they are also called hard cases. Ideally, their shell is so robust that it cannot be dented even under heavy loads. This has the advantage that the contents of the case remain largely undamaged. Air travellers who frequently fly long distances or change planes often benefit from the high security criteria of their luggage. The contents of the suitcase are thus better protected against theft.
Pro points
Robust shell
High safety
Stable under load
Better protection against theft
Mostly waterproof
Drawbacks
Heavier to handle
Less flexible
More susceptible to scratches
Soft-sided suitcases – light and flexible
Soft-sided suitcases are made of strong textiles such as nylon and polyester or leather and score points with their easy handling. They are also known as soft cases and are particularly popular with people who place a lot of value on flexibility. These products can also be squeezed together to be stowed in small corners. For travel by car or train, it can be helpful to carry less bulky suitcases. Here, however, it is advisable to make sure that the zips are of good quality, as they could come undone if too much strain is placed on them. Soft cases also have the advantage that the outer material cannot be scratched. Many models offer practical outer pockets for quick access to important contents such as travel documents.
Pro points
Easy handling
Low own weight
High flexibility
Can be stowed well in small gaps
Extra pockets on the side
Drawbacks
More unstable construction
Lower safety
Zipper as a possible weak point
Usually only water-repellent
The most important purchase criteria

Before travellers decide on a suitcase family, they should take a close look at the individual purchase criteria. Buying a set is feasible even for smaller wallets, but to benefit from the suitcases on as many trips as possible, it is best to look for high-quality material in all hard or soft shell models. Also, look closely at the size specifications. Products with four wheels are recommended. Furthermore, extendable telescopic handles and an integrated TSA lock are recommended if you fly frequently to the USA or other far-away countries.
Number of suitcases: from three to five

A suitcase series consists of at least three suitcases in different sizes. For people who want even more variation, manufacturers also offer four- or even five-piece sets. Decide on the appropriate number depending on the travel requirements the set must meet. Likewise, the size of the travel group, usually the number of family members, determines how many suitcases should be included in the set.
Material: Depending on the type of suitcase

Hard shell suitcases are made of resistant plastics. These include polycarbonate, polypropylene, Curv, aluminium and ABS. There are different levels of quality in each case. Some materials are of higher quality than others, but all plastics are characterised by their robustness.
For soft-sided cases, manufacturers use synthetic fabrics such as nylon, polyester or leather. Most products today are made of nylon or polyester, as these fabrics score points with tear resistance and water-repellent – though usually not waterproof – properties. However, hard-shell cases are more shock and impact resistant than soft-shell models. There are also so-called hybrid cases, which combine the advantages of the different materials.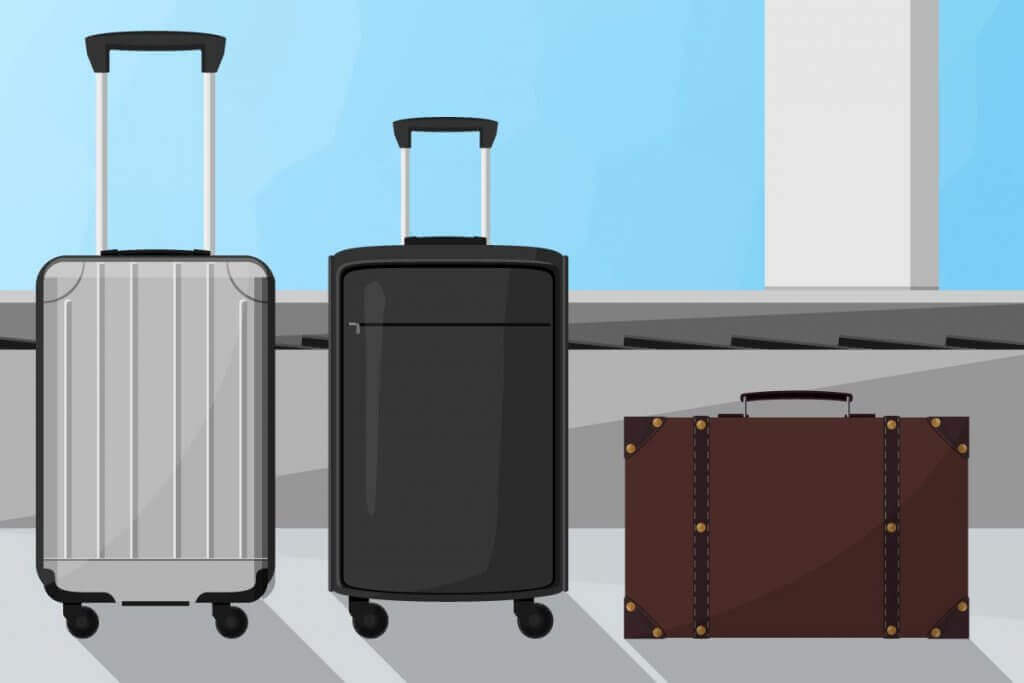 Weight: Especially crucial for flights

Soft-sided suitcases are usually lighter than hard-sided models due to the manufacturing materials used. Before choosing, buyers should consider the weight depending on the size divisions. For example, it is advisable that a soft-sided suitcase with a capacity of 40 to 50 litres should not exceed a tare weight of approximately 3 to a maximum of 5 kilograms. The tare weight can be decisive for air travellers. As a rule, airlines specify a limit of 8 to 10 kilograms for hand luggage. Baggage in the hold may usually weigh 20 to 25 kilograms. The amount of payload varies accordingly.
Size classifications in volume: depending on travel plans

All suitcases are divided into sizes S, M, L, XL and XXL. The specifications refer to the respective volume and the intrinsic size of the suitcases in the set. Manufacturers also give litre measurements so that users know how much will fit into the suitcases. In the following you will find some information for orientation; the litre specifications in relation to the size specifications may vary from manufacturer to manufacturer:
Small hand luggage for the plane or train: 30 to 45 litres corresponds to size S.
Large suitcase for checking in luggage: up to 120 litres corresponds to size L or XL
Medium-sized suitcase or trolley: 50 to 80 litres corresponds to size M

For a short weekend trip, travellers are best served with smaller luggage. If you are planning a long-distance trip, you will certainly want to take more luggage. Of course, this always depends on the destination and the type of travel. Nevertheless, the following information can serve as a guide:
| | | | |
| --- | --- | --- | --- |
| | Case dimensions | Packing volume | Weight |
| Short trip | Approx. 55 x 40 x 20 cm | Between 30 and 45 l | Approx. 8 kg |
| Long long-distance trip | Approx. 80 x 50 x 30 cm | Up to approx. 120 l | 20 to 25 kg |
Guidelines for a short holiday or business trip and a long, elaborate long-distance trip in comparison.
Extendable handles: For maximum comfort

Telescopic handles, which are usually made of aluminium, make transporting the suitcase immensely easier. They can be easily extended and retracted as needed at the appropriate height as soon as users bring the suitcase into action. Thus they are easy on the back, because travellers do not have to bend down unnecessarily to pull the suitcase. They also score points for practical handling, as they do not take up any additional storage space.
Number of wheels: Four are recommended

For better stability and easy manoeuvring, users are best advised to choose suitcase sets in which the individual suitcases have four castors – and not just two. Older models often have only two castors. Nowadays, however, most manufacturers have four castors. If the ground is rough, simply tilt the suitcase and pull it behind you on two wheels. When calculating the size, make sure that you include the wheels.
TSA lock: Especially for air travellers

The abbreviation TSA stands for "Transportation Security Administration". These combination locks are particularly useful if travellers frequently travel by plane. It is becoming increasingly common, especially in the United States of America, for luggage to be checked due to security checks. To prevent the staff from having to break open the suitcase, TSA locks are used that can be opened with a master key that is only available to security services. This prevents the suitcase from being damaged. But be careful: suitcases equipped with a TSA lock are not 100% protected against theft, as professional thieves can open them relatively easily.
Design: Something for every taste
Whether brightly coloured, plain black or noble metallic, with colourful patterns or prints for children – manufacturers have something for every taste. It is often worth having a suitcase set that is easily recognisable at a baggage claim so that no annoying mix-ups take place. To make a plain suitcase immediately identifiable, colourful stickers or a colourful fixing strap also help.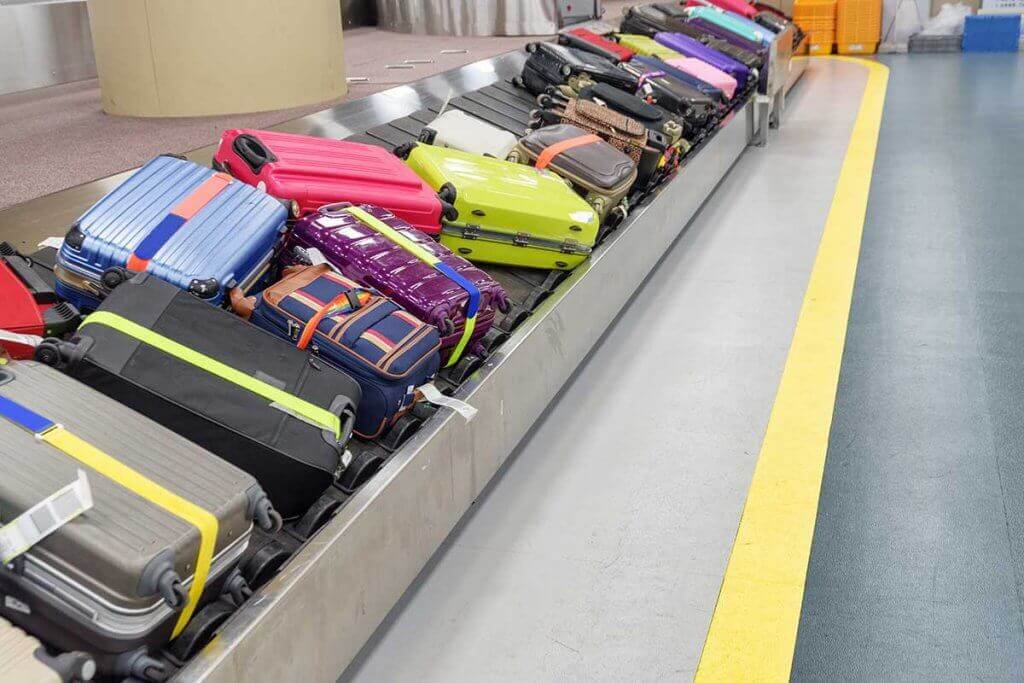 Extras: external pockets, lashing straps and fixation straps.

When comparing hard and soft-sided suitcases, it should be noted that the soft models are often equipped with external pockets. They can not only increase the packing volume, but also offer the possibility of quick access to important contents such as a laptop or mobile phone. For the interior, travellers should make sure that the suitcases have lashing straps or separate compartments, if desired with zips. These help to keep the suitcase tidy and to find things more quickly. A fixing strap is useful on the one hand to make the suitcase easier to recognise and on the other hand offers a little more security.
Price range: cheaper as a set

The price of individual medium-sized suitcases ranges from at least 70 to just under 200 euros. Trolleys are somewhat cheaper. In the lower price segment, travellers can buy a three-piece suitcase set for around 80 euros. If you want to spend more on high-quality materials, you can expect to pay between 130 and 200 euros for a set. In addition, there are high-priced luxury models for several hundred euros. In any case, it is clear that buyers can save a lot of money if they buy a set directly instead of just a single suitcase.
Hand luggage: permitted dimensions and weights

Before every flight, travellers ask themselves how big the piece of hand luggage that is carried in the cabin may be. The specifications vary from airline to airline. This also applies to the weight requirements for checked baggage. As a passenger, you are best advised to find out in advance on the airlines' websites or from the respective hotlines. Many airlines use the following dimensions: 55 x 40 x 20 centimetres. The weight can usually be either eight or ten kilograms.
What travellers can use at the seat depends on whether you have booked a long-haul or short-haul flight and in which category the booking was made – Priority, Economy, Business Class, First Class. There are numerous designations, and these also differ from airline to airline. Especially with low-cost airlines, it is important to pay attention to the dimensions and weight. Otherwise, you may have to make expensive additional baggage reservations directly at the airport counter.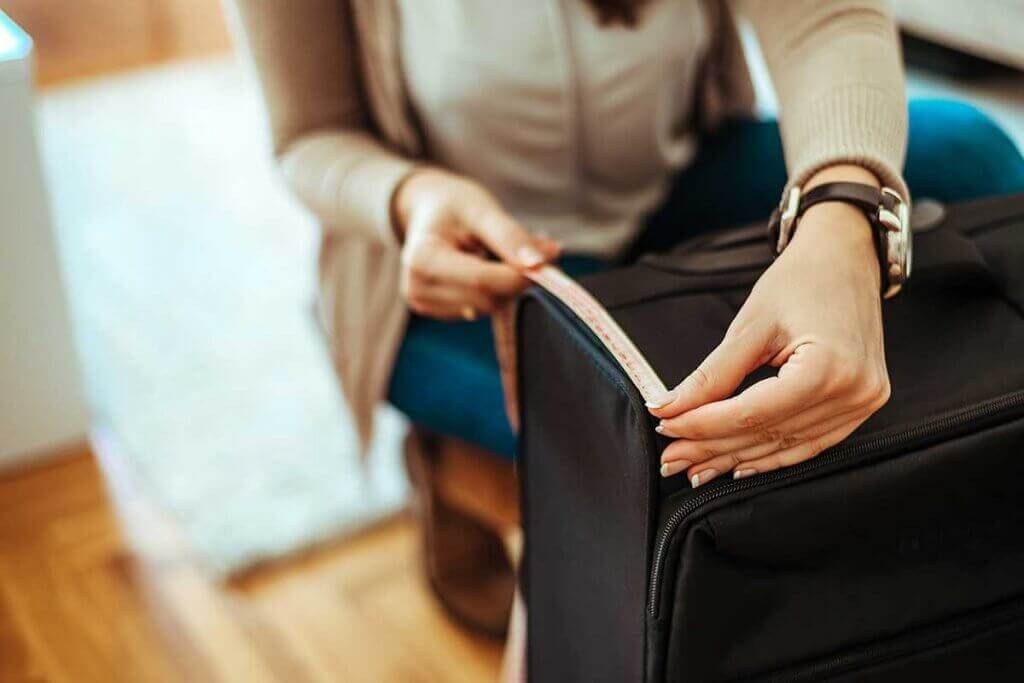 Do I need luggage insurance?

Depending on the means of transport you are planning for your next holiday, you can think about luggage insurance. However, it is often the case that such insurance is not really worthwhile. Often the luggage is insured through your household contents policy – it is best to check this in advance. In addition, the airline you are travelling with or the tour operator is responsible for your luggage during transport. On trains or buses, it is usually not necessary to take out luggage insurance and it is also unnecessarily expensive.