Handheld GPS purchasing advice: how to choose the right product
The most important facts in brief
A GPS device is a device for positioning, orientation and navigation.
It provides support for various outdoor activities such as hiking, cycling or geocaching.
GPS (Global Positioning System) is a global network of navigation satellites.
The more satellite systems a GPS device uses, the more accurate the positioning.

A GPS device is part of the basic equipment for many outdoor activities. The practical little computer helps you stay on the right track during hikes and cycling tours. A modern device determines the location with up to one metre accuracy. Not only that: it also shows the course of the route, the altitude and the time of arrival and calculates alternative routes.
Hikers know the problem of standing in front of a fork in the road and puzzling over which way is the right one. In the outdoor sector, GPS devices are mainly used for wayfinding. On a previously installed route, they reliably show where to go. Even if no route has been set, the very precise positioning helps with orientation. In emergency situations, GPS devices are lifesavers. With the help of the coordinates, rescue workers can unerringly find people in distress.
A GPS device has decisive advantages over navigation with maps or mobile phone apps. First of all, it is simpler and more precise. Neither technical nor geographical knowledge is necessary to operate a GPS device. You simply need to follow a saved route. However, special map material can be expensive. Furthermore, a GPS device is much more robust than a folding map or a mobile phone. It is designed to withstand rain, cold and heat. It can also withstand falls much better than a mobile phone. Nevertheless, it is not indestructible, which is why you should still have a map in your luggage for emergencies. The analogue map is also necessary when the battery of the GPS device is exhausted.
Pro points
Immediately operational
Small and compact
Integrated memory for own routes
Robust and waterproof
Easy to use
Drawbacks
Limited battery life
Special map material sometimes expensive
How does GPS work?

The abbreviation GPS stands for "Global Positioning System". The system was originally developed for military purposes. GPS navigation is based on a network of satellites orbiting the earth. These satellites constantly send signals.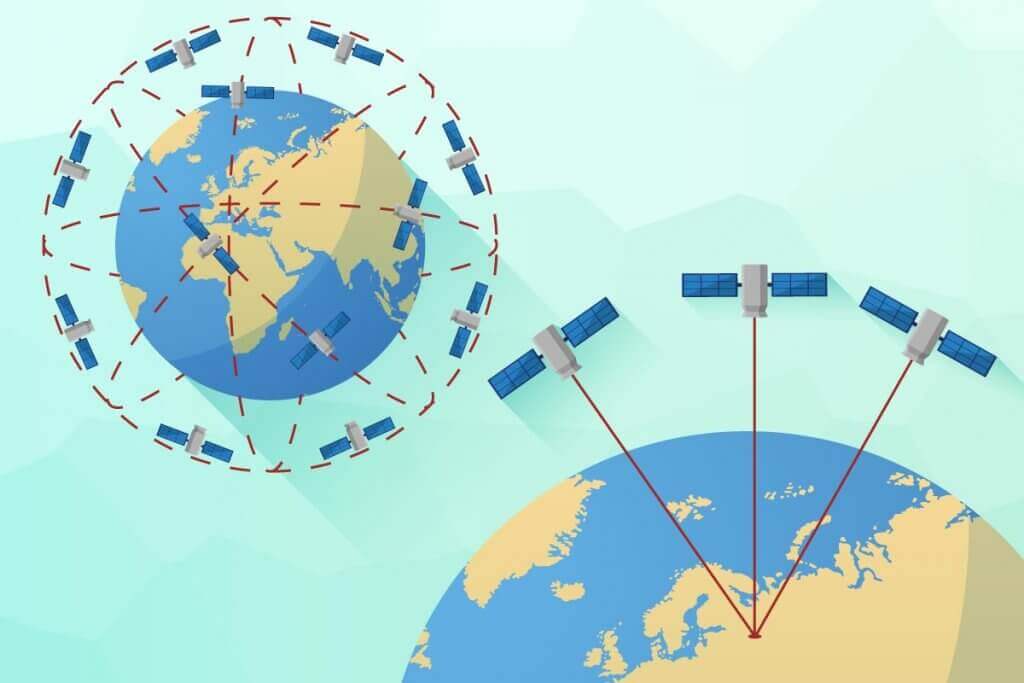 The GPS unit receives the signals from the satellites and compares the output and reception time. The distance of the device from the transmitter is calculated from the time difference and the position of the satellite. Signals from three satellites are necessary to determine the position of the GPS device with the help of so-called trilateration. The determination is particularly precise if a fourth satellite is also added. For an exact determination, the GPS receiver would have to have an extremely accurate clock. Instead, satellite number four takes over the time correction.
Navigation with a GPS device is quite simple. Most people probably already know a similar interface from car navigation systems or online map services. A dot on the map shows your current location. An arrow points the direction and indicates the distance to the destination. The route leading to the destination is shown as a line above the map.
Those who use several networks have better reception

GPS is not the only global navigation system. Both Russia and the EU have their own satellites in space, GLONASS and Galileo respectively. Devices that are compatible with several systems determine their position up to 20 percent faster because they communicate with more satellites.
Smartphone or GPS device: The system question

Before buying a GPS device, some prospective customers are sure to ask themselves whether their smartphone is not sufficient for navigation. After all, we regularly use map services to find our way around another city, for example.
Short tours on easy terrain can actually also be managed well with the smartphone GPS. Appropriate apps and offline maps are available for free or for little money in the app stores. Online maps are only suitable to a limited extent, as an internet connection is not available everywhere.
For beginners, the smartphone is a good way to familiarise yourself with GPS navigation. However, a real GPS device is better suited for longer tours. GPS navigation with a smartphone consumes a lot of power. One reason for this is that the display is permanently on, often at the highest brightness level. In addition, there are usually other applications running on the mobile phone at the same time. Then the charge level of the smartphone battery sometimes drops rapidly. When it comes to weather resistance, most mobile phones do not come close to a GPS device. That's why it has to be constantly packed and unpacked in bad weather. A GPS device is usually waterproof and can be attached to luggage or clothing with a carabiner. So compared to the robust GPS device, which specialises in GPS navigation, the smartphone is at a disadvantage.
The smartphone also offers a multitude of distractions. If you want to switch off and enjoy the hike, you should rather use a GPS device for this reason alone.
Areas of application for GPS devices

In the leisure sector, GPS devices are mainly used for hiking or trekking, cycling and geocaching. Depending on the area of application, a GPS device has to meet different requirements. A device for cycling tours must be attachable to the handlebars. Hikers, on the other hand, tend to carry the GPS device on their backpacks. There are special versions, as well as devices that can be used universally.
Bicycle

A GPS device is particularly useful on long and poorly signposted routes. A prerequisite for use is a stable mount on the handlebar. A bicycle GPS device should also be waterproof and dustproof and have a certain resistance to falling. Devices specially designed for cycling usually have other features in addition to position determination.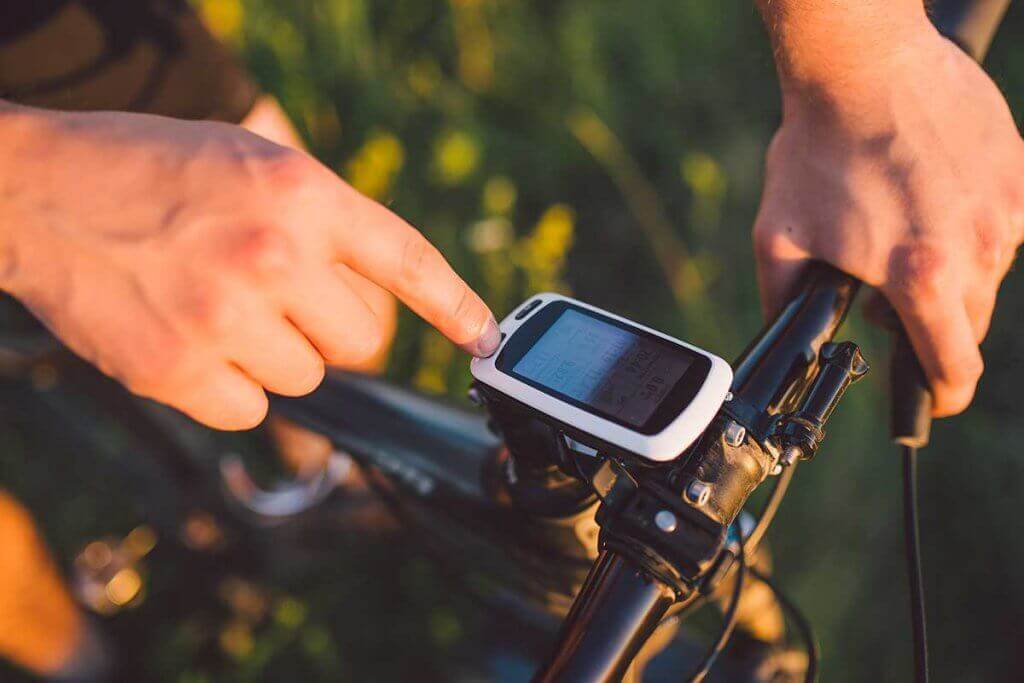 A large display makes it easier to read the display while driving. The display must be easily recognisable both in poor visibility and in direct sunlight. Important data are the driving speed and the arrival time. Especially on longer tours, it is useful to be able to estimate when the destination will be reached. This data is also important for sporty cyclists who ride for time. Many cycling GPS devices also have a traffic message display, a route recalculation function and a calorie counter.
Trekking and hiking

For trekking and hiking, you need a durable GPS unit that tracks your position accurately. These models are usually small handheld devices.
A useful feature on a trek is the ability to mark interesting and important places, such as a rest area or campsite. Equally important is the display of the altitude profile. This way, hikers know which ascents and descents still lie ahead of them. Many users also attach importance to the device making attractive route suggestions.
Trekking refers to a hike of several days on rough terrain. A navigation device that can handle other systems such as GLONASS or Galileo in addition to GPS is recommended. A GPS device suitable for trekking has a waterproof and particularly bright display and a long battery life. On a long hike, every gram of weight in your backpack counts. Therefore, a GPS device used for trekking must not be too heavy.
Geocaching

Geocaching is a GPS scavenger hunt or treasure hunt. The geographic data of the hiding place is published on the internet, which is then tracked down with the help of a GPS device.
For geocaching, a GPS device with the basic functions is usually sufficient. In addition to its own position, it must show the distance and direction to the target. It is also important to be able to enter GPS coordinates manually and thus set the hiding place as the destination. The device does not have to be particularly weatherproof, as geocaching in heavy rain is not much fun. A long battery life is not mandatory, but useful.
Geocaching is usually played with clues. Some GPS devices support paperless geocaching, so there is no need to print out the information. All clues can be downloaded and saved on the device.
What to look for when buying a GPS device

Depending on the area of application, it is sufficient if the GPS device reliably determines the position and navigates. On longer tours – whether on foot or by bike – other features are required.
Navigation functions

The main function of a GPS device is to determine your position, so it must be particularly accurate. Especially in forests and valleys, reception can be disturbed. The more signals a GPS device receives, the more accurate the determination of the location. That is why models that use several satellite systems are particularly precise. In addition to GPS, there is the Russian GLONASS, the EU system Galileo and the Chinese Beidou. Good GPS devices determine the position to within one metre.
There are two variants for routing: Routes and Tracks. Routes are predefined routings created from a group of waypoints. They can be created by the user or loaded onto the GPS device. Routes are suitable for reaching a specific destination or set of destinations without having a path in mind. If a walker deviates from a route, it is recalculated based on the changed position.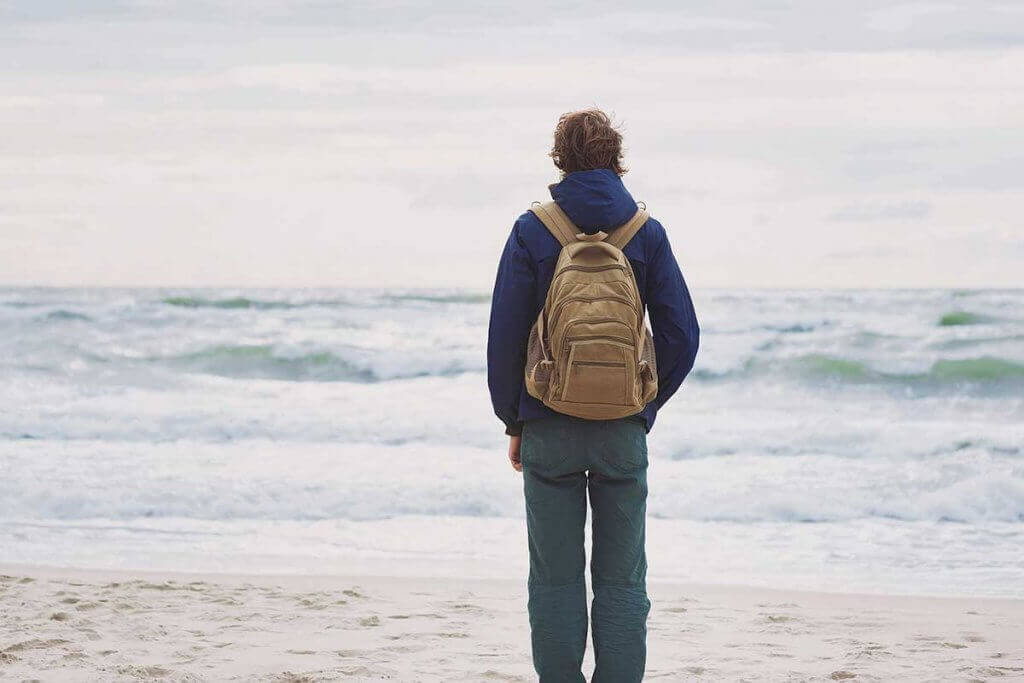 Tracks contain track points that behave like a track. The track shows which path you yourself or another person has taken. It is recorded during the hike and then saved. You can then retrace this exact path again and again. It is possible to transfer tracks to your PC. You can share your track online or download the track of another user. The .gpx file format is used for this. Tracks are used to follow a very specific route. This route can be particularly beautiful or exciting, for example. If you deviate from the track, no new route is calculated. Instead, the GPS device guides you back to the track.
Display – everything at a glance

Users of GPS devices navigate with the help of the data shown on the display. Therefore, it should be easy to read at all times. The screen contributes a large part to the weight of the device. This aspect is important to many outdoor enthusiasts. Those who do not have a good sense of direction should choose a device that displays the map in as much detail as possible.
Screen size – large or light display?

As with other screens, the display diagonal of GPS devices is given in inches. The displays of commercially available devices are between 2.2 and 4.0 inches. That is 5.6 or 10.16 centimetres. The larger the display, the greater the weight. With a screen diagonal of four inches, you are dealing with a rather heavy and unwieldy device. Hikers often go for GPS devices with a display size of about three inches. Cyclists, on the other hand, should opt for a large display so that they can see the route even when travelling fast. In this case, it is all the more important that the device is securely fastened to the handlebars.
Readability – reduce reflections

Many screens are difficult to read in direct sunlight. Good GPS devices therefore have transflective displays. These are semi-transparent for incident light. This allows ambient light to shine through the screen without creating reflections. When it reflects off the back of the display, it shines back together with the backlight. The sunlight thus supplements the GPS unit's own illumination. As a result, everything is clearly legible even in high ambient brightness.
Display – detailed or minimalist?

Not every outdoor GPS device displays the route in the way we know it from car navigation systems, for example. Many inexpensive devices show the viewer a much more minimalist display. In some cases, the route is not displayed at all. In this case, the user only sees an arrow pointing the direction and information such as coordinates, altitude and distance to the destination. This type of display only shows whether the destination is being approached or not. Other devices show a simple path so that users can roughly estimate which direction they need to go. However, details of the surroundings such as junctions are missing. Navigation with such devices requires some practice. However, they are well suited for geocaching because the search is not too easy.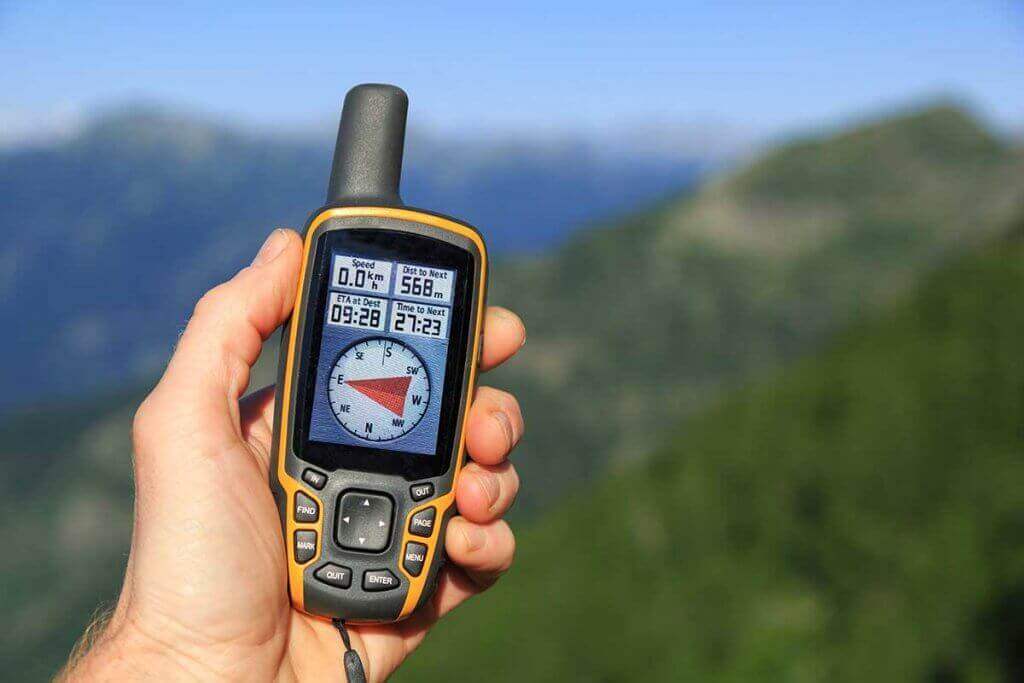 Most cyclists and hikers want to have as clear a route as possible in front of them and also see the immediate surroundings mapped. Higher-priced devices offer the user a complete map with road network, towns and waypoints. This display is largely similar to that on car satnavs. With the help of such maps, it is easy to find your way around.
Input – it has to be weatherproof

If you choose a device with a touchscreen, you must bear in mind that there are two types of function. A resistive touchscreen reacts to pressure, a capacitive touchscreen to touch. Depending on the area of use, one of these variants is more recommended than the other. If you are travelling in very bad weather with rain and snow, you should have a device with a resistive screen. Such a touchscreen can be operated with gloves as well as when wet. The capacitive display can be operated much more precisely, but is disturbed by moisture. If you don't plan to be out and about in bad weather anyway, this touchscreen is a good choice.
A touchscreen has the disadvantage that it is not very robust. For this reason, GPS devices continue to rely on buttons and keys. These devices have screens with a thick pane that would be unusable as a touchscreen. Operation via buttons is a little more cumbersome than via a touchscreen, but completely unproblematic. In bad weather and when operating with gloved fingers, the advantages of these devices become apparent.
Map material – where does it go?

A GPS device usually contains a basic map of the whole world. You will probably need to supplement this with smaller, more detailed regional maps. Manufacturer maps can be quite expensive. Therefore, make sure that the device of your choice is compatible with the free Open Street Maps (OSM). OSM is a project by volunteers who want to create a freely available map of the world. The maps available for GPS devices are divided into raster and vector maps.
The raster map resembles the classic paper map in its view. It is made up of individual pixels. In this aspect it is very similar to a digital image. At a certain magnification, the individual pixels of raster maps become visible and the image is thus blurred.
A vector map consists of stored points and lines. Such a map is freely scalable because the vectors are recalculated when zooming in. Thus, unlike the raster map, the image never becomes blurred. The view is similar to that of car navigation devices. On vector maps, interesting places such as hotels, rest areas and places of interest are often already marked. It is also possible to show and hide different map layers.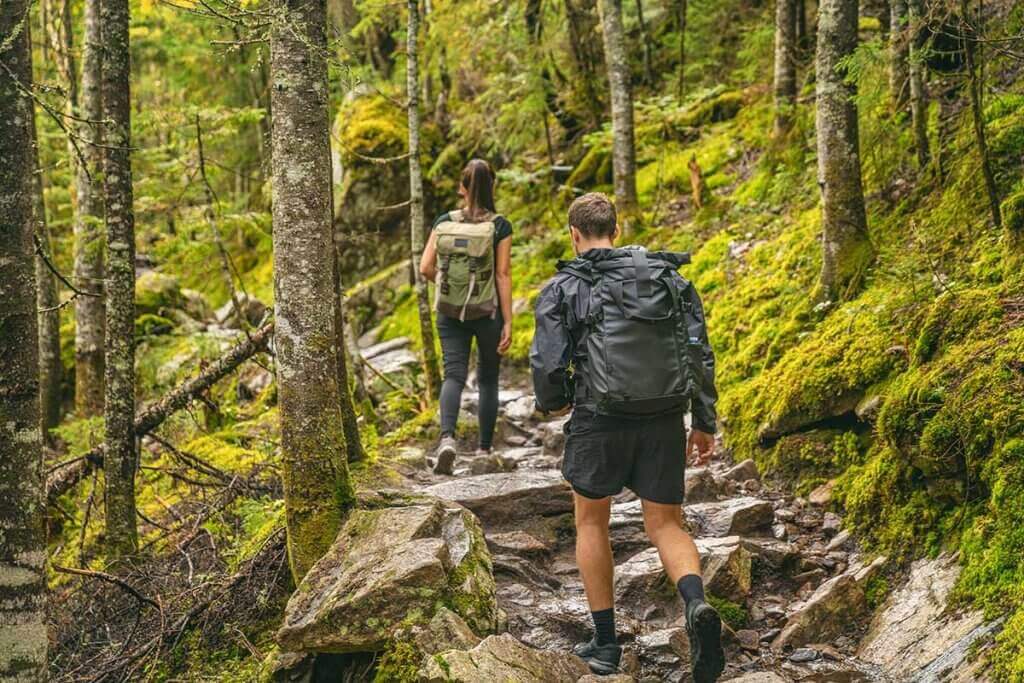 A map showing the nature of the earth's surface is called a topographic map. Such a map shows, among other things, contour lines, prominent elevations, the course of bodies of water, roads, railway lines and the boundaries of towns. In this way, users can adjust to the environment that lies ahead of them.
Memory capacity

The internal memory of a GPS device must be large enough to store different maps and routes. Even a device that is used more for smaller tours and hikes should have a storage capacity of at least eight gigabytes. This ensures that enough waypoints and routes can be stored.
If you use your GPS device extensively, you will want to store a large number of maps on it. Many models are therefore now equipped with a micro SD slot. With a memory card, the storage space can then be expanded as desired. For outdoor professionals, this expansion option is a must.
A modern GPS device should also have a USB interface. Bluetooth is also a useful extra. With the help of these features, the GPS device is connected to the smartphone or PC. For example, users can transfer a route planned on the computer to their device.
Service life

GPS devices are either battery or rechargeable battery operated. Good models achieve a running time of up to 25 hours. A battery-powered device has the advantage that the power source can be easily replaced. With a battery-operated model, you will have to rely on a power socket at some point. If you are trekking for a long time away from any infrastructure, for example, you should opt for a battery-powered GPS device. For geocaching or a day hike, you don't need a model with a runtime of 25 hours. Nevertheless, a GPS device should last at least eight hours.
Tips for use

Before and after each hike, you should check that your GPS device is still fully functional. This way you will not experience any unpleasant surprises on your hike. A modern GPS device allows its users to design their own routes. You can then hike a particularly beautiful or exciting route again and again or share it with your friends. It is best to have the GPS device to hand. There are various bags and fastening options.
Regular check-up

Before each use, you should check the GPS device for functionality. After all, your entire hike probably depends on it. First of all, the battery must be fully charged. With a rechargeable device, attention is especially important. If you notice that the battery is losing capacity, you should replace it. If your device is battery-powered, you should always pack spare batteries. While still at home, check that the device finds a signal quickly and reliably. If everything is in order, the journey can begin.
After each tour, you should also check the unit before stowing it away. Check whether it has become wet or dirty. If so, it is sufficient to dry or wipe the device. Although a GPS device is very robust, it should not be permanently exposed to moisture. Also keep an eye out for minor damage to the housing or display.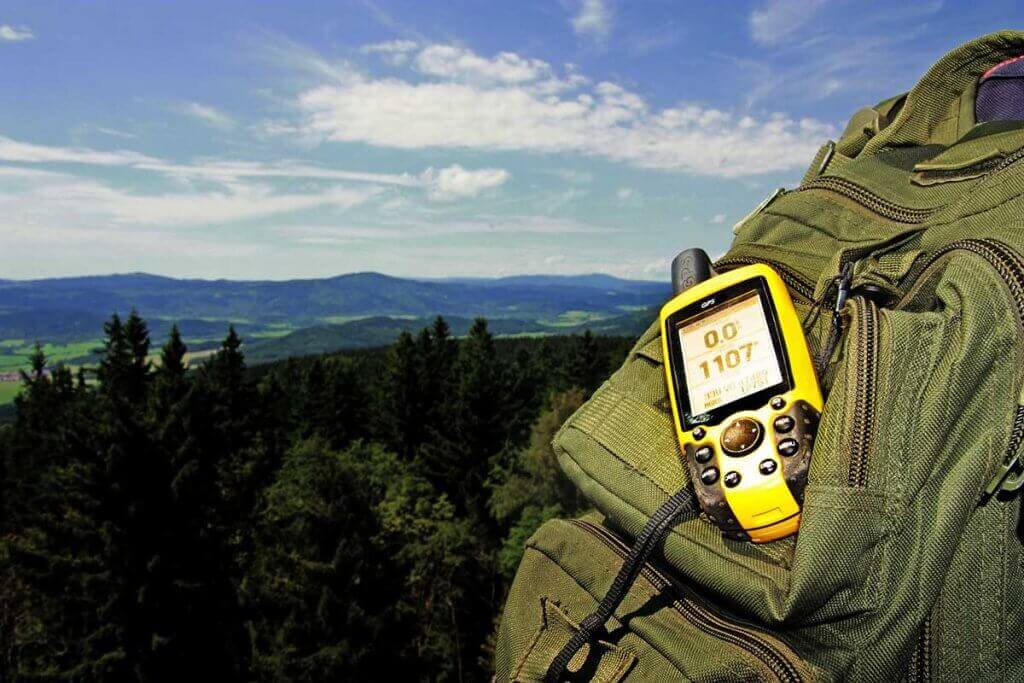 If you have a defective antenna or a broken display, you should contact an expert to repair the device. Established manufacturers such as Garmin offer a repair and replacement service. For this, the damaged device must be sent back to the manufacturer.
Mapping on the PC

Modern GPS devices usually offer users the option of preparing their routes on a PC. There are both freeware and fee-based programmes for this purpose, but they are not too expensive. The route planner Locus Map Pro, for example, costs around ten euros. The manufacturer Garmin offers BaseCamp, a free programme for its devices. With these planners, users create routes or tracks and mark waypoints. This allows them to precisely calculate the difficulty and length of the hike. The saved routes and tracks are exported to the GPS device or shared online with other outdoor enthusiasts.
Accessories for GPS devices

There is a wide range of accessories for GPS devices. Pockets and mounts are often already included in the scope of delivery. Depending on the area of application, additional accessories may be useful.
If a bag or protective cover is not included in the delivery, you should purchase them later. Make sure that the bag is suitable for the area of use. For hiking, a simple bag or protective cover is sufficient; it does not have to be particularly weatherproof. It is only used for storage. When cycling or trekking, the device is exposed to greater environmental influences. Then the bag must be robust and waterproof. It should also attach to the trousers or backpack and be easy to open.
Screen protectors are not absolutely necessary, as the built-in screens are very robust anyway. In particular, devices that are operated with buttons can do without protection. For sensitive, capacitive touchscreens, a protective film is certainly useful. Remember that the film can impair the readability of the screen.
Stowing the GPS device in your jacket pocket or backpack is usually not the best solution. There it is not within reach and the reception can also be disturbed. Many devices therefore have a carabiner clip that allows you to attach it to your backpack or trousers. Not every backpack has the necessary loops, however, and many users find the device swinging back and forth annoying. A good alternative are backpack holders with Velcro fasteners that are attached to the front of the carrying strap.
A bike mount must not only sit firmly on the handlebars, but also provide support for the GPS device. It must be able to withstand shocks and vibrations. Under no circumstances should the navigation device come loose from the mount while you are riding at full speed. If you are not only riding on cycle paths, but also off-road, you have special demands on the bike mount. A design with parts made of plastic often cannot withstand the stresses and strains, which is why light metal is used. The readability of the display suffers greatly in the event of major vibrations. An off-road mount therefore tries to compensate for this with springs and dampers.