4K projector purchasing advice: how to choose the right product
What you need to know
4K projectors can bring videos and images onto the screen in UHD quality. They are equally suitable for home cinemas and presentations.
There are three main kinds of technology: LCD, LED, and DLP. Each are suitable for specific purposes.
Properties such as luminous intensity and contrast provide information on the scope of recommended use.
Every projector needs a screen as a projection surface. Both components should be placed at a certain distance and properly lined up.
Using a 4K video projector
To project images and videos on the wall, you need a video projector. If you want to watch films in high quality in a private setting or set up a home cinema, 4K are your best bet. The resolution provides a detailed image even on large screens. However, if you use a video projector mainly for presentations, for example in your job or at university, a lower image quality is sufficient.
What does 4K actually mean?

In 4K, films and images are reproduced with a resolution of 4,096 x 2,160 pixels. It corresponds to the 16:9 format, the common format for cinema films. In the UHD (Ultra High Definition) resolution for TV sets, the number of pixels is lower calculated on the whole picture. However, the quality is just as high.
Originally, projectors produced light images that were available in the form of slides, for example. The scene, captured on film or celluloid, was enlarged by mirrors inside the projector and projected onto the wall through an illuminated lens. Although the principle remains the same in modern, digital projectors, they do not rely on external image carriers but make use of data transmission.
Components of a video projector
With the help of various interfaces, you can connect devices to the projector, for example a PC, a TV, or a DVD or Blu-Ray player. In this way, video files and movies but also the TV shows can be played back and projected onto a screen in a large format. When buying, make sure you know which connections you need for this. But other components can also play a role in the decision for a particular device.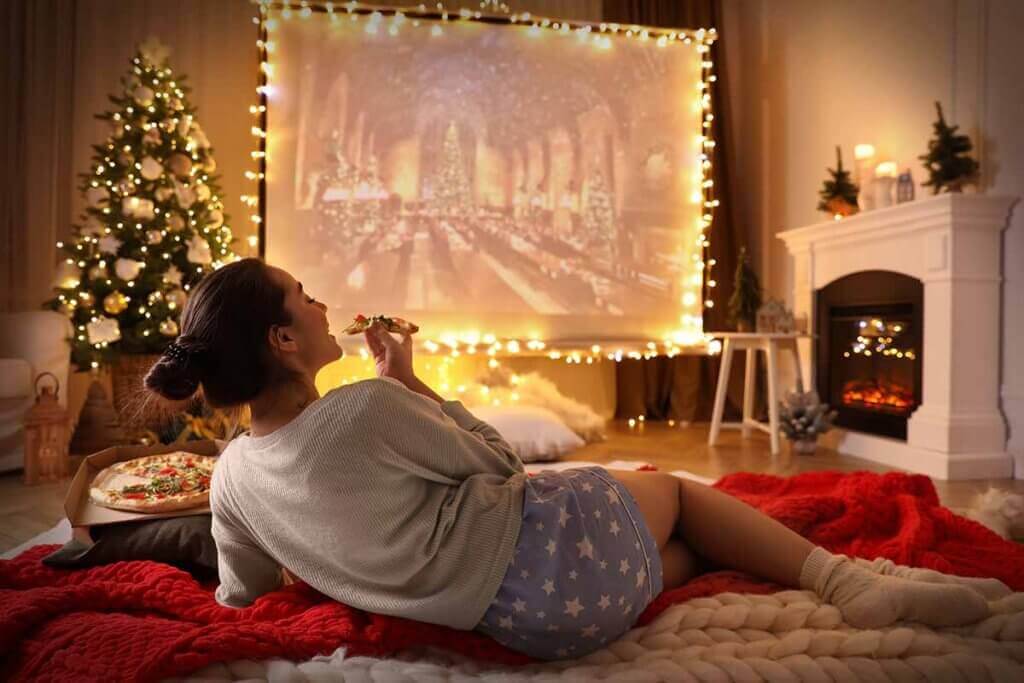 Light source
The light in the video projector comes from a halogen lamp that comes close to the brightness of daylight. Curved mirrors focus it and direct it to the optical lens. Bear in mind that the life of the lamp is limited, ranging from 3,000 to 15,000 hours. Operating in eco mode extends its life, maximum brightness reduces it. A replacement lamp is not cheap and can cost you up to $180, depending on the model.
Cooling
The lamp heats up quickly. That is why video projectors need a fan inside to keep them cool. For users it is important that the fans are not too loud and interfere with watching a film. With poorly manufactured devices, this can happen after a while. So if the projector is placed close to the viewer, you should choose a high-quality model.
Housing
As a rule, projectors are made of hard plastic, which is not affected by minor knocks or scratches. Non-slip feet made of rubber are often attached to the underside so that the devices don't slip and slide around. Sometimes they are also height-adjustable to compensate for an uneven surface or to slightly change the direction of the projection.
Speakers
All 4K projectors have a speaker that is sufficient for the sound of movies or video games. For home cinema quality sound, you should also invest in a surround system. This can be connected to the projector with a cable, but with some models it can also be connected wirelessly.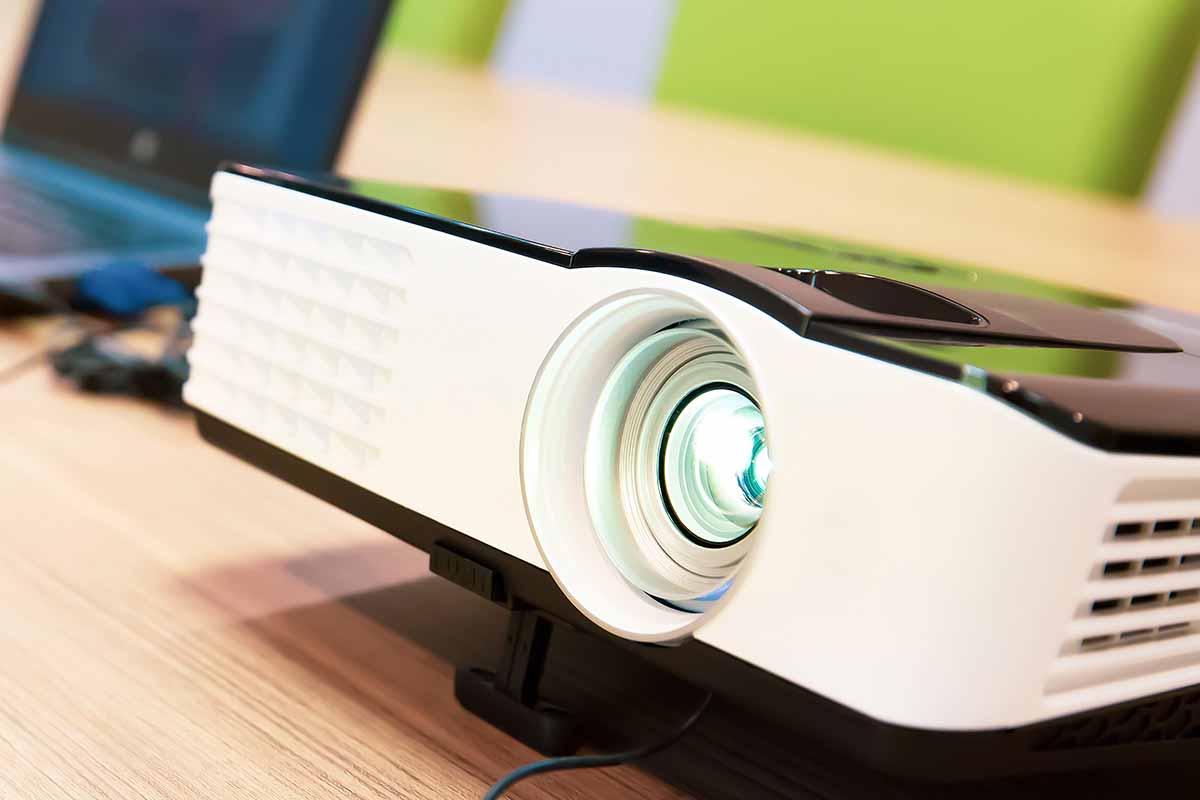 Video projectors for different needs
4K projectors are available in portable and fixed installation versions. Home cinema projectors are the all-rounders among the devices and are usually intended for a fixed location. They can also be mounted on the ceiling or wall. Some video projectors have a 3D function. This is particularly attractive in the gaming sector, as it provides a more immersive gaming experience. However, the image is transmitted with a slight delay, which can be detrimental to the gaming experience for some game types like competitive online games.
Presentation projectors, e.g. for schools or offices, are characterized by low weight and compact dimensions because they are portable. They have special lamps that can produce a higher luminous intensity. This allows them to display images and videos clearly even in bright light conditions.
The projection technology of video projectors
Anyone considering buying a projector will sooner or later come across the terms DLP, LCD, or LED. These abbreviations describe the projection technology with which the projector projects the image. Depending on the intended use of the device, they have their own advantages and disadvantages.
DLP – Digital Light Processing
This technology uses color wheels and many small mirrors to display the colors. The refraction of light causes the rainbow effect: flashes of colored shadows can appear at the edges of the picture. Modern devices often manage to avoid this effect. It still occurs with older or low-quality models. DLP projectors can display 3D effects very well and have a high contrast value. On the other hand, some red or green tones do not appear too rich. The technology is more durable than that of LCD projectors, but due to the rotation of the color wheel, the devices are usually noisier.
LCD – Liquid Crystal Display
On its way to the screen, the light from the light source passes through a layer of liquid crystal pixels like those used in televisions and other screens. These pixels create the image. LCD projectors are cheaper than other models and are often used as portable versions. This is because the technology can display edges and text extremely sharply, which makes it particularly suitable for presentations and image displays. On the other hand, these projectors have a hard time with the display of fine gray scales. In addition, lower quality models may have a coarse pixel display.
LED – Light Emitting Diode
In this case, the light source consists of many small LEDs. The advantage here is the low heat generation and good energy efficiency. Since video projectors don't need a fan, they operate more quietly than other models. LEDs are very durable, but the purchase price is correspondingly high. The light intensity is lower compared to other technologies, which is why LED video projectors are less suitable in bright lighting conditions. In addition, the maximum projection area—with the same quality—is larger with LCD and DLP projectors.
Differences between models
Depending on the lighting technology, projectors are capable of different levels of performance. Depending on the use and location, other values are important. Therefore, always pay attention to the manufacturer's specifications.
Light intensity
The luminous intensity of many projectors is between 1,000 and 1,500 lumens, which is sufficient for use in darkened rooms. Other models reach up to 3,000 lumens; however, such values are only useful if you use the projector in daylight conditions.
Contrast
Contrast refers to the maximum difference that can be displayed in the various brightness levels. The higher the value, the sharper and richer the image. For films, a ratio of at least 10,000:1 is recommended.
Connection options
Before buying, check whether the set has the connections you need. HDMI and USB connections as well as a socket for cinch cables are usually available. A wireless connection via Bluetooth is sometimes also possible. If you want to connect several devices simultaneously, you should make sure that the projector offers a correspondingly large number of connection options.
Noise level
The noise level of the fan is usually in the range of 20 to 25 dB. This is as quiet as a whisper, so objectively speaking it is not particularly loud. However, as a constant noise during a movie night, it can be annoying, which is why you should make sure to choose a projector that is as quiet as possible.
Accessories for 4K projectors
For a cosy movie night in the home cinema or a high-quality presentation with the 4K projector, you need additional accessories. Some are absolutely necessary, others are optional. Therefore, when buying, consider which accessories you need to purchase later or which are included in the scope of delivery.
Projection screen
A screen is indispensable for enjoying a film. It is true that the video projector also casts an image on normal white walls. However, a special projection screen has much better reflective properties and thus ensures a higher picture quality. This should correspond to the format of the video projector's image reproduction. Cinema films are usually shot in 16:9. To determine the optimal screen size, there is a rule of thumb. It should be about half as wide as the distance between the viewer and the screen.
Mount
If necessary, a projector can also be mounted on the ceiling or wall. To do this, you will need a mount, which can also be connected to the wall. It is also possible for the projector to stand on a small platform that is screwed to the ceiling. For a better hold on the surface, the unit is usually equipped with screw threads on the underside.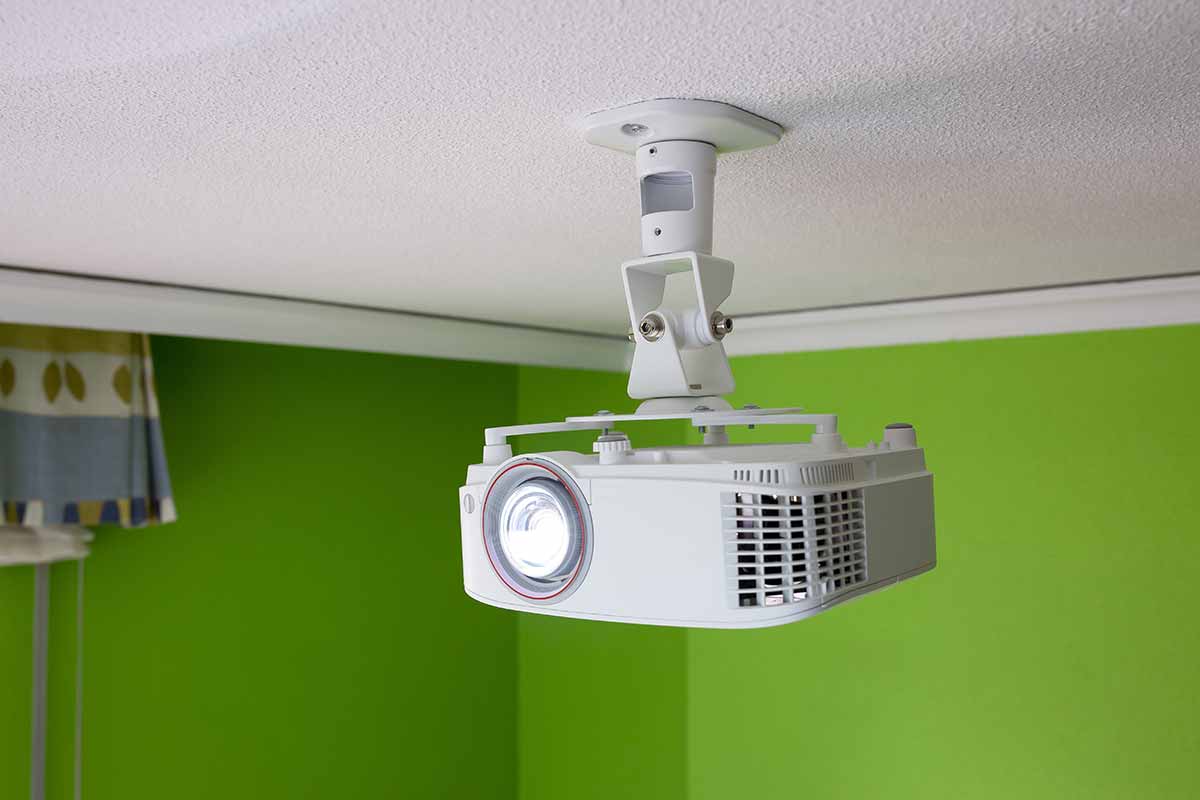 Problems with the image
Putting an optimal image quality on the screen is not that easy. A number of steps need to be taken into account: from the choice of location to the best lighting conditions to the right projection surface.
If the image has too little intensity, i.e. weak contrasts or colors, then there may be something wrong with the screen. A suitable projection screen is white smooth and coated with vinyl fibers. The wrong color or a rough surface texture will greatly affect the quality of the image. Keep your screen clean and make sure it does not wrinkle.
If the image appears slightly trapezoidal, it is because the projector is positioned incorrectly. It should always be centred in relation to the screen. Slight shifts of this kind can be corrected by a projector on its own; in this case we speak of keystone effect. Depending on the quality of the projector, this is done by lens shift or with the help of integrated software.
A flickering light usually means that the life of the built-in lamp is slowly coming to an end. In this case, try to get a new one as soon as possible. If the problem occurs shortly after the first start-up, loose contacts on the circuit board or loose plugs may be the problem.