TV purchasing advice: how to choose the right product
What You Need to Know
The trend is clearly towards larger screen diagonals: TVs smaller than 40 inches are hardly to be found on the market any more.
Larger TVs are now also available at a reasonable price, but you should make sure that the distance between you and the TV is still large enough.
New TVs should have at least Full HD, and from 55 inches upwards UHD resolution is recommended.
OLED TVs offer the highest picture quality, rich colours, black levels and contrasts, but are comparatively expensive.
Curved TVs are considered hardly future-proof, but can still offer attractive advantages for gamers and cineastes who watch alone.

Television – the favourite pastime
The success story of television in Germany began almost a hundred years ago. While television sets were initially unaffordable for the average citizen, the number of households with televisions has since risen rapidly. In 1975, 93 percent of German households already had their own television. Today, it is impossible to imagine our everyday life without television: whether it is to enjoy a cosy evening after work or to organise film evenings with friends at the weekend.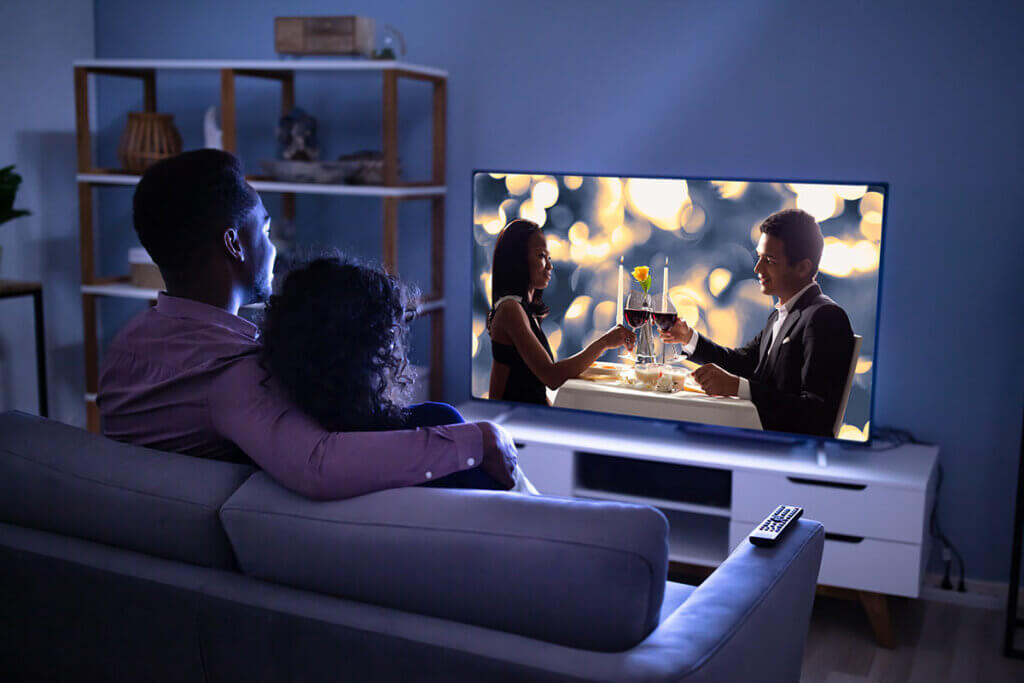 The new media do nothing to change this. Even when we are reading the news on our smartphones or e-mails on our computers, the TV is still on and this is not likely to change anytime soon.
The fact that television is now an integral part of everyday life in Germany is also shown by the statistics: in the ranking of favourite leisure activities, it has consistently been in first place since 1986. According to the study Freizeit-Monitor 2018, 95 percent of those surveyed watch television at least once a week and two out of three say they watch television every day. According to statistics from the portal Statista from March 2020, Germans aged 14 to 69 even sit in front of the TV for four whole hours a day. With such a much-used item, good quality and up-to-date equipment are particularly important. While the flat-screen TV has long since completely replaced the old tube, factors such as size, resolution, display technology, connections and feature options play an important role today.
How to find the right size
Many consumers find it difficult to choose the right screen size, because here it is quite clear that bigger does not equal better. In fact, the ideal size depends on the sitting distance from the device as well as the resolution of the screen. Many of us probably still remember the admonishing words from our childhood: "Don't sit so close to the TV, you'll ruin your eyes!". Although this fear has been disproved in the meantime, it is still advisable to pay attention to a suitable relationship between seat distance and screen size, as this can have a considerable influence on the viewing experience.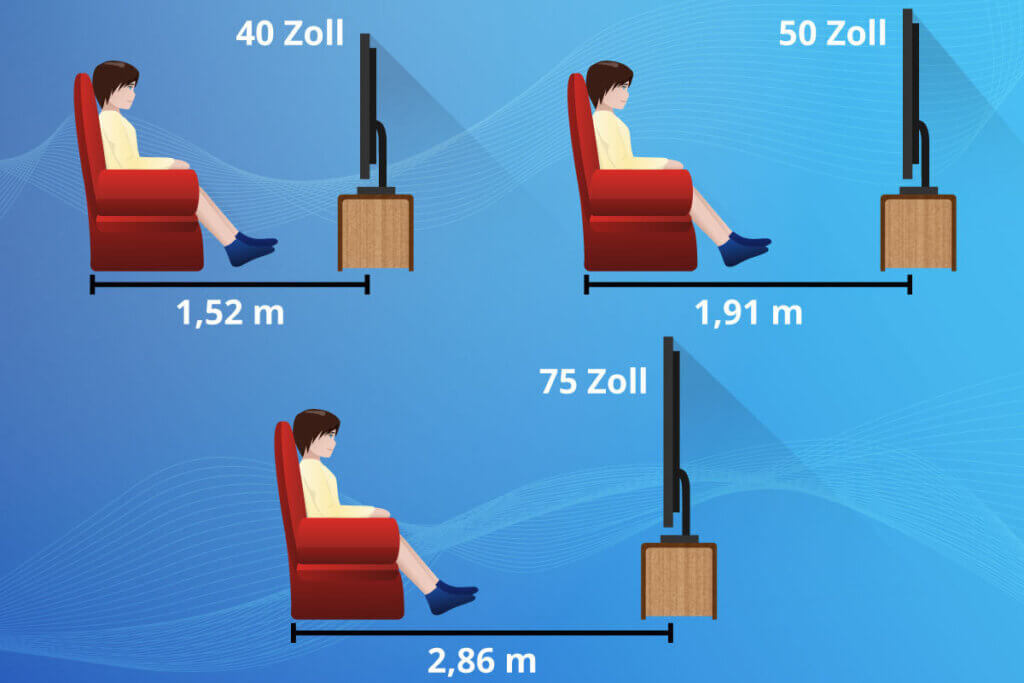 A rule of thumb for determining the right TV size is: the distance between the TV and the seating should be approximately three times the screen diagonal. This rough guideline can provide a good orientation – however, the distance also depends on which resolution you ultimately choose. Standard Definition (SD) has a resolution of only 720 x 576 pixels, which means that viewers of large screens will quickly notice individual pixels if they sit too close to the TV. Ultra-HD II, or 8K, offers a resolution of 7,680 x 4,230 pixels – the distance to the TV no longer matters, the pixels will hardly be visible even with a magnifying glass.
The following table provides an overview of the recommended seating distances for different screen sizes and selected resolutions.
| TV size | Screen diagonal | Seating distance for Full HD | Seating distance for Ultra-HD/4K |
| --- | --- | --- | --- |
| 32 inches | 80 centimetres | 2.0 metres | 1.2 metres |
| 40 inches | 100 centimetres | 2.5 metres | 1.5 metres |
| 50 inches | 126 centimetres | 3.2 metres | 1.9 metres |
Recommended seat spacing for different sizes and resolutions.
For those who do not yet know exactly how they want to furnish their living room, there is another rule of thumb: For rooms that are 15 square metres or smaller, televisions with up to 40 inches are recommended. For rooms of 15 to 25 square metres, you should go for larger sets of 50 inches or more. In general, however, the trend is towards ever larger televisions – due to the higher resolution and increasingly affordable prices, this is also possible and affordable without sacrificing picture quality.
Even inexpensive entry-level sets usually have a screen diagonal of between 30 and 40 inches. For mid-range sets up to about 600 euros, consumers can expect a screen diagonal between 40 and 50 inches. The upper limit is represented by televisions with a screen diagonal of 65 inches. They are often available for just over 1,000 euros and are therefore still affordable for many consumers. If you want an even bigger picture, you have to go for a video projector, which makes screen diagonals of 100 inches and more feasible.
Curved TVs: a special case with strengths and weaknesses
TVs with a curved screen, so-called curved TVs, can only show their strengths from a screen diagonal of 50 inches. Due to the curvature, the viewer has a less steep viewing angle on the lateral screen areas than with flat TVs. Perceptible losses in contrast due to the viewing-angle-dependent colour representation of LCD panels are thus compensated.
High-quality televisions with curved screens are currently offered by manufacturers such as Samsung, LG or Sony. To achieve the optimal effect, the viewer should sit as centrally as possible in front of the set, which makes its use in larger families only conditionally recommendable. In addition, curved TVs are about 10 to 20 per cent more expensive than similarly sized flat-screen TVs. Furthermore, they are not well suited for wall mounting – due to the curvature, the edges would stick out when mounted on the wall.
How future-proof are curved TVs?

The role that curved TVs will play in the future is controversial. The initial hype about the curved screens has died down due to the disadvantages compared to flat screens. Nevertheless, curved TVs will retain their raison d'être in the future as home cinema or gamer devices.
TV: wall-mounted or floor-standing?
The wall unit at home or the sideboard are still popular places for the TV. There are even special stands for televisions so that they can be placed anywhere in the room. Nevertheless, wall-mounting is becoming increasingly popular because it saves space and is much safer because the sets cannot fall over. Many TVs are supplied with aids for wall mounting – however, the position can usually no longer be adjusted afterwards. Special wall mounts solve this problem by being rotatable, adjustable and tiltable, so that users can change the position of their TV depending on the incidence of light and their sitting position.
Tip: Maximum load of the wall mount

When buying a wall mount for the TV, consider its maximum load. It should be a little higher than the weight of your TV. You should also make sure that your walls can bear the weight to avoid nasty surprises like cracks.
Technology for best picture quality
In addition to the size and position of the set, the display technology and resolution also play a decisive role in the television experience. These factors are mutually dependent, so you should always weigh up the costs against the effective increase in quality. If you are looking for a TV for your living room, which is just ten square metres, you don't necessarily need the home cinema in 4K for cosy movie nights. However, if your sofa is four metres away from the wall where you want to hang your TV, investing in a large model with high resolution is worth considering.
LED
LED televisions are based on an LCD (liquid crystal display). With this technology, the individual pixels consist of liquid crystals that let through a defined amount of light depending on the current voltage. The LEDs (light-emitting diodes) behind the display panel generate the light. The biggest disadvantage of this technology is that the LCD cells never block the light completely, which means that even the darkest black is slightly lightened. The pictures of an LED TV therefore do not look quite as brilliant as those of models with other display technologies.
LEDs instead of fluorescent tubes

Put simply, LED TVs are LCD TVs with LED lighting. The small light-emitting diodes enable a particularly flat design. In contrast, the term "LCD TV" refers to TV sets with fluorescent tubes. These models are usually cheaper than correspondingly large LED versions, but also less flat.
Manufacturers try to improve the black reproduction of their LED TVs in different ways. With Direct-LED, the most complex and expensive LCD TV concept, the LED lamps are combined into clusters that can be controlled independently of each other. The contrast display thus depends on the number of clusters. Edge-LED offers a cheaper variant. Here, the LED lamps are located at the edge of the screen. By fine-tuning the dimming of the lamps with the switching of the LCD cells, they achieve good results at a smaller price.
QLED
The term QLED refers to LED televisions with so-called quantum dot technology. Here, crystal-like nano-particles are integrated into the display that can change the wavelength of the light, and thus its colour. In this way, manufacturers such as Samsung, who rely on this technology, achieve an optimised colour representation with a larger colour space as well as higher brightness and thus produce brilliant images.
OLED
OLED screens, on the other hand, use organic light-emitting diodes (OLEDs), which light up as individual pixels themselves and therefore do not need an additional light source. In this way, the brightness of the pixels can be controlled independently of each other, so that very high contrasts with brilliant blacks are possible. One advantage over LED models is that the OLED image remains colourful and high-contrast, no matter from which angle viewers look at the TV. In contrast, the picture of LED sets loses contrast and colour if they do not look at it directly from the front. On the other hand, high-quality LED models impress with their brightness, which is lower in OLED models.
While older devices often still suffer from teething troubles such as OLED burn-in, in which consistently bright content is burned into the screen and can be seen constantly like ghost images, manufacturers have meanwhile made significant improvements, so that the quality of today's OLED screens is very good across the board.
Which display technology is right for me?
When it comes to display technology, you have to weigh up the costs and benefits. If you are looking for an inexpensive entry-level model and at the same time do not want to make any compromises in terms of picture brilliance, you can go for an LCD set with a clear conscience. Although these sets have lower contrast and black levels than, for example, OLED models, you can find TVs with large screen diagonals and a wide range of functions even in the lower price ranges. If high contrast and intense colours are important to you, you should look at LED TVs. Although they do not have ideal black levels either, they score with a flat design and also moderate entry-level prices. For those who are willing to spend a lot of money for brilliant pictures and unique TV experiences, we recommend OLED or QLED TVs. Apart from the price, however, the short lifespan of about 20,000 operating hours is a shortcoming of these technologies.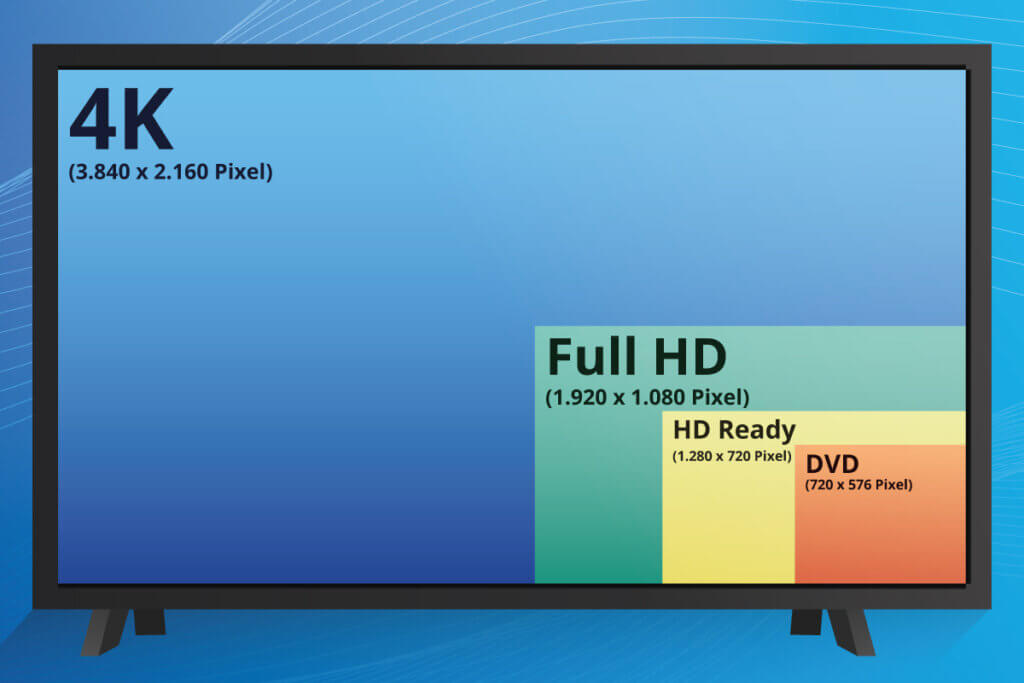 Full-HD
While the display technology is decisive for contrast, brightness, colour representation and black levels, the resolution of the TV determines how sharp and detailed the picture is. The abbreviation HD stands for "high definition" and thus for high resolution. Full HD has a resolution of 1,920 x 1,080 pixels, so viewers can see a sharp TV picture if they are sitting far enough away. However, if you sit too close to a large Full HD screen, individual pixels may be visible. Today, HD is rather the lowest limit, but compared to the resolution of VHS video, classic analogue TV and even DVDs, it means a considerable gain in picture quality. For comparison: a film on a DVD only has a resolution of 720 x 576 pixels, the resolution of a video on an analogue VHS cassette is even only 320 x 240 pixels.
Ultra-HD / 4K
In televisions with Ultra-HD (UHD) or 4K, the screen size and the seat distance no longer play a role in the sharpness of the images, as the number of pixels is so high that they cannot be seen with the naked eye even with large screen diagonals of 82 inches and more. Ultra-HD or 4K is thus once again significantly more detailed than ordinary HD or Full-HD. Although the terms Ultra-HD and 4K are often used synonymously, there is a small difference: UHD refers to a resolution of exactly 3,840 x 2,160, while 4K basically includes all resolutions that are in the range of about 4,000 x 2,000 pixels. Exactly which resolution is meant by 4K depends primarily on the aspect ratio of the picture. For TVs with a 4:3 image, 4K usually means that the set has 4,096 x 3,072 pixels; widescreen TVs with a 16:9 image usually come to a 4K resolution of 4,096 x 2,304.
HDR
The abbreviation HDR stands for "High Dynamic Range" and describes images with a very high contrast range. HDR images bring out the best in pictures with large differences in brightness, so that they are reproduced very vividly and naturally. A test by Stiftung Warentest showed that test persons hardly noticed the quality differences between Full HD and UHD, while HDR was very much perceived as improving quality. The current standard that all HDR-capable televisions use is HDR10. In addition, there are standards that go one step further: Dolby Vision and HDR10+ refer to dynamic techniques that adjust the HDR settings of the TV for each scene and thus lead to a particularly high picture quality. With the standard HDR10, on the other hand, only one setting is used for all sequences, but this is already sufficient to obtain a significantly better picture.
In practice, Samsung, Panasonic and Philips mainly rely on HDR10+, while LG and Sony use Dolby Vision in their TVs. Streaming services and film productions also disagree: while Netflix uses Dolby Vision for its own productions, Amazon primarily uses HDR10+. Apple and Disney are also leaning towards Dolby Vision – even if this HDR process seems to prevail in the long term, the situation remains opaque for the consumer. The fact is, however, that HDR is a sustainable trend due to the noticeably improved picture quality and HDR10 also already provides great TV experiences.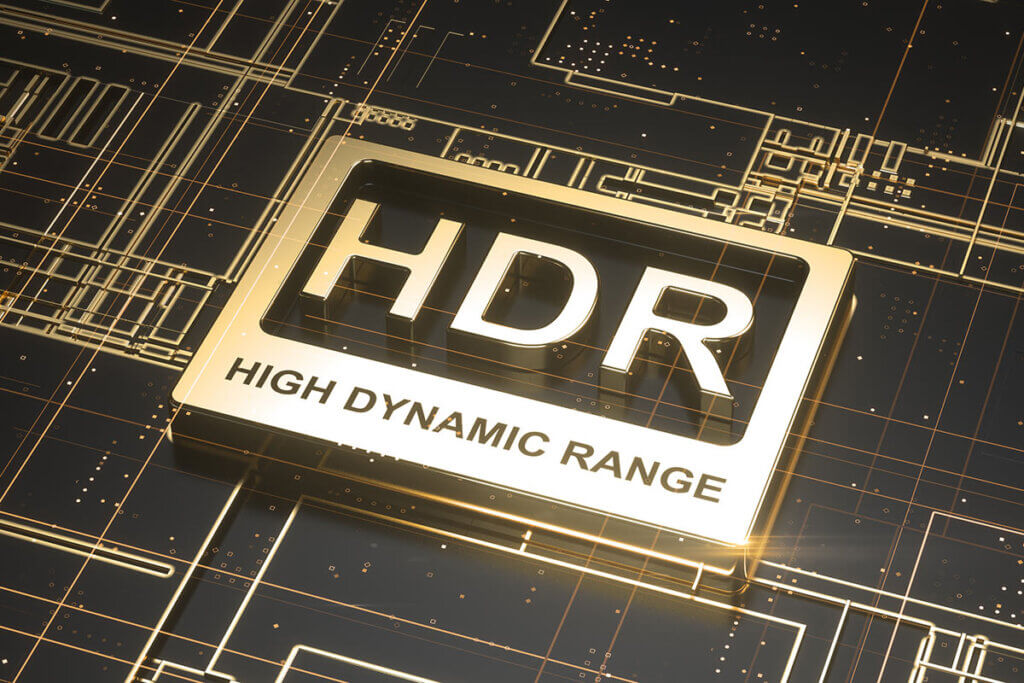 Full HD or UHD – which should I choose?
Full-HD is the absolute standard in terms of picture resolution and is completely sufficient for consumers looking for a reasonable TV at a moderate price. However, in this case, you should pay attention to the screen size and seating distance, as the picture can become blurred if the screen is too close and the diagonal is too wide. If you want to be sure that you are buying a device that will still be able to keep up with the picture quality of current TVs in a few years, you should dig a little deeper into your pockets and consider a UHD device. Especially streaming and gaming fans are well served by a very high resolution, because both video games and streaming services like Netflix are increasingly relying on 4K.
The most important connections and components at a glance
Once you have decided on the basic features of your new TV, there are still a number of things to consider when buying. The following overview offers a little guidance in the confusion of technical terms:
TVs with triple tuners each have a reception path for satellite, cable and antenna.
There should be at least three HDMI connections.
An audio input is necessary to connect sound and surround systems.
CI+ modules from pay-TV providers can be inserted via the CI+ slot to receive their programmes.
Smart TVs have LAN and WLAN options through which they can connect to the internet and other smart devices.
For example, smart TVs can be connected to a smartphone via WLAN and controlled via an app.
In addition, smart TVs have their own operating systems through which they offer different internet services.
Speakers and headphones can be connected to the TV via Bluetooth.
Do I need a triple tuner or a twin tuner?
While triple tuner refers to three different ways of reception, the term twin tuner refers to reception parts that allow you to record a programme and watch a programme on another channel at the same time. Triple tuners are very common and are available in almost every set today. Streaming options, on the other hand, often differ between sets.
Why does the TV need at least three HDMI connections?
HDMI (High Definition Multimedia Interface) is one of the most important connections on a TV because it provides the best transmission quality for picture and sound. Typically, HDMI connections on the TV are needed for Blu-ray players, HDTV television receivers or game consoles such as Xbox or Playstation. Sound systems can either be connected to the TV via the audio input or also via HDMI. Because of the versatile use of HDMI and the high picture and sound quality that the connections deliver, it is recommended to have at least three connections available.
The right sound makes the difference!
Although televisions have integrated speakers that reproduce the sound, a real home cinema setting gains in quality through connected sound systems. There are ways to significantly enhance the television experience for every television and every budget.
With the so-called multi-channel sound system, several loudspeakers are used to perceive sounds, noises and conversations in a more differentiated way. The simplest variant is the 2.1 system, which consists of two sound boxes and a subwoofer for the low frequencies. The two speakers are placed to the left and right of the TV set. If more than two boxes are distributed in the room, it is called surround sound, where five to seven boxes plus a subwoofer are used, depending on the size of the room. Basically, the more speakers, the more differentiated the soundscape and the more vivid and cinema-like the TV experience. However, 7.1 systems are relatively expensive and the room should be of a suitable size.
An alternative to many individual speakers is the soundbar, which is preferred by many users for aesthetic reasons due to its elongated shape. With soundbars, the subwoofer is either integrated into the unit or separate. Soundbars are also well suited for small rooms and are getting better and better in terms of their technical features. In the meantime, high-quality soundbars are in no way inferior to 5.1 systems.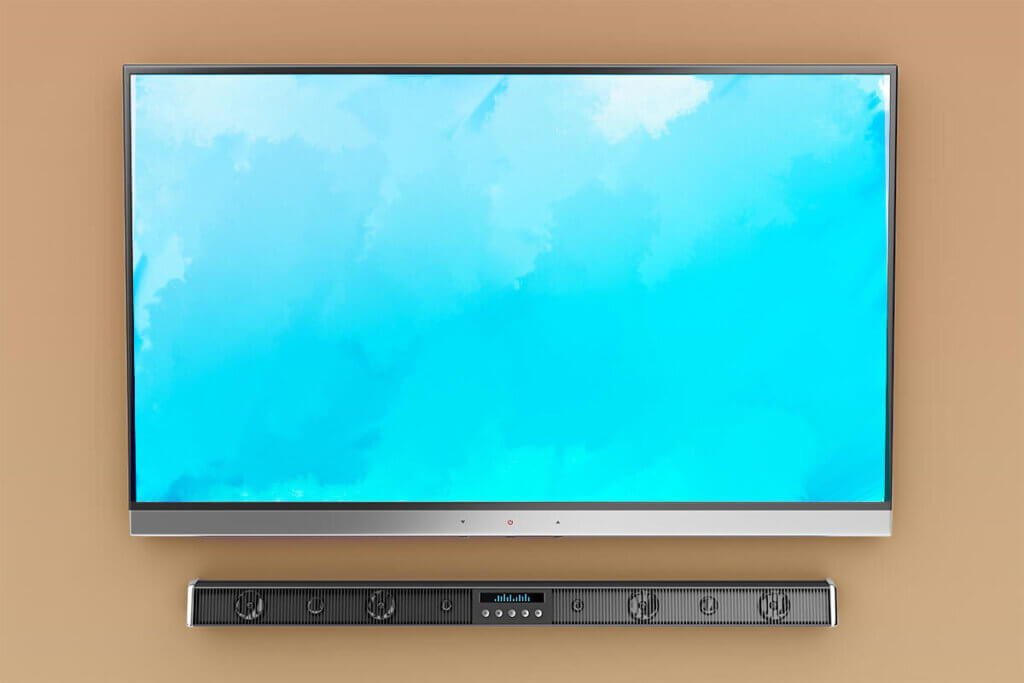 What does CI+ bring to the television?
CI+ (Common Interface) is the current version of a standard system consisting of a slot on the TV set and a decoding module. A CI+ slot is built into most modern televisions – some models even offer two slots. The CI+ module comes from the pay-TV provider and activates the pay-TV offer. With the help of CI+, pay-TV providers want to prevent the unauthorised copying of films and series and gain more control over the device that receives the programmes. This control function is known, for example, from broadcasters where users cannot fast-forward hard disk recordings, for example to skip commercials.
That little extra for more than TV viewing pleasure
In addition to the connections and features that have become standard, there is a whole range of extras that delight not only cineastes and technology enthusiasts. It is precisely in this area that added value can be created particularly well, giving manufacturers an opportunity to differentiate themselves – given the generally high level of display technology (especially with OLED sets) and picture quality, this is now much more difficult than it was just a few years ago. Nor can suppliers rely on brand strength alone. Especially in the area of smart-home functionality, there are interesting further developments.
Ambilight
Philips' patented backlight technology is a good example of such a unique selling proposition. The built-in light-emitting diodes cast a light on the wall behind the TV that surrounds the set and adapts to the current colours of the display. It seems as if the colours emerge from the picture and surround the TV. This backlight visually enlarges the TV's field of vision and has a relaxing effect on the eyes due to the additional light source in the room.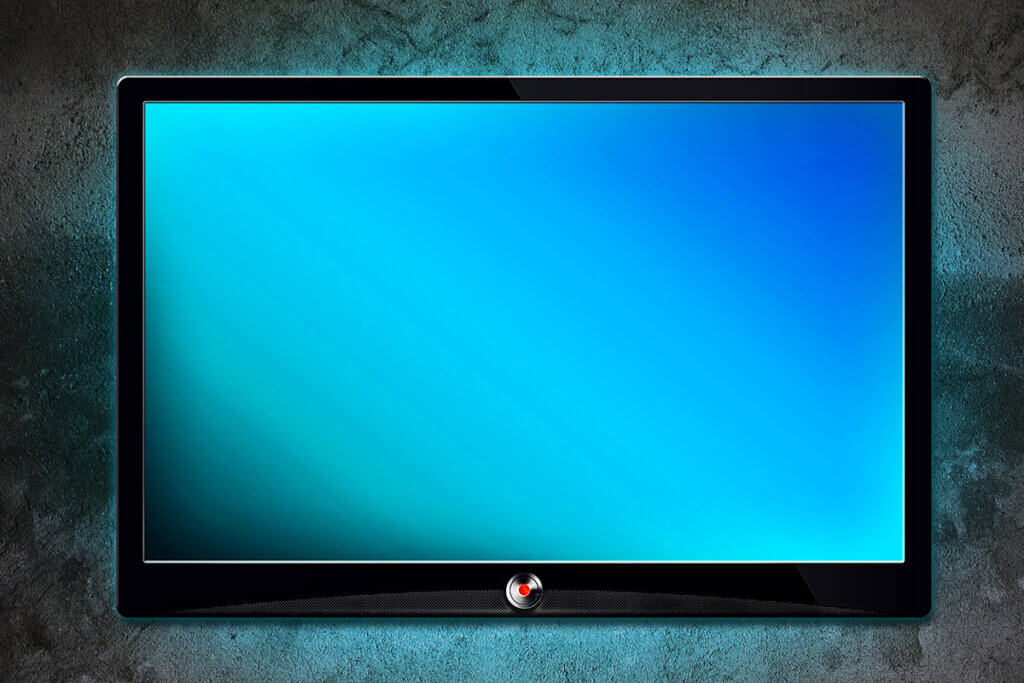 HbbTV
HbbTV (Hybrid Broadcast Broadband TV) is a new standard that is integrated into Smart TVs and can be accessed via the red button on the remote control. This is why HbbTV is also called "Red Button TV". HbbTV shows current information such as news or information that matches the current programme, for example. In this way, HbbTV takes over the tasks of the time-honoured teletext, enriched with picture and video content. By connecting the Internet with the current television programme, many interactive features are conceivable – we can look forward to seeing how the television broadcasters will use this platform in the future.
Timeshift
This function allows you to pause programmes in progress and resume them at a later time. This works, for example, with the help of PVR (Personal Video Recorder), the TV's integrated hard disk drive, or IPTV (Internet Protocol Television), which provides multimedia content via the Internet. This also includes skipping commercial breaks.
Screen-Mirroring
Screen mirroring refers to the wireless mirroring of screens from smartphones, tablets or laptops via the WLAN onto the TV screen, allowing you to show photos or videos in large format, for example. This works best if you use devices from the same manufacturer, otherwise you need special software (for example Miracast) or a connection stick for synchronisation. The technical advancement of screen mirroring is casting. Here, the screen content is not mirrored from another device, but the content is played directly on the TV. At Apple this function is called AirPlay, at Google Google Cast.
Navigation with voice control
Navigating through the extensive menus of a Smart TV is relatively complicated with the TV's normal remote control. Operation by voice control is simpler and more convenient. It works similarly to voice assistants on a smartphone. You can even start apps or adjust programme settings by voice control.
Face recognition
If a TV has an integrated camera, users can use it for facial recognition to load their saved settings such as favourite channels or programmes. Programme recommendations based on preferences are also easy with facial recognition. In addition, users can use facial recognition to access their social media accounts without the need for additional authentication.
Parental control
To protect children from watching programmes that are not suitable for their age, channels or even the entire TV programme can be blocked. In addition, parents can prevent their children from changing settings on the television. The parental lock can be cancelled with a combination of numbers on the remote control.
DLNA
DLNA stands for "Digital Living Network Alliance" and refers to an association of manufacturers whose goal is to guarantee, through product certification, that the devices of the various manufacturers can communicate with each other without interference via network protocols. These DLNA certificates ensure, for example, that you can display photos from a digital camera on a TV set or print via the computer network. DLNA certificates also ensure that you can play music from a computer via WLAN speakers without any problems.