E-reader purchasing advice: how to choose the right product
What you need to know
E-book readers make it possible to create a space-saving collection of books.
Readers are equipped with long-lasting batteries and generous storage space to ensure long-term reading pleasure.
The E-ink technology of the display simulates printed paper.
The three biggest reader brands are Kindle, Tolino, and Pocketbook.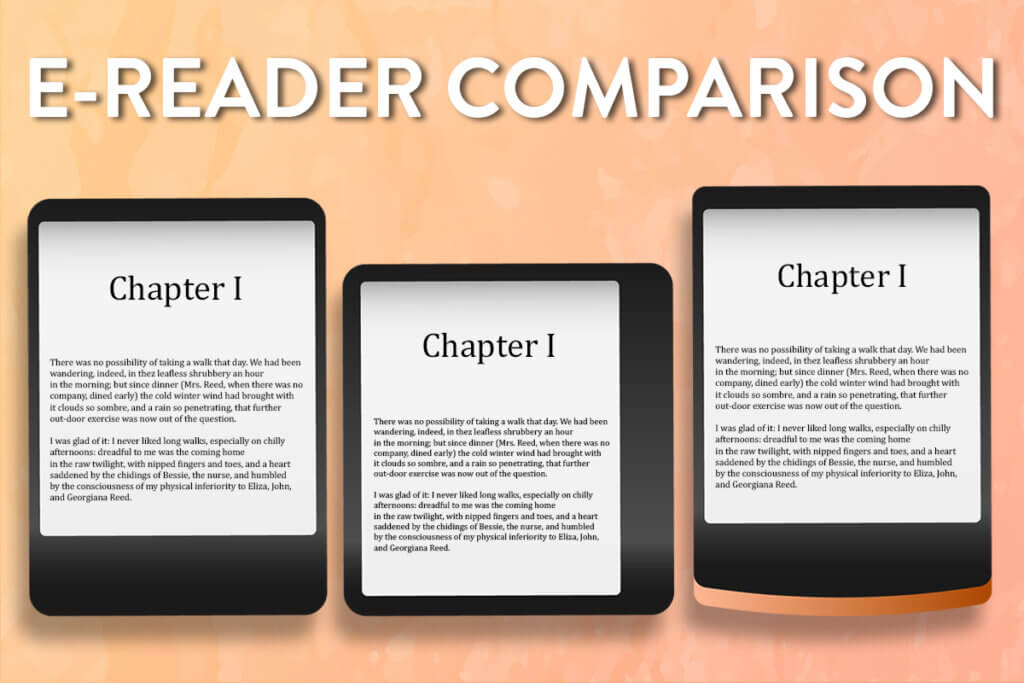 The alternative for readers
If you like to read, you now have the option of doing so — like almost everything else — digitally. An e-book reader, also called an e-reader or e-book device, is a special reading device for e-books that is considered a modern alternative to printed books. E-books are not only readable on e-book readers, but also on computers, tablets, and smartphones with the help of e-book software or apps. An important advantage of e-readers, however, are the e-ink displays used, which provide a display quality very close to that of printed paper.
Lightweight and versatile – the advantages of the e-reader
A fundamental advantage of e-book readers is their flexibility. They make it possible to read anytime, anywhere. Readers can read e-books on multiple devices, usually up to six different ones. Reading progress is usually synchronized, so you can easily continue reading on your computer or mobile phone if you forget your reader, or if it is charging. Readers are also easier to carry because they are much lighter than books. They are therefore easier to hold and fit in most pockets. They are ideal for travelling because they don't add unnecessary weight to your luggage.
In terms of price, an e-reader is also worthwhile, as although it is more expensive to buy than a hardback book, in the long run it is usually the cheaper alternative to collecting books. E-books cost up to 20% than paper books, sometimes the saving is even greater. Many e-books are also offered free of charge.
Classics of world literature for free

E-books whose author has been dead for a very long time are usually free. In the UK and the US, copyrights expire 70 years after the author of a work has past away and become public domain. There are several websites that offer a large collection of e-books free of charge.
If you lose a book or it gets damaged, you have to buy it again, which is not only annoying but also expensive. With an e-reader, you don't have this worry because the books can't get deformed. Once purchased, they can usually be downloaded as often as you like. So even if you accidentally delete the e-book or your reader is stolen, you can still access the book at any time. Downloading an e-book is quick and usually uncomplicated. It saves you a trip to a bookshop or waiting for the package delivery.
The memory of an e-book reader has room for many books. Consequently, it is an extremely space-saving device. This means that bookshelves and storage space for books are no longer necessary. You also don't have to wipe your books because digital books don't collect dust. The storage capacity is also practical when you are on the move, because you can select a new book from an extensive library at any time. With a sorting function, you can arrange your books exactly the way you want: alphabetically, by genre or publication date — the possibilities are numerous.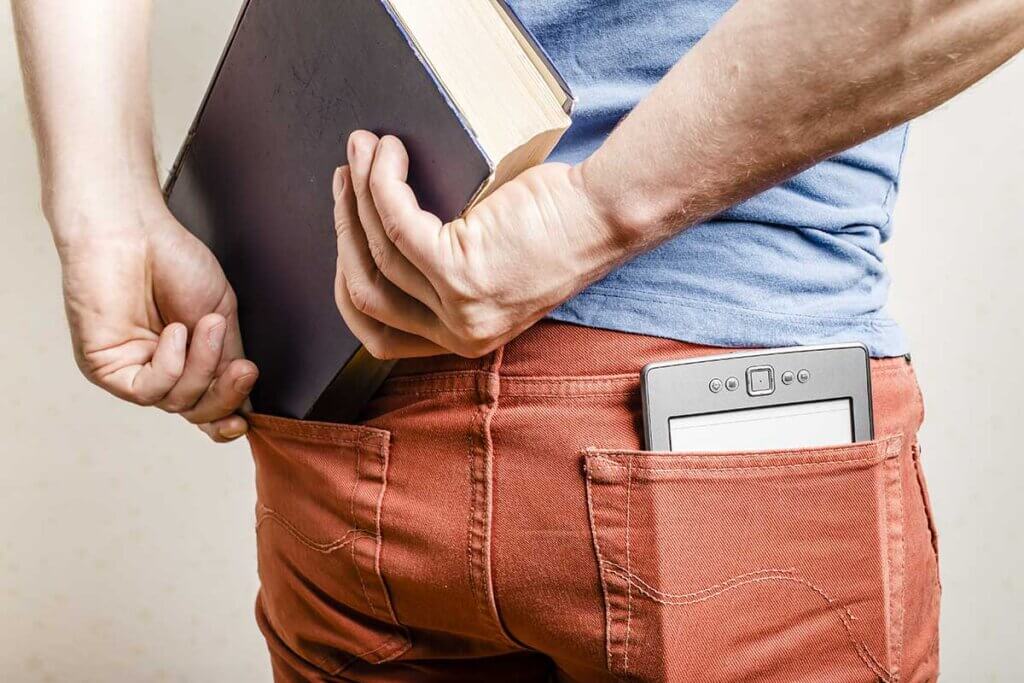 A particularly convenient feature is that the font on an e-reader can be enlarged or reduced as desired. This means that people with different visual impairments can use the reader without needing reading glasses. Thanks to the display lighting, which a large number of devices now have, you can also read the e-books at any time of day or night. You need neither daylight nor a lamp.
For readers of foreign-language books or non-fiction texts, an e-book reader offers various functions that make reading easier. For foreign words, you can have the translation displayed directly or look it up. No additional dictionary is needed for this, which simplifies the process. The search function of a reader makes it possible to find specific pages quickly and easily. Many models also offer the option of marking passages in the text or adding notes. This is particularly practical for specialized texts.
Some e-readers even offer more than just the reading experience. You can also use the device to open links, play small games or audio files. Unlike smartphones or tablets, however, e-book readers have a much longer battery life.
In the meantime, the majority of newly published books are also released as e-books. Some books are even only available in the digital version. The e-reader offers a space-saving, time-saving, versatile, and flexible way to read and collect books. Those who do not want to do without the feel of a printed book can also purchase the e-reader as a supplement, for example for travelling with limited luggage.
What are the differences between an e-reader and a tablet?
E-book readers resemble tablets in appearance, but otherwise have little in common. But what is the difference? Unlike tablets, e-readers do not need a backlight. Thanks to E-ink technology, the battery life of a reader is significantly longer than that of a tablet. The display technology also ensures that the eyes of e-book reader users are not strained as much. A tablet's display is highly reflective, which is not the case with an e-reader. This means that users can also use it in direct sun light and see everything perfectly. E-readers are also often easier to handle, as they are usually lighter than tablets. While a wide variety of apps can usually be installed on a tablet, e-book readers are usually really only suitable for reading e-books.
How to find the right e-book reader
Since there are now a large number of different e-readers on the market, you should know what is important when buying one. Technical aspects such as battery life, memory, and display are particularly important. Depending on how expensive the reader may be, it also offers different amounts of space for e-books and a wide range of functions.
File format
When purchasing an e-book, be sure to check its format, as not all e-readers support every format. The most suitable is the EPUB format, which is reproduced by almost all readers. It is an open, non-proprietary, XML-based format in which the texts adapt to the display size of the respective reader. Only Kindle models will not get you anywhere with this format, as Amazon relies on its in-house formats AZW and MOBI instead.
Most readers can also make do with a PDF document, but this has fixed layout specifications, which is why the texts cannot be adapted. For example, text size, paragraphs, and line spacing cannot be changed, which is rather a hindrance for novels. For illustrated works such as children's books, comics and reference books, however, it is a common and necessary format, as it preserves the page layout.
Memory
For a large collection of books, your reader needs sufficient memory. Models with 4GB of memory can hold up to 2500 books, which is already quite a lot. There are also models with 16 or 32GB, which are well suited for a larger book collection. If even that is not enough, you can choose a reader with a built-in reader for memory cards. This way, the storage space can even be expanded up to 256GB. How much storage space you need depends on your reading and collecting habits. If you delete many of the e-books you read, a 4GB memory is usually enough. However, if you want to keep all the books on your device and listen to audio books, a reader with more storage space is needed. Audio books require significantly more storage space than e-books.
Connectivity
Most e-readers can be connected to the internet, usually via Wi-Fi. This makes it possible to buy e-books directly from the e-reader. The cumbersome transfer from the laptop to the reader is thus not necessary, but still possible. The prerequisite, however, is a Wi-Fi router within the user's home. Some models also offer 3G, 4G, or 5G i.e. a mobile network. This makes it possible to download e-books on the move, provided the user has a corresponding mobile phone contract or an additional SIM card. But bear in mind that the connection is usually slow, expensive, and consumes a lot of power, which is why it is recommended to switch it off in between. Some readers also have Bluetooth. This allows users to connect their device to headphones and listen to audio books anytime, anywhere.
Display
The display is one of the most important aspects of the reader. Its size is measured diagonally and, depending on the model, ranges from 6 to 10 inches, which is 15 to 25cm. Think about how big you want your reader to be. Remember that a screen that is too small will be uncomfortable to read from in the long run.
The screen resolution is also very important, as it determines how sharp the text is displayed. The usual range is 100 to 300 pixels per inch (ppi). The higher the value, the sharper the text is displayed. For comparison: modern smartphones have a resolution of 300 to 600 ppi, printers have a resolution of 100 to 300 ppi.
Most e-readers use so-called E-ink technology. To be on the safe side, find out whether your reader uses this technology. This will save you electricity, as the consumption is lower than with LCD versions due to the absence of backlighting.
Backlighting
Users who like to read in the dark should definitely make sure that their e-book reader has a backlight. This is not the case with all models, but the high-priced readers are usually equipped with a backlight. With some devices, it automatically adjusts to the environment. Readers without this function should have different brightness settings so that they can be used everywhere. The color temperature should also be adjustable, and some devices even adjust it automatically. This can filter out the blue components of the light, which suppress the production of the sleep hormone melatonin and can thus cause sleeplessness.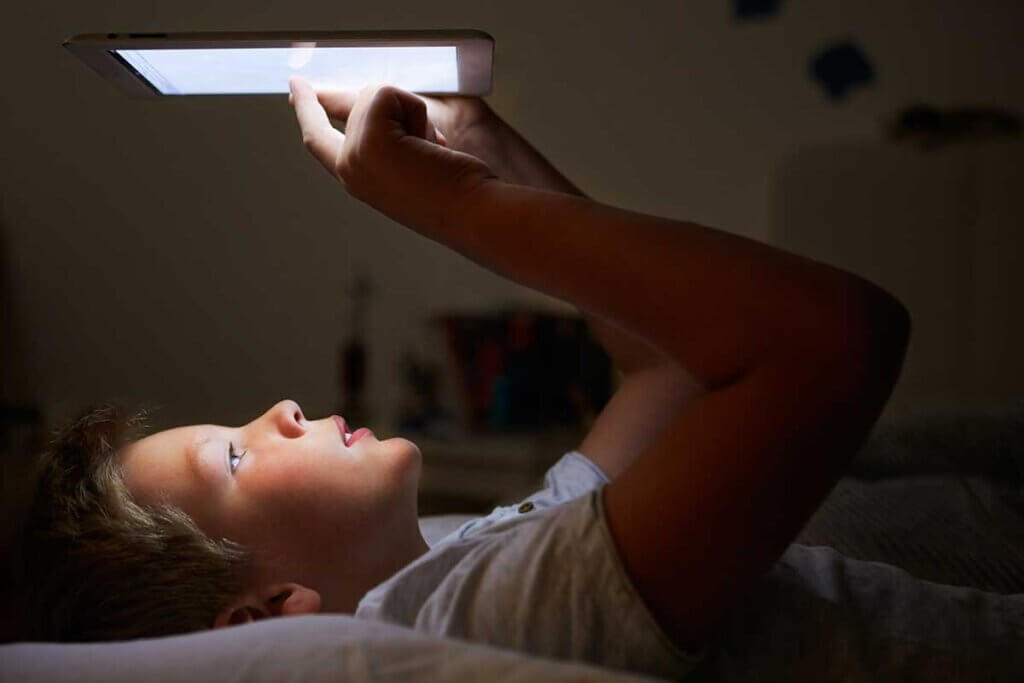 Protection
If you plan to use the device at the beach, in the bathtub, or in the swimming pool, it should also be protected against ingress of water according to an IP-code. There are different types of water protection (liquid ingress protection) , the most common being IPX7 or IPX8. This means that the reader can withstand brief immersion in water without any problems. Inexpensive models usually don't have this certification.
Costs
E-readers come in three different price categories: low-priced, medium-priced, and high-priced. How much you should spend on your model depends on your budget, how often you use it and how many features you want.
The cheapest models cost between $60 and $100 and are suitable for beginners who are buying an e-reader for the first time. They are very easy to use and usually have a six-inch screen. However, readers for beginners usually have very little memory, which cannot always be expanded. The screen resolution is usually quite low and the display is usually unlit. So if you read a lot, even in the dark, you should go for a slightly higher-priced device. Examples of entry-level models are the basic version of the Amazon Kindle, the Tolino Page 2, and the PocketBook Touch Lux 4.
If you are willing to spend $100 or more, you can choose a mid-range device. These e-readers have more features than cheaper counterparts and cost between $100 and $150. Most mid-priced e-readers have certified water protection and are therefore well suited for users who want to read by the sea, in the pool or in the bathtub. A display light is standard on these models, as is an integrated dictionary and note-taking function. Those who read frequently, do not want to spend large amounts, but still want quality, are well advised to go for a mid-range e-book reader. The Amazon Kindle Paperwhite, the Tolino Shine 3, and the Pocketbook Touch HD 3 belong to this category.
Premium devices are the most expensive, costing at least $160. Thanks to a high image resolution, they offer the highest reading comfort. They also have many additional functions, such as a picture display, small games, and an audio function. If you want an e-reader with which you can not only read but also listen to audio books, you will have to spend a little more money. On the other hand, these devices have water protection, and a backlight is part of the basic equipment. The screen of these models is at least seven inches. The premium category includes the Amazon Kindle Oasis, the Tolino Epos 2, and the Pocketbook InkPad 3 Pro.
Battery
To ensure that you can read for a long time without your e-reader turning off, its battery is relevant. The battery usually needs to charge for three or four hours to be fully ready for use. Overall, however, the battery life of e-readers is very good and is therefore not one of the most important purchase criteria.
Operation
Especially if you are a newcomer to e-readers, the operation of your device should be as simple as possible. The majority of readers now work with a touchscreen, but there are also a few models with scroll buttons, which are often a little more expensive. The scroll buttons should respond quickly and easily. Especially if several users are using the device or your eyesight is limited, the font and size should be easy to change. Read reviews on the internet and test whether your e-reader is easy to use. If this is not the case, you should choose another model.
Additional functions
Depending on what you use your e-reader for, there are different functions that are relevant. For students and readers who like to take notes, the note-taking function is helpful. It allows you to underline words and add notes at any point. If you often read foreign-language texts or technical texts, you should definitely pay attention to the dictionary function, which is by now standard on almost all devices. Depending on the model, you can either open a dictionary or translate the word directly on the page itself or get an explanation. All audiobook fans will benefit from a somewhat more expensive reader with an audio function that allows them to listen to audio books or music. If you prefer to listen to music via your mobile phone or another device, on the other hand, this function is not necessary.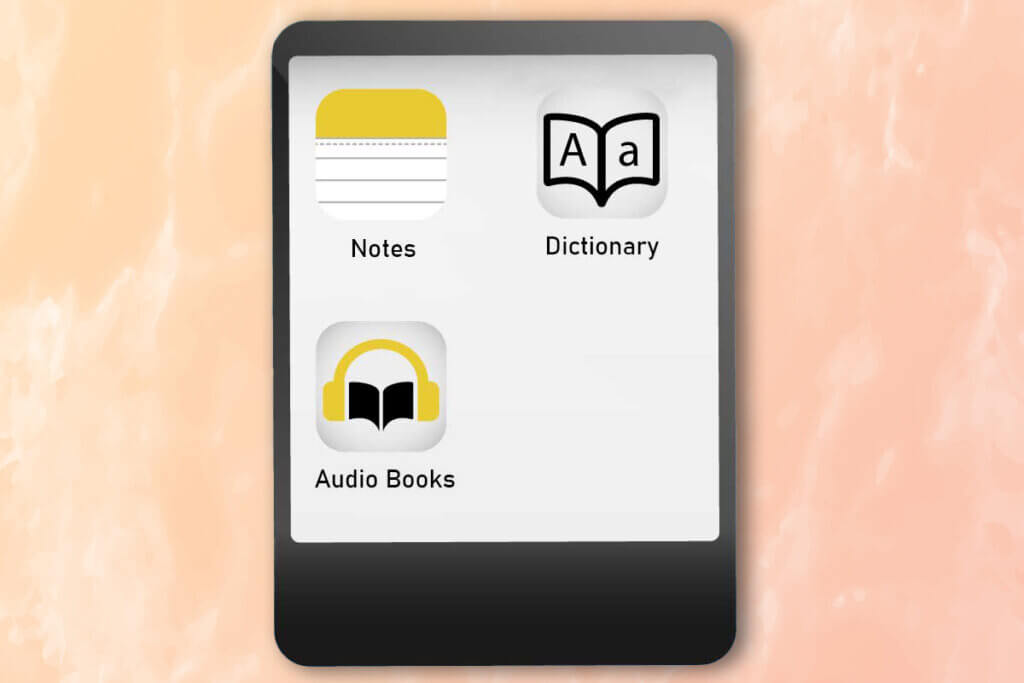 What accessories are available for e-readers?
When you buy an e-reader, you should purchase the appropriate accessories to go with it. The most important thing is a cover that protects the reader from dirt, scratches, and breakage. When buying, make sure that it is suitable for your reader model. Flip covers are particularly recommended because they protect both the back and the front of the reader, and thus cover the screen. If your reader doesn't have its own backlight, you can purchase a reading lamp. The reading lamp is usually clipped directly onto the reader and should be firmly attached so that it doesn't slip off. Test whether the lamp disturbs you while reading. If it does, you should rather choose another lamp or a reader with backlighting.
The biggest reader brands
There are now several e-reader brands to choose from. Three of them dominate the market: Kindle, Tolino, and PocketBook. They have a few things in common, but differ in their systems and offerings. However, users can also choose other brands such as Sony, TrekStor, Samsung, or Kobo.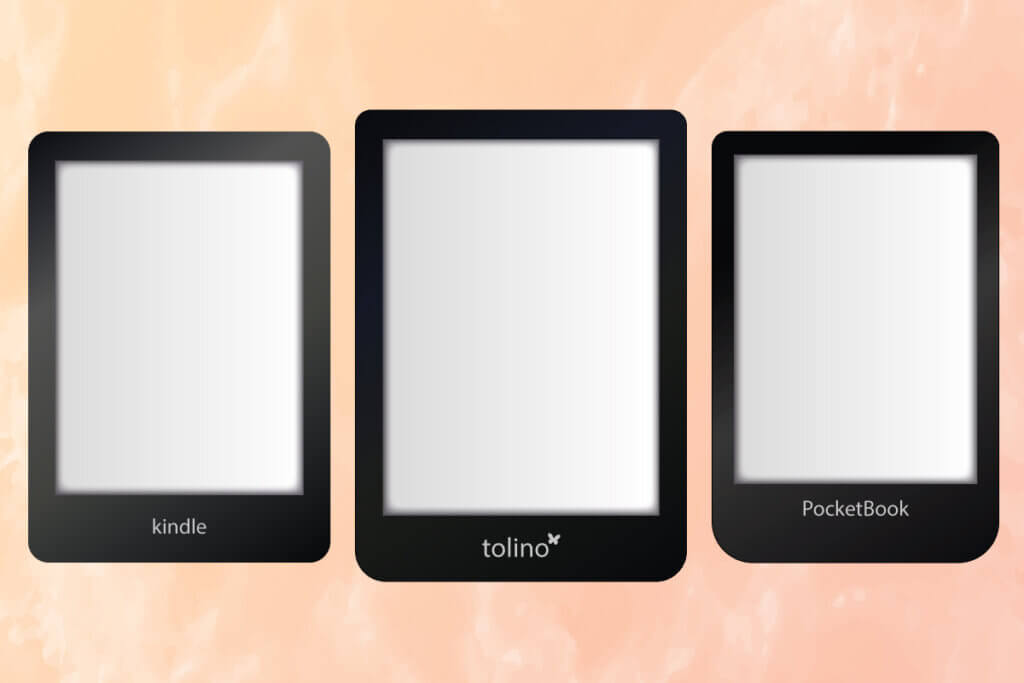 The Kindle
The market leader is Amazon's Kindle reader, which became known as the first major e-reader brand. The first Kindle model came onto the US market in 2007 and only had a few functions. In the meantime, the Kindle is known and popular worldwide. Amazon uses a so-called closed system for the reader, which means that users can only obtain their e-books from Amazon. Since the customer account is linked to the reader and users can access Amazon's e-book store directly on the device, buying an e-book is very easy. However, in doing so, Amazon also binds Kindle users to its own platform. E-books from other retailers can only be read on the Kindle if they do not have copy protection. In addition, they have to be converted into the format MOBI on the computer. Apart from that, the e-commerce giant offers a very large selection of e-books, many of them reduced or free. With the Kindle Unlimited subscription, users can also borrow various e-books from the Amazon library for $9.99 a month. For Amazon Prime customers, a Kindle is handy because with Prime Reading they can borrow e-books that change monthly for free.
The Tolino
The e-reader Tolino has been on the market since 2013 and was manufactured by Deutsche Telekom until 2017; since 2017, the Japanese company Rakuten has taken over production. Unlike the Kindle, the Tolino uses an open system. Users can obtain their e-books from all booksellers and distribution sites that offer the appropriate format. Copy protection is usually less strict than with Amazon. User accounts can be directly linked to bookshops and make e-book purchases quick and easy.
The counterpart to Kindle Unlimited is the Tolino Select subscription, where readers can borrow four e-books a month for around $10. However, the offer is smaller than with Kindle Unlimited. Tolino also offers a service that allows users who are already registered with a library can borrow numerous e-books there. Those who don't have a library card can use the commercial platform Skoobe to borrow, as it also cooperates with Tolino. Borrowing with a library card is significantly cheaper than using services like Skoobe, but readers often have to wait a long time for the more popular books.
The PocketBook
PocketBook is less well-known than the brands already presented. The readers have been available since 2009 and can compete with Kindle and Tolino in terms of technology and design. PocketBook also uses an open system, which makes it possible for users to buy e-books from the retailer of their choice. Although there is less cooperation with bookshops than with Tolino, PocketBook's help system is particularly fast and simple. The provider also allows their users to borrow e-books with their existing library card.
Useful handling tips
Once you have purchased an e-reader, you now have to find out how to transfer the e-books to the reader. This varies in complexity depending on the model.
How e-books are protected
Most e-books have copy protection, also known as digital rights management (DRM), which is intended to prevent the uncontrolled distribution of the books. A distinction is made between hard and soft copy protection.
Books with hard copy protection can only be read if they are unlocked for the respective device. They are encrypted, which can only be removed with a program made for this purpose. E-books with hard copy protection can also only be read on a limited number of devices.
Another way to prevent the distribution of an e-book is soft copy protection. The e-book itself contains information that allows conclusions to be drawn about the purchaser and thus enables tracing. However, the watermark is not visible when the book is read. Many e-books have copy protection, but there are now also some without. E-books borrowed from library always have hard copy protection, as this is the only way to check and implement the return deadline.
How do I transport the e-books to my e-reader?
Once you have purchased an e-book, the question is how to get it onto your e-reader. If you have purchased it via the reader or a linked partner shop, the e-book is directly on the device, and you can start reading it immediately. If you bought it on another device and in another shop, you will need to use a computer. To do this, you must first download the e-book. Then connect the e-reader to your computer using a USB cable. The last step is to simply drag the book onto the reader. However, e-books with hard copy protection must go through a program such as Adobe Digital Editions before they are ready to be transported.
How do I care for my e-reader?
E-readers are quite resilient, but they still get dirty quickly. Particularly annoying are fingerprints on the display, which are almost impossible to avoid on models with touch controls. A damp cloth is sufficient for the screen. In the second step, wipe the surface with a dry cloth. For rubber surfaces, for example the cover of the reader, it is best to use a damp cloth as well. Contact points and grooves can be cleaned well with cotton swabs.
---
Image 1: © FinalCheck | Image 2: © koldunova / stock.adobe.com | Image 3: © Monkey Business / stock.adobe.com | Images 4-5: © FinalCheck