Samsung phone purchasing advice: how to choose the right product
What you need to know
Under the Galaxy brand, Samsung sells numerous Android smartphones ranging from low-priced entry-level models to high-end devices.
The four largest product lines are currently the Galaxy S and Galaxy Note series with high-end smartphones and the Galaxy A and Galaxy M series with mid-range and entry-level devices.
Samsung's special features include the almost frameless Dynamic AMOLED display and the particularly user-friendly One UI user interface.
With a Samsung account, you get access to numerous apps, themes, fonts and discount promotions in the Galaxy Store.
In addition to the manufacturer's warranty, Samsung offers the mobile phone insurance Samsung Care+, which covers, among other things, display and water damage.
Smart everyday companions for all occasions
Whereas the good old push-button mobile phones were mainly used for making phone calls and sending messages, these functions have almost become a secondary matter with smartphones. With various apps, they are our constant companions and make our everyday life easier or more beautiful. The smart phones serve as mobile computers for browsing the internet, sending and receiving emails, as music and video players or as navigation devices. According to the online portal marktforschung.de, eight out of ten Germans aged 14 and over owned a smartphone in 2019, which corresponds to around 57 million users.
One of the largest smartphone manufacturers is the South Korean conglomerate Samsung. According to statistics from the Statista portal, Samsung had a market share of 21.0 per cent of global smartphone sales in the first quarter of 2020. Around one fifth of all smartphones sold thus come from Samsung. By comparison, Apple had a market share of 13.3 per cent with its iPhones in the same quarter. While iPhones use Apple's own operating system iOS, Samsung smartphones use the open-source Android.
From food to electronics
The Samsung company was founded in 1938 as a grocery shop. It was not until 31 years later that the group, with its subsidiary Samsung Electronics, started manufacturing consumer electronics and household appliances, for which the manufacturer is mainly known today. More than ten years ago, the company launched the first Samsung Galaxy smartphone. In the meantime, a wide range of smartphones for different demands can be found under the Samsung Galaxy brand: from low-cost entry-level models to special versions for folding or outdoor use and high-end devices.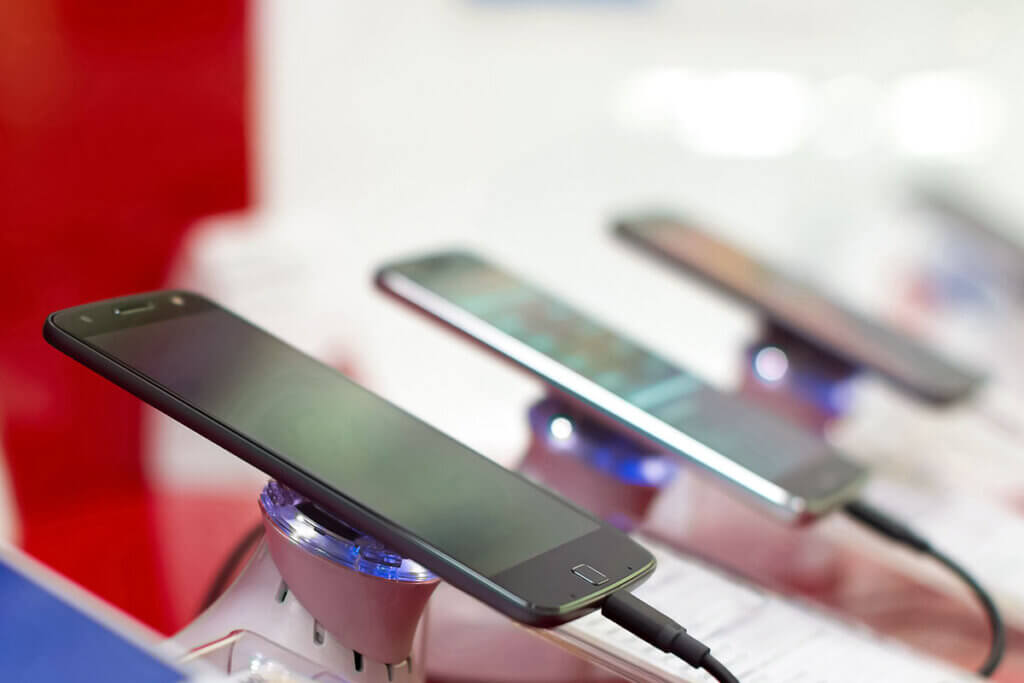 Finding the right smartphone
If you decide to buy a Samsung smartphone, you are already committing yourself to the Android operating system. We explain below which other purchase criteria you should take into account when choosing a model.
Display size
While push-button phones should be as small and handy as possible, the trend in smartphones is towards ever-larger displays. The first smartphones had display sizes of about 3.5 inches; most current models, on the other hand, have display diagonals between 5.0 and 6.5 inches. This is mainly because smartphones are increasingly being used for games and films. However, the smartphone giants are no longer suitable for carrying in a trouser pocket. Samsung wants to solve this problem with the Galaxy Z flip models. They have a flexible display, which means they can be folded compactly and stowed away easily.
The increasing display size can be easily observed in various Samsung models of recent years, as the following overview shows:
| | | | |
| --- | --- | --- | --- |
| Model | Year of release | Display diagonal in inches | Display diagonal in centimetres |
| Samsung Galaxy | 2009 | 3.2 | 8.1 |
| Samsung Galaxy S | 2010 | 4.0 | 10.2 |
| Samsung Galaxy S3 | 2012 | 4.8 | 12.2 |
| Samsung Galaxy S5 | 2014 | 5.1 | 12.9 |
| Samsung Galaxy S8 | 2017 | 5.8 | 14.7 |
| Samsung Galaxy S10 | 2019 | 6.4 | 16.3 |
| Samsung Galaxy S20 Ultra 5G | 2020 | 6.9 | 17.4 |
A comparison of the display sizes of some Samsung Galaxy S models in recent years.
Display resolution
In addition to the display size, the resolution is an important purchase criterion. The more individual pixels the display shows, the sharper and more detailed the picture. HD and HD+ have established themselves as the standard for cheaper smartphones in the entry-level and mid-range segments. HD displays can show 1,280 x 720 pixels; their aspect ratio is 16:9. HD+ is the term used for smartphones with extra-long displays with aspect ratios of 18:9, 18:9.5 or 19:9. However, there is no difference in quality between HD and HD+ displays on smartphones. Many mid-range and high-end models are equipped with higher-resolution Full HD or Full HD+ displays. Models with Quad HD and Quad HD+ screens display even more detailed and sharper images.
Processor and RAM
The processor, also known as the CPU (Central Processing Unit), forms the central processing unit of the device, just like in a computer. The number of processor cores and their speed determine, among other things, whether an app runs smoothly or falters. So if you want to use computationally intensive apps or many applications at the same time, you should pay attention to high processor performance. The following applies: the more processor cores, the better. The current Samsung Galaxy models are equipped with octa-core processors, which means they have eight processor cores.
Working memory
Random access memory (RAM) stores the files that are currently needed by the smartphone so that the processor can access them quickly. The more activities you perform simultaneously with the smartphone, the larger the RAM should be so that the processes do not slow down. As a general rule, the RAM should not be smaller than two gigabytes. Inexpensive entry-level Samsung models like the Galaxy A21s have three gigabytes of RAM, while mid-range models like the Galaxy A90 5G already have six gigabytes. High-end devices like the Galaxy Note 10 even boast up to 12 gigabytes of RAM.
Internal memory and expandability
Apps, photos, videos and music take up a lot of storage space on the smartphone. The more you want to store on it, the larger the memory should be. Samsung models are currently available with the following memory sizes:
16 gigabyte
32 gigabytes
64 gigabytes
128 gigabytes
265 gigabytes
512 gigabytes
You can expand the memory with the Samsung DUOS models. They have two card slots so that you can insert either a second SIM card or a microSD memory card in addition to your SIM card. For example, the high-end devices in the Galaxy S20 series can be expanded to a total of up to 1.5 terabytes of memory.
Backing up data in the Samsung Cloud

Samsung provides a cloud service for synchronising, backing up and restoring data. All users who create a Samsung account receive a basic storage of five gigabytes in the Samsung Cloud.
Camera
When it comes to smartphone cameras, a lot has happened in recent years. While the first cameras built into smartphones were only suitable for snapshots, the cameras in mid-range smartphones now achieve better resolutions than were standard for digital cameras a few years ago. Even the entry-level and mid-range devices from Samsung are equipped with a so-called quad camera, which has four lenses: a depth camera, a main camera, a macro camera and an ultra-wide-angle camera. The main camera usually has a resolution of 64 megapixels and enables clear pictures to be taken during the day and at night. Samsung high-end devices like the Galaxy S20 Ultra 5G come up trumps with a multiple camera for professional demands. This consists of a front camera, two wide-angle lenses, a telephoto lens and a VGA 3D depth camera.
Battery
If the battery is drained too quickly and the smartphone constantly has to go to the charging station, you won't have much fun with it. Larger displays and more powerful processors also consume more energy. That's why a minimum standard of 3,000 milliampere hours (mAh) has become the norm for battery performance. Samsung's entry-level models also comply with this standard. Mid-range and high-end devices, on the other hand, have battery capacities of 4,000 milliampere hours and more. The battery capacity of the Galaxy S20 Ultra 5G, for example, is 5,000 milliampere hours.
Samsung model ranges and special features
Samsung's wide range of models includes smartphones for users with a wide variety of needs. Samsung currently divides its smartphone range into six product series:
Galaxy M: low-priced entry-level models.
Galaxy A: entry-level and mid-range smartphones
Galaxy S: high-end models
Galaxy Note: high-end devices with extra-large displays and optional pen controls
Galaxy Z: foldable smartphones with extra-large displays
Galaxy XCover: robust outdoor smartphones with replaceable batteries
Galaxy A replaces low-priced J series

Until 2018, Samsung marketed a series of affordable entry-level models with the Galaxy J series. In the meantime, the series has been replaced by the Galaxy A models. Galaxy J smartphones are still available from third-party suppliers, but only receive security updates sporadically.
The models of the various Samsung series contain various additions in the product name in addition to the series name, which provide information about the features. The higher the number after the series letter, for example S7, S10 or S20, the more up-to-date and powerful the model usually is.
Models with the suffix "5G" in the product name support the 5G mobile phone standard. This is the successor to LTE, which enables up to 20 times faster internet surfing. The additions "+" and "Ultra" indicate models with larger displays. For example, the Galaxy Note10 has a display diagonal of 6.3 inches, while that of the Galaxy Note10+ measures 6.8 inches.
Some of the special features that set Samsung smartphones apart from the competition are presented in more detail below.
Additional features for impressive pictures and videos
The cameras of Samsung's high-end devices from the Galaxy S and Galaxy Note series are characterised on the one hand by multiple lenses and a particularly high resolution. On the other hand, they are equipped with additional features such as Space Zoom and Bright Night. The Space Zoom, which is supported by artificial intelligence, enables a magnification of up to 100x. Bright Night lets you capture night scenes more clearly, as the camera system captures multiple photos simultaneously in low light and combines them into a single, less blurry shot.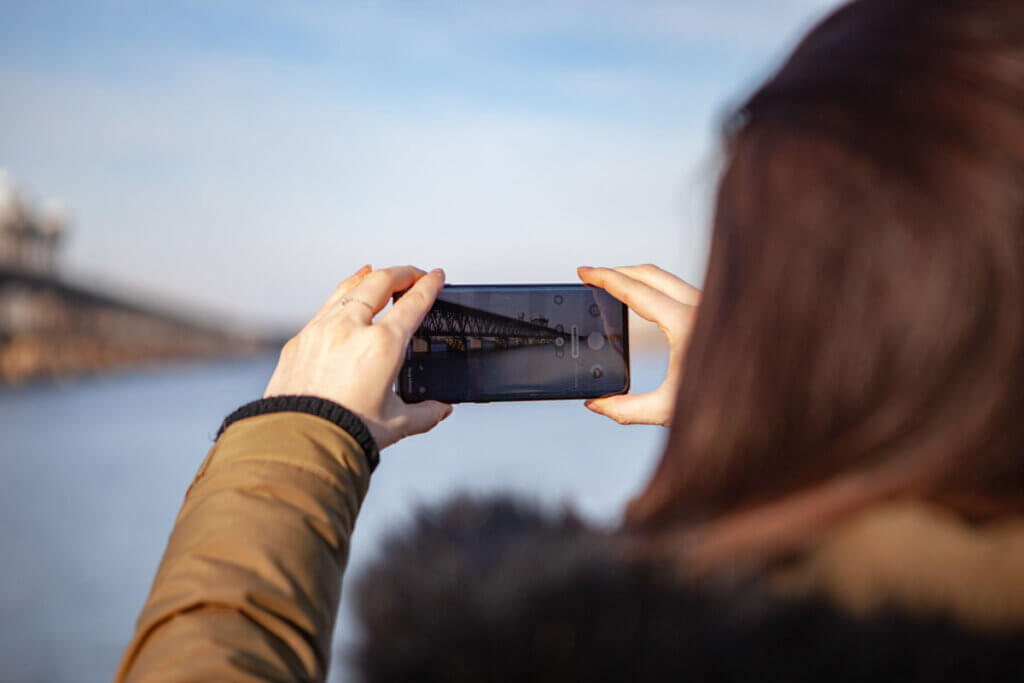 What's more, the camera lets you record your videos in 8K rather than just 4K. With the 8K Video Snap feature, you select the perfect snapshot from an 8K video and save it as a high-resolution photo with one click.
Dynamic AMOLED display
The new Samsung Galaxy S and Galaxy Note models are equipped with the Dynamic AMOLED display. This has a particularly high brightness and is compatible with HDR10+, with which Samsung is extending the standard that previously applied to televisions to smartphones. The display also has a very thin bezel and a front camera that is unobtrusively integrated into the display, so you can immerse yourself in your content with virtually no distractions. It also filters out blue light, making it easier on your eyes without changing the natural colour tone. Also integrated into the display is an ultrasonic fingerprint scanner that you can use to unlock your smartphone. The 120 Hertz refresh rate allows for smooth scrolling and seamless transitions between display content.
Special user interface One UI and S Pen
With the One UI user interface, Samsung introduced a particularly user-friendly user interface with several practical features. Among other things, the screen layout is very simple and the icons are clearly arranged. There is also the Dark Mode night mode, which darkens the user interface and is thus both easy on the eyes and reduces energy consumption. Furthermore, you have the option to customise the gesture control. For example, you can add gestures to mute or to easily access the notification panel. In addition, notifications require less space and are thus less distracting. In general, the user interface is highly customisable, for example by simply adjusting the colours, high-contrast elements or the lock screen.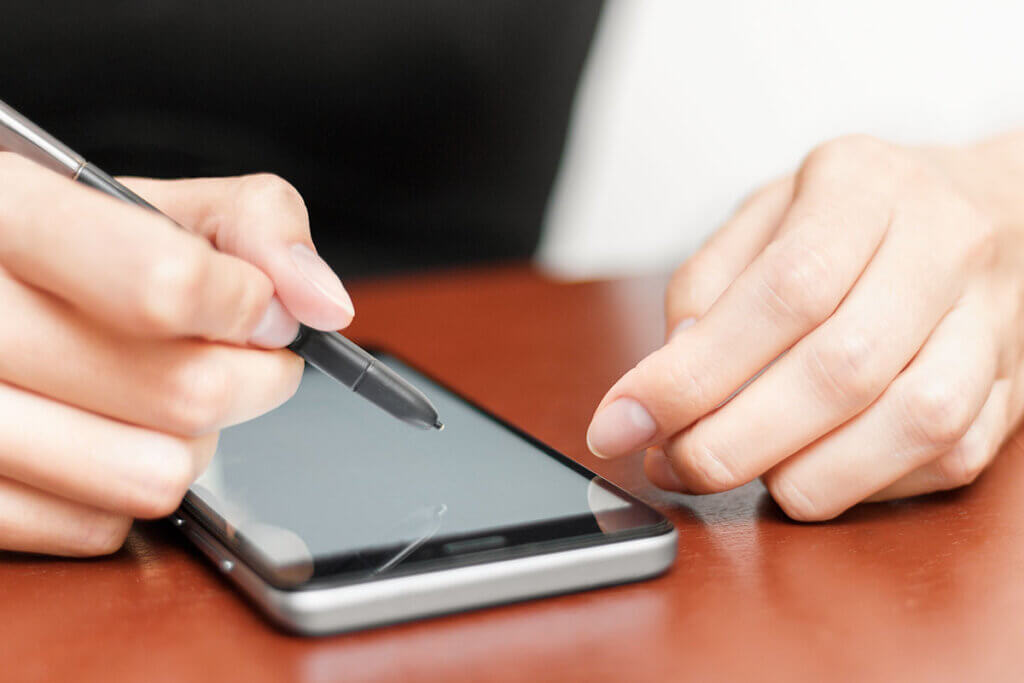 A special feature of the Galaxy Note series is operation with the S Pen. You use the stylus for writing and drawing as well as a remote control for controlling your smartphone. It converts your gestures into actions so that you can, for example, take a picture without holding your smartphone in your hand.
Wireless and fast charging
You can charge the battery of your Samsung smartphone in several ways: In addition to wired charging with a standard charger, most Galaxy models support inductive charging as well as fast charging. For inductive charging without a cable, you need a wireless charger, which is sometimes included in the scope of delivery. To charge the battery, simply place the back of your phone on the charger. With the fast charging function and a fast charger, you can replenish your smartphone's battery in less time. Another Samsung feature is the Wireless Powershare function. It allows you to use your Samsung smartphone to charge other Samsung devices wirelessly.
Practical smartphone accessories from Samsung
Samsung also offers a wide range of accessories for its smartphone models. For example, a screen protector or a tempered glass screen protector minimises the risk of scratches and breaks.
A cover that shields the smartphone frame as well as the back is also recommended. Samsung covers are available in various designs and made of different materials, such as plastic, silicone and genuine leather. While some covers only cover the frame and back, others have a lid for screen protection that is also equipped with a card slot. The special protective standing covers are characterised by a non-slip surface and two fold-out feet. The latter allow you to comfortably stand your smartphone for viewing photos and videos.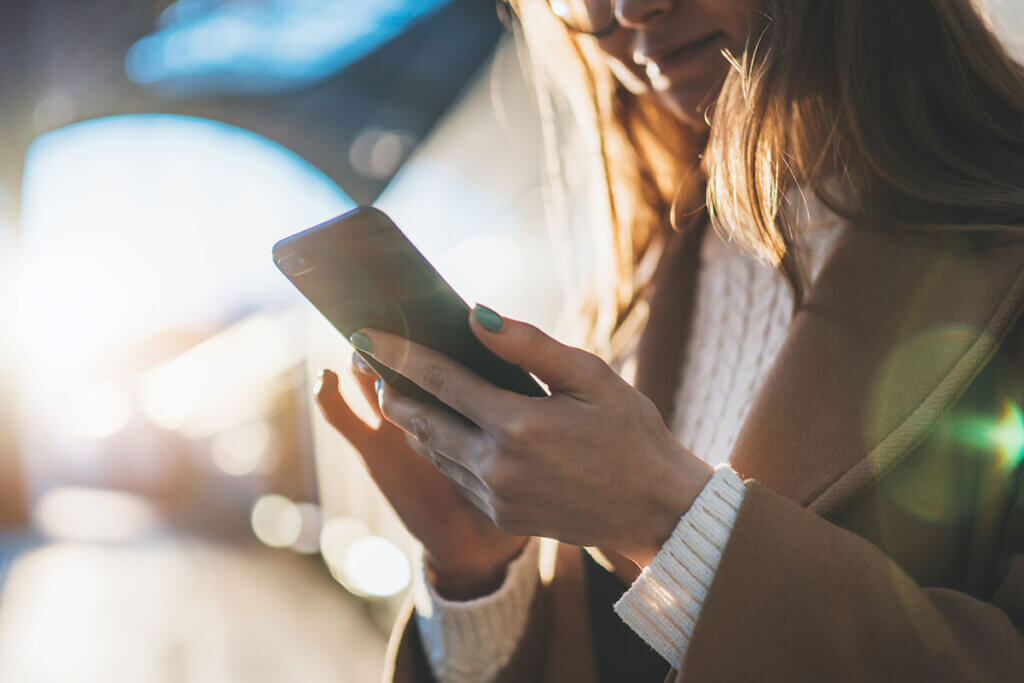 Other accessories available from Samsung include various cables and adapters, power banks, wireless chargers, wireless headphones and S Pens.
Galaxy Store and Samsung apps
When setting up your Samsung smartphone, you have the option of creating a Samsung account in addition to the obligatory Google account. This gives you access to the Galaxy Store in addition to the Google Play Store, which offers numerous games, apps as well as themes, backgrounds and fonts with which you can personalise your Samsung smartphone. You can also regularly find vouchers and discount offers there.
In addition to the Galaxy Store, some other Samsung-owned apps are already pre-installed, for example the following:
Smart Switch: Secure transfer of content to the new smartphone.
Samsung Notes: Save, share and edit notes
Samsung Kids: Playful discovery of the digital world for children
PENUP: Create and share artwork
Samsung Health: Track activity, nutrition and sleep times
Bixby: The Samsung voice assistant
Find My Mobile: For preventive measures in case of smartphone loss
Samsung Pass: The Samsung password manager
The manufacturer's warranty and Samsung Care+
The manufacturer gives the regular two-year warranty on all Samsung smartphones. With the manufacturer's warranty, which applies from the date of purchase of the smartphone, Samsung is liable for defects in materials and workmanship. A twelve-month warranty applies to permanently installed batteries, and a six-month warranty to replaceable batteries. In addition, the manufacturer's warranty includes a functional check of the smartphone and lifelong customer support.
The warranty does not cover water damage or broken displays. If you want to be on the safe side, you can also take out the Samsung Care+ insurance when you buy your smartphone. This covers display breakage and water damage as well as all physical damage that prevents the smartphone from being used. Superficial damage that does not affect the functionality of the smartphone, as well as theft and loss of the insured product, are excluded from the insurance cover. For two years of insurance cover, you pay 149 euros each for models of the Galaxy Note and Galaxy S series, i.e. around 6 euros per month.
---
Image 1: © Nemanja / stock.adobe.com | Image 2: © UA_PM / stock.adobe.com | Image 3: © Роман Самсонов / stock.adobe.com | Image 4: © A_B_C / stock.adobe.com