Action cam purchasing advice: how to choose the right product
What you need to know
Action cams are rugged video cameras that are resistant against shock, water, and dust.
Recording quality is on par with conventional camcorders and high-end smartphones.
Digital and optical image stabilisation help to keep motion-intensive video smooth.
Most action cams use fixed focal lengths that show a large field of view. Most models only have a digital zoom.
Accessories include mounts for helmets, head straps, and other attachment devices for your body or sports equipment.
Action cams: robust and simple
Action cams are a great option for days out and holidays. They are easy to use, have few moving parts that can break, and have special protective covers against water and dust. These rugged devices are simple — all they tend to do is record video and store it on a memory card.
Thanks to this simplicity, action cams are extremely durable. They don't autofocus or zoom lenses which can easily break. This simplicity also means that they are so easy to use. You just turn them on and get going. A lot of models have wide-angle lenses, which mean you can get a larger field of view.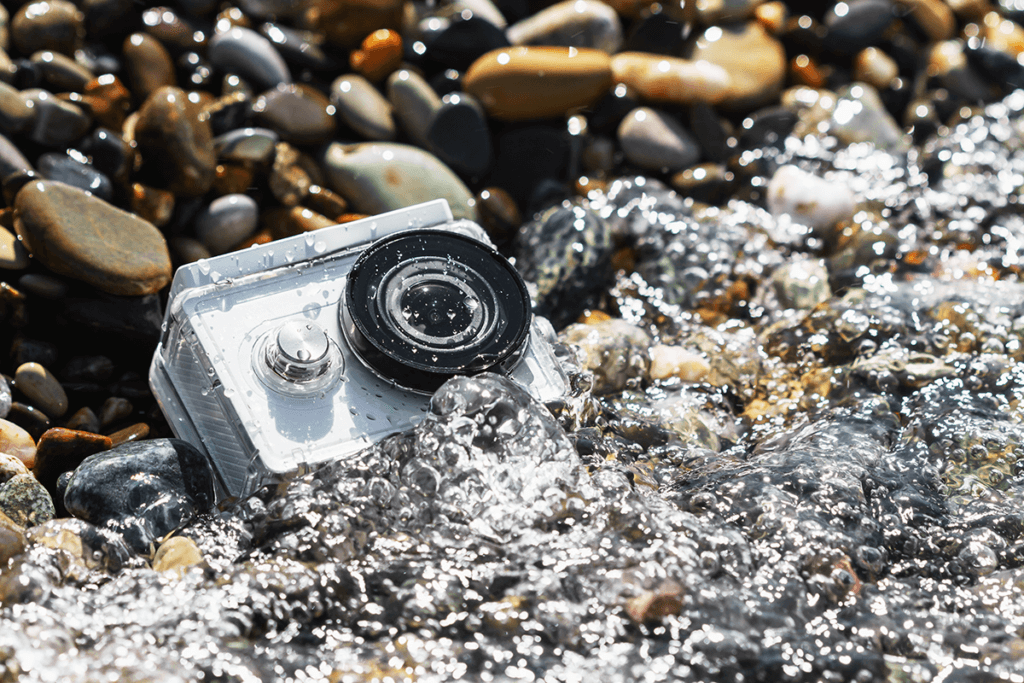 Features and functions
Since action cams are limited by their simplicity in the scope of what they can do, you need to really work out what features you want. For example, while image stabilization is a useful feature to have in almost all situations, being able to record in 4K isn't particularly important for everyone. Likewise, dive-proof waterproofing and GPS trackers aren't essentials for most people.
Video quality
The video quality you get on an action cam is largely determined by the resolution of the in-built image sensor and the maximum frame rate. When choosing a model, you should consider what you're going to be watching your footage back on. What this means is that if you have a 4K TV, you can make good use of a 4K-ready action cam, but if you don't then a Full HD cam will be perfectly fine.
4K resolution offers a few advantages when it comes to video editing. For example, if you want to crop or zoom in on your 4K footage, when you convert it to Full HD you won't lose any quality. Editing 4K footage requires a lot of processing power, so you'll need a powerful computer. If you don't already have one, you should maybe reconsider whether you need a 4K-enabled action cam.
Does 4K always equate to good image quality?
4K refers to the pixel resolution of a video. For example, in 16:9 format, a video in 4K resolution has 3840 x 2160 pixels. However, beyond this, 4K doesn't actually have any other bearing on image quality. Alongside the pixel ratio, you should consider the frame rate of a camera — nobody wants juddery video. Likewise, videos don't look great if they have a lot of noise in low light, the picture has a low dynamic range, or they aren't properly in focus due to a bad lens.
Good action cams can record in at least 60 frames per second (fps), often more. Having a high fps means that your footage is smoother, and you can slow it down without creating any stutters. In other words, this means you can record in slow motion. Some cameras have specific slow-motion settings which record in an extremely high frame rate, although sometimes this comes at the expense of image quality. If you want to record slow-mo footage, make sure the camera you go for supports it.
Time lapses are also a cool feature, especially when you're on holiday. They work in the opposite way to slow-mo: the camera will take a picture every few seconds or minutes, and then convert it into a short clip. This is a great option for recording things like sunsets and train rides.
Good image stabilization is essential for almost all video recording nowadays. It compensates for any jerks and movements that happen while you are recording. Image stabilization can either be optical or digital. While optical image stabilization is superior to digital image stabilization, most action cams use the digital variant. This is because optical systems are prone to breaking. When choosing an action cam, its a good idea to check out some example footage on YouTube or Vimeo — not all image stabilization systems are the same.
Almost all action cams can also take photos, although this feature isn't particularly important. The photos you get are usually just single frames that would otherwise comprise a video. If you want a rugged device primarily for taking photos, you should look towards a robust digital camera or underwater camera.
Focal length and autofocus
Focal length and autofocus are also extremely important factors in determining video quality. Most action cams have lenses with a fixed focal length. A lot of manufacturers use wide-angle or fish-eye lenses. This makes sense for two reasons:
Wider lenses let you record a large field of view, which makes it easier to pick up on any action. The footage they record also appears smoother and less jerky compared with normal lenses. Some action cams even have two lenses and can record in 360 degrees. You can watch these back using VR goggles or even on your smartphone.
When using an action cam, you don't have to worry about focusing the image. All models use autofocus, which makes things a lot easier. The downside to this is that the focal length is usually fixed, which means you can't really use them for taking close-ups.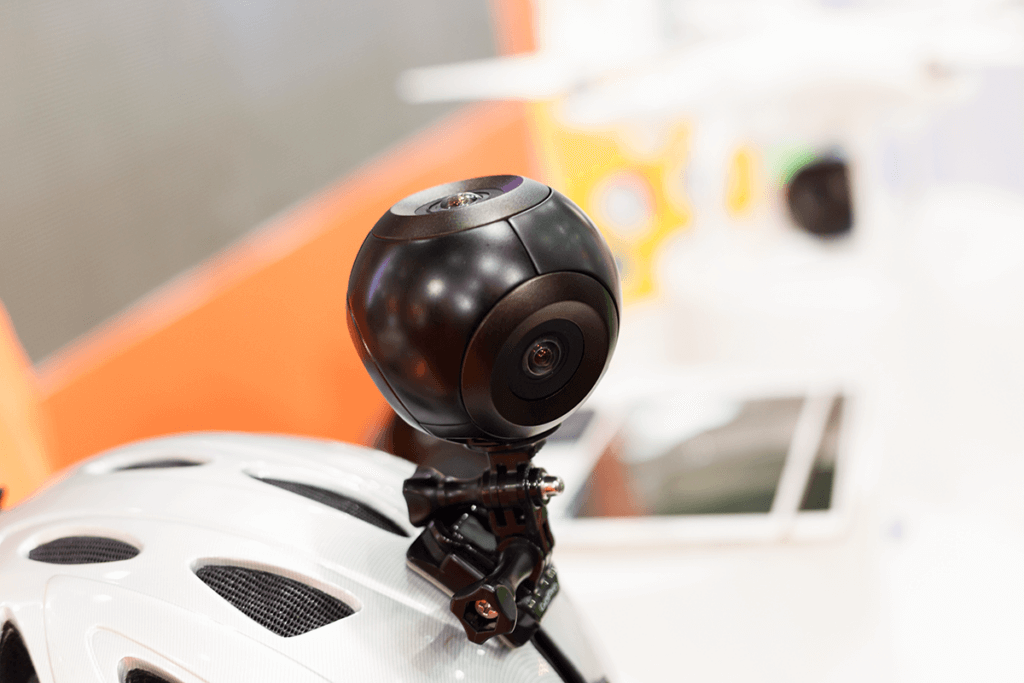 Durability
Action cams are extremely robust and durable. It's what differentiates them from normal camcorders. They can withstand shocks and falls, as well as water and dust. A lot of models are also resistant to extreme temperatures.
Water resistance
Most action cams on the market are waterproof. However, this doesn't mean you can permanently use all models underwater. For example, if you are diving, you'll need a model that can also withstand high water pressure.
There is a standardized system for showing the levels of water and dust resistance you get on action cams. This system is called the ingress protection code or IP code. It is also used for things like smartphones. There are two numbers: the first indicates dust resistance, the second indicates water resistance.
| | | |
| --- | --- | --- |
| Number | First number (solid particle protection) | Second number (liquid ingress resistance) |
| 1 | Particles with a 50mm diameter | Water droplets |
| 2 | Particles with a 12.5mm diameter | Dripping water when tilted 15° |
| 3 | Particles with a 2.5mm diameter | Spraying water |
| 4 | Particles with a 1mm diameter | Splashing water on all sides |
| 5 | Protection against dust | Water jets from any angle |
| 6 | Dust-tight | Strong jets of water |
| 7 | – | Temporary immersion |
| 8 | – | Permanent immersion |
The meaning behind the IP digits
Usage
Starting a recording, correcting the exposure, and switching between video and photo mode on an action cam needs to be easy. This is because you'll often be wearing gloves or be in a stressful situation when using your cam. Due to this, a lot of manufacturers don't put touchscreens on their cams. A lot of models also don't have a display.
To view your action cam footage, you'll need to connect it up to a smartphone via Wi-Fi or Bluetooth. You can then use your phone like a remote control to adjust the camera settings, and get a preview of your recordings. This means you won't have to take the camera out of its mount. Some models come with external screens or even wristbands that you can use to control the camera.
Most models only have a few rudimentary controls on the camera itself. These are usually for stopping and starting recording, changing modes, and adjusting video quality. Models with screens usually have more control options as you can navigate through menus. You can also get models which are compatible with voice assistants, so you can control them completely hands-free.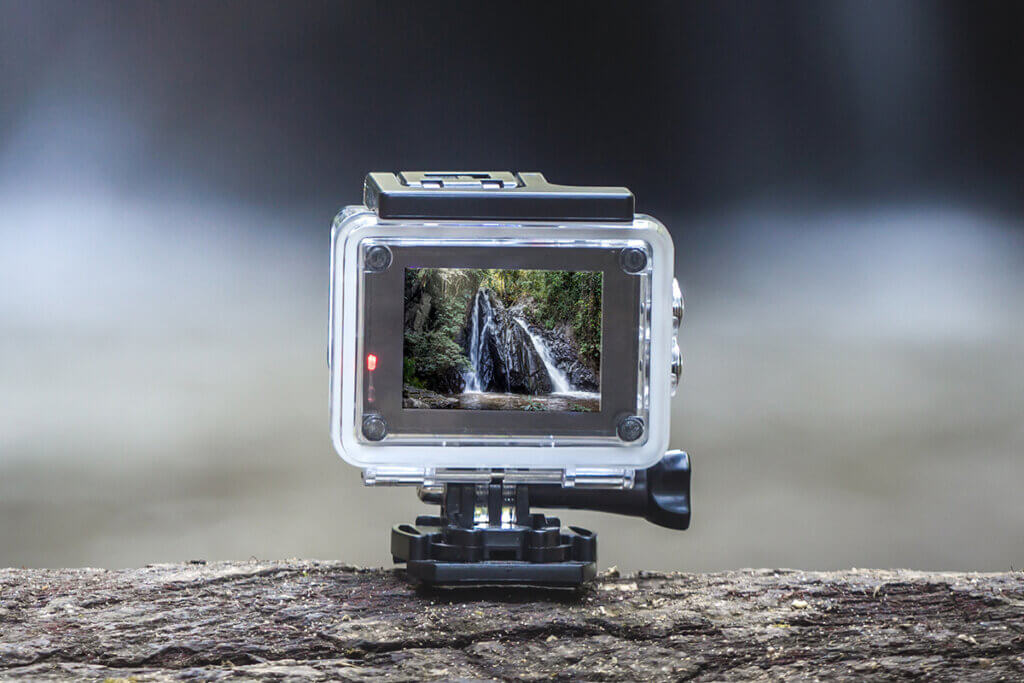 Battery life tends to be relatively short on action cams — around one hour of recording time, but you can get top-end ones that can record for up to two hours. You can improve battery life by disconnecting your camera from your smartphone or Wi-Fi. While manufacturers will state battery run time, it's always a good idea to check a couple of independent tests too. In any case, bringing along a spare battery is extremely worthwhile when on longer trips.
Some action cams have GPS. This means you can geotag your footage. The downside is that using GPS will negatively impact battery life. Moreover, you won't be able to locate a lost action cam using the GPS receiver built inside. For that, the camera would have to have an integrated mobile phone receiver and be able to connect to the internet.
Size and weight
Over the years, action cams have ended up all being a similar size. They are small and rectangular, and weigh less than 10 ounces (300g). This compact form factor means they are extremely easy to transport.
Having said this, there are some models that are particularly small or large. The smallest action cams only weigh about an ounce (16g) and aren't much bigger than a fingertip. Larger models look more like classic camcorders, except they are of course water and dust resistant.
Price
Prices differ a lot when it comes to action cams. You should always factor in the cost of a memory card and any additional accessories. Likewise, it's a good idea to consider investing in some good video editing software, as well as a second battery.
A lot of action cams work with SD cards. It will say on the box which type of SD card the camera is compatible with. While you can get lots of storage on a memory card for cheap nowadays, you should also pay attention to the read and write speeds. To record in the highest quality, you will need a fast memory card. The speed you'll need should usually be stated by the manufacturer.
Action cams themselves start at less than $100. For this price, you won't be able to record in 4K and might have to forgo a few extra features. You can get 4K-ready cams for as little as $150 nowadays. However, beware: some cameras only achieve this quality through upscaling a lower resolution sensor, which doesn't produce as good an image. Look for cameras with true or native 4K sensors for the best results.
Including all the necessary accessories and memory cards, an action cam setup can cost from under $100 to well over $1000. Since there's such a huge range here, you should really consider exactly what features you need.
Buying tips
Of course, testing out an action cam is the best way for you to understand what kind of model is right for you. However, if you're not able to do this, read on for an overview of the kind of cam you might want, depending on whether you're a beginner or more experienced.
Beginners
If you're just starting out and don't have much experience with video recording, it's a good idea to go for a cheap entry-level action cam. Even if the video quality isn't the best, they are a great way to get started. You can get cheap Full HD models which will be robust enough to throw in your backpack or suitcase without needing to worry.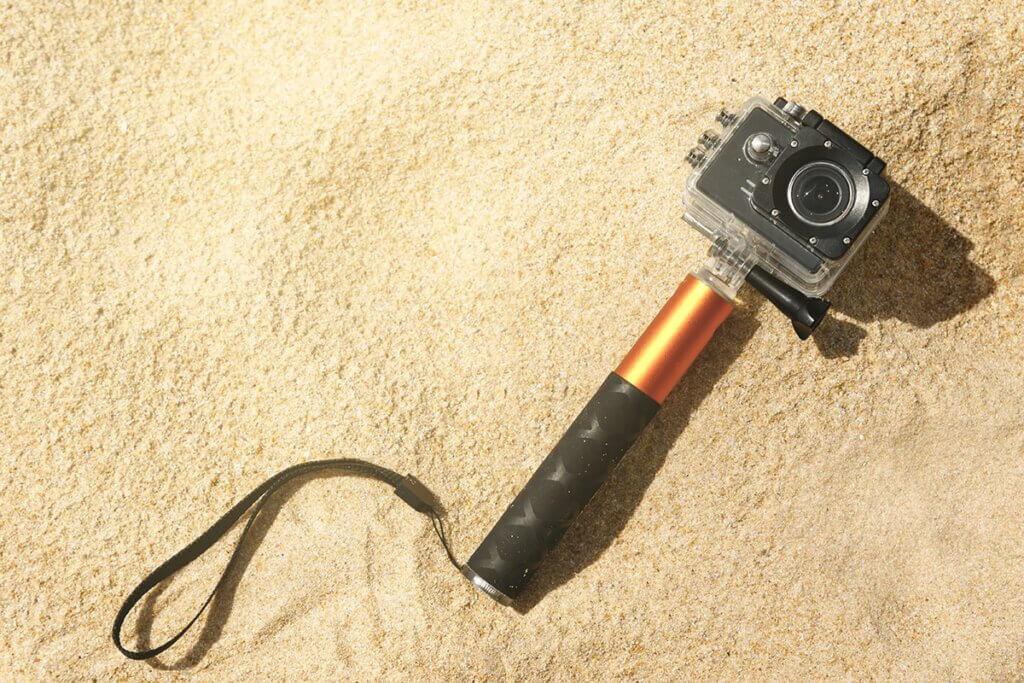 Compared to more expensive models, these cams are of course quite limited in their functions. However, this simplicity can be a good thing, as you won't need to trawl through different menus and settings to get started. Likewise, having lower quality video can be an advantage. The file size is smaller, and you won't need a super powerful computer to do some editing. These entry-level action cams can be bought for around $100.
Is an action cam also suitable for conventional video recording?
While action cams are designed for use in extreme situations, you can also use them for more tame recording situations. However, since they are limited in certain ways, you might quickly find them frustrating to use. For example, action cams aren't good at portrait or zoom shots because they have a fixed focal length and don't have an optical viewfinder. A lot of professional videographers tend to use action cams as additional cameras for things like overview shots, as you can just switch them on and let them run.
Advanced
If you've gotten a taste for action cams and want to take your videos to the next level, then it's worth spending a bit more money to get some extra features. Being able to record in 4K and with high frame rates opens up a lot of possibilities when it comes to editing down your footage. For example, if you record in 4K you can crop your video without losing any quality after you export it as a Full HD file.
Being able to record in a high fps means you can slow your footage down without it getting jerky. Since higher-end action cams use high-quality lenses and image sensors, the recordings you get tend to be sharper and have a better high dynamic range. Faster processors improve image stabilization and sensitive microphones improve audio quality.
Since action cams are extremely durable and can last a long time, make sure the model you go for has a replaceable battery you can easily swap out.
Sports
Simplicity is the name of the game if you're looking for an action cam to use when you are doing sports. You will want a device that is extremely easy to use — so much so, that you forget you're even wearing it. Some models have a little LED light to indicate they are recording, which means you don't have to check your phone or the camera's display.
Since you'll be wanting to mount your camera on your body, helmet, or even something like a kayak, it's a good idea to go for a model from a manufacturer that sells a lot of accessories. You can also often get these extras second hand. There's also a huge market for third-party GoPro accessories.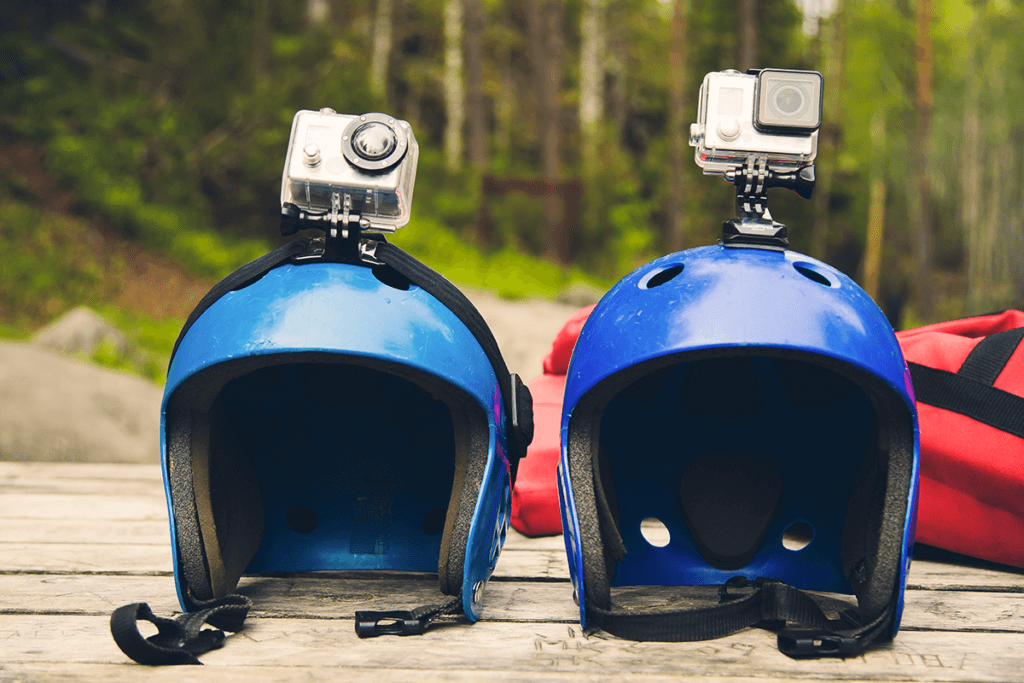 Bargain hunters
It's definitely possible to shop around for some great deals on action cams. Likewise, you can also find a bargain if you buy second hand. A lot of older (but still good) models hit the sales, so keep your eyes peeled.
Usage tips
When using your action cam, make sure to set it up properly depending on where you're using it. For example, if you've got it on a tripod, you should turn off the image stabilization, as it will actually negatively impact the video by trying to compensate for shakes that aren't there.
It will take a bit of trial and error before you get the perfect settings on your camera. Since the video playback you get on the screen (if your cam has one) or on your smartphone isn't that accurate, it's best to check on a computer when you're home.
How do I edit and post-process the video?
After you've shot your footage, you're of course going to want to edit it. There are loads of free programs and apps out there for editing clips and adjusting things like brightness and contrast. At first you might want to just join videos together, but as you go on there are some powerful tools out there for retouching footage and adding animations.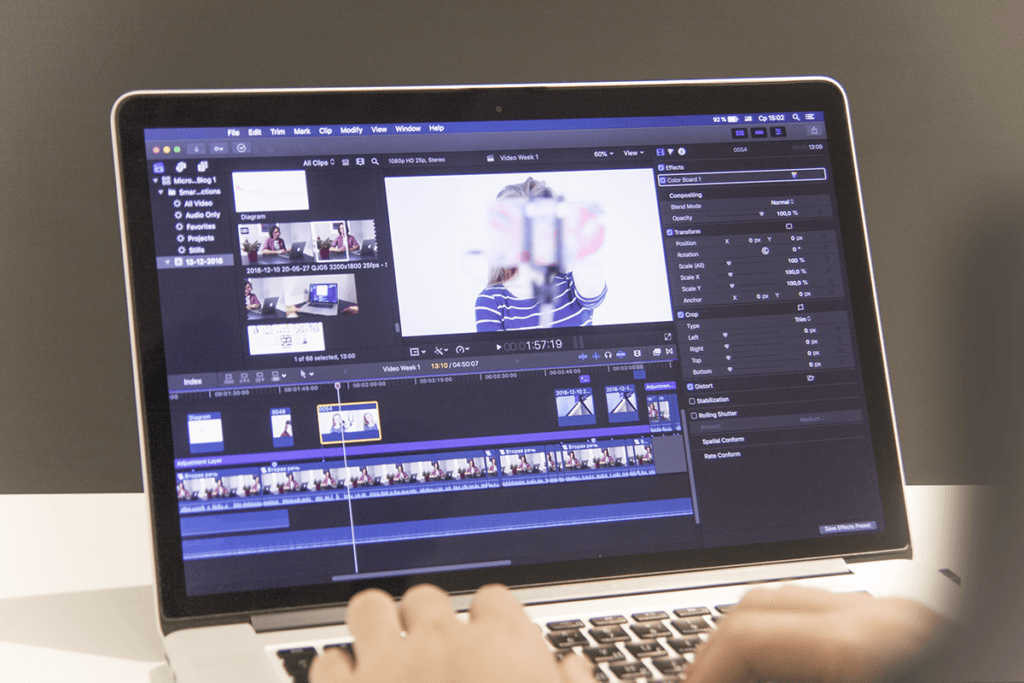 ---
Image 1: © FinalCheck | Image 2: © marketlan / stock.adobe.com | Image 3: © zhu difeng / stock.adobe.com | Image 4: © surachat / stock.adobe.com | Image 5: © blackday / stock.adobe.com | Image 6: © Евгений Вершинин / stock.adobe.com | Image 7: © pvl / stock.adobe.com