Power bank purchasing advice: how to choose the right product
The most important facts in brief
Powerbanks are portable reserve batteries that make it possible to charge smartphones, tablets and the like at any time via a USB connection when their battery power is running low and there is no power socket in the immediate vicinity.
In addition to the usual battery packs, there are also particularly robust power banks for outdoor use, environmentally friendly devices with solar panels and special battery cases for smartphones.
There are big differences in the size and rated power of powerbanks. The higher the capacity, the more charging cycles can be carried out.
Since powerbanks never have their full capacity available during each charging process due to the heat loss, it is advisable to always choose a higher capacity than that of the end device.
Powerbanks – the battery chargers for on the go

Mobile devices such as smartphones, tablets and the like are our constant companions in everyday life. But non-stop phoning, answering e-mails or using location services, combined with the ever larger, more brilliant displays, drain even the most powerful batteries. So that they don't run out of juice on the road, a powerbank – also known as an additional battery, powerbank battery or USB battery (pack) – should be part of the basic equipment in every pocket. The external, mobile batteries supply compatible devices with energy via a USB connection. Depending on their capacity, the small power plants can fully charge various mobile devices several times, so they are also suitable for use on longer trips.
Powerbanks are small energy reserves that can be used to charge smartphones and other electronic mobile devices even when far away from power sockets. Thanks to their handy format, they are not only perfect for festivals lasting several days, backpacking tours or business trips, but also for the daily train journey to the office. This makes them a practical accessory for all frequent users of mobile devices. Those who want to be permanently flexible on the road are always on the safe side with a power bank.
Classic, with a solar panel or as an integrated additional battery? The versions

There is now a wide range of differently designed power banks with different requirement profiles. A basic distinction is made between three designs:
External battery blocks: The classics for on the go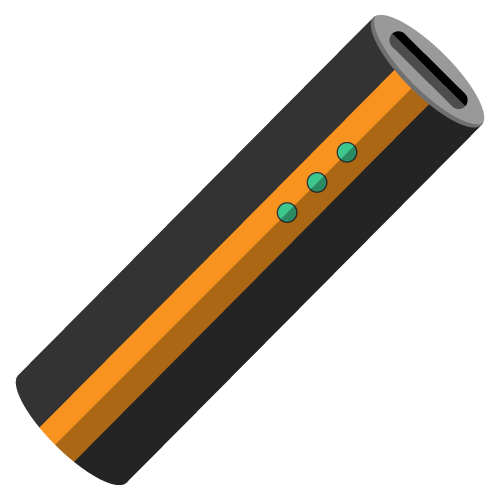 Conventional portable powerbanks are box- or tube-shaped devices with various USB ports. To charge smartphones, tablets or cameras, the matching charging cable is simply plugged into the USB socket. Most standard powerbanks have the particularly light lithium-polymer batteries, whose number of possible charging cycles is higher than that of comparable lithium-ion batteries.
Powerbanks with solar panel: For outdoor use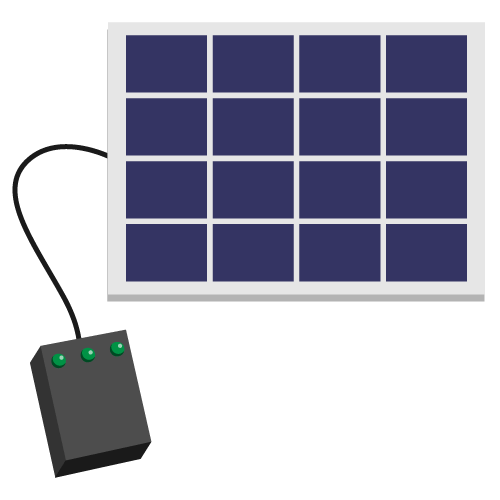 Outwardly, outdoor power banks can hardly be distinguished from ordinary models. They also charge the end devices via a USB connection. However, they are dustproof, shockproof, splashproof and partly waterproof. Their particularly robust housing protects the sensitive battery parts from shocks. This makes them ideal for camping or hiking tours. In combination with a portable solar module, powerbanks are not only more environmentally friendly, but also more independent. The solar devices use the power of the sun as an energy supplier that charges the lithium polymer batteries inside. However, since a full charge via the solar panels takes much longer, they can usually be additionally supplied with power via a socket. In addition, the sun must shine directly on the collector, which requires use on cloudless summer days.
Powercases: Battery cases for the smartphone
Battery cases, also called power cases or battery covers, are special cases for the smartphone in which a battery is built in. These integrated additional batteries also protect the mobile phone from scratches, knocks and shocks. Although the powerbanks do not have to be carried separately here, they can only be used for a single device. Since a plug is built into the case that is plugged directly into the charging socket of the smartphone, this design does not require a separate cable for charging.
In addition to conventional power banks with rechargeable batteries, there are also models that rely on commercially available batteries. Although this means that users do not have to rely on a power socket, batteries are comparatively expensive and a much heavier burden on the environment than rechargeable batteries.
Reserve batteries at a low price

The leading manufacturers of power banks include Anker, Aukey, Easyacc, Intenso, Powercore, Ravpower and Silvercrest. In the meantime, these practical everyday helpers are not only well represented on the electronics market, but can also be had at a reasonable price. Smaller models cost between 10 and 20 euros, powerbanks between 10,000 and 12,000 milliampere hours are available for about 30 euros, and larger devices come to just 50 euros.
Capacity, charging time and co.: the most important buying criteria

Ideally, a power bank should be small and light, but rich in power. In addition, it must fit the individual requirements of its owner. If you mainly charge your smartphone, a single USB port is fine. However, if another device, such as a tablet, is to be supplied with power at the same time, the power bank needs several slots. It is therefore better to know in advance in which situations and for which devices the power bank will be used. Will it only be used to refresh the mobile phone battery in everyday life, will it be able to withstand several days of travel without a power outlet or even withstand outdoor activities? The transport options are also decisive, after all, you only want to lug around a little extra weight.
A question of capacity, or: why 10,000 mAh is not the same as 10,000 mAh

One of the most important aspects when buying a power bank is the rated power, given in milliampere hours (mAh). Depending on the capacity or size of the battery, the energy is sufficient for one or more charging processes per end device. Most manufacturers offer the devices in different sizes, ranging from 1,000 milliampere hours to 30,000 milliampere hours. Capacities below 5,000 milliampere hours are not recommended, however. The higher the value, the more energy the power bank can store and the more frequently smartphones, tablets and the like can be charged before the power bank itself needs new energy.
As the capacity increases, so does the weight: while small models weigh just 60 grams, larger models weigh between 300 and 500 grams. Up to 10,000 milliampere hours, power banks are still suitable for your pocket; devices with higher capacities, however, are more likely to fit in your backpack. Before buying, it is therefore important to weigh up whether to go for a compact model at the expense of performance or to take a heavy power bank in your luggage in favour of capacity.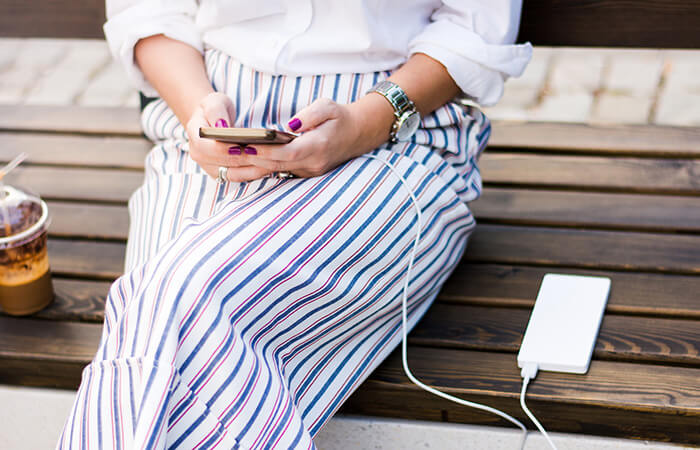 Which capacity is suitable for which device?

Basically, a power bank is not limited to charging smartphones, but is suitable for any device that can be supplied with power via USB, such as MP3 players, portable game consoles or portable speakers. The capacities of the device batteries differ:
Cameras: at least 1,000 mAh
Smartphones: between 2,500 and 3,800 mAh
Tablets: at least 10,000 mAh
Laptops: at least 20,000 mAh

Finally, the choice of power also depends on which devices are to be charged. For smartphones, battery capacities of 5,000 milliampere hours are usually sufficient, while larger power banks are needed for regular use to charge laptops or several devices at once. To fully charge tablets like the iPad, for example, it should be at least 15,000 milliampere hours. For charging notebooks, on the other hand, 20,000 milliampere hours are recommended. Battery packs with a capacity of 5,000 milliampere hours are usually sufficient for charging two smartphones for up to a week. If you are frequently on the road for several days, it is better to go for a model with 20,000 milliampere hours. A power bank of this size can charge a mobile phone with a battery of 2,700 milliampere hours about seven times.
In terms of capacity, power banks can be divided into the following categories:
| | | |
| --- | --- | --- |
| Class | Capacity | Suitability |
| Compact class | up to 6.000 mAh | Compact models for daily use in cafés or taxi rides as well as for charging in between. |
| Medium class | up tp 10.000 mAh | Ideal for day trips as well as the occasional charging of smartphones and tablets. |
| Upper class | up to 20.000 mAh | The most popular class for those who are frequently on the move with mobile devices and want to charge them several times or simultaneously. |
| Luxury class | over 20.000 mAh | These giants offer the maximum capacity and are worthwhile for all those who can never do without their smartphone or tablet when on the move. |
Breakdown of the capacities of powerbanks into four classes.
The losing business with capacity

At best, the powerbank and the end device have the same capacity or the powerbank has a higher capacity. However, the manufacturer's specifications are misleading here, as the suppliers often quote values that are too high. Powerbanks can never deliver the capacity without loss, so that sometimes only half of it reaches the end device. During charging, part of the energy (usually 20 to 30 percent) is always lost in the form of waste heat. A model with 10,000 milliampere hours therefore offers an actual output of only 7,000 to 8,000 milliampere hours. To be on the safe side, it is advisable to use a power bank with 6,000 milliampere hours, about twice the value, for a smartphone with a 3,000 milliampere hour battery. This ensures that the device can be fully charged at least once.
Basically, it is not the nominal charge that is decisive, but the energy density (Wh/kg), which describes the amount of energy stored per kilogram. It is calculated by multiplying the nominal charge and the battery voltage. For a power bank with 10,000 milliampere hours, for example, the calculation is: 10,000 (power bank) : 1,000 (mobile phone) x 3.7 = 37. This results in an energy density of 37 watt hours per kilogram. While power banks usually use 3.7 volt batteries, mobile phone batteries usually have a voltage of 3.8 volts. The voltage ultimately affects the usable capacity that a device can actually draw from the powerbank.
Charging via a micro-USB connection that runs at a voltage of five volts is also problematic. This means that the voltage of the powerbank has to be increased to the transfer voltage before it is converted again in the smartphone, which leads to a loss of power.
Powered in no time at all thanks to fast-charging techniques
How long the powerbanks need to recharge depends not only on the capacity, but also on the maximum input of the powerbank (how much current can it absorb per hour?) as well as the maximum output of the power supply unit (how much current can it deliver per hour?). This means: the higher the amperage at the input, the more energy can be absorbed in a shorter time. Or vice versa: the higher the power at the output, the more energy can be delivered. For example, if the power is 5,000 milliampere hours with an input of one ampere and an output of two amperes, the input limits the charging speed. As a result, it takes 5 hours, not 2.5 hours, to charge the battery.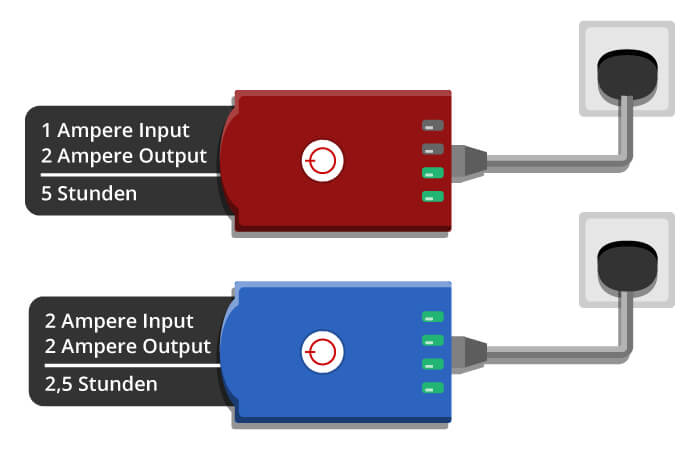 Nowadays, the power bank should deliver at least two amps. The higher the amperage, the faster the powerbank charges. Usually, the charging process takes between two and four hours; larger models, of course, need more time. Powerbanks with a fast-charge function, on the other hand, are charged more quickly, often in less than two hours. Some new models advertise Quick Charge technology, which uses a higher charging voltage to achieve faster charging speeds. For example, if a USB port has a voltage of five volts, this can be increased to up to 12 volts with the help of the technology – as long as both the powerbank and the smartphone support the function. Another open fast-charging standard that can be used by any manufacturer is USB Power Delivery, which can send up to 20 volts through a USB cable. A USB-C output also ensures faster charging, as smartphones are guaranteed to have three amps available with it.
Depending on the USB type, other values apply with regard to power transmission:
| | | | |
| --- | --- | --- | --- |
| USB-Typ | Rated voltage | Max. Current | Max. Power |
| USB 1.0 | 5 V | 0,1 A | 0,5 W |
| USB 2.0 | 5 V | 0,5 A | 2,5 W |
| USB 3.0 | 5 V | 0,9 A | 4,5 W |
| USB-C | 5 V | 3 A | 15 W |
| USB Power Delivery | 5, 12 or 20 V | 5 A | 100 W |
Voltage, current and power depending on the respective USB type.
Some powerbanks not only have multiple USB outputs with different amperages, but also 'smart charging', which allows them to detect the connected device and automatically set the correct output voltage to charge as quickly and safely as possible. Devices with such additional functions are generally more expensive.
Battery empty? The life expectancy of powerbanks

As with all rechargeable batteries, the life expectancy of powerbanks is limited. Their lifespan is usually expressed in charging cycles. A charging cycle corresponds to a discharge to 0 and a subsequent charge to 100 percent. The higher the quality of the lithium polymer batteries, the longer they retain their capacity. While some models are at the end of their tether after just a few months, others work reliably for several years. A good battery should last at least 500 charging cycles before its performance noticeably deteriorates; usually the values are between 300 and 1,500 charging cycles.
More connections mean more flexibility
While simple or smaller power banks only have a single (micro) USB port, high-quality or larger models have various inputs (up to four slots) for the simultaneous connection of several end devices. The more connections there are, the more flexible the battery packs are. Be careful here, especially with Apple products such as iPhones: these usually do not have a USB input, but a Lightning slot, which requires its own plug. If necessary, however, it is also possible to use an adapter.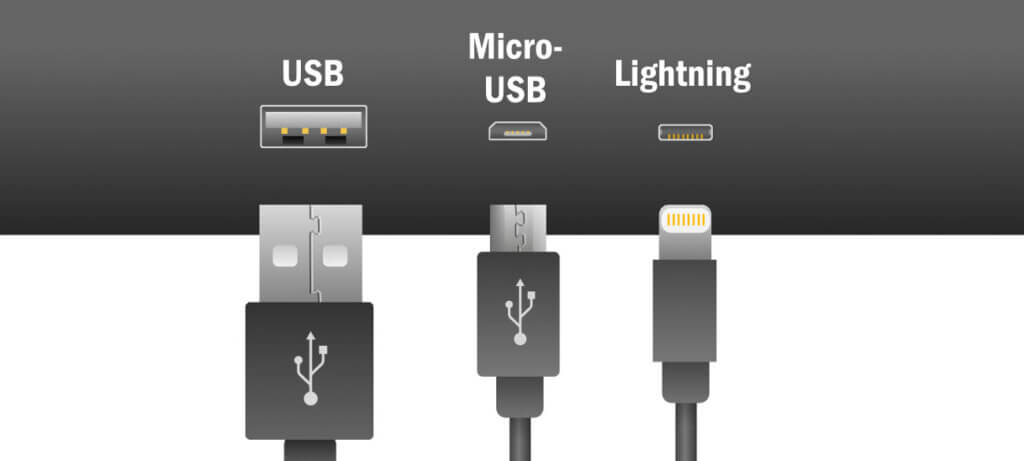 In addition to the usual USB and micro USB ports, there is also a special input for Apple products.
It is not uncommon for powerbanks to shut off all power outputs while they are charging themselves. The ability of some power banks to supply power to other devices while they are charging themselves is known as "charge through" or "pass through charging". Pass-through charging as a feature of a powerbank is often abbreviated to UPS ("uninterruptible power supply") or UPS ("uninterruptible power supply"). Simultaneous charging and discharging is particularly advantageous when only a single socket is available.
Accessories and additional features: from charging cable to level indicator

Ideally, the scope of delivery already includes a suitable USB cable and, if no Lightning slot is available, an adapter cable for iPhones and iPads. Additional hard cases offer protection against shocks, falls or even moisture, which is particularly advantageous during travel or outdoor activities. Pockets in which users can store all chargers and connections are also helpful. For car drivers, a car adapter is also worthwhile, with which a powerbank can be charged via the cigarette lighter. Some powerbanks also have an integrated torch, which comes in handy when used at night, as well as an LED charging indicator that informs about the current filling level and prompts owners to recharge when the battery is less than 25 per cent full, for example. Some powerbanks also have a power button so that they can be switched on or off.
A question of safety: Can powerbanks be dangerous?

Although powerbanks can generally be classified as safe, there are a few aspects to consider when using them.
Correct storage

When using powerbanks, users can follow a few simple basic rules to counteract the ageing process of the batteries:
Since a fully charged battery ages faster, it should not be stored in this state.
At best, the charging capacity is between 30 and 70 percent of the total capacity. Storage when fully discharged is therefore also not recommended.
Store the power bank at temperatures of at least 10 and at most 25 degrees Celsius and as dry as possible, for example tightly packed in the cellar or in a drawer.
The powerbank discharges extremely quickly – What to do?

If the powerbank discharges unusually quickly during testing, it is advisable to first check whether the charging capacity of the end device is possibly significantly higher than the rated power of the powerbank. If this is not the case, the following tips should be observed:
If the powerbank becomes very hot, stop using it and replace the device, as this may indicate an internal defect.
Do not leave any chargers plugged into the outlets even when the powerbank is not in use, as this also causes power to be lost.
Always switch off your power bank when charging is complete and you do not need it to avoid overheating.
Never expose your power bank to direct sunlight and avoid extreme temperatures or temperature fluctuations.

Myth memory effect: Charging and discharging the power bank correctly

Whereas in the past it was recommended to always discharge batteries to zero percent and charge them to 100 percent, this tends to have a negative effect on the longevity of today's lithium-ion batteries. The property of old rechargeable batteries to remember the last state of charge in order to continue charging at exactly that point, also known as the memory effect, is hardly present today. Nevertheless, there are a few things to avoid in order to enjoy the powerbank for as long as possible:
Don't always let the battery discharge to 70 per cent and then fully charge it again straight away.
Do not charge your powerbank overnight. As soon as the battery has reached 100 percent, it should be disconnected from the power bank, otherwise it will always oscillate between 99 and 100 percent.
Ideally, the charge level of a battery is between 70 and 30 percent. It should therefore be discharged to about 30 per cent and then connected to the charger until it has reached about 70 per cent.
Avoid deep discharges, i.e. drawing current until completely exhausted, or make sure that your power bank is equipped with a protective mechanism that prevents current output until it is completely discharged.
If you need a complete battery charge of the powerbank to charge your end device, you should use it as soon as possible after it has been fully charged.

The powerbank on the plane: Can it travel with me?

If you want to take your powerbank with you on the plane, you should not carry it in your suitcase, but in your hand luggage. The reason for this is the possible fire hazard in the cargo hold of the plane. In addition, there is a maximum limit for the wattage that may be transported: the total capacity may not exceed 100 watt hours, which means a maximum capacity of 20,000 milliamperes at a voltage of five volts. However, these restrictions do not apply on trains, in public transport or in cars.