DVD player purchasing advice: how to choose the right product
What you need to know
DVD players are available for mobile use, such as travelling, or as a stationary part of your home theatre.
DVD players are super easy and quick to install and require no special care or maintenance.
For home use, it is best to go for single DVD players or combination models with a recording function for flexible television.
DVD players for home use convince with good picture and sound quality.
Mobile DVD players are available for the laptop or tablet or as an all-in-one device with its own screen that can also be attached to the front seat in the car.
Why it pays to buy a DVD player
The first DVD players came onto the European market at the end of the 1990s. At that time, they were still available at a high price and replaced the VHS video recorders that had been the standard in living rooms up to that time.
Despite the high prices of several hundred euros, DVD players were already convincing at that time with their long-lasting quality, because while video tapes deteriorated considerably over time, one could rely on the fact that the picture and sound quality of DVDs remained the same even after years. About ten years after the launch of DVD players on the European market, Blu-Ray players enjoyed growing popularity and increasingly grabbed market share. The Blu-Ray disc offers HD enjoyment with a higher data rate and storage capacity compared to the DVD – but it also has to pay for this with higher prices for both the discs and the playback medium. In addition, the manufacturers of DVD players have not been asleep and today also offer devices that are capable of displaying films in HD quality through upscaling methods.
In the meantime, streaming services such as Netflix or Amazon Prime are very popular. Uncomplicated, inexpensive and, depending on the subscription model, in high resolution, streaming services offer flexible film and series enjoyment on every end device. In fact, the sales figures for DVDs and Blue-Ray discs have fallen in recent years. While in 2009 around 1.26 billion euros were still turned over in the DVD market, in 2019 it was just 395 million euros.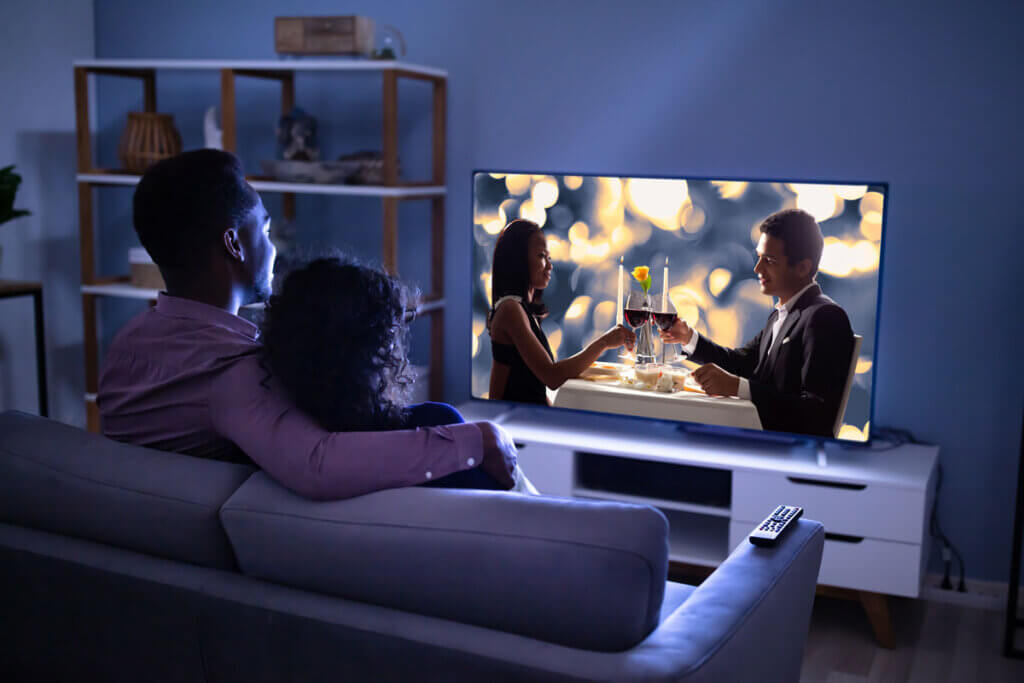 And yet there are some convincing arguments for buying a DVD player. With streaming service providers, for example, you are always limited to the current range. Media are taken out of the range or added and users can only choose from the current offer. It can be particularly annoying, for example, if you have only seen half of the seasons of a series when the provider decides to remove the series from the range.
The ranges also differ greatly between providers – not only in terms of independent media, but also the increasingly popular in-house productions. So if you want the full streaming range, you have to take out several subscriptions at once, which is not exactly cheap in the long run. The price argument also applies to Blu-Ray discs, which cost an average of 13.69 euros – DVDs are around 14 per cent cheaper at an average of 11.86 euros.
The price difference pays off especially for consumers who want to buy an extensive collection for their home cinema. The price of DVD players has fallen sharply in recent years anyway as competition has grown, so that today you can easily get a solid, high-quality model at a low price. Especially for people who have a lot of DVDs at home anyway, it is definitely worth considering buying a new DVD player.
How to find the right model
DVD players come in a wide variety of models – so it's a good idea to think in advance about what you expect from the device and what it will be used for. Are you looking for a device for cosy movie nights at home or rather something that allows you to watch movies and series even when you are on the road? Basically, a distinction is made between single DVD players, DVD recorders, portable DVD players and external DVD players. In the following, we will go into the individual models in more detail and clarify for whom they are suitable and what advantages and disadvantages they have for the consumer.
Single DVD player: The basic model for home cinema
The single DVD player comes without any frills, extra functions or other surprises. The player is connected to a computer monitor or television via a SCART cable, nowadays more often via an HDMI cable – single DVD players do not have their own display.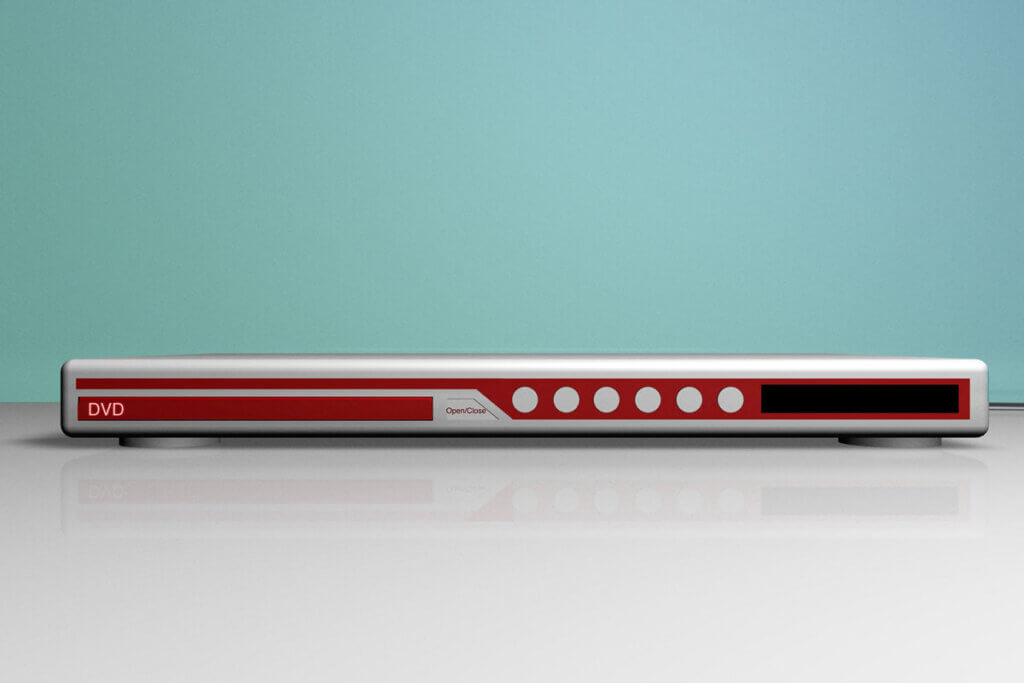 Single DVD players are intended for stationary use at home and are therefore the ideal basis for home cinema. For comparatively little money, you can already get great devices with good picture and sound quality in a price range of 40 to 60 euros. If HD enjoyment is important to you, you can also go for higher-priced models that can play back videos with a higher resolution.
Pro Points
Easy and quick to install
Best picture and sound quality
Easy to operate
Drawbacks
Can only be used in conjunction with a TV or monitor
DVD recorder: For those who want to watch TV flexibly
In addition to the basic functions of a single DVD player, DVD recorders offer the possibility of recording programmes from the current TV programme, storing them on a hard disk and watching them at a later time. The advantage here is that programmes can be programmed conveniently and flexibly, and the unit does everything else by itself. Visually, the models do not differ from single-DVD players.
Pay attention to the size of the hard disk

Users for whom the recording function is important should make sure they choose a model with as much storage space as possible. Especially when recording in high quality, the storage space can otherwise quickly run out. As a rule, DVD recorders have between 80 and 500 gigabytes.
If you want to record programmes or films for a long time, you should buy a model with an integrated burner. This makes it easy to save files on CDs or DVDs and thus store them externally for a long time. Like ordinary DVD players, these devices are connected to a TV or computer monitor via HDMI cable.
Portable DVD player: the perfect companion when you're on the move
Portable DVD players have a DVD drive, an integrated screen and a rechargeable battery so that users do not have to miss out on film enjoyment even when travelling. Portable DVD players are characterised by their handy design – the screen can usually be flexibly folded and rotated so that film and series fans can watch them from any position. The compact dimensions make it easy to stow away and take with you. Some models can also be attached to the front seat in the car, so that children in the back seat can be kept busy on long car journeys.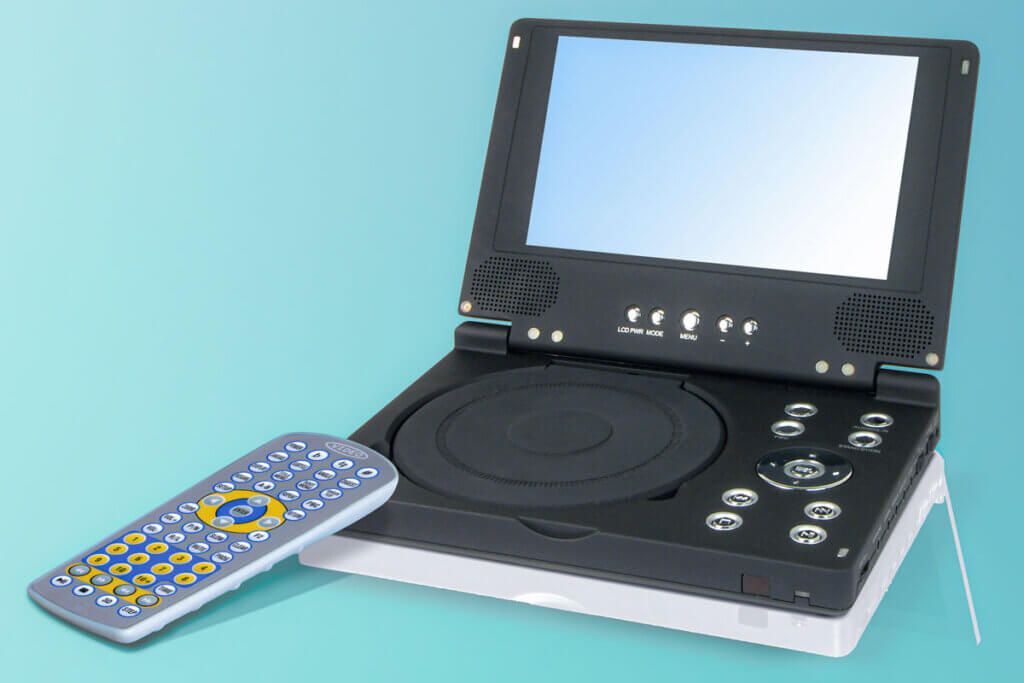 With portable DVD players, it is important to pay attention to how long the built-in battery lasts – here the runtime varies between one and a half and five hours. Some devices also have a USB slot that can be used to play back films on storage media such as USB sticks or external hard drives. If you also want to play other formats such as MP3 on the device, you have to pay attention to the corresponding compatibility. Some models even offer an antenna or a DVB-T function that can be used to receive television broadcasts on the move – it is also important that the volume can be controlled on the device.
With portable devices, it is advisable to make sure that a jack connection for headphones or a Bluetooth interface is integrated. Otherwise, ambient noise can significantly impair the film experience and disturb other people at the same time.
Manufacturers such as Naviskauto offer solutions especially for car journeys, for example a portable DVD player for the headrest with two screens. The battery lasts for five hours in single operation and two and a half to three hours when both screens are used. That's easily enough for a long film and keeps several children occupied in the back seat.
Pro Points
Ideal for travelling
Small and handy
Drawbacks
Sound and picture quality rather mediocre
Small screen
Partly short battery life
External DVD drive: brings videos and films to your laptop
One disadvantage of the fact that laptops are getting thinner and thinner is that today the DVD drive is often dispensed with. On the other hand, the lighter laptops are light, handy and can be taken anywhere without any problems. If users still want to read CDs or DVDs, they can resort to an external DVD player. These small, lightweight drives are simply connected to the laptop or tablet via USB and can read the small silver discs.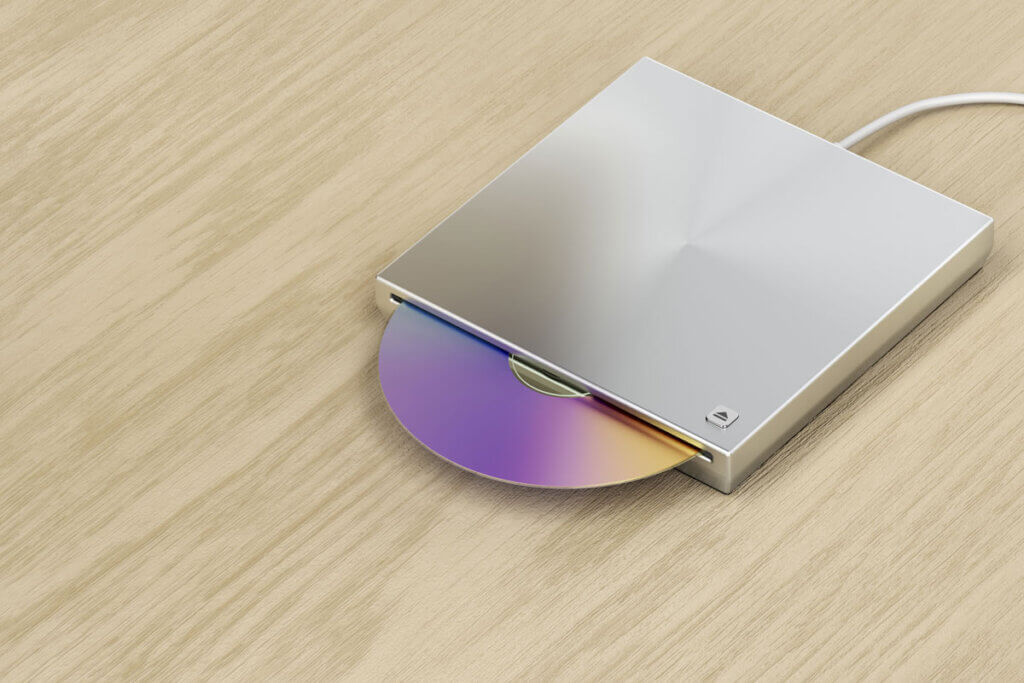 The external DVD drives can of course also be used to load software onto the laptop or to play audio CDs. Although the construct of external drive and laptop is somewhat more unwieldy than a portable DVD player, anyone who travels with their laptop anyway – for example, because they travel a lot for work – should be recommended an external DVD player. They are just as big as DVDs themselves, ultra-light and if you have a laptop with a large screen and good sound quality, you can enjoy a great cinema feeling in mini format – whether in a hotel or with headphones on the train.
Pro Points
Practical when travelling
Good picture and sound quality with the right laptop
Drawbacks
Can only be used with a laptop or tablet
Which DVD player is right for me?
The search for the right DVD player is not that difficult – if you have the right perspective. The important thing is to be aware of what you are most likely to need the device for in the future. If you are looking for a basis for a home cinema, a standard DVD player is the best choice. The devices are usually convincing with their picture and sound quality, and connecting them to the monitor or TV is very easy.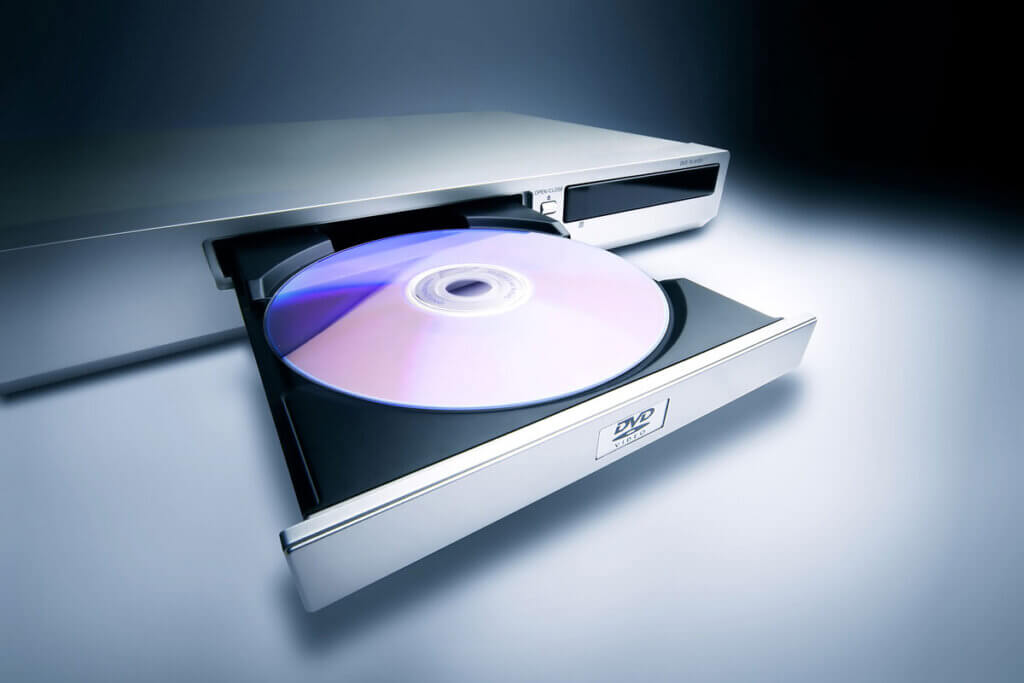 The only question is whether a simple DVD player is enough or whether a model with an additional recording function is better. If you are looking for something to take with you on the road, you can go for a portable DVD player. There are also some differences between the models here, from battery life to optional integration into the front seat of the car. Another option for playing video formats flexibly while on the move is offered by external DVD players that can be connected to a laptop or tablet.
What to look for when buying a DVD player
Besides the basic design of a DVD player, there are a number of other criteria that can be relevant to the decision. Almost all DVD players have a retractable drive in common, as these models have proven to be much more space-saving than those with a flap for inserting the discs at the top. DVD players are operated by switches on the unit, by the remote control supplied or by a universal remote control, which can be particularly useful for home cinema systems with many different devices. To avoid any unpleasant surprises with your purchase, we present the most important buying criteria here.
What basic criteria are important when buying a DVD player?
While aspects such as size or weight play a subordinate role in the case of a stationary device, they are definitely decision-relevant criteria in the case of portable DVD players. The screen size of portable devices varies between about seven and 13.3 inches – the larger the device, the more unwieldy it is to transport. There are also big differences in weight – DVD players can weigh less than one kilogram, while some models weigh almost four kilograms. There are also differences in the playback formats. Every DVD player is capable of playing both DVDs and CDs. In addition, there are some models that support MPEG-2 and MPEG-4 formats or also offer playback options for VCD or SVCD. Other formats that can be played on DVD players today are MP3, MPG, DivX, Xvid WMV, WMA or WAV. Blu-Ray discs, on the other hand, cannot be played on a DVD player.
Pay attention to the DVD regional code

Some DVD players, such as those made by Sony or Samsung, are subject to a regional code that must match the country code of the DVD purchased. Otherwise, you will not be able to play it on the device. However, there are also manufacturers who offer devices for worldwide use and are therefore region-independent, such as Lonpoo.
What quality aspects should I look for when buying a DVD player?
When buying a DVD player for home cinema, the main thing to look for is good picture and sound quality. Many devices are upscaling-capable – that means they are able to upscale the picture resolution of older videos and thus reproduce a better picture. In this process, missing pixels are expanded by interpolation so that the final resolution is higher. In addition, care should be taken to ensure that the overall image sharpness is as high as possible, as this determines the clarity of the image. Also important is a high contrast range for a good representation of very bright and very dark picture elements as well as a high black level, which is particularly important for dark scenes. Colours should also be displayed as richly as possible. Even if DVD players offer consistently good sound quality, they can often be a bit more for home cinema: Devices with sound decoders may be a little more expensive, but they have a 5.1 speaker function for that full cinema feeling.
What connections should a DVD player have?
Depending on the model of the DVD player, you should make sure when buying it that the essential connections are available. With portable models, it is an advantage if USB sticks or memory cards can be used so that you do not have to carry the entire video library with you. It is also advisable to have a connection for headphones so as not to disturb other passengers or people in the immediate vicinity and at the same time not to be distracted while watching a film. Newer models for home use usually have an HDMI connection, older players often still require a Scart cable. You should also make sure that a digital audio output is available that is compatible with the AV receiver, the control centre for your home cinema. You can get the most out of the sound with a stereo RCA output that connects the DVD player to your stereo system. Dolby surround sound is also possible with some models.
How to install and maintain your DVD player properly
DVD players are very easy to use: All you have to do is plug them into the mains and connect them to the TV or monitor and they are ready to use. All you have to do is position the player so that it does not cover the ventilation slots in the housing. DVD players are very easy to use – they do not require any special care or maintenance. However, since most units are black, it is easy to see if the DVD player is collecting dust. The dust layer can be removed easily and safely with a duster or a very lightly moistened cloth.
DVDs require a little more care, because they scratch very easily, which means that trouble-free playback can no longer be guaranteed. For this reason, DVDs should only be touched at the edges. If they do get dirty, it is best to clean them with a soft cloth. To remove dirt and dust from the DVD drive, users can use a DVD cleaning disc.
---
Image 1: © Andrey Popov / stock.adobe.com | Image 2: © chagpa / stock.adobe.com | Image 3: © mendeleev / stock.adobe.com | Image 4: © magraphics / stock.adobe.com | Image 5: © dell / stock.adobe.com